Spring is here and America's natural wonders are in full bloom. Alas, we are currently limited to enjoying the beauty visible from the front porch or back deck. But it won't always be this way. Now is the time to start planning your next great outdoor adventure. Gather the family around the laptop and chart a trip that will fill your senses and reinvigorate your souls. You may find that experience is as fulfilling and exhilarating as the journey itself. As the wiseman said: Dream. Plan. Do.
Here's your guide to the best Spring camping across the United States, as recommended by fellow Airstreamers through Campendium.
Northwest
Three Island Crossing State Park
Glenns Ferry, ID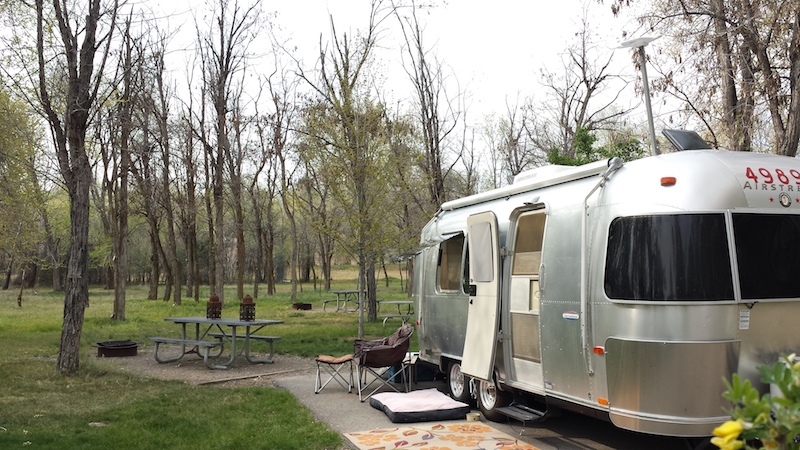 This lovely, well-maintained park offers a chance to channel the original outdoor adventurers - the pioneers who traveled across the country in covered wagons. Three Island Crossing is situated on the Snake River along the Oregon Trail, which some 400,000 settlers followed to new lives in the Pacific Northwest. A self-guided tour of the park includes original wagon wheel ruts and Conestoga wagon replicas. The park's Oregon Trail History and Education Center details the lives of both early settlers and the local Native Americans. Other activities include hiking, mountain bike riding, fishing and disc golf. Airstreamers Vince was pleased with their entire experience at Three Island Crossing, which is 72 miles east of Boise. "Easy access to and from I-84 in a historical Oregon Trail location. Very clean and well-maintained park. Grounds are irrigated and manicured. Sites vary in size, most are comfortably spaced. Less than 1/2 mile to a winery and restaurant." Three Island Crossing has 82 sites with water and electricity. Amenities include showers, flush toilets and a dump station.
Click here for more information about Three Island Crossing State Park
Heceta Beach RV Park
Florence, OR
If the breathtaking Oregon Coast is on your adventure to-do list - and it should be - go ahead and drop a pin on Heceta Beach RV Park. Centrally located outside Florence, this comfortable campground provides the perfect base to explore all of the coast's natural beauty, history and culture. Start your adventure with a leg-stretching five-minute walk to Heceta Beach. Afterward, head into the fishing village of Florence for lunch and shopping served with a dollop of colorful history. Your close-to-camp activities might include a visit to the sea lion caves or sandboarding down the area's massive dunes. Next, unhitch that tow vehicle and drive the coast like you own it. The lighthouse-studded stretch between Florence and Newport is particularly beautiful. Heceta Beach RV is a low-key amenity-filled place to relax after a day of coastal adventuring. Airstreamers TabbyTinCan were pleased with their experience. "The staff was friendly and cheerful. The trees and vegetation are well established providing privacy in the majority of the sites. Our site was along the back of the park and it was quiet." Heceta Beach has 52 full hook-up sites with cable TV. Amenities include laundry, store, propane sales, mail delivery, and a fitness center.
Click here for more information about Heceta Beach RV Park
Collier Memorial State Park
Chiloquin, OR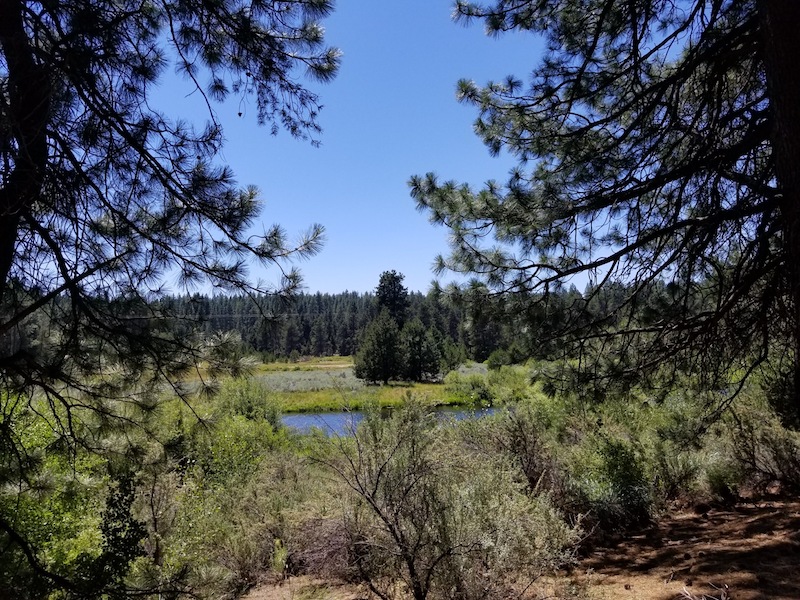 Collier Memorial offers visitors a robust pairing of unique history and excellent fishing. Located on the eastern edge of Crater Lake National Park, Collier celebrates Oregon's early logging industry. The park's outdoor museum features antique logging equipment dating to the 1880s. Other displays explain the role that railroads played in logging. A historic cabin village offers insight into the lives of 19th-century logging and railroad families. The Williamson River and crystal-clear Spring Creek converge within Collier. The Williamson River is known for its trout fishing and consistently offers up trophy fish. The horsey set will be pleased to know that Collier also has an equestrian trailhead that allows riders to travel north from the park across National Forest land to a state recreation area. Airsteamer Dirk Reynolds says, go! "Pristine pine forests and mountain streams, what's not to like? Whether you're a fan of world-class fishing or not, Collier is the park for you. This is also an excellent base for visiting Crater Lake, 30 miles up the road. A must-see for sure. But most of all, Collier is the perfect spot for getting away from it all, and enjoying some peace and quiet." Collier has 46 full hook-up sites and 18 non-hook-up sites with water nearby. Amenities include showers, flush toilets, and a dump station.
Click here for more information about Collier Memorial State Park
Beaverhead Campground
Clark Canyon Reservoir
Dillion, MT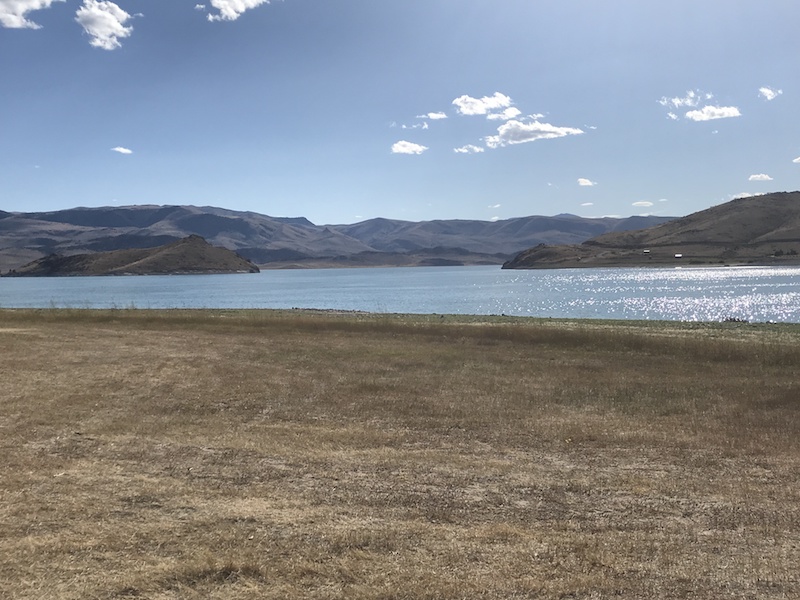 Looking for someone to recommend this campground? How about Lewis and Clark? Seriously. Clark Canyon Reservoir is located near the site of Camp Fortunate, where the Lewis and Clark expedition met the Lemhi Shoshoni tribe and stashed supplies for their trip back east. Expedition guide Sacagawea was reunited with her people at Camp Fortunate. Today, this spot is perhaps most popular with fishermen. The anglers are drawn by the reservoir's large rainbow and brown trout as well as burbot, which is a native fish of Montana found in just a few locations. Whitetail deer, mule deer and antelope are often spotted roaming the reservoir's shoreline. Moose can be seen in some of the thicker willowed areas. Beaverhead is the most popular and accessible of Clark Canyon's seven campgrounds. The reservoir's only low water boat ramp is located at this site. Montana Airstreamers Chau enjoyed their spring stopover at Beaverhead. "We stayed overnight here on the way home to Livingston, MT. Beautiful spot with mountains view! It's free, and you can stay for 14 days! Hardly anyone here since it's early April." Beaverhead is a dry campground with vault toilets and hand-pumped water. Amenities include covered picnic tables and fire rings.
Click here for more information about Beaverhead Campground at Clark Canyon Reservoir
Camano Island State Park
Camano Island, WA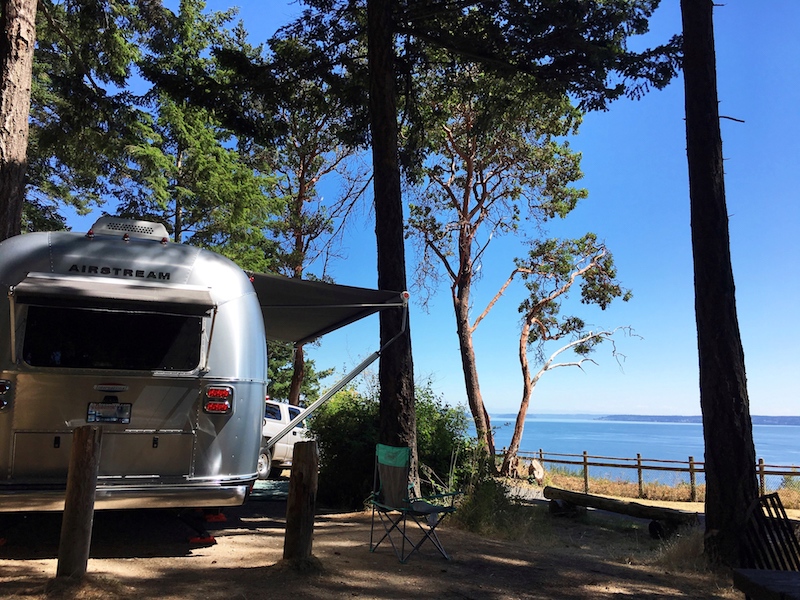 This 244-acre park is located one hour and a world away from bustling Seattle on beautiful Camano Island. Camano's three miles of forested hiking trails are the perfect place to bathe in nature, while the park's mile-plus of shoreline offers birding, shell collecting and rock exploration amidst sweeping views of Puget Sound, the Olympic Mountains and Mount Rainier. A one-mile hike brings you to the restored 1930's fishing resort in neighboring Cama Beach State Park. Water activities are, of course, kind of a big thing around here. Boating, crabbing, saltwater fishing and sailboarding are among the popular pastimes on Saratoga Passage. 
Camano Island has 88 dry camping sites with a water source, flush toilets, and a dump station. The sites are first-come-first-served and the park is very popular with Seattle residents. As a result, it can be tough to land an in-season weekend spot.
Click here for more information about Camano Island State Park
---
Southwest
Natural Falls State Park
West Siloam Springs, OK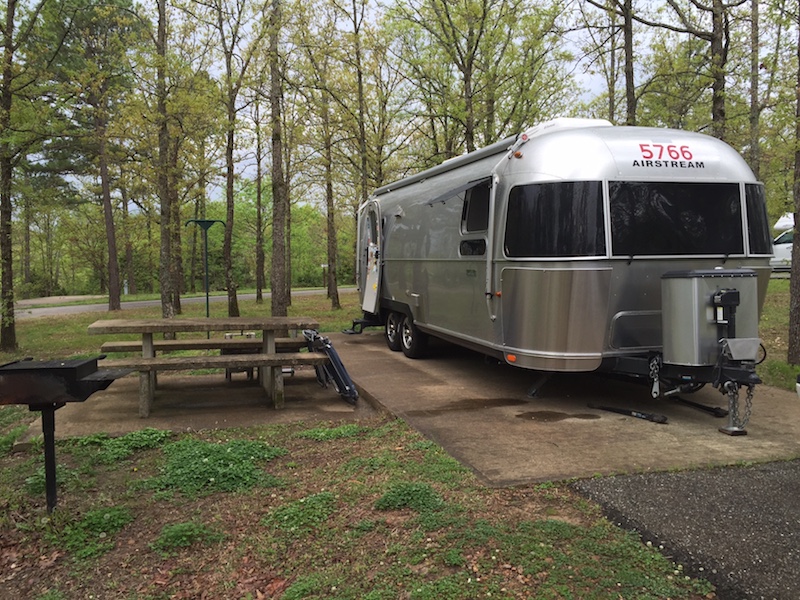 Located near the Oklahoma/Arkansas border in the scenic Ozark Highlands region of northeast Oklahoma, Natural Falls State Park features a majestic 77-foot waterfall cascading through rock formations and creating a hidden, serene atmosphere at the bottom of a narrow V-shaped valley. The moisture generated by the waterfall nurtures a thick carpet of ferns, mosses and liverworts. The dense forest includes a canopy of maples, chinquapin and white oaks. Flowering dogwood, sassafras, coralberry, spicebush, redbed and pawpaw cover the forest floor. Some visitors recognize this serene landscape from the 1974 movie, Where the Red Fern Grows, which was filmed in the park. If you still have the energy to burn after hiking Natural Falls' four-plus miles of trails, you can always play a round of disk golf or scare up a game of horseshoes, basketball or volleyball on the park's courts. Airstreamers About Pops greatly enjoyed their visit. "Natural Falls State Park is a pleasant surprise. The park is well-maintained and the sites have level concrete pads. From the park, it's not a far drive to Siloam Springs or Bentonville, AR and the Crystal Bridges Art Museum." Natural Falls has 45 sites with full hook-ups. Amenities include restrooms with showers and a dump station.
Click here for more information about Natural Falls State Park
Lone Rock Beach
Glen Canyon National Recreation Area
Big Water, UT

Situated on the shores of Lake Powell upstream from the Grand Canyon, Lone Rock is named for the massive, monolithic stone formation that dominates the nearby skyline. This is one of the most popular campgrounds in the sprawling Glen Canyon National Recreation Area, largely because it is one of the few spots where visitors can drive directly to the edge of Lake Powell and camp on the shoreline. Kayakers and other boaters are big fans of Lone Rock. The campground is a great jumping-off point to explore Glen Canyon, which is jam-packed with outdoor adventure opportunities and cultural sites dating back to prehistoric times. Airstreamers TakeThatExit stayed at Lone Rock while they checked out the Lake Powell region, all the way south to the Grand Canyon's gorgeous North Rim. "This was the PERFECT place for a home base. The sunrises were INCREDIBLE. Get yourself out of bed early and watch the sun come up behind the lake. It was so quiet I could hear the flapping of the birds' wings as they flew overhead." Lone Rock Beach is dispersed camping. There is a water source, vault toilets, showers, and a dump station.
Click here for more information about Lone Rock Beach at Glen Canyon National Recreation Area
Colorado Bend State Park
Bend, TX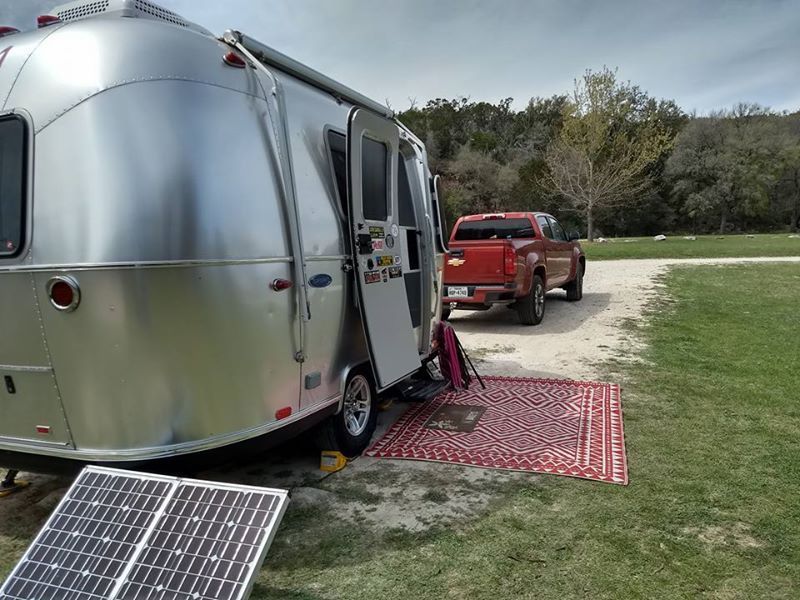 Located deep in the heart of Texas, north of Austin, Colorado Bend is an outdoor enthusiast's paradise. The park covers 5,300 acres of wilderness set along six miles of the Colorado River. Bend's rugged geography includes 400 caves, which visitors can tour with a guide, thundering Gorman Falls, spring-fed swimming holes, and stunning backcountry vistas. Fishing is a big draw with anglers lured by some of the best bass fishing in Central Texas. Hikers can spend a few hours on 35 miles of well-maintained trails, or make a multi-day trek to one of the park's primitive campsites. Colorado Bend is also a magnet for mountain bikers thanks to numerous trails that range in difficulty from easy to OMG! Bird watchers can tick-off 155 species, including Bald Eagles. If all this tickles your fancy, start making your plans. Colorado Bend is a very popular spot with Texans, especially in spring and summer, and there are only 15 RV campsites. This is dry camping with a water source and composite toilets.
Click here for more information about Colorado Bend State Park
Buena Vista KOA
Buena Vista, CO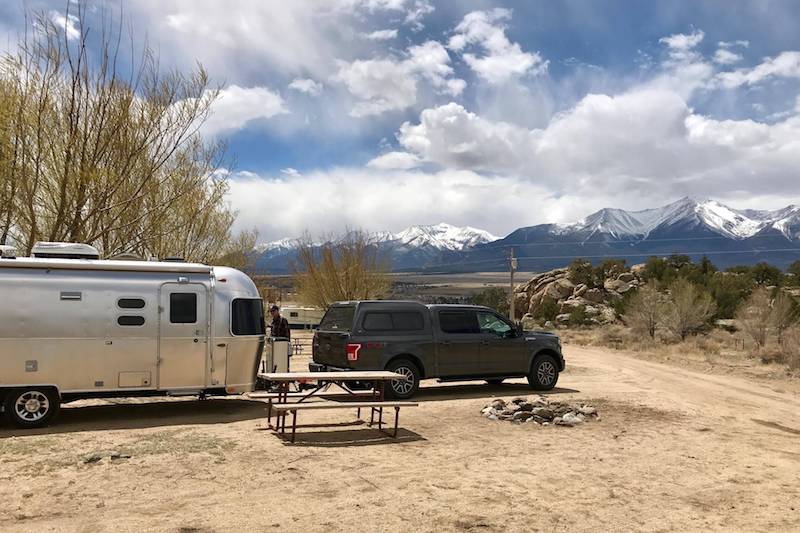 Set in a scenic mountain valley 90 minutes west of Colorado Springs, Buena Vista is a world-class outdoor playground. Spring is the perfect time to raft the wild rapids of the nearby Arkansas River. Pack your hiking boots or mountain bike and explore the nearly endless miles of trails in the mountainous National Forests - San Isabel and Gunnison - that surround this KOA campground. Take an eerie trip back in time with a visit to one of the area's numerous ghost towns. St. Elmo, southwest of Buena Vista, is the best-known but Turret, Winfield and Vicksburg are also worth checking out. As you travel the area's backcountry roads and trails, you may come across the remains of long-abandoned mining operations. Airstreamers Jena and Mace Man Fancy Pants loved the park's proximity to both town amenities and adventure. "This KOA is so close to hiking and mountain bike trails that you don't have to drive, just hike/bike from your campsite."  Buena Vista KOA has 91 full hook-up sites. Amenities include laundry, camp store, propane refill, and a playground.
Click here for more information about Buena Vista KOA
Nolan Tank 
Coconino National Forest
Sedona, AZ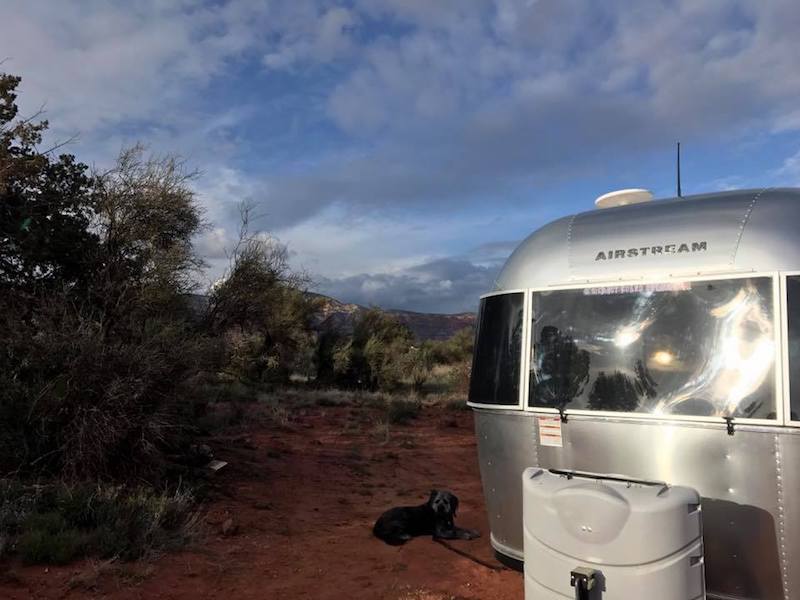 The Coconino National Forest is one of the more diverse National Forests in the country with landscapes ranging from the famous red rocks of Sedona to Ponderosa pine forests, from southwestern desert to alpine tundra. The forest's outdoor recreation opportunities are equally wide-ranging. Visitors can hike or mountain bike across mountains and canyons, fish in small lakes, and cool off in meandering creeks and streams. The area near this dry dispersed campground is one of several parts of the forest popular with off-roaders. Airstreamer Shifty Drifter raves about Nolan Tank. "This is one of my favorite boondocking sites. I camped here for a week and loved the entire time. The sunrises and sunsets were amazing. I hiked and 4x4ed all around the wilderness. I cruised into both Sedona and Cottonwood for dinners, which I found to be a pleasant little drive."
Click here for more information about the Nolan Tank campground at Coconino National Forest
---
Northeast
Twelve Mile Beach Campground
Pictured Rocks National Seashore
Grand Marais, MI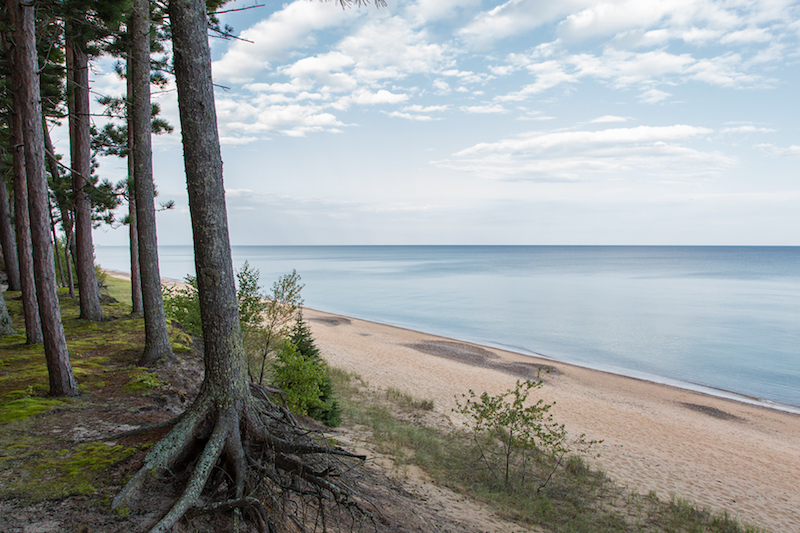 Residents of Michigan's Upper Peninsula joke that there are two seasons in the UP -- July 31 and winter. Funny. And it explains why this beautiful campground on the north shore of the Upper Peninsula doesn't become fully operational until May 1. Prior to that date, during the January-April "off-season," there is no drinking water and snow is not plowed from the roads. Pictured Rocks, which takes its name from the streaks of mineral color that run down its sandstone cliffs, offers nearly endless opportunities for outdoor adventure. The park has 100 miles of hiking trails that meander through an awe-inspiring landscape shaped by wind and water and marked by sand dunes and waterfalls. Backpackers can explore Pictured Rocks' section of the North Country Scenic Trail. As the weather warms up, visitors' attention often turns to the water. The fishing is great and kayaking is one of the best ways to take in the Pictured Rock cliffs. History buffs will enjoy a visit to the nearby Au Sable Light Station, which has been guiding ships across Lake Superior for almost 150 years. Airstreamers airstream_chicago rave about the Twelve Mile Campground. "The lakefront sites at Twelve Mile Beach are unbelievable. They are well spaced and have incredible views over Lake Superior. A short trek down the sand dune and you're on a beautiful beach that stretches for miles. We hung our hammock in the trees overlooking the lake and enjoyed the several hours-long sunsets from our site each night. Twelve Mile has 36 dry camping sites. Water is available along with vault toilets.
Click here for more information about Twelve Mile Beach Campground at Pictured Rocks National Seashore
Smuggler's Den Campground
Southwest Harbor, ME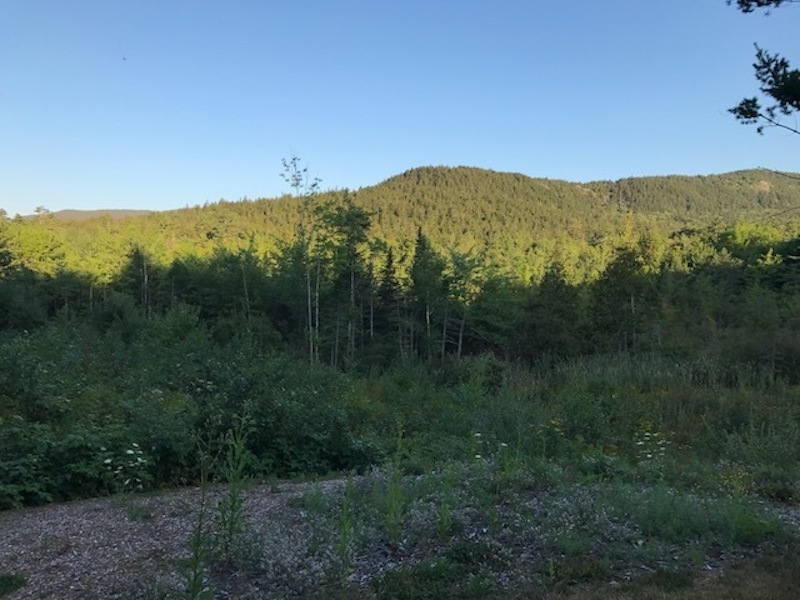 If you're ready to explore "down east," Smuggler's Den is an ideal base of operations. Set on the Maine coast at the edge of Acadia National Park, this is the perfect place to relax and reload after a day of adventuring in the park, on the beach or in nearby Bar Harbor. Acadia, one of the ten most-visited National Parks, protects a stunning, rugged landscape where mountains meet the sea. Among the park's signature attractions are Otter Cliff, a rocky promontory that provides a breathtaking view of the Atlantic, and the Thunder Hole, where ocean waves boom into a partially submerged cave. Acadia's terrain makes for some exhilarating hiking. The Cadillac Mountain, Precipice, and Beehive trails are among the best. Some of the park's trailheads can be reached on foot from Smuggler's Den. Airstreamers Living Driven found Smuggler's Den perfect for their visit to this gorgeous area. "This campground has all of the nice perks of staying at a resort-like park. The best thing about Smuggler's Den is that you are so close to hiking and the quaint town of Southwest Harbor. You're away from the craziness of Bar Harbor and the crowds of tourists, but you're still close enough to enjoy it with a short drive." Smuggler's Den has 106 full hook-up sites. Amenities include a heated pool, laundry room, playground and cable TV.
Click here for more information about Smuggler's Den Campground
Birch Grove Park & Family Campground
Northfield, NJ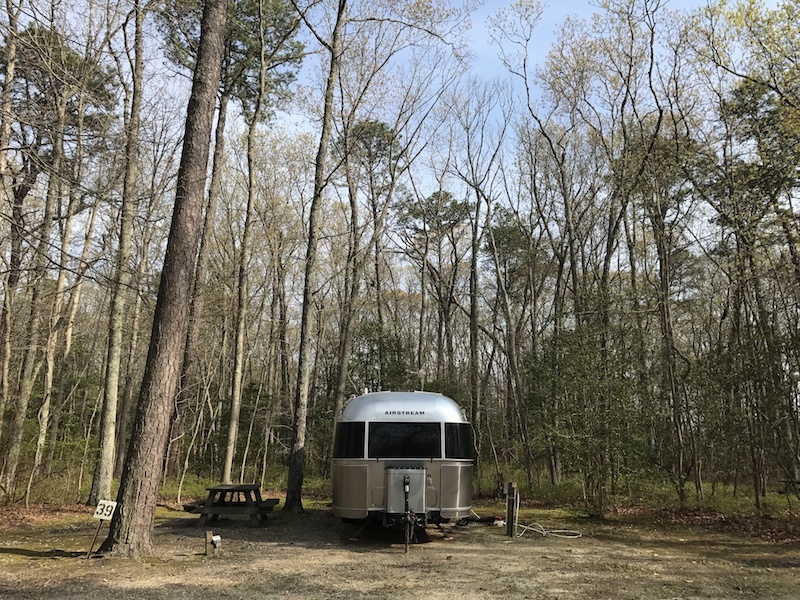 Atlantic City and camping may seem like an odd combination, but, well, the Birch Grove campground stays busy. The main draw at this county park is proximity to a popular stretch of the Jersey Shore. But there's plenty to keep you busy even if you're not looking to work on your tan lines or dip a toe in the ocean. Stroll the famous Atlantic City Boardwalk with its amusements and eateries or visit the historic Absecon Lighthouse. Duffers will find 20-plus golf courses within 30 minutes of AC. Parasailing, deep-sea fishing and dolphin-watching cruises are also on the menu. And, of course, there are casinos - nine of them. Airstreamers Aluminarium say Birch Grove gets the job done. "Overall, you can't go wrong if you need a base-camp for visiting Atlantic City. The campground is 15 minutes away from AC and is set in a heavily treed park. There are hiking and biking trails and stocked fishing lakes." Birch Grove has 52 full hook-up sites. Amenities include a general store and playground. 
Click here for more information about Birch Grove Park & Family Campground
Hocking Hills State Park
Logan, OH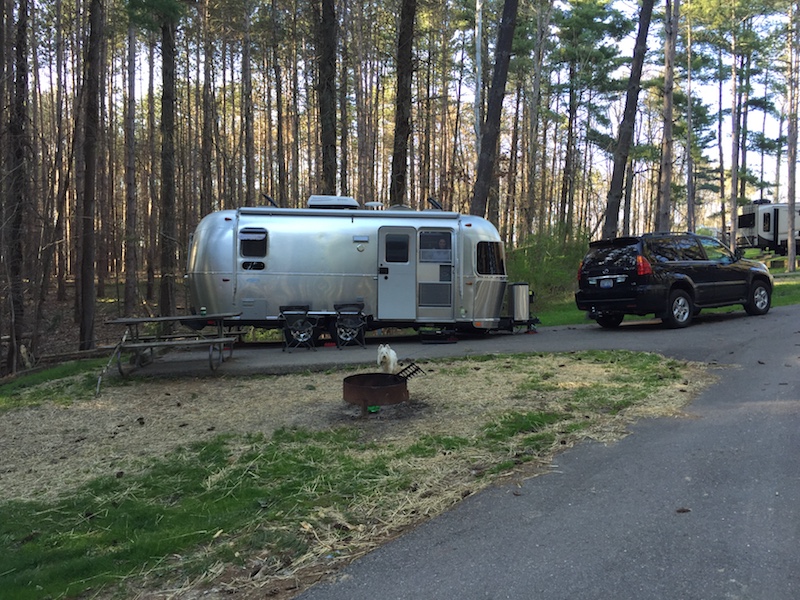 Hocking Hills State Park, located in southeastern Ohio, is considered one of the most scenic public parks in America. Its enchanting landscape includes soaring cliffs, tumbling waterfalls, huge caves, and deep, hemlock-shaded gorges. Wildflowers adorn the forest floor in springtime and vivid foliage lights up the trees in fall. Eleven hiking trails, ranging from easy to difficult, allow visitors to immerse themselves in this enchanting place. Hocking Hill also has two mountain bike trails and provides access to 33 miles of bridle paths in the adjoining state forest. When you're done tramping the trails, you can wet a line in 17-acre Rose Lake or play a round of disc golf in the park. "This entire area is a must-see," according to Airstreamers Camping through my Eyes. "What a wonderful and beautiful state park. The rock formations and all the places to hike! Old Man's Cave is magical." Hocking Hills State Park has 47 sites with full hook-ups and another 109 with electricity. Amenities include a laundry room, camp store and swimming pool.
Click here for more information about Hocking Hills State Park
Castaways RV Resort & Campground
Berlin, MD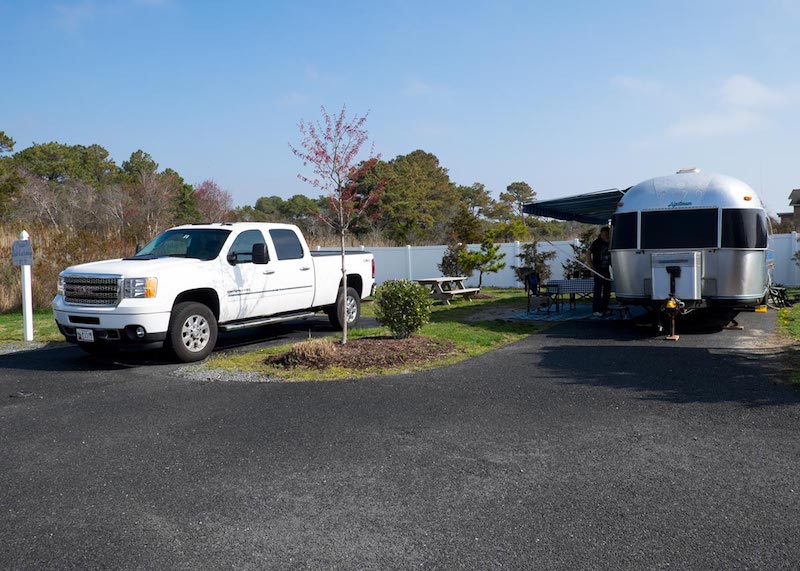 As the weather warms, the siren call of the beach may be filling your senses. If so, set a course for the Maryland shore and Assateague Island. This stretch of the Atlantic coast offers every aspect of American beach culture from Ocean City's old school honky-tonk boardwalk to the empty pristine beaches of Assateague Island National Seashore. This barrier island is home to a herd of wild ponies believed to be descended from horses that escaped a Spanish shipwreck in the 1600s. More recent history is reflected in the ruins of the World War II-era coastal watchtowers that dot the local beaches. Castaways Resort is located across a narrow bay from Assateague Island. Airstreamers Robin loved their experience at Castaways. "We enjoyed our stay at Castaways RV Resort very much. The staff was friendly and it seems to be a well-run campground. We stayed in the Castaways Club section of the RV park. This area is waterfront to the bay. It has its own private bayfront pool along with fishing piers and decks on which to enjoy the view." Castaways has 354 full hook-up sites.  Amenities include a pool, park and wash, laundry room, fitness center, cafe, and shuttle service to Ocean City.
Click here for more information about Castaways RV Resort & Campground
---
Southeast
D. Roosevelt State Park
Pine Mountain Valley, GA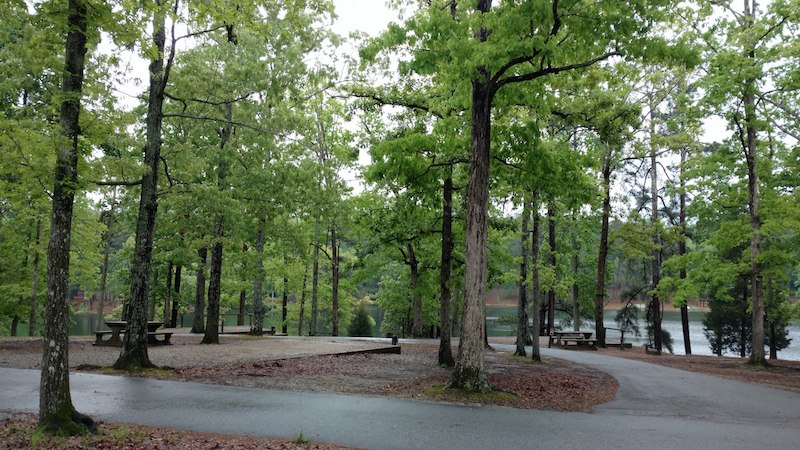 Located 80 miles south of Atlanta, Georgia's largest state park is a magnet for hikers and backpackers. More than 40 miles of trails, including the 23-mile Pine Mountain Trail, take visitors through hardwood and pine forests, over creeks and past small waterfalls. The park has several amenities built by the Civilian Conservation Corps during the Great Depression, including the Liberty Bell swimming pool, which is fed by natural springs. FDR came to this area in 1924 to swim in the naturally warm springs that offered some relief from his polio. He later built a vacation home near the site of FDR State Park, which he frequented until his death in that house in 1945. The nearby Roosevelt's Little White House State Historic Site features that modest home, a museum and the pools that first drew him here. FDR is also memorialized with a life-sized sculpture at Dowdell's Knob, an overlook where the President sometimes picnicked. Airstreamers Jen and Mace Man Fancy Pants say FDR State Park is a great home base to explore the surrounding area. "This is a beautiful wooded state park. It has a large variety of hiking trails near the campground area and further out in the Pine Mountain Forest. Other day trips could include Providence Canyon State Park, FDR's Little White House in Warm Springs or Callaway Gardens." F.D. Roosevelt State Park has 114 sites with water and electricity. Amenities include restrooms, showers, playground, swimming pool, and dump station.
Click here for more information about F. D. Roosevelt State Park
Warrior Path State Park
Kingsport, TN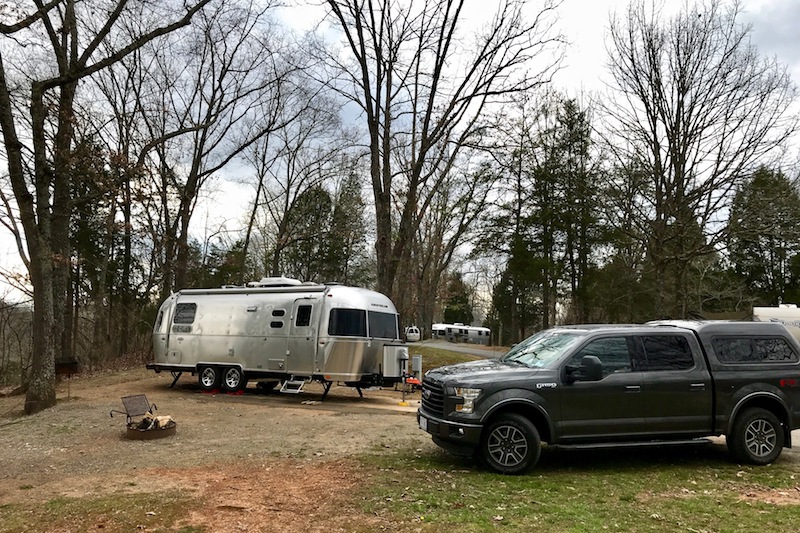 This pocket-sized facility has something for virtually every outdoor enthusiast, from hikers and bikers to anglers and duffers. Perhaps the park's most powerful draw is its internationally-renowned mountain bike trail system, which consists of 15 paths of varying difficulty. Ten hiking trails offer the chance to glimpse a wide range of birds and other wildlife. Hiking/biking not your cup of tea? Grab your clubs and stroll over to the 18-hole Warrior Path Golf Course. Or pack your rod and reel and check out Fort Patrick Henry Lake where the catches include bass, crappie, Hybrid Striped Bass, catfish and trout. Airstreamers WatsonsWander were pleasantly surprised by Warrior Path. "This was a stopover park for us on the way south. The location, not far off I-81, was quite convenient. For us, the best part of the park was the network of hiking trails. We strung together a five-mile hike that took us up to a viewpoint and then down around a river. A good place to enjoy some fresh air!"  Warrior Path State Park has 134 campsites - 94 of these have water and electric hookups. The remaining sites are located in the overflow campground, which is only open from Memorial Day-Labor Day. Amenities include a pool, playground, showers, flush toilets and two dump stations.
Click here for more information about Warrior Path State Park
Lake Catherine State Park
Hot Springs, AR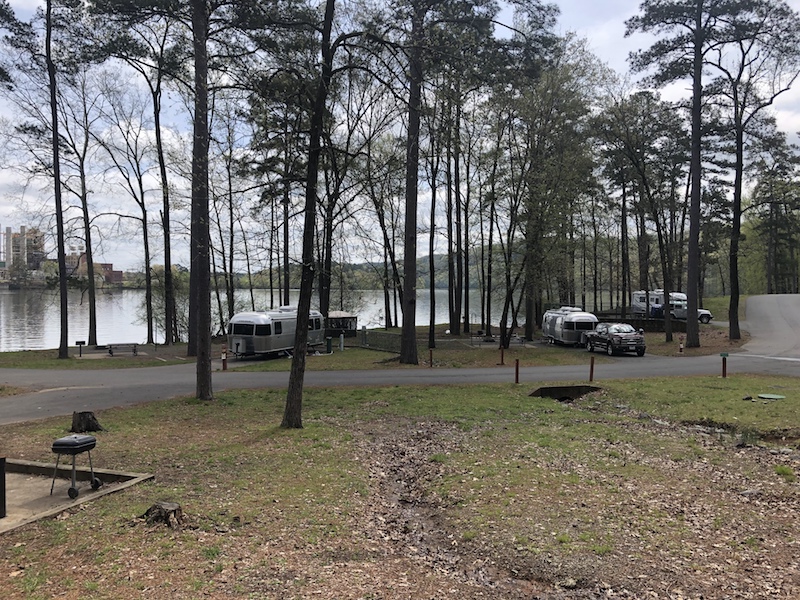 This peaceful park is located on Lake Catherine, one of five lakes in the Ouachita Mountain region. No surprise, then, this spot is all about relaxing on the water. A full-service marina offers bait, snacks and fuel. Boat rentals are available year-round. Away from the lake, you'll find playgrounds, guided horseback rides, and three hiking trails, one of which leads to a waterfall.
The park's ambiance is enhanced by its many native stone and wood buildings, which were built by the Civilian Conservation Corps (CCC) in the 1930s. If you're looking for more outdoor action, consider making the 30-minute drive to Hot Springs National Park. Airstreamers Highpockets found plenty to occupy them at Lake Catherine. "This campground is exceptionally well maintained. It's rare to have so much space between full hook-up sites. We enjoyed hiking to the waterfall and walking around the campground. Spring was in full force and the dogwood trees were in full bloom. Nice piers are built out along the shoreline for fishing." Lake Catherine State Park has 70 sites with full hook-ups. Amenities include a laundry room, showers, and a dump station.
Click here for more information about Lake Catherine State Park
Mammoth Cave Campground
Mammoth Cave National Park
Mammoth Cave, KY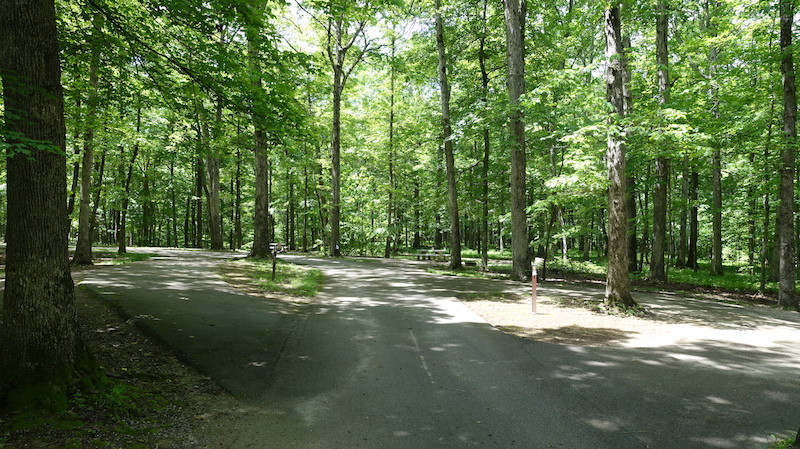 How mammoth is Mammoth Cave? Pretty mammoth. In fact, it's the world's longest known cave system. Set in the heart of South-Central Kentucky, the caves cover 400 square miles. But not all the action is underground. The surface in Mammoth Cave National Park is so biologically diverse that it was declared an International Biosphere Reserve in 1990. Visitors can experience the park's hidden wonderland with a guided tour of the caves. The park's surface is crisscrossed by 84 miles of hiking trails and two nine-mile mountain bike trails. The Green and Nolin Rivers which meader through Mammoth Cave National Park, are perfect for canoeing, kayaking, fishing and swimming. Mammoth Cave Campground is one of three campgrounds in the park. Airstreamers Zamia Ventures say it's the most convenient. "If you're here to see the caves, you can't get closer, unless you stay in the hotel connected to the visitor center. The visitor center, from which all the cave tours leave, is an easy five-minute walk. The campground has direct access to the hiking & biking rail-trail that runs roughly parallel to the main park road. There are several different small hiking trails around the visitor center that can be done individually or linked together for a longer trek."  Mammoth Cave Campground has 105 dry camping sites. Water is available and amenities include, flush toilets, showers, laundry facilities, and a general store.
Click here for more information about Mammoth Cave Campground and Mammoth Cave National Park
Sesquicentennial State Park
Columbia, SC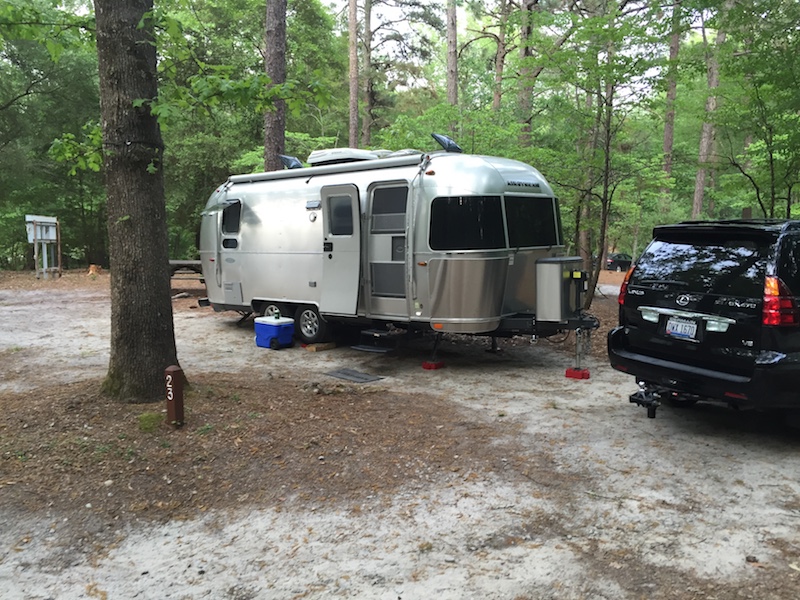 OK, first things first. This state park was built in the 1930s when nearby Columbia was celebrating the 150th anniversary of its incorporation. Sesqui, as it's known to South Carolinians, is one of those handsome, versatile parks beloved by the locals. It's the go-to locale for family cook-outs, Cub Scout camp-outs, and church group retreats. Sesqui is also a great stop-over If you're migrating north after wintering down south. Stretch your legs on one of four hiking trails, or get the blood pumping on the park's mountain bike trail. Drop a line in Sesqui's lake or paddle across the water in a rental kayak or canoe. Airstreamers Casa Rosinante say this is the perfect stop for weary RVers. "We spent a night here as we continue our northward migration. The park is conveniently located and surrounded by restaurants, etc. Inside the park, you feel secluded, and the area is nicely wooded with plenty of shade." A bit of local color: Columbia is home to numerous military bases and thus it's not unusual for Sesqui campers to awaken to the sound of distant weapons fire and explosions. Hey, you can wake up to birdsongs anywhere, right? Sesquicentennial State Park has 84 sites with water and electricity. Amenities include a dog run, store, showers, flush toilets, and a dump station.
Click here for more information about Sesquicentennial State Park