If Fall were a performer, the Northeast would be its stage. From the jaw-dropping riot of color in the forests stretching from Maine to Pennsylvania to the crashing waves of the rocky Canadian shoreline, from the first hint of Arctic chill wafting across the Great Lakes to the crackle and smell of a campfire under an inky star-studded sky, no place puts on an autumnal show like the Northeast.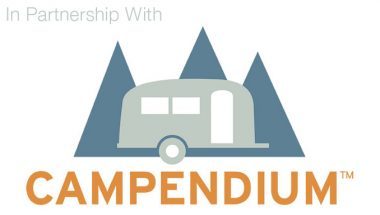 For the best seats in the house, check out these five great campgrounds from across the region, handpicked by fellow Airstreamers.
Hideaway Campground & Oyster Market
Dingwall, Nova Scotia
Located at the head of the breathtaking Cabot Trail, the Hideaway offers quick access to Cape Breton Highlands National Park, which is beloved for its stunning ocean views, forested river canyons and abundance of majestic wildlife. "The Cabot Trail is a fantastic area to explore and this is the best campground to stay at hands down! We will be back... as often as possible," says Airstreamer Shawna. Some Hideaway sites provide an ocean view while others are nestled among the trees. Despite the campground's remote location, the internet service is solid. When the day is done, campers can retire to the Hideaway's oyster bar for a dozen on the half shell or even a lobster.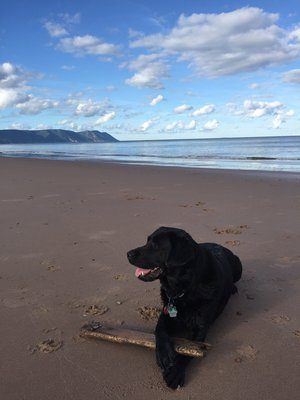 Learn more about Hideaway Campground & Oyster Market.
Bruin Lake Campground, Pinckney State Recreation Area
Pinckney, Michigan
When you think Michigan, you think lakes – both Great and small. Bruin Lake Campground is a perfect spot to live the lake life – boating, fishing, maybe even an early fall swim. The sprawling Pinckney Recreation Area, which surrounds the lake, has hiking and mountain biking trails, a backcountry camping area, and more lakes. "When we visited in October, it was blessedly empty," says Airstreamers Currently Wandering. "Lots of space to run around, a lake to paddle on, and some great mountain biking nearby. Doesn't get much better!" For the perfect day trip, consider making the short drive to Ann Arbor, home of the University of Michigan. This vibrant town is jam-packed with boutiques, galleries, restaurants and other diversions.
Learn more about Bruin Lake Campground.
Buckaloons Recreation Area, Allegheny National Forest
Irvine, Pennsylvania
The Allegheny National Forest is home to 80 species of trees, each of which dabs a unique color onto the forest's autumn foliage canvass. There is simply no better place for leaf-peeping. The Buckaloons Recreation Area is an ideal base for exploring fall in the Allegheny. The sites lie among the trees along the Allegheny River, which is accessible via the campground's boat ramp for kayaking, rafting and canoeing. Visitors to Buckaloons have access to endless opportunities for outdoor adventure, including hiking, biking, ATV and horse trails. Golf, hunting and fishing are options, too.
Learn more about Buckaloons Recreation Area.
Moreau Lake State Park
Gansevoort, New York
Nestled in Saratoga County, you'll find Moreau Lake State Park, an idyllic "little" place with 4,500 acres and over 20 miles of hiking trails, situated amidst hardwood forests, pine stands and rocky ridges. "The park is huge with multiple camping loops, tons of hiking trails, and a lake with a small beach," says Airstreamers Watsons Wander. At Moreau, you can also fish or paddle on the Hudson River or simply take in the view from the sandy beach. Groves of trees that are spectacular in the fall shade the 143 campsites. Both Saratoga Springs and Lake George are nearby, and history buffs can visit the town of Gansevoort, which was originally settled by the Mohawk and Iroquois Indians. Many burial mounds and artifacts can still be found there.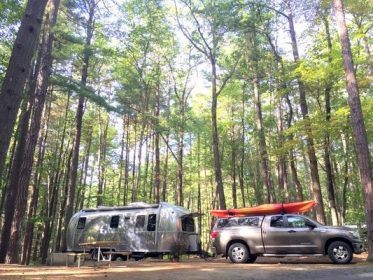 Learn more about Moreau Lake State park.
Kamp Komfort RV Park
Carlock, Illinois
"Kamp Komfort is a cute country park and is exactly what you would expect for an RV campground," says Airstreamer StreamingEagle. "Since I camped there in the fall there was plenty of room between campers." Located in Carlock, a village that's part of the Bloomington–Normal Metropolitan Statistical Area, and only eight miles from the city of Normal, the site is still full of greenery and dotted by trees. Sites are full hookup and, according to StreamingEagle are "well maintained, and all of them were nice and level." Consider spending an afternoon in nearby Bloomington or Normal. There's also the Bloomington-Normal Constitution Trail, a 24-mile jogging, walking, cycling, and rollerblading trail. The north-south segment of the trail follows the abandoned Illinois Central Gulf (ICG) railroad from Kerrick Road in Normal to Bell Street in Bloomington. After the trail, spend a lazy afternoon of window shopping or take in a hockey game.
Learn more about Kamp Komfort RV Park.