Autumn is a splendid time of year, when nature is filled with so much magic. As if the cooler temperatures weren't enough to lure adventurers to the great outdoors and a crackling campfire, there is the brilliance of nature changing its color palette.
One of the best places you'll find to enjoy vibrant fall leaves and abundant wildlife and wild places is in the Northwest. With a geography that consists of rugged mountains, towering forests, vast waterscapes and even rainforests, explorers of all stripes can find beauty, exhilaration, and tranquility – sometimes all in the same day.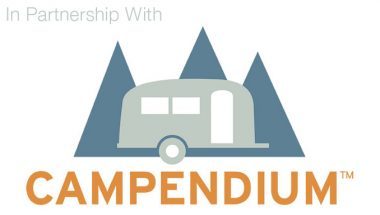 If you're ready to bask in natural wonder, check out these five great campsites from across the Northwest, handpicked by fellow Airstreamers.
Salmon River, Sawtooth National Forest
Stanley, Idaho
Nestled in the heart of Idaho is the wonder of Sawtooth, a National Forest that covers over 2.1 million acres. There's plenty to explore among the rolling hills and towering pines, aspens and firs, including the Salmon River, one of the largest rivers in the continental US without a single dam. Set up camp in Stanley, Idaho, across from the entrance to Redfish Lake, and you'll be bathed in natural splendor while having easy river access. All of this, and it doesn't cost you a cent; camping here is free, and you can stay for as many as ten days.
Learn more about Salmon River.
Champoeg State Park
Newberg, Oregon
About 30 miles southwest of Portland is idyllic Champoeg State Park. Situated on the banks of the Willamette River, Champoeg is smack dab in the middle of the Willamette Valley wine district, so wine enthusiasts will have an especially enjoyable stay at the park. This destination offers up two loops for campers, with water and electric hookups and moderate cell coverage from most major carriers. But you'll likely forget to check in digitally because of all the fall foliage to check out. "The view out our back window was great and we were tucked into a cozy little corner," says Airstreaming couple Aluminarium. To really steep in the gold, red and orange leaves, consider pedaling one of the park's many bike trails.
Learn more about Champoeg State Park.
Minnie Peterson Campground, Western Olympic Peninsula
Forks, Washington
"This tiny, no-frills, free campground (with Discover Pass) makes a great base camp for exploring the rainforest and coast region of Olympic National Park," says Airstreamers WatsonsWander. Located near the Hoh River, pull into Minnie Peterson Campground and you'll immediately notice how lush and vibrant everything looks – because it is. Minnie Peterson, part of the Olympic Experimental State Forest, is a nine-campsite campground is on the edge of the Hoh Rain Forest. Plus, this campground is centrally situated – the Hoh Visitor Center is a 25-minute drive, and 2nd and Ruby Beaches are just a 40-minute drive. Both its beauty and its proximity to these sites and others in Olympic National Park make this campground the perfect place to set up your home on wheels.
Learn more about Minnie Peterson Campground.
Shadow Mountain, Bridger-Teton National Forest
Jackson, Wyoming
In the western portion of Wyoming, you'll find Bridger-Teton National Forest, the third-largest National Forest outside Alaska. Comprised of over 3.4 million acres of public land, the Forest is home to vast wildlands, immaculate watersheds and abundant wildlife (think elk, moose, mule deer and bighorn sheep). With over 2,000 miles of hiking trails, you could explore for days on end. Camping at Shadow Mountain means you'll take in glorious views of the Tetons, with some spots also allowing campers to gaze at the valleys below. Because Shadow Mountain is located on public lands, nightly stays are free. There are no facilities (water or electric), but boondockers can fill up at nearby Gros Ventre campground, which has a dump station and fresh water for $10 for non-guests and is only a 25-minute drive away.
Learn more about Shadow Mountain.
James Kipp Campground, Bureau of Land Management
Winifred, Montana
As Airstreamers, we all know that Bureau of Land Management (BLM) sites, like their public land cousins, often offer the best sites with the best views for little to no cost. James Kipp is no different. Wild and remote, this camp area is located along the Lewis and Clark National Historic Trail and along the western side of the 1.1 million acre Charles M. Russell National Wildlife Refuge. Here, you'll likely see elk, deer and over 235 species of birds. This 34-site campground also provides access to the Upper Missouri National Wild and Scenic River and Fort Peck Lake. The campground has three loops and there is a host on site.
Learn more about James Kipp Campground.