Fall is quite possibly the best season for outdoor adventure in the Southeast. The region's notorious summer heat and humidity give way to autumn days that are warm enough to play on the water, cool enough to hike in comfort. The ocean beaches, scenic rivers and mountain lakes are less crowded. The forests, from the Shenandoah Valley to the Great Smokey Mountains, are alive with fall colors that rival New England's legendary hues.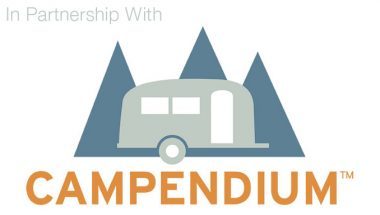 Here are five great campgrounds from across the region, handpicked by fellow Airstreamers.
Crosswinds Campground, Jordan Lake State Recreation Area
Apex, North Carolina
"This was one of the nicer state parks that we've stayed in and its layout reminded me of some of the nicer National Park campgrounds," says Airstreamers Big Big Trippers. Here you will find "huge outdoor living areas, complete with two picnic tables and a fire pit." Located about 15 minutes from Apex, 25 minutes from Cary, and 40 minutes from downtown Raleigh, Crosswinds Campground is ideally situated for those looking to explore the middle region of North Carolina. But if you'd rather stay put, you can take a walk on the beach of the 14,000-acre undeveloped reservoir, or simply bask in the beauty of your surroundings. In the Jordan Lake State Recreation Area, you'll find nearly 14 miles of hiking trails that wind across the hilly lakeshore, most of them offering easy, brief hikes perfect for family outings. Or take a boat out for the day and do some fishing. If you do, it's likely you'll catch a glimpse of a bald eagle or osprey, as they're common at the campground.
Learn more about Crosswinds Campground.
Lake Wedington Recreation Area, Ozark National Forest
Fayetteville, Arkansas
Located just 13 miles west of Fayetteville is the cozy Lake Wedington Recreation Area, part of the magnificent Ozark National Forest. The 102-acre lake was built in the 1930s by local men employed by the Works Progress Administration. Today, this Recreation Area is on the National Register of Historic Places. Here you'll find six historic cabins, a pavilion, volleyball courts, and a boat launch ramp. Activities include fishing, hiking, horseback riding and mountain biking. You'll find a variety of trees, ferns and wildflowers along the way, and may spot local wildlife, such as rabbits, deer and wild turkeys, as well as an array of migratory waterfowl. Fall leaves put on a vibrant show, attracting both novice and professional photographers.
Learn more about Lake Wedington Recreation Area.
Monahans Sandhills State Park
Monahans, Texas
"This place is really cool!" says Airstreamers @ChasingTabor. "On our way to Big Bend, we happened across this place and are so glad we stopped. Amazing dunes and animals/tracks. Sunsets and sunrises to die for." As if this weren't enough to make you want to visit this state park, affectionately referred to as a "Texas-sized sand­box for kids of all ages," there are also a slew of things to do in addition to soaking in your surroundings. Visitors can explore the peaks and valleys of the dunes on foot or horseback, or can rent sand disks to surf the dunes. Off the beaten path, this is a gem of a park and a true desert jewel. For those that love this type of scenery, Airstreamers KennysSeeAmerica put it best: "White soft sand just puts me in my happy place."
Learn more about Monahans Sandhills State Park.
Laura S. Walker State Park
Waycross, Georgia
The first state park named for a woman, at Laura S. Walker you can wander among the pines, enjoy the tranquil lake, play a round of golf on the championship course, or stroll along the trails of this southeast Georgia retreat. Boasting many of the same features as nearby Okefenokee Swamp, one of the seven natural wonders of Georgia, this park is home to a slew of interesting creatures and plants, including alligators, carnivorous pitcher plants, warblers, owls and great blue herons. If you're lucky, you may also spy one of many shy gopher tortoises. Surrounding the lake, where you can boat or kayak, are numerous oak varieties that are sure to stun once fall is underway. And, because of the proximity, "this campground is a good place to use as a base to visit the Okefenokee National Wildlife Refuge," says Airsteamer Bob Martel.
Learn more about Laura S. Walker State Park.
Grindstone Campground, Jefferson National Forest
Troutdale, Virginia
"One thing we realized is that Virginia seems to have high standards for campgrounds, and not just their state ones," says Airstreamer Tin Can Annie. "Grindstone reminds me of the campgrounds of my childhood." Pulling into camp here, tucked away in Jefferson National Forest, is sure to bring a sense of nostalgia to any traveler. The campground sits among picturesque pastures and wooded hillsides, reminiscent of simpler times. Here, you'll find mixed hardwoods, hemlock and rhododendrons. Nearby are many breathtaking hiking trails, such as Mt. Rogers National Forest and Grayson Highlands State Park, and the famous Virginia Creeper bike trail. Almost all of the campsites are heavily shaded by the trees, meaning that fall campers will reside under a canopy of color during their stay here.
Learn more about Grindstone Campground.