Fall is a gorgeous time of year in the Southwest as the temperatures cool and the desert foliage puts on a colorful display to rival anything in New England. But the best part of autumn in the Southwest is what's not there – crowds. The region is home to many of our most majestic and popular National Parks, including Zion, Arches and Grand Canyon. Rocky Mountain National Park in nearby Colorado is another crowd-pleaser that is best enjoyed without the crowds.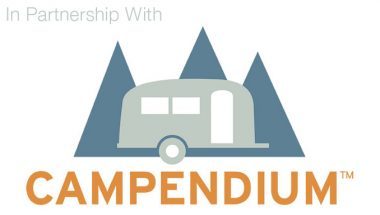 If you're ready to quietly bask in natural wonder, check out these five great campgrounds from across the Southwest, handpicked by fellow Airstreamers.
Anvil Camping Area, San Juan National Forest
Silverton, Colorado
Offering campsites next to Mineral Creek, Anvil Camping Area is a place with spectacular views. Situated near the San Juan National Forest in western Colorado, adventurers can immerse themselves in the alpine wilderness. Several of Colorado's famous "14'ers" can be found in the Weminuche and Lizard Head Wilderness areas of the Forest. Because of its proximity to the Continental Divide, campers can revel in the majesty of the surrounding mountains. "Views which can't be beat, especially if you have one of the few river spots," says Airstreamers Fables and Trails. Adventurers can also enjoy hiking and horseback riding. Anvil is located just north of Silverton, and the camping area itself has a tranquility and seclusion about it, even if there are other campers enjoying spots, too. Once you're finished sitting by your cozy campfire, let the nearby sounds of Mineral Creek lull you to sleep, before starting a new adventure in the morning.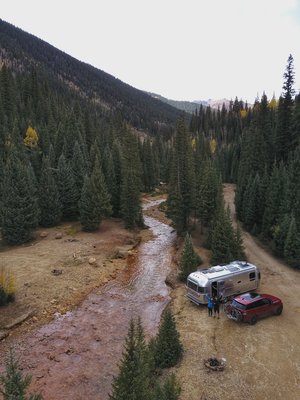 Learn more about Anvil Camping Area.
Silver Springs Beach Campground, Lahontan State Recreation Area
Silver Springs, Nevada
Why not spend some time this fall at the lake? At Lake Lahontan, you'll find 69 miles of shoreline and plenty of options for camping. Plus, this time of year, you'll have just missed the crowds of summer-time lake visitors. Activities at Silver Springs Beach Campground include boating, fishing and hiking the many trails located along the length of the reservoir. Along the water, you'll find a smattering of high desert sagebrush, cottonwoods and willow trees. Take a serene walk along the picturesque beaches. And bring your furry friends with you; there's plenty of room for Fido to run. For those that are looking for solitude, you can find it there, too, if you seek it. At only $15 a night, who could say no?
Learn more about Silver Springs Beach Campground.
Wahweap Campground & RV Park, Glen Canyon National Recreation Area
Page, Arizona
Located near many of the highlights of Page, Arizona, you'll find the Wahweap Campground and RV Park. Not only is it located just along Lake Powell, but it's only five minutes to Glen Canyon Dam, 10 minutes to Page proper, 20 minutes to Horseshoe Bend, 30 minutes to Antelope Canyon, and 45 minutes to Lee's Ferry. Visitor's here won't find themselves searching too far for things to do when they're not taking in the views of the lake and the surrounding scenery. Larger Airstreams will fare just fine here. "Most driveways are very long, so bigger rigs would have no problem fitting here," says 4airstreamers. Because of the secluded layout, the Park feels calm and quiet even when it's full. Sites offer full hookups, and activities to enjoy on site include hiking, fishing and boating.
Learn more about Wahweap Campground & RV Park.
Virgin Dam, Bureau of Land Management
Virgin, Utah
Virgin Dam offers some of the best boondocking an Airstreamer could hope for. This spot delivers stunning 360° views of the surrounding desert, cut by the nearby Virgin River. It's a bird lover's paradise, where sparrows and hawks dot the skies throughout the day, while geese wade in the river below. As an added bonus, you're only a short drive away from Zion National Park. As for getting there, you can take any of the three roads past the BLM sign on Hwy 9 to find a place, but be mindful – roads can be a bit rutted. It's also worth it to scout your spot first. Cell signals vary, typically being okay at the top and slowly diminishing as you make your way down the road and drop in elevation.
Learn more about Virgin Dam.
RV Park at Rolling Hills Casino
Corning, California
California is a big state. If you're ever making your way up or down the Golden State and are looking for a cool, kitschy place to stay, consider pulling into the RV Park at Rolling Hills Casino. Not only is this a fast and easy stop off of the freeway, but it's also got character for miles. "All sites are full hookup, the same size, tow-through (making it easy to arrive after dark), and no reservations are needed—just pull into any open space you like and turn off the engine," says Airstreamer RG Coleman. This family-friendly and pet-friendly outfit comes complete with laundry, showers and Wi-Fi. Now, on to the fun stuff: There is, of course, a casino on site that features both slots and table games. And if you want to try your luck elsewhere, a 24-hour shuttle will take you to the area's many restaurants, bars and casinos.
Learn more about RV Park at Rolling Hills Casino.