Developed in partnership between two iconic brands, the Pottery Barn Special Edition Travel Trailer is brimming with features that let you work, play, and travel wherever you set your sights. Best of all: You'll stay at your destination enveloped in gorgeous Pottery Barn style. From the hitch to the bumper, the newest addition to our travel trailer lineup comes equipped with beautiful and functional features that let you relax, recharge, and get the most out of your trip.
From seating covered in performance fabric that looks great and cleans up easily, to powered stabilizer jacks and an awning that deploy with the touch of a button, integrated technology, seamless function, and style work hand in hand throughout. The teams from Pottery Barn and Airstream brought together 160 combined years of experience, and the result is a beautiful, hand-crafted travel trailer that's made for your modern life – and the adventures you've been aspiring to embark upon. 
Step inside the Pottery Barn Special Edition Travel Trailer and see for yourself eight of our favorite features that provide a whole world of new experiences and a new dimension in travel enjoyment.
1. The Luxurious and Contemporary Kitchen
The matte-black pull-down faucet wouldn't look out of place in your modern brick and mortar home kitchen, while the stainless steel flat apron sink is wide enough to get dinner prepped and clean up quickly afterward. A solid walnut cutting board sink cover rests snugly in the sink's rim, providing more counter space (when you're not using it to cut the vegetables for dinner). 
Other features we love:
Pull-out Garbage Can:

Hidden inside a drawer under the kitchen counter is a removable hardwood cutting board, perfectly placed above the pull-out garbage can where you can easily deposit your kitchen scraps.

Recessed Compartments:

In the wall adjacent the cooktop you'll find convenient storage for knives as well as a spice rack. Everything you need to cook a delicious meal is right within reach. 

Range Top, Oven, and Microwave:

Your Airstream is equipped with LP storage tanks that power the three burner cooktop and an oven. Replace the oven with an optional electric Convection Microwave Oven.

Baraldi Cooking Vent:

Light up the cooktop with this modern, stainless steel cooking vent that quickly moves steam while you boil water for pasta or fry up breakfast on a cast iron skillet. 

Refrigerator: There's plenty of space for all your cold items in the combination refrigerator and freezer.  Versatile, all-electric operation lets you keep everything chilled as you head to your destination (plus, solar panels on the rooftop work while you drive to keep the batteries topped off – read on for more on that!).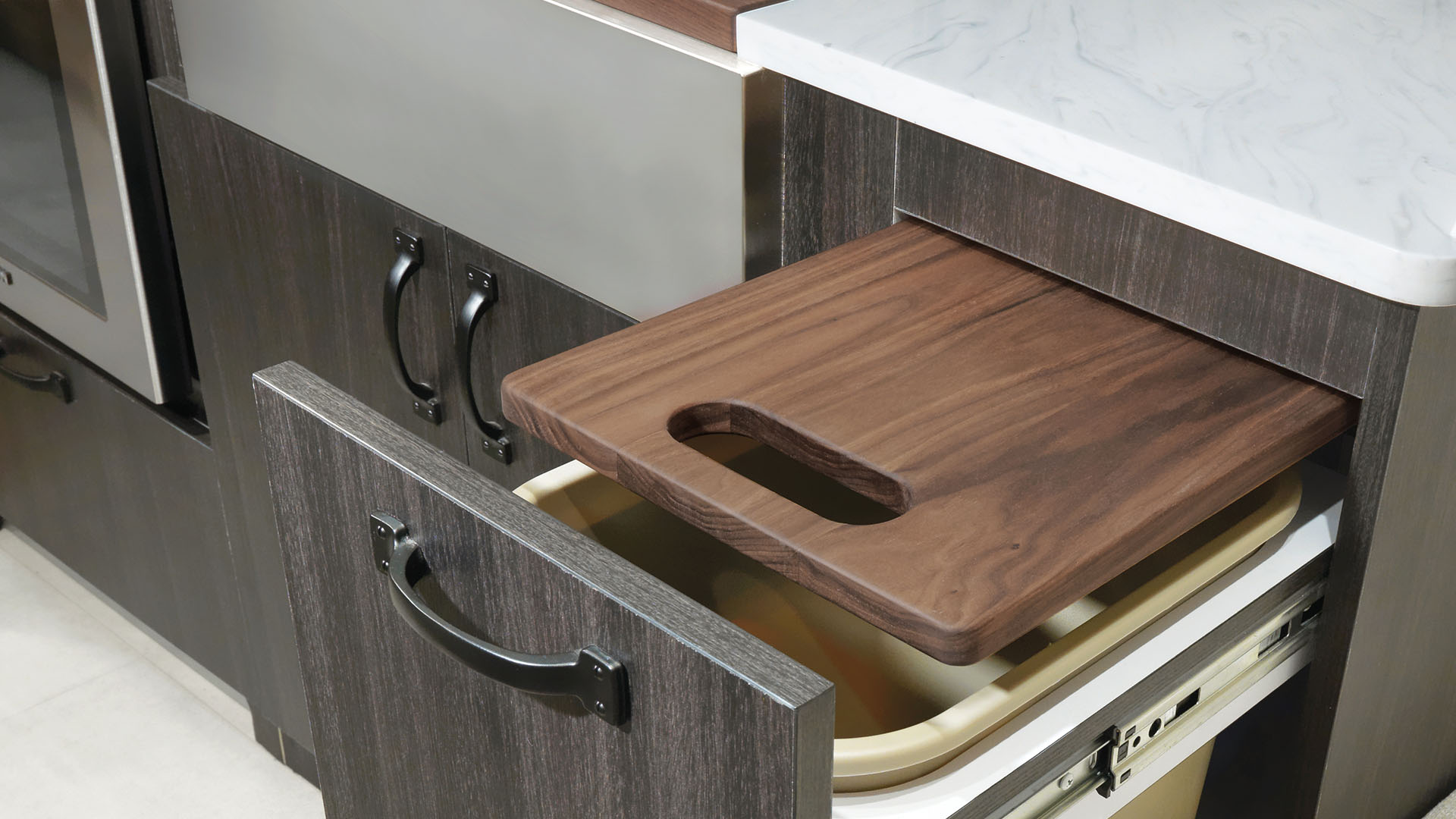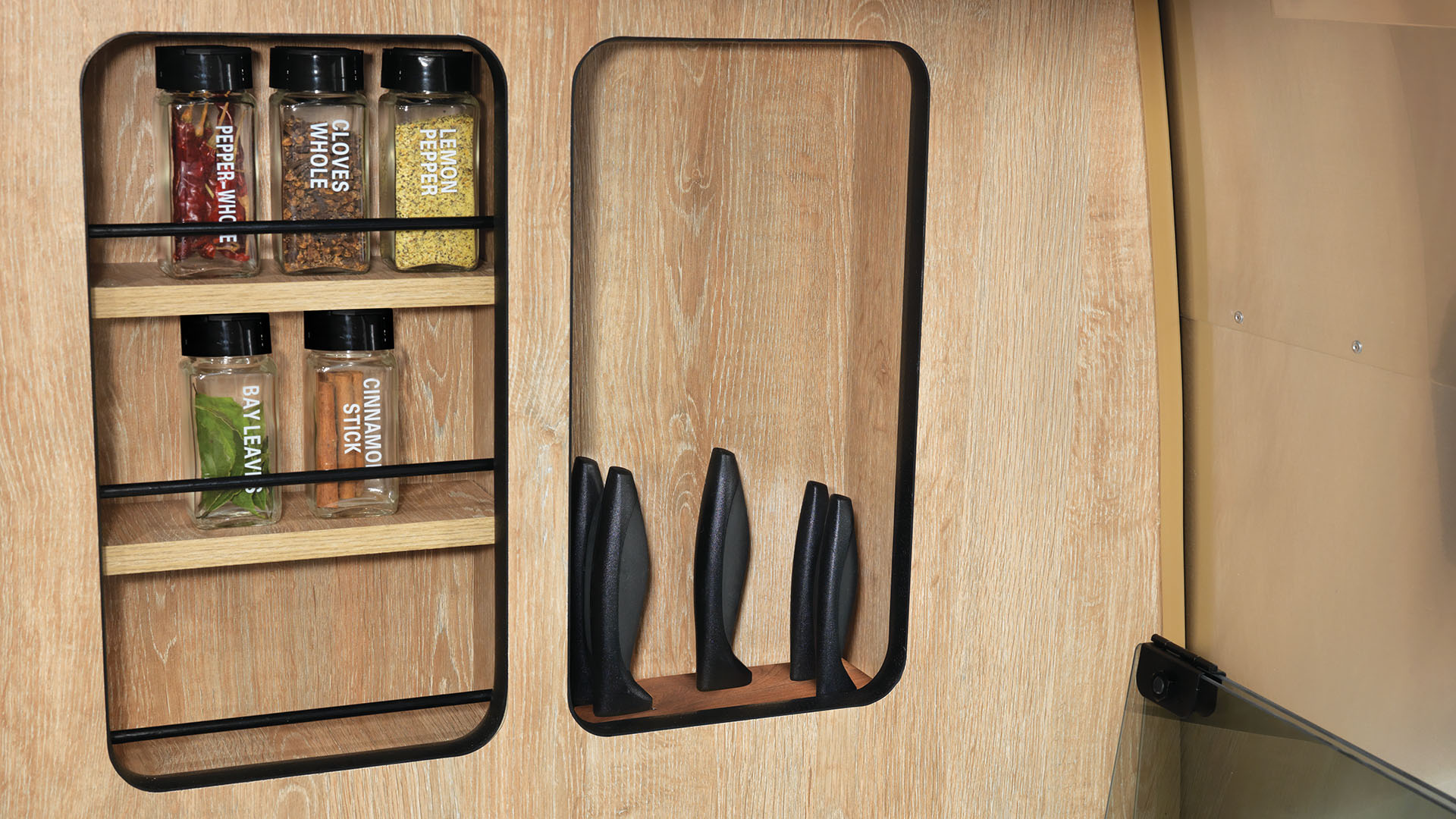 2. The Sofa: Elevated Comfort with Thoughtful Design
Just inside the entry door is a wide, L-shaped sofa where you can relax or catch an afternoon nap. With room for several people to spread out comfortably – or for one person to sleep at the end of the day – the seating is covered with Pottery Barn's performance boucle fabric. Creamy white and dappled with subtle textures, the fabric is family friendly and cleans up wonderfully. Your guests will delight to discover a surprising design element hidden within the armrest of the lounge – a fold-out table that harkens to the globetrotting days of international flights. Rest your cocktail, record memories in a journal, or sketch out plans for your next jaunt on this fun, functional feature.
Under the sofa you'll find pull out drawers where you can store everything you need to bring along for your trip. It's the hallmark of Airstream design – the expert use of space, where nothing is wasted. Throughout the interior you'll find cabinets, drawers, side tables, nooks, and recessed areas that utilize every available inch of space with Pottery Barn's signature touch, leaving you feeling like you're always home – wherever you go.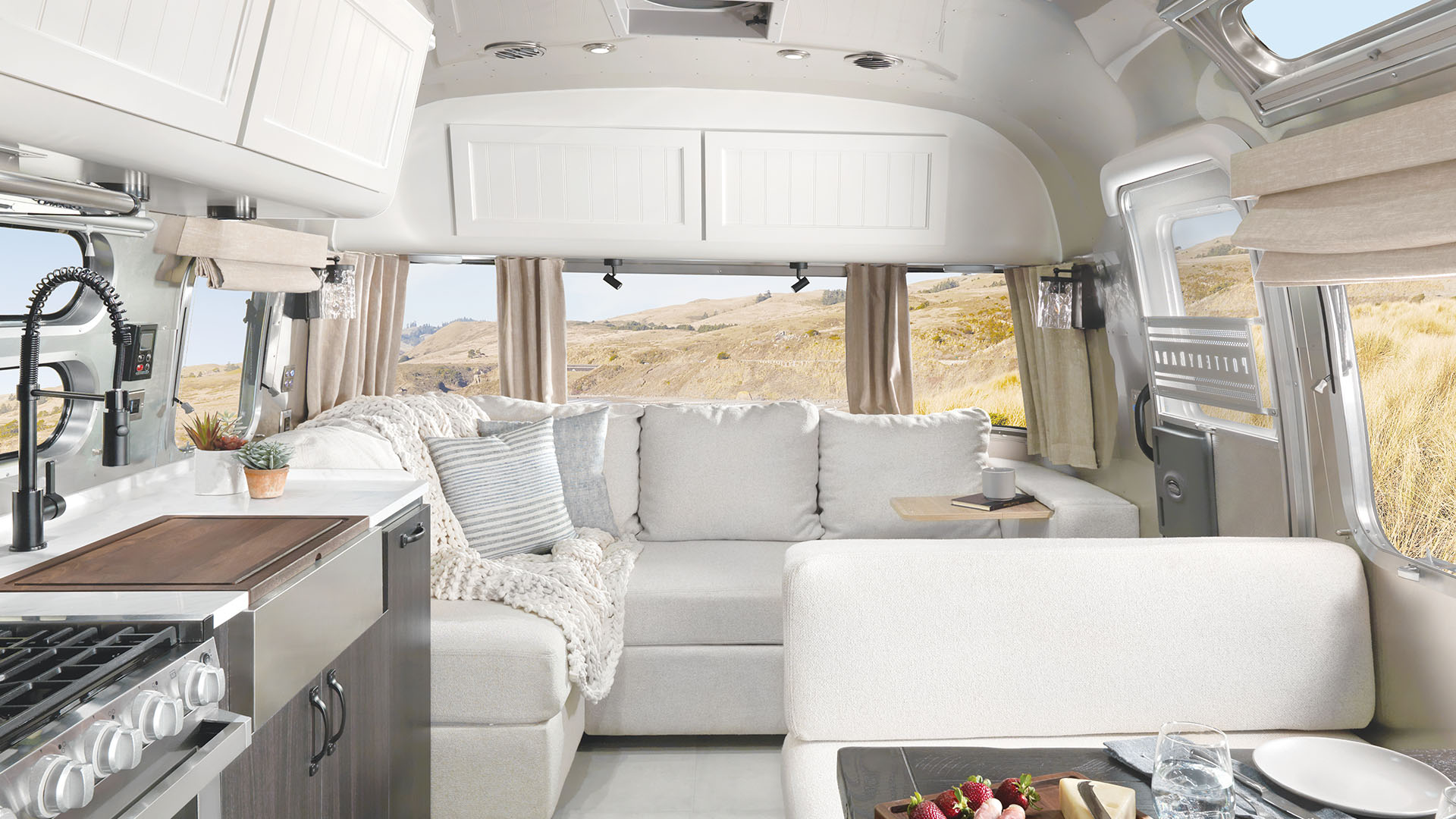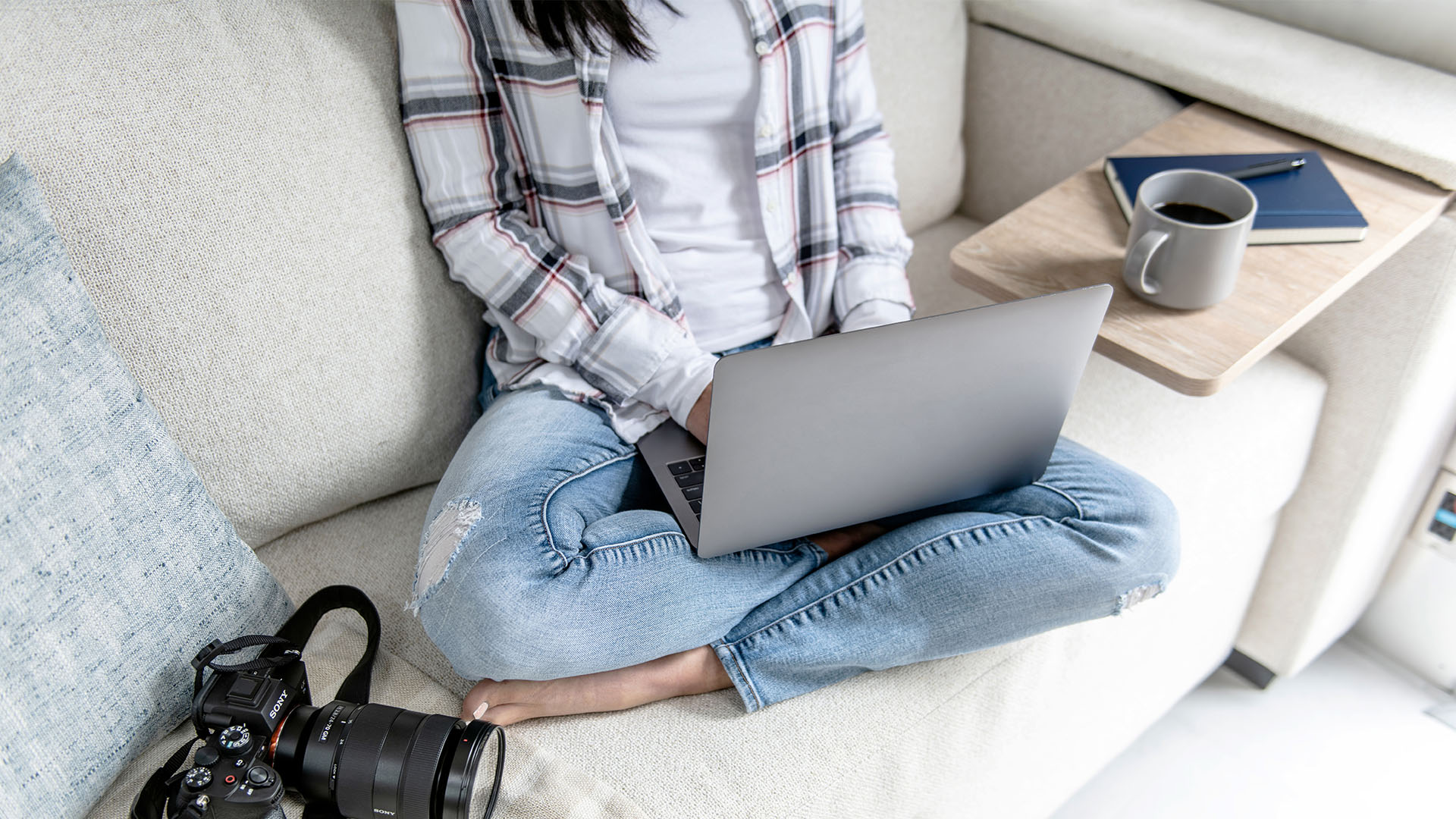 3. Smart Control Technology: Go Far, Stay Close
The Pottery Barn Special Edition Travel Trailer is equipped with Airstream Smart Control Technology – an experience-enhancing integration of modern technology that enables owners to control and monitor their travel trailer from anywhere. This system also allows users to create their own Wi-Fi network that can be used for streaming movies, working from anywhere, or jumping on Zoom calls to stay in touch with friends and family.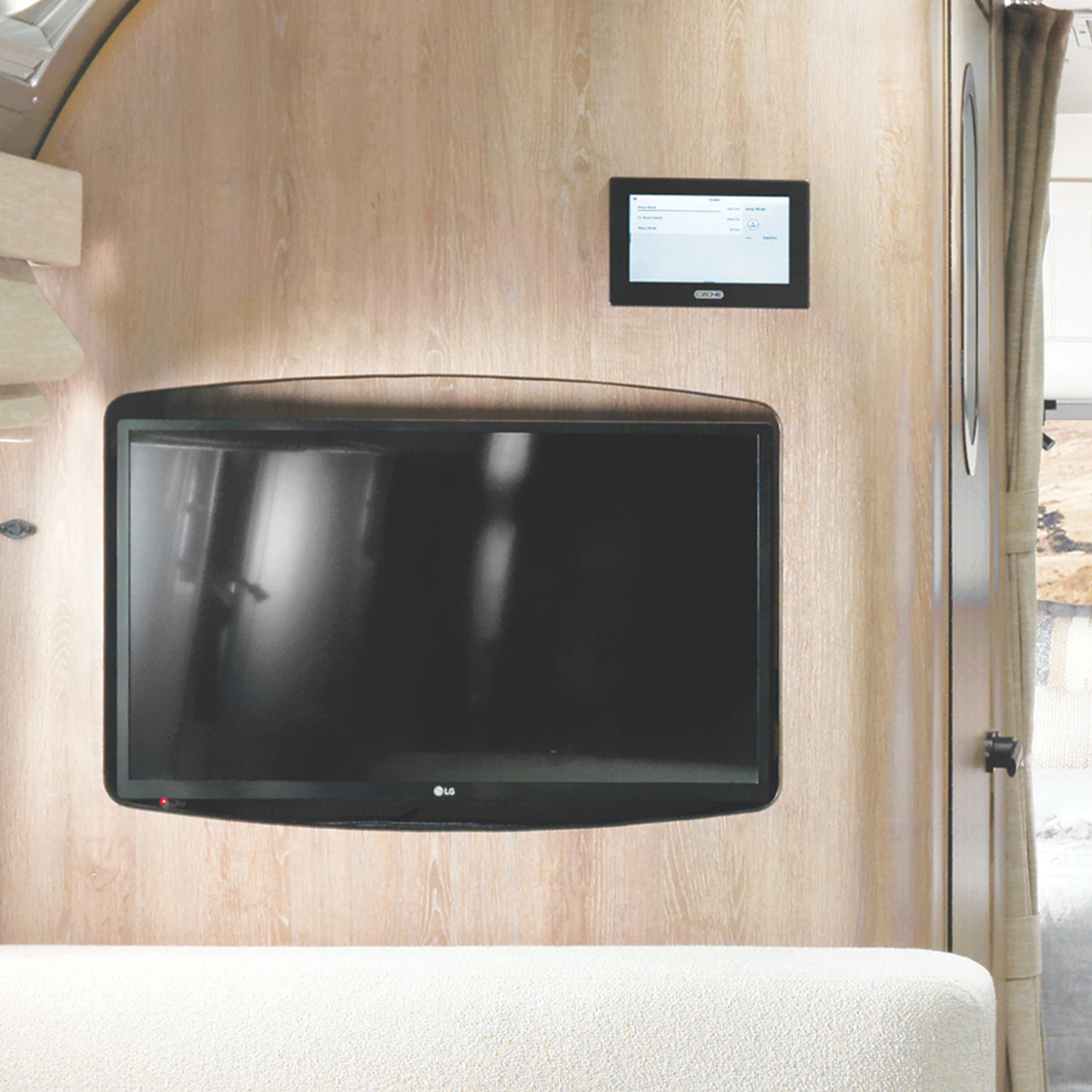 By simply scanning a QR code, control everything from the A/C to the lights and monitor important items such as the battery or water tank levels. Getting lost in the woods or leaving the travel trailer for a few hours? Smart Control Technology includes GPS to always help you find your way back. You can even retract your awning with your smartphone if you're away and see a storm blowing in.
4. The Hardwood Dinette: Expertly Crafted and Convertible
An heirloom-quality piece inspired by Pottery Barn's best-selling Benchwright Dining Collection, the dinette table is built with oak hardwood and finished with premium materials. Like all Pottery Barn pieces, it's designed to last for generations. 
Bringing more company along for the adventure or want a daybed to relax on? The dinette quickly converts with a sturdy, telescoping pedestal that gets pushed down and covered with the comfortable backrest cushions as part of the seating arrangement. The 42" x 76" area creates the ultimate lounging position for movie night by having the TV directly in front of it and then seamlessly converts back into the kitchen dinette for when breakfast rolls around the next morning.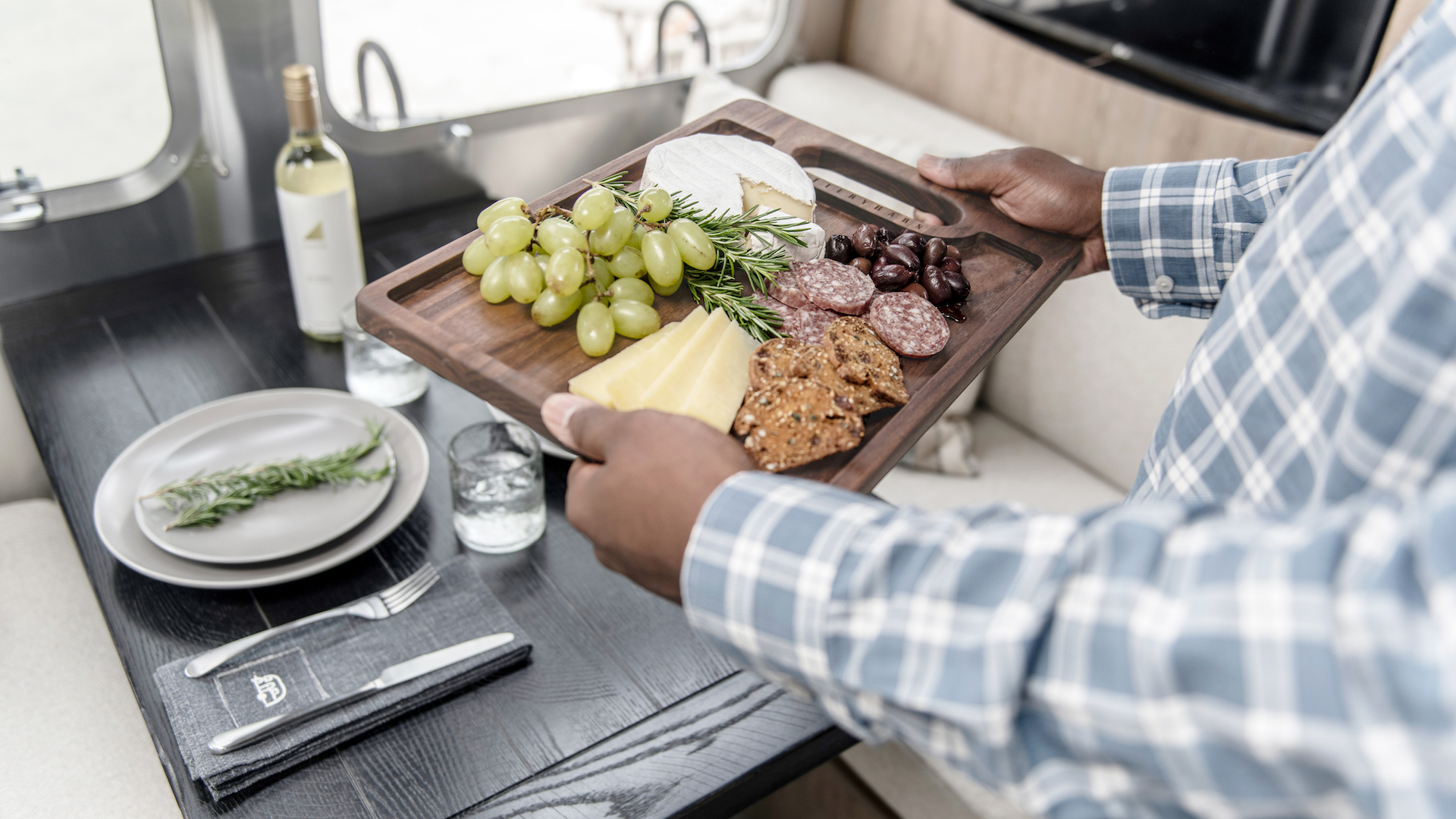 5. The Shower and Lavy: Comforts of Home While You're Out and About
Take your mobile accommodations with you wherever you go and travel with all the comforts of home. One side of the central aisle is a shower and on the other side is a lavy – close the sliding curtains and create a spacious, private changing area. 
Inside the lavy, the first thing you'll notice is the large, rounded mirror which is also a medicine cabinet. Below the mirror lives a deep bowl sink, countertop space, and several storage locations. To the right lives a porcelain toilet, a towel bar, and subway tile. The lighting controls in the bathroom offer the flexibility to turn the LED ceiling lights on as well as the accent sconces which provides a warm light throughout.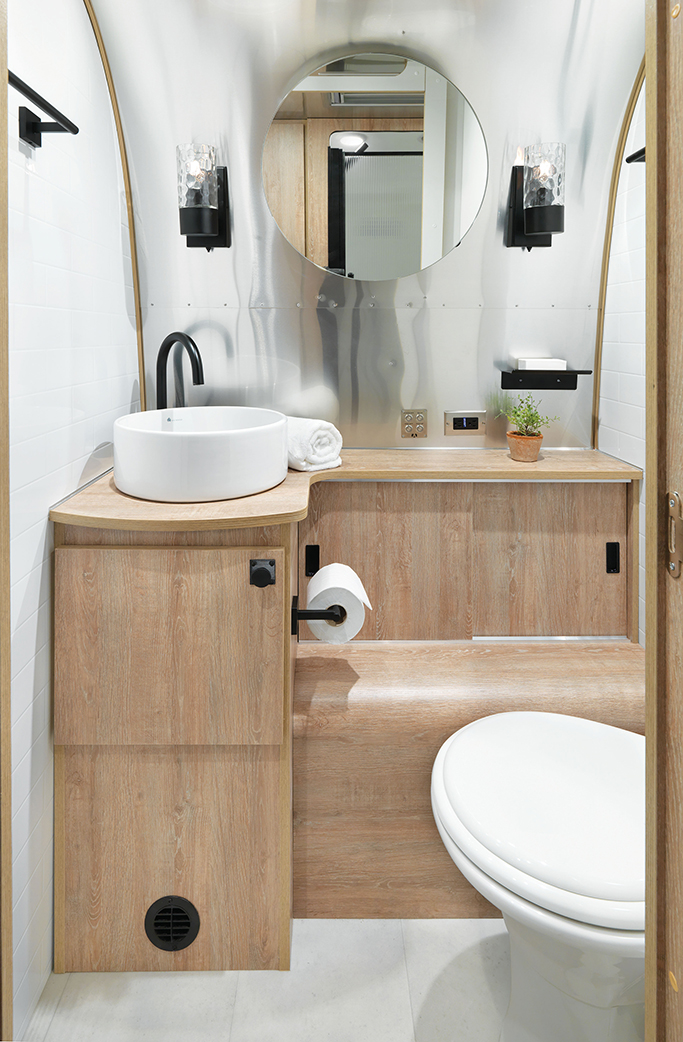 6. The Bedroom: Spacious and Secluded, with Storage to Spare
From the side tables with Pottery Barn lamps to their bedding and pillows, the bedroom is your spacious retreat at the end of the day. Easily stow everything you need – from clothes to shoes to soft goods and bedding in Pottery Barn canvas storage bins. Block out the morning light with ultra-soft Emery window shades, or open them up for the panoramic views. Overhead, roof lockers draw inspiration from Pottery Barn's popular Aubrey beadboard furniture collection, while Pottery Barn wall sconces round out the interior decor. And both floor plans feature Pottery Barn bedding that lets you sink into total comfort at the end of an adventurous day.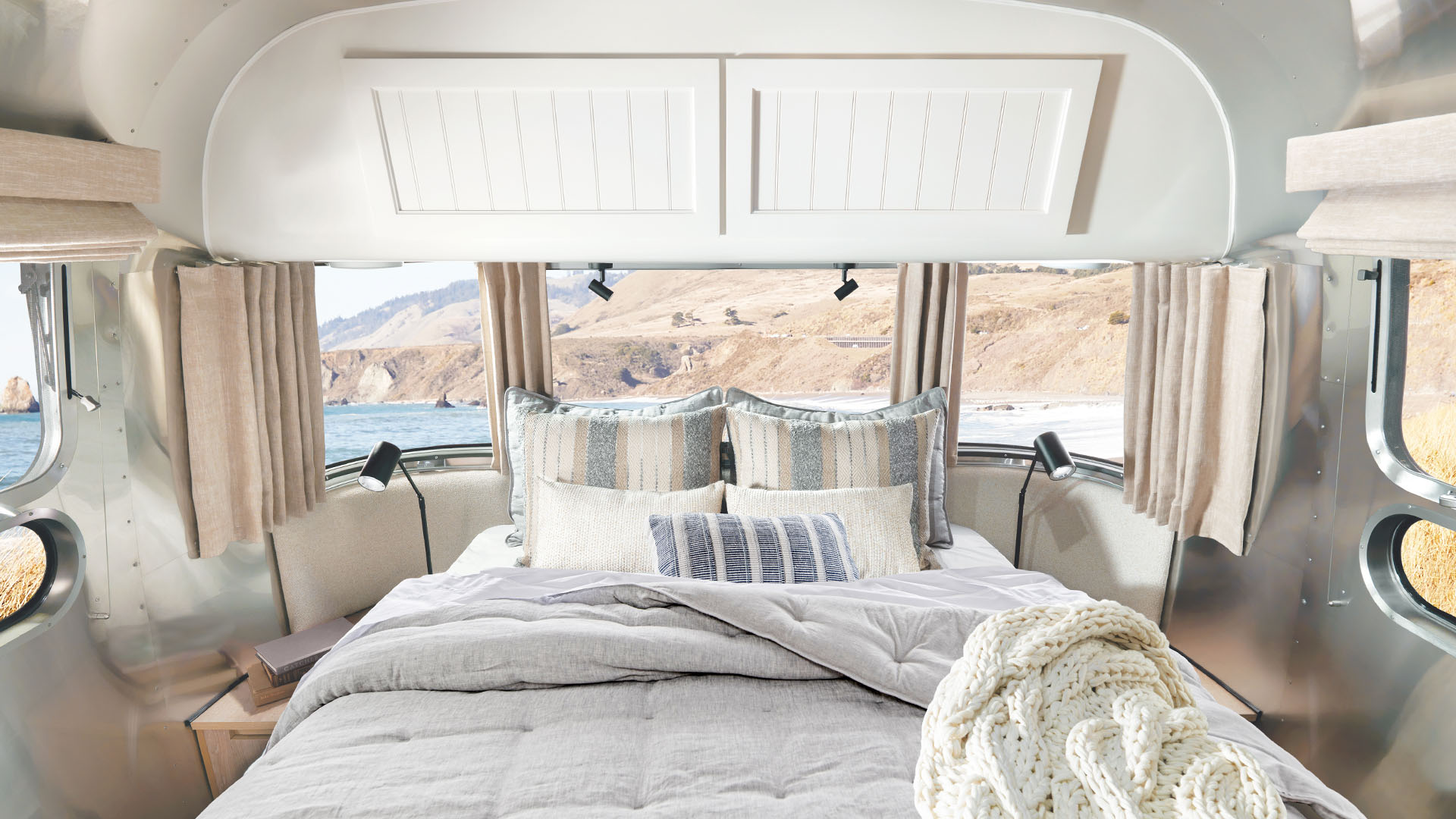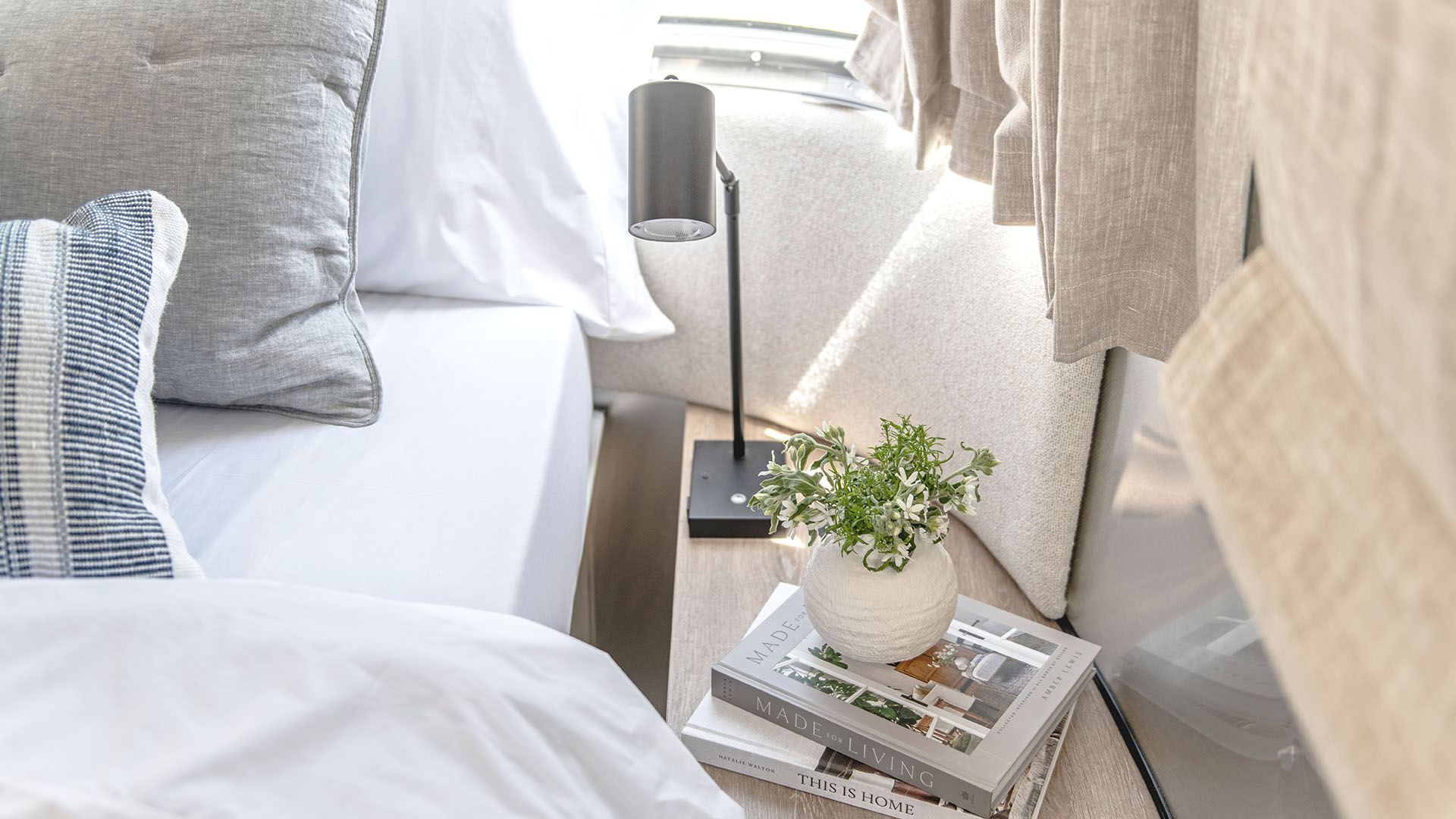 7. The Pottery Barn Accessory Kit: Furniture, Dishware, Accessories, and More
Your trip isn't complete without the essential gear you need to make it memorable. That's why we've included a Pottery Barn accessory kit that features furniture, dinnerware, a doormat, storage bins, and more. Set up an al fresco breakfast with a 16-piece Mason Stoneware Dinnerware Set and kick back in the portable table and chairs. Settle in for the night in Pottery Barn bedding, and set the table with flatware and a salt and pepper set. 
What's in the Pottery Barn Accessory Kit?
No matter which floor plan you choose, each Pottery Barn Special Edition comes with an incredible accessory kit, including:
Mason Dinnerware Set: 16 pieces

Mason Flatware Set: 20 pieces

Marble Cheese Knives: 4 piece set

Always Home Doormat

Salt & Pepper Set

Folding Chairs: Set of 2

Bistro Table

12x12x18 Canvas Storage Bins: Set of 4

30x20x5.5 Canvas Storage Bins: Set of 2

Handknit Throw

Cutting Board
Depending on whether you choose the Queen Bed or Twin floor plan, your accessory kit comes with different bedding options:
Queen Bed Floor Plan Bedding
Belgian Flax Queen Comforter

Belgian Flax Shams: Set of 2

Queen Sheet Set and Pillowcases
Twin Bed Floor Plan Bedding
Belgian Flax Twin Comforter: Set of Two

Belgian Flax Shams: Set of 2

Twin Sheet Set and Pillowcases: Set of 2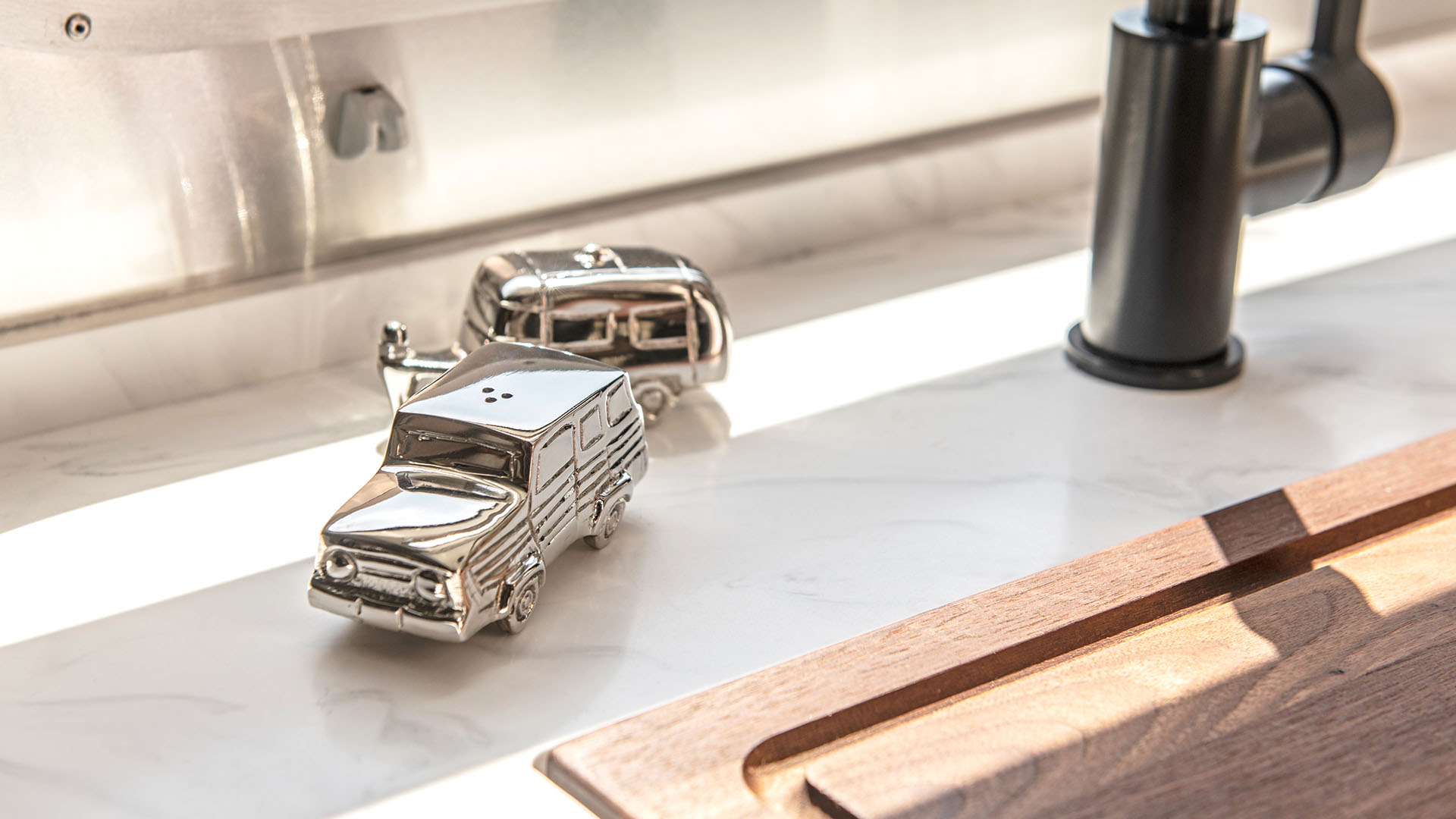 8. Commanding Power: Batteries and Solar Panels that Perform
If your travel plans include staying at a campground for a few days, you likely don't need to worry too much about your energy consumption. However, taking an RV off the grid (aka boondocking) and into undeveloped land without power, water, or sewer connections is something that has been gaining popularity amongst all RV travelers. Airstreamers want to go farther, stay longer, and experience it all by living, working, and playing from anywhere. Our goal is to enable this mission, which is why we've included three 90 watt roof-mounted solar panels and 2 lithium batteries as standard equipment for the Pottery Barn Special Edition model.
With 270-Watts of solar panel power on the roof, you can harvest free energy from the sun to keep your batteries charged. The included solar controller features MPPT (Maximum Power Point Tracking) which is critical to optimizing the solar energy collection by actively tracking voltage and output of each individual solar panel. This means that minimal power is wasted and the system is working to gather as much energy as possible no matter the weather conditions. 
The two 100Ah lithium batteries come standard and feature rapid charging, durability and longevity, greater depth of discharge, higher overall performance, and include internal heating elements that automatically activate to ensure the batteries are safe to charge in colder climates. Plus, you can monitor the amount of solar you're collecting from the internal 7" touchscreen display or from the Smart Control smartphone app. Couple the high-performing batteries with the included 1,000W power inverter and you can stay off-grid longer and power more devices such as your laptop or other electronics.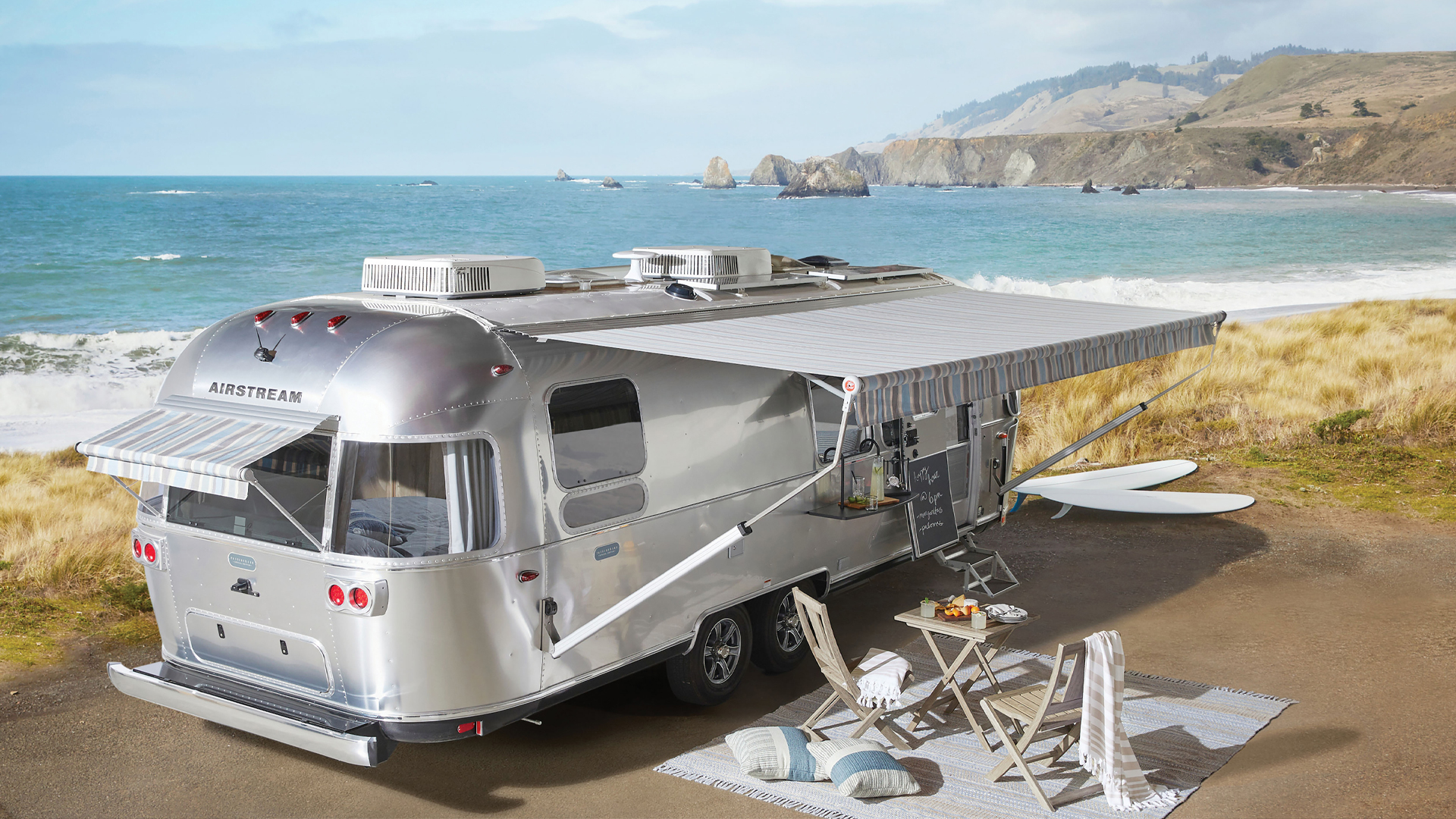 Redefining What it Means to Travel in Style
The Pottery Barn Special Edition takes its place in Airstream's lineup of iconic travel trailers while setting the standard for comfortable, capable travel in our modern world. Step into luxury, relax in style, and open the windows on a new way to see the world.