Life can get complicated.
Let's flash back – way back, almost a decade. Laura Hand, then a structural engineer, was living and working in Austin, Texas. Great career, great city, yet her story may sound familiar: as time went on, she felt more and more disconnected from the things she's passionate about.
She felt overwhelmed, "bogged down," as she says, by the stresses of everyday life. And she didn't know what to do.
It was all too much. Feeling helpless, she knew she needed an outlet, some kind of release valve, and she found it by practicing yoga. Only, not right away.
"At first, it didn't quite take," she said, chalking it up to life's ongoing distractions, the all-too-common inability to let go.
So she made some profound changes to her life. Still seeking relief, yoga found her once more. "This time, I was ready for it," she said. Giving it another try, with her mind now clearer and more open, she'd at last found her escape.
Since then she's found her passion, and it's become part of her life. She's shifted her focus to learning, loving, and living the practice of yoga. Hand has helped others find the peace, the calm, the introspective release and deep relaxation she sought after for so long. She journals her experiences on her website, wayfaringyogi.com, and considers herself "a lifelong wayfarer seeking roots within yoga and travel."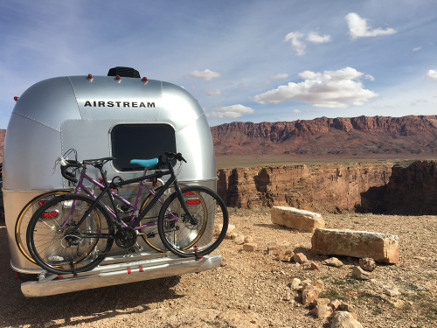 Sometimes you have to go back to move forward.
And sometimes it's that first step that's the hardest. But her next leap was a big one, straight into the trip of a lifetime.
At the beginning of 2016, she and her husband Jon hit the road with their new 20′ Flying Cloud, Silver Heels, safely in tow. They'd just returned from three years living in Japan, so naturally,the thought of staying put upon their return never crossed her mind.
Their dream, several years in the making, was to tour the nation and discover places they've never been. Like her journey into the world of yoga, she says, she's approaching this new endeavor with an open mind.
Inspired by the novel Travels With Charley, in which Steinbeck travels around the United States in a camper with his dog, Hand chronicles their travels on her website. "Traveling and writing both give us a way to relate on a deeper level," she says.
Why an Airstream?
"There's just something special about it," she says. "I've always been taken with the form and simplicity. Every detail about the way they're built serves a purpose. It's also that quiet nature of an Airstream, the way it just sort of exists within the environment. It seems to attract the kind of person who intends to arrive silently, blend in, and leave without a trace."
For the next seven months, their loosely-planned road trip will take them on a tour of the West, traveling up the California coast, winding through the Pacific Northwest, and venturing through Montana before circling back to the east coast. There, they'll plant roots in Hanover, New Hampshire where Jon will go back to school. (But, as she adds, it's doubtful they'll ever truly stop moving.)
As they travel, she records her experiences on her website, Soul Traveled.
Her thoughts so far?
"We have just, in every place, met the most phenomenal people," she says. "When you're on the road, and you're traveling to secluded places, when you find someone to talk to you sort of jump right in and get to the good stuff right away. We've learned really profound things from every person we've come across, and it's been such a blessing in that way."
She describes meeting a fellow Airstreamer in Arches, who greeted them as if they were old friends. They spent hours together, him sharing tips on Airstream maintenance and other knowledge.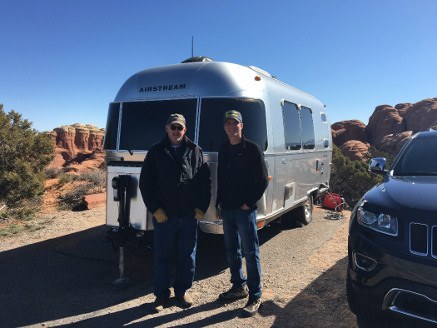 "We were just blown away by that," she says. "What we've found, especially with the Airstream community, is that there's something really innovative – it's as if the Airstream ignites creativity within them. They have all these amazing solutions to seemingly unsolvable problems on the road."
For Laura Hand, Living Riveted meant slowing down. Living with mindfulness, intention, purpose.
"It's hard to imagine going back," she says.