As 2022 comes to a close, it's time to reflect on another year and look forward to the promise of new adventures on the horizon. When you consider the challenges that arose over the last two years, it's clear that quests for fun and recreation have become much higher priorities. If recent sales figures are any indication, Airstream's motorized Class B RV line of Interstate touring coaches have helped to scratch that much-needed itch for recreational freedom.
What's Not to Love About the Interstate 19?
Among our touring coach lineup, Interstate 19 has proven to be our most popular model. And upon closer inspection, it's easy to see why. Traveling in one of our motorized Sprinter vans is all about striking the perfect balance — between form and function, safety and performance, luxury amenities and practicality. Within the growing segment of Class B RVs, Interstate 19 fully embodies all these qualities.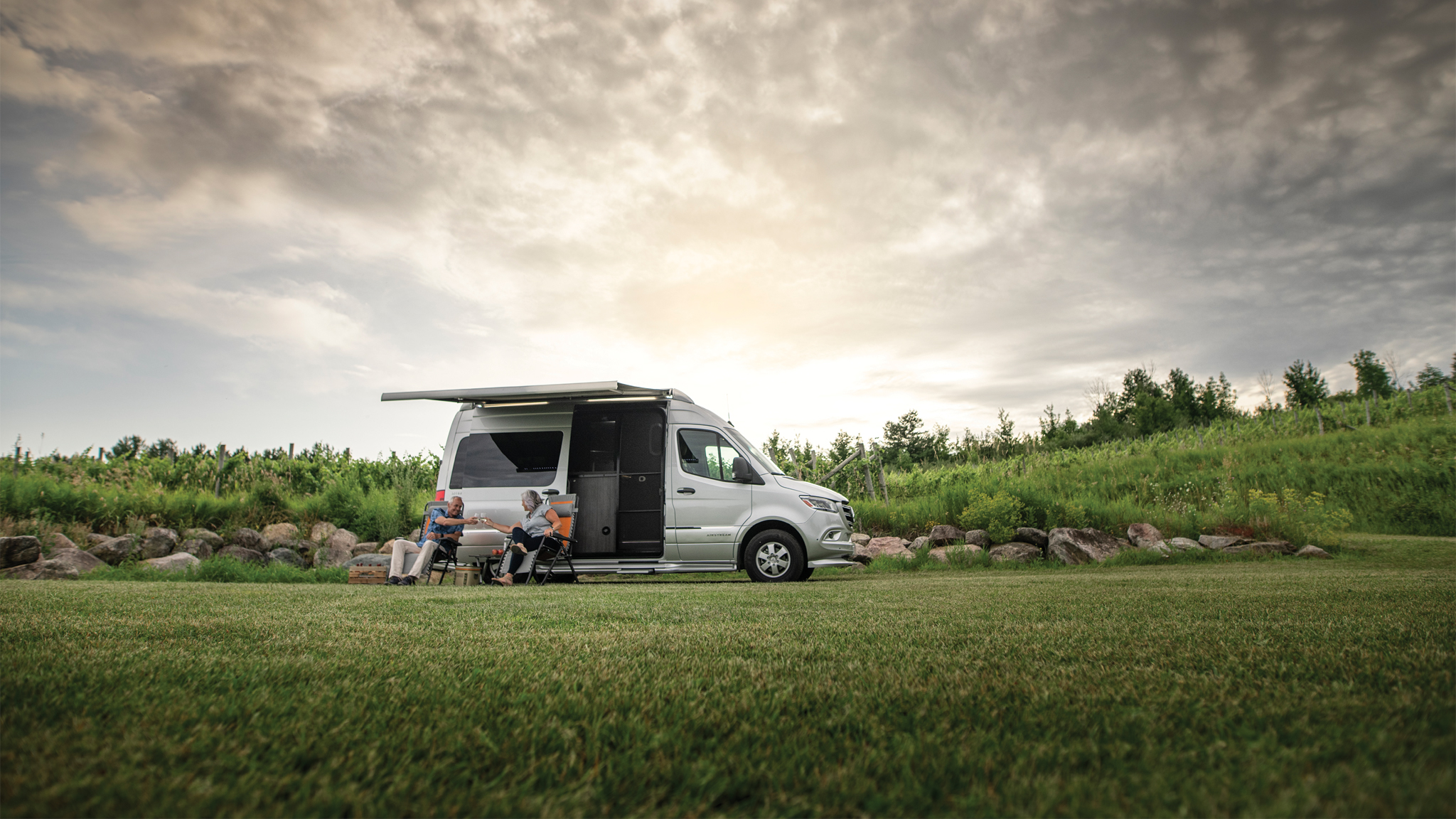 If you're ready to learn why the Interstate 19 has been our top-selling touring coach for the last two years, consider the top three reasons behind its growing popularity.
Reason One: On-board Comfort for Family and Crew
The recreational appeals of vanlife are as endless as the potential destinations you can plug into your navigation system. When it's time to hit the road, you want all the conveniences of home without the associated hassles of interstate travel. Comfort means having the space for the kids to stretch their legs while giving your crew the ability to tend to their most basic needs — all without having to stop for anything except to refuel. Whether you're out for a last-minute day trip or planning a cross-country excursion, Interstate 19 has you covered.
Full Wet Bath
Say goodbye to bustling rest stops and grimy gas station bathrooms. Interstate 19's well-appointed and stylish wet bath offers a sink, shower, and toilet. Featuring a built-in wash station with soap, shampoo, and conditioner dispensers — and a convenient clothesline — the wet bath provides everything you need to stay clean and energized on the road. As part of its smart, multi-purpose design, the showerhead doubles as a faucet, the mirror extends and swivels, and a waterproof toilet paper cover keeps your paper dry.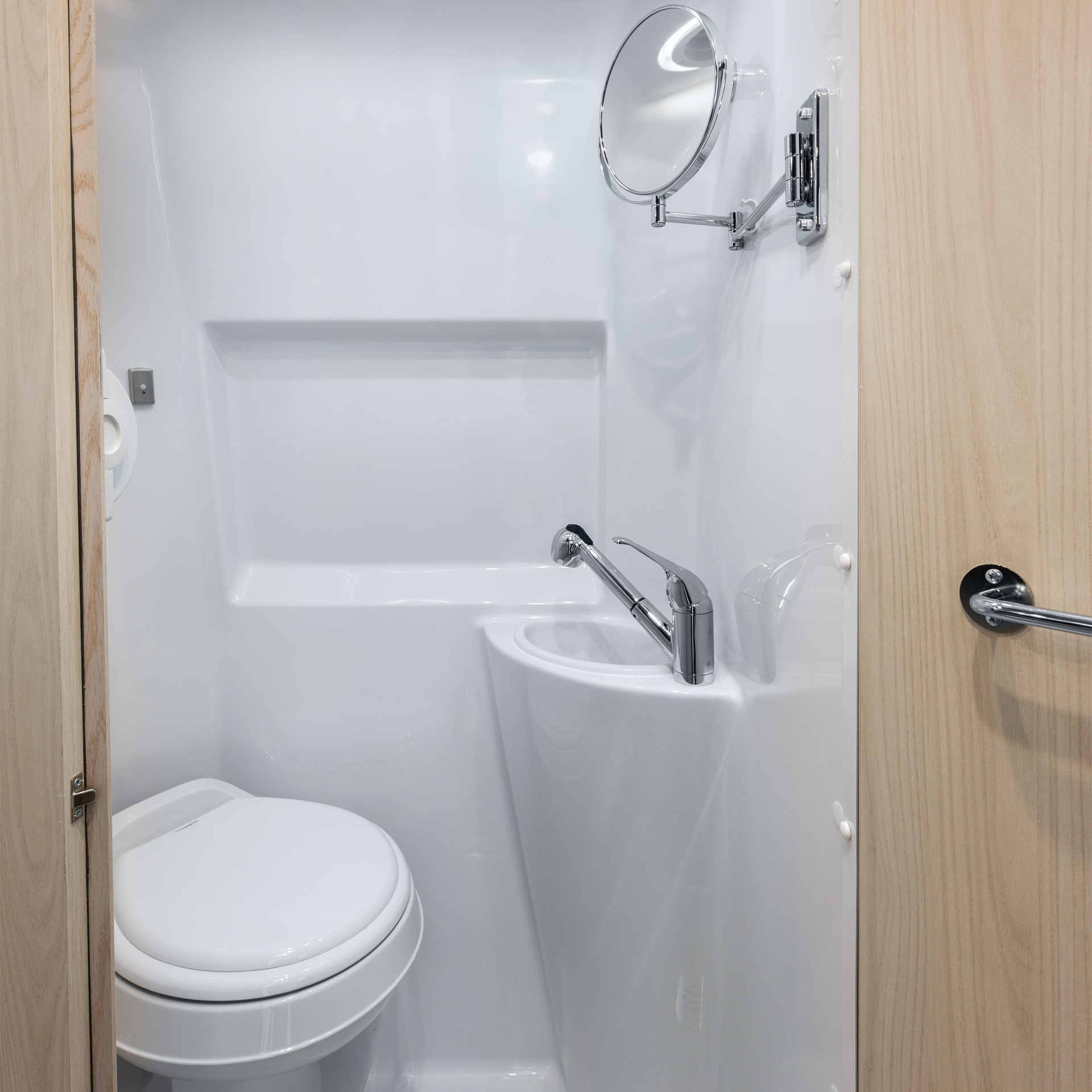 Large Comfortable Bed
When it's time to catch some Zs, rest assured that you'll easily drift off on the largest bed in its class. With the push of a button, you can quickly convert the power sofa into a fully horizontal sleep space. The side seats are hinged to lie flat as well, transforming the entire rear of the coach into a comfortable 66" x 73" bed.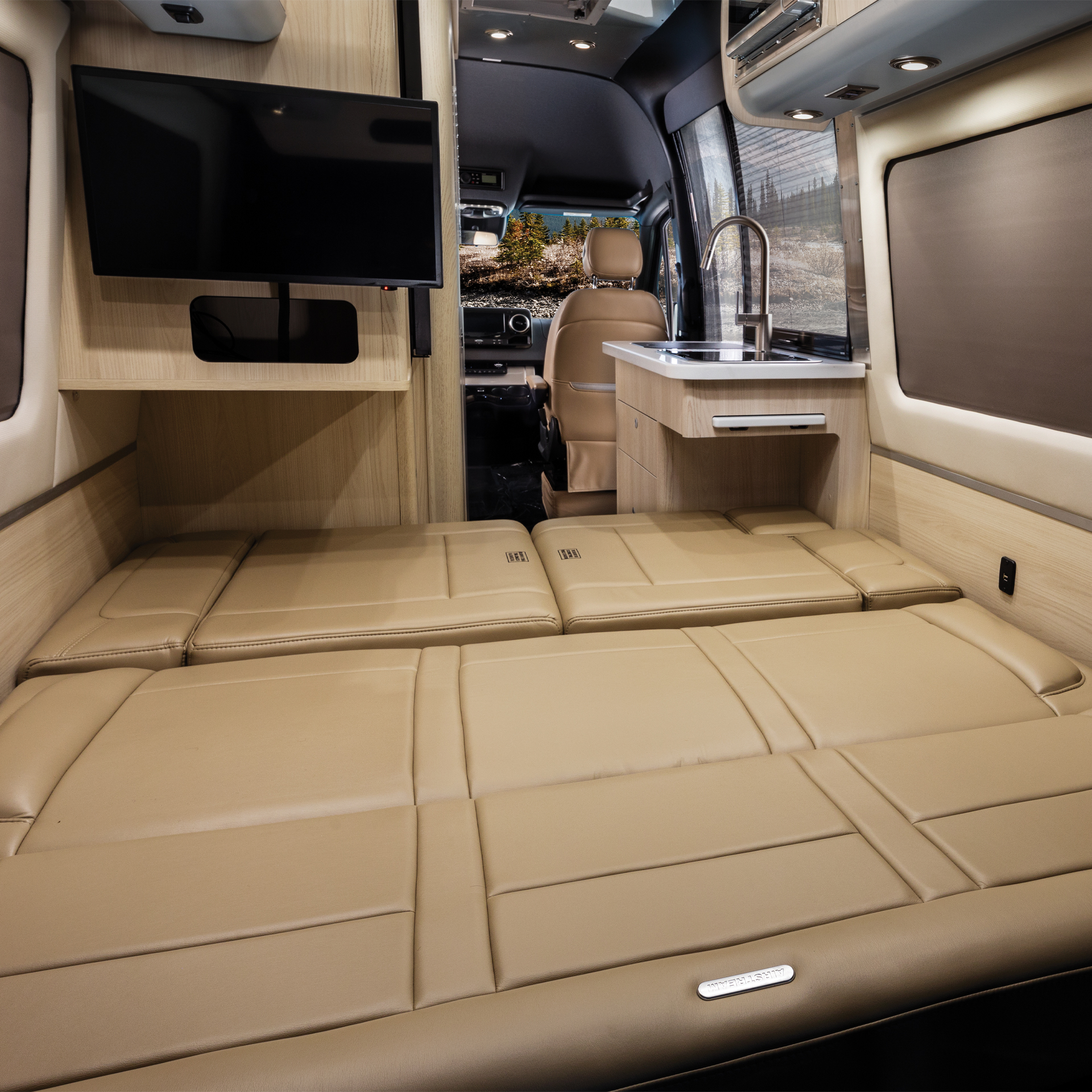 Functional Kitchen
In the heart of Interstate 19's well-equipped kitchen galley, you'll find a stylish and functional cooktop, countertop, and sink combination. Maximize your counter space with the sink's integrated cover or remove it to access an abundant supply of hot water (even better – add one of our custom sink cover cutting boards from Stella Falone, sister brand of legendary Taylor Guitars). Above the kitchen counter is a convenient microwave, allowing you to whip up a snack on the road using the onboard generator or plugged into shore power at a campground.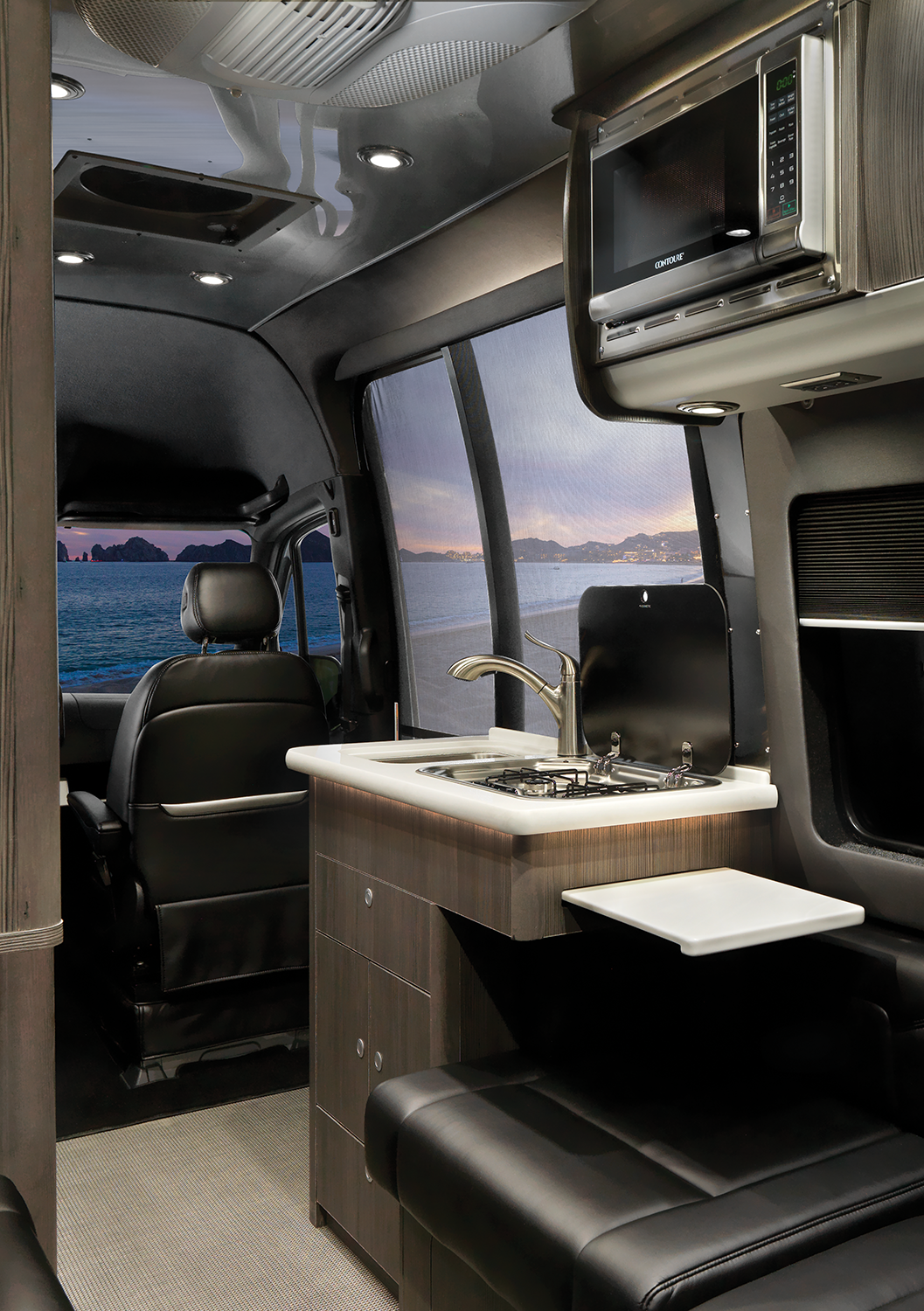 Seating for Four
Whether you're traveling with a small family or bringing your crew along to your next adventure, the Interstate 19 seating is built to comfortably accommodate four people. In the cockpit, the driver and co-pilot enjoy power-adjustable, heated driver seats that easily swivel to face the two passenger seats in the galley. Decked out with durable and luxurious Ultraleather® on all seats, the Interstate 19 delivers maximum comfort and timeless style.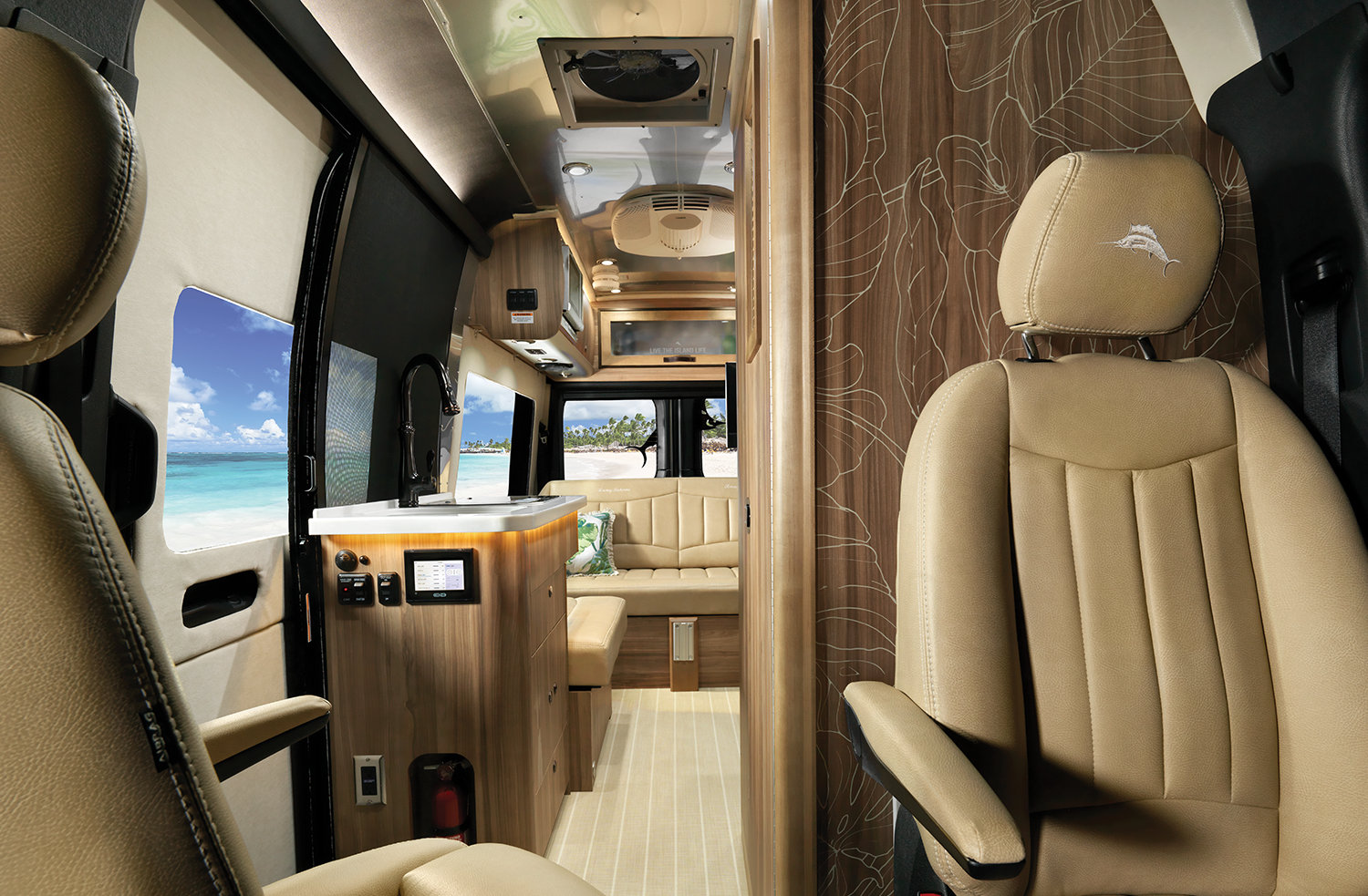 Flexibility for Any Itinerary
Interstate 19 is an incredible vehicle for just about any adventure. Its small footprint makes it easily maneuverable in just about any situation – it's at home both on the highway as well as on crowded city streets. And if your adventures are a little closer to home, Interstate 19 is the perfect multi-use vehicle for getting around town, making a grocery run, or ferrying kids to practice. No matter where you take Interstate 19, you'll find it easy to park, easy to drive, and easy to love.
Reason Two: Ease of Driving and Parking
Speaking of driving and parking, the Interstate 19 is nothing if not nimble. For many RV-ers, its shorter 144" wheelbase hits the perfect sweet spot for drivability and maneuverability. This allows it to fit into standard parking spots found in crowded supermarket lots or squeeze into the smallest of sites at the campground — or the perfect secluded nook off the beaten path.
Safe Travels
Behind the wheel, drivers are surrounded by a suite of safety features that deliver the situational awareness and navigational guidance you need to protect your passengers and enjoy the journey. From multiple airbags for drivers and passengers to collision prevention and lane assist technologies to rearview cameras, captain and crew alike enjoy the highest level of Class B safety available.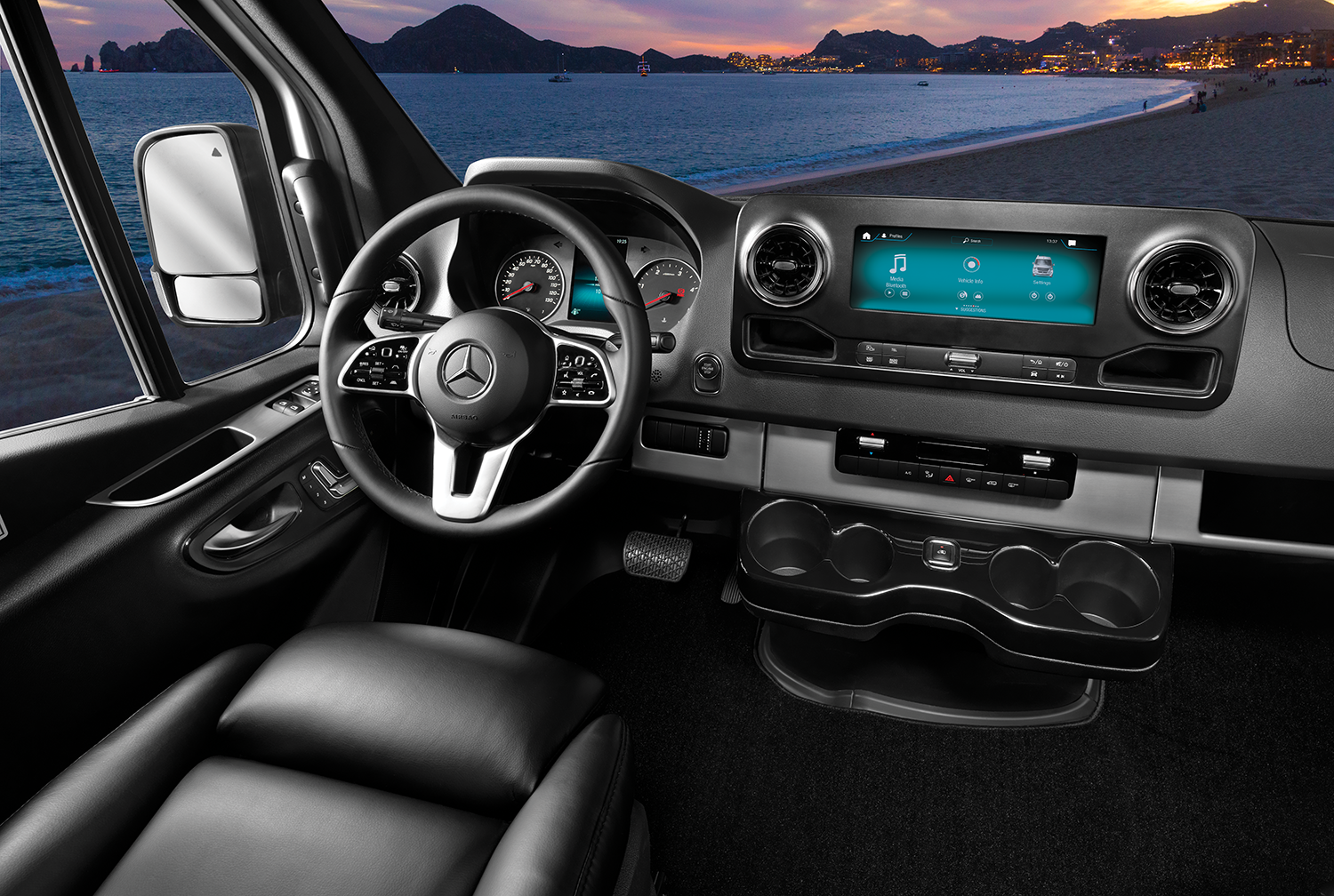 A Chassis Built for Confidence
Like other Interstate touring coaches, the Interstate 19 is built upon the legendary Mercedes Benz Sprinter van chassis foundation. Boasting 188 hp, 325 lbs. of torque, and 5,000 lbs. of towing capacity, the Mercedes-Benz 3.0L V6 Turbo Diesel, 7-speed automatic engine inspires confidence in all road conditions. For those with a nose for adventure, it's even available in a 4WD option.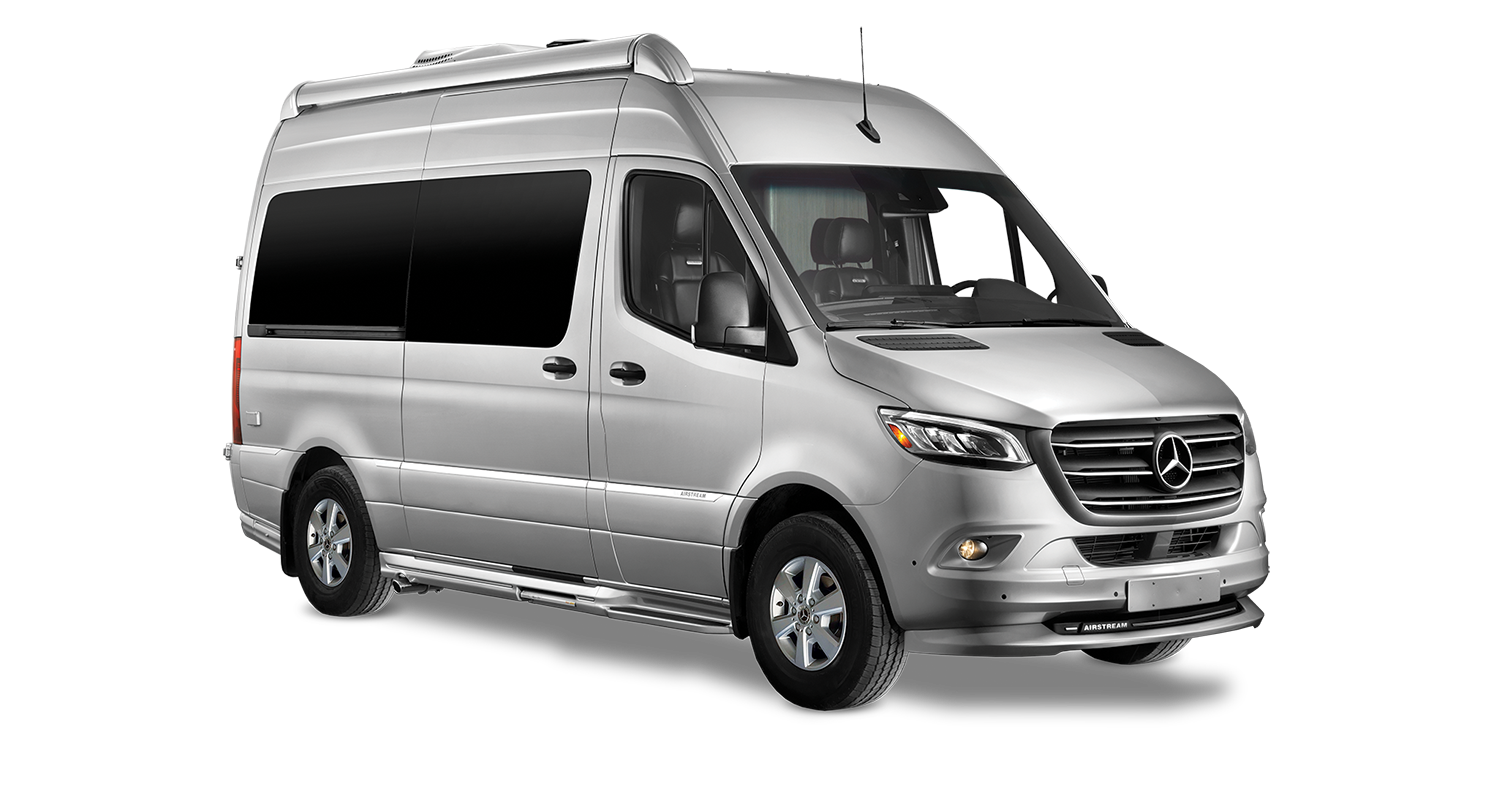 Reason Three: Live in Luxury
Luxury materials, finishes and amenities are all key ingredients that set Airstream touring coaches apart from the competition – and Interstate 19 is no exception. Built with the same artisan craftsmanship, luxurious finishes, and user-friendly tech found elsewhere in our well-appointed models, Interstate 19 pays meticulous attention to every interior detail to make it feel like your home (or office) on the road.
Timeless, Road-worthy Style
The uncompromising design aesthetic of the Interstate 19 is based on equal parts style and durability. From premium materials, quality construction techniques, and thoughtful floorplan designs, Interstate 19 immerses its passengers with an engaging and dependable sensory experience at every turn. Here's a sample of the luxuries you'll find on board:  
Road-tested, natural-grain Ultraleather on every seat

 

Soft yet wear-resistant marine-grade woven flooring with cushy foam sub-backing

 

Handcrafted, premium hardwood cabinets with aluminum-extruded framing

 

Solid surface countertops and backsplashes

Aluminum ceilings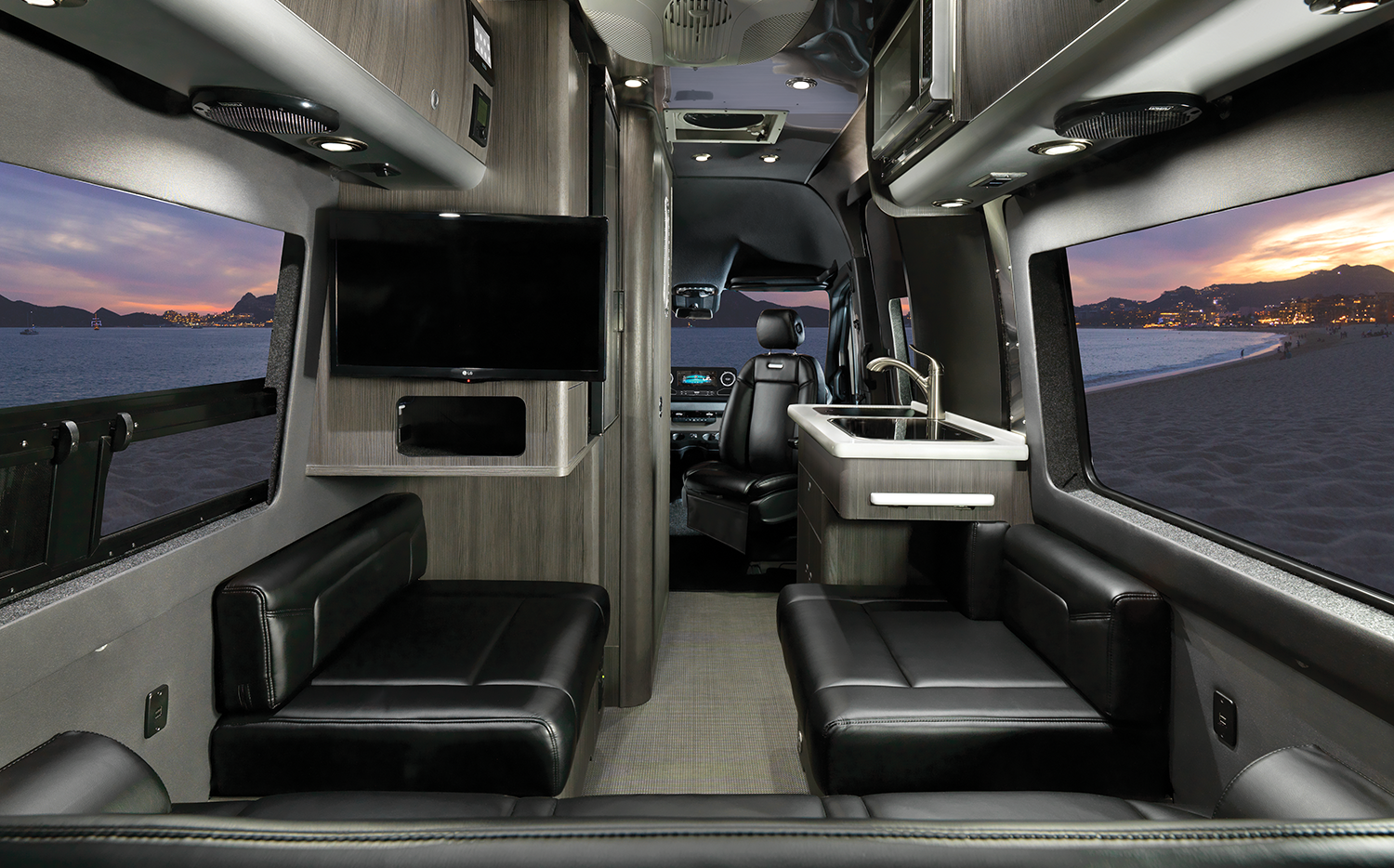 Powered features
Luxury also means taking the worry out of the everyday tasks that can foil the fun of a road trip, extended camping stay, or even a drive across town. Engineered with maximum passenger convenience in mind, the Airstream Interstate 19 touring coach is equipped with a full suite of powered controls. Our goal is to automate those critical features that matter most by leading the Class B motorhome market in the evolution from manual to powered control:  
Power-adjustable seat settings: fore/aft position, seat height, angle of the backrest and seat cushion, power lumbar and seat heaters

 

Powered sliding door

Automatic entry step

Push-button window shades

Powered seating to bed conversion

Powered macerator pump and retractable hose

Optional E1 package upgrade provides up to ten times more battery power than a conventional system
Less Risk, More Reward
Exploring the open road is more appealing than ever. Families and friends are seeking shared adventures and the self-empowerment of taking their traveling destinies into their own hands. And as our sales figures show, the Airstream Interstate 19 touring coach is among the most popular vehicles for living that RV dream.
Explore more of the features, amenities, and comforts that make Interstate 19 our best-selling motorized RV.
Ready to see for yourself why the Interstate 19 is our fastest-selling touring coach? Visit your local Airstream dealership and discover the magic in person.