Airstream travel trailers are kind of like the chocolates in a heart-shaped box: They look similar on the outside, but their aluminum shells hold mysteries you only discover when you peek inside. Airstream owners take pride in adding their own touches that make each travel trailer unique.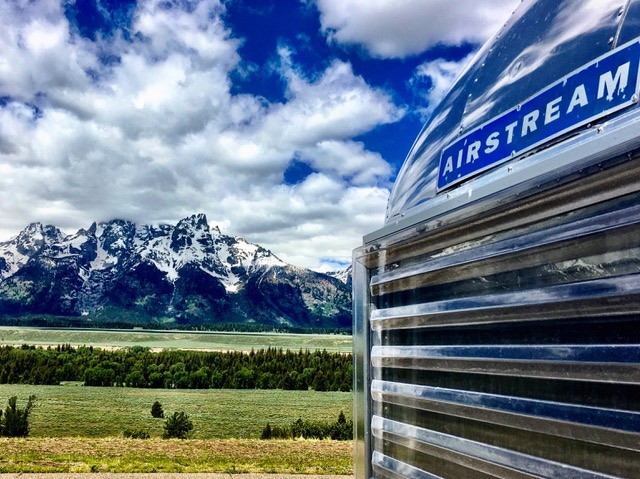 After Melissa Yee sold her vintage 1970s Airstream she went looking for a new trailer. She wanted something with personality, but without the maintenance and upkeep sometimes required by a vintage model. Searching through a vintage trailer website, Melissa found a travel trailer that would straddle the lines between vintage and modern.
"My husband said, 'Do you have to have vintage?'" she recalls with a laugh. "I said, 'Can I show you the best of both worlds?'"
With its vintage profile and tapered end cap, the 1966 Tradewind Melissa ended up buying gleams mirror-bright on the outside. But inside, the trailer has been remodeled with all sorts of modern flourishes.
"This trailer is vintage on the outside, but when you walk in the door it's a brand new updated Airstream," Melissa says. The work was done at the Airstream Factory Service Center during a winter when business was slower than normal. Some of the design elements inside would go on to be used in new models, like the updated Airstream Classic. Others are completely unique. "This stuff is basically in no other trailer," she says. "It's saving a piece of history – instead of junking it, they said, 'Why don't we make it comfortable and modern with all the conveniences?'"
She and a friend made the trek from California to Airstream's Jackson Center headquarters to pick up the trailer.
"We were impressed with the whole Airstream family," she remembers. "The guys there were like expectant fathers – they were careful to make sure everything was perfect before they turned me loose."
Melissa named her trailer Abella, and these days frequently travels to vintage trailer shows. She's also a member of Sisters on the Fly, an international women's organization with thousands of members who get together for adventures and camping trips.
"We do things like ziplining, biking, fishing, canoeing, kayaking," Melissa says. "It's a fun organization."
Sisters on the Fly also raises money through fundraisers for Casting for Recovery, an organization dedicated to helping women recover from breast cancer surgery and radiation treatments.
"The same muscles they need to rehab are the muscles used in fly fishing," says Melissa, who has seen the effects of breast cancer diagnosis among her friends. "A lot of my friends are survivors."
Traveling through the American Southwest in Abella also gives Melissa the opportunity to engage in one of her favorite hobbies: sport shooting. Melissa was introduced to the Single Action Shooting Society by some of her friends in Sisters on the Fly. Now, she competes in many SASS events each year where she's timed and judged on accuracy shooting everything from two revolvers to rifles and shotguns.
"We dress up in period clothing and have shoots where we're timed," she says. "I reload my own ammo and clean my own guns. It's a lot of fun."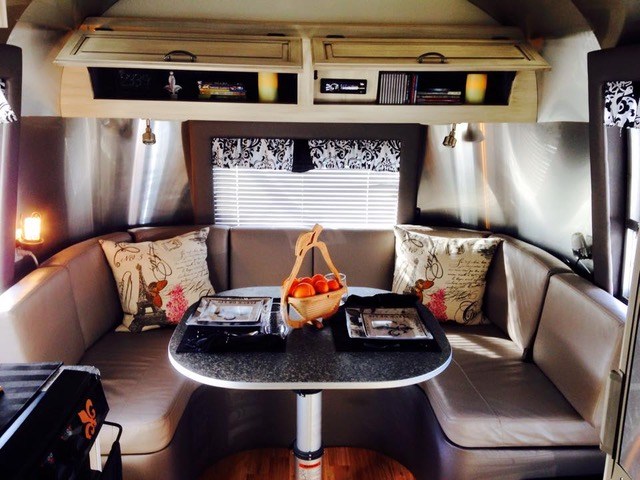 For Melissa, her Airstream is a way to keep having adventures while bringing along all the conveniences of home.
"There are many facets of living riveted that I totally embrace," she says. "I do as much as I can with my schedule."