Haven. Refuge. Hideaway… Nest. Nest is Airstream's first fiberglass trailer since the 1950s – and Airstream enthusiasts and rookies alike have quickly become enamored with it. This road-tested sanctuary on wheels is now a proven traveling companion.
Here's what owners love about their Nest.
Picture-perfect Views
Six windows, a skylight and a glass panel in the door bring the outside in.  Whether you're prepping food inside, enjoying your morning coffee or nestling in for the night, the windows give you a bird's-eye view of the countryside.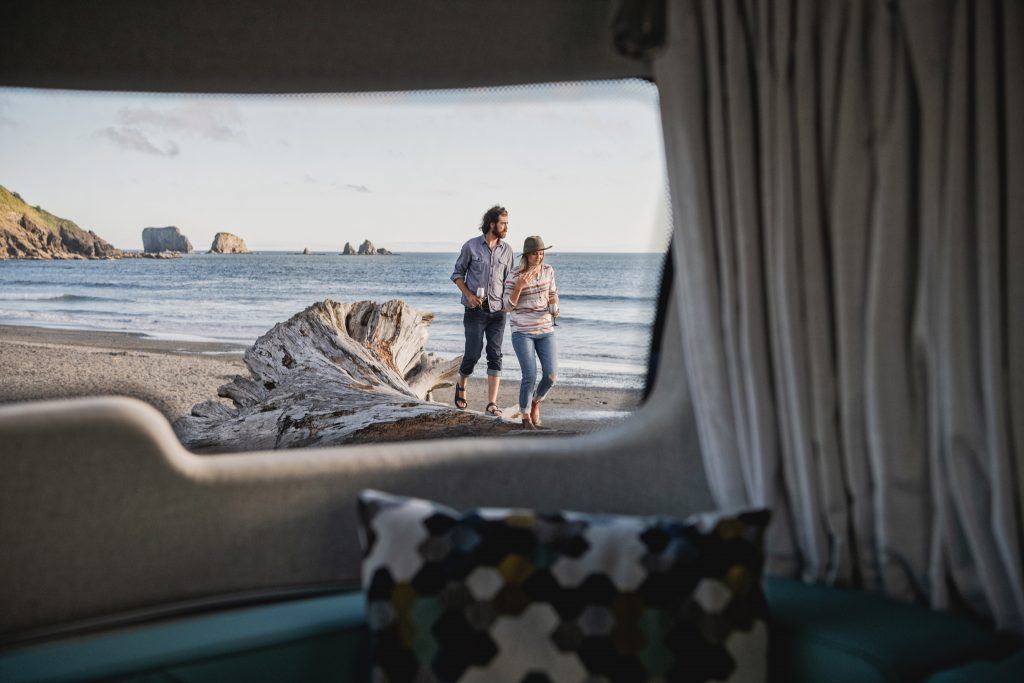 "You don't feel like you're in a travel trailer, you feel like you're outside," said Nest owner, Lula West.
Quality Craftsmanship
Don't be fooled by the exterior. Inside, the Nest boasts all the first-class finishes, exceptional durability, streamlined convenience and contemporary palette you'd expect from a traditional Airstream model.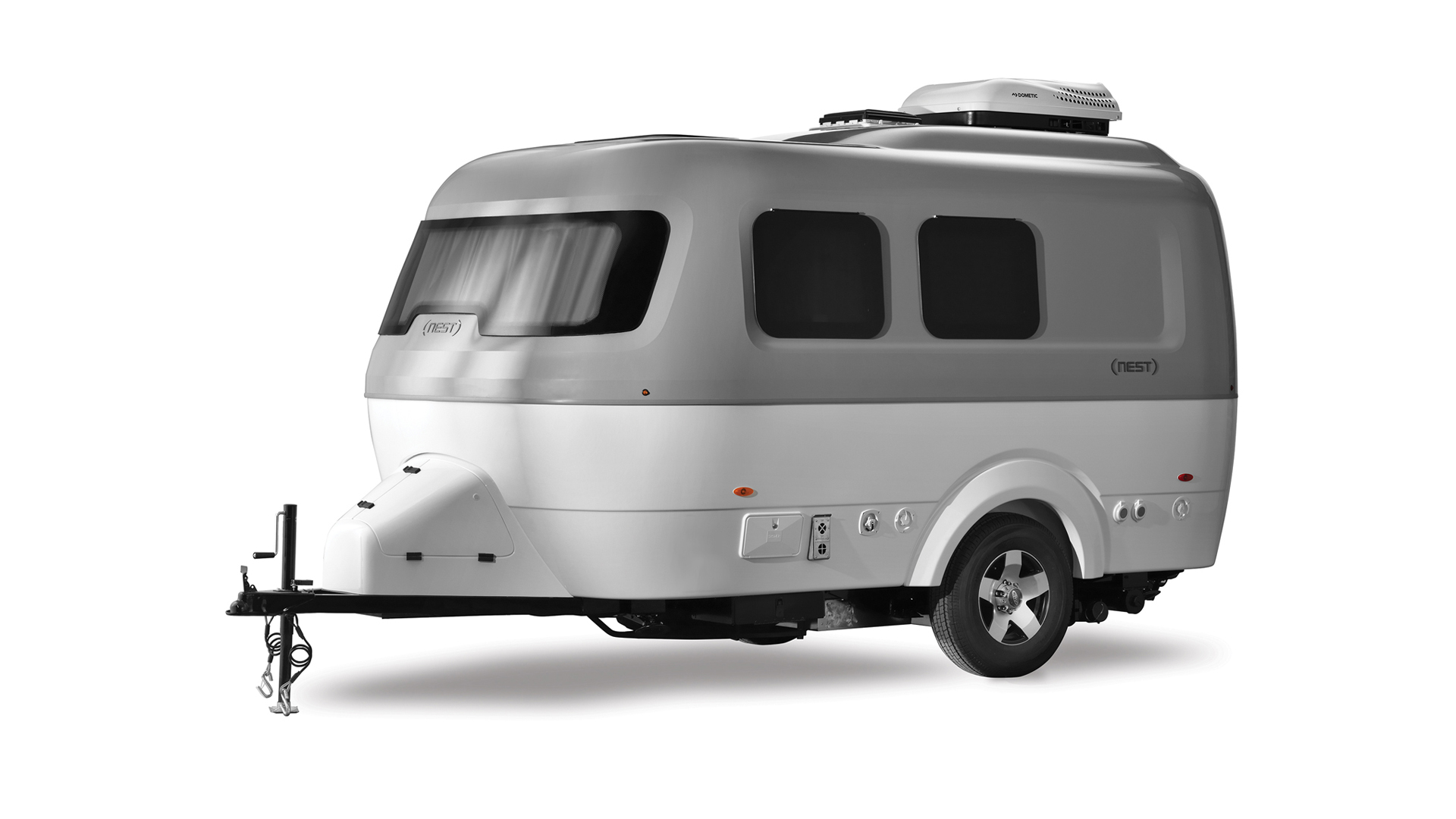 "We've met people at campgrounds and they are in awe," West said. "No one can believe it's an Airstream until they open the door."
Dave and Kris Gilbert were researching trailer options when they discovered the Nest and liked everything they saw so they drove to their closest dealer and bought the only model on the lot days after it was released.
"We love the interior, the colors and everything," Gilbert said. "We wouldn't have changed anything even if we would have been willing to wait. We just like the whole color scheme and layout."
Ample Storage
Form and function are paramount in Nest, and at just 16 feet long, this categorically small travel trailer's carefully designed layout and storage solutions leave it feeling spacious.
"We are empty nesters now and we weren't looking for anything huge," said Gilbert, who was concerned that Nest wouldn't be large enough for his sometimes claustrophobic wife. "We were just looking for something that we could get out and travel in. It's perfect."
With plenty of storage space, a closet and the option for additional counters, there are lots of places to tuck away your belongings inside, as opposed to models where storage can only be accessed from the exterior.
"I'm the kind of person that takes everything but the kitchen sink," West said. "It's got more than enough space."
Camping Convenience
With the traditional conveniences of a travel trailer like plush bedding, a full onboard bathroom, modern cooking amenities, LED lighting, and USB ports and outlets, Nest is primed for comfort.
"I love to be outdoors, and now that I'm older, I still love to be outdoors, but I don't want to set up a tent or worry about sleeping comfortably," West said.
From everyday luxuries to modern conveniences, owners are on board with all Nest has to offer.
"I really liked that it was forward-looking," Gilbert said about the USB plug placements throughout the trailer. "There are plenty of places to plug in all the gadgets we seem to be embracing these days."
Trouble-free Towing
At just over 16 feet long and under 3,500 pounds, Nest's lightweight, fiberglass construction allows it to be towed by SUVs and cars alike.
"I wanted something that we could easily tow with the vehicle we had," Gilbert said. "I knew we could pull the Nest with our Jeep and it met all our needs."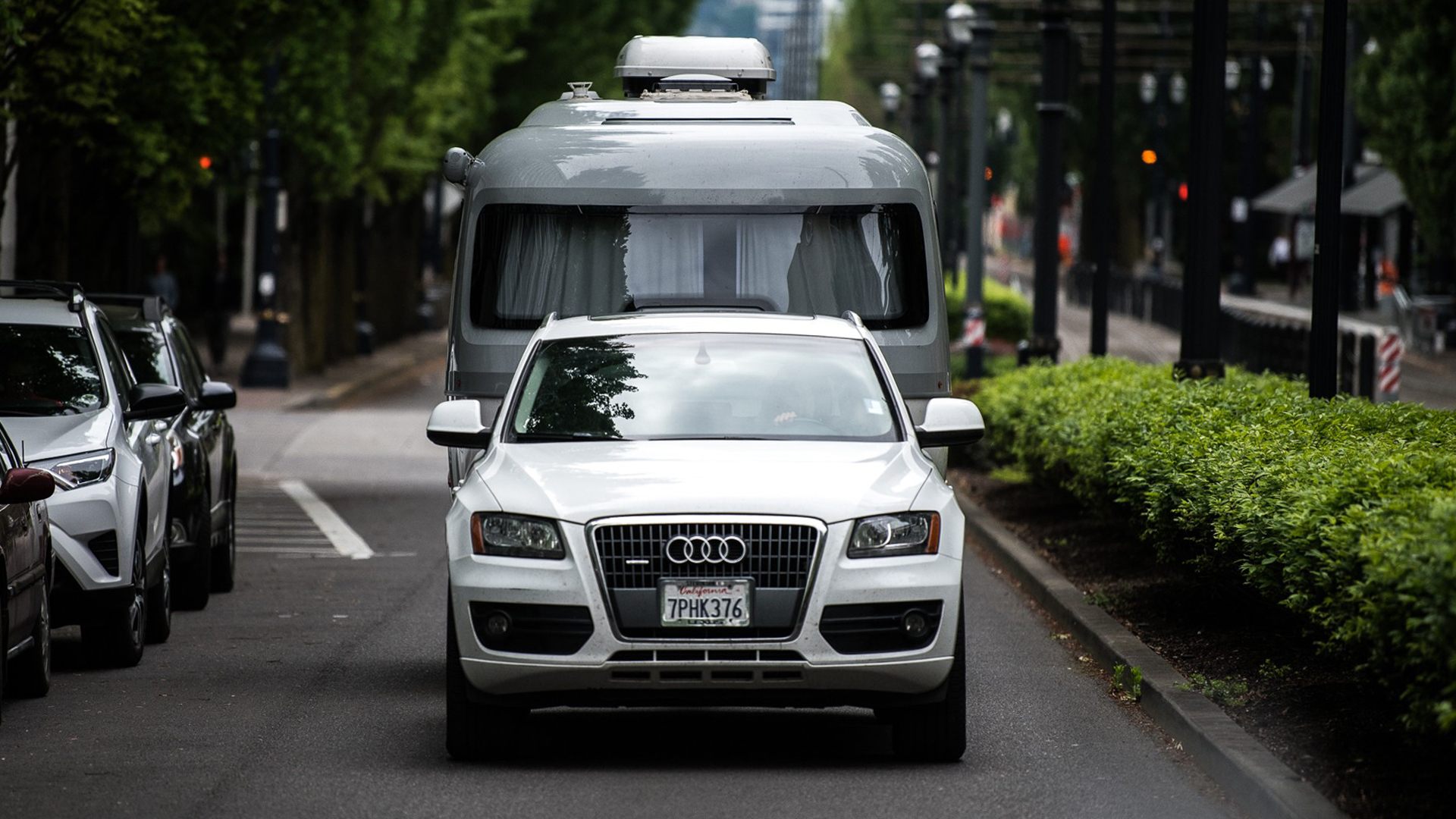 West said her husband was nervous about towing anything, but Nest is an ideal trailer.
"It tows so nicely," West said. "It's like it's not even there; you have to remind yourself to take large turns. Airstream knows what they are doing when it comes to distributing weight."
Whether you're an experienced camper, new to the travel trailer market, dreaming or shopping, spend some time getting to know Nest, the newest member of the Airstream family and the perfect combination of timeless quality and contemporary innovation.
Ready to take the next step in becoming an Airstreamer? Calculate your potential monthly payment.