Do you have questions about living on the road? Selecting the right trailer? The realities of a nomadic lifestyle? Justin and Ariele are the couple you've been waiting to meet. Read their story here and tune in to Airstream's Facebook on Thursday, June 7 at 7 p.m. EST, where they will be going live to answer your questions about life as digital nomads. We'll see you there!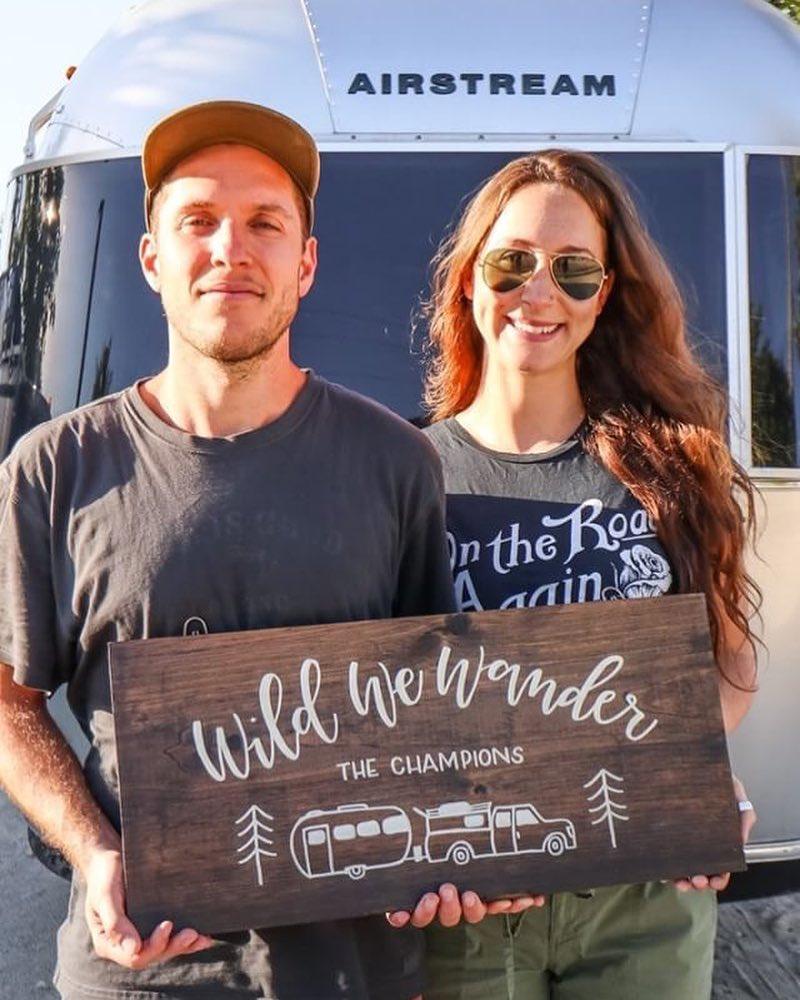 We are Justin and Ariele Champion, married duo purveying the idea and practice of an alternative American Dream—one where material possessions are devalued and connections and experiences are encouraged. As digital nomads, we live, work, and travel full time in our 22' Airstream Bambi Sport and F250 truck cap camper. Justin works for Hubspot as a content marketing trainer on the Hubspot Academy team. While we were traveling last year, he wrote a book titled Inbound Content: A Step-By-Step Guide to Doing Content Marketing the Inbound Way that published in April. Ariele manages the online marketing for her family's business, Mountain Mystic Company, while also managing our travels and our growing business, Wild We Wander.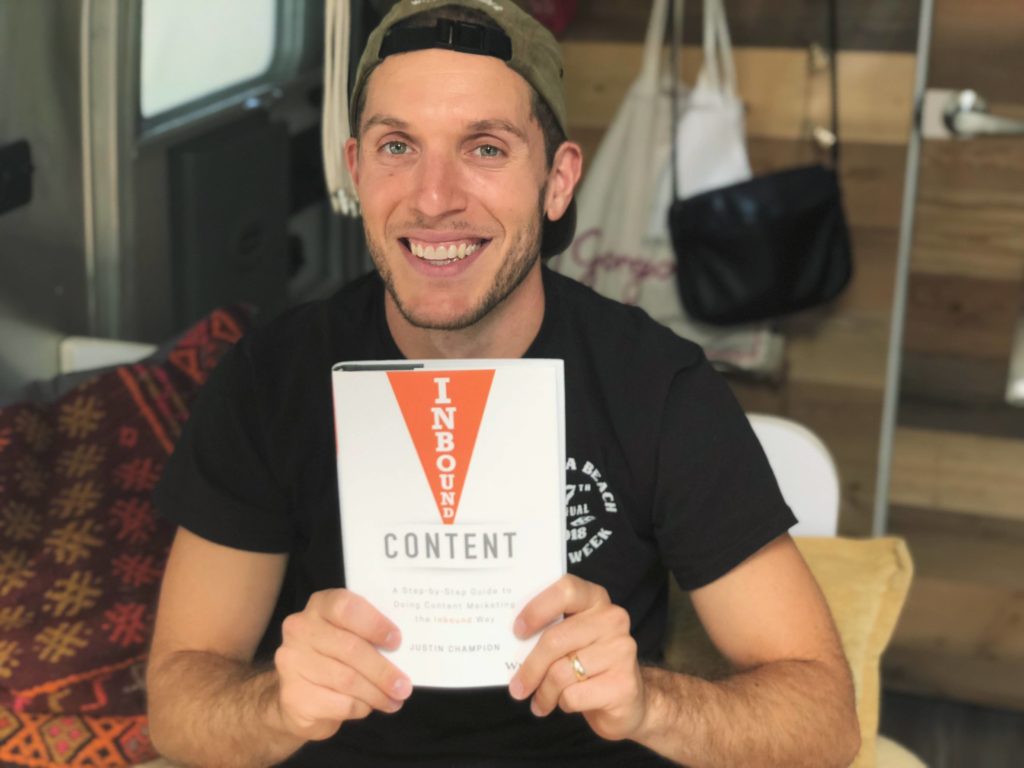 We have always had a wild hair. Several, actually. Our story begins when we fell in love with the tiny house movement. We knew we wanted the ability to travel, too, so we bought an old wooden camper in 2015 with the intention of completely remodeling it. That intention grew to wanting to live in it full time in Boston and then to wanting to travel full time and telecommute.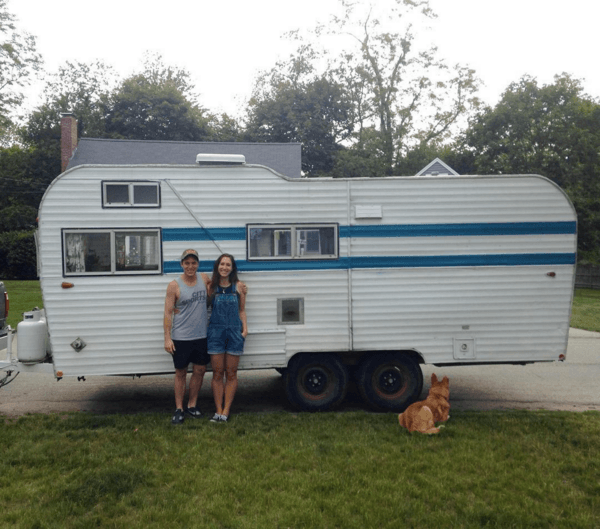 We ultimately had to give up on that project after a year and a half. Every step forward felt like we were taking two steps back. But we were such dreamers, we found a way to keep an optimistic disposition despite everything—missed deadlines, living in an apartment sans furniture, broken bones, family tragedies, all while trying to simultaneously pay off a combined student debt of $28,806.67.
Despite everything, we never imagined we would not make it to our dream situation. We just did not realize it would shift to exactly the outcome we needed. Fast forward to February of 2017. We drove to "look" at Airstreams at a nearby dealer and left that day the proud owner of our Dot, a 2017 22' Airstream Bambi Sport. The layout was even the same as our wooden camper! We find that no coincidence. It was the right decision for us, especially because we travel so much and have jobs that rely on us. Buying a new Airstream means quality, reliability, and community—our extended warranty has us covered wherever, whenever. And we are always meeting other friendly Airstream owners with whom we frequently swap stories and advice. We realized we never would have imagined purchasing a new Airstream if we hadn't gone through everything we did. It makes us appreciate our journey all the more.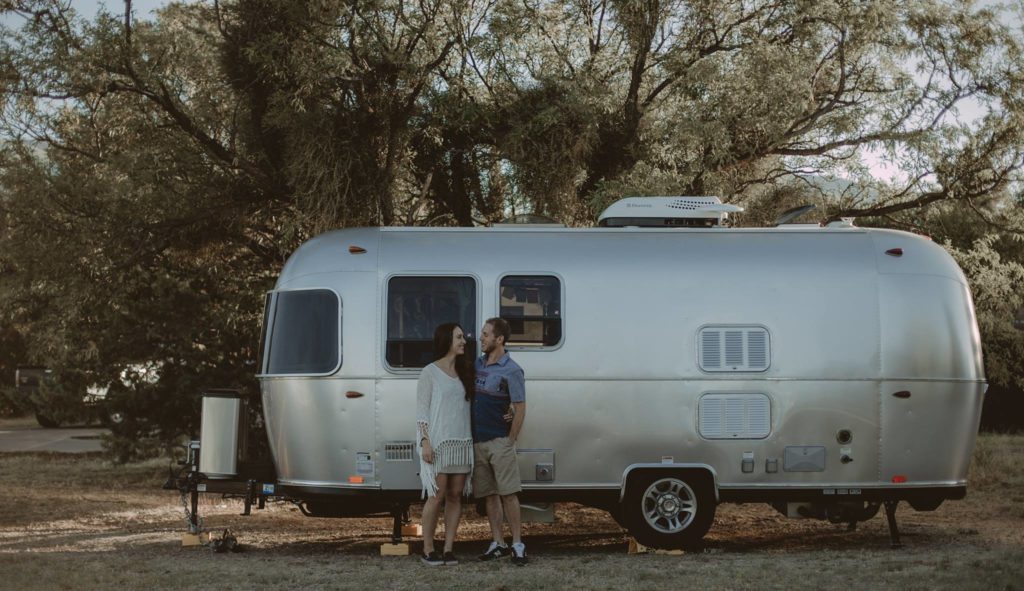 We really see our model of Airstream as perfect for young adventurous couples. Dot is the perfect size for two people living, cooking, and working, for navigating small back roads, and for fitting in two parking spots. The wraparound window by the bed and the skylight make the space seem larger and the bathroom is quite big! This model can be a great blank canvas, as it's easy to make aesthetic updates to turn it into a home that matches your style. We've made several easy updates, like adding wooden walls and a full-length mirror, refacing the fridge, and sewing a new bedroom curtain.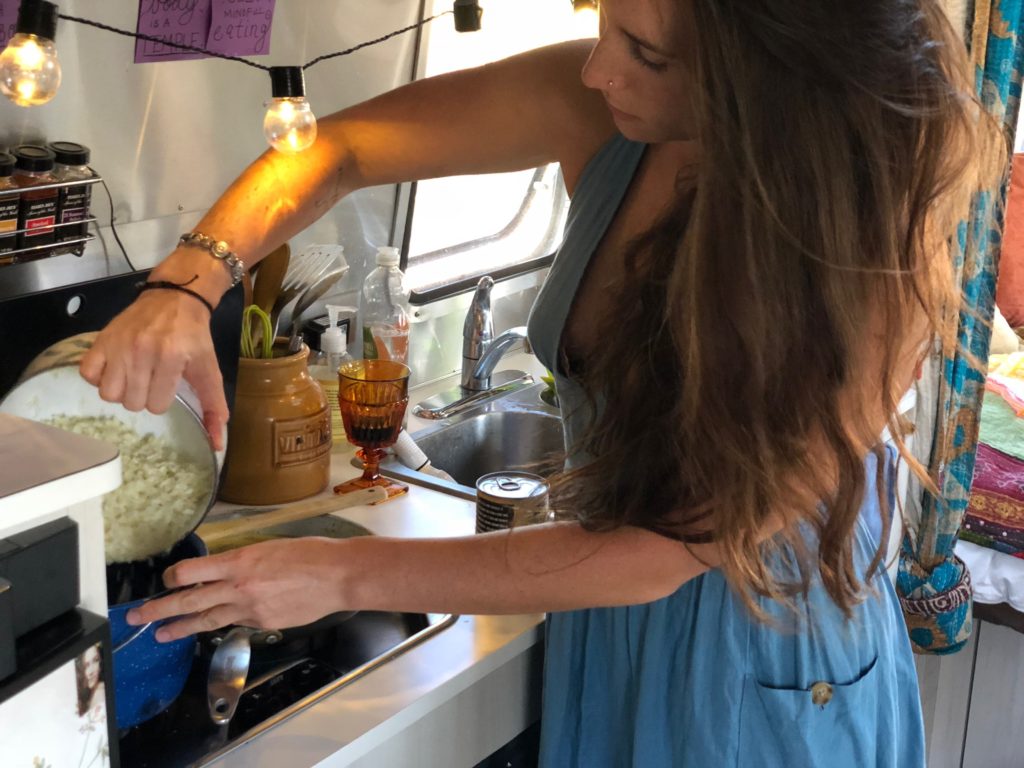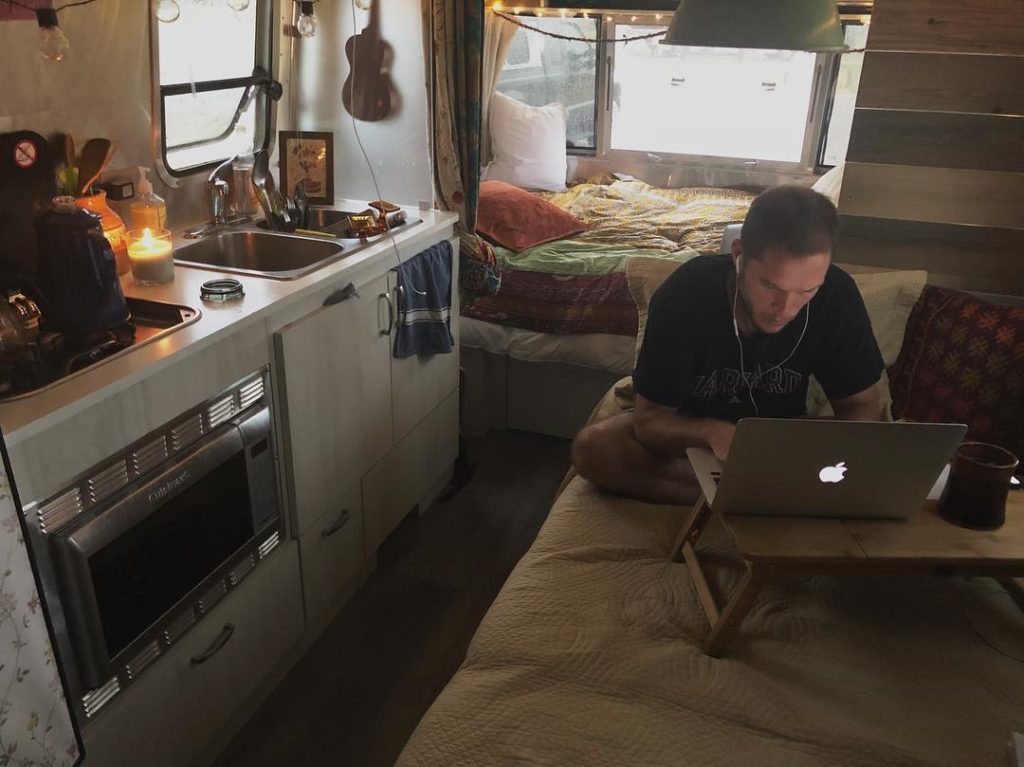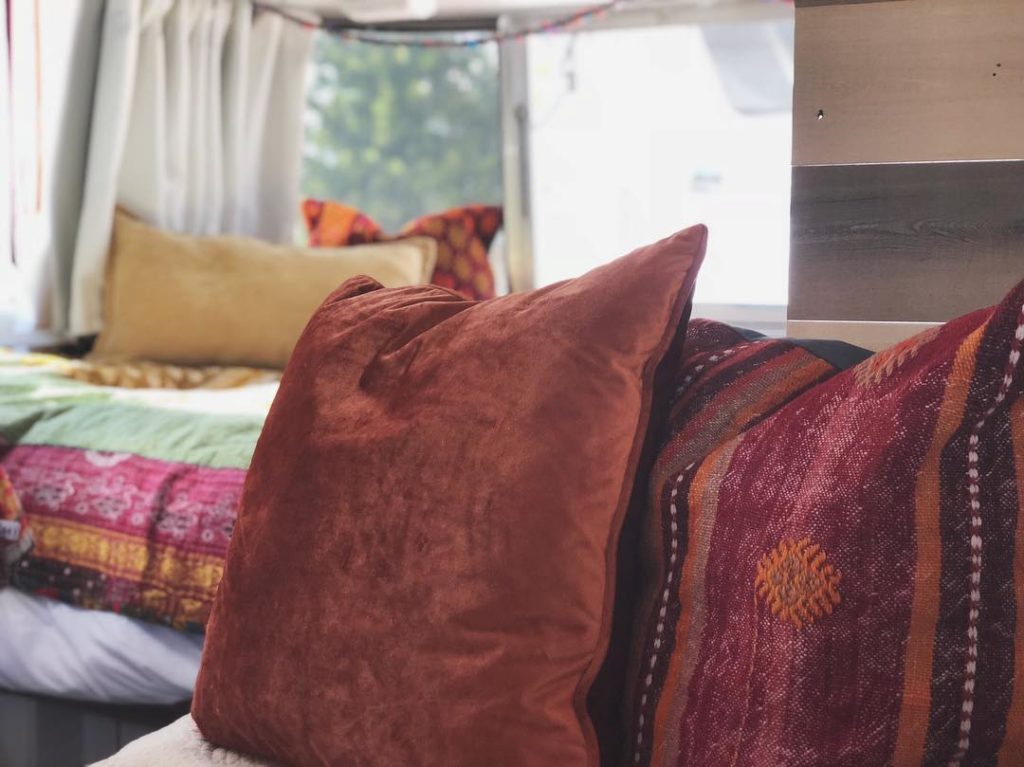 Living in a small space on the road is the most freeing, challenging, and connecting experience. It's not all a "pull-up-to-a-beach-and-park" lifestyle. It's a "where-are-we-going-to-sleep-tonight?," "we-ripped-off-the-awning," "our-entire-water-tank-emptied-inside," "does-our-next-location-have-cell-reception?," "I-really-need-my-own-space-today" kind of life.
But with every unexpected situation or feeling comes growth and ten times the amount of love for each other because we know we're both living our authentic selves. This digital nomad life, as we call it, has allowed us a myriad of experiences we never would have imagined when we set out.
https://www.instagram.com/p/BdqLGz6luUi/?taken-by=wildwewander
Wild We Wander's mission is to educate and inspire people to live a more meaningful life through connection. We want to inspire action in people who either want to live this nomadic lifestyle or want to pursue another dream. Our decision to live and work full time on the road was life changing and we hope through our story, website, and how-to guides, others will be inspired to do the same.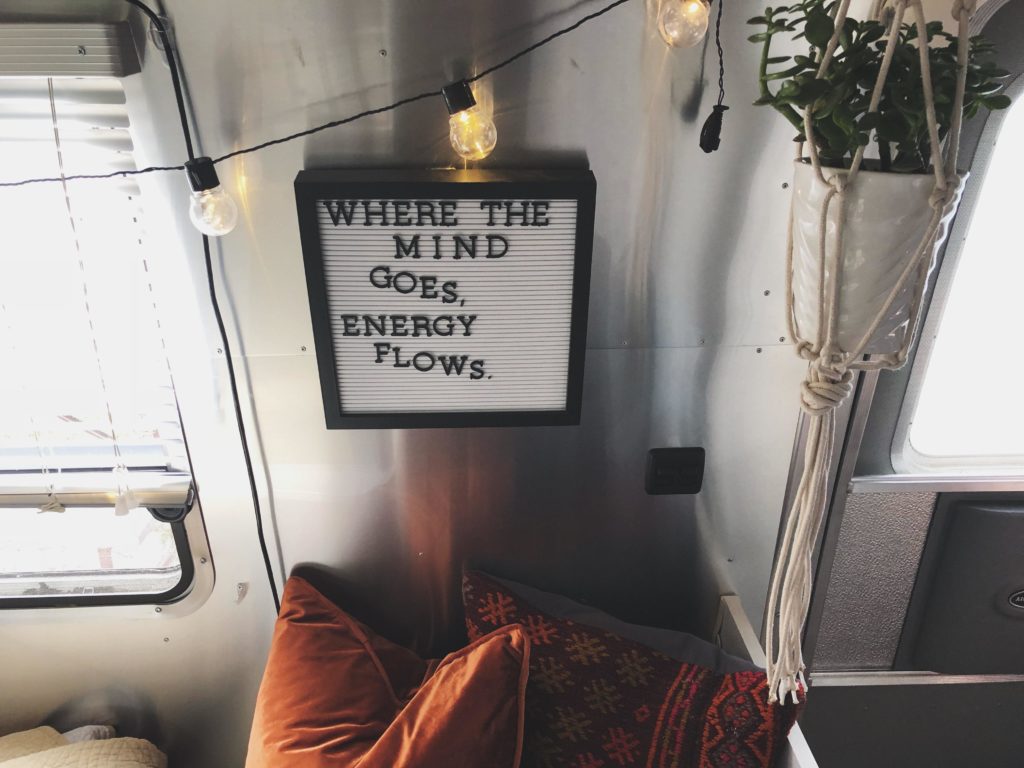 Do you have questions about our lifestyle? Are you thinking about traveling the country in an Airstream? Airstream will be hosting a Facebook Livestream on June 7th at 7 p.m. EST where you will be able to ask us anything about living and working from the road. We hope to see you there!
Ramblin' On,
Ariele + Justin