Starting at $233,700
Starting at $233,700
Step 2 / Select Exterior Color
Interstate® 24GL
You have chosen the Interstate 24GL. Next, please select your exterior paint color below. It comes standard with a streamlined and clean Arctic White or you can choose another paint color.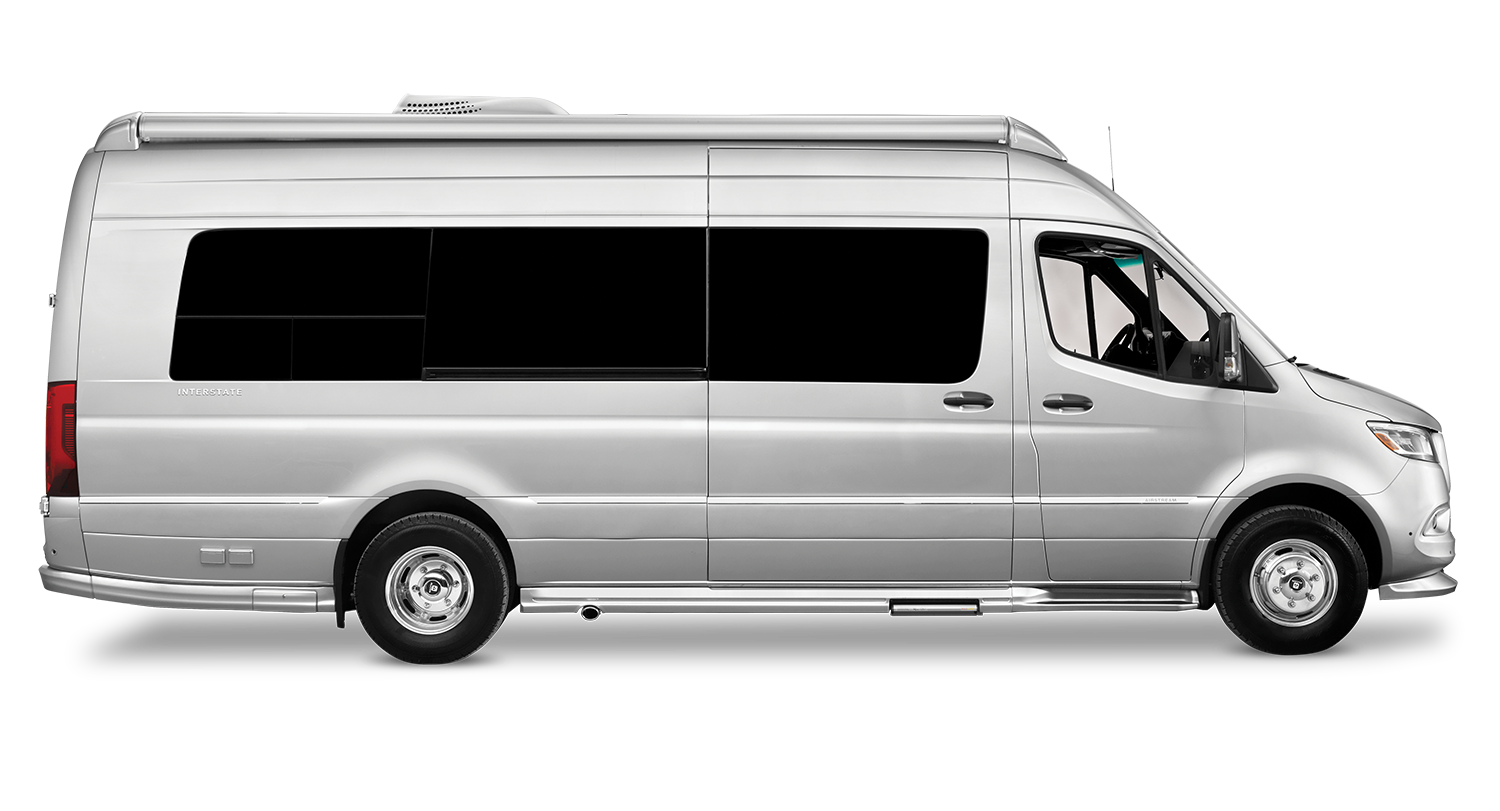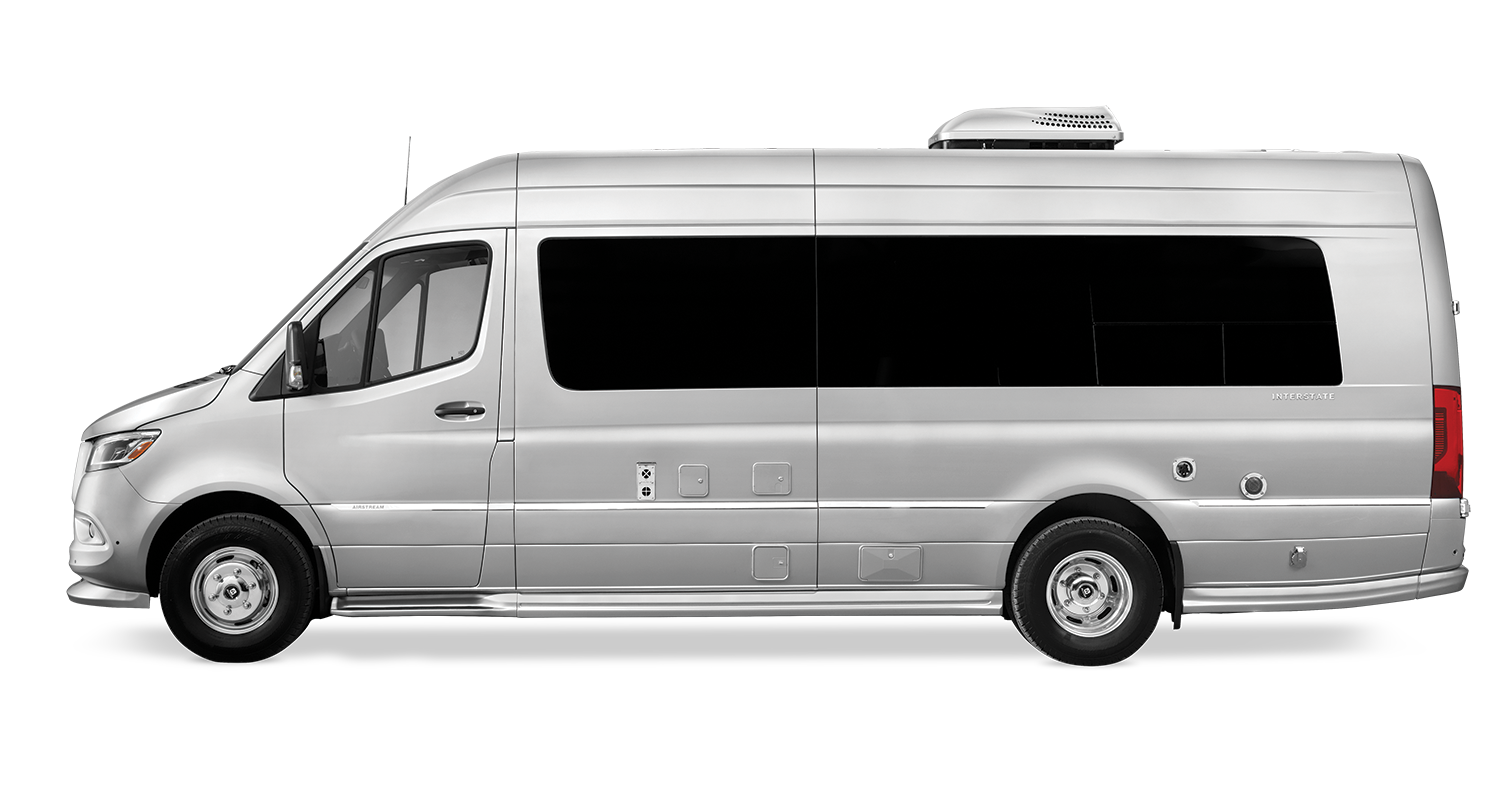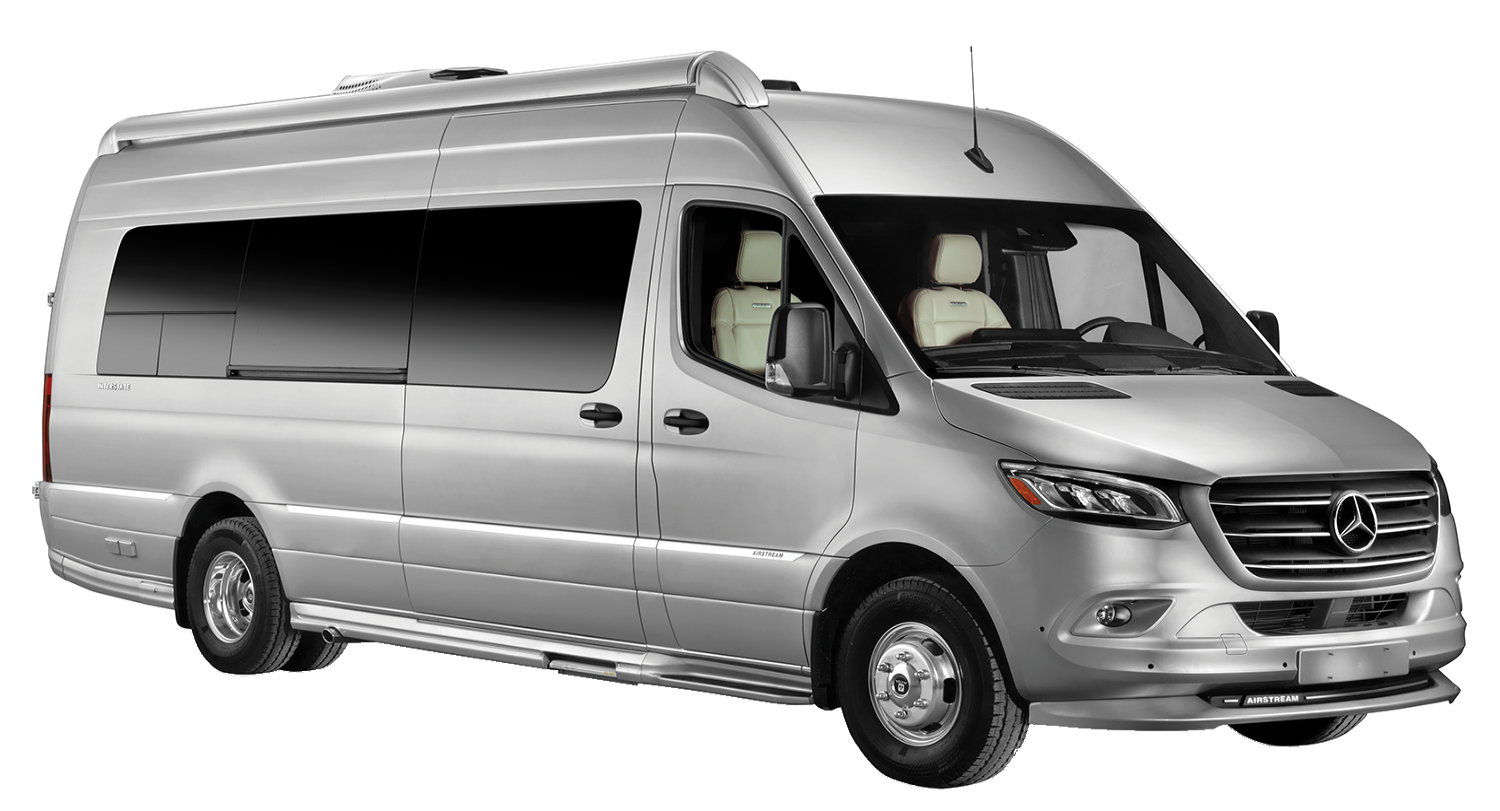 Select Exterior Color
Iridium Silver Metallic

($1,260)
Tenorite Grey Metallic (AWD Only)

($1,260)
Jet Black (Limited Supply)

($1,260)
Arctic White (Limited Supply)
Interstate® 24GL
Starting at $233,700
A distinguishing feature of an Airstream Touring Coach is the streamlined body design. Along with the amazing EcoPaint RoDip paint and finish, Airstream's detailed body and paintwork go the extra mile to give a unified automotive design. Compartments, moldings, fittings, and bumpers are crafted and perfectly matched to create a unified body design.
Explore the Interstate® 24GL
Learn about the exterior features
Power Awning
An integrated power awning extends with the tap of a button. It includes stabilizing bars to help the awning remain sturdy and with a built-in seismic sensor will automatically retract in high winds to prevent damage.
Power Step
Open the cabin door and the step automatically extends out before you. Close the door and it automatically retracts to become flush with the body of the Grand Lounge.
Solar Package
Cut the cord to expensive daily shore power hook-ups with the 12-volt solar charging system. 400 watts of solar with charge controller keep your chassis and house batteries charged.
Fully Featured Mecedes-Benz Chassis
There's no need to wonder if you have the best. Airstream selects all the best optional and upgraded features that Mercedes-Benz® offers. The powerful Mercedes-Benz® turbo diesel engine makes the Grand Lounge driving experience so enjoyable – with powerful getup balanced with impressive fuel economy.
Alcoa Aluminum Wheels
Easy to maintain and extra durable Alcoa aluminum wheels are standard on your Airstream Touring Coach. The Dura-Bright® Surface Treatment keeps your wheels glistening year after year will little to no maintenance.
External LP Port Access
A quick-connect, low-pressure LPG connection is located under the passenger side rear quarter panel behind the dual wheels. It's an easy, convenient connection to use for an outside grill or other LPG appliance.
Macerator With Pump
The waste pump is the ideal solution for emptying holding tanks on touring coaches. The waste pump will macerate and pump out the waste and tissue normally found in recreational vehicle waste systems.
We use cookies on our website to give you the most relevant experience by remembering your preferences and repeat visits. By clicking "Accept", you consent to the use of ALL the cookies. However you may visit Cookie Settings to provide a controlled consent.
Privacy Overview
This website uses cookies to improve your experience while you navigate through the website. Out of these cookies, the cookies that are categorized as necessary are stored on your browser as they are essential for the working of basic functionalities of the website. We also use third-party cookies that help us analyze and understand how you use this website. These cookies will be stored in your browser only with your consent. You also have the option to opt-out of these cookies. But opting out of some of these cookies may have an effect on your browsing experience.
Necessary cookies are absolutely essential for the website to function properly. This category only includes cookies that ensures basic functionalities and security features of the website. These cookies do not store any personal information.
Any cookies that may not be particularly necessary for the website to function and is used specifically to collect user personal data via analytics, ads, other embedded contents are termed as non-necessary cookies. It is mandatory to procure user consent prior to running these cookies on your website.