Tim and Ursulla Elkins were living the American Dream. Hard work and professional success had brought them more money, more stuff and bigger houses to stash their stuff.
Unfortunately, it didn't bring them fulfillment. That dream, as it turns out, wasn't their dream. So, in 2018, the couple chucked it all and began pursuing their bliss on the road, living full-time in an Airstream Classic.
In their recent Ask an Airstreamer livestream presentation, the Elkins offered in-depth insight into their mobile lifestyle to an audience of fellow Airstreamers and folks considering a similar path.
Tim and Ursulla settled on the Airstream Classic after looking at numerous other brands and considering several smaller Airstream models. Their decision was driven by Airstream's quality and iconic design, as well as the Classic's roominess. The couple says their Airstream's amenities and finishes compare favorably to their old "sticks and bricks" house. Tim is especially impressed by the Classic's kitchen.
"It's small, but it packs a mighty punch," he says. "We've got all the things on board that allow us to cook any meal that we want. We've got an RV size oven, a three-burner propane stove, a convection microwave, and easy electrical plugs to use electric kettles and whatnot."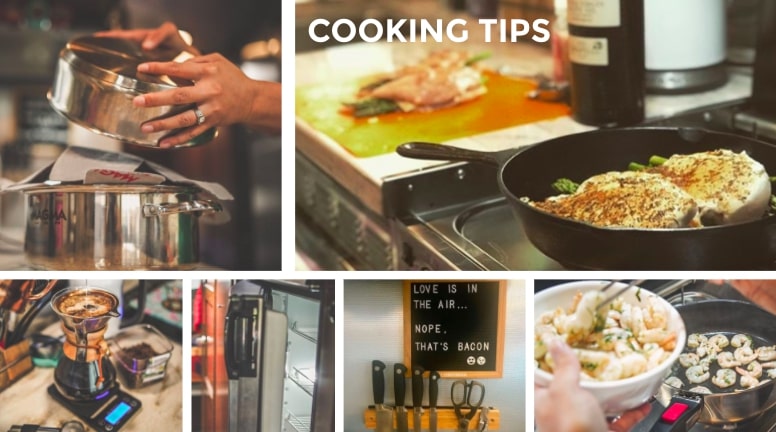 The Elkins' were complete RV newbies when they started their adventure. Neither of them had spent a single night in an RV, driven a truck or towed anything.
"Our first night in the Classic was spent in a truck stop trying to figure out the sleeping arrangements, how to work the heater, et cetera," Tim told the Ask an Airstreamer audience.
Ursulla's dad, an experienced RVer, spent half a day teaching the couple the art of towing and backing-up the Classic.
While Tim and Ursulla have shucked the traditional 9-to-5 life, they still have jobs. Ursulla is a traveling nurse. She typically takes two three-month assignments per year. Tim serves as Ursulla's manager, invests in stocks and sometimes works as a camp host.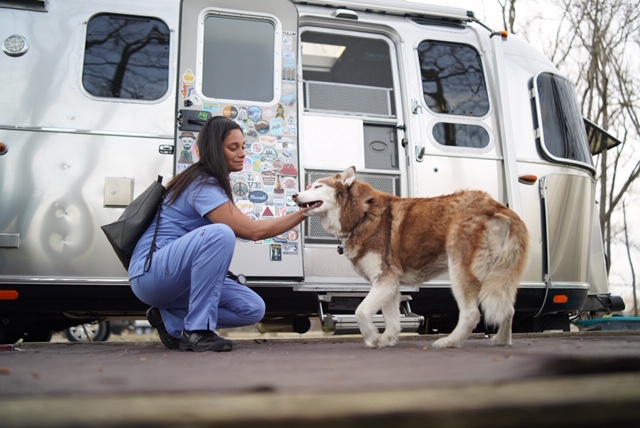 The couple can live on about $2500 a month because they are debt-free and used the profits from the sale of their house to buy the Classic and a Dodge Ram 2500 truck. Plus, they strive to live as simply as possible.
"We wanted to maintain minimal recurring monthly bills as we live this lifestyle on the road," Ursulla told the audience. "Those really only include two - our cell phone and our storage unit back in California."
The Elkins reduce their camping costs by staying in campgrounds long enough to get a discounted rate and occasionally boondocking or staying in Wal-mart or Cabela's parking lots overnight while traveling between destinations. They use the Campendium app to find free places to overnight.
When Ursulla isn't working, the Elkins are relentless explorers. They have traveled 30,000 miles across 37 states and Canada since going full-time. They broadcast the Ask an Airstreamer livestream from Yellowstone National Park. Trips through the Pacific Northwest and Alaska are next on the agenda. 
Everywhere they go, the Elkins make new connections and friends.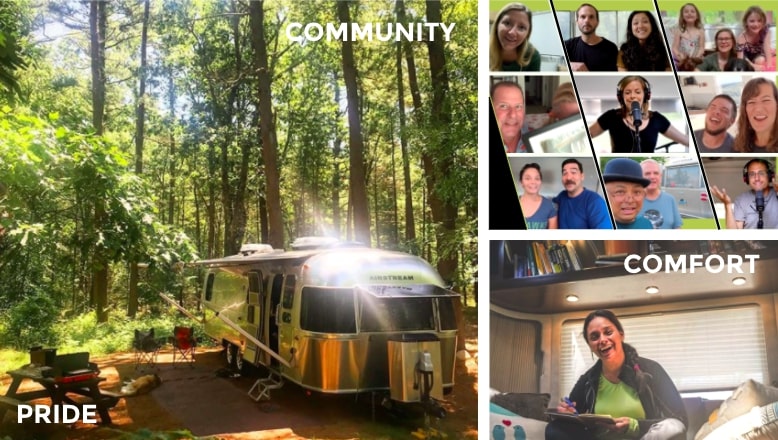 "One thing that we didn't realize is that when you get an Airstream, you also get a community," said Ursulla. "It's sort of like this Airstream family. We've had a lot of great experiences connecting with others. One of our earliest experiences was pulling into our campsite in Georgia and having another Airstreamer come over and introduce himself. We swapped stories, and he shared some Airstream tips because he's been on the road for like ten years."
The audience for Tim and Ursulla's Ask an Airstreamer livestream was effusive in its praise for the presentation.
"Informative," "fun" and "honest" were common words used to describe the content. Added one participant: "This would be a great inspiration for a newbie wanting to go full time. Packed with great tips."
To watch other Ask an Airstreamer episodes in this informative, entertaining livestream series, click here.