Link to video:
Say you lived in a typically cramped Manhattan apartment for several years. Once the shine was off the Big Apple, what would you dream about? A bigger place, right?
That's exactly what Jim and Chelsea Keat thought about, for sure. But these adventure-seeking Gotham residents defined "bigger place" as all of the great outdoors. So, just over a year ago, they traded their Gotham digs for an Airstream Globetrotter and took to the road full-time.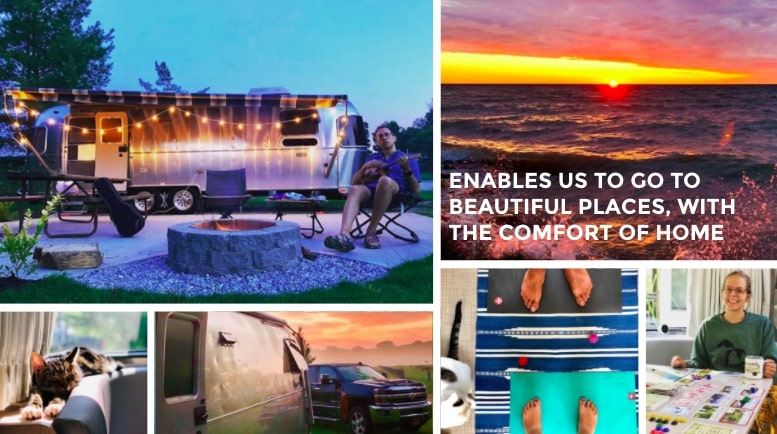 In their recent appearance on the Ask an Airstreamer livestream, Jim and Chelsea shared the whys and hows of their lifestyle makeover with an audience of current and prospective Airstream owners. Some of them no doubt mulling a similar transition.
"The city had a lot of amazing things to offer," said Jim. "But we always found ourselves just wanting the green space, wanting nature. That meant doing whatever we could to get out of the city to camp or just spending all the time we could in the parks in the city. We wanted to be in nature."
With Chelsea about to finish a graduate writing program, the couple was at a potential transition point in their lives. Jim floated the idea of full-timing in an Airstream. Chelsea had never heard the word Airstream. A few months later, after numerous dealer visits, the Keats bought a 27-foot, 2019 Globetrotter front bed queen. 
"I think the main reason we chose to go with the Globetrotter was that we loved the sleek, minimal clean European design," Chelsea told the Ask an Airstreamer audience. "To us, it really just felt like a tiny Manhattan apartment on wheels."
They are also big fans of the Globetrotter's quality and considerable floor space, which gives them enough room to do yoga together in the morning.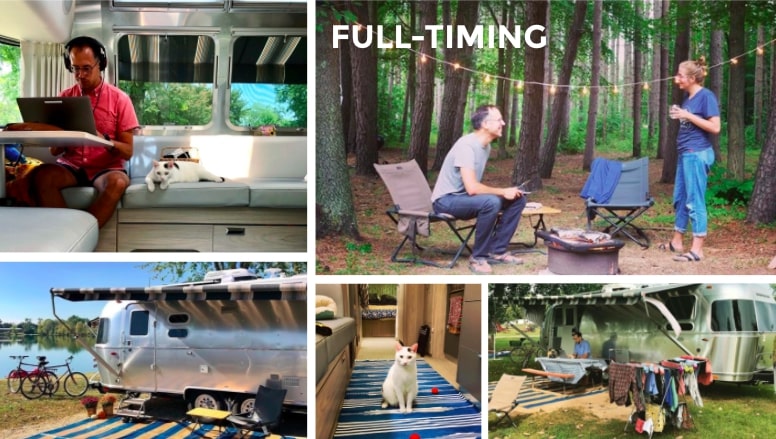 During their presentation, Jim and Chelsea shared some of the tweaks and upgrades they've made to their Globetrotter to make it feel like home, including removing the TV, microwave and DVD player to create more room for wall art and storage. 
Perhaps the most important modification was the addition of the Airstream Connected internet connectivity kit, which makes it possible for these digital nomads to make a living - and watch Netflix when the workday is done - virtually anywhere.
Jim has a full-time job as the digital minister of a New York City church and has several photo and video content-creation side hustles. Chelsea is an online writing coach. The duo offered several insights on working together in such close quarters, including the importance of comfortable camp chairs and switching work positions over the course of the day.
"I think the rhythm that we fell into was one person would be outside, and one person was inside," Chelsea told the Ask an Airstreamer participants. "That way, we each had our own spaces. If Jim were taking a call, it wouldn't distract me from my editing, then we would swap, maybe, halfway through the day."
The Keats also delivered some great first-hand advice from where the hitch meets the ball, literally. Jim and Chelsea, who had never towed a trailer or driven a truck, went in-depth on their initial fears about hitching, towing and backing their Globetrotter and how they overcame that early trepidation.
"Towing and backing were at the top of our fears list," said Jim. "I'm not quite to the point where it's no big deal to back-in the Globetrotter, but I am at the point where I can't wait to do the next one. I want to know if I can do it on my first try. Backing was definitely a fear, and it became more of a fun challenge."
Some other topics Jim and Chelsea covered were tips on traveling with pets, cooking and the logistics of getting their mail. 
Jim and Chelsea's ultra-informative presentation was a hit with the Ask an Airstreamer audience members who praised it as informative and authentic. Said one attendee, who is in the market for an Airstream:
"Everything discussed in this livestream had some meaning to us. This was the first time we've heard owners talk about the Airstream experience."
To watch other Ask an Airstreamer episodes in this informative, entertaining livestream series, click here.