When it comes to embarking on a journey, travelers are as diverse as the destinations they seek. Whether you're planning a family road trip, traveling with your furry companions, navigating city streets on an urban exploration, or embarking on a solo adventure, the Airstream Rangeline Touring Coach is here to accommodate your unique travel style.
The Airstream Rangeline is the Perfect Camper for Family Road Trips 
For families, hitting the open road can be a thrilling experience, but requires careful planning and the right amenities to ensure everyone enjoys the journey. Family-friendly features in Rangeline make it well-equipped to serve as your family's ideal road trip partner.
Family-Friendly Feature #1: The Rangeline Floorplan
Rangeline offers a thoughtfully designed floorplan that enhances family interactions. Its wide table is perfect for shared meals, impromptu homework sessions, or setting up a makeshift office to handle remote work or school assignments while on the road. For those still riding in booster or car seats, Rangeline's passenger bench features integrated child seat tethers. The spacious interior ensures that everyone has room to move around comfortably. And with ample storage, you can bring along everything your family needs to have the time of your life.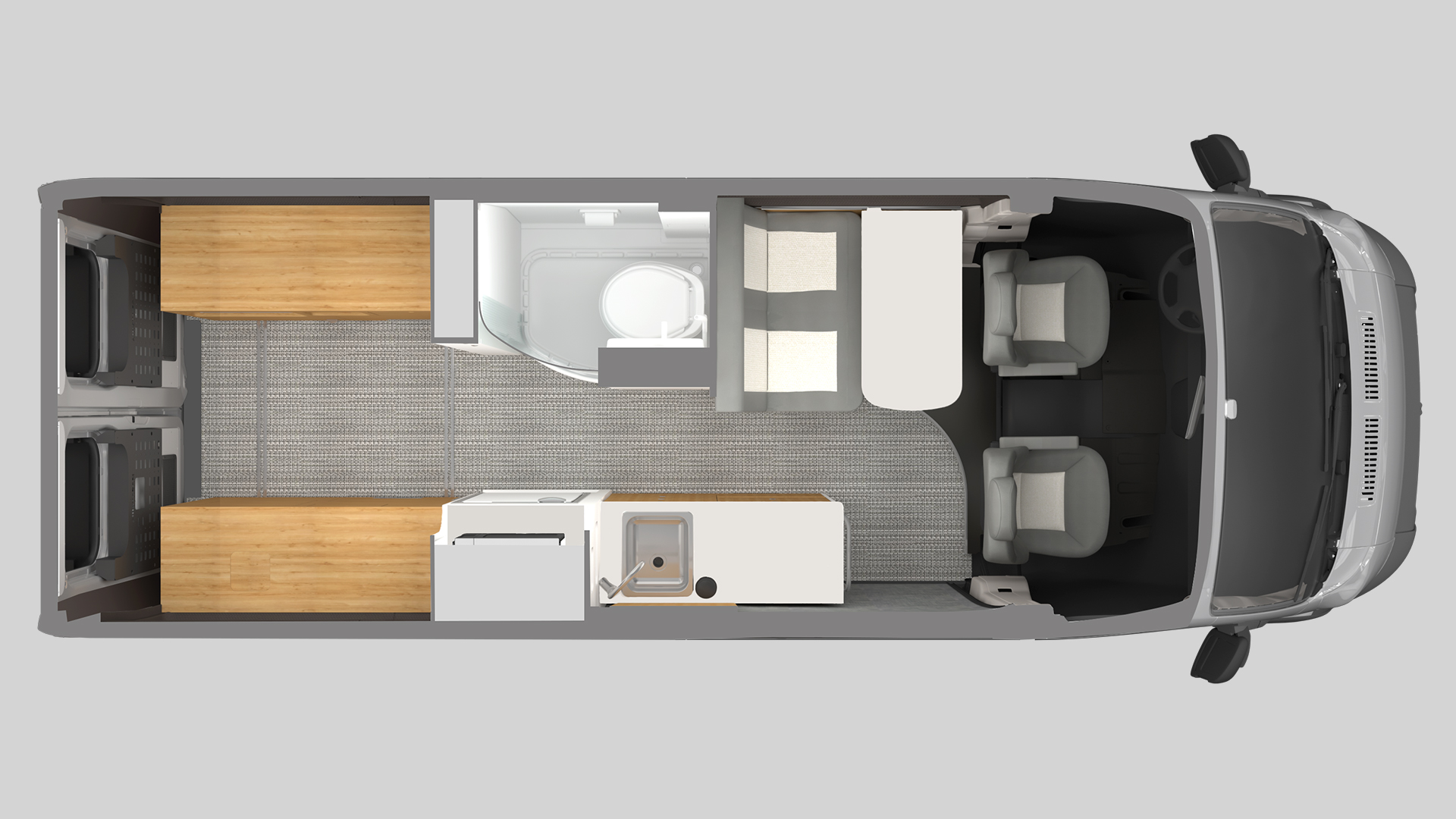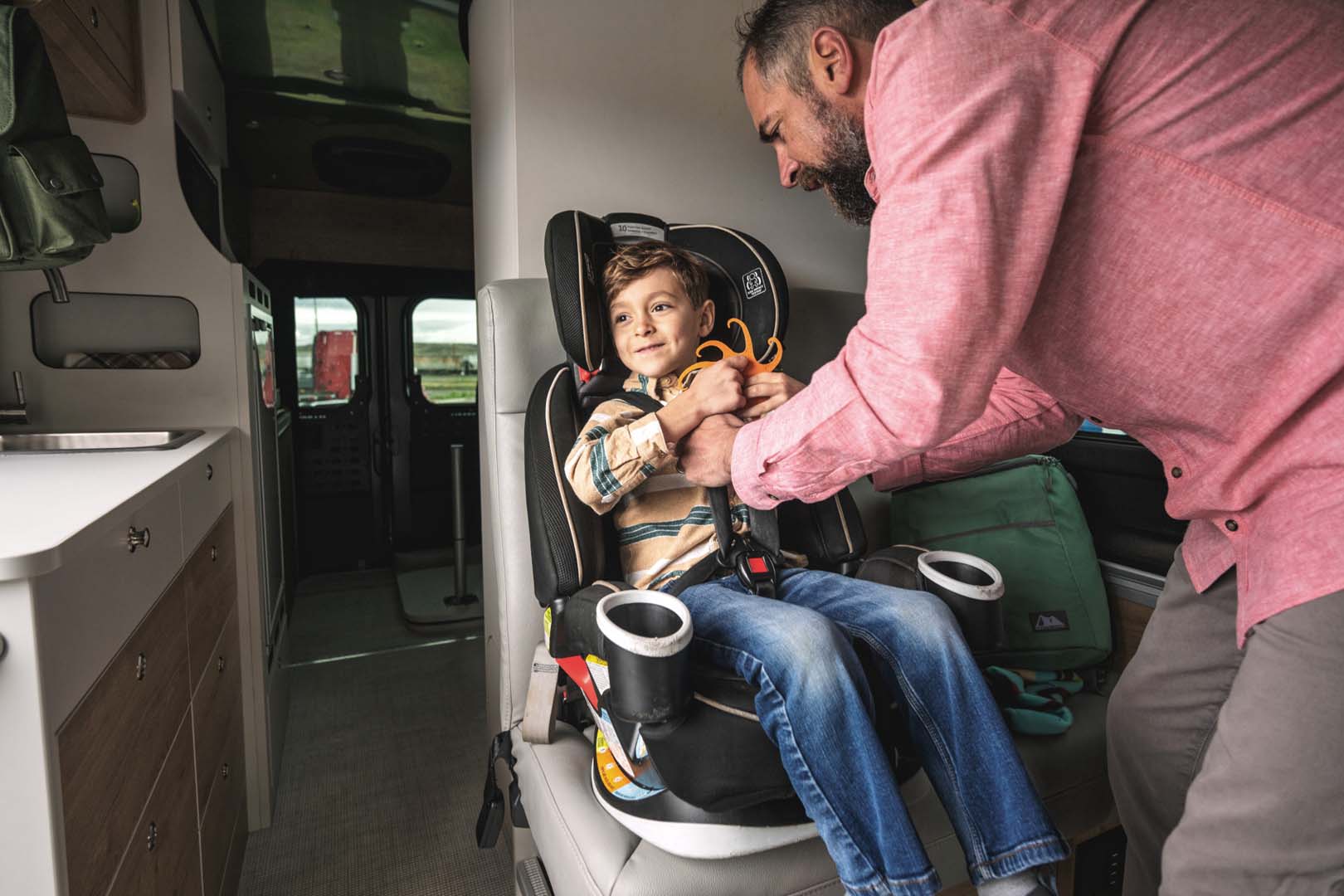 Family-Friendly Feature #2: Optional Pop-Top
Rangeline sleeps two on the rear fold-up bed in its standard configuration but is available with an optional pop top that expands the interior living space in more ways than one. Add extra sleeping space up top for kids or guests, giving your family more flexibility and room for everyone to sleep comfortably.  
Family-Friendly Feature #3: Easy to Clean Surfaces
Let's face it: Family trips can get a little messy. But with Rangeline's easy to clean and durable surfaces, fabrics, and flooring, you have nothing to worry about. Muddy footprints (or paw prints) clean up quickly on the seamless luxury woven vinyl flooring, while the Vissimi vinyl upholstery (available in Navy or Gray) can stand up to just about any spill you can throw at it. Spills and dirt are no match for these durable materials, making it simple to maintain a clean and inviting environment during your family road trips. 
Visit Friends and Family with Your Own Guest Accommodations
Have you ever wanted to visit friends and family but felt hesitant about imposing on their space? With Rangeline, you have your own guest accommodation wherever you go. Boondocking in the driveway of a friend or relative serves a dual purpose: Your family enjoys the comfort and privacy of your own retreat, while your hosts don't have to deal with the hassle of setting up a guest room. Rangeline ensures that family road trips are not just about the destination but also about the journey itself, with the ability to create cherished memories along the way.
Rangeline is Great for Pet Owners
For many of us, traveling with pets is one of the very best things about RV ownership. Rather than dealing with the headaches of flying with a pet, hitting the road in an Airstream touring coach means you can bring dogs, cats, birds, and more along for the ride. But it's the pet-specific features in Rangeline that makes it one of our most pet-friendly recreational vehicles.  
Pet Friendly Feature #1: Pet Bowls in Drawer
Inside the van, you'll find a cleverly designed pull-out drawer beneath the fridge – the perfect hideaway for pet food and water bowls to ensure your furry companions are well taken care of during your travels. When mealtime is over, simply slide the drawer back into place until the next feeding.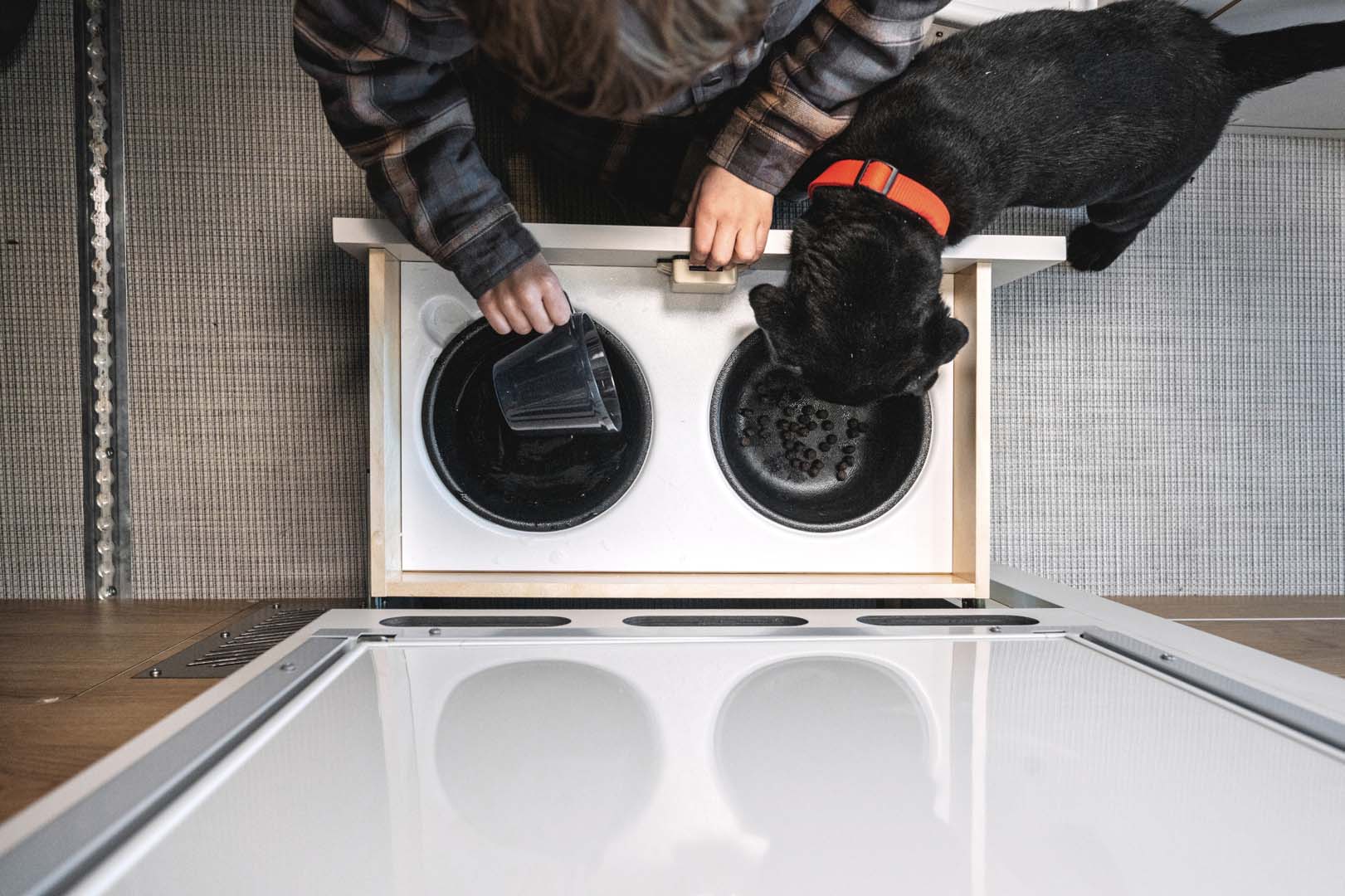 Pet Friendly Feature #2: Pet Leash Attachment
When you want to let your pets enjoy the great outdoors but also want them to stay close, Rangeline offers a pet leash attachment point integrated into the aluminum running boards. It provides a secure space for your pets to explore and stretch their legs while you relax in the comfort of your camper van.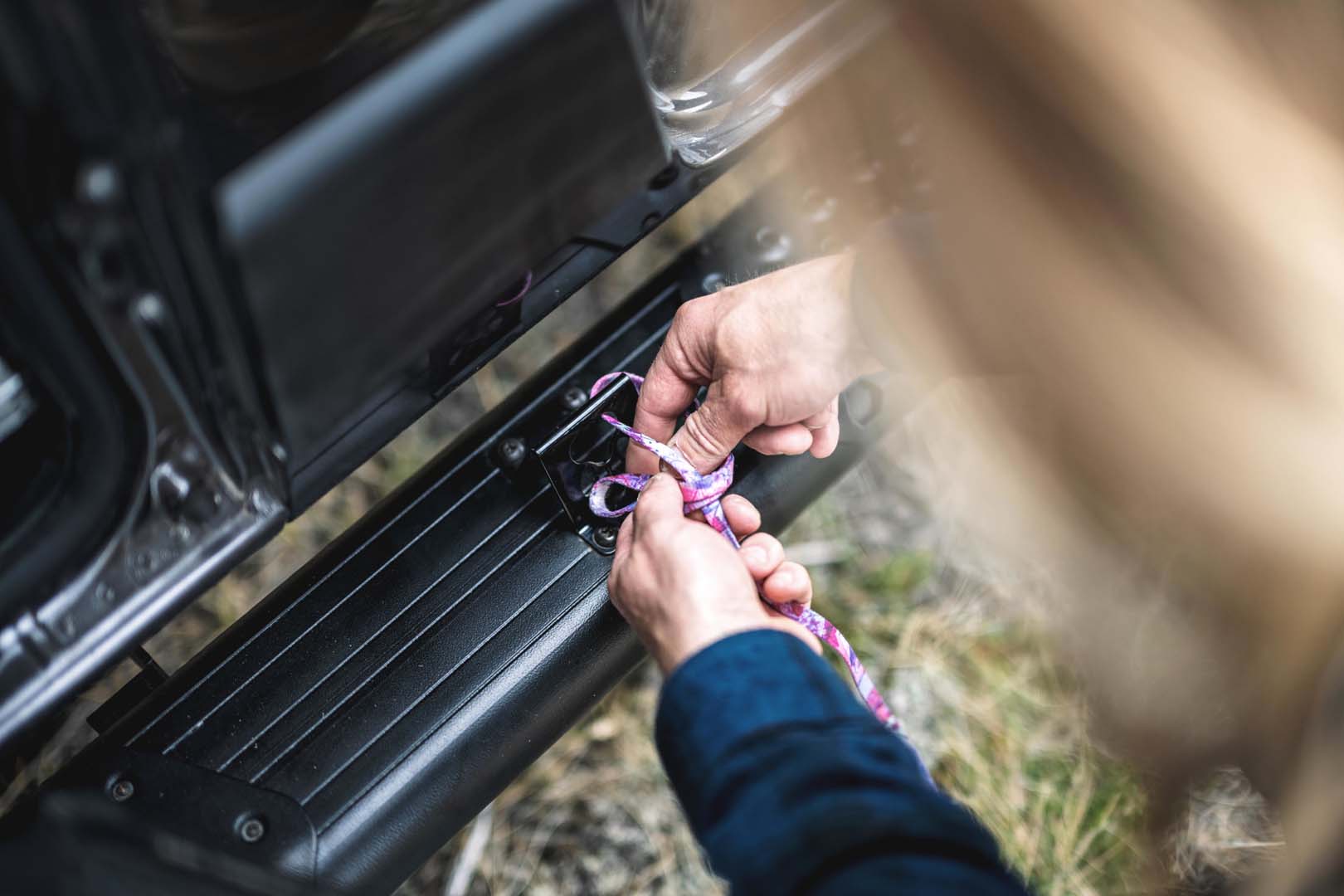 Pet Friendly Feature #3: Exterior Shower
Hidden in an exterior compartment, Rangeline's exterior shower is the perfect tool for cleaning off muddy paws – or your own muddy boots. If your pet-friendly adventures get a little messy on the trail, Rangeline's features make it easy to clean up and keep dirt and mud outside where it belongs.
Pet Friendly Feature #4: Easy to Clean Floor and Durable Surfaces
Like kids, pets can be messy, but Rangeline's seamless vinyl flooring and durable upholstery fabrics are designed to withstand the rigors of pet travel. Cleaning up after your pets becomes a breeze, so you can focus on the adventures you'll share with your furry companions.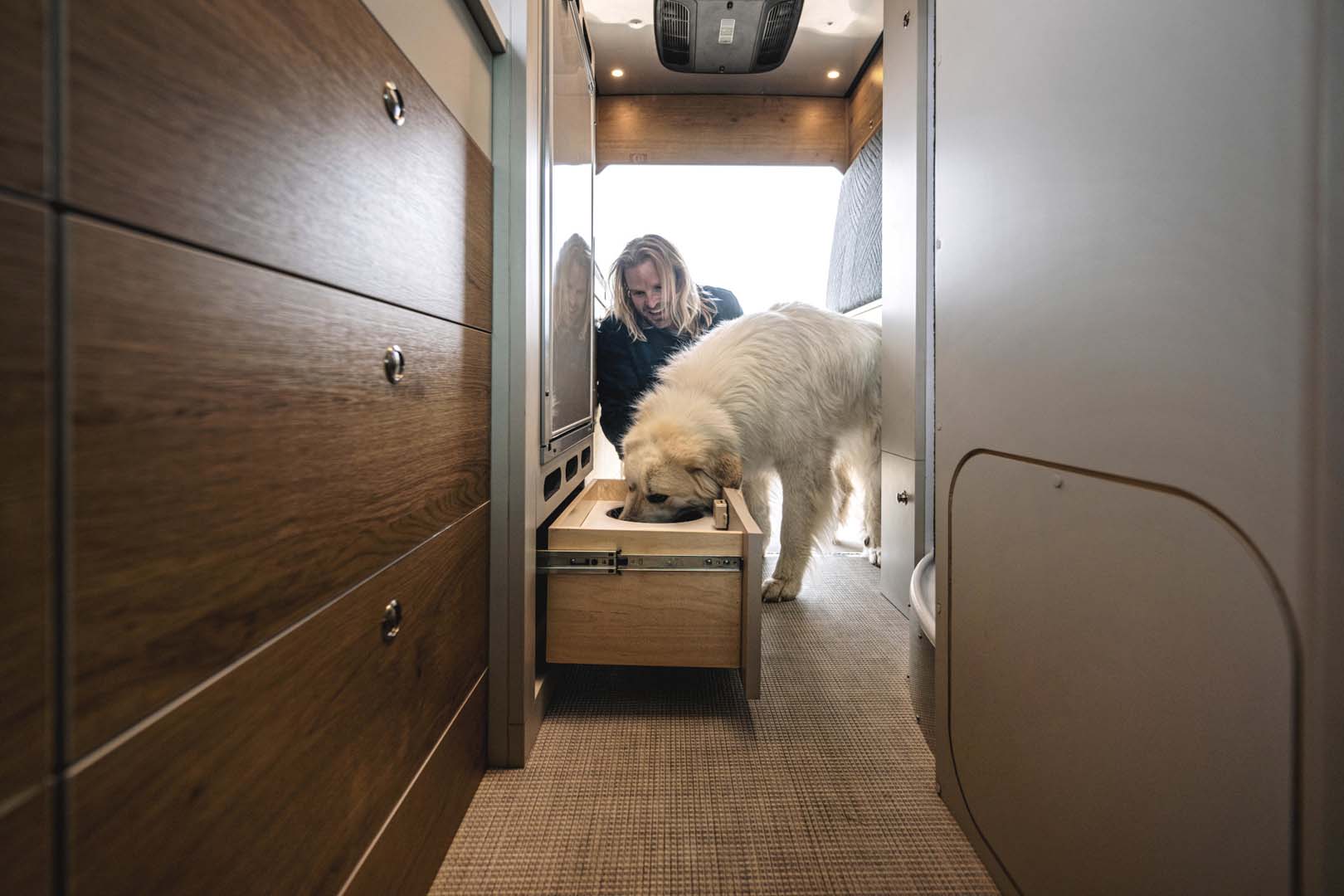 Rangeline is a Great Daily Driver
City dwellers and those who prefer to drive their RV as a daily vehicle will appreciate Rangeline's compact size and maneuverability. Whether you're taking kids to the weekend sports tournament or simply dropping them off at school, Rangeline upgrades the traditional minivan for families who want to ride in comfort and style. 
Plus, Rangeline's automotive design will fit right in on city streets, school drop off lines, and company parking lots. Its sleek exterior doesn't scream RV, and its gas engine makes it easy to fuel up no matter where you travel.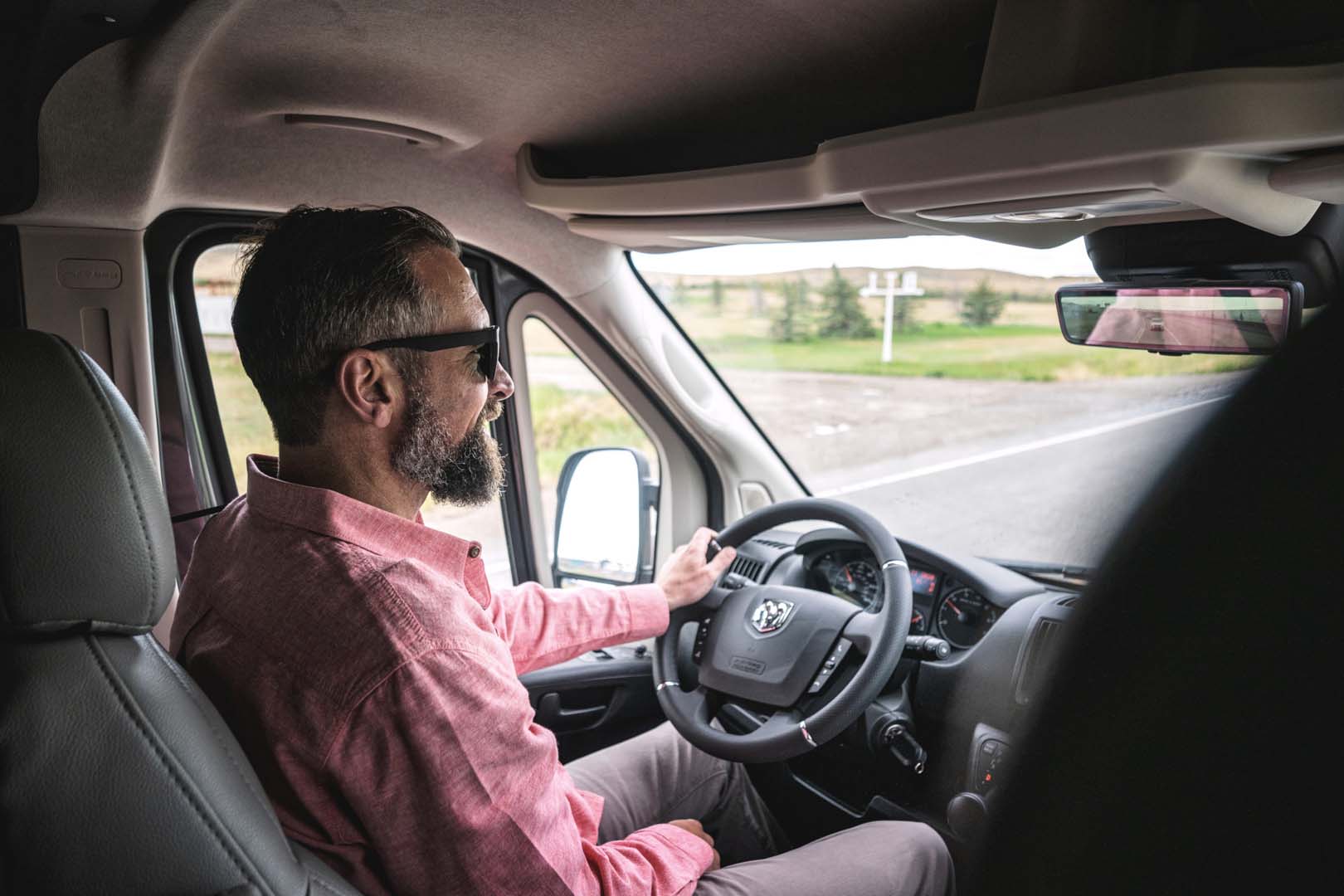 Rangeline is Nimble and Maneuverable at Just 21 Feet
Rangeline's 21-foot length strikes a perfect balance between spaciousness and agility. It's large enough to provide all the amenities and comforts you need but compact enough to navigate city streets and parking lots with ease. With its nimble handling and responsive steering, Rangeline makes city driving a breeze. You can explore urban landscapes, visit friends in the city, or embark on daily errands without the stress of handling a massive vehicle. 
Rangeline is Great for Solo Trips
Solo travelers seeking freedom and adventure will find Rangeline to be a perfect fit for their independent journeys. 
Use Rangeline's Pop Top for Extra Storage
For solo trips, the optional pop-top serves as a versatile storage solution. Set up camp and use the pop-top area as additional storage for gear and adventure necessities you don't want left outside. Or use the pop-top as your sleeping area and open up more living space inside the main cabin.

Innovative L-Track Storage System Keeps Gear Secure
If your solo adventures require specialized gear, Rangeline is ready to keep everything in its place while you head to your destination. The L-Track system in the floor allows you to quickly secure bikes, fishing poles, and storage containers – meaning you don't have to leave the adventure in the storage closet at home.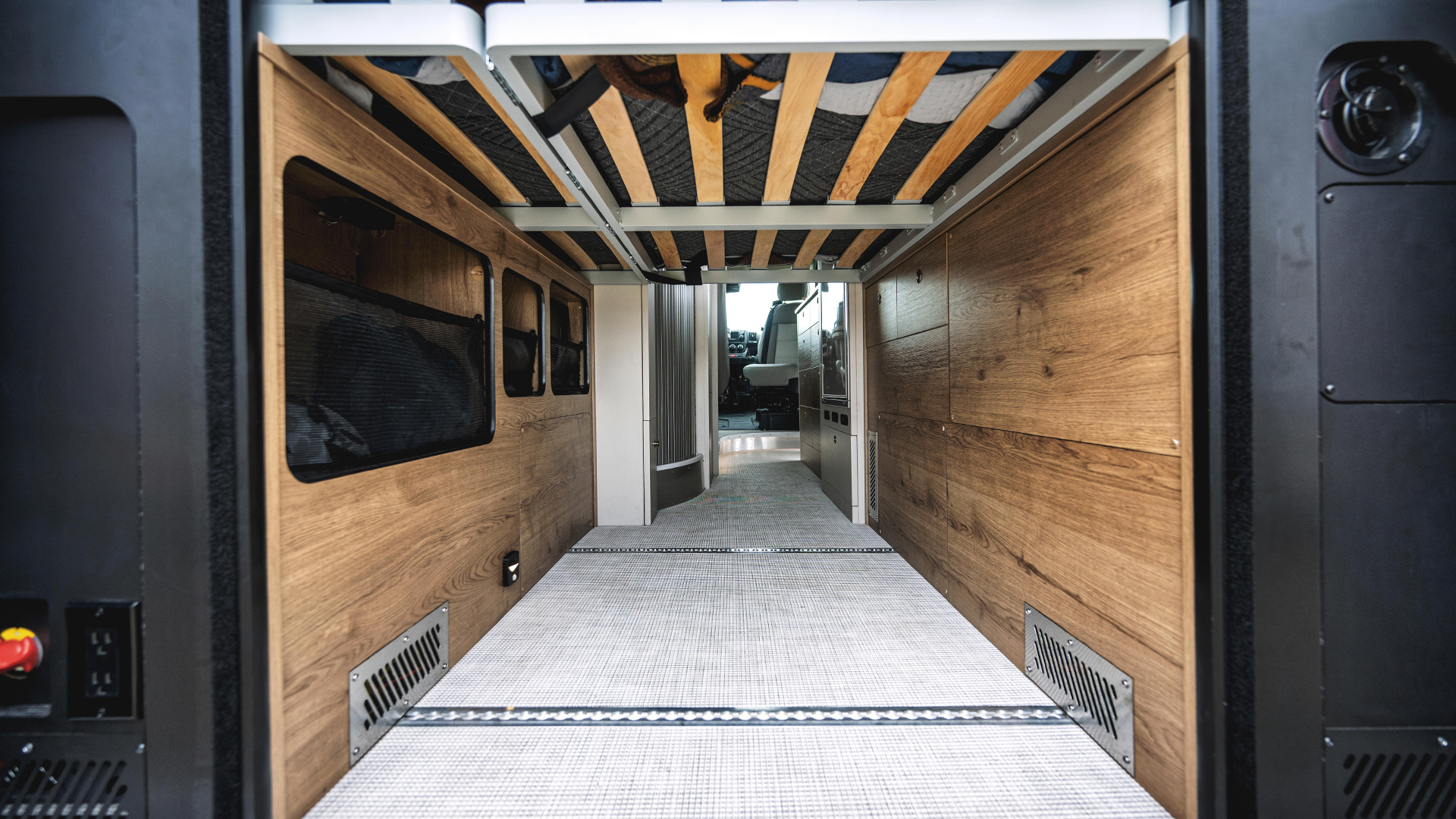 Hit the Road with Colleagues in the Ultimate Business Trip Vehicle
Whether you're embarking on a business trip with co-workers or simply want a comfortable and functional workspace while on the road, Rangeline is equipped to meet your needs. Everyone can travel in comfort to conventions or trade shows and have a homebase while on site. Or set up your mobile office in Rangeline's comfortable and spacious interior and enjoy the flexibility to work from virtually anywhere. 
The Versatile Rangeline is Ready for Any Travel Style
Whether you're a family on a road trip, a pet owner exploring with your furry friends, a daily driver navigating city streets, or a solo adventurer seeking freedom (or some combination of all the above!), Rangeline offers the features and flexibility to make your journey exceptional. With Rangeline, every traveler's unique style and needs are catered to, ensuring that your travels are both unforgettable and worry-free. 
Dive into more of the features that make Rangeline a versatile, flexible, and functional van for hitting the road.
Ready to see Rangeline's multi-use functionality for yourself? Find your local Airstream dealer and schedule a visit today.