Kevin Clabert likes to describe himself as a calculated risk adventure seeker. A licensed pilot who has recently dabbled in paramotoring – where a fan powers the rider under a parachute – Clabert also races cars and travels extensively. A lifelong Ford enthusiast, he owns a coveted Ford GT supercar and participates in numerous car collector events every year.  
In 2015 he took his family of five on a cross-country family road trip in his beloved F-150. It was on that trip that Clabert had a moment of realization which ultimately led him to the Airstream life. 
"It was on the way back west," he remembers. "We had to stay in the crummiest of crummy hotels – it was so bad we didn't even talk about it for a week afterward."
He laughs about the experience today, but at the time it was a wake up call. 
"We came back home and said that can't ever happen again," he says. "We love to road trip – and we started looking at our options."
After extensive research across the spectrum of motorized RVs, Kevin and his wife Melanie ended up deciding on an Airstream Interstate. 
"It's perfect for the family," he says. "It's big enough that you can sleep in it cross-country, and it's nimble enough that you can pick your kids up from school. We've used it tailgating, as a hotel hopper, a camper – you name it. We put eight to ten thousand miles on it every year."
He's even used his Airstream Interstate to tow everything from motorcycle trailers to enclosed car trailers.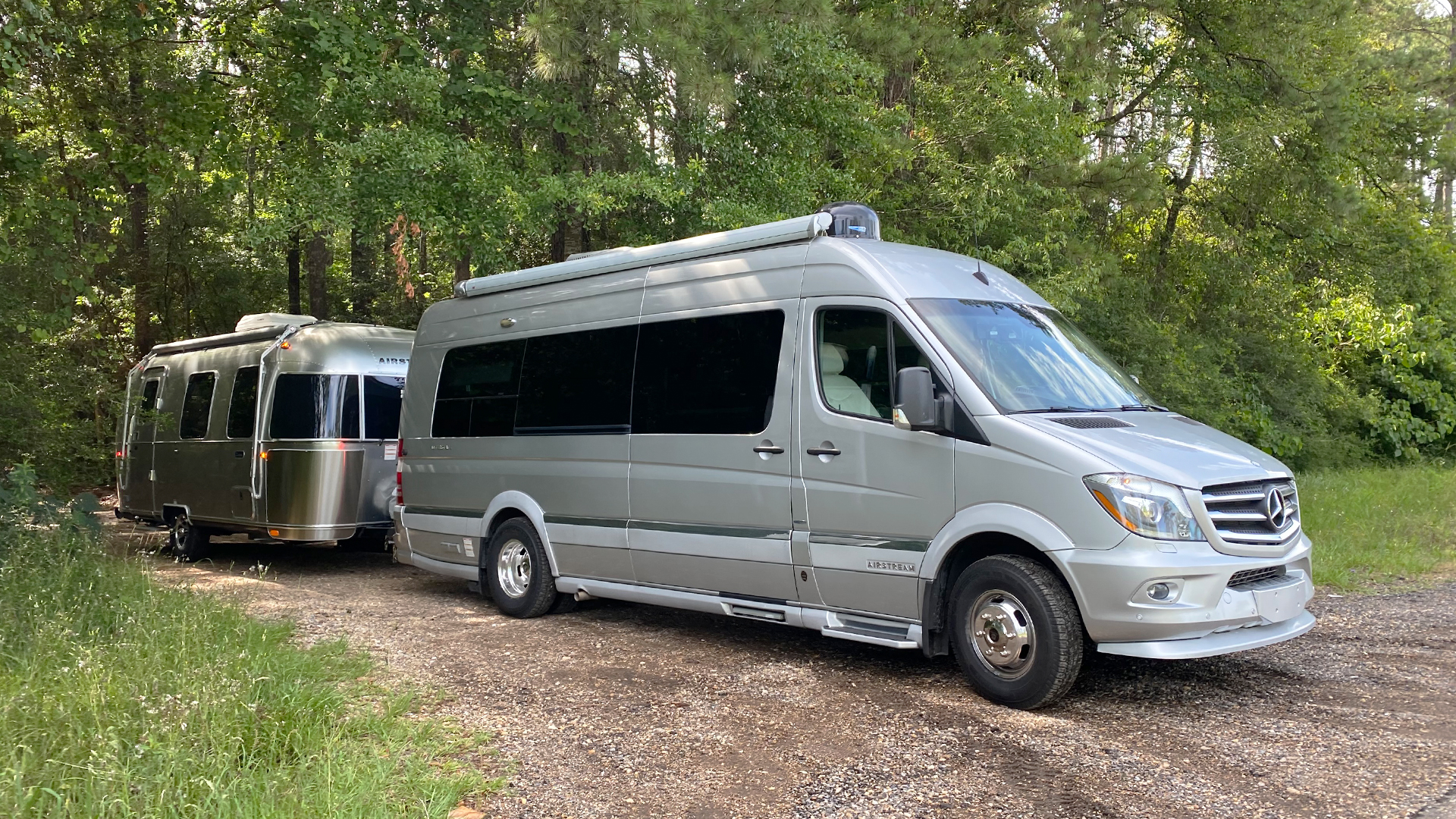 "I was really impressed with the towing capacity," he says. "I never planned on towing with it – we bought it thinking about it only from a camping and traveling perspective. But just about anything I was towing behind it was doing really well."
Experience told him that – as with any towing situation – he needed to be cautious and put safety first. He found that the setup held its speed well, and that he could handle steep climbs with reasonable performance while towing his car trailer cross-country to shows. 
"I ended up downloading an app that shows you all the grades in the country," he says, adding that he avoids anything over six percent. "Anything at seven percent or more is just too taxing. You have to be safe, and you get smart about it."
He says he regularly gets 18 miles a gallon when not towing, and an impressive 14.5 miles per gallon with a trailer in tow. The Interstate was the perfect travel vehicle for both hauling cars and hauling his family on big road trips – until baby number four came along.
"We actually quit using it for camping for a while – I even contemplated selling it," he remembers. "But then the pandemic came along and it reset our lives in a good way. We realized hotels aren't going to be an option we want, and flying won't be an option for a while. We wanted to keep traveling, but we wanted a reasonable amount of isolation."
He'd seen people hauling travel trailers with the Airstream Interstate, and his experience told him that with the right knowledge towing with the Interstate was a breeze. All Airstream touring coaches come standard with a Mercedes-Benz® Hitch, 7-pin trailer plug, and brake control pre-wire. This tow package gives the Atlas, Interstate EXT, and Interstate Nineteen the needed capacity to tow up to 5,000 lbs. or enough to bring along any of single axle travel trailers in our lineup (Nest, Basecamp, Bambi, Caravel).
"We settled on the 22-foot Caravel," he says of their decision to pair up the Interstate with its travel trailer cousin. "We wanted to go with a single axle, and the 22FB configuration was perfect for us – better, even, than some of the bigger ones as far as we were concerned."
While the Clabert family – Kevin, Melanie, and their four girls ages 2 to 14 – haven't hit the road in their dual Airstream setup yet, they've been preparing for a big journey as soon as they feel comfortable hitting the road post-pandemic. 
"We live on some acreage, and we're setting up a campsite so we can use the Caravel as a guest house when we're not traveling," Kevin says. It's also giving the family an opportunity to familiarize themselves with their new setup. 
Many of their past journeys have crossed the southern part of the United State. When they hit the road this time, they have plans to head north and explore the National Parks. But that's about all the plan they have, choosing instead to see what adventures the open road bring. 
"There's a lot of folks who take the easy way out, whether it's resorts or a cruise," Kevin says. "I like to pave my own way. There's so much of America that you can't see from an airplane, or from the highway. We like to avoid the highways, and just see where the road leads us. You can do that in an Airstream. And now my kids prefer that too – I could ask them about going to Disney World, but they'd tell me they'd rather go on a road trip."
Learn more about the features inside and out of the Interstate 24 and Caravel travel trailer.