I don't think there is any more beautiful place in August than the U.P. of Michigan, at least not while sitting beside the most Superior, and mother of all lakes, Lake Superior. Pictured Rocks National Lakeshore, where soaring spice-colored cliffs reflect in the aquamarine waters of Munising. It's a place you can kayak over a sunken ship in 20 ft. of water and glide through rock arches. Here at a Pictured Rocks Wisconsin/U.P. Chapter rally, the setting is perfect for writing this on the first day of summer on June 21. 
For an easy and light summer dinner, or side, a green bean and tomato salad comes to mind. This goes very well with focaccia bread, recipe coming soon!
Green Bean and Tomato Salad
(serves 4 as a side, or 2 as a large lunch)
For the salad, boil 4 medium size (or equivalent) Yukon Gold potatoes with the skin on. Place in a pot of enough salted water to cover the potatoes. Cover and simmer lightly until firm tender, not falling apart. You can cut the potatoes into chunks ahead of time if you want this step to go faster but I think it makes the potatoes more watery. Scoop potatoes from the water (don't drain the water) so they can cool. Throw in a couple of large handfuls of green beans (uncut and untrimmed) and simmer in the potato water for about 5 minutes. As with the potatoes, they absorb less water inside if they aren't cut first. They should be still crisp but not hard. Drain and cool.
Whisk 1 1/2 tablespoons of white wine vinegar (or apple cider vinegar) and the juice of half a lemon with 3 tablespoons of olive oil in a bowl. Chop your green beans into bite-size pieces and cut off the stem end. Add to the bowl and toss. Cut some (how many is up to you) cherry tomatoes (multi-colored ones look nice) in half, or any larger tomatoes into bite size chunks. Put in the bowl with the oil and vinegar and toss lightly. Peel the cooled potatoes with your fingers. The skin should rub off easily. Cut out any bad spots or large eyes. Cut the potatoes into bite-size chunks (like for potato salad) and add to bowl. Add a couple of chopped scallions and some chopped parsley and basil. Add salt and pepper and mix lightly. Feta cheese works well in here too if you want to add that. There are no real measurements, just toss everything in a bowl and taste. You can always add more vinegar or olive oil or tomatoes or scallions. Herbs make the salad look lovely and gives it a bright, fresh flavor. The beauty of this salad is not only in the colors, but in the options you have. You can change the vegetables or herbs, snap peas or dill come to mind. You can easily increase the amounts for a large AIRSTREAM RALLY salad to share!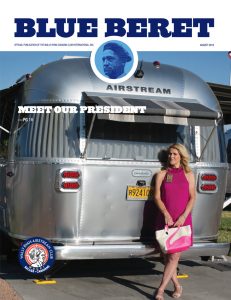 View August Issue of the Blue Beret
Gina Eggers and boyfriend Mark Katsen are owners of a 27' FB International Serenity, "Something Shiny." Gina has been a lifelong camper and foodie, attending classes and seminars around the United States on breads, grains and vegetarian/vegan and raw foods. She has been teaching classes at a kitchen store in Wisconsin and in hers and others homes, and will be reaching pasta-making at the Marquette Farmer's Marketing in Michigan this summer. She is a member of the Bread Baker's Guild of America. You can find her on Instagram at @upnorthbread.