The Airstream Basecamp is your gateway to adventure. Hit the trails, tackle the climbing routes, or take a spin on the mountain bikes knowing that afterward you'll return to all the comforts of home. Basecamp's 16 feet are packed with amenities like a kitchen and a place to eat, a shower and bathroom, and a comfortable bed to rest up for whatever tomorrow brings. Sleek styling in a compact, lightweight design makes Basecamp easily towable by just about any SUV or truck. And large tires and an aggressive departure angle gives adventurers confidence on any terrain.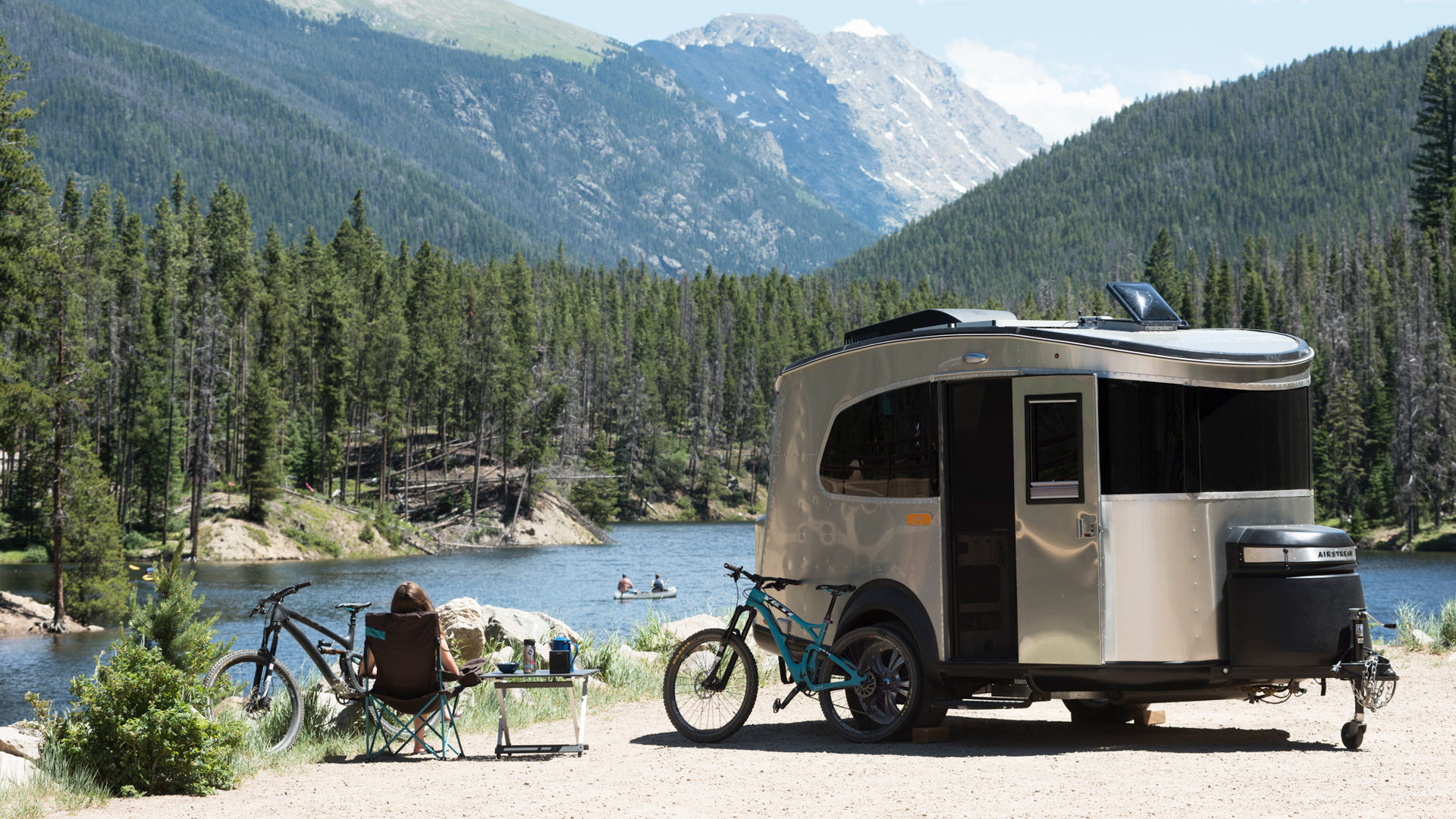 Now with the 2020 model year, there are even more reasons to love Basecamp. From a new decor to exciting features that help remove the fuss which might otherwise hold you back, the redesigned Basecamp is the multi-tool of travel trailers: durable, versatile, and ready for just about anything. 
First and foremost, Basecamp gets a new decor in 2020: The cool green of Forest Ridge. Harkening to the tree-filled sanctuaries where so many of our adventures take place, Forest Ridge features emerald green and gray seating with yellow contrasts in the seat stitching and overhead bars. Forest Ridge joins Glacier Lake (blue and gray), and Red Rock (gray with red accents), and River Rock (dark neutral and silver). Additionally, the Glacier Lake decor gets subtle upgrades, with a gray diamond pattern with orange stitching on the seats, as well as orange overhead bars.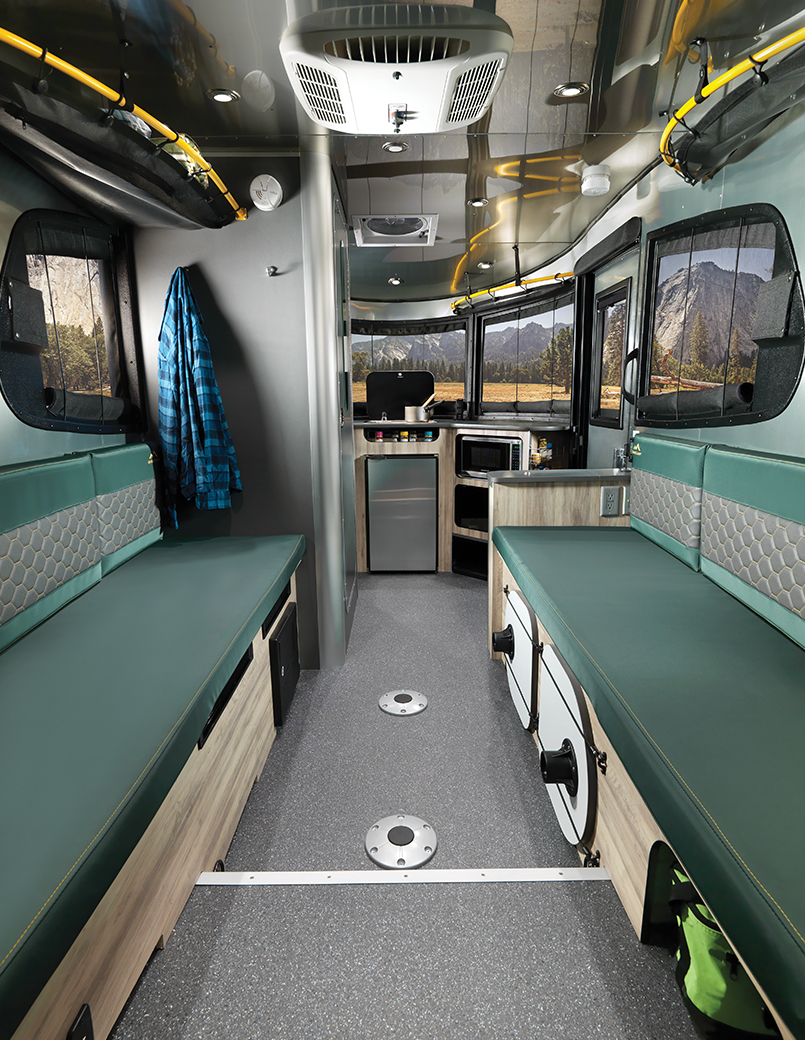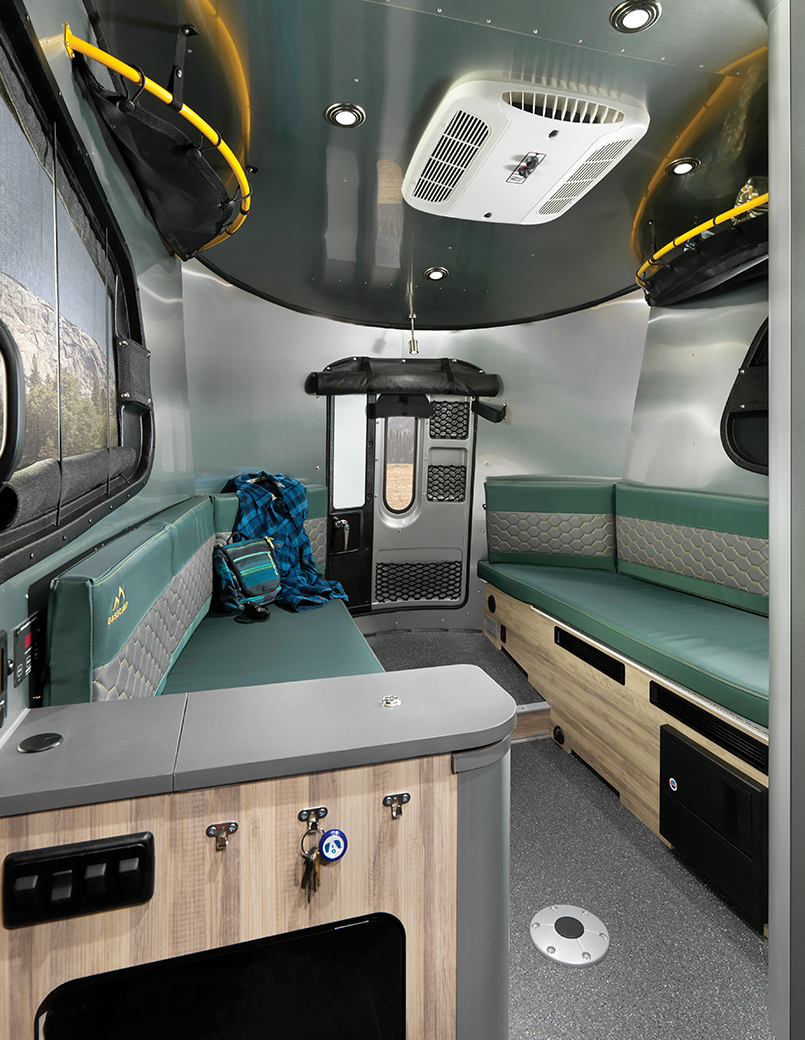 A new premium tent system is now available for Basecamp in 2020 (in addition to the original version which is still available). This optional tent system attaches to Basecamp's curbside, expanding living and storage space, and uses "air-tube" technology with an inflatable support structure. Use the accompanying hand pump to fully inflate the structural tubes in as few as 30 pumps. Installation is as easy as sliding the top of the tent into a specially-designed rail and pumping up the tent. (Tent system sold separately).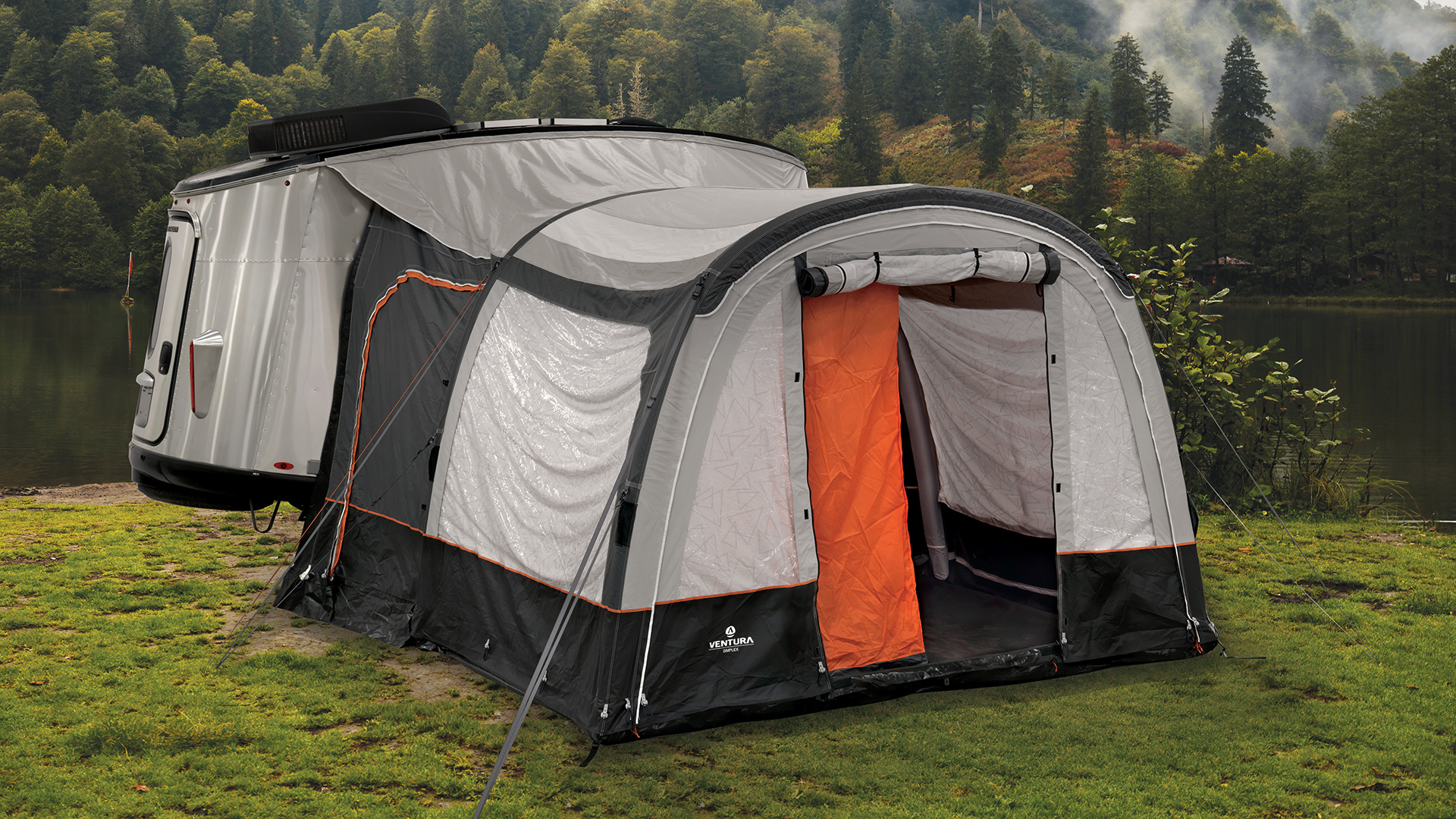 Beyond Basecamp's new decor you'll find an interior redesigned to incorporate numerous improvements – many of which stem from owner feedback. Chiefly among these new features is a split seating design that allows for more interior seating configurations than ever. Whether you want two seats, one seat, a full bed or a half bed, Basecamp's upgraded seating area gives you plenty of options. And now you have the option of leaving the rear part of the bed in place while still having the table set up.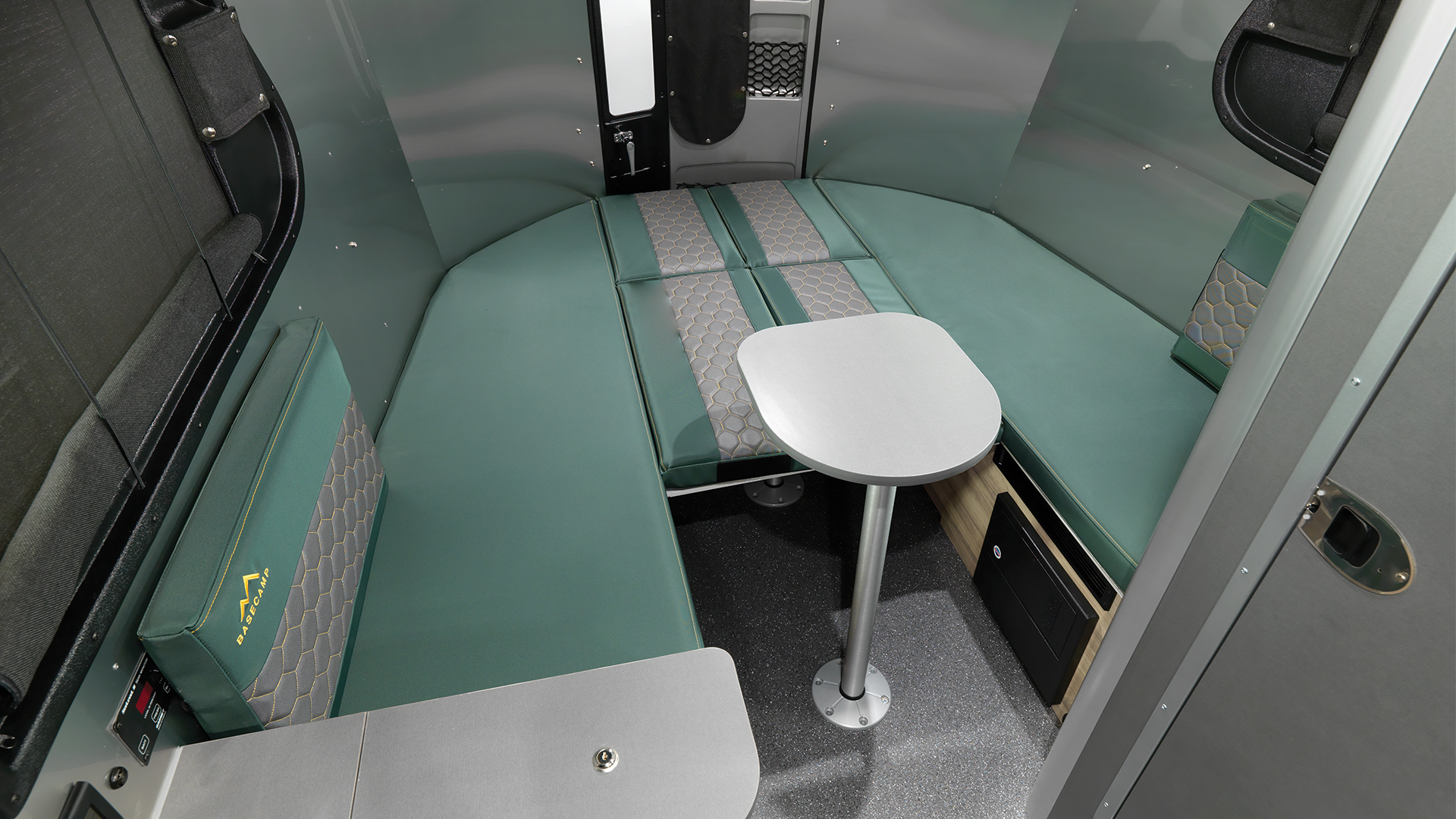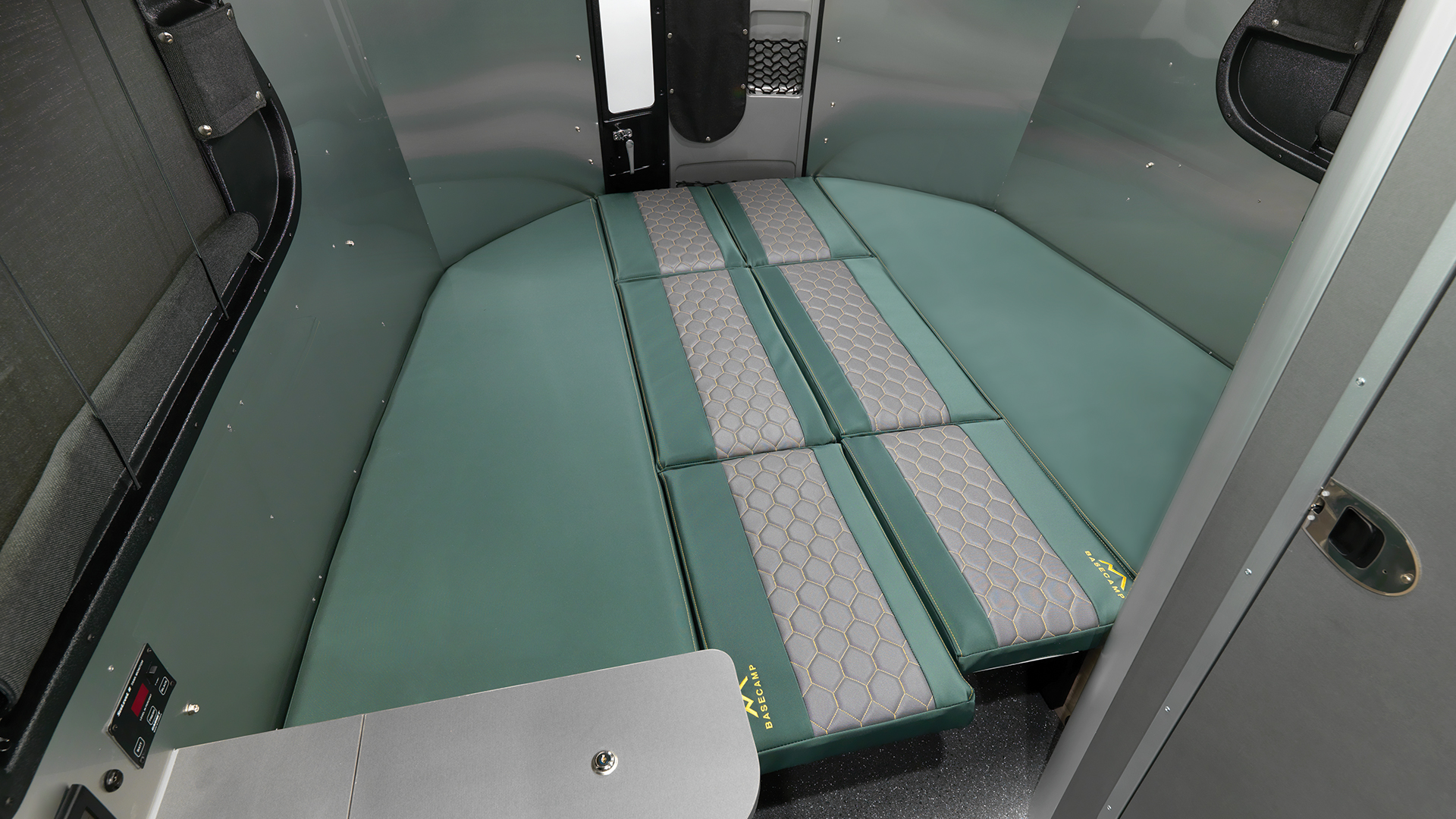 We've also redesigned the table in Basecamp for an improved table conversion process. A new quick-release latch and new floor pucks make converting from a seating area into a bed much easier.  You'll spend less time setting up and taking down your campsite – and more time outdoors. More interior hooks strategically placed around the interior of Basecamp round out the model year improvements, giving you more places to hang coats, towels, clothing, and gear.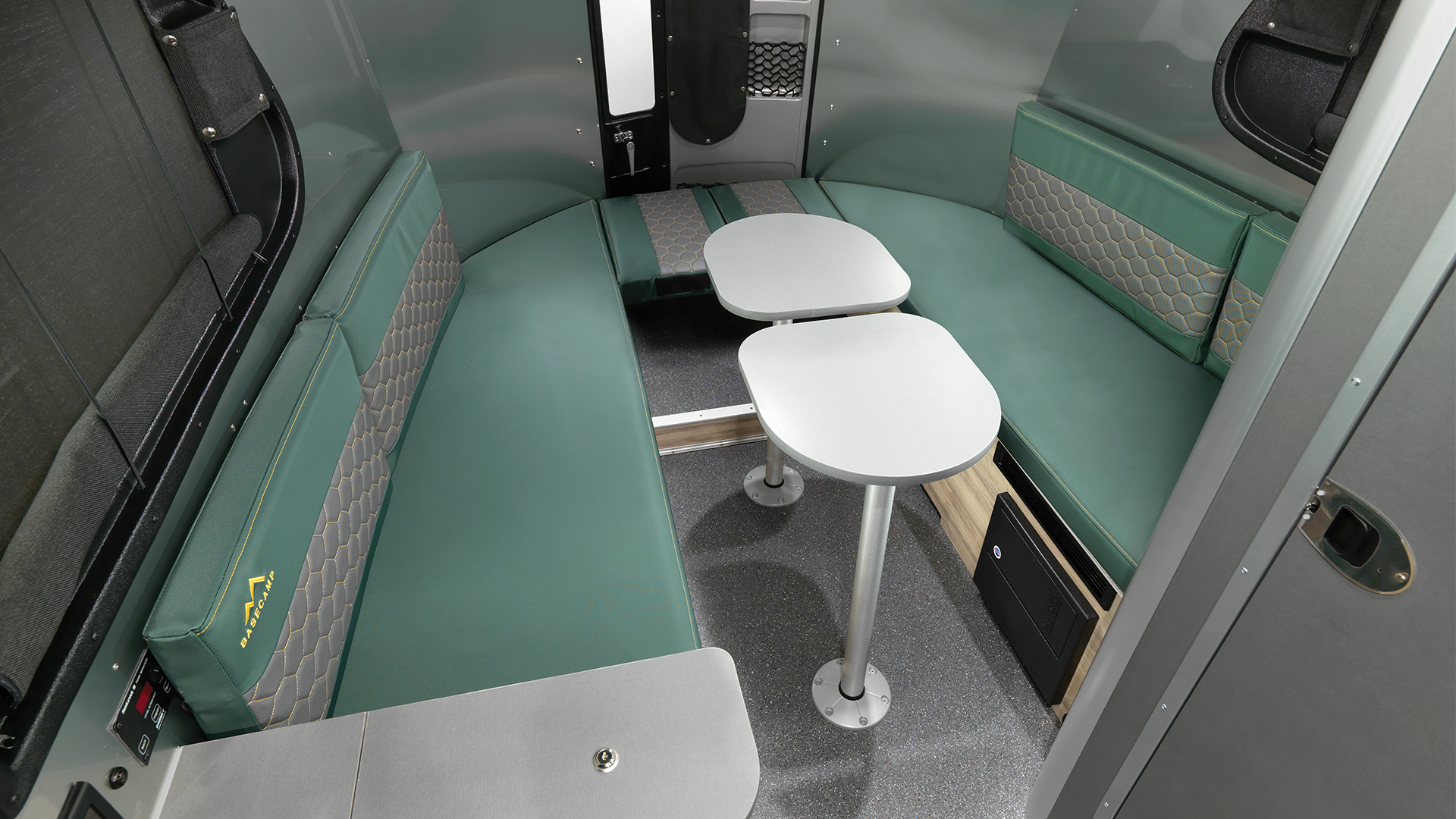 A newly designed rear-door latch will ensure that your Basecamp's back door will stay open even in strong breezes, allowing you access in and out as well as views of your surroundings. Finally, Basecamp, along with all other Airstream travel trailers, now comes standard with Airstream Connected Pre-Wire, making it even easier to stay connected while traveling.
From the mountains to the lake and everywhere in between, the Airstream Basecamp is an adventure-fueled dream. See the all new 2020 Basecamp at your nearest Airstream dealer today.