In 2018, our Jackson Center headquarters and manufacturing campus became 100-percent powered by renewable energy credits. Our commitment to inspiring adventure is a call to be responsible stewards for the environment so that the wild places we explore will endure for generations.
The milestone we reached in 2018 by becoming 100-percent powered by renewable energy credits was years in the making, and it began with our decision to participate in an independent program through our local utility.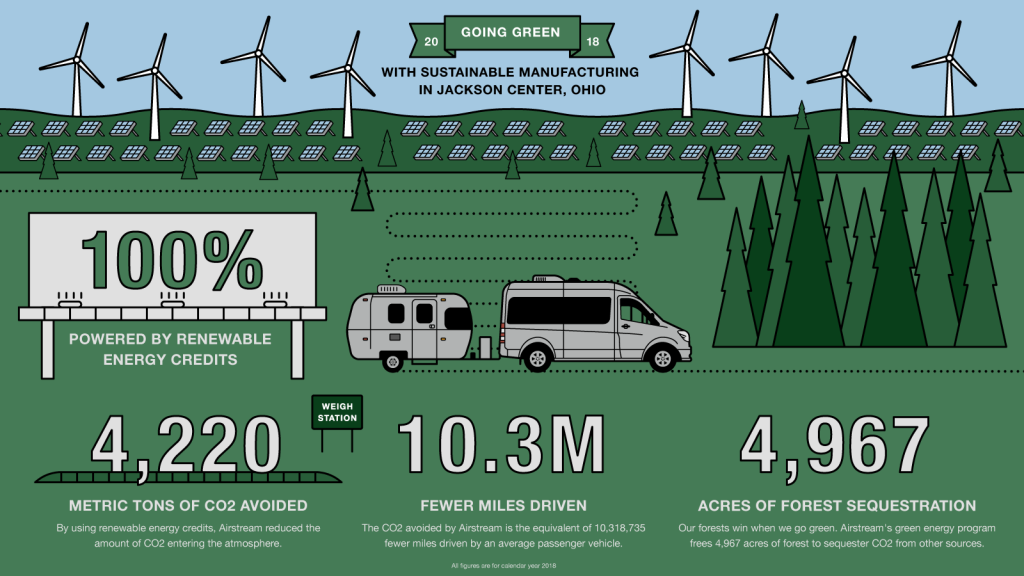 As we expand with a new 750,000 sq. ft. facility opening in early 2020, we're extending our commitment in responsible manufacturing. Jackson Center Municipal Power's EcoSmart Choice program allows us to purchase renewable energy certificates from wind, hydroelectric, or landfill gas projects offered through American Municipal Power, Inc. Furthermore, 30 percent of the energy in Jackson Center comes from renewable sources, including 8 percent coming from the municipal solar field behind Airstream's current manufacturing facility. 
What does this mean for the bigger picture?
First, it means that our carbon footprint is getting smaller even as we get bigger. We can have a broader impact and help shape the future of the recreational vehicle industry through programs like these. 
In 2018, it means that by going green we offset 4,220 metric tons of CO2 and reduced the amount of carbon dioxide entering the atmosphere. 
According to the EPA's Greenhouse Gas Equivalencies Calculator, this is equivalent to taking 10,318,735 miles driven by an average passenger vehicle off of the road entirely.
In fact, it would take a 4,967-acre forest an entire year to sequester the amount of CO2 emissions that Airstream prevented by going green in Jackson Center.
Still, our commitment to the environment extends even beyond energy sourcing. We're the longest-tenured maker of recreational vehicles, and we've made numerous "green" upgrades to further reduce our environmental footprint. To reduce our energy usage, Airstream's manufacturing facility exclusively uses high-efficiency fluorescent T5 and LED lighting during the production of every Airstream Travel Trailer and in the upfitting of every Airstream Touring Coach.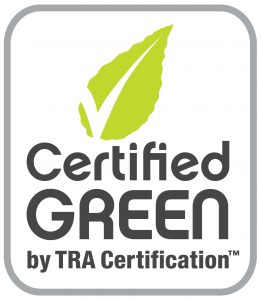 Every Airstream vehicle has been rated "Certified Green" by TRA Certification, the internationally accredited certification organization. In June 2018, Airstream President and CEO Bob Wheeler was named to the volunteer Board of Directors of the National Forest Foundation. Our parent company, Thor Industries, also made a multi-year financial commitment to support the organization.
Support our National Forests