Built on the 19-foot Mercedes-Benz Sprinter van chassis, the Interstate 19X is tailor-made for outdoor and off-road explorations – both on and off the grid. This highly maneuverable Class B motorhome joins its larger cousin, the Interstate 24X, in our growing lineup of adventure-ready motorhomes. 
The new, shorter Interstate 19X is designed to equally handle highways and unpaved routes, off-grid boondocking and traditional camping, and the rigors of daily driving through parking lots, city streets, and neighborhoods. Equipped with rugged features and powerful capability, the Interstate 19X is the perfect companion for those seeking the thrill and fun that comes with venturing beyond the beaten path.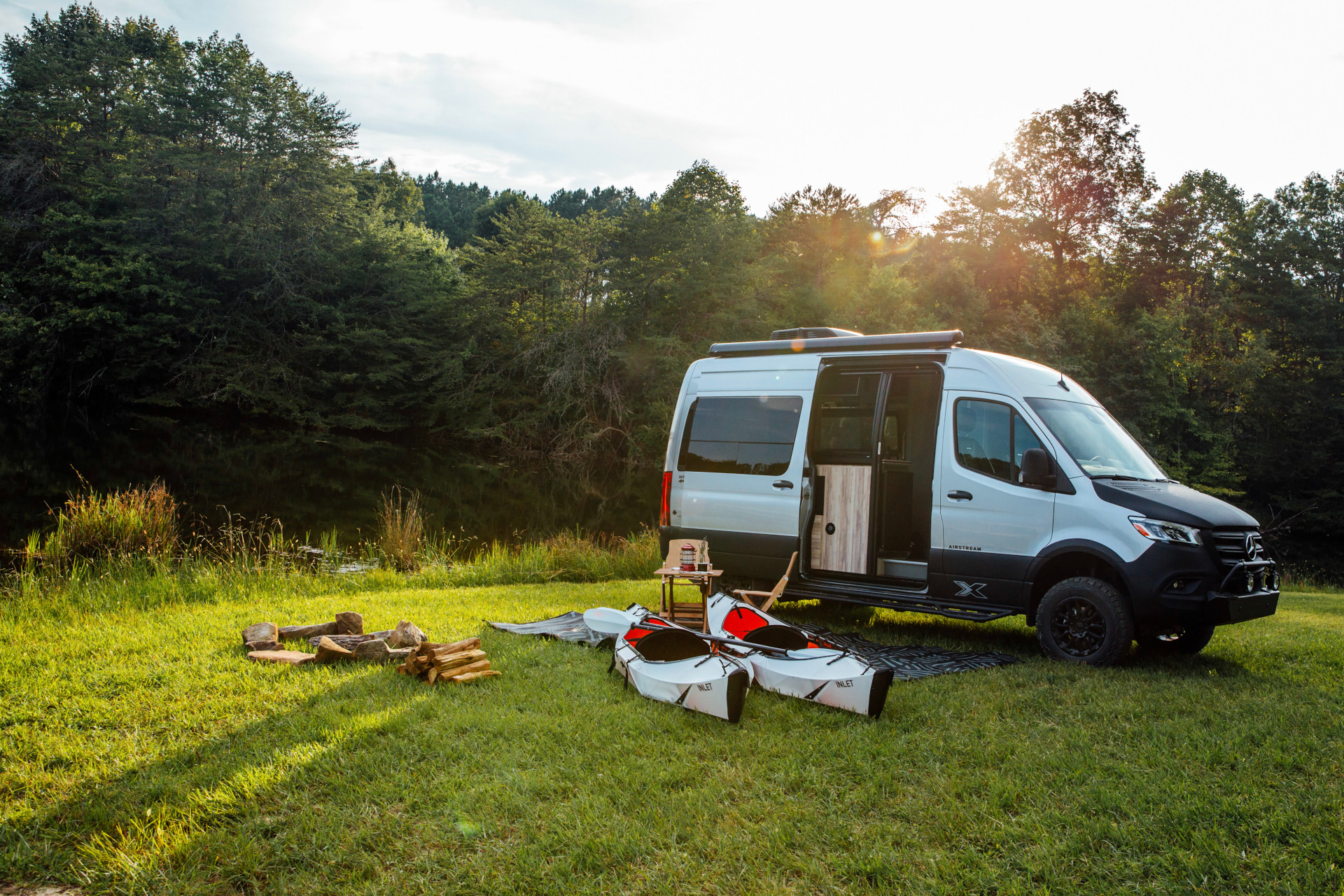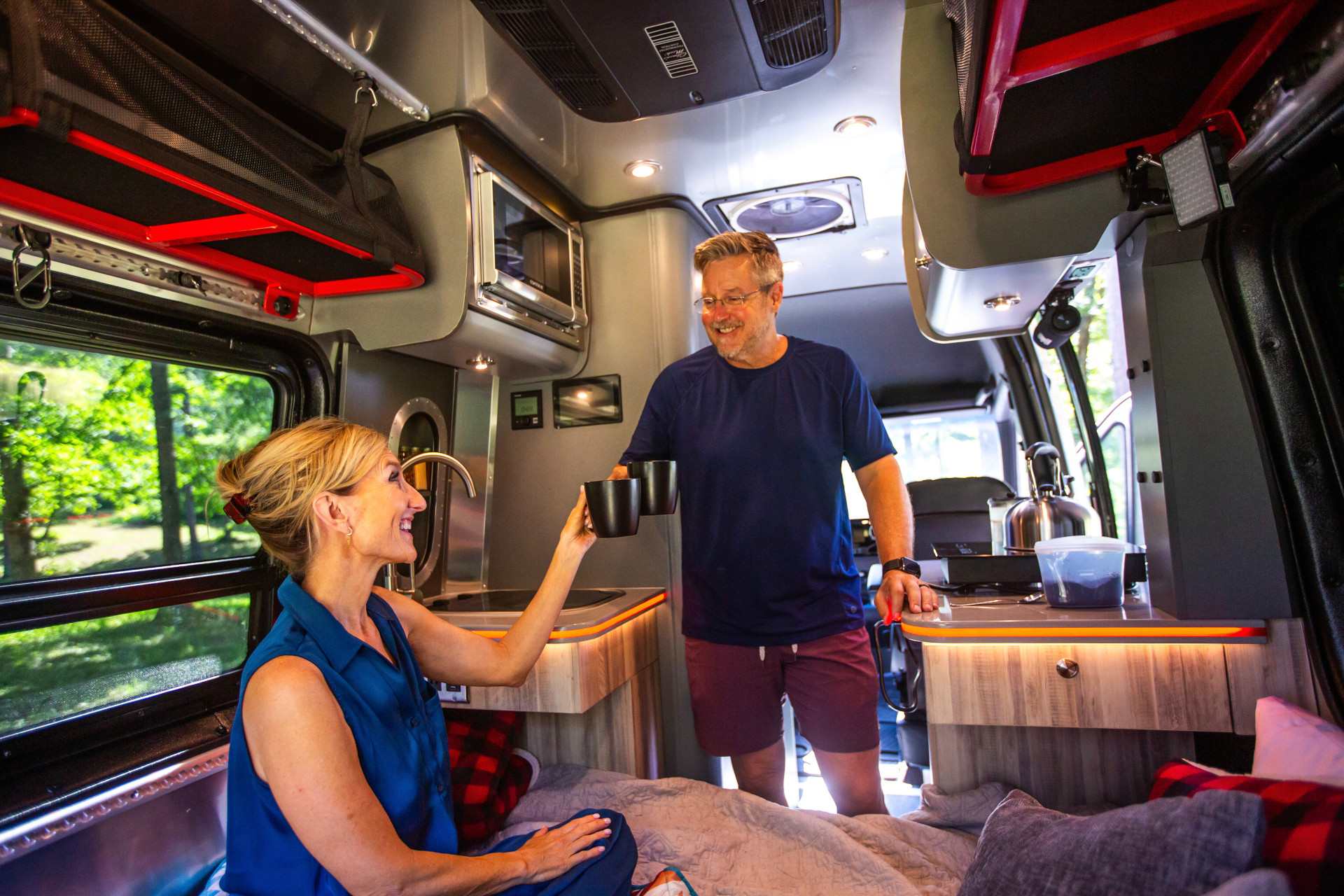 Off-Road Ready, with Standard 4x4 and Optional AWD
One of the standout features of the Interstate 19X is its standard 4x4 capability, allowing adventurers to get up close with nature and conquer challenging terrains. For even greater traction, all-wheel drive (AWD) is available as an optional upgrade on the new Mercedes-Benz chassis.
That kind of off-pavement capability combined with Interstate 19X's shorter wheelbase makes adventuring on unpaved roads easier – and more fun – than ever. Cruise the highway in luxurious comfort, and deftly navigate to prime boondocking sites with the power, performance, and traction you want in an adventure van.
Tough Exterior, Stylish Design
The Interstate 19X doesn't just perform well off-road; it looks good doing it. Its exterior features a protective coating on the lower body and front hood to guard against road debris and scratches. Plus, it boasts a Tenzing brush guard with integrated lights, adding extra performance and a touch of style to your off-road travels.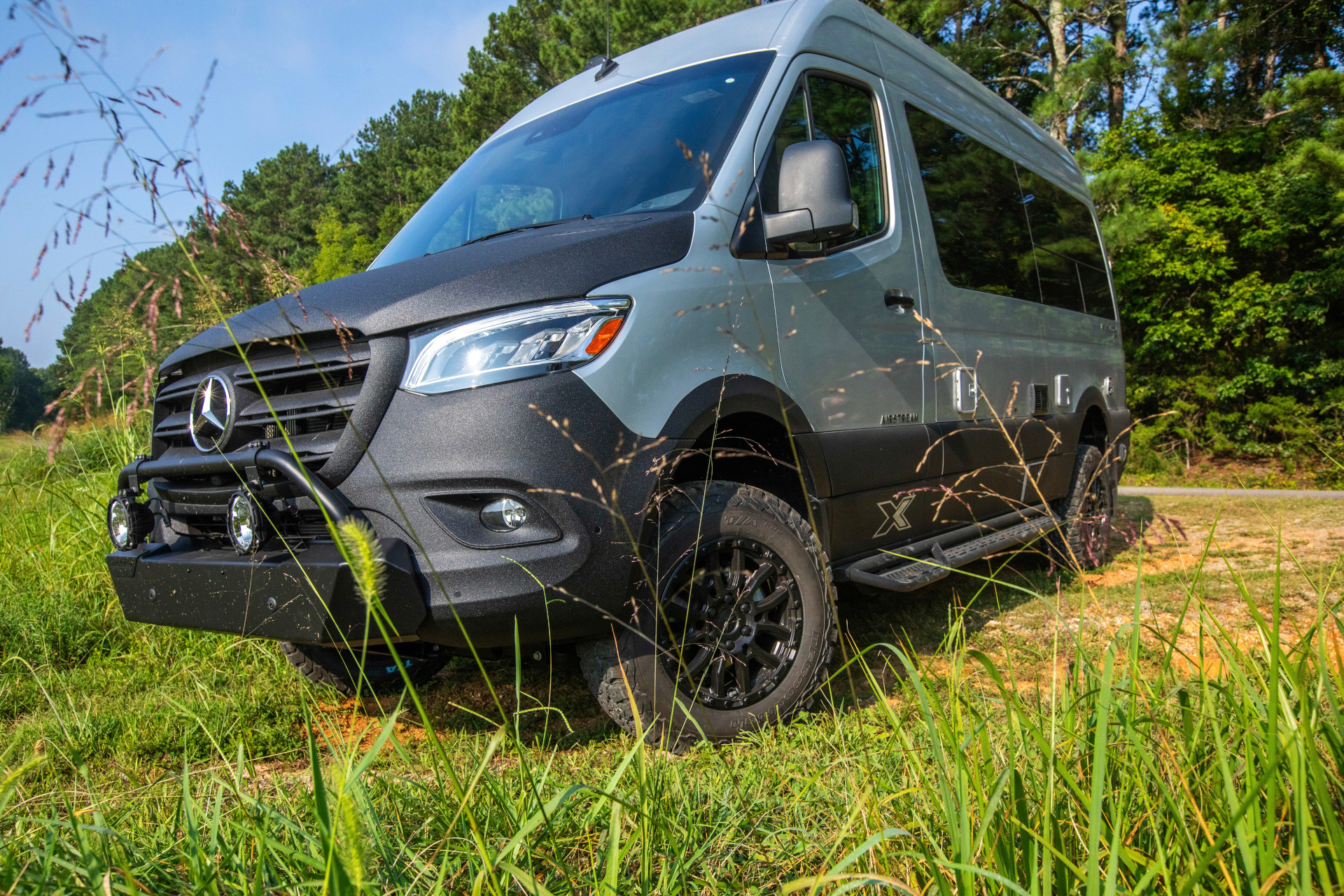 Smart Storage Solutions
The thrill of big adventures often requires bringing along essential gear and equipment. Whether it's fishing tackle, climbing ropes and harnesses, or trail boots, storage for all that gear is one key to having a great outdoor experience. With clever space utilization throughout the interior, Interstate 19X offers plenty of storage to make it easy to bring along everything you need.
Drawers and cabinets feature soft-close and positive locking components to keep your belongings secure during transit. Overhead bins offer flexible storage space for everything from climbing gear to towels or blankets, while concealed storage in the benches provides more space to stow your travel essentials.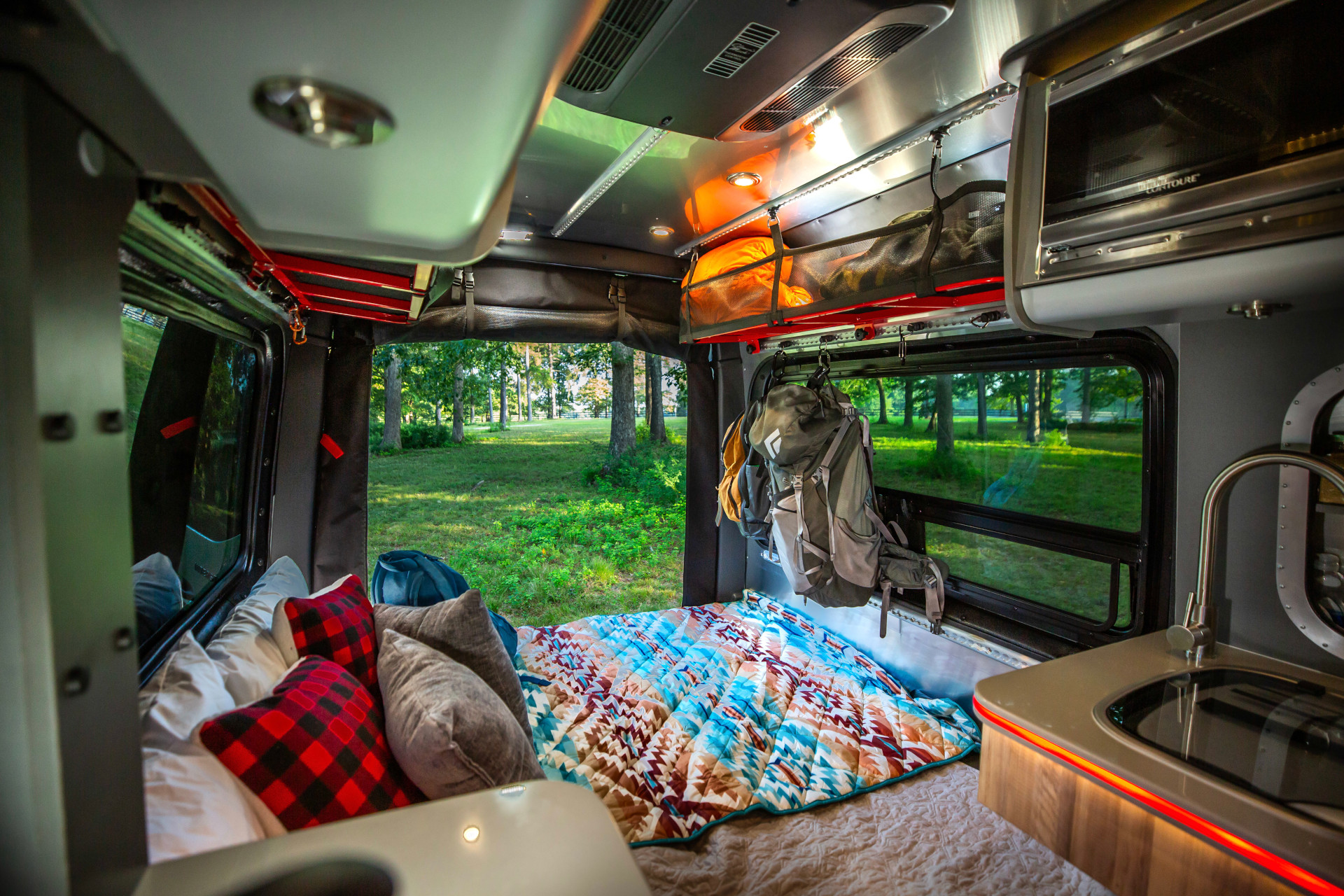 For larger gear, the flexible rear storage area between the benches includes an integrated L-track system on the floors, walls, and ceiling, providing ultimate versatility. This system allows you to quickly secure bikes, paddleboards, camping gear, or even a small kayak. Easily move tiedown points for a tailored setup, or secure your bike with our custom L-track bike mount from our Airstream Supply Company online store.
Comfort Away from Home
After a day of outdoor adventures, return to the comfort and luxury of the Interstate 19X. It features a complete wet bath with a shower, a fully equipped galley with ample prep space, and a spacious convertible sleeping/living/dining area that can be configured as a queen bed or twin beds. An onboard generator ensures you have the power you need for off-grid adventures, including running the air conditioner for ultimate comfort and relaxation – even when far from shore power hookups.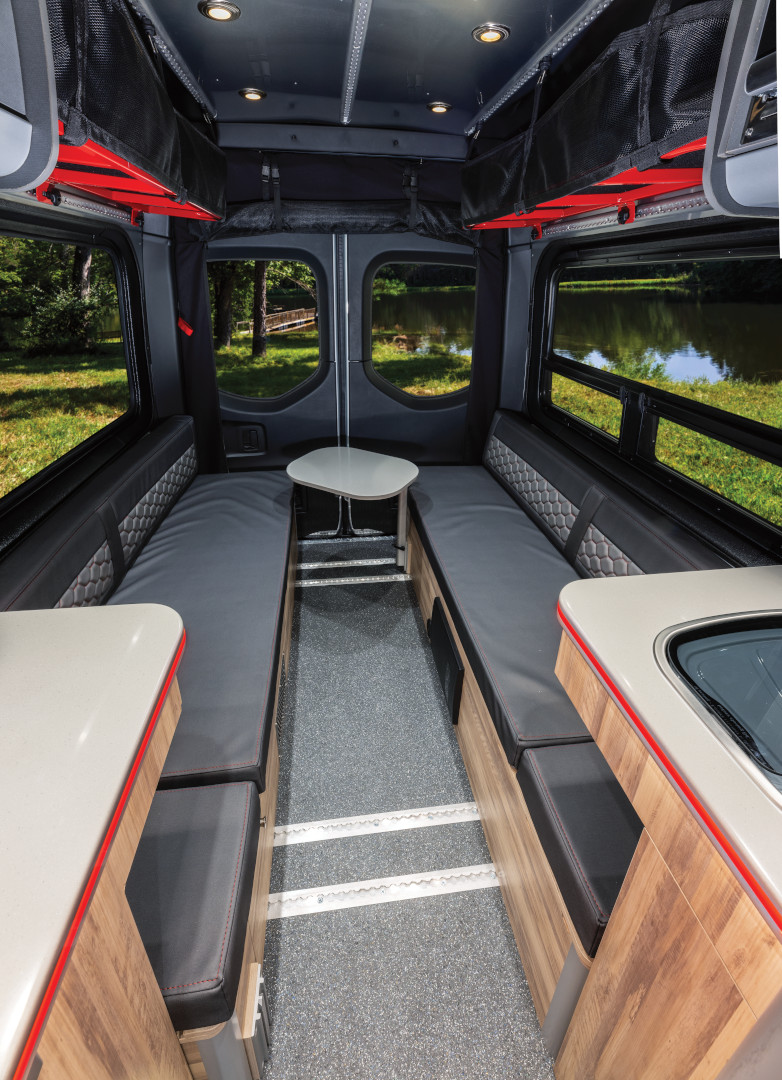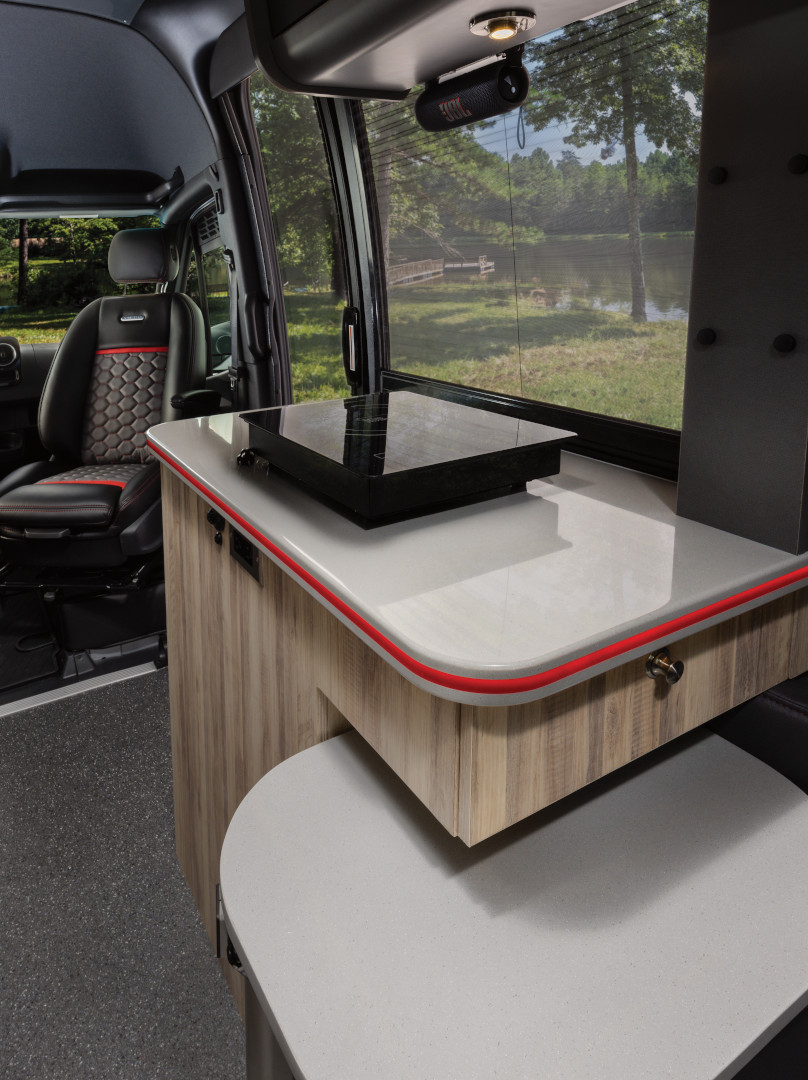 The décor in the Interstate 19X takes a page from its cousin, the Interstate 24X. Dark grey marine-grade Simtex-carbon seating is complemented by red accents throughout – from the delicate stitching on the captains chairs to the translucent red lines around the solid surface countertop. Cool oak laminates on the furniture balance the rugged style.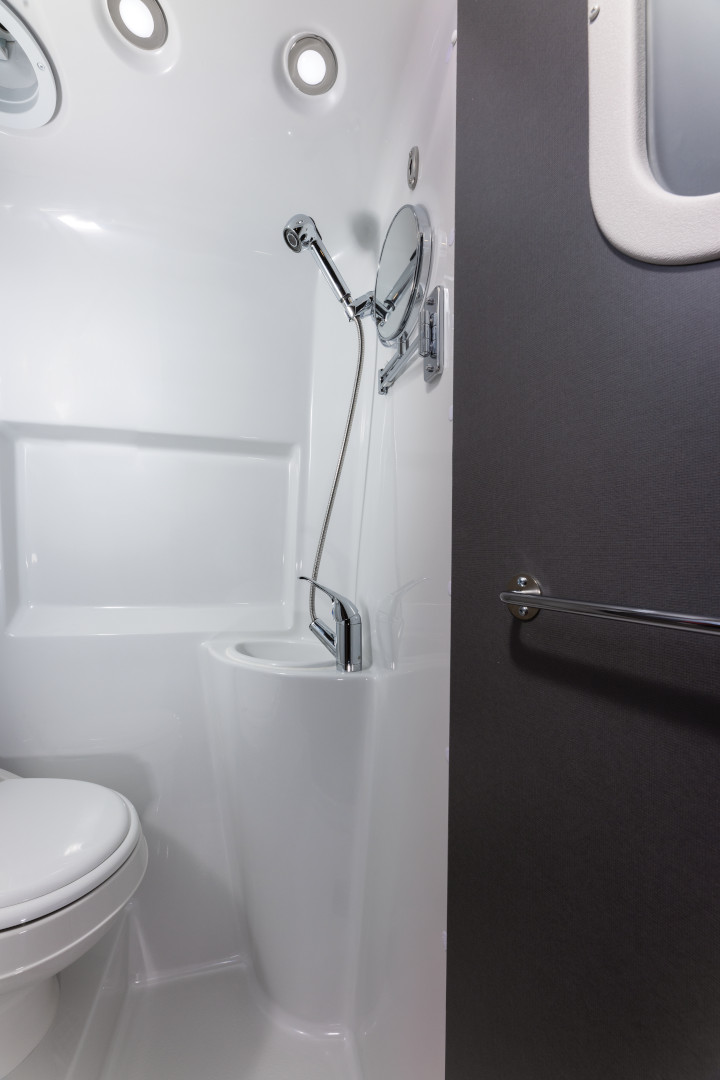 And while many adventure vans available on the market today include a cassette toilet (and sometimes faucets that require pressing a manual foot pump), the Interstate 19X features a wet bath and waste tank. Enjoy the simplified features of a fully-plumbed system, including hot or cold running water at the galley sink and in the wet bath, as well as a shower and flushing toilet. After a long day adventuring on the trail or paddling the lake, come back to a warm shower and a comfortable place to rest and recharge for tomorrow.
The Optional E1 Package
For those who crave even more power and performance, Airstream offers the optional E1 Package. This upgrade equips the Interstate 19X with powerful features that make it easier to head off-grid – and stay there in comfort for longer than ever before. Anchored by a Volta 12,000 Watt-hour lithium battery pack and a 3,200-watt pure sine wave inverter, the E1 Package untethers you from traditional campsite hookups, enabling longer boondocking trips and the ability to head further afield in search of epic boondocking and off-grid camping.
E1 Package Features:
Volta 12,000 Watt-hour Lithium (NMC, or nickel manganese cobalt) Battery Pack w/ Built-in Battery Disconnect

 

Truma Diesel Heating & Hot Water System

 

1,100-Watt Single Burner Induction Cook Top

 

3,200-Watt Pure Sine Wave Inverter

 

Two 30 AMP DC-DC Converters with 12V Continuous Power

 

Secondary 51 Volt, 6,900W Alternator

 

Victron 100-20 Solar Charge Controller
Built to Last
The Interstate 19X is built on the foundation of Airstream's legendary material and build quality. With a peace-of-mind warranty, a nationwide dealer network, and a vibrant owner's community, Airstream ensures that your journey is supported every step of the way. With authorized Airstream dealers located within reach, you can rest easy knowing that your maintenance and service needs are close at hand.
Additional Specs and Features
Mercedes-Benz 2500 4x4 Chassis loaded with convenience features
Seats 4 and Sleeps 2
Nimble size at 19 feet
Durable Black Protective Coating on Front Hood, Bumpers, and Lower Side Moldings
Black Aluminum Wheels and All-Terrain Tires
Signature Aluminum Ceiling
Flush-Mount and Solid Shut Cabinets with Positive Locking Hardware
L-Track system in the rear floor, walls, and ceiling
Tank Capacities: 20 gals (Fresh), 16 gals (Grey), 9 gals (Waste)
3.1 cu. ft. Fridge / 0.33 cu. ft. Drawer Freezer (12 volt) – Accessible from the side doorway
Sliding door screen and separate over galley window screen
Firefly Multiplex control
2-100 Ah Lithium Battle Born Batteries
2,000 Watt Pure Sine Inverter
1,000-Watt induction cooktop that stows away in a convenient drawer
2.5 kW (LPG) Ultra Quiet Generator w/ Auto Start
0.7 cu ft. Microwave
13,500 BTU Non-Ducted Quiet Air Conditioner
Truma Combi Heating and Hot Water system
250 Watts of Rooftop solar + 2 External Solar Ports
Rugged Grey Flooring (waterproof, stain and scratch-resistant)
Colorado Black UltraLeather with Stone Inset (front seats)
Simtex Marine-Grade Carbon Gray (rear seating/sleeping)
E1 Package upgrade available
AWD Chassis upgrade available
Get Ready for Your Next Adventure
With pricing starting at $199,940 MSRP, the Interstate 19X is available for purchase from authorized Airstream dealers. For more information about the Interstate 19X and to explore Airstream's full lineup of travel trailers and touring coaches, visit Airstream.com.
Don't miss the opportunity to experience the thrill of off-road adventures with the comfort and style of the Interstate 19X Touring Coach. Get ready to explore the great outdoors like never before.
Learn more about the nimble, off-grid capable Interstate 19X. Download a brochure and explore the features that make it an exciting addition to our adventure van lineup.
Ready to see Interstate 19X for yourself? Locate your nearest Airstream dealer and schedule a visit to see it up close and in person.