We feel this lifestyle should be attainable to anyone who seeks it, so we have published digital nomad resources throughout our travels that are meant to educate and inspire people to live an alternative lifestyle. In this post, we share our top tips to getting started along the digital nomad path, including tips on working from the road, what the lifestyle is like, and finding a job that allows you this freedom.
If you want a glimpse into the digital nomad lifestyle, check out this short film we created with our good friend, and fellow wanderer, Jesse Abbruzzese.
Before we start, let's define digital nomad.
Digital nomad: Noun. "A person who works remotely using a computer and a wireless connection and who is therefore able to travel and roam, providing value from anywhere."
This leaves much open to interpretation. Any job that can be done remotely, such as photographer, copywriter, digital marketer, etc. can be considered a digital nomad position!
Below are six tips living in an airstream and getting started becoming a digital nomad. For more, download our practical guide.
1. Choosing Your Rig
Your transportation – how you get around – is what puts the "nomad" in digital nomad. Your mode of transportation is more than that; it's your home and your office, part time or full time. At a baseline, the digital nomad should have a vehicle that can be traveled and slept in comfortably. Consider the following modes of transportation:
Car

Camper Van

Truck Camper

Travel Trailer

We've found that our 22' Airstream used as a living space with the addition of our Ford F250 as our mobile office is the perfect combination. Our setup is small enough to fit into two parking spaces, but we are able to have a separation between living and working. This becomes even more important when there are two digital nomads traveling together.

Fifth Wheel
Bus or Motorhome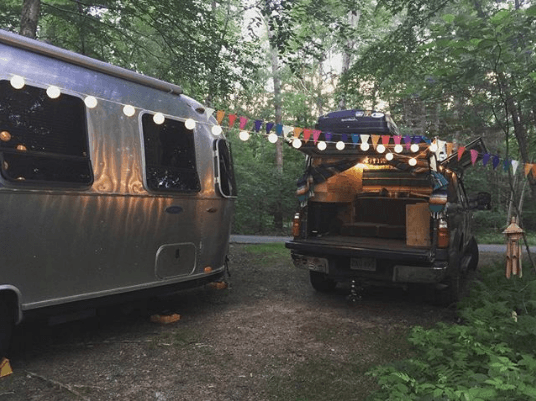 2. Sleeping and Working from the Road
Ah, the life of the nomad. You're working, so you have some funds, but maybe you don't want to spend the majority of your money on campgrounds every night and don't mind the boondocking to save some dough. Here are three tips and helpful apps to successfully sleep covertly (and free) while traveling.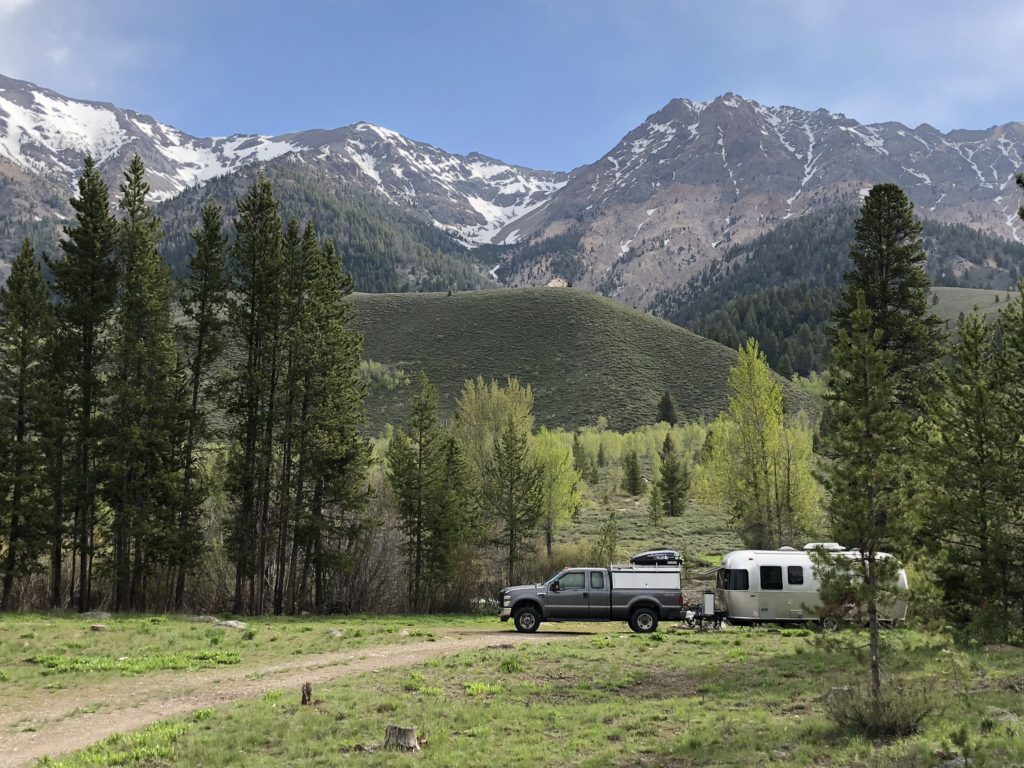 Public land is your friend! Bureau of Land Management, State and National Forest Services, Wildlife Management Areas, and more generally have free or cheap dispersed camping options. Use the

AllStays app

or

Freecampsites.net

to help in your search. This is our favorite way to camp—fewer people and you are in nature.

Use an app like RV Parky or AllStays to find Walmarts, Cracker Barrels, rest areas, and more that will allow overnight parking. The best part about these apps is other nomads like yourself have left reviews and suggestions so you're not starting your research from scratch. Park far away from the entrance and if you are nervous, ask the manager or customer service if they would mind if you stayed one night. Explaining you're a patron always helps, too.

The journey is important, yes, but for the digital nomad, the destination is equally important. You are traveling to experience new sites and cultures, but you also must stay connected to your work. Luckily that is not a huge problem with so many cell towers, but it's always good to check your cell phone service provider reception map before going someplace remote. Below is a list of tips on how to scout destinations with work in mind:

Do your research before heading to the area.

While you could just wing it, doing a little research will help you find things that you might have missed otherwise and set you up for efficient work. Find places you know you can park and do work for a few hours. These could be Walmart, Target, most grocery stores, shopping malls, etc.

Find a level area to work from. You want to make sure your workspace is flat, especially if you plan on working for a few hours. Working on a hill can throw off your equilibrium. If you're able to park and work outside of your vehicle, then this won't be as much of a problem.
Find a reliable signal to do work (at least two bars of service).

When in doubt, drive/walk around and test a location before working in it. If you try and do this during work hours it can cut into productivity time. If you have a cell phone booster for your vehicle, you will be able to venture off the beaten path a bit more.  

Use eating out wisely.

If you are going to eat out for a meal, stay for a few hours at a place like Panera, Subway, Starbucks, etc. to charge your devices and use their free wifi.
3. Building Valuable Skills for Free
Nowadays, you can build marketable skills without having to go back to school. You don't necessarily need a college degree in telecommunications to get a good job in the field. Many jobs in the digital marketing field will hire you for your ability to learn and be trained on their systems.
This is where showing you've already taken steps like a Google AdWords Certification or Hubspot Content Marketing Certification will create an advantage for you. Below is a list of free educational resources that will help boost your resume and knowledge base needed for a role in digital marketing, an industry that has a lot of potential if your goal is to becoming a digital nomad:
4. Finding a Job
It's important to understand how to identify job prospects. It's more than just going to one job board. Do research on companies you want to try to work for and go to their website directly.
You can't wait for opportunity to come knocking. You have to proactively seek it. Below is a list of helpful resources on how to find jobs that are suitable for the digital nomad lifestyle.
5. Staying Connected With Your Coworkers
Humans are social creatures that thrive on connection with other humans. When you're traveling, this connection can be lost unless you make an effort to stay in touch. Below is a list of tips on how to stay connected with your coworkers while remote:
Do video calls whenever possible with your teammates. Video will help enhance your connection with your peers because you're able to see them, not just hear them. A video call forces people to look at each other as if they are in person, instead of one or both people on a phone call attempting to multitask.

Use a professional messaging service and have the app on your phone. This could be as simple as

Google Hangouts

or as robust as

Slack

. This will probably be the most frequent way you engage with your teammates.

Don't let your surroundings be distracting on video calls.

No one wants to know that you're at the beach or at the top of a snowy mountain. Don't give people a reason to think you're distracted or unproductive.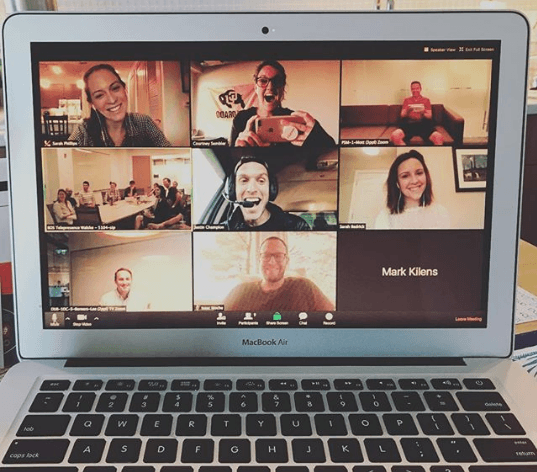 6. Setting Up Your Mobile Office
It's important to have an always-there workspace in case you need more of an "office" for important meetings or serious focus time. For us, it is the back seat of our F250.
More examples of where your mobile office could be include: backseat of van, desk in your camper, tailgate of your truck, passenger seat, etc. Equipping your office with the following essentials will make you prepared for pretty much any work situation that arises:
weBoost cell phone booster

.

Their products can amplify your cell phone signal x10 and they pick up on any cell tower, not just your carrier.

12v power inverter.

This is an important backup power source that leverages your vehicle's battery.

EcoFlow RIVER mobile power station bundle

.

This battery pack can be charged via solar or by AC. It's ductless, so you can leave it in your vehicle. Plus, it only weighs 11 pounds, so you can easily take it wherever you want. Use the foldable PowerFilm solar panel to charge the power station when not plugged into AC.

Supportive seat.

Make sure you have enough cushioning and aren't hunched over.
Want to start your digital nomad transformation?
Our guide, Becoming a Digital Nomad: A Step-by-Step Guide to Living and Working from the Road, contains more detailed content and practical homework assignments that will have you living the digital nomad life as soon as you can!
Want to learn more about Airstream's recently introduced Flying Cloud 30FB Office Floor Plan?
Explore more Flying Cloud Features