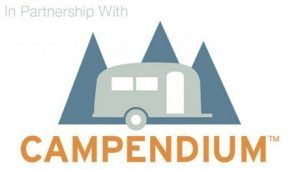 Northwest Camping
The Point RV Park
Ashland, OR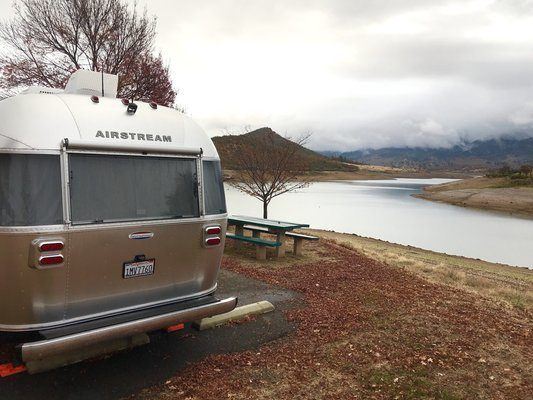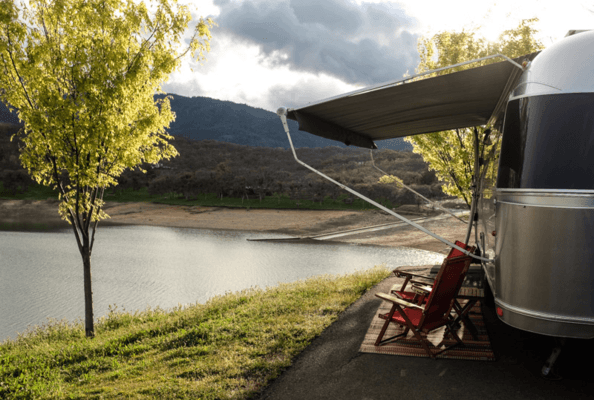 The Point RV Park is conveniently situated in the Emigrant Lake Recreation Area, a 1,476-acre lakefront park beloved by locals. The Point features 32 full-hookup sites that all overlook the gorgeous shoreline of the lake's north end. These spots offer water, 50-amp electrical service, sewer, and pads to accommodate larger RVs.
Those seeking a more natural experience can choose one of the 40 basic sites (without hookups) at the Oak Slope Campground. The Point is located just minutes from downtown Ashland, so, if you're staying for a few days, consider devoting one to visiting the town's restaurants, galleries, shops, bike trails and historic buildings.
Learn more about The Point RV Park.
Crown Villa RV Resort
Bend, OR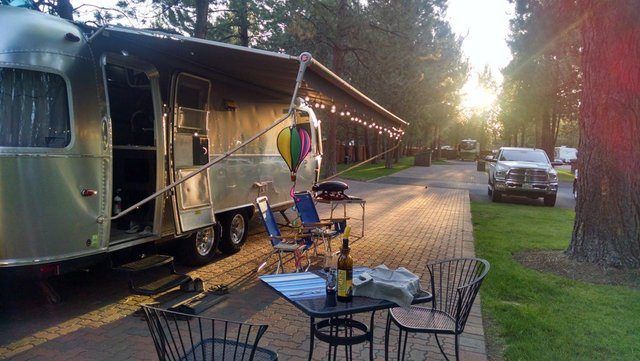 The Crown Villa RV Resort is "the Rolls Royce of RV parks," says Airstreamer Kate at The Scenic Route. Why so fancy? Well, for starters, this resort offers a quiet, park-like setting on the southern end of stunning Bend, Oregon. Sites are constructed of decorative paver bricks and all pads are full hook-up. There are individual brick storage buildings on every site, along with professionally landscaped patios. And with twenty-five acres of lush, manicured grass with mature pine trees, there is plenty of room to play. Don't miss the fitness center, steam rooms and Jacuzzi spa. Just relax and say, "Ahh." If you never make it into Bend, we won't tell.
Learn more about Crown Villa RV Resort.
Living Forest Oceanside Campground
Nanaimo, British Columbia
"Living Forest is located on the edge of Nanaimo, but with 53 acres of well-forested land, you wouldn't know the city was there," says Airstreamer Cyclist. This year-round Vancouver Island campground plenty of trees, as well as ocean and river views. Most of the 300 sites are "well-forested and well-spaced," according to Cyclist. The majority of spots are full hook-up and include basic cable. Numerous walking trails wind through the forest, along the Nanaimo River, and offer views of the ocean. Kayaks or canoes are available for rent if you want to explore the blue space, too.
Learn more about Living Forest Oceanside Campground.
Millersylvania State Park
Olympia, WA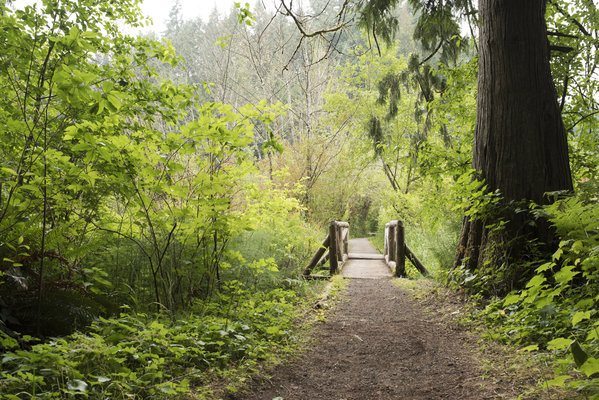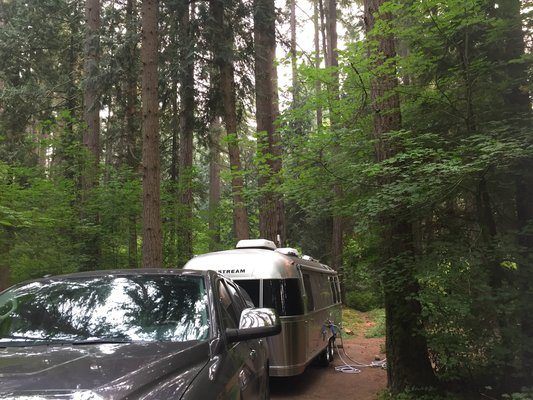 Just south of Olympia is Millersylvania State Park, where guests can enjoy a forested, country setting. Airstreamers The Streaming Nomads stopped at The Park for a stay and said, "We snagged what seemed to be the best RV spot in the park, surrounded by trees and nestled into its own oasis." Built by the Civilian Conservation Corps in 1935, the park has kept much of its historic charm. It's filled with hiking and biking trails among old-growth cedar and fir trees, Milersylvania is also home to Deep Lake, which offers boating, fishing, and (when the weather is right) swimming. Once you're done exploring in nature, check out downtown Olympia, which is just a short drive away.
Learn more about Millersylvania State Park.
Valley of the Rogue State Park
Gold Hill, OR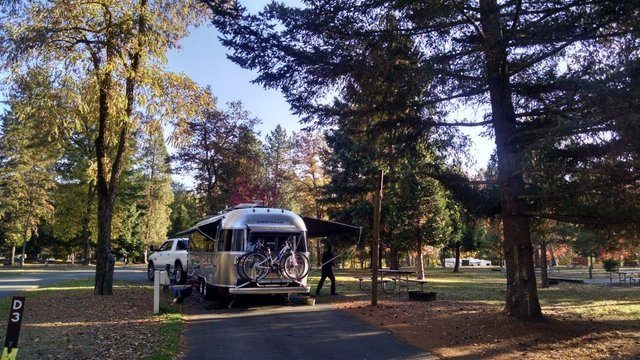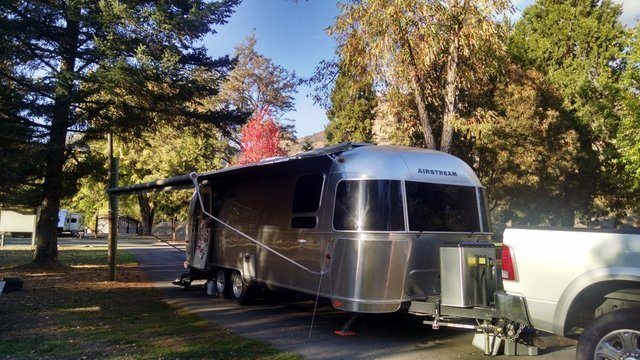 You'll find this state park in southern Oregon's Rogue Valley along three miles of the Rogue River, made famous by novelist and avid fisherman Zane Grey. The campground is the perfect place to stay while exploring all the local culture, history, and outdoor adventure the area has to offer. Close to the state park are such natural attractions as Crater Lake National Park and the Oregon Caves National Monument. You can also take a day trip to historic Jacksonville, Ashland's Shakespeare Festival, or the Britt Music Festival. Ideally located, this state park is convenient to all of these destination points, plus a slew of captivating local shops, museums, and restaurants.
Learn more about Valley of the Rogue State Park.
Southwest Camping
Gilbert Ray Campground
Tucson, AZ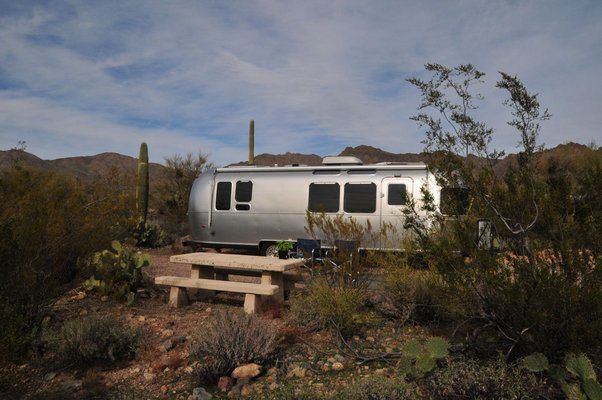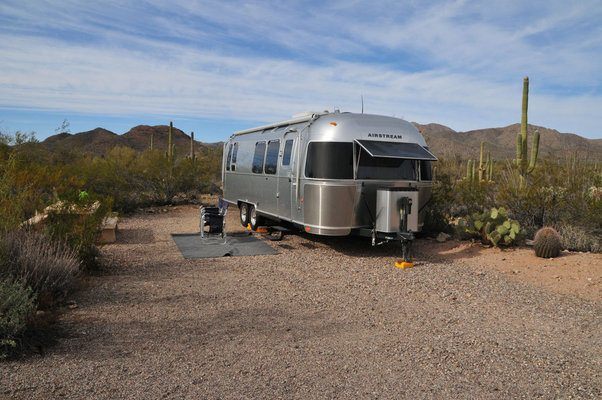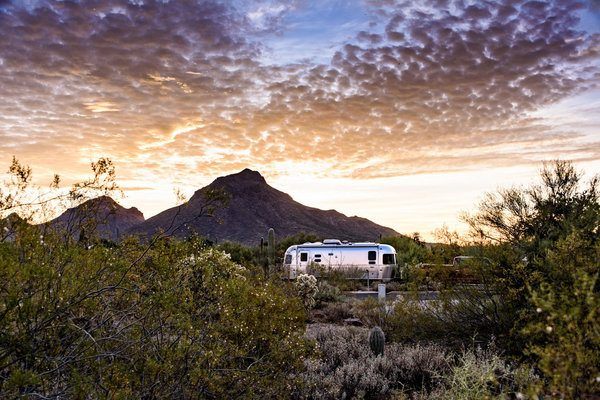 In the heart of the beautiful Sonoran Desert, but a mere 13 miles from Tucson proper, you'll find Gilbert Ray Campground. Perfect for cool-weather camping, visitors can soak in the moderate weather, varied wildlife and open vistas – which are especially magnificent during sunset and when the stars are in shining bright. Sites have electric hook-ups and there is a water fill station and dump station. Desert foliage – including towering Saguaros, ocotillos, prickly pears and chollas – surrounds most campsites, which are set amidst mesquite and Palo Verde trees. Gilbert Ray offers quintessential desert beauty, and visitors may find, as Airstreamer Laila did, that this special place is the "best way to experience the desert landscape."
Learn more about Gilbert Ray Campground.
El Capitán State Beach
Goleta, CA
This protected beach in the state park system of California is located only about 20 miles west of downtown Santa Barbara. El Capitán State Beach greets visitors with a sandy shoreline, rocky tidepools, and stands of sycamore and oaks along El Capitán Creek. Idyllic and peaceful, the beach is perfect for swimming, fishing, surfing, picnicking and, of course, camping. There is a stairway that provides access from the bluffs to the beach area. Airstreamer Dick Tony describes the beach as "a California coastal go-to campground" with sites along the bluff that offer up sunsets and ocean views that are "world-class." Note that sites are dry camping, but the location is well worth it.
Learn more about El Capitán State Beach.
Cibola National Wildlife Refuge
Cibola, AZ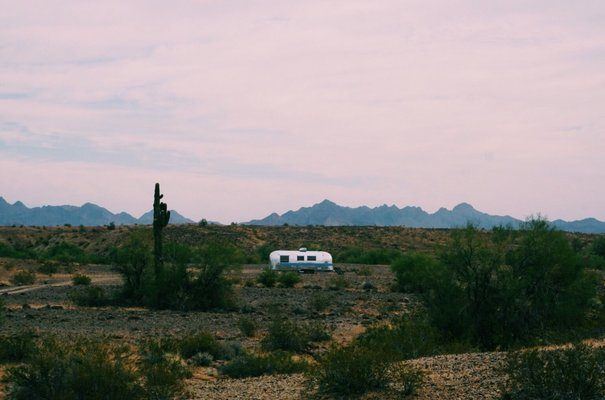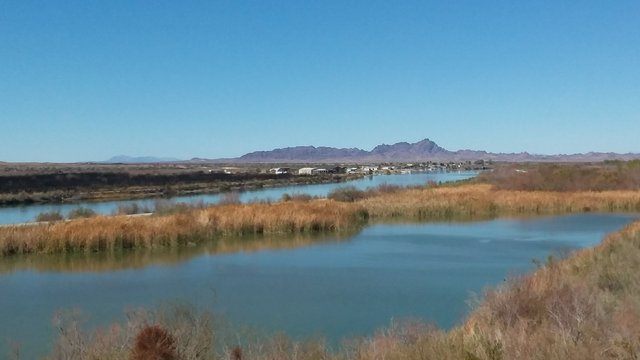 A "peaceful spot with beautiful scenery," says Airstreamers Weelittlenomads. The Cibola National Wildlife Refuge is both of these things, and then some. Located in the floodplain of the lower Colorado River between Arizona and California and surrounded by a fringe of desert ridges and washes, this wildlife refuge was established in 1964. The purpose of the 18,444-acre refuge is to protect and recreate the marshes, backwaters and meanders that provide wintering grounds for migratory waterfowl and other wildlife. It is not unusual for guests to spot dozens of different types of birds on a trip here, including migratory songbirds like the vermillion flycatcher, ground-dwelling birds like Gamble's quail and roadrunners, and raptors like golden eagles and peregrine falcons.
Learn more about Cibola National Wildlife Refuge.
Trona Pinnacles
Trona, CA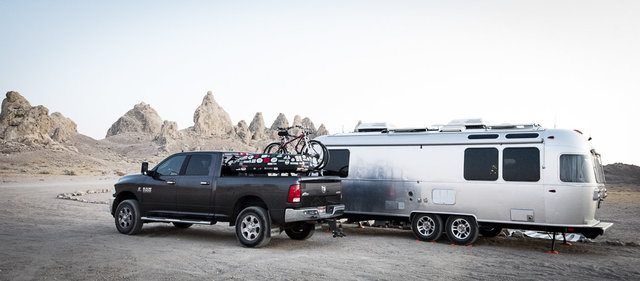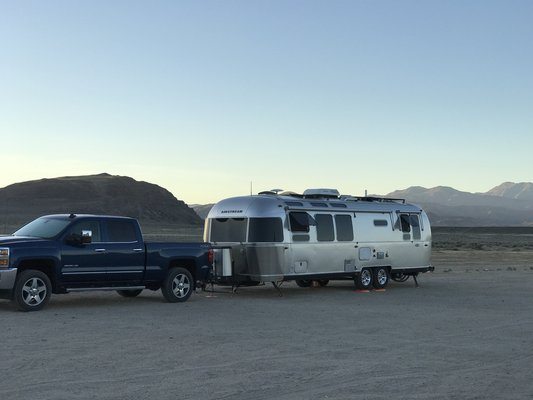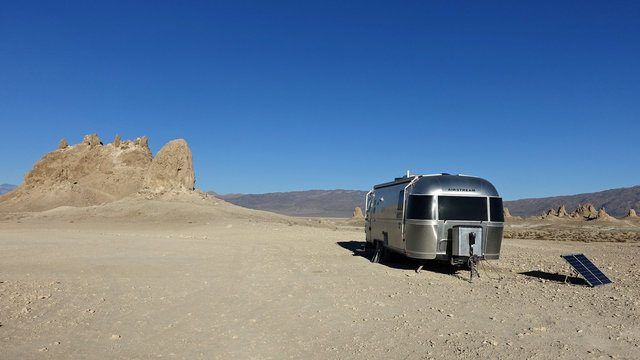 Trona Pinnacles features distinctive geological features that have been the setting for many movies, TV shows and commercials. Drive the five-mile BLM dirt road to the Pinnacles, and you'll quickly see why. This unusual landscape, which Airstreamers 4000 Rivets describe as feeling like a "lunar landing," is made up of over 500 tufa spires among the bed of the Searles Dry Lake basin. The spires are porous rock formed by deposits of calcium carbonate that happen when springs interact with other bodies of water. You'll see some rising as high as 140 feet, although generally the pinnacles are varied from short and squat to tall and thin. "The dirt road in from the highway is long and rather bumpy but we didn't find it to be too awful, just slow going," says 4000 Rivets. The Pinnacles are usually accessible to 2-wheel drive vehicles.
Learn more about Trona Pinnacles.
Watchman Campground
Hurricane, UT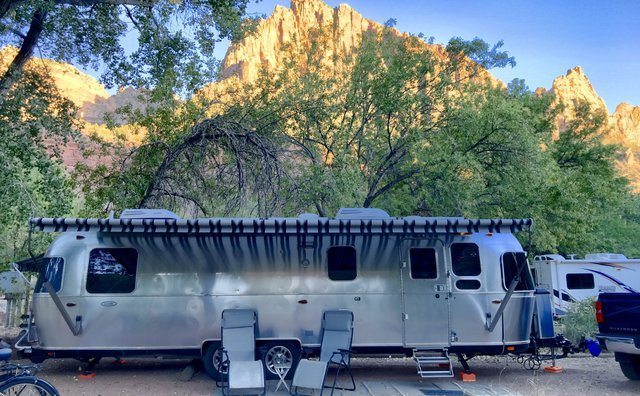 Located just inside Zion National Park, Watchman Campground is a scenic place to set up camp with generously sized sites alongside the Virgin River. Named for the rocky peak that rises above it, Watchman is surrounded by tall sandstone cliffs that glow red and orange during sunrise and sunset. The river is narrow but powerful; it carved out the canyon over time. "I love this campground, especially in the offseason," says Airstreamer Stan. "All campsites have electric, which is great as it gets chilly at night. Reservations are a good idea, even in the offseason." Hikers can access three trails directly from the facility: the Watchman Trail, a moderate trail that ascends the peak behind the campground; the Archeology Trail, which offers a light hike to a historic site nearby; and the Pa'rus Trail, a paved walking and biking trail that runs alongside the river.
Learn more about Watchman Campground.
Northeast Camping
Eighth Lake Campground
Inlet, NY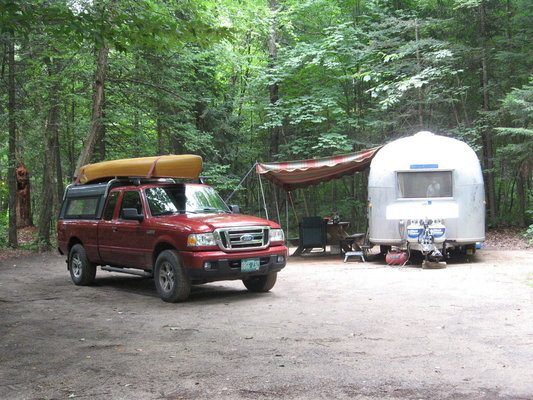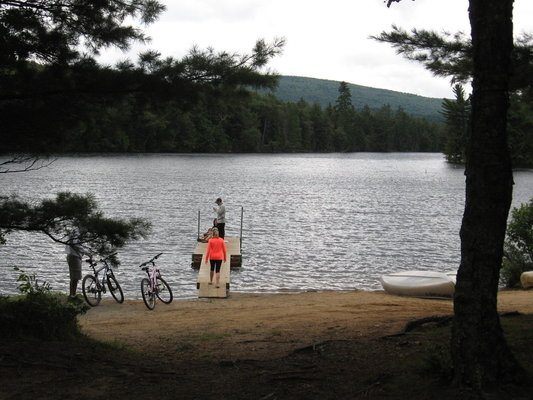 This well-appointed campground is centrally located in the western Adirondacks, on the southeast shore of 314-acre Eighth Lake. The facility offers 126 tent and trailer sites, a picnic area with tables and fireplaces, flush toilets, hot showers, trailer dump station, recycling center, mobility impaired accessibility, firewood sales, sand beach, swimming area, picnic area, canoe and boat rentals and hiking trails. For those interested in fishing, there are also lake trout and special salmon ponds adjacent to the campground. Airstreamer Nancy reports that, "This area offers great paddling, opportunity to see the Great Camp, Sagamore, and visit the nearby funky little town of Inlet, that has a good bookstore, a few restaurants, a few shops, a small grocery store, and a great ice cream shop." The campsites offer privacy as most are well-forested, and they are large – up to 40' RVs can be accommodated here.
Learn more about Eight Lake Campground.
Hartwick Pines State Park
Grayling, MI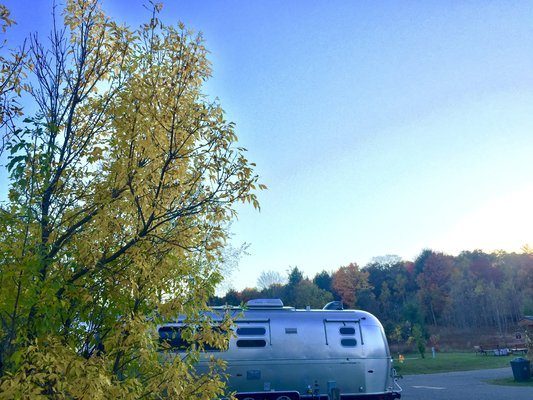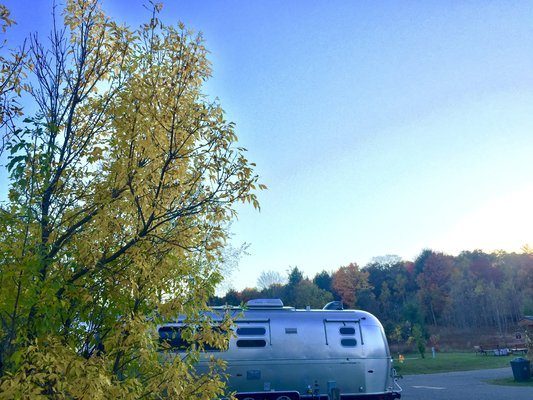 At Hartwick Pines, visitors will find 9,672 acres of rich, scenic beauty and diverse habitats. Scenery includes rolling hills built from ancient glacial deposits, the valley of the East Branch of the AuSable River (known for its fly fishing), four small lakes and unique timberlands. Hartwick is home to a 49-acre forest of old-growth pines that give the park its name. Airstreamers Big Big Trippers had this to say of the park: "We stayed at Hartwick Pines State Park because of its proximity to Grayling, MI and fly fishing on the legendary AuSable River. The Logging Museum and old growth forest area are both a short bike ride away and well worth the visit. And as a bonus, this MI State Park has several full hook-up campsites."
Learn more about Hartwick Pines State Park.
Lowden Memorial State Park
Oregon, IL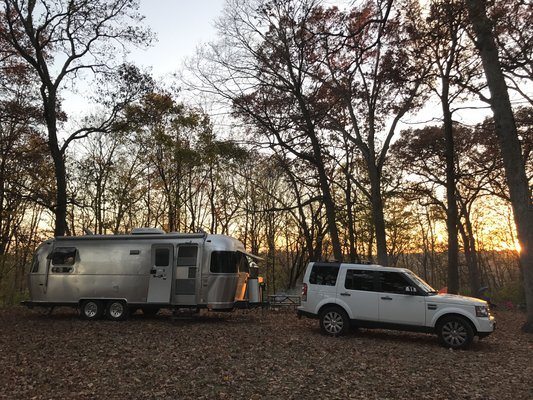 Of this state park, Airstreamers Bakerstream summed up its beauty in one simple word: "Trees!" By way of elaboration, they add that the park is a "nice location for local Midwesterners to get away." And with 207 acres, this park has something for every traveler. There are scenic views of the Rock River beneath the bluffs, as well as four miles of "moderately difficult" hiking trails winding through the natural features at Lowden. Guests will also want to check out The Eternal Indian, unofficially known as the Black Hawk Statue, which overlooks the scenic Rock River. Campsites have limited electricity, and there is access to a shower building and a sanitary dumping station.
Learn more about Lowden Memorial State Park.
Lums Pond State Park
Bear, DE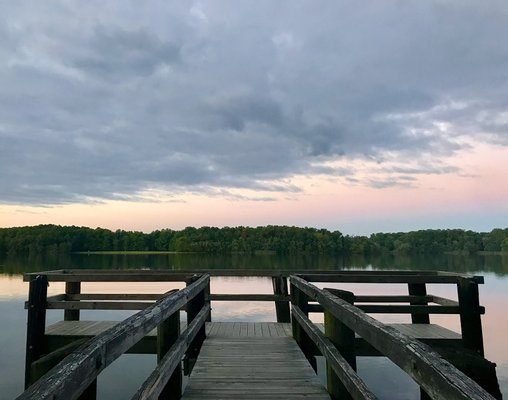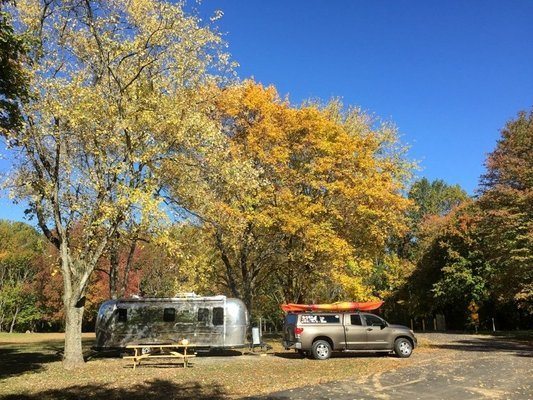 This is "a state park with full hook-ups, extensive trails, and a beautiful pond!" says Airstreamers WatsonsWander. Lums Pond is situated on 1,790-acres in New Castle County. The park surrounds the breathtaking Lums Pond, originally created to fill the locks of the canal that connected the Chesapeake Bay with the Delaware River in the early 19th century. Today, the pond is the center of the park's recreation offerings. Guests can boat and fish to their heart's content. Rowboats, sailboats, kayaks, canoes, and pedalos are available to rent. Game fish include carp, pickerel, crappie, catfish, largemouth bass and hybrid striped bass. For those who prefer dry land, there is a sprawling network of trails in the park that are open for hiking, cross-country skiing and snowmobiling.
Learn more about Lums Pond State Park.
Buckaloons Recreation Area
Irvine, PA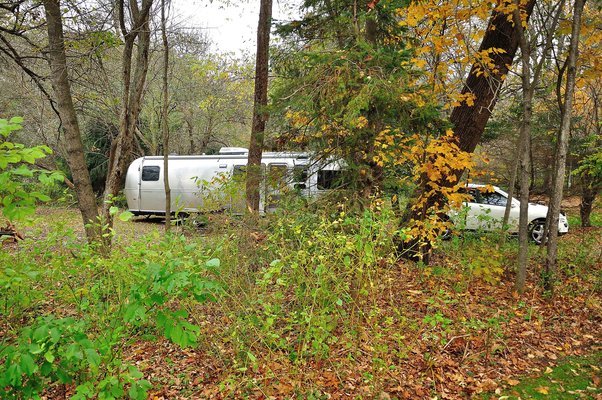 The Buckaloons Recreation Area is located on the west bank of the Allegheny River. This campground is an access point for canoeing the Allegheny River Island Wilderness, which lies in the stretch of the river between Buckaloons and Tionesta.
Visitors to the Wilderness will bask in groves of old-growth bottomland forest, with hardwoods including American sycamore, silver maple and willows. Some of the trees are impressively large: Within the Wilderness is Pennsylvania's current champion sycamore, a 148-foot-tall specimen. Also keep your eyes peeled for the various types of birds that call the Wilderness home: great blue and green herons, kingfishers, turkey vultures, ospreys and bald eagles. Or, you could decide to stay put at Buckaloons and partake in hiking, biking, ATVs or the horse trails. When the day is done, head back to your campsite and let the sounds of nature lull you to sleep.
Learn more about Buckaloons Recreation Area.
Southeast Camping
Fort De Soto Park Campground
Saint Petersburg, FL
Bask in the beauty of this beachy public park, maintained and operated by Pinellas County and spread over 900 acres on five interconnected islands with a total of seven miles of waterfront. Because nearly half of the 238 campsites are waterfront, you can easily launch your kayak or canoe right from your site. For paddlers, there's a 2.25-mile designated paddle trail, and the opportunity to explore Shell Key and the other offshore islands. For on-land expeditions, make use of the 6.3-mile paved bicycle trail, nature trails, two fishing piers and the ruins of a fort built during the Spanish-American War. Amenities at Fort De Soto Park Campground include picnic tables, grills, water, electricity, washers and dryers, sanitary disposal stations, modern restrooms, showers, play areas and a camp store. And, if you want to get out and explore, the cities of Tampa and St. Petersburg are just a hop, skip and a jump away.
Learn more about Fort De Soto Park Campground.
Meriwether Lewis Campground
Hohenwald, TN
This National Park Service facility, located at mile 386 on the Natchez Trace Parkway, is a hidden gem. With beautiful roads leading to a shaded, tree-filled campground with well-separated sites, visitors will enjoy privacy in the beautiful scenery. While there are no hookups and no dump station, there is a water spigot available for filling fresh water tanks. The nightly stay price tag of "free" makes this spot all the sweeter. Take in some great sightseeing along Natchez Trace, and then head to Hohenwald for dining and shopping. Other nearby attractions include the Merriwether Lewis death and burial site, the Shiloh Battlefield, and the elephant sanctuary at Hohenwald.
Learn more about Meriwether Lewis Campground.
Shenandoah River State Park
Bentonville, VA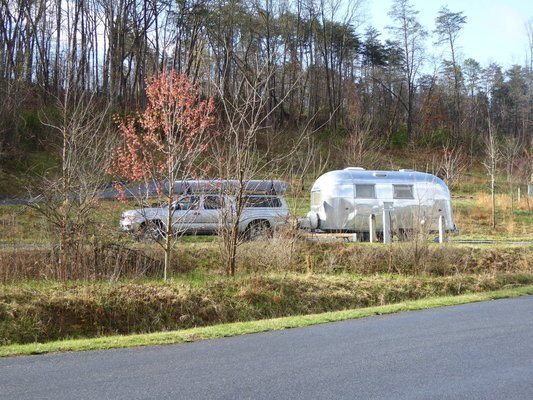 Airstreamer Nancy is no stranger to Shenandoah River State Park. "We have stayed here about four times," she says. "And we always enjoy our stay." Located on the South Fork of the Shenandoah River, this state park is home to plenty of scenic walking paths along the river with great views of the Massanutten Mountains to the west and the Shenandoah National Park to the east. Boasting more than 24 miles of trails and a new zip-line, the park has plenty of options for adventure – hiking, biking and horseback riding are but a few. The trailer sites are all paved, have a gravel area with picnic table, fire pit and lantern holder, and have electric and water available. Want to explore a local town while you're there? Try Front Royal, which is only about 10 miles away and has plenty of restaurants and shopping options.
Learn more about Shenandoah River State Park.
Campfire Lodgings
Asheville, NC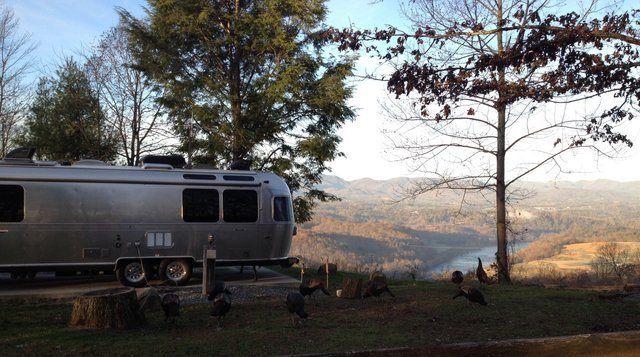 "It was everything we could have hoped for with a full-hookup, private park and it's owned by passionate and friendly people," says Airstreamers airstream­_chicago. "The park was beautifully maintained and felt close to nature. Sunsets from the top of the mountain were incredible. The location was perfect, everything in Asheville was 20 minutes away and about the same to get to the Blue Ridge Parkway for hiking." If you're not sold on this location based on this fellow Airstreamer's review alone, consider that this campground is an outdoor explorer's best friend – you can hike to see waterfalls, ski, fish, kayak and golf. And, with Asheville just a short drive away, options for dining and shopping are just as plentiful.
Learn more about Campfire Lodgings.
White Oak Lake State Park
Bluff City, AR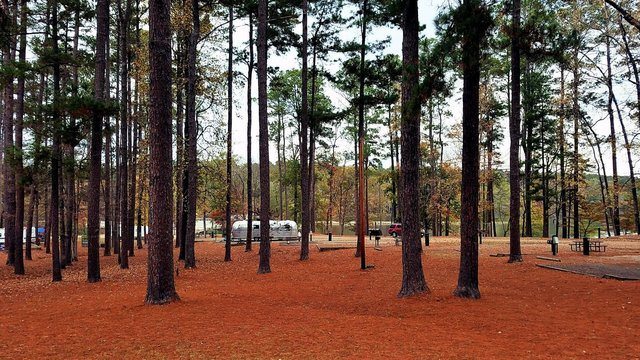 Click Here