One of the best things about Class B/Sprinter Van RVs is how easy they are to maneuver, especially compared to larger RVs and motorhomes. You won't need a special license, but a little driver education is a must before you hit the road. Familiarize yourself with these aspects of driving and parking, and you'll gain the confidence you need to head out. 
Start with knowing your clearances.  
Will you make it under that bridge up the road? Rather than guessing, get to know your clearances ahead of time. And not just for height – you should also know your width and length so you can gauge whether a lane, alley, parking lot, or parking garage will be safe for your RV. 
Once you know your RV's measurements, you can look for signage that tells you clearance maximums. Pro tip: drive-thru overhangs are usually only 9 feet, which means any Sprinter Van RV will be too tall to pass through. Park and head inside instead to save yourself the heartache of a mid-trip accident. 
You can look up your RV's measurements (see below) or use a measuring tape to check the dimensions yourself 
Interstate 19
Length: 19' 5"
Width: 6' 7"
Height: 9' 8" with 2WD, 9' 11" with 4WD
Interstate 24GL
Length: 24' 6"
Width: 6' 7.7"
Height: 9' 8" with 2WD, 9' 11" with 4WD
Interstate 24GT
Length: 24' 6"
Width: 6' 7.7"
Height: 9' 8" with 2WD, 9' 11" with 4WD
Interstate Atlas
Length: 24' 9"
Width: 8' 3"
Height: 10' 6"
Get used to going a little slower.
Perhaps the best piece of advice when it comes to driving an RV is to drive slower than you normally would in your everyday vehicle. You'll need more reaction time for tight turns, unexpected bumps, quick stops, and steep inclines/declines. Be prepared for lots of other drivers to pass you, and try to make room for them to do so whenever you can. No matter what obstacles lie in your path, they'll be easier to tackle if you're going a little more slowly. 
Practice taking wider turns.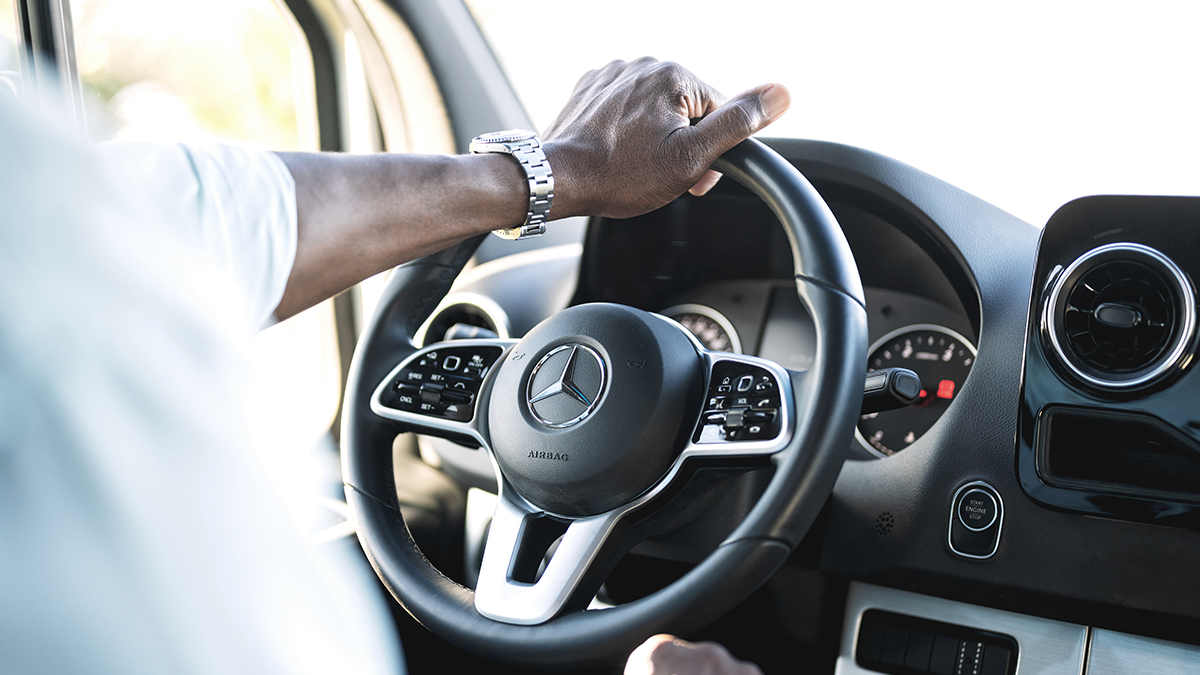 To avoid hitting the curb on tight turns, you'll need to swing out wider than you normally would. To complete a safe turn, continue straight into the intersection until your rear tires start to clear the curb. Then turn your wheel to finish the turn. 
Get to know your blind spots.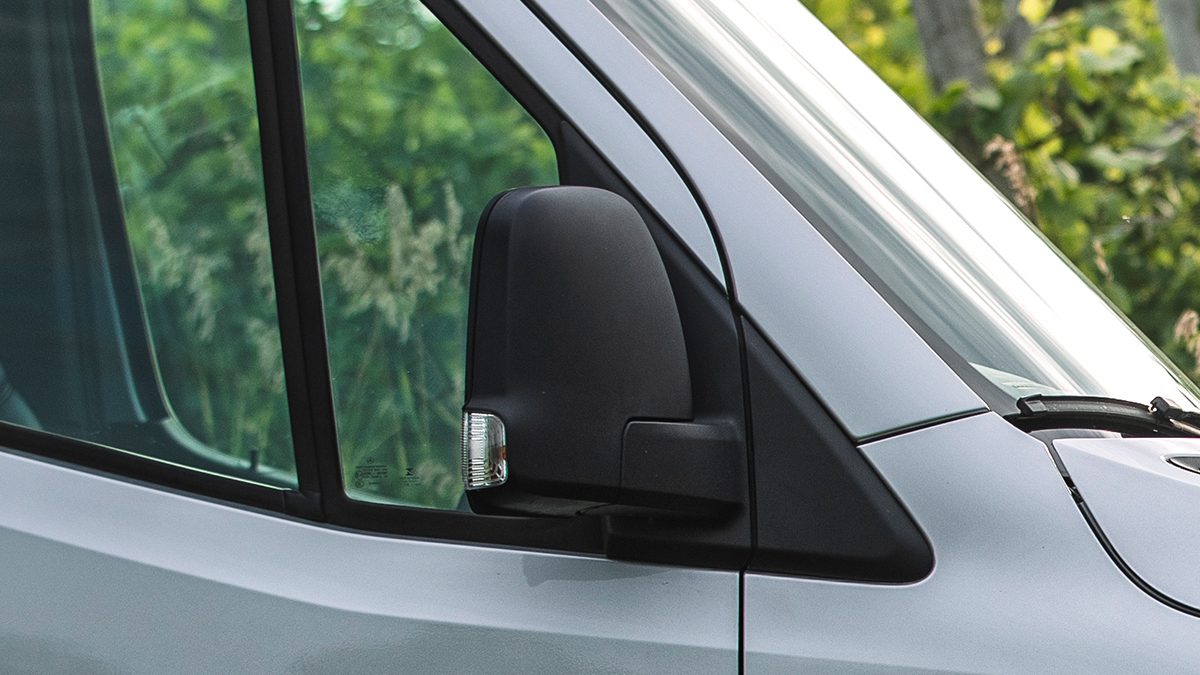 Airstream touring coaches that are built on the Mercedes-Benz® Sprinter Van chassis all come with large side mirrors and side-view cameras to help you avoid or greatly minimize blind spots. 
These exceptional motorized Airstreams also come with the following Mercedes-Benz® driving safety features that make driving in traffic easier:
Blind Spot Assist
Monitors the areas along the side and rear of the coach and warns you if changing lanes would be dangerous via a visual and audio warning.

Collision Prevention Assist
Monitors closing speeds between your vehicle and those around it. If a collision is likely, the system calculates and provides the necessary brake force to slow you down.

Lane Keeping Assist


Detects when you're starting to stray from your driving lane and alerts you via a vibration in the steering wheel. If you don't respond, it can apply the brakes to help you return to your lane.
To experience your vehicle's blind spot safely, grab a friend and have them stand a few feet from the side of the coach while you're parked. Watch in the side mirrors to see where they enter your blind spot. Remember that area when you're actually on the road and give yourself extra time when changing lanes. 
Practice parking in an empty lot.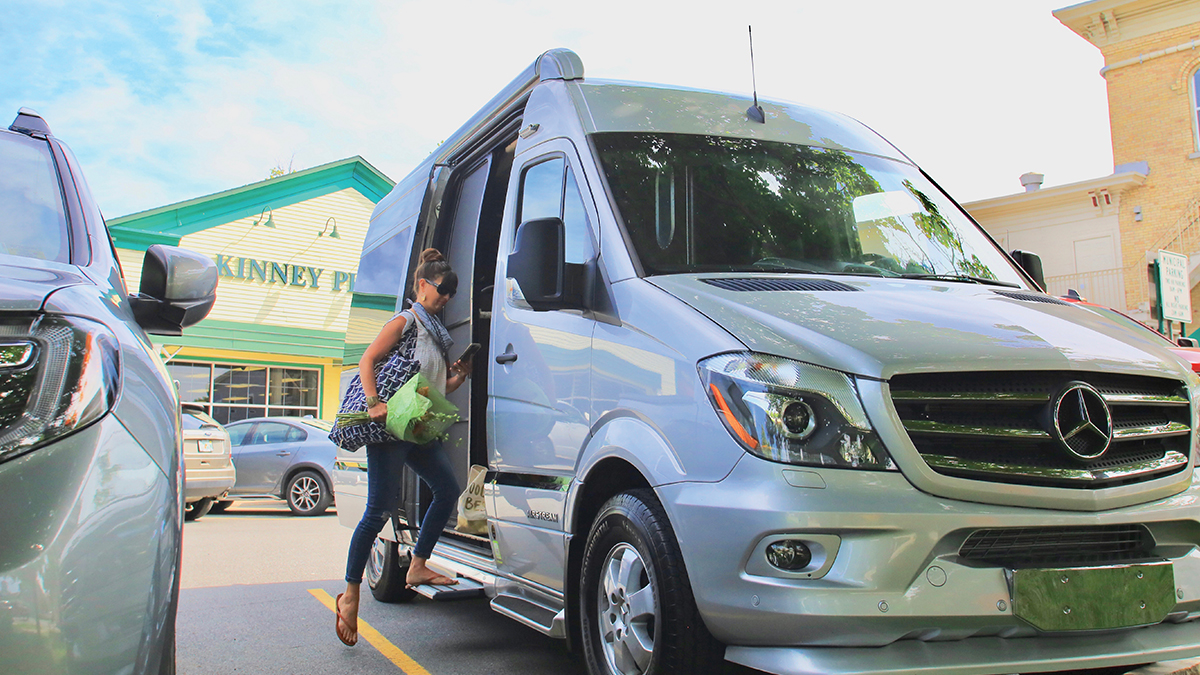 Head to a big box store on a slow day and practice parking between obstacles in a low-pressure situation. 
A quick list of what to practice:
Pulling straight into a parking spot

Backing out of a parking spot

Backing straight into a parking spot

Pulling into an angled parking spot

Backing out of an angled parking spot

Backing up to a curb (check that it's lower than your chassis first)

Parking evenly between lines

Parallel parking against a curb

Parallel parking between obstacles
Airstream's Mercedes-Benz touring coaches come equipped with rear- and side-view cameras that make this process much easier. Each model in our Sprinter Van lineup also includes the following Mercedes-Benz safety features for parking near obstacles:
Active Brake Assist
Detects when you're too close to another vehicle or a pedestrian and applies the brakes.

Active Rear Cross Traffic Assist


Warns you when traffic or pedestrians are crossing your path when you're in reverse. 
It's also worth noting that if you're still shopping for a Class B Sprinter Van RV, the Interstate 19 is designed specifically for easy maneuvering and parking. At 19 feet, it fits in virtually any standard spot and parks just like your average large SUV. 
Learn some spotter signals with your travel companion.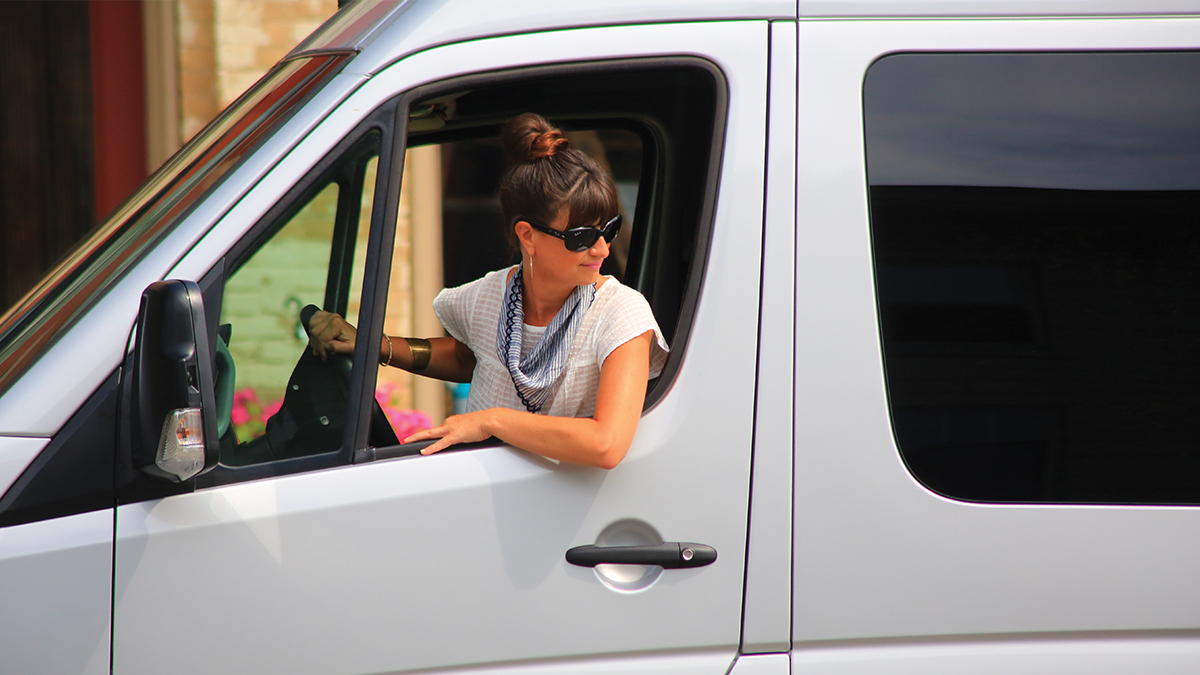 Having a spotter to direct you in and out of tight areas is invaluable. Spotter hand signals make it easy to communicate even when you can't hear each other. 
Proceed forward/backward:
One hand at about head level with palm facing spotter in a slight waving motion.

Close to an obstacle:
Hands in front of head with the space between them in relative proximity to the obstacle. Bring hands together as distance to obstacle shrinks.

Turn the wheel:
Left arm fully extended to the left with finger pointed to the left, or right arm extended to the right with finger pointed to the right.

Stop:
Arms crossed over the head.
RVers also frequently bring a set of two-way radios to communicate – one for the spotter and one for the driver. The spotter does the talking, and the driver responds to their commands.
Have more driving and parking questions? Check out this post: 6 Touring Coach Driving and Parking FAQs Answered
Need a little expert help? 
If you have a specific question you'd like to ask an expert, give your Airstream dealer a call or schedule a service appointment at an Airstream Service Center.