You're likely used to some pretty amazing comfort and safety features in your everyday vehicle, but did you know we've built some of the same luxuries into 2021 Airstream Touring Coaches? Some of these just might be a game-changer for your next adventure.
Auto-Regulating Coach A/C for When Your Pets are Inside
If you're camping with your pets or just out for a ride together, you'll love the Automatic Generator Start (AGS) feature – standard in all 24-foot Airstream Interstate Touring Coaches. Once you enable AGS using your Multiplex control panel in the coach, you can set your desired coach temperature and your generator will automatically turn on to power the A/C or heater anytime it needs to meet that temperature.
That means if you need to step away from the coach for a while but your pets are inside on a hot day, you can set a comfortable temperature and the generator will make sure it stays there, even when your touring coach engine is off. Your pets are happy, your battery power is intact, and you can get on to the next adventure.
If you're already a touring coach owner and curious about how to use this feature, check out our how-to video on the topic. The touring coach generator is powered with liquid propane (LP) gas, so it's important to monitor the fuel level to make sure there's enough for the generator to power on when it needs to.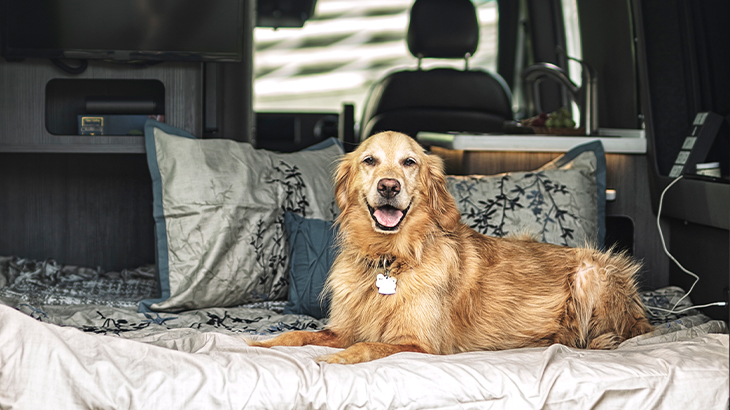 Air Ride Suspension for a Ride You Can Truly Sleep Through
Most Sprinter vans are designed to be delivery and service vehicles, which means riding suspension comfort isn't the top priority. But we won't settle for that. That's why we include air ride suspension in each and every Airstream Touring Coach as a standard feature. How?
We take out the standard chassis springs and replace them with a custom air springs and shock absorbers, plus a sway bar. Together, they work in harmony to soften bumps and road vibrations to provide a superior driving and riding experience. The air ride suspension also increases the vehicle's overall stability by automatically adjusting when side winds push against the touring coach exterior.
Whether you get motion sickness easily or you just want to be able to nap in the back while someone else drives, you'll notice the smoothness of air ride right away.
And besides comfort, bonus features of air ride suspension include:
Improves the Interstate's fuel economy so you can go even further on less
Allows you to raise and lower the coach for easier hitching and towing
Automatic adjustment to uneven ground when setting up at your camping spot
Adaptive Cruise Control That You Set Once the Entire Trip
This is not your average cruise control. Adaptive Cruise Control allows you to get up to the speed AND following distance you want to maintain, set it, and let the touring coach do the rest.
As traffic gets heavier, the coach will automatically slow down to maintain the following distance you prefer. It will even slow to a complete stop if you need to, and when traffic clears, it'll apply the gas gradually until it's back to your set speed when it's safe to do so. You don't need to cancel the control at all during your trip, or apply the gas or the brake yourself, but you always can whenever you like.
That means on longer trips you can focus on steering with less fatigue from long hours behind the wheel.
Active Lane-keeping Assist that Steers You Back into Your Lane
You likely have experienced standard lane-keeping assist features in your everyday vehicle. But Airstream Touring Coaches go beyond the side mirror, dash lights, and alert sounds.
Active Lane-keeping Assist senses when you're drifting out of the bounds of your driving lane and alerts you, but also automatically starts to correct your course. It does so by gently applying the brakes on one side of the coach or the other so the coach gradually moves back into the lane.
When you're intentionally changing lanes, simply turning on either turn signal temporarily disables Active Lane-keeping Assist until you're back into the boundaries of the new lane.
Change lanes when you want to, never drift off when you don't – that's taking peace of mind to the next level.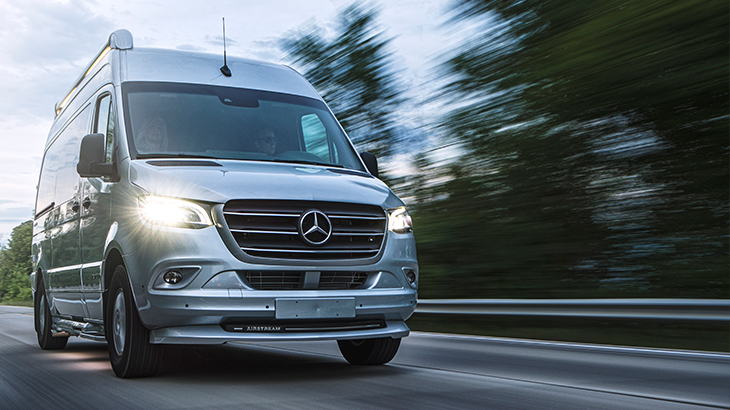 Extra Airbags that Can Be Up to 5X Safer
Each Mercedes-Benz chassis comes equipped with top-of-the-line airbags in a variety of available configurations. And for each Airstream Touring Coach, we choose every single one we can get. Besides the standard front and steering wheel airbags, our touring coaches also include window curtain and thorax airbags.
Window curtain airbags are exactly like the name sounds: they deploy from the top of the side door and create a cushion between you and anything else on the other side of the door. Plus, they help shield you from broken window glass.
Thorax airbags deploy to protect your torso and vital organs in a crash – especially a collision from the side. Including thorax airbags makes your ride up to 5X safer than not having that protection.
It's always worth going the extra mile.
Every Airstream Touring Coach is built on a world-renowned Mercedes-Benz chassis, making it already top-of-the-line in performance, safety, and driving convenience. But at Airstream we believe in delivering only the absolute best, which means we opt into every single Mercedes-Benz feature available, and then we add in a few of our own. That's the quality you expect from two iconic brand names, and that's the quality you deserve.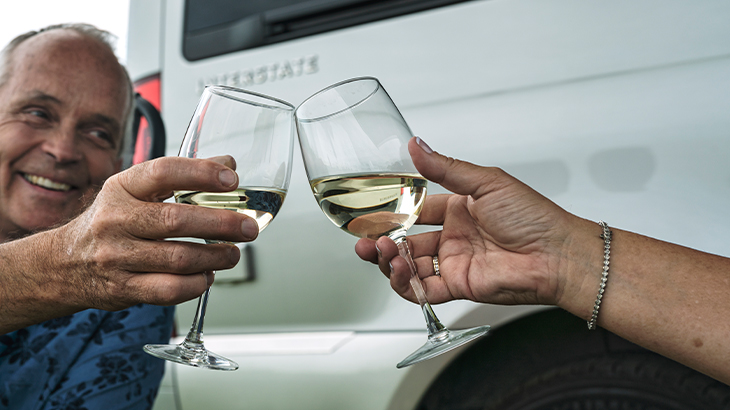 Browse Touring Coaches
Find the Airstream Touring Coach that's perfect for you and your travel companions. And know that the very best is already built in.