If you're shopping for an Airstream Touring Coach and have some questions about how it handles, you've come to the right place. We're answering six of our most frequently asked driving and parking questions.
Each Airstream Touring Coach is built on a Mercedes-Benz® chassis with more than 50 best-in-class features that come standard. It's a marriage of Mercedes-Benz engineering and Airstream quality and design, and a difference you'll feel as soon as you get behind the wheel. The driving and safety features are second to none, and we'll help you get to know some of those features right here.
Before we get started, we call our motorized Class B RVs "touring coaches," so you'll see that term used throughout these answers.
FAQ 1: What is Air Ride and Why is it Better?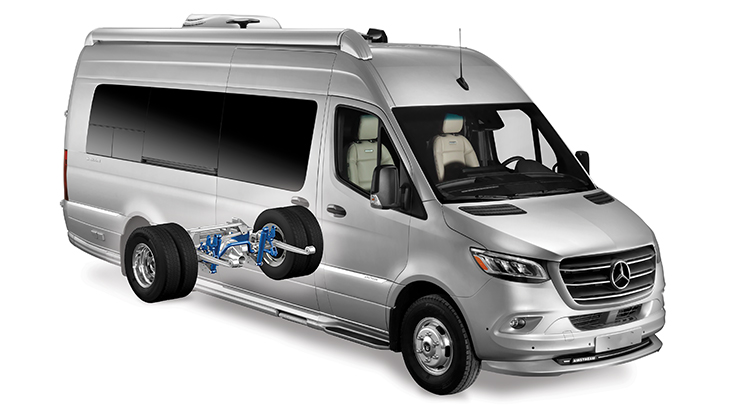 Airstream Touring Coaches have car-like handling from the start. Air ride suspension is an optional feature designed to make your riding experience even smoother and more comfortable.
When we build in the air ride option, we replace the stock rear suspension components with adjustable air springs, shock absorbers, a sway bar, and an air suspension control unit.
Air ride is fully automatic, so it adjusts to different ride heights and road conditions by adding or removing air to maintain a smooth ride inside the coach, no matter how many passengers, how much cargo weight, or whether you're towing a trailer behind your coach.
And it's not just comfort; air ride also improves your fuel economy, maneuvering, and tire life. You can adjust the height of the touring coach to make loading and unloading easy, or to park on uneven ground.
If you're more of a visual person, check out this video in which Airstream CEO Bob Wheeler walks you through how air ride works.
FAQ 2: What Features Make the Drive Easier Compared to Others?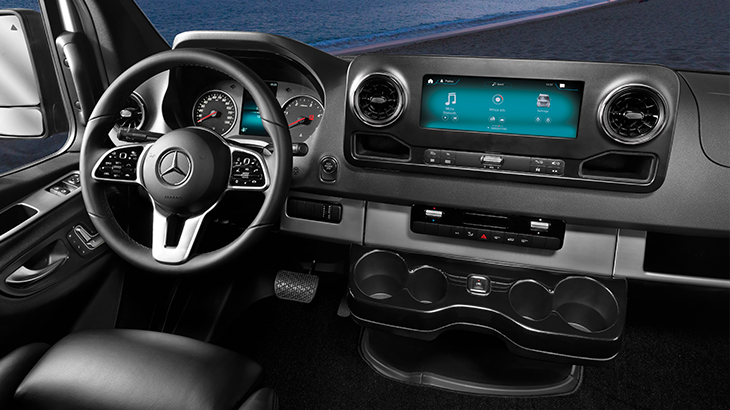 Included in our list of 50+ best-in-class features that come standard on Airstream Touring Coaches are the following Mercedes-Benz driving features:
Blind Spot Assist
Monitors the areas along the side and rear of the coach and warns you if changing lines would be dangerous, via a visual and audio warning.
Collision Prevention Assist
Monitors closing speeds between your vehicle and those around it. If a collision is likely, the system calculates and provides the necessary brake force to slow you down.
High Beam Assist
Automatically adjusts your headlights to high beams when the road is clear of traffic and adjusts back when traffic is present (so as not to endanger other drivers).
Lane Keeping Assist
Detects when you're starting to stray from your driving lane and alerts you via a vibration on the wheel. If you don't respond, it can apply the brakes to help you return to your lane.
Active Brake Assist
Detects when you're too close to another vehicle or a pedestrian and applies the brakes.
Active Cruise Control Assist
Set your distance to other vehicles and your coach will automatically help you maintain it by applying the brakes or speeding up as necessary.
Active Rear Cross Traffic Assist
Warns you when traffic or pedestrians are crossing your path when you're in reverse.
FAQ 3: Can an Airstream Touring Coach Fit in a Normal Parking Spot and are There Features to Help Me Park?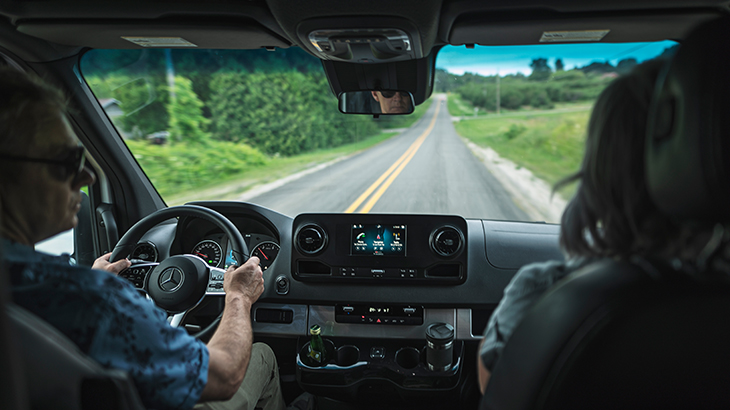 While our 24-foot models are often longer than a standard parking spot (typically 19 feet long), the Interstate 19 was designed specifically for easy parking. At 19 feet, it fits in virtually any standard spot and parks just like your average large SUV.
If a bigger coach is more your style, we've included best-in-class features that make it easy to park even our largest touring coach, the Atlas. Each Airstream Touring Coach includes a multi-vision monitor in place of a rear-view mirror, where you can see the live feed from your side- and rear-view cameras. Plus, Parktronic front and rear sensors give you visual and auditory warnings when you're close to objects and parking hazards. There's also your Active Rear Cross Traffic Assist (mentioned above) which tells you if something is crossing behind your coach when you're backing up.
FAQ 4: Can You take an Airstream Touring Coach Through the Drive-thru?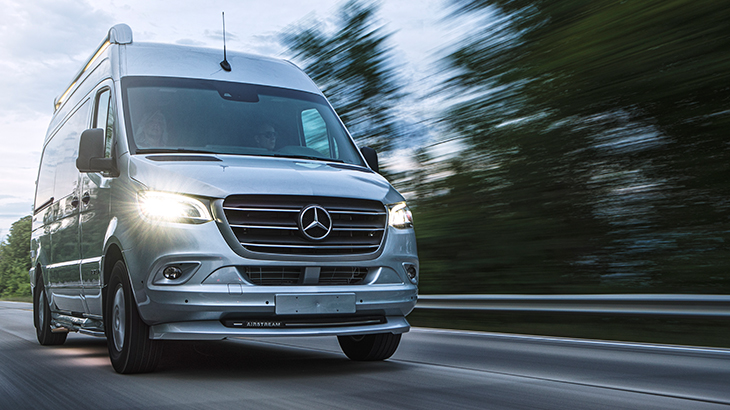 To give the maximum amount of head room inside the coach, all models of the Airstream Interstate are 9 feet, 8 inches tall with two-wheel drive and 9 feet, 11 inches with four-wheel drive, including the A/C unit and antenna on the roof. The Airstream Atlas is 10 feet, 6 inches tall, including the rooftop A/C.
Most fast food drive-thrus offer a clearance height of around 9 feet, making them unsafe for Airstream Touring Coaches. In those cases, park in the lot and head inside on foot.
You should also keep an eye out for low-roofed parking garages and low bridge clearances, especially in more rural areas where semi-trailer traffic isn't prevalent. A good rule of thumb is to add an extra foot of clearance to make your "safe zone." If a bridge, garage, or overhang isn't in your safe zone, route around it. You'll be glad you did.
FAQ 5: Where Do I Park in a City?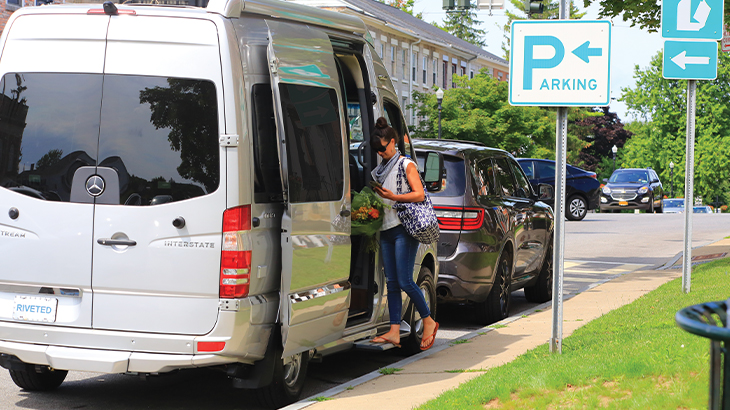 The most ideal parking spots are always those that you can pull straight out of. You might find those at the end of a block or in a larger parking lot such as a big box store. The next best spots are in angled lots where traffic is one way in each parking lane.
No matter where you park, it's always a good idea to have someone outside the vehicle giving you directions. But even if you're traveling alone, Parktronic and your rear- and side-view cameras will give you visibility into your surroundings and alerts when you're close to obstacles or pedestrians.
Like we talked about above, the Interstate 19 is perfect for city parking, as it fits perfectly in virtually any standard parking spot.
FAQ 6: Can You Drive an Airstream Touring Coach Off-Road or on Rugged Mountain Passes?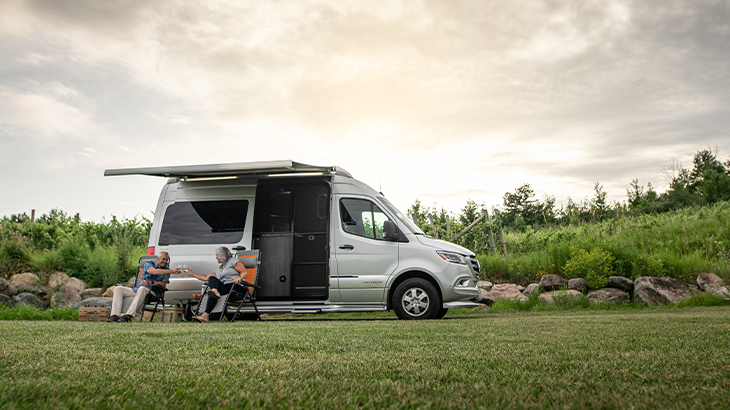 If you plan to head off the beaten path in your touring coach, we highly recommend opting for either four-wheel drive or air ride suspension.
Four-wheel drive is an optional system that works on-demand – it's there when you need and off when you don't. When you press the button, Load-Adaptive Electronic Stability and Electronic Traction systems work together to ensure your touring coach is prepared for inclement weather or unsteady road conditions.
Air ride suspension, covered in more detail above, is also an optional system that adjusts itself to bumps in the road, changes in elevation, and changes in wind resistance.
Anytime you're headed onto uneven roads, keep an extra eye out for obstacles, deep dips, or steep inclines.
Ready For a Test Drive?
To really understand the best-in-class features and how they come to life in each Airstream Touring Coach, you need to get behind the wheel yourself. Schedule a visit to your nearest authorized Airstream dealer and see every driving, safety, comfort, and convenience feature up close.