Designed for active families, vacationing couples, and solo travelers alike, the Airstream Rangeline Touring Coach opens a world of possibilities for a new generation of RV travelers. Equally at home on a cross-country voyage and or a quick jaunt crosstown, Rangeline is the epitome of flexibility and reliability. Whether you crave all the comforts of home during long treks or need an upgraded daily driver to shuttle the kids from school to the weekend soccer tournament, Rangeline fills an emerging niche in the RV travel landscape.
Selecting a capable chassis as a foundation for this new travel reality was paramount for Airstream's touring coach design engineers. The goal was to find a modern platform that could strike a flexible balance of work and play, form and function, stability and adaptability. With its unique combination of capability, reliability, safety and flexibility, the RAM ProMaster exceeded these criteria. When you step into the cockpit of a new Rangeline, you'll be inspired with a sense of total confidence and unlimited potential.
For 2024, Rangeline is built on the improved 2024 RAM ProMaster chassis. Tour the exciting features that make it an eminently capable chassis for a new generation of Airstream adventurers.
Step Inside the RAM ProMaster 3500 Chassis
The RAM ProMaster 3500 chassis features a fuel-efficient, gas-powered 3.6L Pentastar® V6 engine with 276 horsepower and a TorqueFlite® 9-speed automatic transmission. Its capable front-wheel drive system provides surefooted traction and superior handling in nearly all conditions, even when the vehicle is fully loaded. A best-in-class 21-inch low floor height with powder-coated aluminum running boards makes for easy onboarding and convenient loading and unloading.
2024 RAM ProMaster Power Specs
Engine: 3.6L Pentastar V6 gasoline engine 

 

Transmission: 9-speed automatic

 

Output: 276 hp and 250 ft/lbs torque

 

Capability: Class-exclusive Front-wheel Drive
Mid-Sized Maneuverability with Front-Wheel Drive
One of the most powerful features of the RAM ProMaster chassis is its front-wheel drive capability. Setting it apart from the competition, front-wheel drive provides the power necessary to bring along all the comforts of home you want in an RV while still driving and handling like a car. Additionally, front-wheel drive provides good traction and handling in all weather conditions, giving you the smoothest, safest experience available on the road.
Built with a 159-inch wheelbase, the RAM ProMaster gives Rangeline its 21' length profile — the perfect mid-sized sweet spot for a camper van and a key driver behind Rangeline's "go anywhere the road will take you" appeal. This smart footprint offers everything today's travel enthusiasts need to fuel their active lifestyles without sacrificing classic Airstream comforts and essential amenities. It's how the Rangeline cabin delivers expansive storage and ample room for living and playing, and why drivers will enjoy Rangeline's nimble maneuverability.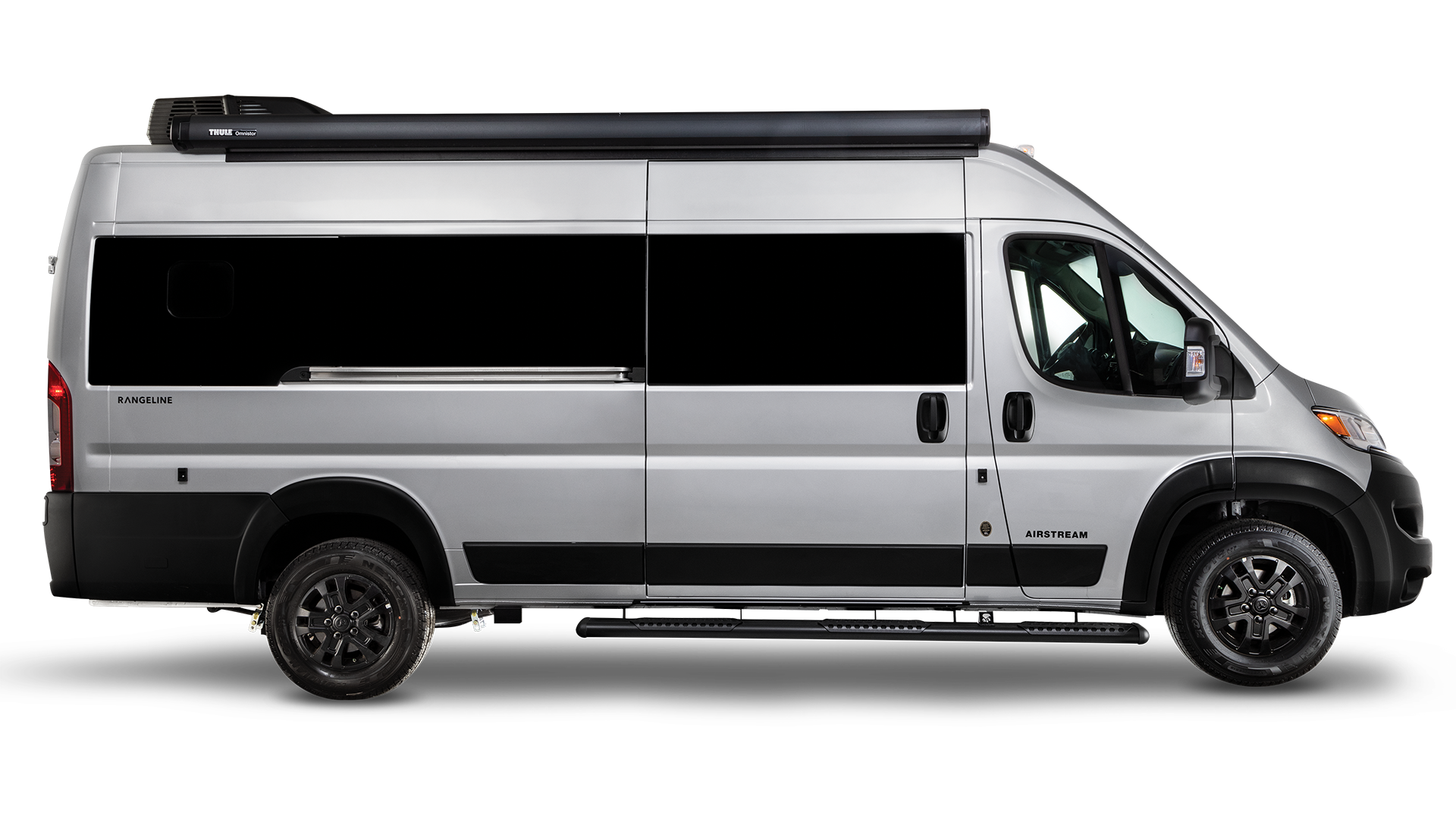 The RAM ProMaster's best-in-class 36-foot turning diameter allows drivers to traverse tight backroad curves, cruise through city streets, or navigate narrow campgrounds. Its combination of size and maneuverability make parking a breeze — whether you're picking the kids up from school or finding the perfect secluded alcove for grabbing some much-needed rest for the night. An automatic electronic parking brake delivers the security you need to put the worries of the day behind you.
Ample Seating for Captain and Crew
The RAM ProMaster 3500 chassis provides ample seating for four passengers via two plush captain's chairs in the cockpit that rotate to face bench seating for two crew members across the table. The captain's chairs feature 6-way adjustment and 2-way lumbar support, while the bench seating offers storage beneath and behind it, as well as a power outlet with USB ports for convenient charging. Integrated child safety anchors in the bench seating provide optimal safety for family excursions.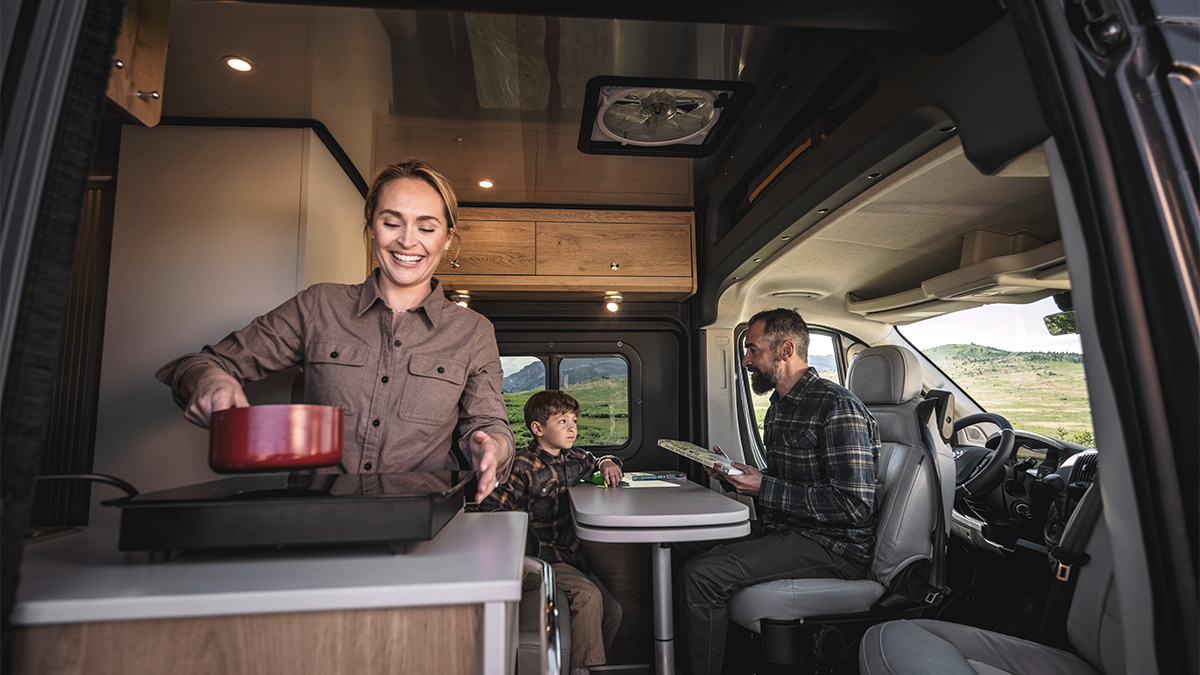 Advanced Safety and Security Features Come Standard
Another reason Airstream chose the RAM ProMaster chassis was for the numerous safety and security features that provide drivers with the peace of mind to enjoy every mile of the road ahead. Behind the wheel, drivers are immersed with safety features that deliver all-encompassing situational awareness and the navigational information you need to stay safe, relax, and enjoy the journey as much as the destination.
Standard Safety Features in the RAM ProMaster Chassis:
Digital Rearview Mirror and Surround View Camera

 

Blind Spot Monitoring

 

Drowsy Driver Detection

 

Traffic Sign Recognition

 

Crosswind Assist

 

Electronic Parking Brake

 

Rear Cross Path Detection

 

Front and Rear Parking Assist

 

Forward Collision Warning with Active Breaking

 

Intelligent Instrument Display Options

 

Front, Side, and Side Curtain Air Bags

 
Expert Navigational Assistance Becomes Your New Co-Pilot
The RAM ProMaster comes standard with an active drive assist system that is designed to help drivers accurately assess road conditions and anticipate the unexpected. This advanced system recognizes traffic signs, detects when drivers are becoming drowsy, assists with speed control and even applies the brakes if needed.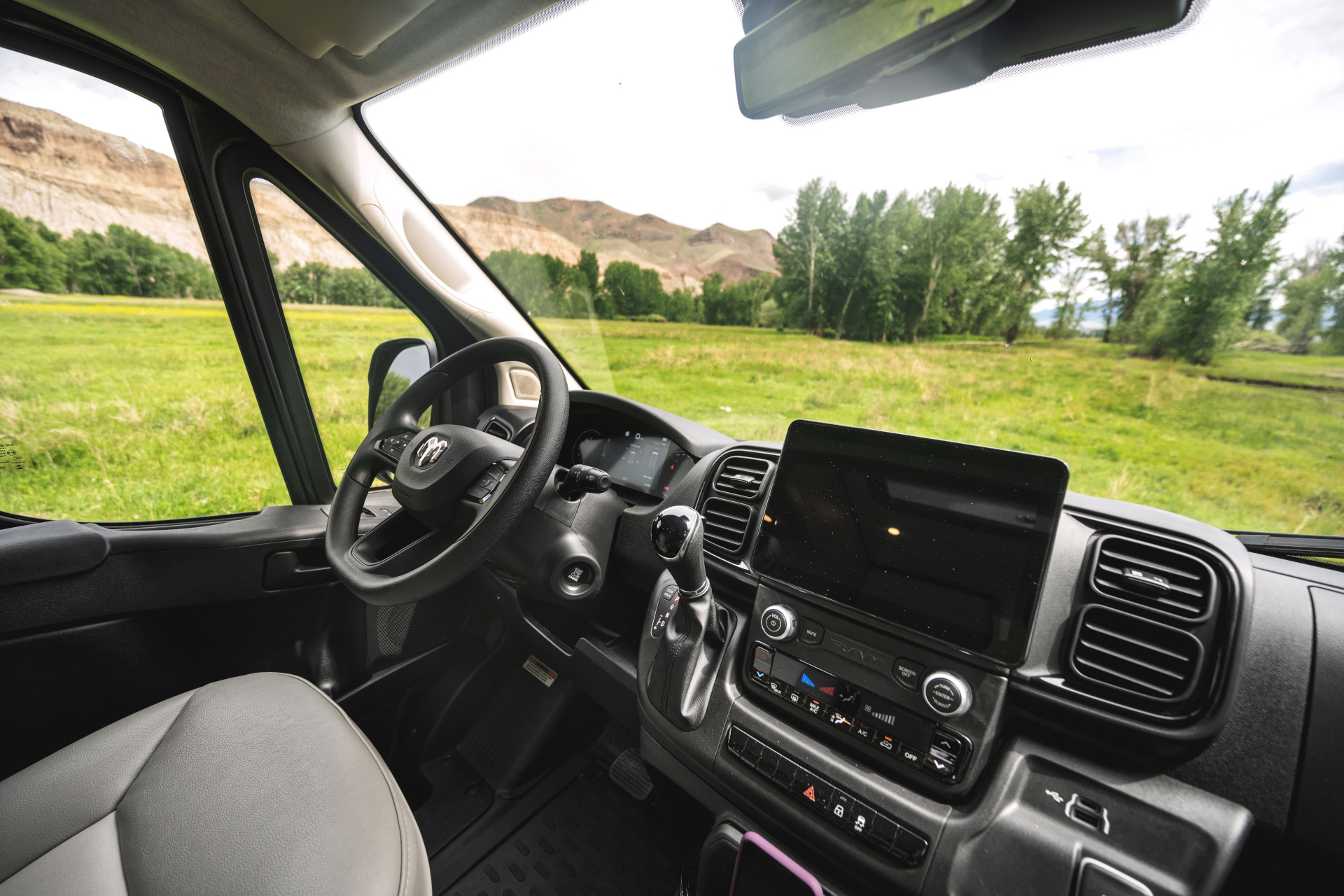 An auto-dimming digital rearview mirror with a built-in LCD monitor provides clear visibility to what's behind the vehicle. The LCD monitor automatically engages when switched on, giving drivers a real-time video stream from the rear-facing camera without impeding forward focus. For enhanced situational awareness, a surround view camera offers drivers additional visibility on both sides of the vehicle.
Blind spot monitoring with rear cross path detection helps to eliminate blind spots and avoid accidents — both moving forward and when backing up. As soon as vehicles enter a blind spot zone, the driver is warned with a visual alert that prompts you to adjust your position accordingly.
The RAM ProMaster 3500 chassis is also designed to help drivers take the worry out of tricky parking scenarios. Its ParkView® rear back up camera features dynamic gridlines to help you gauge proper positioning and distance while backing.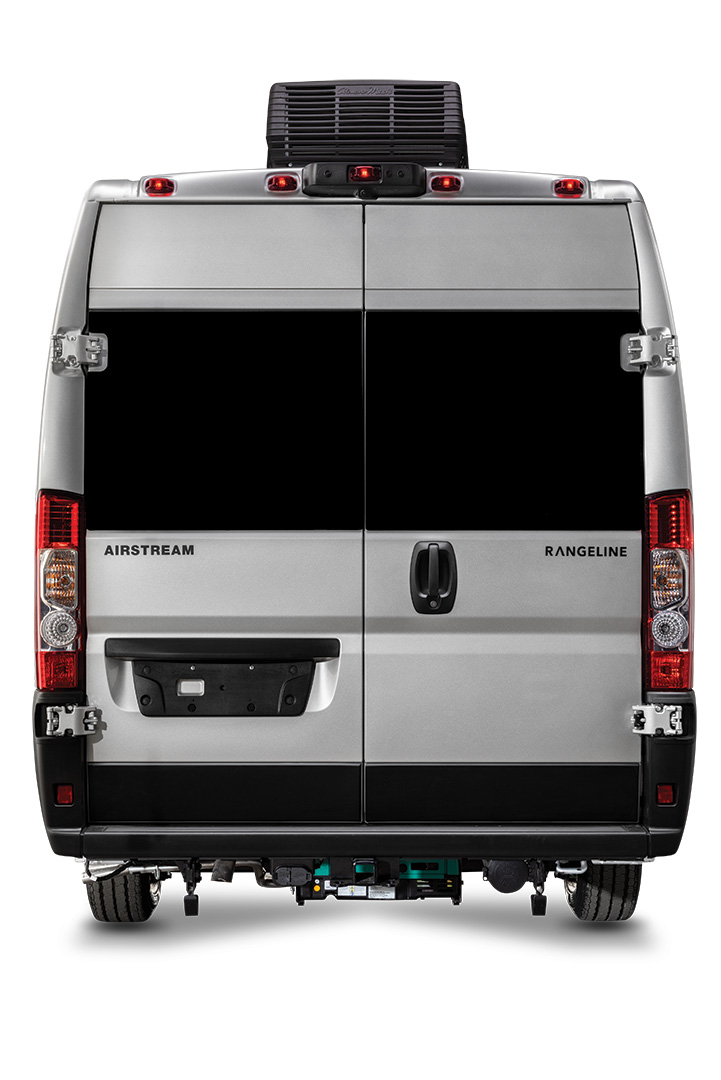 Forward collision warning with active braking is designed to prevent collisions with cars, pedestrians, and obstacles by providing audible and visual alerts to the driver when there's a potential hazard in front of the RV. And if you can't apply the brakes in time, Rangeline will automatically apply the brakes for you.
Within the cockpit, an intelligent instrument display panel helps to keep drivers informed of key vehicle and driving conditions. Built-in drowsy driver detection identifies signs of fatigue or waning focus and alerts the pilot when they should take a break.
Purpose-Built for Peace of Mind and Adventure
Airstream chose the RAM ProMaster 3500 chassis because it creates a reliable and safe foundation for the new Rangeline Touring Coach. Delivering robust capabilities, best-in-class functionality, and advanced safety features at every turn, this proven platform opens a new world of lifestyle and travel possibilities for the next generation of Airstream touring coach owners. If you're ready to feel the carefree confidence afforded by the RAM ProMaster chassis, visit your local Airstream dealership to see Rangeline up close.
Want to learn more our Airstream's newest camper van, including more safety features, interior décor choices, and exciting design features?
Take advantage of the Summer of Adventure Incentive program and save $5,000 on a new 2023 Rangeline.