American Dream U is on a six-week #EndlessCaravan road trip in an Airstream, visiting military bases and veteran-owned businesses across the country. Founder Phil Randazzo shares about ADU's time in Georgia and North Carolina visiting some incredible veterans and their families.
I've always loved the holidays, but experiencing the holiday season in the South—Georgia to be exact—was a wonderfully festive experience. The small town Southern store fronts and packed old-town shopping areas—plus the chilly weather—it felt like the holidays were in full swing. We spent a good portion of the wintry week in Atlanta and Athens, and with no formal events, we did a blitz of interviews. We'll post these interviews in full once we wrap-up the travels, but for now, I wanted to share just a couple of conversation highlights.
Have you ever wanted to get a boost of clean, scientifically-proven energy before a workout, or help your body recover post-workout? Well, we met with Kill Cliff drink founder, Todd Ehrlich, to get the inside line on his drinks and his time as a Navy SEAL.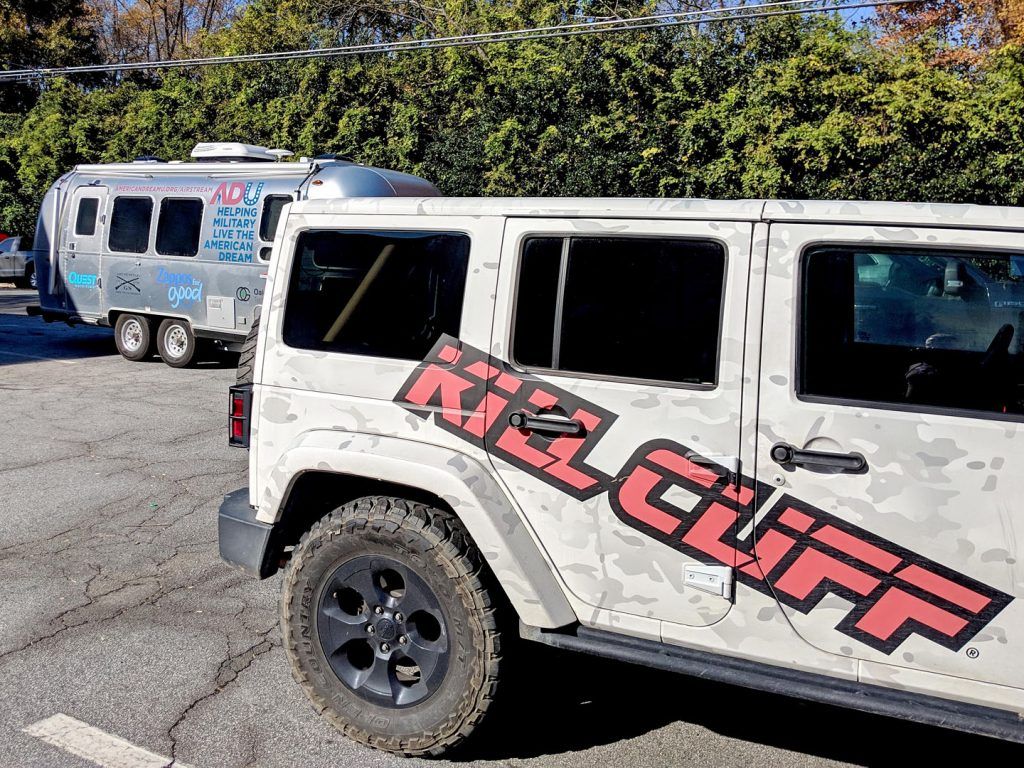 Todd let us in on how his military skills translated into opening several businesses. He left us basking in the glow of his companies' incredible atmosphere, where Veterans are the preferred hire.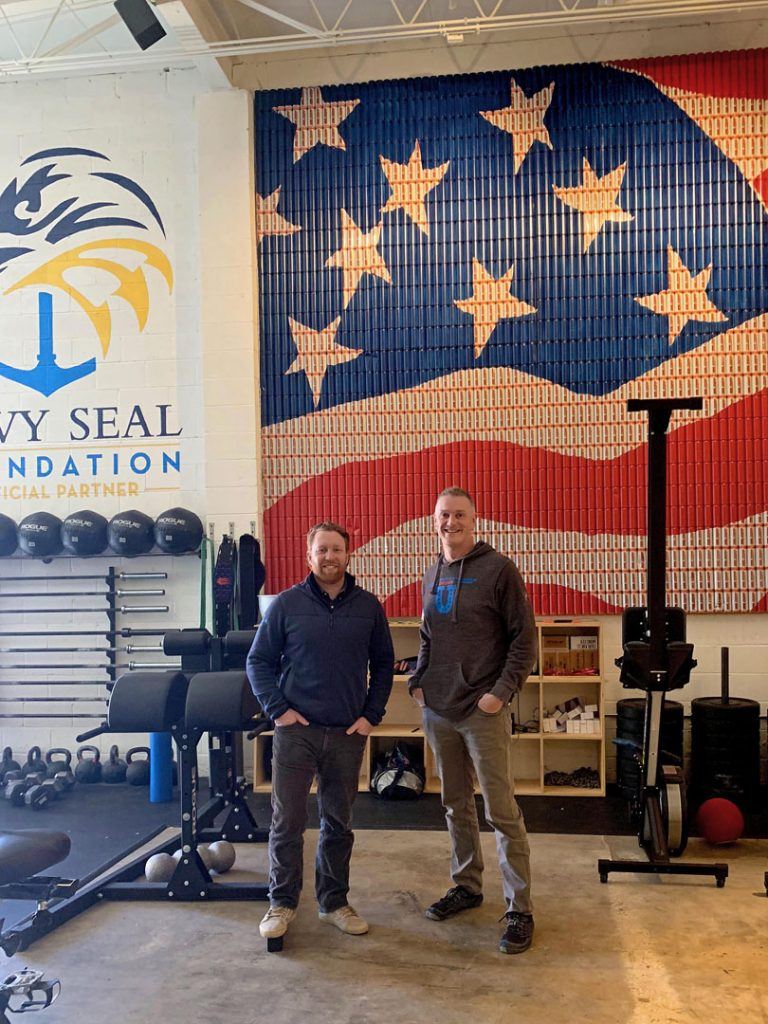 We were so, so impressed with how Todd has continued to support his roots; by donating a huge portion of his business revenues to the Navy SEAL Foundation. Todd is such an incredible Veteran with an awesome success story to share. (Gigi enjoyed our visit, too!)
After catching our breath from the passion and dedication of Todd's interview, we spent the afternoon with Garrett Cathcart of Team RWB. (Stands for red, white and blue!)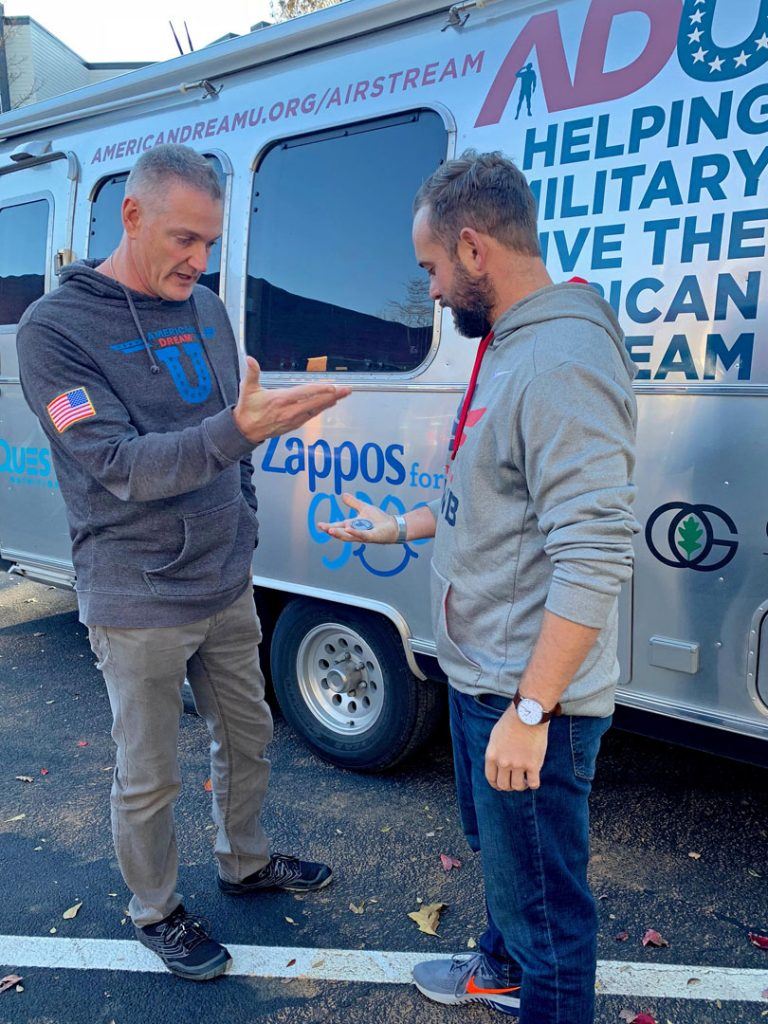 Garrett has been a prominent and instrumental Veteran nonprofit advocate for over four years. He is extremely passionate about setting up opportunities for veterans to have the same professional and social camaraderie of non-veterans as a support system for civilian success.
It gave me chills knowing that Garret's Team Red White and Blue has over 200 chapters around the world and the organization is over 95% volunteer run. And then the chills turned into awe as he shared both stories and memorabilia from his deployments in the Afghan and Iraqi wars. Words can't describe the emotions you have listening to a veterans story like this; it was truly a gift for the sharing season.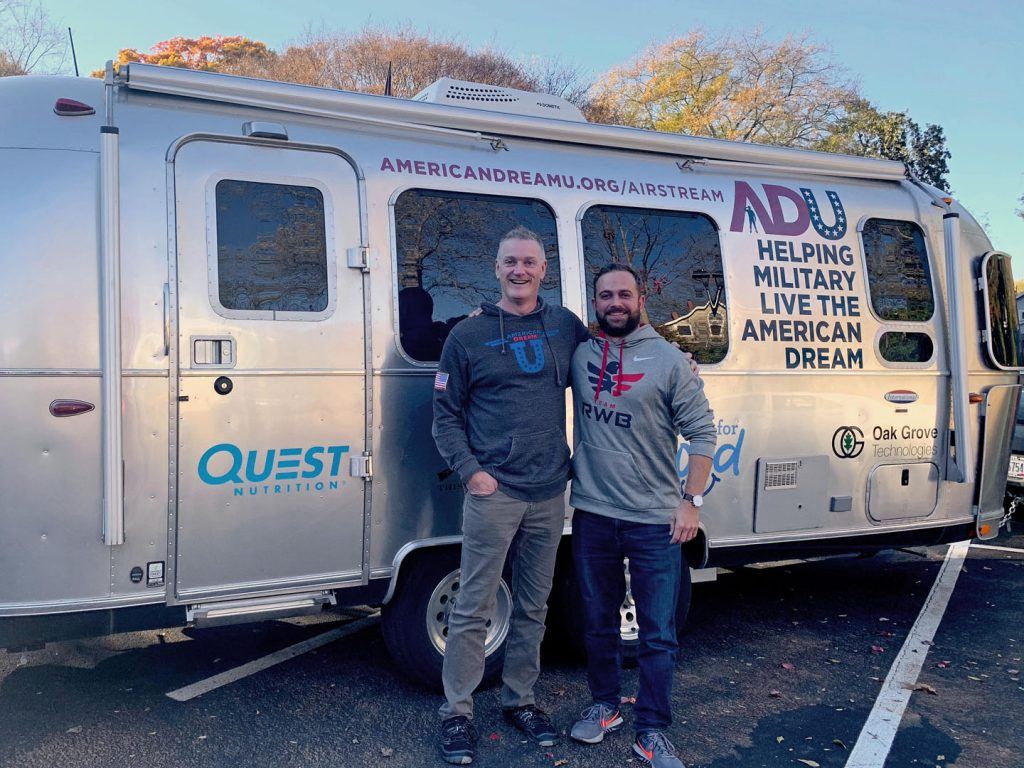 As we wrapped up our time in Georgia, we met with our own American Dream U speakers Rory and Adam Singer—both UFC fighters and MMA trainers. These guys are beasts and are running a successful training center where the energy just permeates your soul.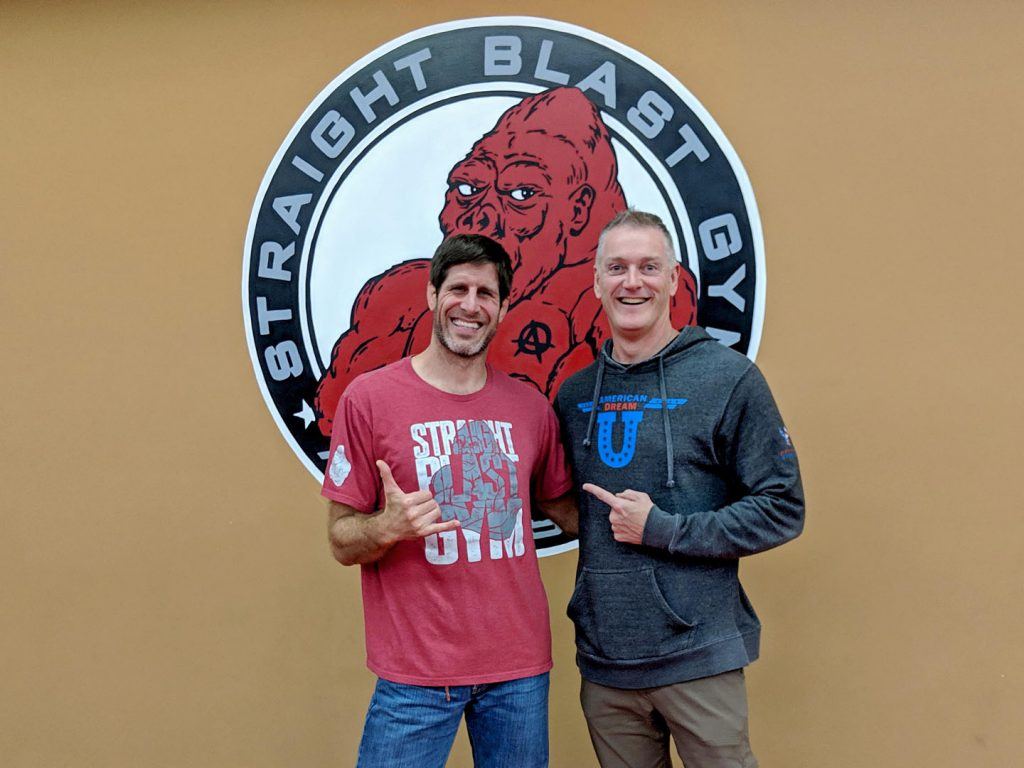 Being in that excitement—their typical Tuesday night—had me running from one veteran to the next during their training sets. Thinking about how many truly amazing veteran stories were in that same space at one time increased my wonderment of the military experience, transition and civilian successes.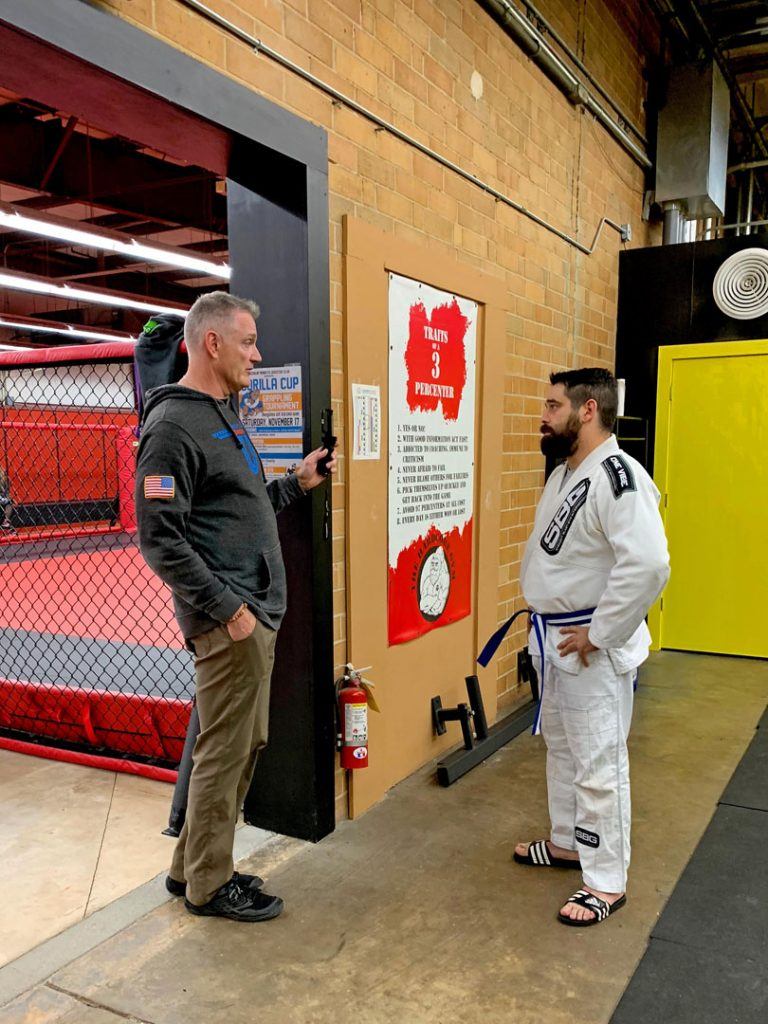 Although each interview was done away from others (so we could get good audio over the energy in the gym) a few of the Marines shared the same sentiments: although the gym and dedicated training teams did not replace the camaraderie of being in the Marine corps, with a defined tribe, it definitely gave a civilian parallel of support.
More than ever after those interviews, I felt that the loss of military identity and the ability to find a new tribe is absolutely critical to the transition processes these veterans have been through.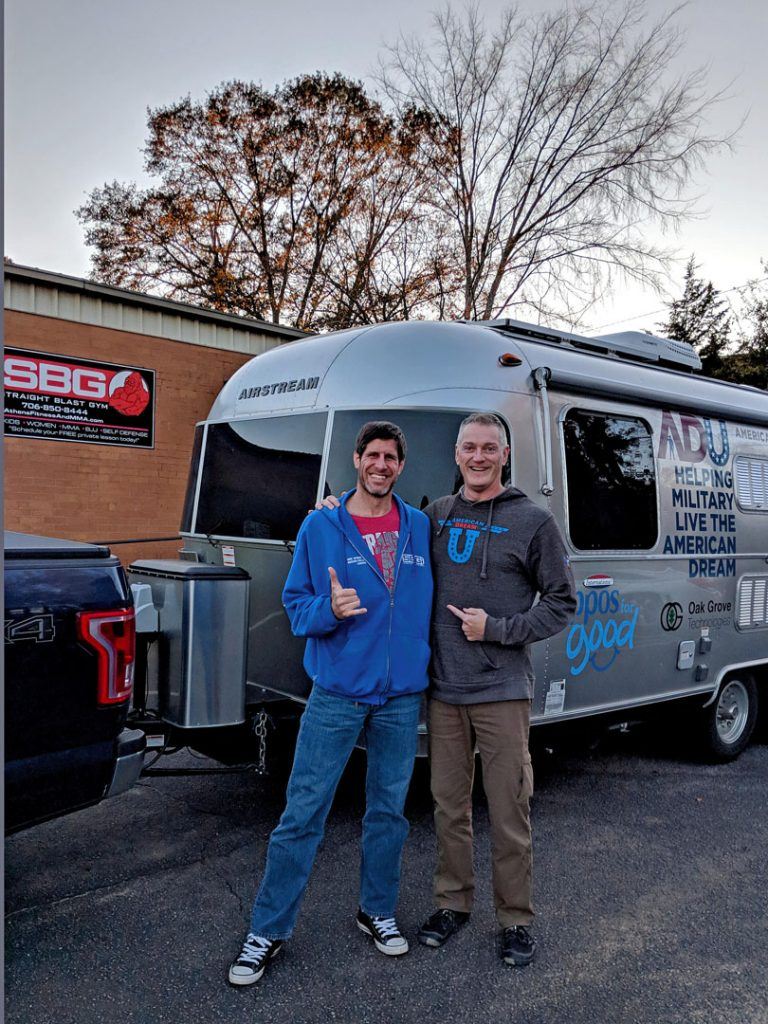 After Athens, we set out on a long leg of our trip to Asheville, North Carolina. It was our last few days in the Airstream, and we wanted to savor the experience and surroundings. We invited a couple of Veterans to join us – spending time with us and the Airstream in an Airstream's natural habitat (an RV Park).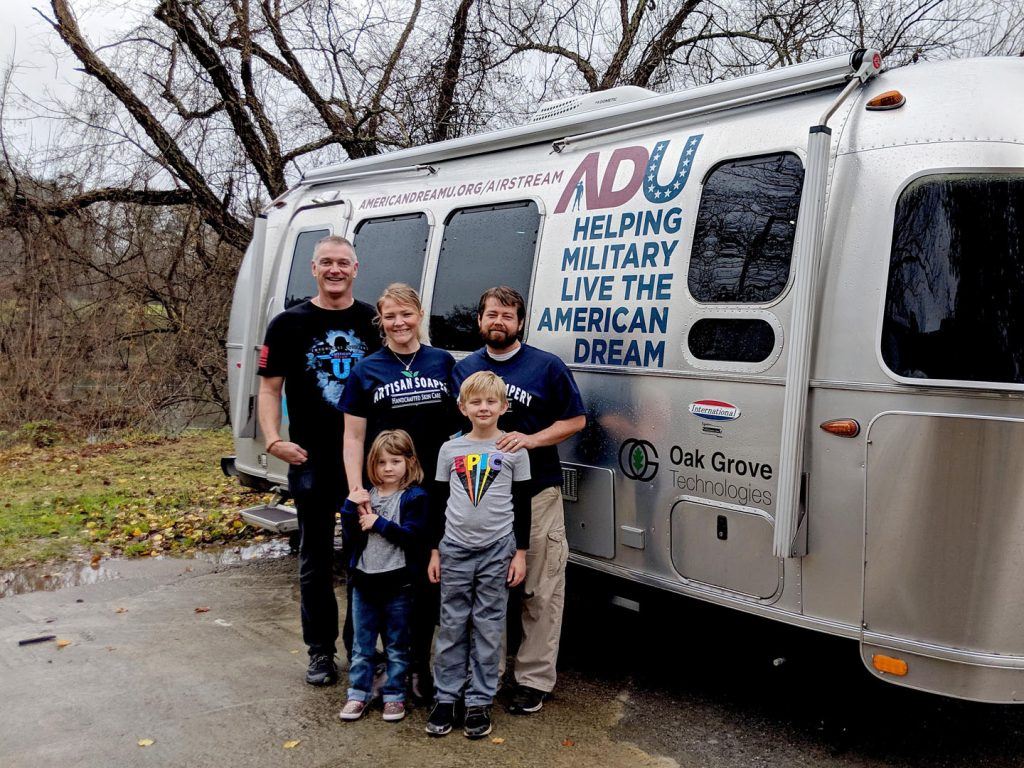 Soon, we'll have some videos to share on Katye Fredieu's soap company and personal triumph overcoming a severe motorcycle accident and being a military spouse and her family's tribe leader. Her story proves "Milspouses" are anything but average spouses. Check back at AmericanDreamU.org for more from Katye!
 Now, back to my Airstream travel tribe—the Airstream was comfortable and spacious for the inclement weather and the interviews we did inside. My wife Jennie has been sick, but still a trooper. Gigi settled in nicely with Airstream life.
I'm wondering if she even misses Las Vegas or if she thinks we just made our own transition to Airstream life? Any ideas on where to put the Christmas tree in an Airstream?