Haven't met Ryan and Danielle? Check out their Endless Caravan introduction and first-week adventures here.
Our Endless Caravan journey continued last week as we said farewell to Denver and began the trip to Breckenridge and Jackson Hole.
Our last nights in Colorado were filled with delicious food and good friends. We grabbed dinner at Sherpa House, a traditional Nepalese hidden gem where some of the wait staff have climbed Mount Everest as many as 16 times. After dinner, we returned to our Airstream to meet with Elliott Couch, the founder of Kids Lacrosse the World. We love supporting Elliott's nonprofit in its efforts to improve the lives of kids through growing the game of lacrosse. Meeting with Elliott was a reminder of one of our favorite parts of traveling— the opportunity to meet up with and be inspired by business partners along the way.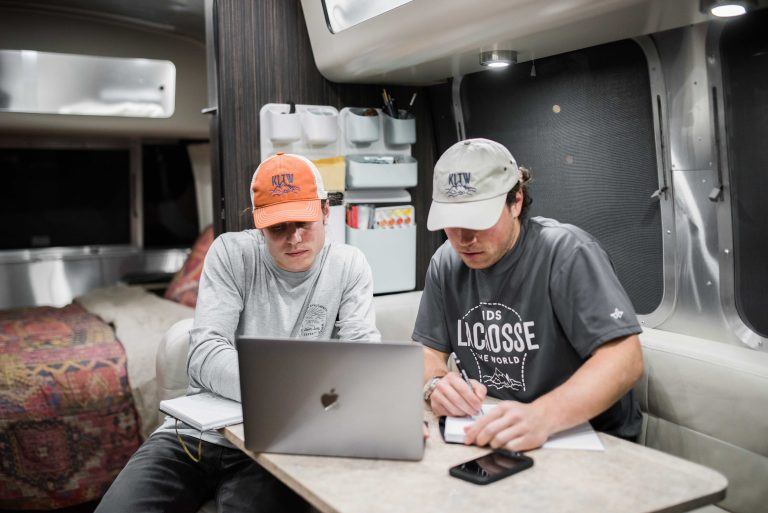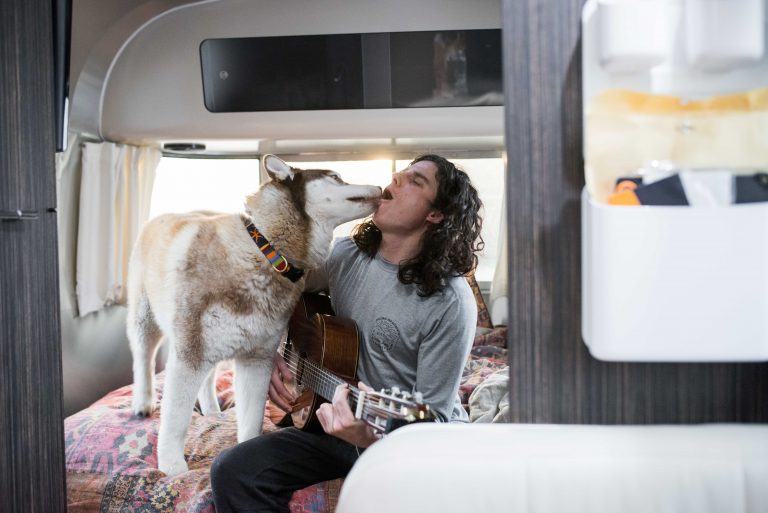 As photographers, we spend a large amount of our day watching the light, and we even plan our daily activities around favorable light. Our drive to Jackson Hole was no exception. Our goal was to leave Denver at the perfect time to put us on track for arriving to Bridger – Teton National Forest right at sunset. The photos below can speak for themselves— but I think we nailed it!
Grateful for our friends at Fireside Resort, we found our spot for the next week or so and set up shop. Upon arriving, we were blown away at the beauty of the property's entrance. The driveway is lined with tiny homes, with the campground in the back. And we even saw two moose upon entering town! Sure, locals see moose all the time— but we are still awestruck every time they cross our path.
Drained from the long drive, we spent our first day in Jackson relaxing, recouping and running errands. Thanks to our friends at Teton Rental, we had our first official propane refill. Then, we wandered around town and grabbed some grub at Liberty Burger. The dogs were eager to run around, so we were grateful to find the local dog park sponsored by PAWS of Jackson Hole.
Anxiously awaiting the upcoming snow, we took advantage of the clear day we had on Thursday and took the pups to get some more exercise. It was incredible to see how naturally the dogs took to pulling Ryan on his snowboard. I guess that's what hundreds of years of Husky breeding will do – mushing is permanently ingrained in who they are. Once tuckered out, we left the pups behind to rest and took a self-guided snowshoe tour of Grand Teton National Park. Special thanks to Tubbs Snowshoes for outfitting us with killer shoes, as well as Burton for all the outdoor gear keeping us warm and active.
After watching the snow forecast all week, we finally hit the mountain on Friday. If you've never been to Jackson Hole— GO! There's a tram that fits 100 people and scales the mountain from the base all the way to the summit for nine minutes. It feels like a Disney ride! Honestly, we had butterflies in our stomach. The wind was ripping and visibility was zero, but the pure adrenaline of hitting the peak of Jackson for the first time was invigorating.  We spent the day seeking out hidden powder stashes, navigating the trees and chasing the fresh snow all the way into a gully (accidentally.) While the memory was priceless, we could have done without the booting out.
Coincidentally, the Stowe Slugs hockey team was in town that night to play the Jackson Moose (Senior A Division). We couldn't believe that the Stowe hockey team (our hometown) happened to be in Jackson at the same time as we were. Despite a Stowe loss, the game was an absolute blast, and we made plenty of new friends— despite us rocking our Vermont hats.
With lots of snow expected to fall in Jackson Hole over the next few days, you can expect to find us there. Next up on the journey: Yellowstone!