The Bambi is the quintessential Airstream model — fun, sleek, timeless, and it carries a 90-year history of excellence on a single axle. While originally earning its namesake in Africa during the famous Cape Town to Cairo caravan in the early 1960's, the Bambi continues to prove mile after mile that its strength and sure-footedness not only gave it its original name, but provides a way of life for those who travel with it across the globe today.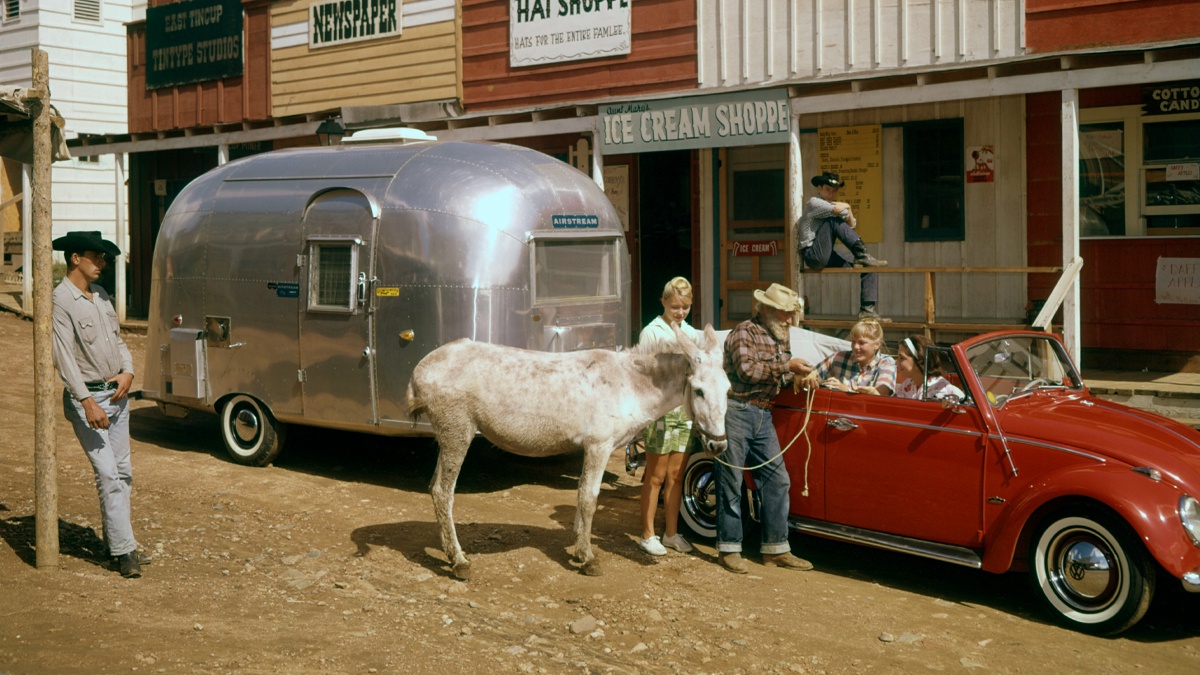 It's possible you thought that all Airstream models that have a single axle are known as the "Bambi". While the nickname was assigned to any model that had one axle for several years, Airstream made the official transition in May 2019 to having a dedicated badge for the Bambi family. We also reintroduced the Caravel back into the lineup and consolidated the single axle Flying Cloud floor plans (19CB and 20FB) to these new models. The Bambi and Caravel contain all of the same four floor plans but differ quite a bit with the features and options they offer.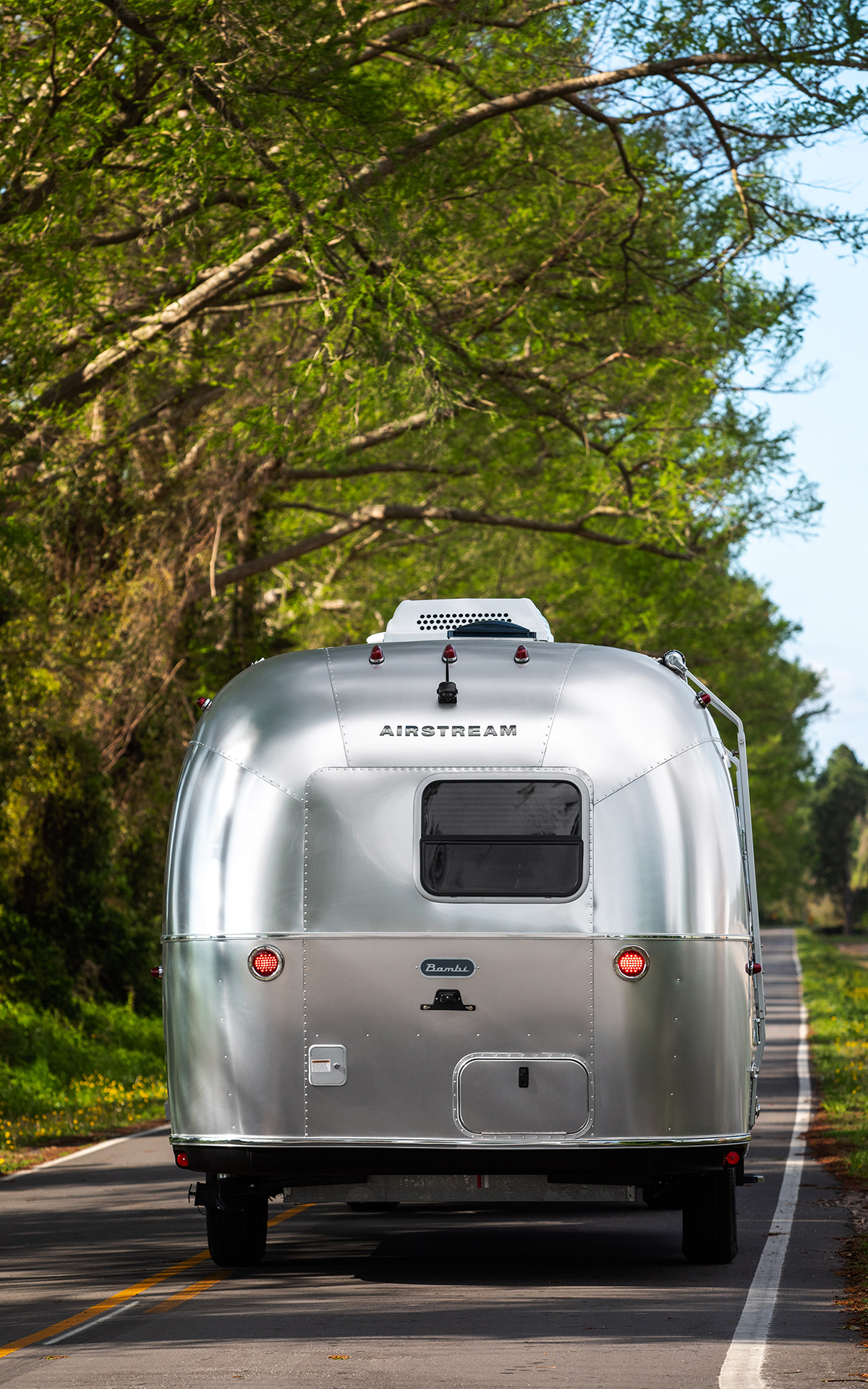 With a quick look you know that Bambi is the shortest, most affordable traditional travel trailer within our lineup. The shorter size comes with benefits such as being lightweight, compatible with a long list of SUV's and trucks that most people already have in their garage, and it's an ultra-towable trailer that is safe and highly efficient. Additionally, reduced length also makes for easier parking at home or on the road where space might be limited.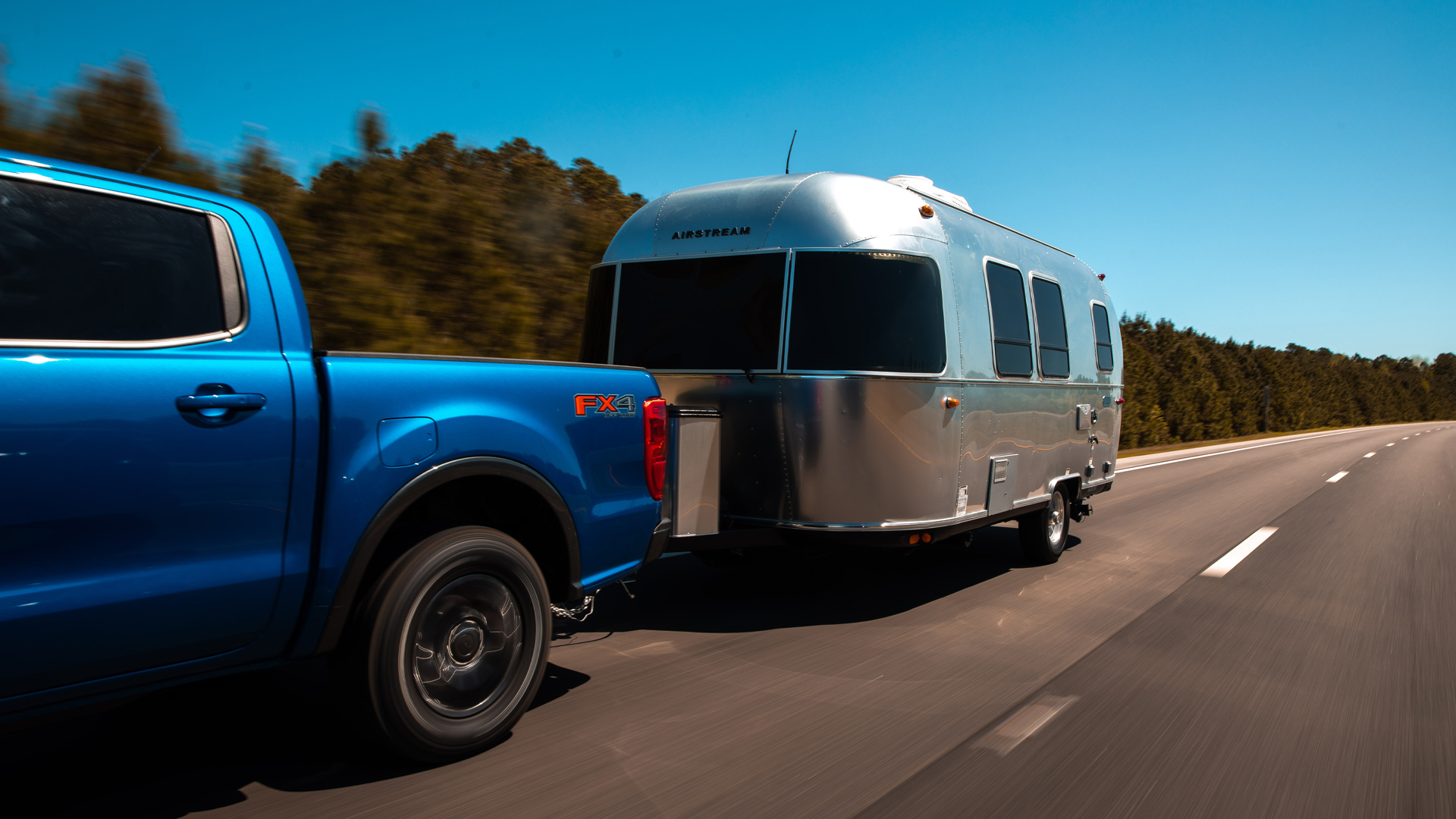 With lengths ranging from 16 to 33 feet and quite a few floor plans to choose from with similar lengths, it can sometimes be challenging to narrow in on the right choice. Our travel trailer comparison tool will help with the first big steps in your decision process. It's possible you've narrowed in on the Bambi model line and have yet to decide which floor plan is right for your lifestyle. We're going to cover the differences, similarities, and things to ask as you're shopping for a tiny Silver Bullet.
Exploring the Bambi Inside Out
How They're Similar
Whether walking through a Bambi at a dealership or shopping online, you'll notice that all Bambi trailers actually have more in common than what sets them apart. The similarities, like with any specific model line, define the colors, materials, fixtures, design, and catalog of features that are included on the inside and outside of the shell. 
Aluminum, All Around
The engineering and manufacturing ingenuity of the iconic travel trailer has many benefits and it's well known that the semi-monocoque Airstream shell is made of aluminum, but did you know that aluminum is intentionally used throughout several other areas of the trailer? The entry door handle, LP cover, door hinges, tail lights, entry and screen door, underbelly, window frames, wheels, roof, and mini blinds are all made of aluminum. This 100% recyclable and resilient metal increases product durability, reduces overall weight, and has maintained its glimmering appeal since the early 1930's. 
Other similar features include: 
Steel entry step -

Includes a slip resistant pad and is powder coated to help prevent rust.

Aluminum blinds
2 Burner cooktop (LP gas)
JVC Stereo with quality speakers
An HD TV  -

Enjoy a 12v/110V LED HD TV with a DVD player or switch to over-the-air channels with the omnidirectional antenna. When plugged into shore power the TV will utilize the 110V power, but when running on battery, the TV will be powered with the 12v outlet so you can enjoy your shows when disconnected from 110V power. 

Air Conditioner with a heat strip -

A 13,500 BTU air conditioner with a heat strip and manual controls is included. 

Handcrafted Italian laminated cabinetry
Spare tire
Battery box
Convertible dinette -

Seating for 4 and sleeping area for 2 children or 1 adult

LED interior lighting
Overhead storage with Tambour doors
Panoramic front windows with blackout shades
Refrigerator type -

Full electric refrigerators  (2-way DC/AC)

Seamless vinyl flooring
3M protective film

- Bambi comes standard with a durable 3M protective film strip to protect the aluminum from scrapes and scratches. 

Exterior Ports -

30 AMP shore power connection, water inlets, and cable connection

Exterior and Interior Width -

The exterior width of the Bambi line is 8' while the interior width is 7' 7".

Exterior and interior height with the A/C -

The exterior height including the A/C is 9' 3" and the interior height is 6' 4".

Moen faucets throughout
Interior Storage containers -

in areas where there's dedicated storage, we include plastic storage containers

4 manual stabilizer jacks
Sleep Up to 4 People -

All Bambi models sleep up to 4 people by having the master bed (2) and convertible dinette (space 1 adult or 2 children)

Tankless On Demand LP Water Heater
ZipDee patio awning with Weather Max Fabric -

Manual extension and retraction
See the full list of features side-by-side across each floor plan with our Bambi specifications comparison.
Interior Decors
The seating fabric in the Bambi is a fade and stain resistant, durable Performatex material that can easily be spot cleaned with water and mild detergent. Choose between Dune (tan) or Ocean (blue) to change the look of the dinette seating to your personal preference. 
How They're Different
The primary differences between the floor plans come down to the structure and general location of where the main living areas are located inside the shell. Depending on the size and length, some features such as the tank sizes, weight, net carry capacity, and even refrigerator size will change. For quick reference, Airstream floor plan naming conventions are done by model name + length + bed placement. Front bed or rear bed? Corner bed or corner kitchen? Let's get started.
Bambi 16RB = rear bed
Bambi 19CB = corner bed
Bambi 20FB and 22FB = front bed
Take a Video Tour of All Four Floor Plans
Bambi 16RB
Small but very mighty. Every inch of space is thoughtfully used to maximize the amount of flexible living areas so that you can have everything you need in our most compact size no matter where you're at in the Bambi 16RB. At opposite ends of the trailer are the front dinette and rear bed while the kitchen and wet bat are neatly placed in between.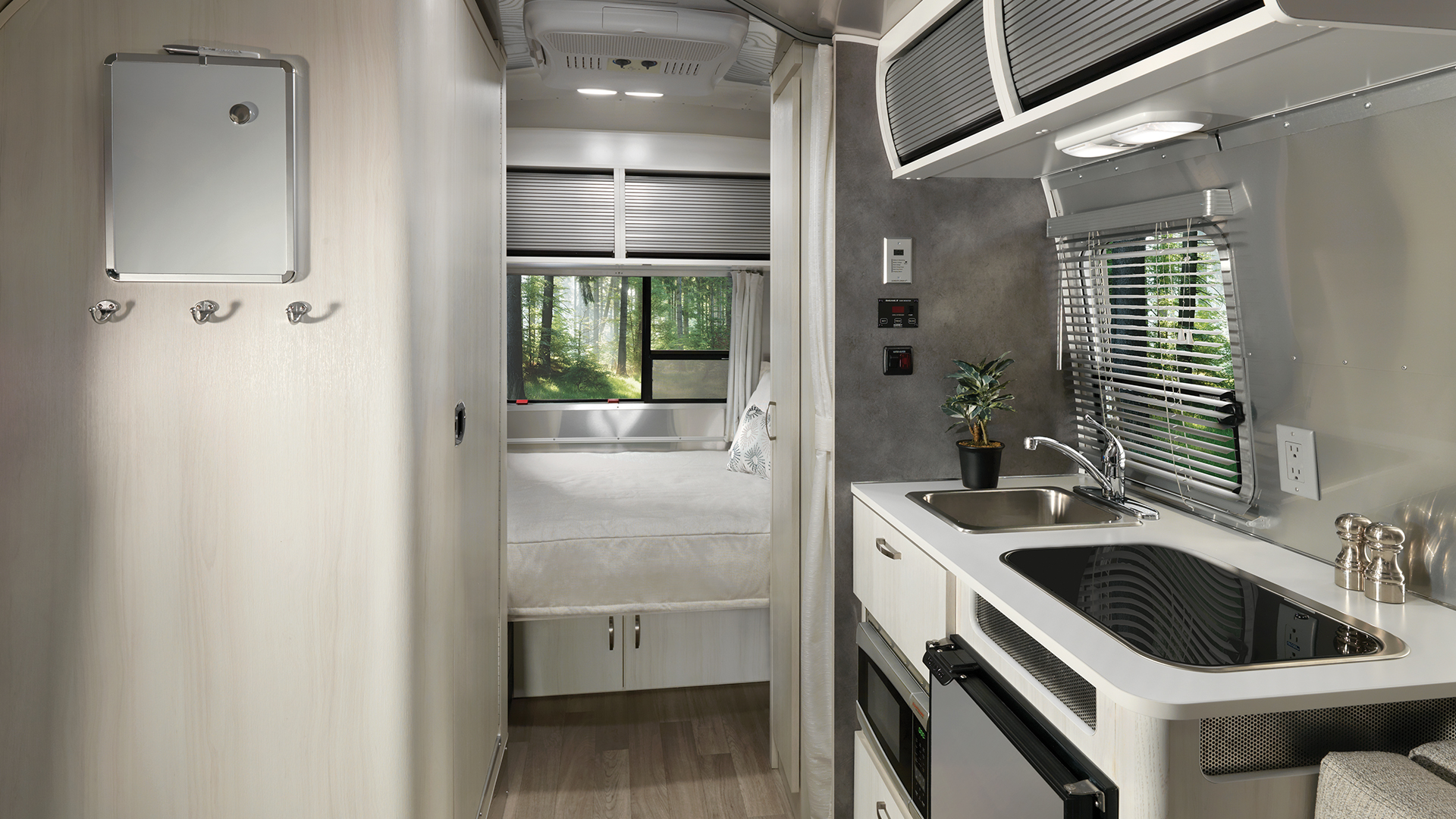 3 Ways the 16RB Stands Out
The shortest and lightest of any traditional travel trailer available. Measuring in at a length of 15' 11" and has a GVWR of 3,500 lbs.

Includes a combination waste tank (merging the contents of the gray tank and black tank in a single holding tank).

For space-saving purposes, includes a wet bath.

Bambi 19CB
With 11 windows, a corner bed and bathroom, and larger galley space, the Bambi 19CB takes several of the greatest features of the 16RB and makes a name for itself. The front entry and dinette are almost exactly the same as the smaller trailer but the rest of the layout is quite different. This floor plan is the shortest traditional trailer that has separate gray and black tanks as well as a separated shower and toilet.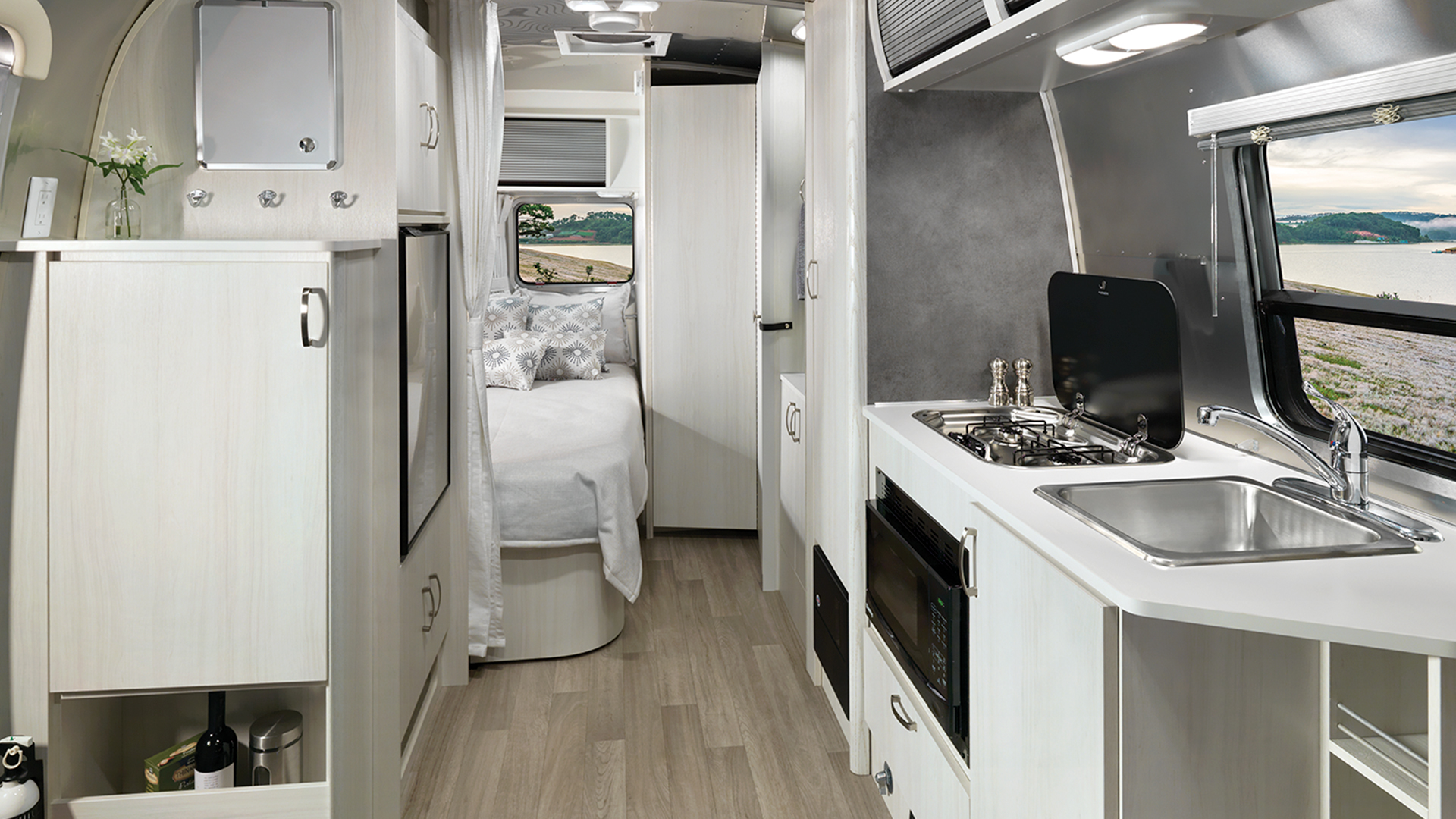 3 Ways the 19CB Stands Out
A corner bed that is situated in the rear of the trailer to create a comfortable nook.

A corner bathroom opposite of the bed that includes a space-saving bi-fold door. While not using the bathroom, the door swings in to create more living space. 

The standalone bedroom/bathroom sink and vanity.

Bambi 20FB
With yet another completely unique interior layout, the Bambi 20FB provides a floor plan that checks the boxes for quite a few shoppers. Featuring a master bed that is encapsulated in the front panoramic window, a 3-piece bathroom behind a door, and a vast kitchen space that spans almost half the length of the trailer, the 20' 5" trailer is ready for just about any camping excursion.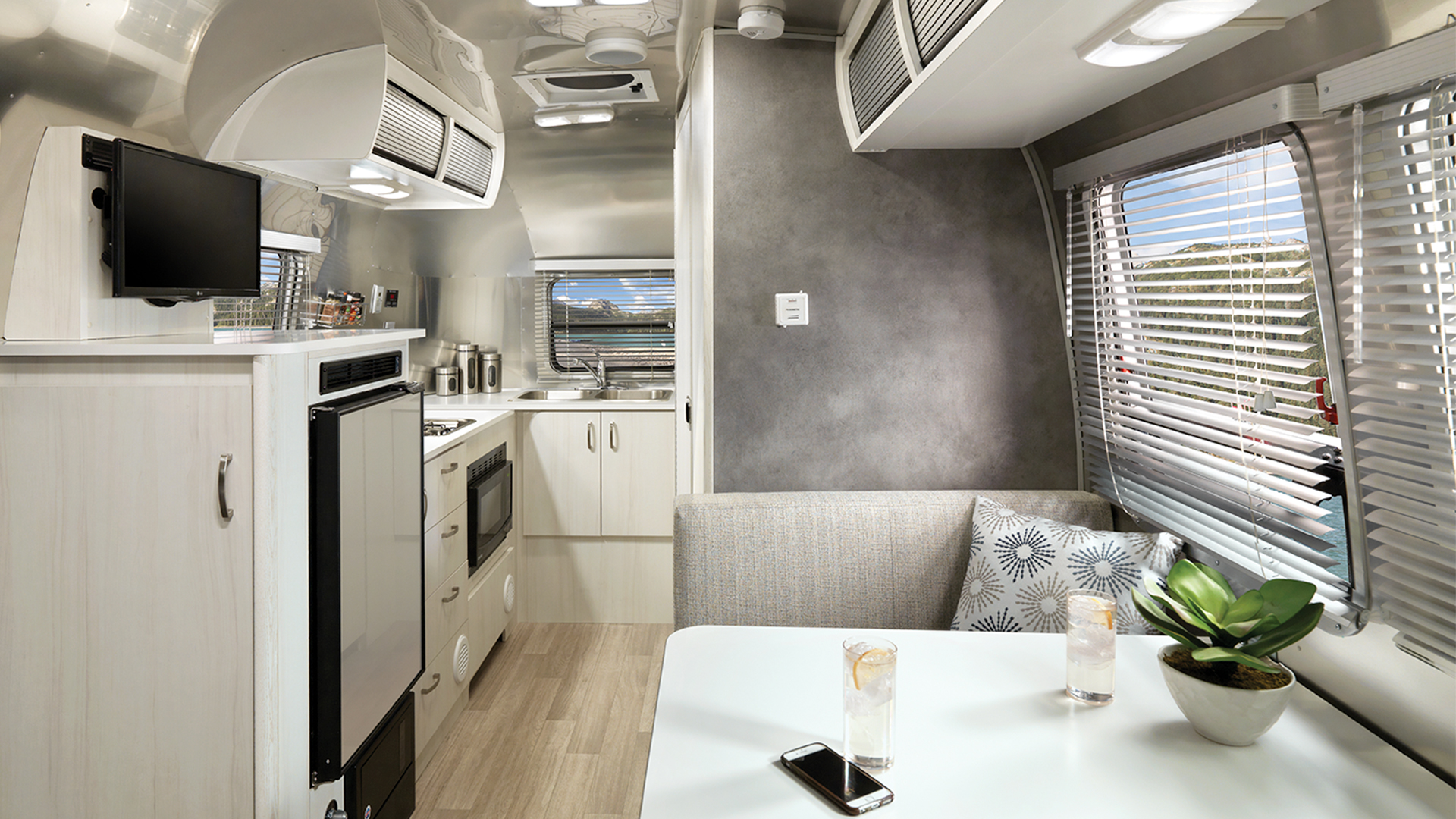 3 Ways the 20FB Stands Out
The most kitchen counter space for cooking, plus a double bowl sink.

Seamless dinette conversion without needing to move all of the cushions.

The shortest traditional travel trailer with a fully enclosed 3-piece bathroom.


Bambi 22FB
The longest small travel trailer in our entire fleet. The Bambi 22FB has become one of our most popular floor plans due to the "just right" feeling. The nimble nature of the single axle trailer meets full luxury with the amount of space and utility that this floor plan offers. It's also a close relative to the shortest dual axle travel trailer, the 23FB (available on the Flying Cloud, International, and Globetrotter).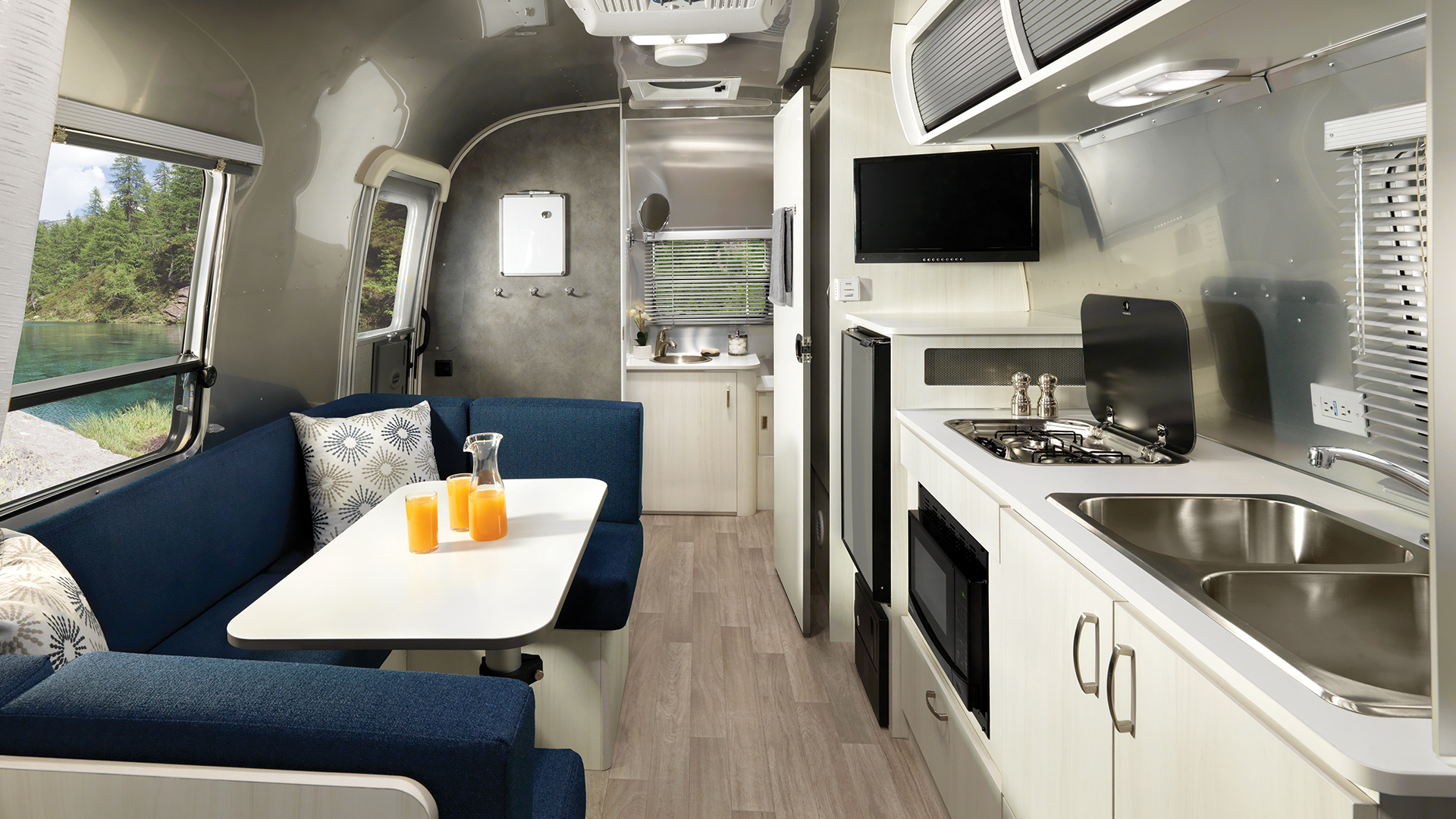 3 Ways it Stands Out
The largest 3-piece bathroom that fills the entire end cap of the travel trailer.

The U-Shaped dinette that converts from a table to a bed.

The vast 54" x 80" master bed that fits perfectly in the front of the trailer with hampers on each side. The side and panoramic windows allow tons of light to roll in while the blackout shades block it out when desired. Plus, the bed can be lifted up and held securely by struts while you access the lower storage compartments.

Questions to Ask Before Choosing a Bambi Floor Plan
Identifying the features and layout that fit your lifestyle are an exciting step in the RV shopping process. In addition to continuous product improvement, offering flexible choices while maintaining all of the comforts of home is one of our core objectives. Answering the 5 Ws (who, what, when, where, and why) will help with figuring out which trailer really fits into your life. Who's coming along for the trip? What gear can't be left behind? Where will we spend most of our time? What's our tow vehicle? When and why should we winterize?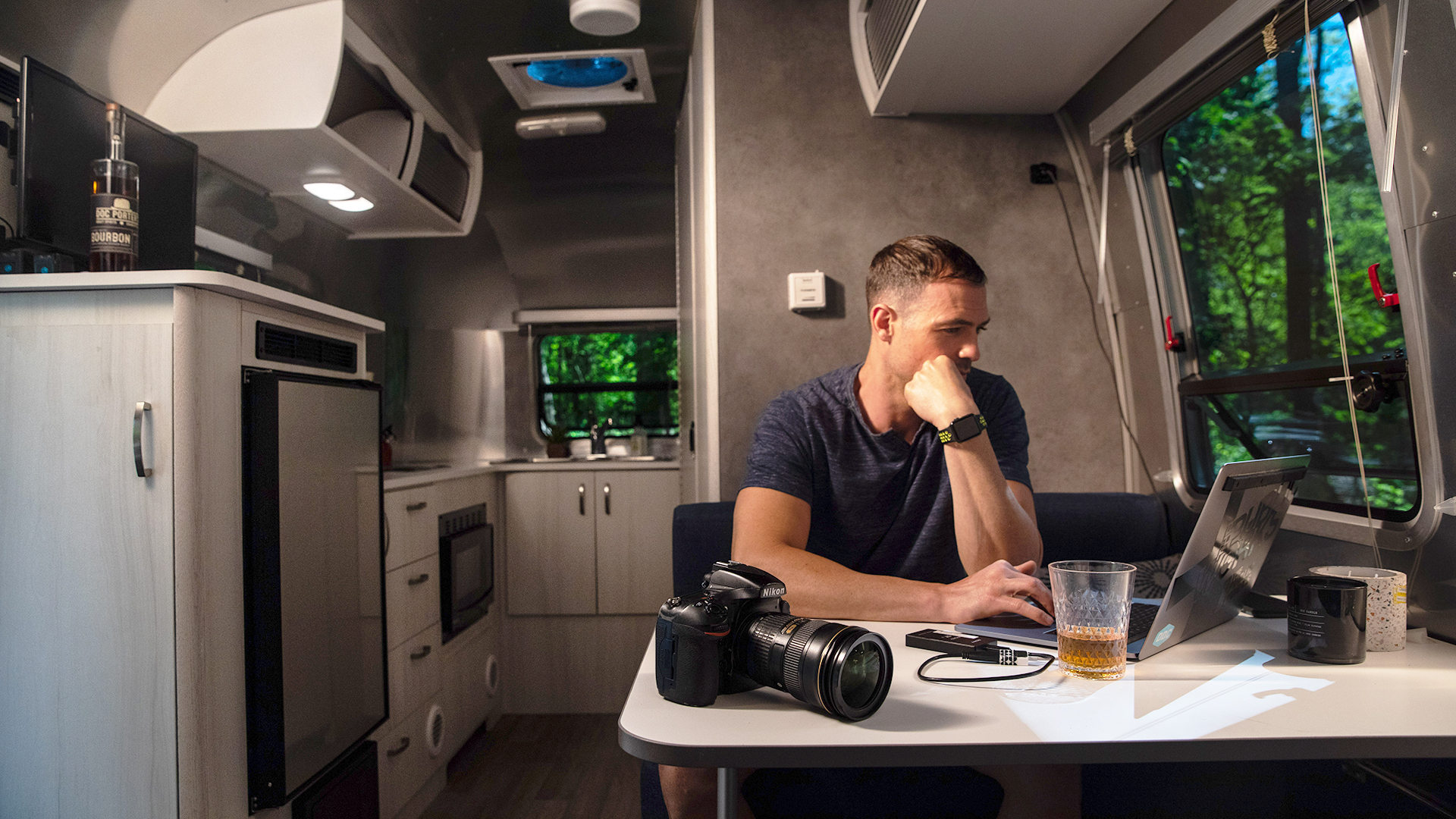 If you think you've narrowed in on the right model and floor plan, your nearest Airstream dealer can help with the next step which is "How?". From scheduling a safe personal walkthrough, discussing financing options, or deciding to join the Airstream community, your dealer is the answer on how to become an Airstreamer.