When shopping for a new Airstream travel trailer, the experience can be simultaneously exciting and overwhelming. With several variations in length, floor plans, and styles, it's easy to get anxious by analysis paralysis. How does Airstream name their models? What are the differences in the floor plans? Which floor plans are available for each model? I saw a layout I liked but how do I identify it? 
We have a variety of shopping tools to guide you to make the right decision, including a model configurator which offers the capability to build a travel trailer step-by-step based on your preferences. After configuring the travel trailer that is perfect for you, you can access a tailor-made brochure and choose to share it with your local dealer.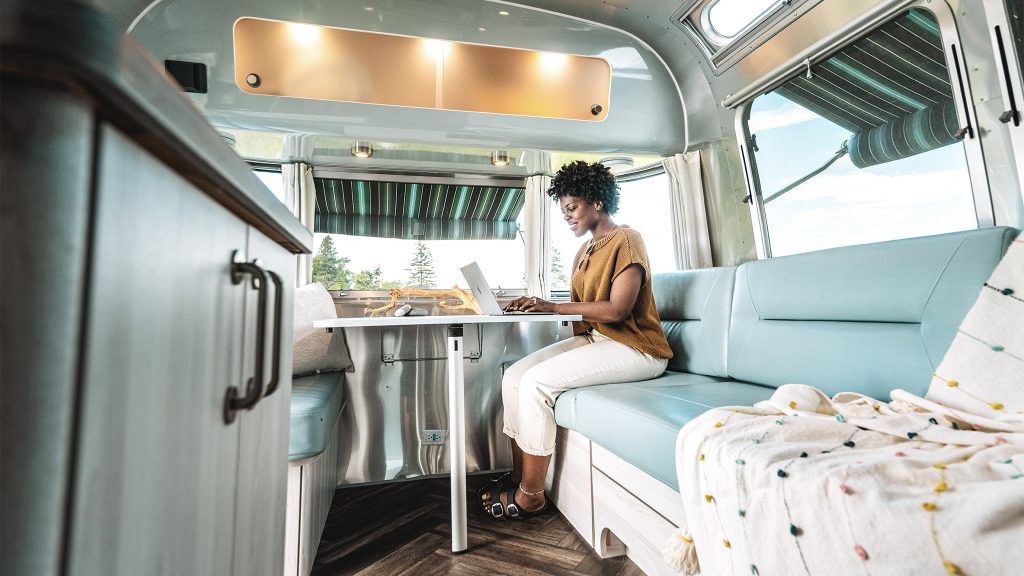 Understanding Airstream Travel Trailer Floor Plan Naming
Let's start with the basics. The names given to each Airstream travel trailer include four important pieces of information. Once you understand what those pieces are and what they tell you, it's easy to understand the inherent differences between every option available.
 [MODEL NAME + LENGTH + BED PLACEMENT + BED SIZE]

That's the convention, but let's break down each of the pieces in more detail.
---
Airstream Travel Trailer Model Names
Year to year, Airstream's offering of towable travel trailers evolves. New models are introduced, and sometimes models are retired. As of June 2022, we offer eight towable travel trailer models – from 33-foot residential-style double-axle travel trailers to lightweight, single-axle RVs. While the exterior design of the iconic "Silver Bullet" riveted aluminum shell doesn't change much from model to model, the interior of each Airstream reflects unique choices about décor, layout, and amenities.
At the top is the Classic Travel Trailer. The longest and heaviest of our towable offerings, Classic's interior features hardwood cabinetry, a residential-style kitchen, and luxurious bedroom and bathroom areas. No expense is spared, and Classic includes every comfort of home – and then some.
The Pottery Barn Special Edition Travel Trailer is the result of our partnership with Pottery Barn®. Featuring custom furniture based on best-selling Pottery Barn designs, tailor-made storage solutions, and a timeless design aesthetic, this travel trailer sets a new standard for a well-traveled life.
Globetrotter was first introduced in the 1960s and eventually retired. When it was reintroduced several years ago, it quickly became one of our most popular models. Featuring clean, modern, European-inspired design, Globetrotter is a work of art on wheels.
The International earns its name in the soothing design choices that balance a spacious, open, airy interior with the flexibility for great adventure.
Flying Cloud has long been the most popular and family-friendly Silver Bullet travel trailer in the fleet. With the most floor plan offerings, ample storage, modern technology, and a long list of optional features, this versatile model checks a lot of boxes for a lot of owners.
Caravel and Bambi are relative newcomers to the fleet, but draw inspiration from two classic models of yesteryear. Single-axle, lightweight travel trailers, Bambi is a great way for new Airstreamers to start their adventure, while Caravel takes the experience to new heights. Read more about the 25 core differences that differentiate the Bambi and Caravel.
While Basecamp departs from the iconic Silver Bullet shape, they are no less versatile and stunning. Ready for any adventure – both on and off the road – Basecamp opens up all sorts of possibilities for campers of any level of expertise.
Questions to ask yourself when choosing an Airstream model:
What's your preferred interior style?

What kind of amenities are you looking for?

Are you interested in the rear hatch?

What's your vehicle's maximum towing capacity or what vehicle do you need to safely tow the Airstream?

Where and when are you looking to travel?
Travel Trailer Length
After the model name comes the travel trailer's length. Airstream offers towable travel trailers at lengths ranging from 16 feet to 33 feet. While length is often a matter of budget and comfort, it also contributes to the overall weight of the travel trailer, the number of axles, the amount of storage offered, and the amenities you'll find inside. 
The single-axle Silver Bullet models – Bambi and Caravel – have four lengths ranging from 16 to 22 feet (16RB, 19CB, 20FB, and 22FB). They are easy to tow with a variety of vehicles, including most SUVs and small trucks available on the market today which means you may not have to purchase a new tow vehicle. Basecamp is available in both a 16 foot and 20 foot floor plan which are very similar overall, however, there are key features that separate them.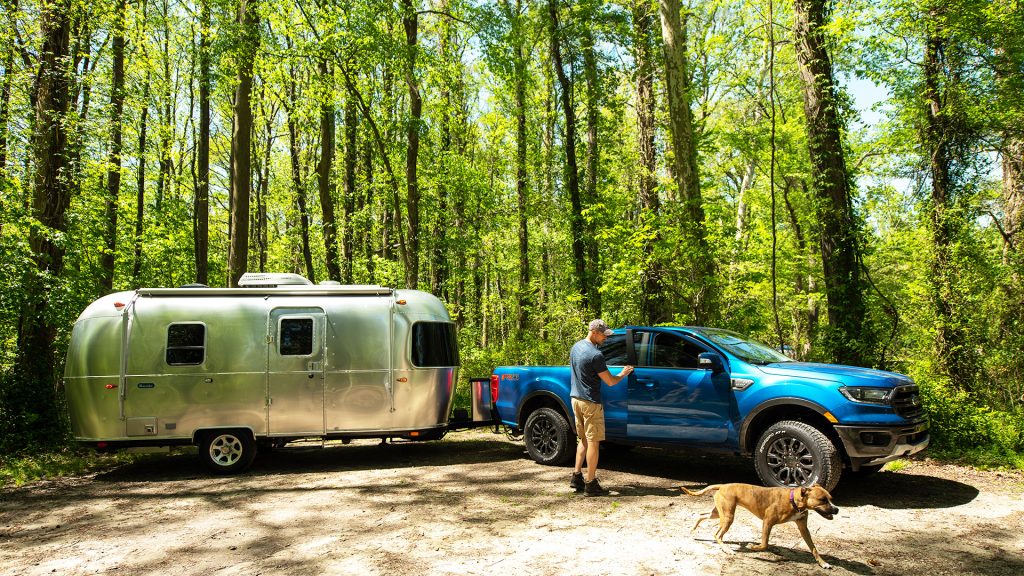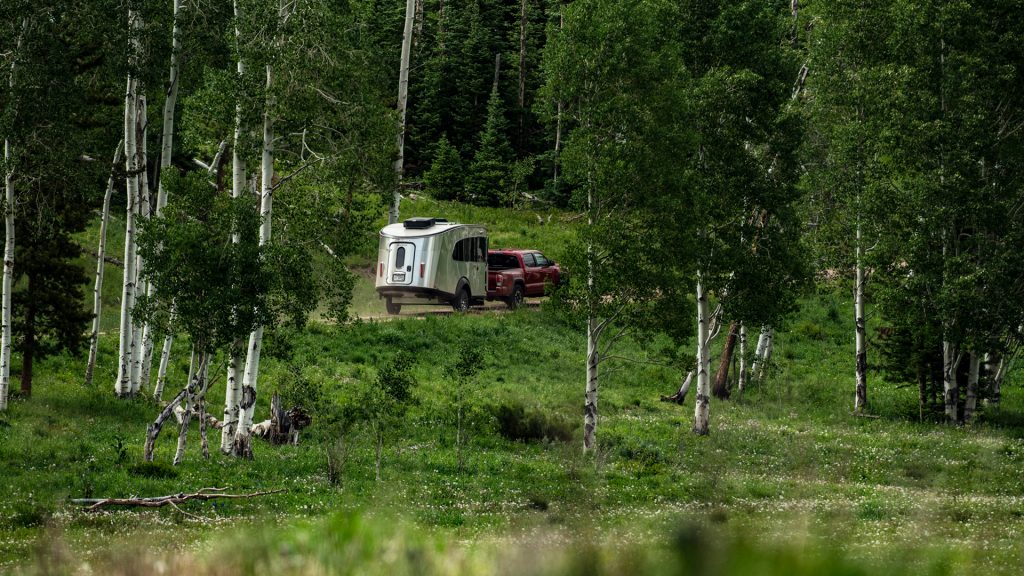 At 23 feet and above, the travel trailers include dual axle designs to help distribute weight for a smooth towing experience.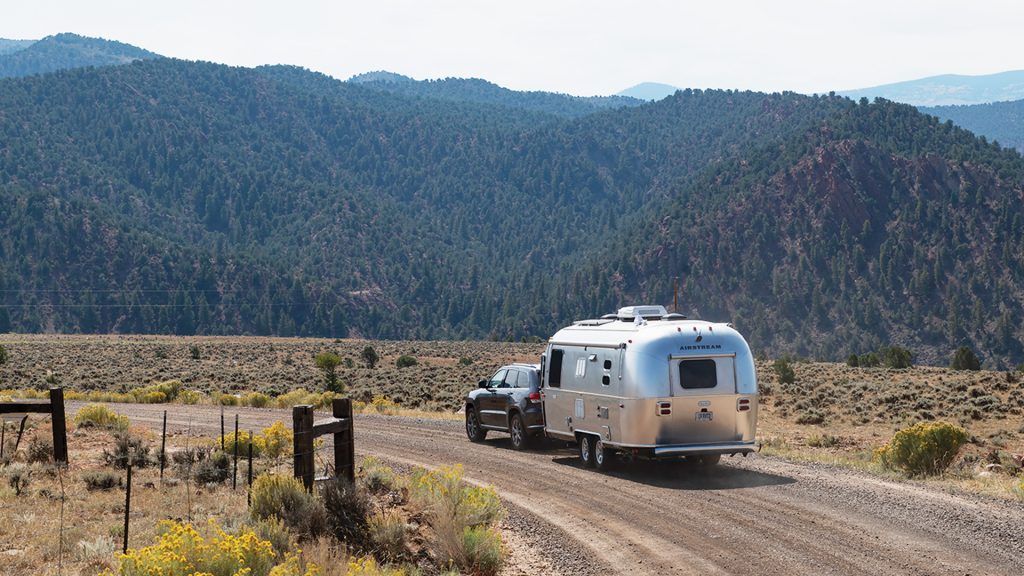 In general, the shortest Airstream travel trailers have wet baths which combine toilet and shower facilities. Moving up in length, you'll start to see separate bathroom and shower facilities, more storage, and more kitchen counter space. With double-axle RVs, the amenities increase exponentially with length. In the 23- to 27-foot range, you'll find more areas to lounge, spacious bathrooms, increasingly large pantry areas, and work-from-anywhere features. And in the longest travel trailers, there are often separate eating, lounging, and sleeping areas, as well as residential-style bathrooms that wouldn't be out of place in an urban apartment.
Things to ask yourself when choosing a travel trailer length:
What are your space needs, and will they change in the coming years?

What's your comfort level in towing longer trailers?

Will you be working from the road?

How much storage do you need?

Do you have a budget to stick to?

How many sleeping positions are needed?

What are your off-season storage options?

Are you ok with a wet bath, or do you want dedicated shower and bathroom facilities?
Travel Trailer Bed Placement
After the model name and length, you'll find a two-letter code designating the placement of the bed. Each layout is defined by where the bed is located – in the front, in the back, or in a corner. These locations are designated by the codes:
FB = Front Bed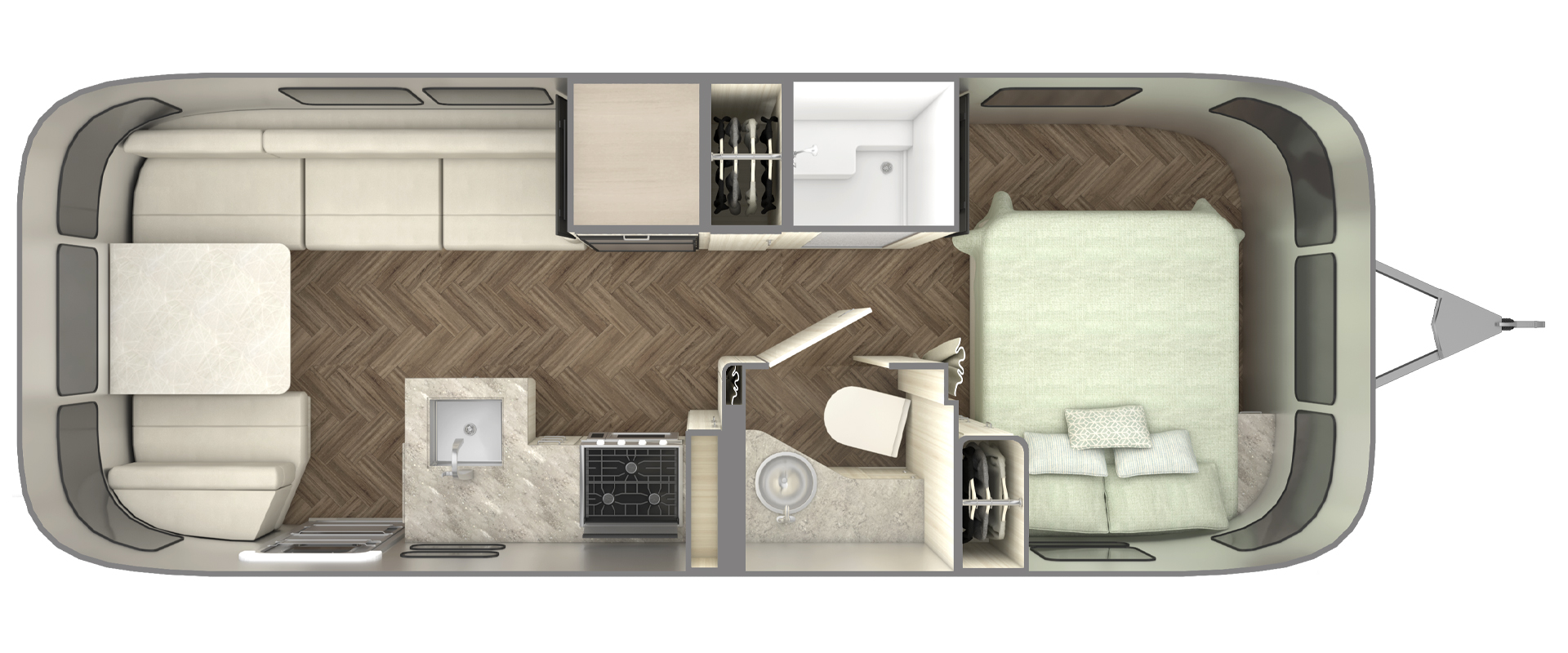 RB = Rear Bed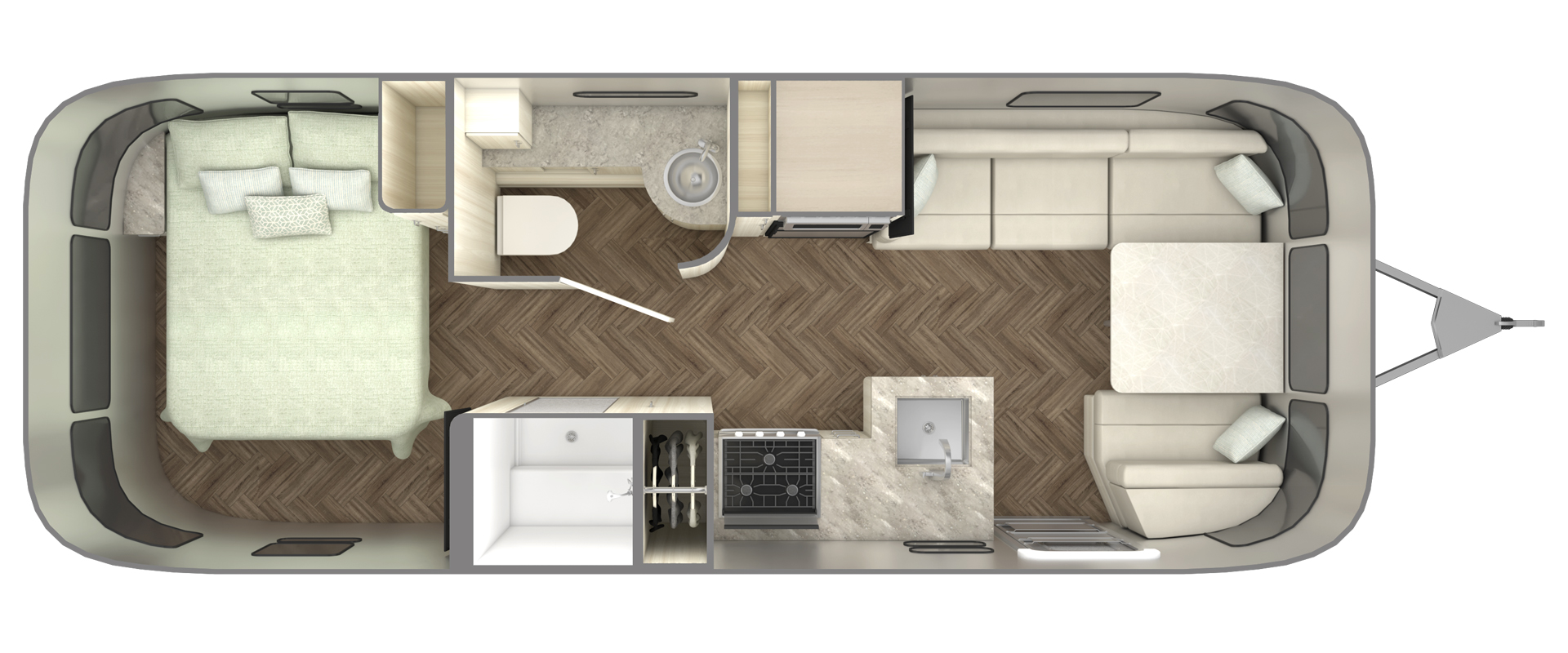 CB = Corner Bed

While the location of the bed may not seem important at first, as you research which travel trailer is right for you, you'll find many subtle differences that begin with where the bed is located.
When it comes to Basecamp, you have the choice of a 16-foot floor plan with a convertible bed in the rear or a 20-foot floor plan with even more sleeping options.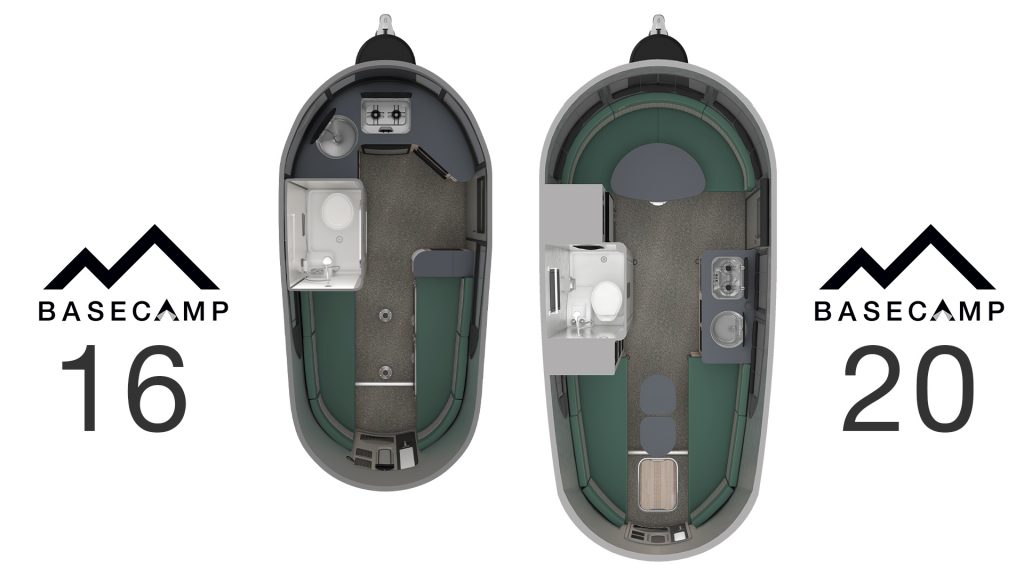 Things to consider when choosing bed placement:
How much time will you spend in lounging or living areas? 

Where do you want your bedroom window facing when you're parked at a campsite? Many campsites require you to back into the parking spot and a lot of Airstreamers prefer the bedroom windows to be facing away from the main road – and toward a better view of nature and the surrounding scenery. This also gives you more privacy, facing away from busy roadways and foot traffic.

Bed placement also determines where the main entry door is on the exterior of the travel trailer. In most cases, beds and doors are opposite of each other. 
Travel Trailer Bed Size
Finally, Airstream's naming conventions may or may not include a bed size. If no bed size is listed (i.e., Flying Cloud 25FB) then the bed is a queen-sized bed. Some models offer twin beds as an optional feature (i.e., Globetrotter 25FB Twin), and others offer bunk options (in the Flying Cloud 30FB Bunk, and as optional features in the Flying Cloud and International 25FB and 27FB ). As with other options, bed size is a question of personal preference. But the bunk options on Flying Cloud are popular for families who want extra bed space for kids and guests or open storage options above the beds.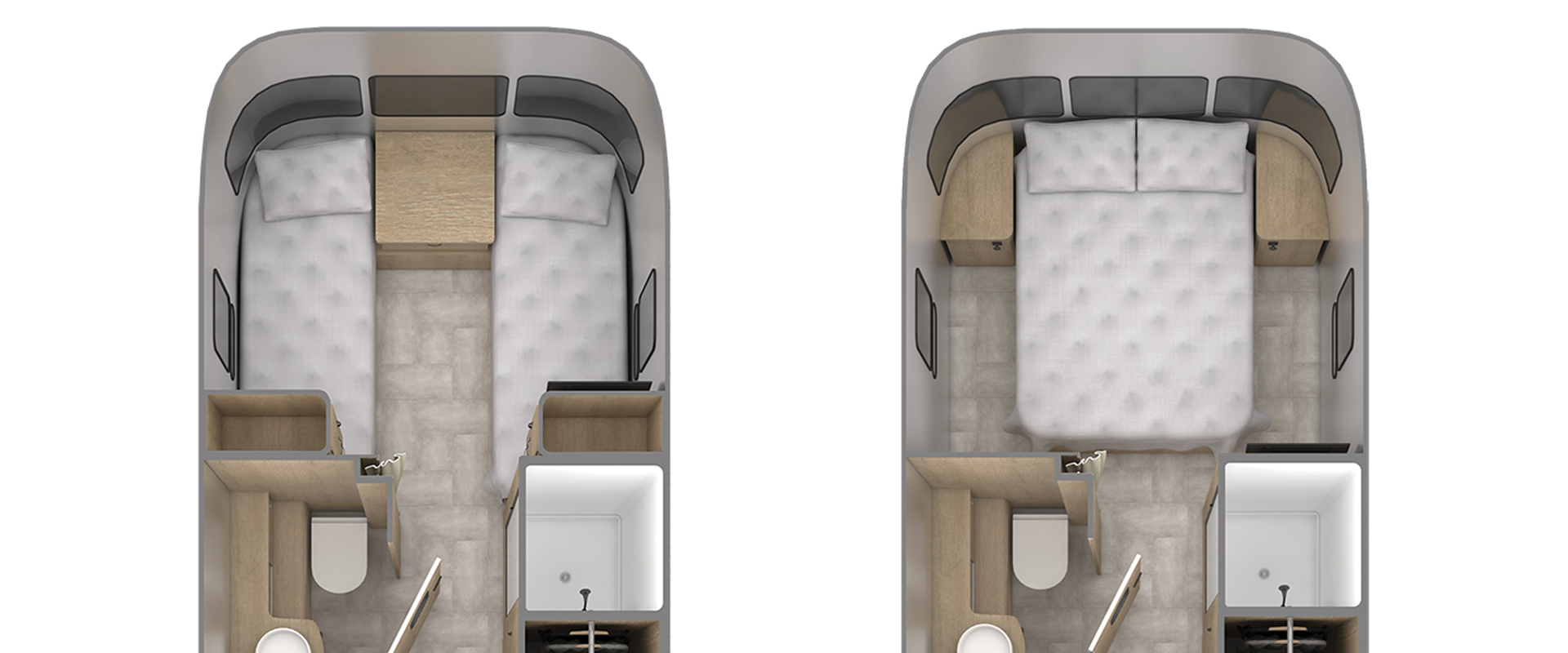 Left: Optional Twin Bed. Right: Standard Queen Bed.
Things to consider about bed size:
Are you traveling solo or with a partner?

Do you need bed space for kids or guests? Read more about measuring sleeping capacity, types of lounges, and convertible sleeping spaces in travel trailers.

The Classic Travel Trailer has powered bed options: Both the twin bed and queen bed option are powered. 

Do you want a bunk for extra sleeping space?

It may seem a bit awkward at first if you travel with a partner, but choosing a twin bed option has a 3 major benefits (depending on your travel use cases, of course). First, twin bed configurations extend the floor space that is available which makes the travel trailer appear longer and opens up walking and preparation space. Twin bed floor plans also create an addition lounging or working space during the day when you don't necessarily want to lay in bed or if you want to create your own space while your partner is set up at the main dinette. Lastly, you can make trips to the bathroom in the middle of the night without disturbing your partner.

There's no shortage of options when shopping for the right travel trailer model and floor plan. Continue learning about what makes each model special or connect with your preferred dealer to scheduled a personal walk-around.