In 2020, we introduced two new single-axle Silver Bullet models to the iconic lineup. With Bambi and Caravel, you have the choice of four different travel trailer floor plans — all optimized to be lightweight, have a low center of gravity, a timeless and beautiful aerodynamic aluminum shell, and built for easy towing with a wide range of vehicles.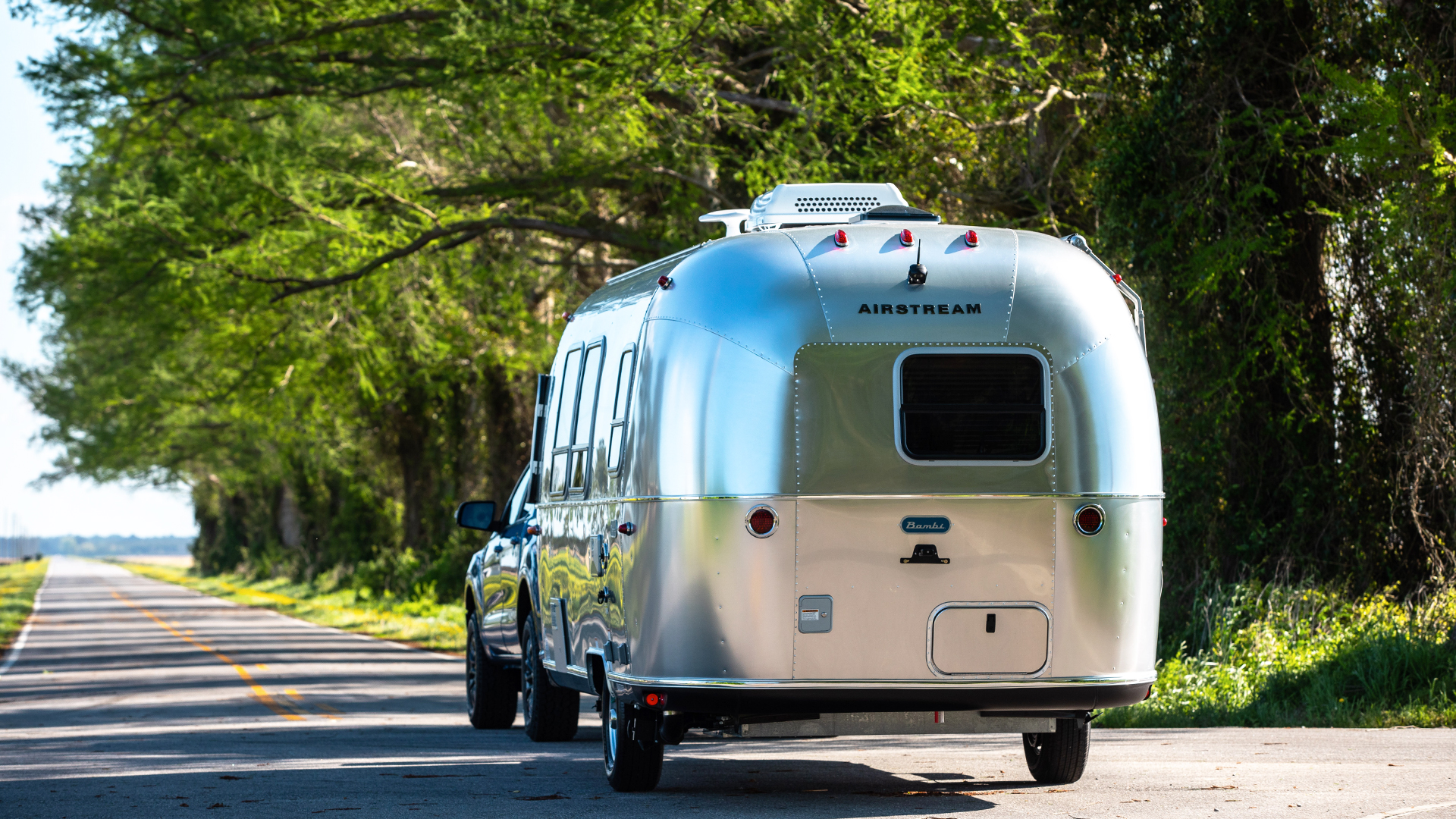 While Bambi and Caravel share multiple similarities from a quick glance, there are several features that truly set them apart from one another. Come along on the side-by-side comparison highlighting the differences between the Bambi and Caravel models with General Manager of Travel Trailers, Bryan Melton.
How Are Bambi and Caravel the Same?
First and foremost, the Bambi and Caravel are both available in all of the same 4 floor plans which is important because they look extremely similar from the outside. From the 16RB, 19CB, 20FB, all the way to the 22FB, there is no difference between the floor plan (layouts) between these two models. If one of these floor plans strikes your interest while shopping around, it's good to know that it's available in a completely different décor as well as feature set. No matter which floor plan matches your style and preference, all of them are optimized to be towed by just about any SUV or truck on the market today.
As with all Airstream silver bullets, these two models include a low-center of gravity, a semi-monocoque shell construction, and the same durability, stability, and quality standards that Airstream has been known for since 1931. Additionally, both adventure-ready models have a heated underbelly, Nev-R-Adjust brakes, torsion suspension systems, and a temperature reducing one-piece white aluminum roof, and Airstream Connected pre-wire so you can seamlessly get set up with Wi-Fi while traveling.
Airstream Bambi vs. Caravel
An Overview of Differences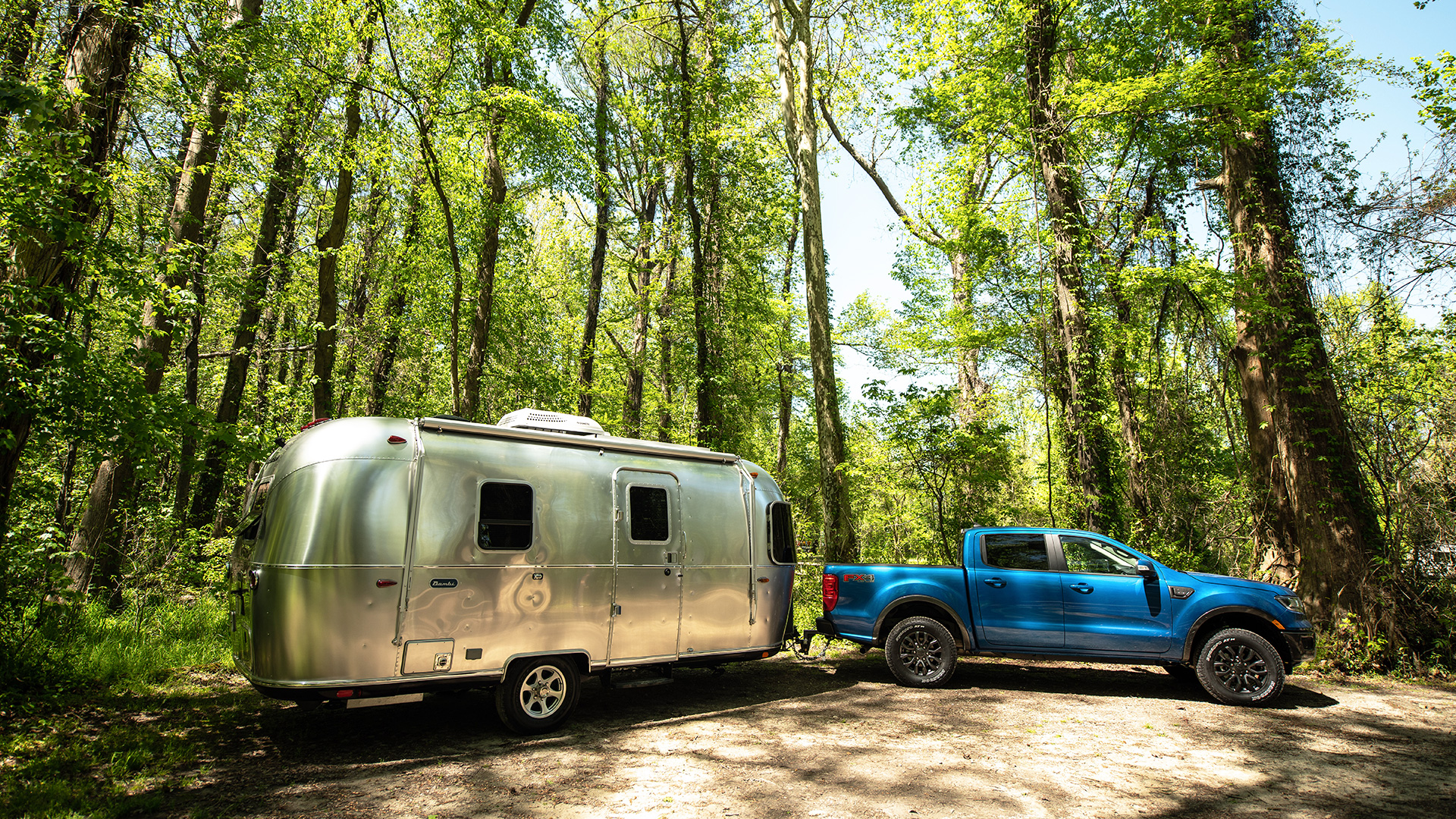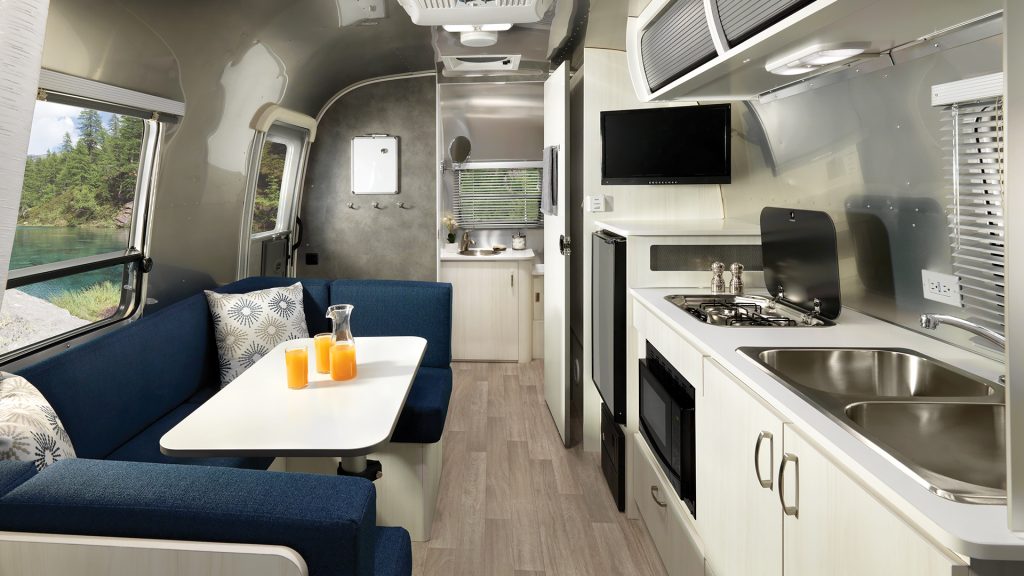 Former Airstream Director of Sales C.H. Manchester put it best, "Bambi means speed. Bambi means stamina…and, most important of all, Bambi means full Airstream quality, engineered and proportioned and thoroughly travel-tested." Bambi was built with the same inspiration and intentional features to give campers and travelers the ability to easily get up and go anywhere but still have every comfort of their home along for the ride.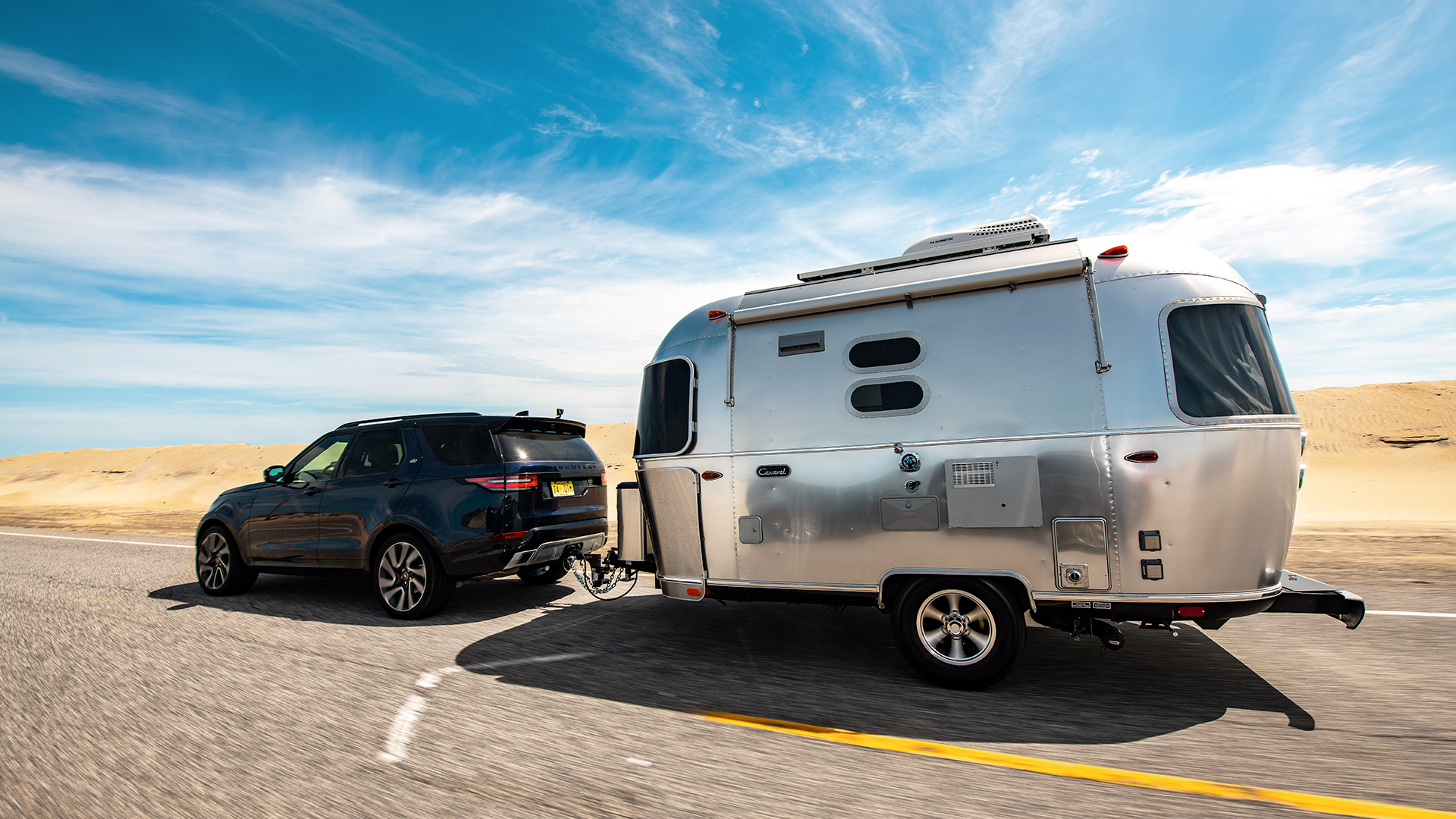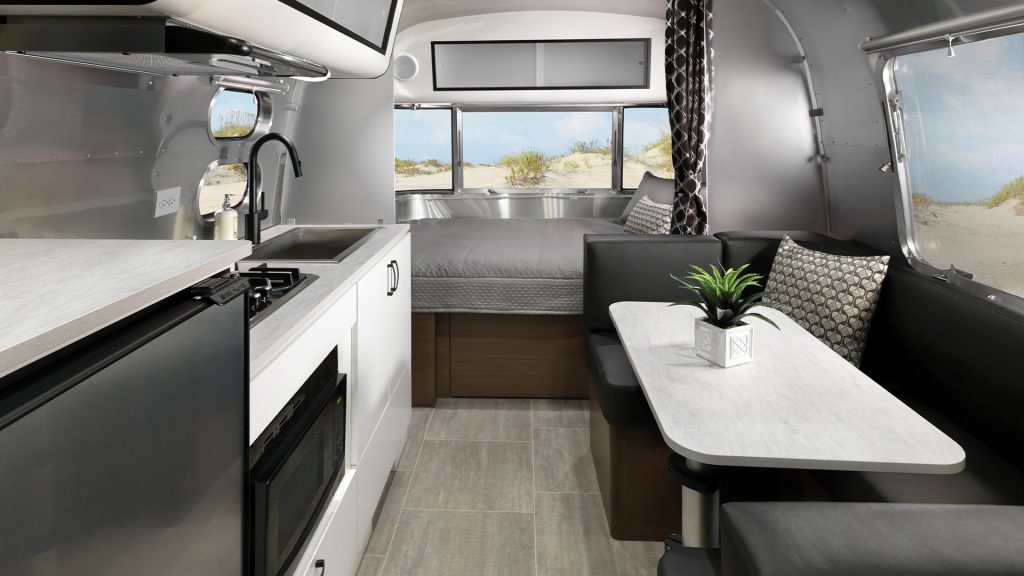 With Caravel, the Airstream experience is amplified, as numerous design touches elevate the single-axle experience. Like a sophisticated big-city loft, Caravel features the perfect blend of metal, woodgrain, and neutral white – a palette that gives the interior of distinctly modern feel. Named after Airstream founder Wally Byam's love of sea-going vessels – and harkening back to the original Caravel line introduced in 1956 – this revitalized model maintains the feel of a land-borne yacht. The Caravel answers the need to travel farther, stay longer, and have all the premium features that are ready to go on day one.
---
How Do the Exterior Features Differ? 
#1 — A Rear Bumper
With an upgraded rear polished bumper, Caravel has additional exterior room to store equipment such as hoses, power cables, and other tools.
#2 — The Front Protection
Bambi comes standard with a durable 3M protective film strip to protect the aluminum from scrapes and scratches. The Caravel includes two front stainless steel stone guards that will safeguard the aluminum from rock damage or other road debris that may come up while traveling. Both models feature a front window guard that not only protects the glass from road debris but also shades the interior and provides extra privacy.
#3 — Wheel Bearings
All Airstream travel trailers are equipped with premium Nev-R-Lube bearings with the exception of the Bambi. The benefit of Nev-R-Lube bearings is that you never having to repack bearings or replace the seals which decreases overall travel trailer maintenance, they're pre-lubricated and resistant to contamination, and they have a 5-year or 100k miles warranty against defects.
#4 — The Stabilizer Jacks
Both models include a stabilizer jack in each corner of the travel trailer (total of 4). When lowered to the ground, the stabilizer jacks take the bounce out of your step while moving around inside. Due a slight weight difference in the Caravel, it includes upgraded heavy-duty stabilizer jacks which also changes the bit required to raise and lower them.
#5 — The Front Hitch Jack
Same functionality, different accessibility. With the Bambi manual hitch jack, you'll need to crank the handle to lower and raise the front of the travel trailer during the hitching process. With the powered hitch jack that comes with the Caravel, it's as simple as the push of a button — however, a manual crank handle comes with the travel trailer if you ever need it. There's also a small light included on the Caravel to help you see while hitching at night.
#6 — The Main Entry Door Step
Both models include a pull out step to make it easy to step inside. The Bambi includes a steel entry step and the Caravel includes an exclusive, upgraded Thule aluminum step
#7 — The Awning Fabric
Bambi has a Weathermax awning and Caravel has a Tempotest fabric awning which both feature a high-performance fabric that are water resistant and will dry quickly after rainfall or a heavy morning dew. The performance Tempotest pinstripe patio awning on the Caravel adds a taste of designer style when the awning(s) are extended.
#8 — A Torsion Suspension
There are numerous benefits to a torsion suspension system, but for the sake of the Bambi and Caravel comparison, we'll keep it to the fact that the Caravel includes shock absorbers for an even smoother towing experience on all types of surfaces. Torsion axle suspensions enhance trailer control, towing, and stability compared to traditional leaf springs. All Airstreams except the Bambi (and Basecamp) are equipped with shock absorbers. Shock absorbers add additional dampening and ensure an exceptionally smooth ride mile after mile.
#9 — The Taillights
While both the same style, Bambi features a single taillight on each side while Caravel includes an additional light for added styling.
#10 — The Window Awnings
You'll find a manual, curb side awning on the Bambi which is perfect for catching some relief from the sun. Large side awnings are also useful for keeping the travel trailer cool because it reduces the amount of direct sunlight that is hitting the aluminum shell. There are optional street side and rear window awnings available in addition to the main manual awning on all four Caravel floor plans.
#11 — The Window Style
Both the Caravel16RB and Bambi 16RB floor plans have a rear window, but they do differ in size. The rear window on the Caravel reaches around the sides to give a panoramic view of your surroundings. Bambi has Hehr windows whereas Caravel comes standard with our hand-crafted, custom Airstream windows and are riveted right into the frame of the travel trailer. These windows are designed to give you a bigger opening radius so more breeze can flow throughout the cabin. All windows on the Caravel and the front panoramic window on the Bambi are crafted in Jackson Center, Ohio.
#12 — The Battery Storage Location
A plastic molded battery container holds the batteries above the frame and directly behind the LP tank cover on the Bambi models while the Caravel has a concealed steel box secured under the travel trailer A-frame with a hinged door for quick access and streamlined appearance.
#13 — The Model Badging
The unique badges found on the exterior of each Airstream are almost as iconic as the aluminum shell itself. Dating back to the earliest model badges in company history, they've always supplied the identity of the travel trailer — both in style and personality. Both badges nod to the storied past of each historical model while seamlessly aligning with the forward thinking and design of today.
---
What are the Interior & Décor Differences?
#14 — Air Conditioning and Heating
Bambi comes with a non-ducted 13,500 BTU air conditioner with a heat strip and manual controls. What's a heat strip? Heat strips are an electrical element that will heat up and allow the A/C fan to disperse warm air throughout the cabin without firing up your furnace. The upgraded Caravel also includes a 13,500 BTU air conditioner but has a heat pump, climate control center, and features our ducted QuietStream air ventilation system. What is a heat pump? A heat pump is A/C working in reverse and takes ambient air from the cabin to provide warmer air when the temperature is above approximately 40 degrees fahrenheit. QuietStream circulates air evenly with multiple vents across the trailer ceiling and has return vents making the system very quiet.
#15 — The Interior Upholstery
The Dune or Ocean seating fabric in the Bambi is a fade resistant, durable Performatex material that can easily be spot cleaned with water and mild detergent. Inside the Caravel, you'll find premium Ultraleather seating and have a choice of Pewter or Tungsten colors. Ultraleather is designed for maximum longevity and luxurious comfort and breathability.
#16 — The Light Switches
The primary interior lighting in the Bambi models are LED ceiling dome lights that are controlled with a switch on each individual light. The Caravel has surface mounted puck LED lights that are controlled with a multi-function touch dimmer switch.
#17 — The Overhead Storage
Despite being one of the smaller travel trailers Airstream offers, both Bambi and Caravel offer ample interior storage. The overhead storage in the Bambi features tambour doors to make it quick and simple to stash away food and other items. Bring even more full size plates, cups, and food containers to stow away in the larger Caravel overhead sliding door storage compartments.
#18 — The Toilet
With a focus on being lightweight, Bambi comes with a molded plastic toilet. An upgraded porcelain toilet comes standard with the Caravel.
Appliances and Entertainment
#19 — 1,000W Power Inverter
The Caravel offers a 1,000 watt pure sine wave power inverter on all floor plans. What's an inverter? An inverter is a device that takes your 12V battery power and inverts to 110V so that you can power specific outlets in the Airstream and the devices plugged into them (laptop, T.V., etc.).
#20 — Microwave and Convection Microwave Oven
Did you know you could have roasted your Thanksgiving turkey in a convection microwave oven? That's just one of the available Caravel (not an option on the 16RB) kitchen features that'll inspire a more exciting camp meal. A standard microwave is included with each Bambi, however, the convection microwave option is not available.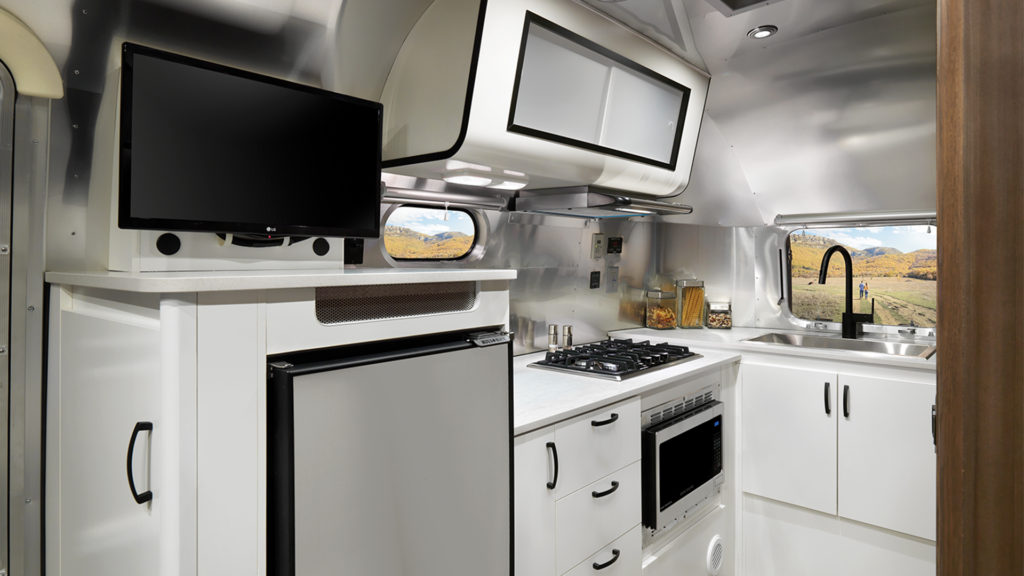 #21 — The Type of Window Blinds
Same function, different feature. Block out light and keep your privacy, but get a slightly different look and functionality. Both feature a sleek, aluminum style that matches the rest of the silver interior.
#22 — The Cooktop / Range Top Style
What type of cooking experience are you looking to have inside your Airstream? In all of the Bambi floor plans, there are 2 LP (liquid propane) burner cooktops which will accommodate just about any type of meal you want to prepare. If you're looking to take it to the next level, Caravel features a chef-inspired 3 burner cooktop in the 20FB and 22FB foot floor plans. As with the Bambi, the Caravel 16RB and 19CB both have a 2 burner cooktop.*
#23 — Stereos and TV's
For the Bambi, you can enjoy a 12v/110V LED HD TV with a DVD player or switch to over-the-air channels with the omnidirectional antenna. When plugged into shore power the TV will utilize the 110V power, but when running on battery and because the Bambi doesn't include an inverter, the TV will be powered with the 12v outlet so you can enjoy your shows when disconnected from 110V power. There's also a stereo with Bluetooth connectivity for streaming your favorite music. Step inside Caravel and get an even more premium experience with an HD TV (with antenna) and ports to bring your own streaming device. The Caravel's stereo with Bluetooth and surround sound speaker system with a subwoofer creates a premium audio experience.
#24 — The Kitchen Sink
To make dishwashing and food preparation as easy as possible, the Bambi includes a double bowl sink. Prepare one side with soapy water while using the other for rinsing. The Caravel includes a special black Moen faucet and vast rectangular stainless steel sink which not only looks great, but is perfect for washing larger pots and pans.
#25 — Interior Décor Options
Bambi is available in two interior décor options: Dune and Ocean. No matter which fabric color you choose, the laminates, flooring, fixtures, handles, and other interior materials will stay the same — making it easy to switch up the cushion style if you'd wish.
Caravel is available in two completely different interior décor options: Tungsten and Pewter.
Get an even closer look at the Bambi and Caravel and narrow in on which model fits your personal style by configuring your dream Airstream.
Looking for a full walkthrough of the 16RB, 19CB, 20FB, and 22FB floor plans?