Featuring Airstream's hand-made craftsmanship and legendary use of space on the interior and Mercedes-Benz® power and performance under the hood, Airstream Touring Coaches are ready to go the moment you climb into the driver's seat. 
Grip the steering wheel, press the ignition button, and let your travel dreams guide you out of the driveway. Ride in comfort, merge into traffic with ease, and drive with the confidence you get behind the wheel of a vehicle equipped with the industry's best safety features. Sink into the plush Ultraleather seats and use the dashboard touchscreen to queue your favorite travel playlist on the crystal clear MBUX Infotainment System. Relax as your journey gets underway while keeping an eye on those sharing the road via safety cameras that give you a 360-degree view around you. 
Driving one of our luxury touring coaches, the journey is as much a part of the experience as your destination. From the 19-foot Interstate 19 to the expansive Atlas, they feature the comforts of home you need – a bed, bathroom, kitchen, and living space – and each has its own interior design and flavor, along with floor plans and specific features that make each one perfectly suited to certain styles of travel. 
Read on as we explore what makes Airstream Touring Coaches the best Class B motor home for your investment – and explore some of the features that make each vehicle unique.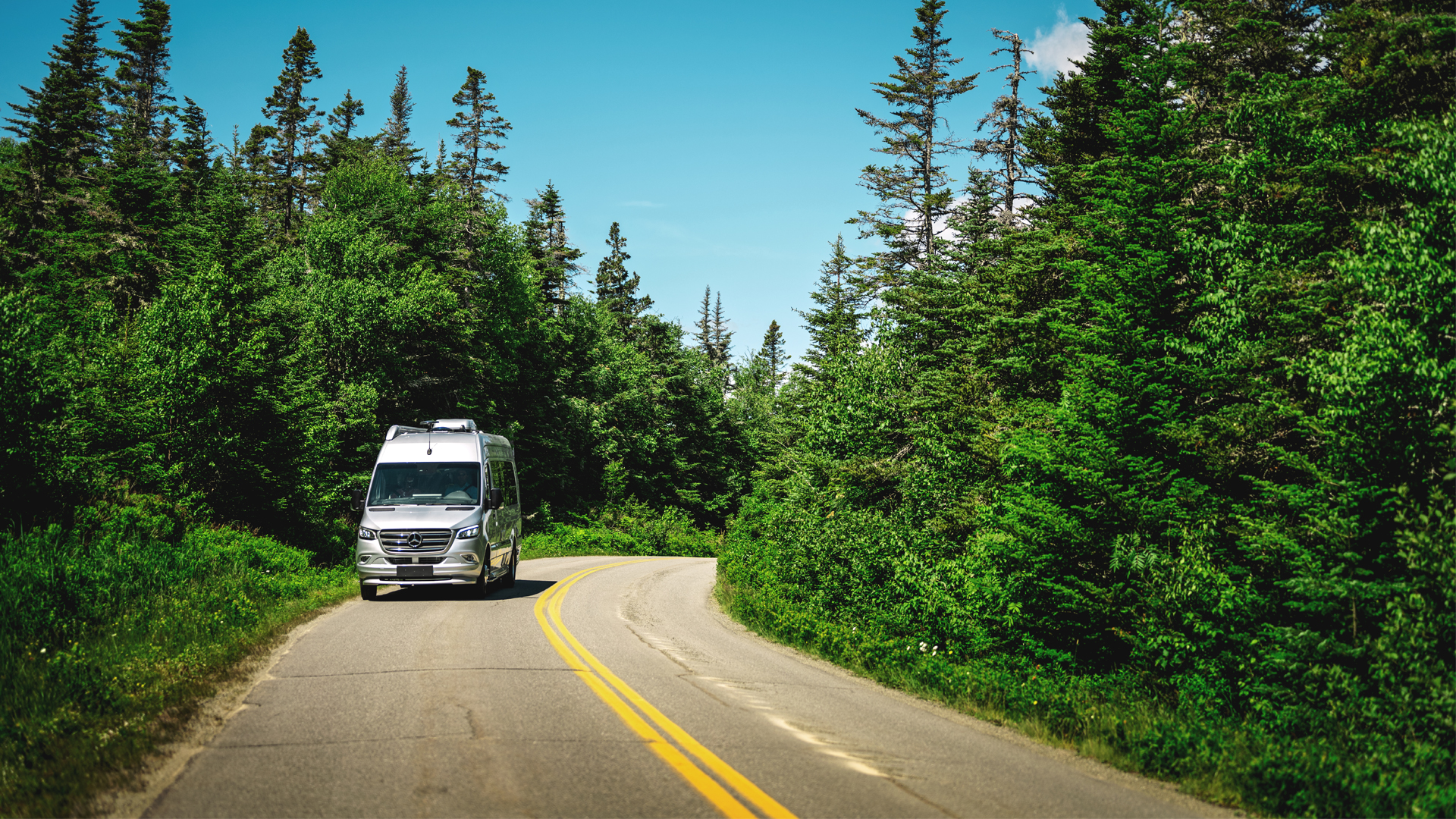 What are the Different RV Types?
There are many types of recreational vehicles on the market, but in general, the world is split into two main categories: Travel trailers and motor homes. Motorized RVs are broken into classes depending on their size and overall layout.  
Class A motorhomes are the largest (think of a musician's tour bus), while Class C motorhomes are smaller and have a bed above the cockpit. In between are Class B motorhomes like our Airstream Touring Coaches – large enough to include all the comforts of home, while still being nimble enough to maneuver easily. 
Motorized RVs go by many names, but we prefer Touring Coach because owners are quick to remind us that they love driving their coach almost as much as they love parking it at a destination. With onboard features like a bathroom, a shower, and a kitchen space, as well as flat-screen TVs, versatile moveable tables, ample overhead storage, and the most comfortable and spacious sleeping areas on the market, your touring coach is ready-made for you to set up and start exploring. And behind the wheel, it's one of the most pleasurable, exciting driving experiences you'll find on the road today. 
Features that 
Leave You 
with
 More Time for Fun
Our motorized coaches are well-equipped with features that make it easy to travel and get set up at your destination, giving you plenty of time for the leisure and adventure you're seeking. Many of the essential RV procedures are automated, meaning less setup, less potential for a mess, and more time relaxing, recharging, and planning the next leg of your journey. 
Traveling in an RV means embracing the gratification that comes with self-sufficiency. It also means occasionally dealing with the less glamorous sides of this mode of travel – like dealing with waste. Features like the automatic retracting sewer hose means less time and effort dealing with these potentially messy elements of traveling with all the comforts of home. And a macerator pump – as opposed to the standard gravity system – ensures that everything flows downhill smoothly. 

Touring Coach Features that Owners Love
Across the line, best-in-class features make our touring coaches the best travel experience you can have behind the wheel.
No Hitching/Unhitching: 

Simply climb in the driver's seat and go.

 

"Just Right" Size: 

At 24 feet (or 19 feet for the Interstate 19), Airstream Touring Coaches are large enough to bring everything (and everyone) along, but they drive with the responsiveness of your daily driver.

 

Maneuverability:

 Whether you're stopping for fuel or to pick up groceries and supplies for your trip, you can easily maneuver through parking lots, busy shopping centers, and rest areas.

 

Versatility: 

Many owners find that the stereotypical idea of travel is just one part of their experience. From taking friends on 

a winery trip

, 

tailgating before the big game

, hauling the grandkids to their soccer tournament, or making the yearly trip south as winter sets in, owners find many ways to make the most of their vehicle.

Tow Capacity: 

With a tow capacity of up to 5,000 pounds, you can bring along the toys. 

Some owners even get the best of both worlds towing an Airstream Travel Trailer with their Airstream Touring Coach!

 

 

Parking and Storage: 

Easy to park in many driveways, multiple cameras give you excellent views and the Parktronic® parking assist lets you know if you're getting too close. Some owners even store them inside their attached garage. 

 

A Mobile Respite: 

Owners love being able to stop for a break and use the onboard amenities rather than rest areas, fast food restaurants, and gas stations. Pull into a parking lot and use the cabin area to whip up a snack, use the facilities, or take a quick nap. When you're refreshed and ready, you're back on the road in no time.

What Makes Each Coach Unique?

 
Built on the Mercedes-Benz Sprinter Van chassis, our motor homes offer power and performance along with Airstream's iconic "all the comforts of home" mentality. Each member of our fleet offers small touches and subtle features that give each one its own flavor. No matter your particular travel style, there's a perfect coach well-suited for you. 
Atlas: Residential Feel for the Trip of a Lifetime
Our largest motorhome, the Airstream Atlas is affectionately known as a Class B+. Built on the same Mercedes-Benz chassis as its Airstream brethren, Atlas features a slightly wider body and a slide-out panel that gives it even more room inside. The functional centerpiece of the Atlas cabin is the versatile bed: Leave it up as a sofa, extend it partway for a half-sized bed big enough for two, or fully extend the slide out to reveal a sumptuous queen size bed. Under the mattress is a Froli® ergonomic sleep system where interlocking springs give you the same sleeping experience you'd find at home. Nearby, you'll find reading lights and shelves for setting down your book before bed.  
At the rear of the coach is one of Atlas's standout features: A residential-style bathroom that will take your breath away. A pocket door slides across for privacy, creating a spacious, three-piece layout spanning across the entire rear of the vehicle. Hang your clothes in the closet or fold them for storage in the drawers. Atlas is truly a luxury hotel suite on wheels.


Interstate

 24

: Three Gorgeous Coaches for Three Distinct Travel Styles
With the recent addition of Interstate 24X to our lineup, there are now three 24-foot Interstate touring coaches that offer a wide spectrum of travel experiences.
Interstate 24GT: The Grand Tour
Built for long-term travel, Interstate 24GT is perfect for a solo excursion or for a couple who wants to hit the road for an extended trip. The galley features a two-burner stove, sink, and plenty of meal-prep space, while across the aisle is a luxurious wet bath with a toilet and shower. Next to the fridge is a hanging closet with plenty of space for all your outfits. Spin the captain's chairs around up front for an impromptu workspace to catch up on emails and stay connected. The Interstate 24GT is the perfect vehicle for hitting the road – no destination required. 


Interstate 24GL: The Grand Lounge
With seating for up to nine people (a driver plus eight belted positions spread throughout the coach), Interstate 24GL is made for bringing along a crowd. Gather your friends and family and set off on a winery tour. Take the kids and grandkids south for a winter vacation on the beach. Or gather your old classmates for the tailgate of a lifetime. With all the comforts of home – plus plenty of room for people to join in the fun – the Interstate 24GL lets you travel in style as you make your way to the next stop.


The Interstate 24X:
 Ready for Adventure
Packed with solutions that make it easy to bring along the mountain bikes, a kayak, your fishing poles – and everything else your adventure requires – our newest touring coach is adventure-ready and feature-filled. Get farther afield with the Interstate 24X's rugged wheels. Strap down the bikes with the Aluminum Airstream L-Track Storage System that gives you multiple tie-down points on the walls, ceiling, and floor. Let in the cool forest breeze with the sliding screen door. Set up your laptop on the versatile, moveable table that attaches quickly to any of four points spread throughout the coach – including just outside the side door. Interstate 24X is powerful, capable, and ready for whatever adventure you have in mind. 


Interstate 19: Small but Mighty
At 19 feet, Interstate 19 packs a lot into its smaller footprint. Featuring all the comforts you expect from the Interstate line – a kitchen, wet bath, sleeping, and living space – the Interstate 19 is as easy to drive on lonely country roads as it is to get into the city for dinner. Cruise the parkway and then head into town and park at the local brewery. Slide into the parking lot to grab groceries. Maneuver deftly through road construction, navigate narrow streets, and find the perfect parking spot with Interstate 19.


No matter what your ideal travel experience is, there's an Airstream Touring Coach perfectly suited to your style. Want to learn more about what makes each Airstream Touring Coach Unique? 
Want to see an Airstream Touring Coach in person?