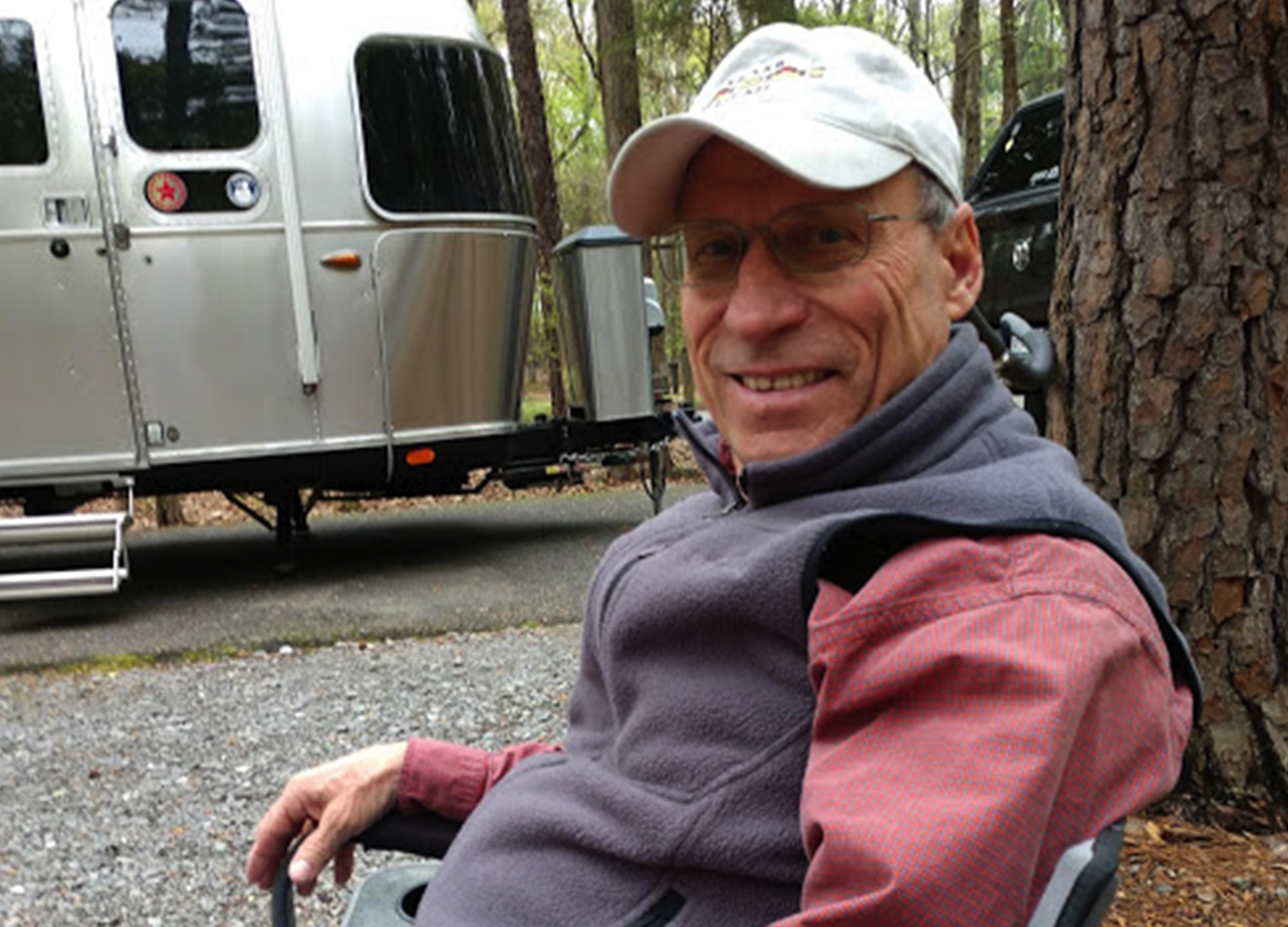 He has planned and led Airstream rallies and worked to help others organize rallies. Just last year, Henry worked at Alumapalooza in May 2018 at Jackson Center. This year he organized the first "Downtown Rally" on the South Carolina Coast, called "Streamin on the Harbor" in Georgetown, SC. During many of the rallies Henry attends, he also conducts seminars on such topics as awning operation, maintenance, Airstream systems operation, hitch setup and safety. He has a close relationship with his local dealer to help promote the brand. Henry also states "after buying his first Airstream, another life changing experience was joining the Wally Byam Airstream Club. We now have family from Maine, to Key West, to California and Canada."
Henry advises Airstreamers everywhere to join the club. "It will enhance the use of your Airstream and add to your fun, fellowship and adventure," he says, adding that he is a past president of The SC Coastal Airstream Club and the current Membership Chair for Region 3.
I have traveled to more places and had more positive experiences with my Airstream than any other RV that I have owned

- Henry Knight
Today, Henry travels with a 2017 30' Airstream Classic, and his involvement in the community is as strong as ever. He goes to many events all over the US, attends most of his local club's ten annual rallies and also travels with caravans. He also enjoys traveling with friends, many of them fellow Airstreamers.
Henry's adventures with his Airstreams (when he's not attending rallies, that is) have taken he and his wife of 48 years, Melinda, all over the US and Canada. They've traveled from the Canadian Rockies to Big Bend National Park in TX, to the Florida coast, the desert of the Southwest and the Badlands of South Dakota.
"I have traveled to more places and had more positive experiences with my Airstream than any other RV that I have owned," says Henry.
Recently, Henry and Melinda finished their sixth caravan through the Blue Ridge Parkway.
"We drove the entire Blue Ridge Parkway towing our Airstream, camping and stopping at the many turnouts to see the beautiful vistas" says Henry. "Along the way, we also did white-water paddling, rode bikes down the "Creeper trail", went zip lining, visited the Biltmore house and had a wonderful Sunday brunch at the Grove Park Inn."
They have several more caravans planned in the next few years.
When he's not traveling with his Classic or being a part of rallies or caravans, Henry keeps a very busy schedule. He actively pursues some of his other favorite hobbies, including boating, fishing, kayaking and helping his friends make improvements to their Airstreams.
Henry served in the US Navy during the Vietnam Era and stayed in the US Navy Reserve. In support of the active Navy, he made deployments all over the world during his 31 years of service.
He has a degree in Electronics Engineering Technology and a BS in Business/Management. After active service he worked at Michelin Tire Corporation. During his career he did 15 different jobs over his 30-year tenure. He worked in such capacities as technical services, technical training, management training, team development, leadership, personnel, and also running powerhouses and production plants.
In 2004, Henry and Melinda returned to their former hometown of Charleston, South Carolina. And so began Henry's second career, as he calls it. "I have 40 years of canoeing/kayaking experience. I used to do white-water paddling on the Chattooga River and organized canoe/camping trips on the weekends, and that's where my passion started," says Henry. He became a certified canoe/kayak guide for a local outfitter. Currently he is a volunteer guide for National Audubon, leading canoe and kayak trips in Francis Beidler Forest/Swamp.
He also got his US Coast Guard Master Captain's License, and today he's still giving tours along Charleston's waterways. He currently works for Fisheagle Wildlife Tours, doing nature and history tours on the Santee Cooper Lakes in SC.
A history buff, Henry also became a city of Charleston licensed tour guide.
With his Airstream and without it, Henry lives a rich, full life. He's always engaged and enjoys giving back to the community, whether it's for locals in his hometown or his fellow Airstreamers. Both are lucky to have him.