Icons are an essential part of Chef Hugh Acheson's cooking philosophy.
He's made a culinary career out of exploring traditional southern flavors through a European lens. He cooks on cast iron skillets and stainless steel All-Clad pans. Now, he's hitting the road in an iconic travel trailer for Airstream's latest Endless Caravan. And he's taking with him one of the most iconic – and perhaps most misunderstood – cooking implements of the modern era: the slow cooker.
"Everybody has a slow cooker," Hugh says. "Generally you got one for a birthday, or a Christmas present, or when you got married – and you shoved it in the back of the closet and didn't use it, but it probably still works."
Hugh is well-known as a judge on the Bravo network's Top Chef and has several award-winning restaurants in Atlanta, Georgia and nearby Athens. He's a multiple James Beard award nominee and winner, and has authored cookbooks that have shaped the recent Renaissance in southern cooking. His new cookbook, The Chef and the Slow Cooker, invites home chefs to dig that slow cooker out of the closet and discover a world of flavors beyond grandma's pot roast.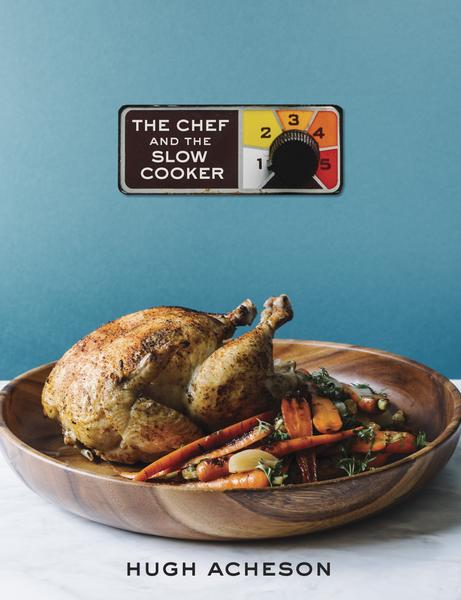 "What if you could make really contemporized food in it?" he says of the slow cooker. "Then it can be a gateway to cooking from scratch more – which we all need to do. America needs to do that more as a whole."
This culinary Endless Caravan will visit 25 cities over the course of Hugh's five-week book tour for The Chef and the Slow Cooker. Along with Airstream, he's partnered with Whole Foods Market, Cholula Hot Sauce, and All-Clad Metalcrafters, and will set up in Whole Foods parking lots for demonstrations on slow cooking pork shoulder. He and his assistants will make tacos with the pork shoulder and sell them as a benefit for Seed Life Skills, a non-profit that seeks to teach kids simple cooking skills.
He's excited to partner with Airstream for the Endless Caravan.
"I love getting out there and seeing stuff," he says. "The key to travel – and the key to properly enjoying something as beautiful as an Airstream – is you have to roll with everything."
The Airstream offers the freedom to explore in between stops on the book tour.
"Where we're going to eat is that place that catches our eye," he says.
He sees his partnership with Airstream as a bridge between his culinary philosophy and the company's nearly nine decades of tradition.
"Airstream was one amazing idea that hasn't radically differed in its many, many years of existence," Hugh says. "That type of thing in cooking is taking classic, beautiful recipes that are redolent with history and meaning – they're tried and true in the flavors they invoke. You can modernize it, but it's not recreating the wheel."
If you would like to join Chef Hugh Acheson on one of his Endless Caravan stops, see the full schedule below.
November 10: Brooklyn, NY - Whole Foods Market, 214 3rd Street, Brooklyn NY 11215
November 11: Providence, RI - Whole Foods Market, 601 N Main St, Providence RI 02904
November 12: Portland, ME -Whole Foods Market, 2 Somerset St, Portland ME 04101
November 13: Boston, MA - Whole Foods Market, 15 Washington St, Brighton MA 02135
November 14: Carlisle, PA - Dickinson College (Britton Plaza)
November 16: Charlottesville, VA - Whole Foods Market, 1797 Hydraulic Rd, Charlottesville VA 22901
November 17: Charlotte, NC - Whole Foods Market, 6610 Fairview Road, Charlotte, NC 28210
November 18: Knoxville, TN - Whole Foods Market, 6730 Papermill Dr, Knoxville TN 37919
November 19: Nashville, TN - Whole Foods Market, 4021 Hillsboro Pike, Nashville TN 37215
November 20: Birmingham, AL - Whole Foods Market, 3100 Cahaba Village Plaza, Birmingham AL 35243
November 21: NOLA - Whole Foods Market, 5600 Magazine Street, New Orleans, LA 70115
November 30: Atlanta - Spiller Park Coffee, Toco Hill, 2929 N Druid Hills Road NE, Atlanta GA 30329
December 1: Oxford, MS - End of All Music w/ Square Books, 1423 N Lamar Blvd, Oxford, MS 38655
December 3: Austin, TX - Whole Foods Market, 525 N Lamar Blvd, Austin TX 78703
December 4: Marfa, TX - TBD!
December 5: El Paso, TX - Whole Foods Market, 100 Pitt St. El Paso TX 79912
December 6: Phoenix, AZ - Whole Foods Market, 7111 E Mayo Blvd, Phoenix AZ 85054
December 7: Los Angeles - Whole Foods Market, 331 N Glendale Ave, Glendale, CA 91206
December 8: Santa Barbara, CA - Whole Foods Market, 3761 State Street, Santa Barbara CA 93105
December 9: Monterey, CA - Whole Foods Market, 800 Del Monte Center, Monterey CA 93940
December 10: San Jose, CA - Whole Foods Market, 2732 Augustine Drive STE 1600, Santa Clara CA 95054
December 12: Salt Lake City - Whole Foods Market, 544 South 700 E, Salt Lake City UT 84102
December 14: Denver, CO - Punch Bowl Social, 65 Broadway, Denver CO 80203
December 15: Kansas City - Whole Foods Market, 6621 W 119th St, Overland Park, KS 66209
December 16: St. Louis - Whole Foods Market, 1601 Brentwood Blvd, St Louis MO 63144
**All tour stops begin at 12 PM local time, with a cooking demonstration, followed by a book signing and a slow cooker giveaway, courtesy of All-Clad Metalcrafters.**