We both love our local sports teams and are season ticket holders for the Indianapolis Colts. One Sunday afternoon in 2012 during the half-time cigarette break, we struck up a conversation with another couple who mentioned they drove a Mercedes Airstream Interstate for tailgating before games. Bob was immediately interested in the idea and within a few months, bought a beautiful brand new Airstream Interstate EXT, which we named Steely Van!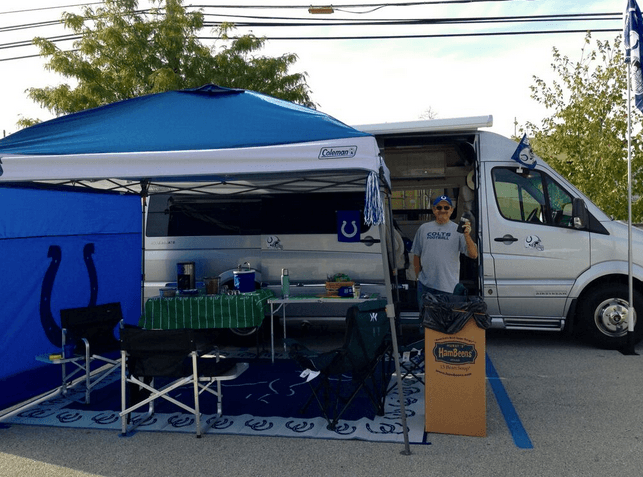 The Steely Van was put to good use almost right away, with tailgating for concerts (Jimmy Buffet was a particular favorite) football games, and several family trips. We even camped at the Fuzzy Zoeller Wolf Challenge golf tournament, parking the Interstate in a vacant lot right in the middle of a beautiful golf community!
Everyone knows the city of Indianapolis is host to the world famous Indy 500 every Memorial Day. The Steely Van fit right into the aptly named "Checkerboard Square" camping section for our first group camping experience in 2013. The next year, we added more family to the list of people wanting to camp with us, so we got the wild and crazy idea of buying an Airstream travel trailer. Honestly, we had never thought of it before! Only a week before the race, we did some quick research and found a new 16' Bambi Sport at Chilhowee RV in Louisville, Tennessee. With no time to spare, we drove the Interstate down, hitched the new trailer up, and brought it back home with us. We gave the trailer the name June Bug.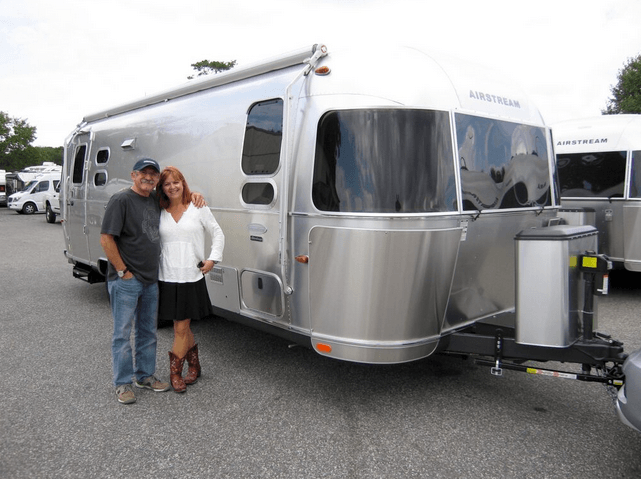 Almost immediately, we were completely hooked on the idea of the Live Riveted life. We devoured every article, forum, blog and magazine we could find. Neither of us had camped in any form except tent camping as young people. So the Airstream life really took us by surprise!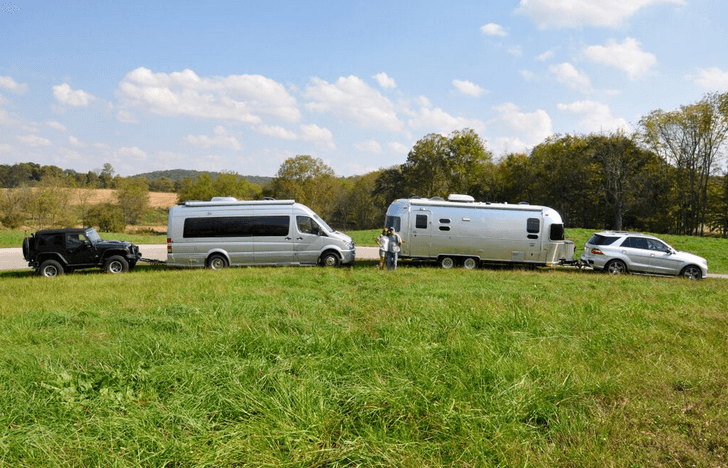 We even took my 70-year old mentally disabled sister Lynne along for a week of vacation in the tiny little Bambi, folding the dinette down every night for her to sleep, and bathing her in the tiny little bathroom. It wasn't long before we dreamed of trading up to a larger model. Lo, and behold…we found a brand new 2014 25FB International Sterling edition at Colonial Airstream in New Jersey. The trade-in was an easy decision after seeing all that beautiful aluminum, inside and out. And Bob is particularly happy with the little bedside table!
After purchasing the second version of June Bug, we have become even more committed to the Live Riveted life! We are also a Jeeping family, so we have taken the June Bug and the Steely Van to two Jeep Jamborees, towing the Jeep behind the Interstate. We especially like asking family members or friends to join us on camping trips, as we can pull the Interstate in front-wise and back in the trailer to create a courtyard that usually includes our fire rings, tables and chairs. Camping with friends and family makes the journeys even more special.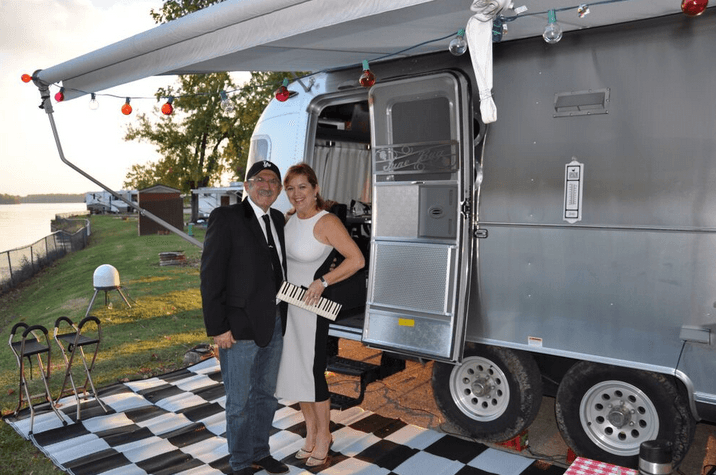 As we begin to consider our future retirement, owning two Airstreams adds an element of fun and adventure to our plans. In less than a year, and in spite of still having jobs, we have camped in 11 states, traveling as far as Florida on one trip and New York on another. Not a day goes by that we don't mention making plans for the next adventure.
Because we are both from large families who enjoy keeping up with our trips, we began the  JuneBugJourneys travel blog. Our siblings and friends can visit the site and see where we are at any given time. Lucky for us, one of our sons is a web master! He created the site and keeps it running smoothly. The blog gives us an opportunity to describe our travels in great detail and publish the beautiful photos we both like taking. One unforeseen advantage of the travel blog is that it has become a record for us to use to remember campsite numbers, various parks and locations, and re-live some of our adventures!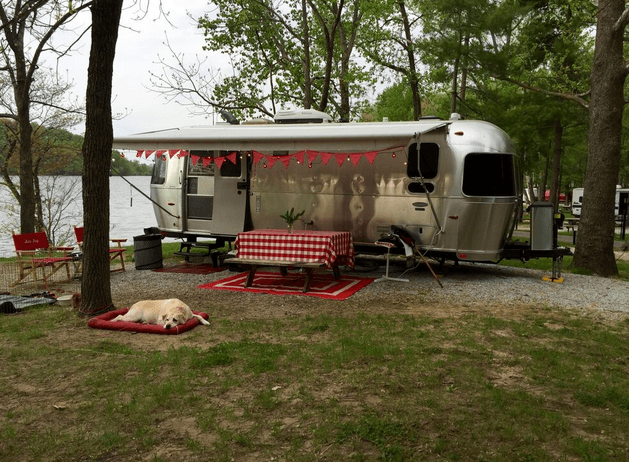 Our Steely Van lives in a custom-built garage that also holds all our camping and outdoor gear, and June Bug has a permanent spot along a special grassy park we built on the property that allows for large parties and wiffle ball tournaments! We have water and electricity at the site and it has become a much-asked-for guest room for visitors. We love walking over to the June Bug for our afternoon coffee, sitting inside and dreaming of our next trip. When Bob is on the air, I often turn on the radio in the morning and listen to the show while staring out the Airstream windows overlooking our woods. It's easy to imagine I'm off in the wilderness somewhere, although I'm right here in our own backyard.
What is our next big adventure, you ask? Bob was born and raised in Los Angeles, so we plan to drive west on historic Route 66 into California and then up the Pacific coast. When? We don't know, but it surely won't be long.
We love hearing Bob and Becky's story of how they began their life as Airstreamers! Be sure to follow along on their blog and Facebook page, and check Becky and Bob out on Twitter as well.