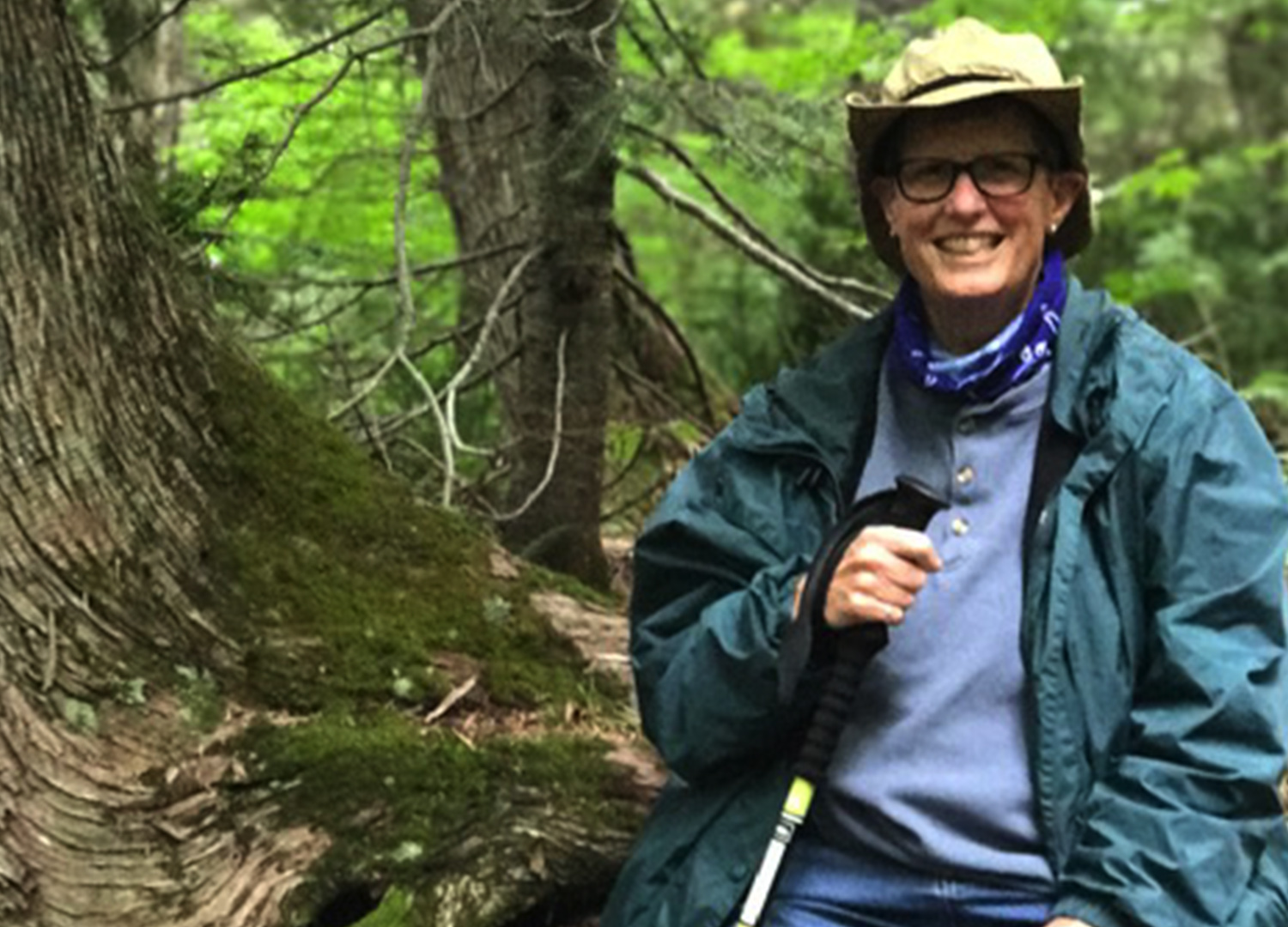 As a college student at Ohio's Capital University, they offered a wilderness program, and Karen signed up. She was taught skills for canoeing, rock climbing, spelunking and cross country skiing, and also became quite proficient in backpacking. She learned how to prepare for hot, cold, wet and windy conditions.
While on a backpacking trip to Ireland, a friendly stranger shared a piece of advice with Karen:  "There's no bad weather, just bad gear."
"She was absolutely correct. This guidance was one of the things that brought me to Airstream," says Karen.
For about two years, Karen and her wife, Dorrie, had been traveling with another RV brand. While attending a local RV show, the couple picked up a brochure for Airstream's 28' 2016 Pendleton Special Edition.
Created in partnership with Pendleton Woolen Mills, this limited-production Airstream was designed to pay tribute to great outdoor adventure and our nation's parks. Its release coincided with the centennial of the National Park Service. Only 100 Pendleton Special Editions were produced.
Both Karen and Dorrie were infatuated. They felt the Pendleton's design spoke to their personalities, their love of our National Parks, and how they enjoy being outdoors the most.
So, they signed up to be notified when the Pendleton was available. One evening, they received an email that a dealer near their home in Columbus, Ohio had one in stock. Karen and Dorrie went to see the new Pendleton the next morning with no real intention of buying it then.
But, that's precisely what happened – the couple says they "accidentally bought an Airstream." They were so taken by the Pendleton that they made a downpayment that day, and, in short order, sold their previous RV. The couple was lucky enough to see their Airstream being built during a factory tour. They later received their new "home-on-wheels."
Karen and Dorrie always knew the Airstream brand and were really drawn to it, but when they stepped inside the Pendleton they instantly fell in love. "It has the feeling of a cabin in the woods," says Karen.
While Karen and her wife still own a home, they were on the road eight out of twelve months last year with their Airstream. They've flirted with the idea of going full-time, but haven't made the decision quite yet. Their hesitancy is based mainly on their home's proximity to family and friends.
Karen and Dorrie opted for solar panels because, while they enjoy state parks, they find the most joy when boondocking. If it's shady where they're parked, they switch on a back-up generator that they configured to plug into the propane tank adaptor. And recently, they installed Airstream Connected so they can stay plugged in virtually anywhere.
With their Airstream, the couple has explored Ohio, Michigan, Tennessee, Maryland, Pennsylvania, the Carolinas, Florida and Ontario, Canada. Last winter, they stayed at a predominantly Airstream RV park in Melbourne, Florida.
Being in nature and away from the massive energy of a bustling city makes me feel peaceful

- Karen Andermills
"We loved it. The people there were great. Plus, it's a good jumping-off place for shorter trips. We are going again this winter," says Karen.
Karen's favorite destination so far is Algonquin Provincial Park in Ontario. She and Dorrie boondocked there for a couple of weeks among the forests, rivers and lakes. And, they had their first campsite visit by a black bear. Luckily she was shy and known to the rangers, so the couple took pictures of her until she wandered away. Of course, they could have jumped into their Airstream if they were really worried!
"We enjoy being outdoors, and the provincial park was so majestic. It is filled with trees and hiking trails. In essence, nature is like church; it's that important to me. Being in nature and away from the massive energy of a bustling city makes me feel peaceful," says Karen.
Karen appreciates the diversity of perspectives that she finds among fellow Airstreamers in campgrounds and at rallies. She describes her community at home as being like-minded, but the folks she meets on the road or at Airstream events bring unique and different experiences and passions.
In addition to traveling with their Airstream and being in nature, Karen and Dorrie have another passion; they are both archery instructors. They teach classes both at home and on the road.
"When we are teaching, we have all we need. We have bows and arrows, and we can set up a range easily. We bring all of our gear in the truck and our 'home in tow.'"
Karen and Dorrie give lessons to kids and adults. They also encourage disabled individuals to participate, as this is especially important to Karen, who's a retired special education teacher.
"I love archery because it's such an accessible sport. Folks who feel they aren't good at any other sports can often find enjoyment in archery. We've had many participants with disabilities who find success in this activity. Young and old alike enjoy this ancient art, and we love sharing archery with folks!" says Karen.
As to their travels, Karen says they're "just comfortable with their Airstream because it gives them the outdoor experience they both crave."
One of Karen's favorite quotes is, "No matter where you go, there you are." And there are so many places to go. Karen is soaking up every experience she has exploring this great, big country.