Inspired by Airstream founder Wally Byam and his pioneering design for what is believed to be the first self-contained travel trailer in 1958, the all-new Airstream Trade Wind Travel Trailer improves on that legacy with a suite of 21st Century technology that lets owners to go farther and stay longer. It boasts the most solar capacity, the largest inverter/charger combination, and the most extensive battery bank of any Airstream travel trailer in company history. Quite simply, Trade Wind is designed to empower you to explore the outdoors without limitations, whether you prefer traditional campsites or going off the beaten path.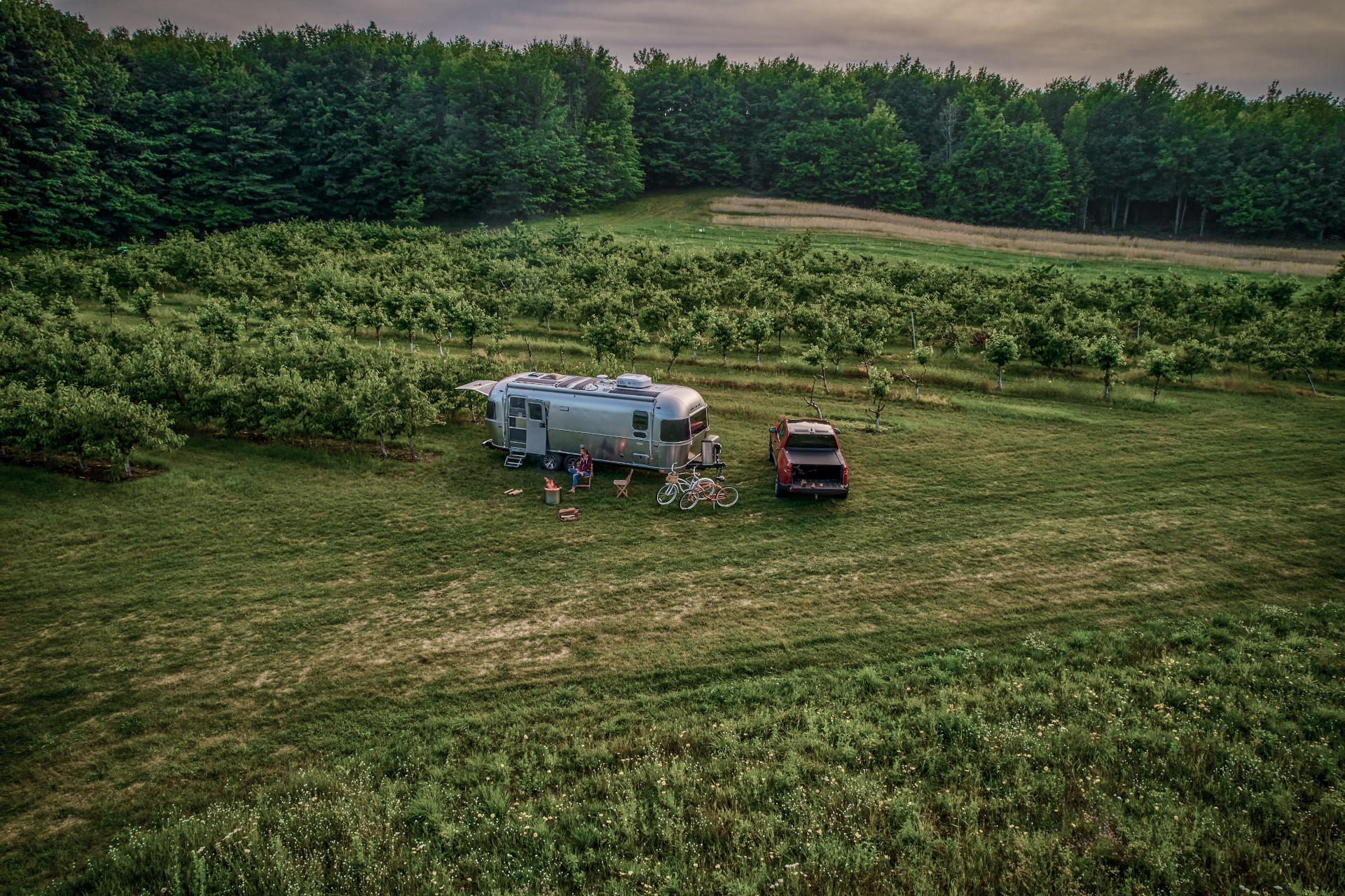 Stay Longer with Trade Wind's Impressive Rooftop-Mounted Solar Power
One of the standout features of the Airstream Trade Wind is its rooftop-mounted solar power system. Equipped with 600 watts of solar panels, Trade Wind is always ready to harness the power of the sun. This system is a game-changer for off-grid enthusiasts, allowing you to keep your batteries charged even in remote locations. With ample sunlight, you can rest assured that you'll have the energy needed for all your adventures. And like all late-model Airstream travel trailers, Trade Wind is also equipped with a hitch-mounted solar port that allows you hook up portable suitcase-style solar panels for even more solar harvesting.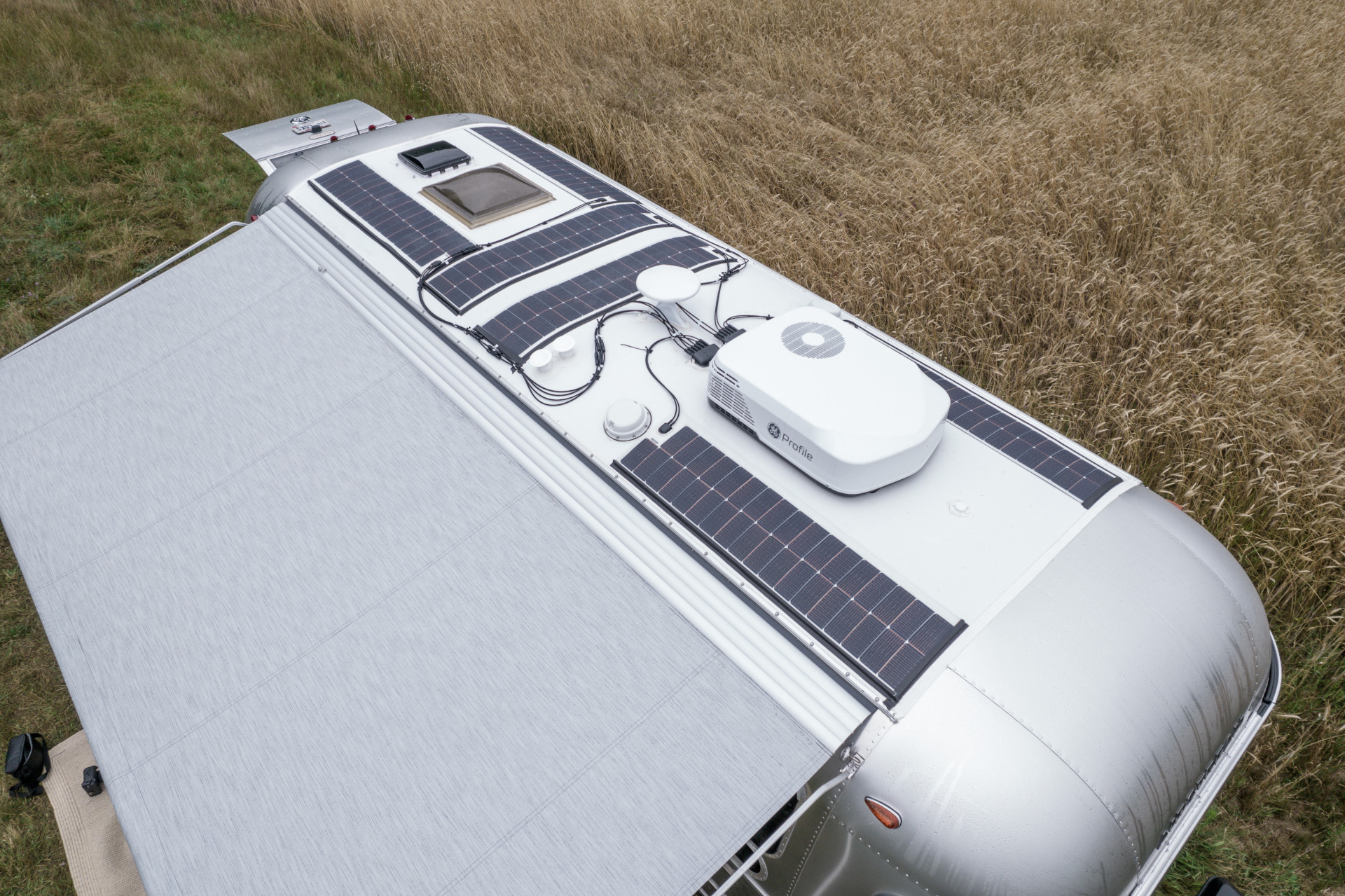 Comparing Solar Capacity in Airstream's 2024 Travel Trailer Lineup
Trade Wind: 600W standard

 

REI Special Edition Basecamp: 360W optional (Available on both models, along with optional 200Ah Lithium Batteries), 300W optional (20-foot model), or 200W optional (16-foot model)

 

Basecamp: 300W optional (Basecamp 20) or 200W optional (Basecamp 16)

 

Classic: 300W standard

 

Pottery Barn Special Edition: 300W standard

 

Globetrotter: 300W optional

 

International: 300W optional

 

Flying Cloud: 300W optional

 

Bambi and Caravel: 200W optional (20FB, 22FB) or 100W optional (16RB, 19CB)

 
Use Appliances and Charge Devices with a 3000-Watt Inverter
The standard 3000-watt inverter in the Airstream Trade Wind is a vital component of its off-grid functionality. Inverters are commonly used in RVs to translate the DC power flowing out of a battery into AC power necessary for safely operating and charging devices like laptops, cell phones, and televisions. An inverter is also necessary if you want to run high-voltage appliances like a microwave.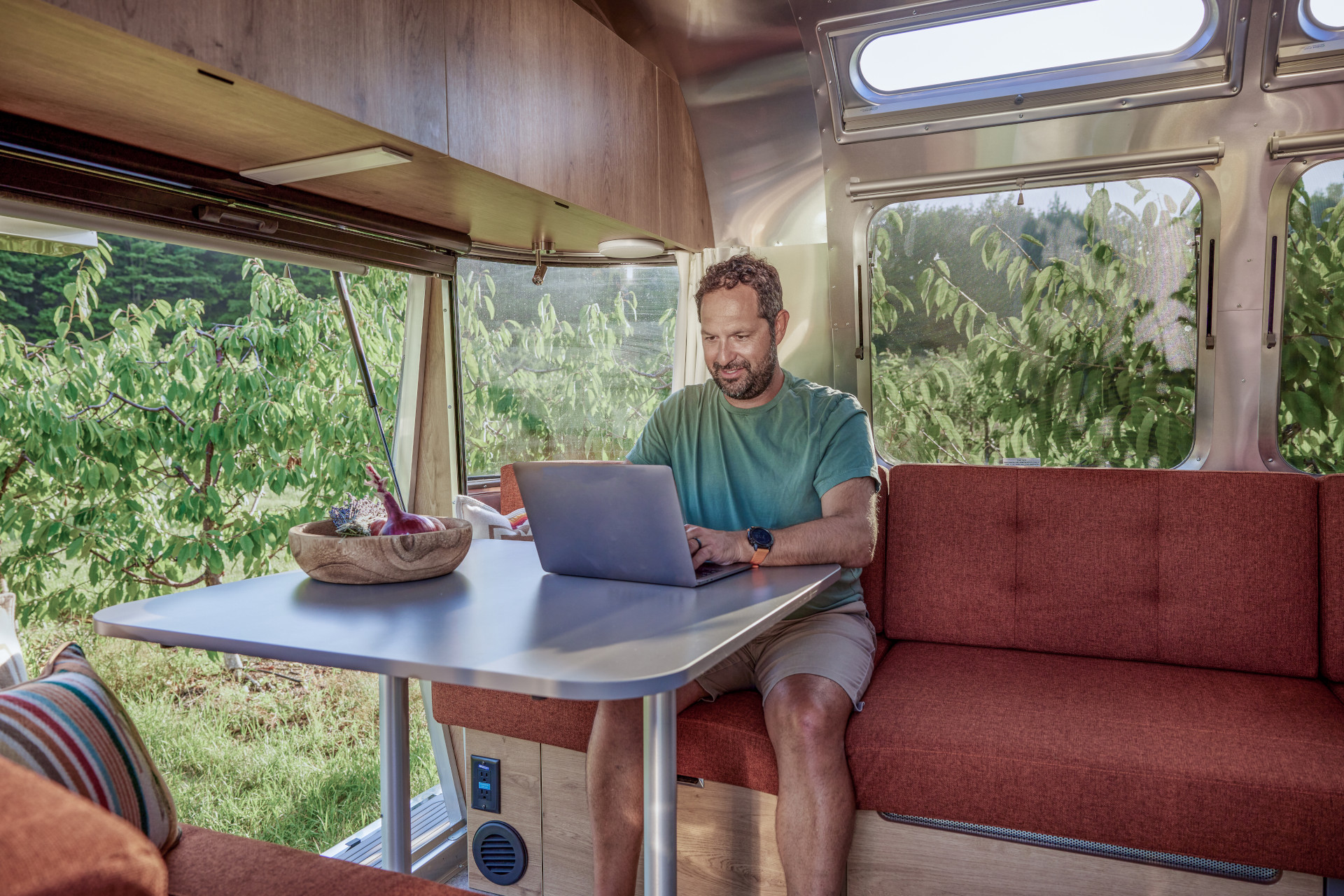 In model year 2024, Airstream introduced standard 2000W inverters in all travel trailers (except Basecamp and Bambi), with a selection of electrical outlets wired for inverter use. But Trade Wind takes that powerful feature a step further with a 3000W inverter capable of handling heavy power loads for extended periods, while fully inverting every electrical outlet for ultimate ease of use. In conjunction with the 3000W inverter, Trade Wind's power system has the capacity for running both the air conditioner and microwave simultaneously, even when far from the convenience of shore power hookups.  
This level of power flexibility means you can enjoy all the comforts of home no matter how far you stray from home.  
Boondock for Longer with a Massive Battery Bank
At the heart of Trade Wind's off-grid capability lies its chassis-integrated 810Ah heated lithium battery bank. This cutting-edge battery technology, inspired by Airstream's eStream Concept Travel Trailer, allows you to take the comforts of home far from traditional campsites. As mentioned, this battery bank (in conjunction with the 3000W inverter) provides enough power to run both the air conditioner and microwave simultaneously. For those accustomed to using A/C only while plugged into shore power, this is a revolutionary experience that opens up new possibilities for your outdoor adventures.  
But Trade Wind's impressive battery bank provides more than simply cool comfort on a hot day. It's a massive upgrade that gives owners peace of mind while camping. From powering the fridge and freezer, to lighting up the night and running fans, televisions, streaming devices, and satellite internet service, more battery power equals more versatility to go farther and stay longer, without sacrificing convenience or comfort. 
Beyond Power
Trade Wind's Rugged Features
In addition to its remarkable power capabilities, Trade Wind's off-grid design offers practical features for rugged terrains. With a 3-inch lift kit, rugged tires, front rock guards, and a solar window shield, it's prepared to conquer rough terrains and protect you from road debris. A rear-view camera assists with parking, and ample exterior storage ensures you can carry all the necessary cords, hoses, and tools for your off-grid adventures.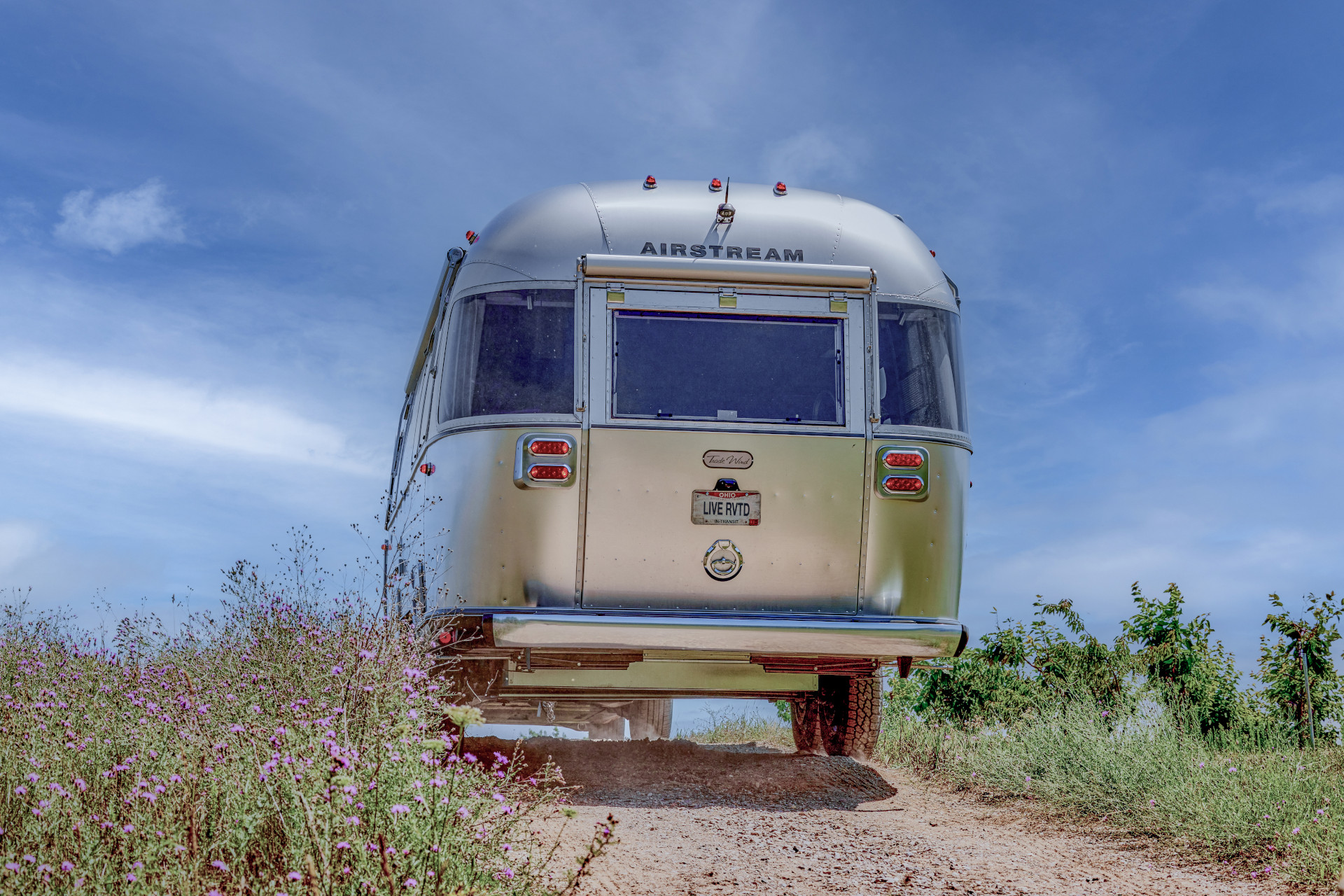 Interior Elegance and Comfort
Trade Wind's interior is a blend of aesthetics and comfort, welcoming you with gorgeous oak wood finishes and luxurious textured seating fabric. The Fieldstone and Terracotta décor options create a warm and inviting atmosphere, with both packages featuring highly textural woven fabrics that add depth and dimension to the interior design. 
A Spacious and Versatile Floor Plan
Trade Wind's floor plan is designed to maximize space and flexibility. The 25FB configuration offers a dedicated bedroom with a queen bed (with a twin bed option coming in early 2024), a lounge area, and a convertible dinette, accommodating up to five sleepers. The convenient shower/lavatory split adds practicality to your journey, ensuring you enjoy homelike comfort no matter how far your adventures take you.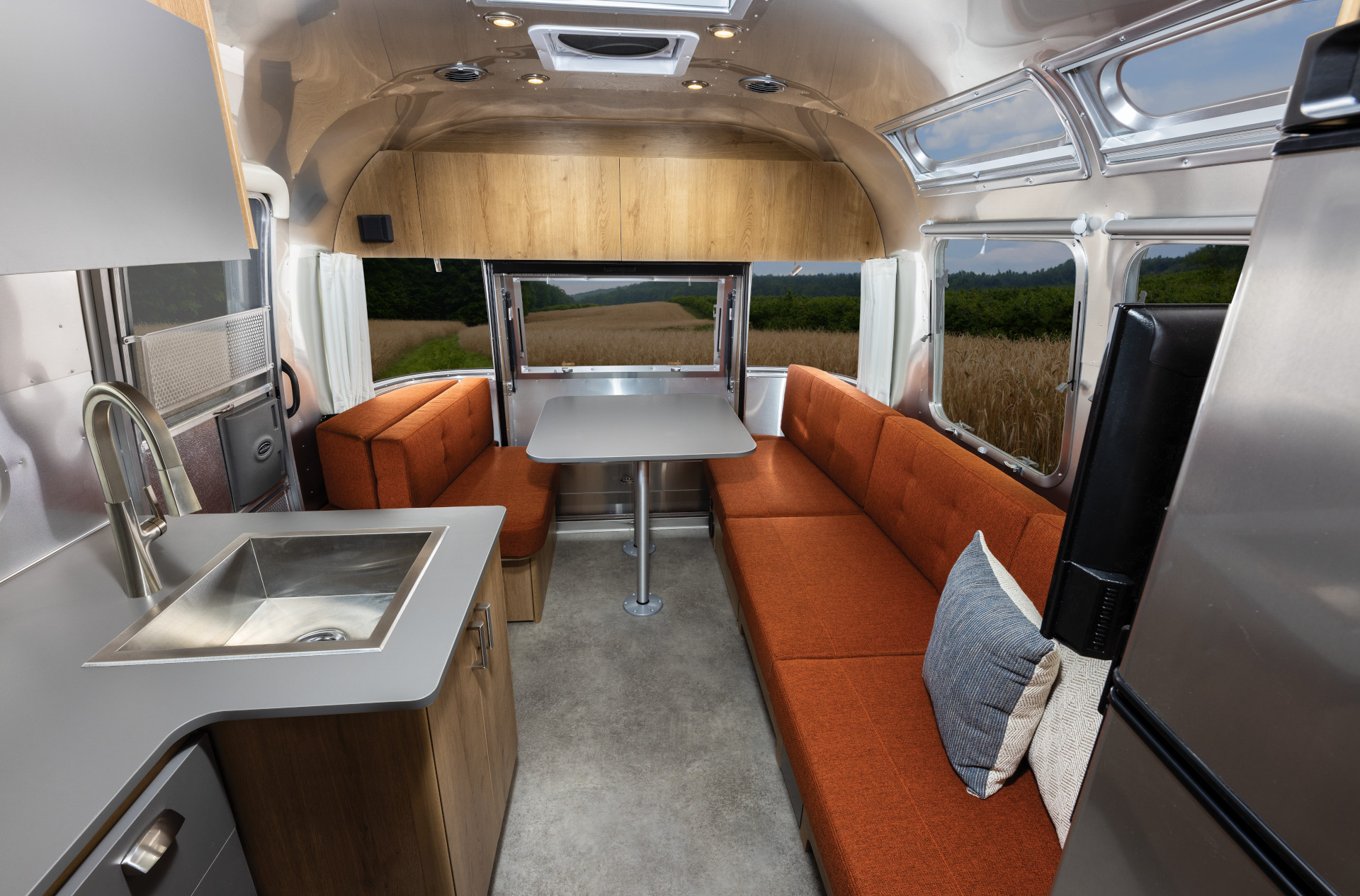 Optional Features for Ultimate Adventure
For those seeking even more adventure, Trade Wind offers optional features that elevate your experience. The rear hatch provides easy loading for bikes, fishing gear, paddleboards, or a kayak. Additionally, you can opt for a convection oven with an air fryer, rear and roadside awning packages, and a composting toilet to further enhance your off-grid capabilities. 
Crafted to Last Generations
Airstream's commitment to quality craftsmanship ensures that your Trade Wind Travel Trailer is built to last. Handcrafted in Jackson Center, Ohio, using the finest materials and expert design, each Trade Wind is a cherished heirloom designed to pass down through generations. 
Embrace the Future of Travel
Sixty-five years after reimagining self-contained travel trailers, Airstream's Trade Wind continues to push boundaries. With 810Ah of Lithium Battle Born batteries, 600W solar capability, a 3000W inverter, and rugged terrain-ready features, Trade Wind empowers you to embrace the solace and tranquility of the great outdoors without sacrificing modern amenities. 
Discover the Airstream Trade Wind™ Travel Trailer today and unlock a world of boundless possibilities. Your next unforgettable adventure awaits. If you're eager to see Trade Wind for yourself, find your nearest Airstream dealer and schedule a visit to witness this incredible new travel trailer in person. 
Learn more about Trade Wind's off-grid functionality – along with all its incredible features, decor options, and more.
Ready to see Trade Wind for yourself? Find your nearest dealer and set up a visit today.