The National Trust is on a trek across the Mother Road this summer – in an Airstream! Each week, a Route 66 Roadie will be documenting their experiences, attending meet-ups, and bringing attention to an icon of American history. Today, Roadie Morgan Vickers shares her experience from week three of the #Preserve66 trip! (Photography: David Kafer)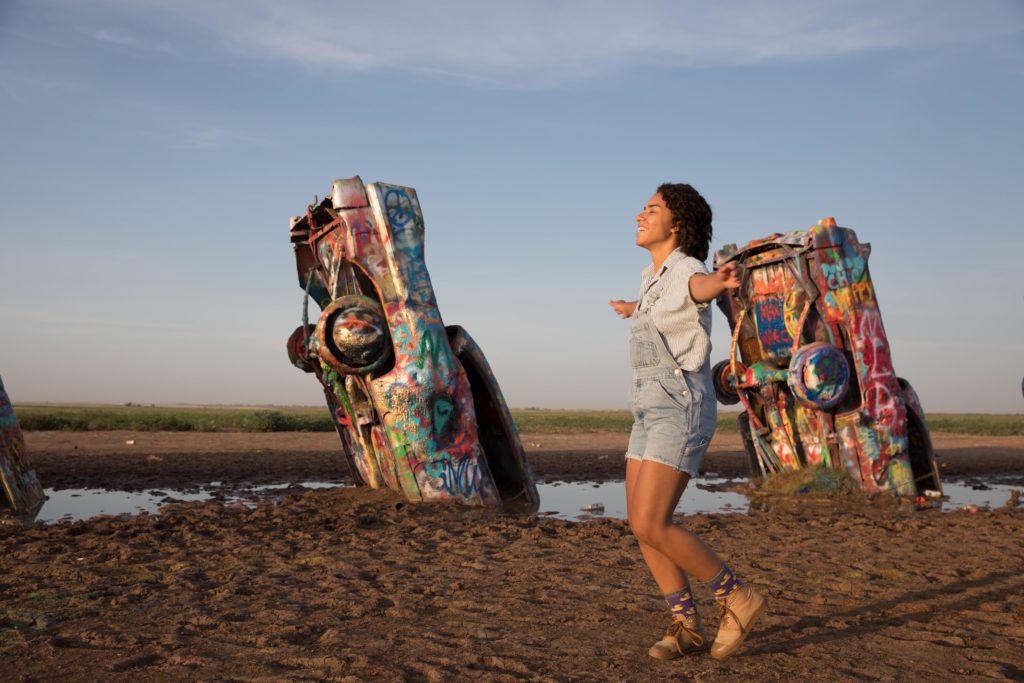 Jamie and Mark love cars, Route 66, and, most importantly, each other.
We met Jamie and Mark at our first meet-up in Albuquerque, a golden-hour evening meet-up at the grand reopening of the El Vado Motel. Jamie, whose dark bob and fitted patterned dress made her look like a 1960s film star, shook my hand. As I told her more about our #Preserve66 campaign, she blossomed.
"We absolutely love Route 66," she said. "It really reminds you to slow down and enjoy life."
The couple met eight years ago at a GTO Club meeting, where car enthusiasts from across New Mexico come together and talk about their love of the automobile. At first, Jamie thought Mark, a quiet 30-something man with light hair and a full laugh, must've been there to support his father. The group mainly consisted of older men. But, Jamie quickly realized that Mark was there because of his own passion. The two soon became an item.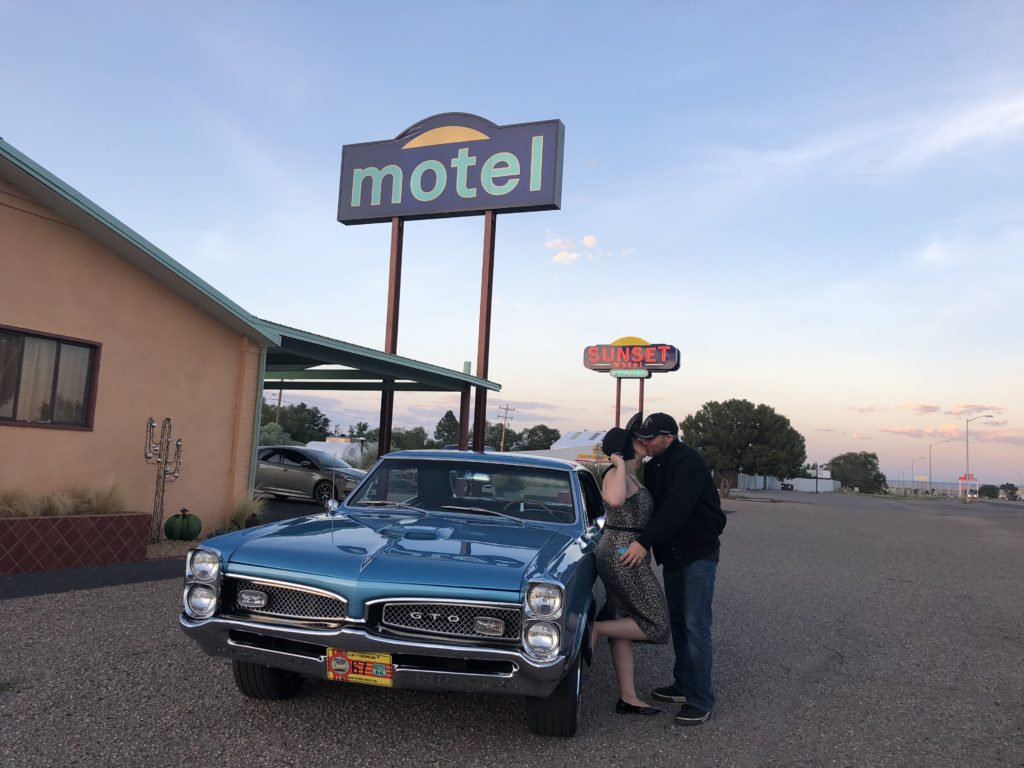 We met Jamie and Mark for a second time at the Albuquerque Route 66 Summerfest. They showed up to our booth with Jamie's parents, a couple who also met through their love of cars. When they saw the Airstream, the two couples swooned. Jamie and Mark haven't yet driven the entire Route together, but that's their next big goal. They also have big dreams for their life on the Mother Road.
"We want to live on Route 66 and we want to own a Route 66 attraction," Jamie said. "It'd be awesome to travel in one of these."
Traveling in a 27-foot airstream emblazoned with the words "Preserve Route 66" indeed allowed us to slow down and enjoy life on the road. People approached us at rest stops and ask us about our travels, and we spent a few extra minutes sharing our stories. Giddy children at meet-ups eagerly asked to check out what was inside, and we made adventures out of showing them around. And people like Jamie and Mark kept coming back day after day, unraveling more and more of the yarn ball that is their Route 66 experience.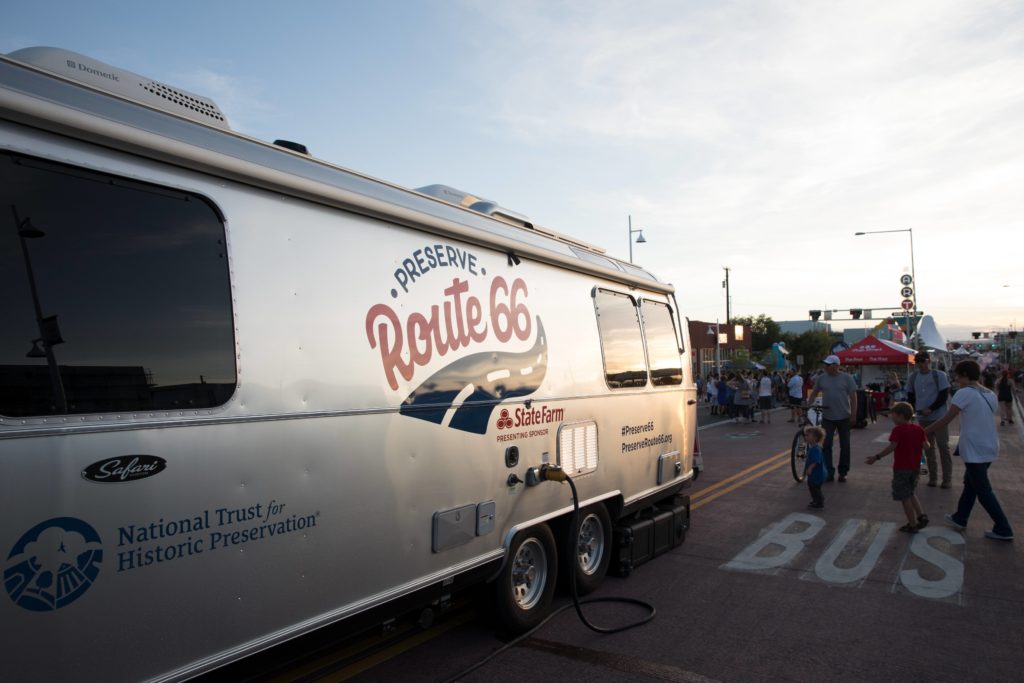 In Albuquerque, NM, I met Sharamin Dharas as she sat just 50 feet away from the Airstream during the Route 66 Summerfest.  Her family owns the 1960s-era University Lodge Motel (formerly TraveLodge) on Central Avenue, Albuquerque's stretch of Route 66.
In 1984, Sharamin's parents, Salim and Rosemin, flew from Tanzania to Toronto, hopped on a Greyhound, and traversed America all the way to Albuquerque. While in Tanzania, Salim was a box boy, got his agricultural degree, acted as a politician, and even served as a freedom fighter, bringing food and water across the Mozambique border. When they arrived in New Mexico, the couple worked at Dunkin Donuts and apprenticed with another motel owner to save enough money and learn the skills to eventually open their own establishment.
Sharamin, who currently lives full-time in Arizona, loves the Nob Hill neighborhood of Albuquerque so much that she is now moving back home to help rehabilitate and revitalize the aging motel she grew up in. She has big dreams to rebrand the University Lodge as The Avenue, a place where young people will want to stay, work, and play.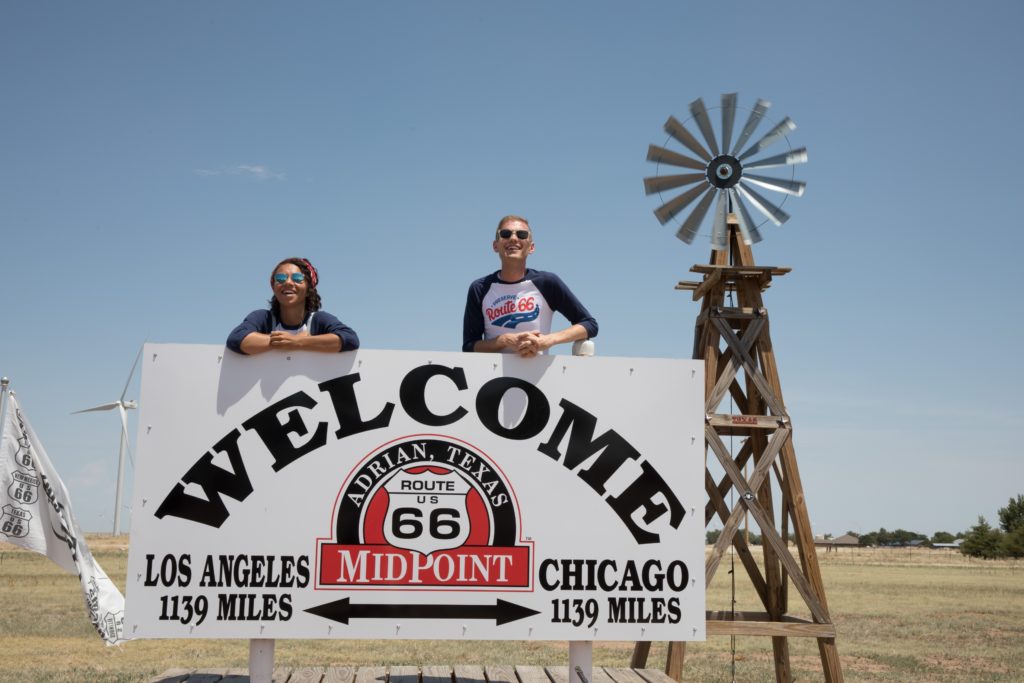 And when we got a crack in our windshield en route to Vega, TX, we realized upon stopping in town that we were 36 miles from the nearest window repair shop. Instead of bemoaning our lost time, we turned our extended stay in the small town into a morning of adventures.
Greg, the local museum curator paraded us around town in the truck bed of a Humvee and gave us each personalized Route 66 dog tags thereafter. Sherry, a museum volunteer, told us about the 2005 Country Music Television reality show filmed in the town, called "Popularity Contest," where out-of-towners competed to become the most popular new resident of Vega. Keila, the director of the Oldham County Chamber of Commerce took us to her late grandmother Dot's Mini Museum at the edge of town and meticulously orated a community history over sandwiches and slices of pie at the Midpoint Cafe in nearby Adrian, TX.
There, she told us, "This place has so much to offer, if people are willing to stop by and take a look."
And that, truly, is the spirit of Route 66. Accidental pit stops lead to shared meals with strangers. An interaction with an inquisitive traveler leads to receiving a parting gift of a vial of real Dust Bowl dust. And a simple, "Hey, how are you?" leads to a two-hour visit to the home of a resident who cares deeply about the Mother Road and its future. The most powerful conversations I had, people I met, and meals I shared on my trip were due to pure serendipity. Sometimes you just need to slow down and enjoy what life brings your way.