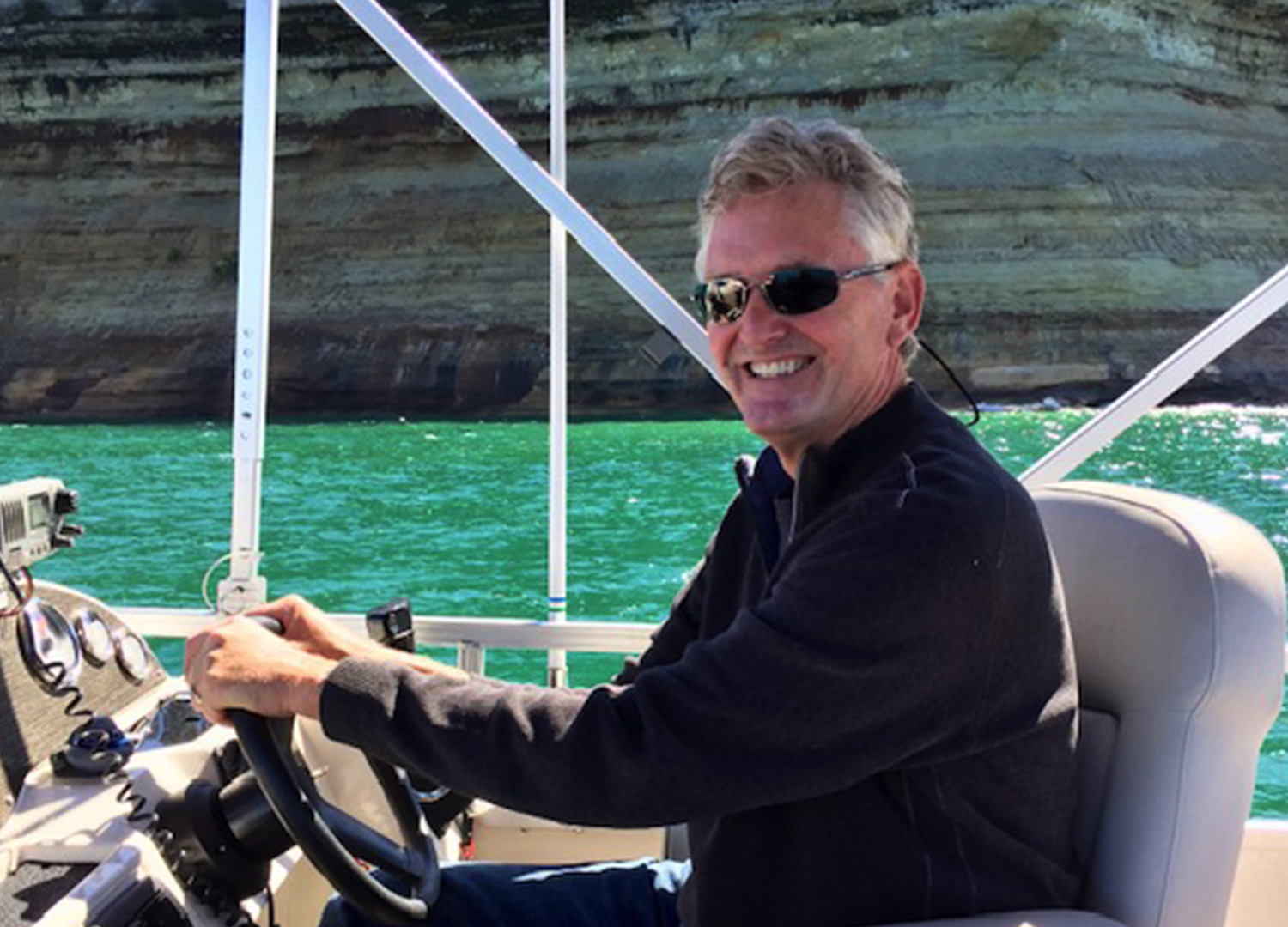 Rick always knew that Airstreams were iconic American symbols. But in 2013, there was an Airstream rally in Rick's hometown, and that brought the beauty of the brand right onto Main Street.
"To see all the trailers lined up and everyone having a good time, and to see the variation of the Airstreams, from remodeled vintage to the brand-new models, that's what steered us to the Airstream brand," says Rick. "It was that 'Aha' moment for me."
Three years later Rick joined the Airstream family with the purchase of a 2016 Interstate.
"We took our first tour of the Airstream plant in Jackson Center – I've been on a couple of tours since – and we were able to see our Interstate the day it rolled off the line," says Rick. "That was pretty cool."
Rick and Kathy were drawn to the openness of the Interstate touring coach.
"I remember looking at the brochure, and there was a picture that showed the back doors totally open with the screen up. You could see a fantastic view of a mountain range," says Rick. "I thought it really brought the public space into the private space."
Rick and Kathy's first voyage in the Interstate is among their most memorable outings. They went to Northern Michigan, near Pictured Rocks National Lakeshore, and stayed in a municipal park. The Interstate was backed up to the Lake Superior shoreline, so they opened the rear doors and made that brochure come to life. The lake was eight feet away, the waves lapping at the beach.
Last year, Rick and Kathy decided to trade in their Interstate for an Atlas. They were drawn to the slide-out room and the Murphy bed. They felt it was roomier and appreciated the aesthetic of the living space and the bathroom, plus they still have the same amount of storage.
Rick considers himself a serious project planner – whether it is an upcoming trip or a task at hand. "The reading, research, analysis and final planning are activities I enjoy," says Rick.
It's like a top-notch hotel suite on wheels

- Rick Girth
He and Kathy enjoy traveling to state parks and resort-style campgrounds throughout the Great Lakes Region, Southern Midwest and Appalachian Mountains.
"We think the most beautiful scenery is in state parks and city parks. They're just beautiful – that's why they were set aside for all of us to enjoy," says Rick. "Then there are times when we choose the amenities of the resort-style parks, such as the cable TV, hookups and the added space."
They also enjoy taking their Atlas out with their grandkids for day trips or "just run around town," and they've camped adjacently with their adult children at a few different campgrounds.
"It's like a top-notch hotel suite on wheels," says Rick.
Rick was in manufacturing for most of his working life, after his Air Force service. He worked on an automotive assembly line until he decided to continue his education, becoming a manufacturing engineer.
Rick left the large corporate culture and took on an entrepreneurial role for a local machine builder. During this phase of his career he became a business owner, creating jobs and providing custom designed economic tooling solutions to Fortune 100 companies across North America.
In 2015, Rick decided to retire so he could spend more time with family and tend to his country property in Eaton Rapids, whether it be working around the house and barns or gardening. And just a year later, to enjoy his new Airstream.
It's not just the destination, it's enjoying the journey with the comforts of the touring coach and the people you're with.
"My business travels took me to hundreds of manufacturing facilities around the world. The Airstream factory left a very positive impression on me. I just think it's a really classy company. At Jackson Center, you can just tell the employees like their jobs, and value the customer relationship. It makes me feel good about investing in their products," says Rick.
Of his travels with his Airstreams so far, Rick says, "It's not just the destination, it's enjoying the journey with the comforts of the touring coach and the people you're with."