A travel trailer that is truly for the birds
"Road Roost" would be a fitting name for any Nest trailer, but it's the perfect name for Lula West and her husband Pete Heng's trailer, whose first mate and traveling companion, Lola, is a beautiful orange and yellow Sun Conure, a small parrot.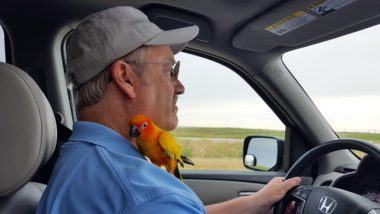 While Lola goes everywhere with her owners these days, it hasn't always been that way. She's the newest member of the family, and until the launch of the Nest, wasn't very portable.
Lula adopted Lola three years ago when Lula's son, who was living with her and working at a local pet store, met a family who had just lost their daughter and was desperately looking for someone to care for the orphaned bird.
Her son brought the bird home and Lula said, "She attached to me right away. He moved out and the bird stayed."
And yes, she came with her name. So Lula, named after her grandmother on her father's side and her aunt on her mother's side, adopted Lola.
An experienced tent camper, Lula loves the outdoors, so much so that when her first daughter was born 40 years ago, as soon as the doctor gave her the all clear at six weeks, the family went camping.
Once Lola arrived on the scene, Lula was reluctant to plan trips.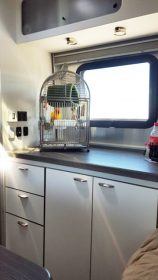 "I hated traveling because I would have to leave her (Lola) home and would miss her and worry if she was being taken care of by pet sitters," Lula said. "So, we bought her a "Nest" and a backpack cage so I can put her on my back and take her walking with me."
Purchased with the cash from the sale of some land that that Lula and Pete referred to as their "nest egg," Road Roost fuels the venturesome spirit of everyone in the family.
Sun Conures are known for their playful nature and adventurous, and Lola is no exception. Lula says of all the cages, Lola prefers the backpack and will often sit in it for days upon returning from a trip.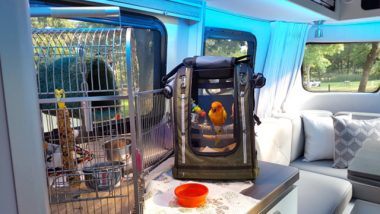 "I've always had a dog or cat," Lula said. "Now that I have her, I'm hooked. Especially now that she's so portable."
The family also has a 15-year old miniature dachshund, and Lula says there's plenty of room for everyone in the Nest and particularly loves the extra counter space in the 16U floor plan for Lola's cage.
"We can't take it (Nest) anywhere without curious people at campgrounds, gas stations, rest areas asking about it and wanting to see inside," Lula said.
With an anniversary trip to Niagra Falls in the works for the spring, the couple also plans to attend Alumapalooza in May.
"As soon as we get home I can't wait to plan my next trip," Lula said.