April, the month we all dream of if we live in a winter climate and our Airstream is hibernating. It means planning to fill her up with pantry staples, spices and food. We all know that pre-planning at home (if you're not full-timing) can be helpful to make meal preparation a snap. But if you're full-timing, or have a full time job as I do, sometimes we are leaving right after a work day and I've no time to prep a weeks-worth of meals. Since we camp from April to October, keeping pantry staples and spices is an important key to food preparation. I'll add fresh fruits and vegetables, some salmon and chicken in the freezer, and we can be on the road. Here are some of my tips to create delicious and interesting meals on the road, while keeping the weight and breakage down. Darn those potholes!
Spices & Herbs: I keep my most used spices close at hand in magnetized stainless steel containers on my range hood. They stay there on the worst of roads and don't take up cupboard space. I got mine at Bed Bath and Beyond for $1.99 each. For additional spices I bring tiny unbreakable containers (not glass jars) or purchase in ½ oz. sizes at a spice store. They take up little space, but give you multiple options for meals. You can turn chicken or fish into Mexican night tacos, chicken curry, Italian breaded chicken, chicken paprika or lemon pepper fish. Spice and seasonings are the number one ingredient needed for creative meals. I don't have to repack spices each time we travel, and I almost always have what I need. I have a list that I can give you if you'd like, just ask! Or come to the International Rally and I'll discuss it.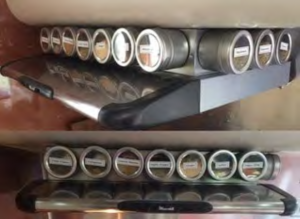 Pantry Staples: In addition to the standard flour & sugar (brown and white), I have these items that stay in the trailer during the season: rice, pasta, panko bread crumbs, cornmeal, oats and instant oatmeal, yeast (for cinnamon rolls or bread making), honey, maple syrup, peanut butter, lentils (there are a thousand things you can do with lentils), boxed crushed tomatoes, boxed garbanzo beans, boxed black beans and boxed soup. I stay away from cans and jars. Both too heavy and jars can break. Cans for olive oil and vegetable or other oils are better than glass so I bring those. And cider vinegar and one other flavor, like fig or raspberry. Why bring large bottles of salad dressing and use precious fridge space when you can mix olive oil and vinegar and make your own? Throw in some garlic, or herbs, parmesan cheese, etc. and you have an almost instant dressing for vegetables and salads. Baking powder, baking soda, cornstarch and chocolate chips. Nuts (usually walnuts, pecans and cashews….Cashew Chicken!) Nuts for snacking and cookies and salads. Seeds (usually pumpkin and sunflower), and in my spice cupboard are poppy seeds and sesame seeds. Now you have the makings of many meals without having to find a store in the middle of a National Park.
View April Issue of the Blue Beret 
Gina Eggers and boyfriend Mark Katsen are owners of a 27' FB International Serenity, "Something Shiny." Gina has been a lifelong camper and foodie, attending classes and seminars around the United States on breads, grains and vegetarian/vegan and raw foods. She has been teaching classes at a kitchen store in Wisconsin and in hers and others homes, and will be reaching pasta-making at the Marquette Farmer's Marketing in Michigan this summer. She is a member of the Bread Baker's Guild of America. You can find her on Instagram at @upnorthbread.