While some people view winter as the offseason for outdoor travel adventure, the coldest months are also a great time to ramble. Smaller crowds in the popular spots and moderate temperature in the Southland are just two reasons to hitch up and head out in these early days of the new year.  Here are some of the best winter camping spots, based on your fellow Airstreamers' reviews on Campendium.com. Because things remain fluid, be sure to double-check your destination's operating status and capacity before you leave the driveway.
Here's your guide to the best Winter camping across the United States, as recommended by fellow Airstreamers through Campendium.
SOUTHWEST
Wright's Beach Campground 
Sonoma Coast State Park 
Bodega Bay, CA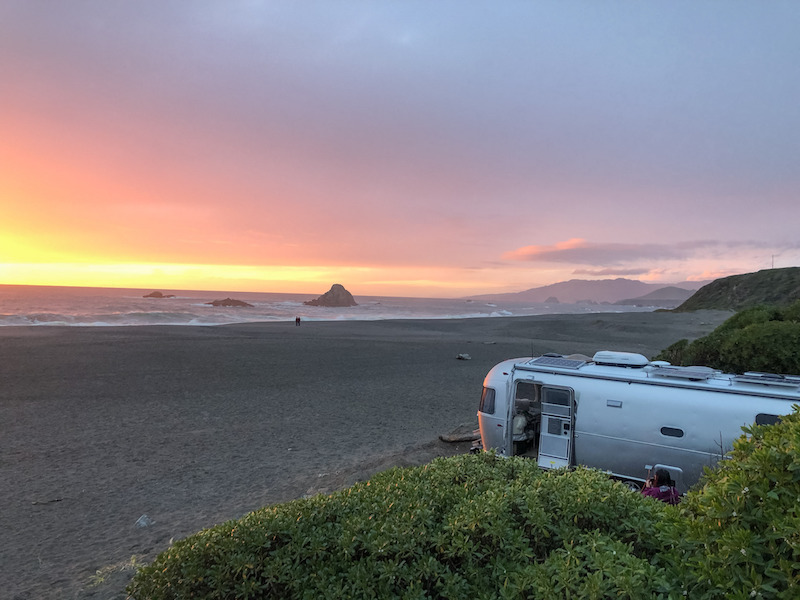 This isn't your typical sandy ocean beach. The Sonoma Coast has character. Sure, its 16 miles include plenty of sand, but you'll also find rocky headlands, secluded coves, natural arches, tidal pools, and off-shore reefs. This geographically complex stretch of coastline is home to an equally diverse range of wildlife, including some 300 bird species and harbor seals, which give birth to their pups on the beaches starting in March. Visit the park from December through April and you might glimpse a pod of gray whales on their migratory roundtrip between Baja and Alaska. Sonoma Coast State Park has five miles of hiking and horseback trails. The fishing is spectacular as the water teems with rockfish, salmon and steelhead. Shellfish lovers can gather mussels and cockles along the beaches. Wright's Beach Campground has 27 dry camping sites. Water and flush toilets are available. "This campground is right on the beach with incredible views and the constant sound of crashing waves," said Airstreamers livinginastream. "No hookups, but the location makes up for it." Airstream on Safari echoed that sentiment. "We enjoyed our time here. We stayed the last weekend of February. The weather was sublime, and the wind was just a breeze."
Explore Wright's Beach Campground
Sawtooth Canyon Campground
Lucerne Valley, CA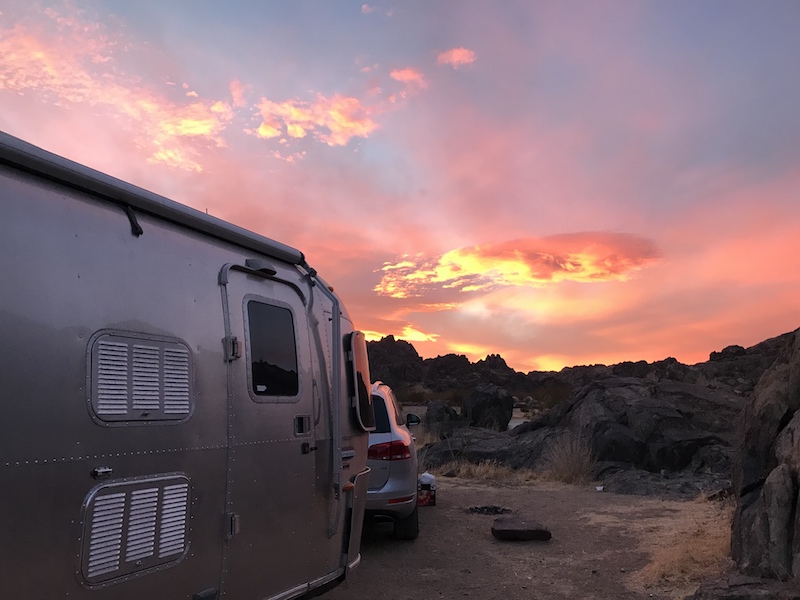 Sawtooth Canyon Campground is desert camping at its best. And winter is the perfect time to visit this BLM property as daytime temperatures typically top-out in the 70s, as opposed to summer highs north of 100 degrees. Located 20 miles south of Barstow, Sawtooth offers several recreation activities, including wildlife viewing, hiking and hunting. But the most popular activity at Sawtooth is rock climbing. The area's craggy, rugged topography, capped by a saw-blade-shaped ridgeline, draws rock climbers from across Southern California. According to Airstreamers RudiOnTheRoad, "This is a great stopover en route to Joshua Tree from the North. Climbers might want to stay for a few days. Some good bouldering and easy climbs." Sawtooth has 14 dry camping sites, each with a fire ring and picnic table. The campground is accessed via a mile-long washboard road. Cell service is spotty, and you'll want to make sure you stock up on water and other provisions before arriving at this gloriously isolated spot. Camping at Sawtooth is free and first-come-first-served. Because of the area's popularity with climbers, the campground fills up quickly on weekends. 
Explore Sawtooth Canyon Campground
Gilbert Ray Campground
Tucson Mountain Park
Tucson, AZ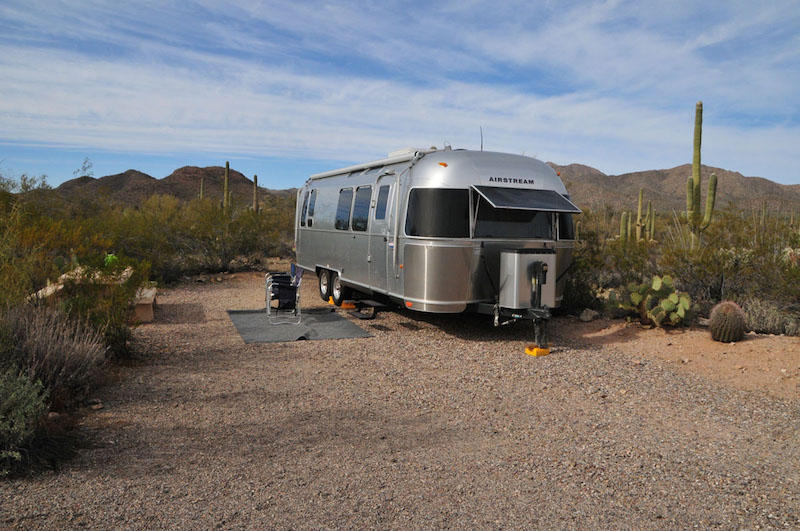 Gilbert Ray is part of Pima County's amazing Tucson Mountain Park, which offers a delightful range of recreational opportunities in a desert setting dominated by giant Saguaro cacti. Visitors can hike, mountain bike, bird watch, hunt, or sharpen their marksmanship on the archery and shooting ranges. There's even more adventure to be found next door at Saguaro West National Park, which is best explored via its numerous hiking trails or scenic loop road. Airstreamers WAP were delighted with their first experience at Gilbert Ray. "This campground is a beautiful setting in the heart of the Sonoran Desert. The proximity to Tucson should make the campground feel like it is right in the city, but it is not like that at all very remote feeling and lots of wildlife to see. We will continue to come back to this campground over and over."
Gilbert Ray Campground has 130 gravel sites with electric hook-ups, picnic tables and fire rings. Amenities include flush toilets, a dump station, and a water source.  Reservations are accepted and recommended, especially in the winter months.
Explore Gilbert Ray Campground 
Lost Dutchman State Park
Apache Junction, AZ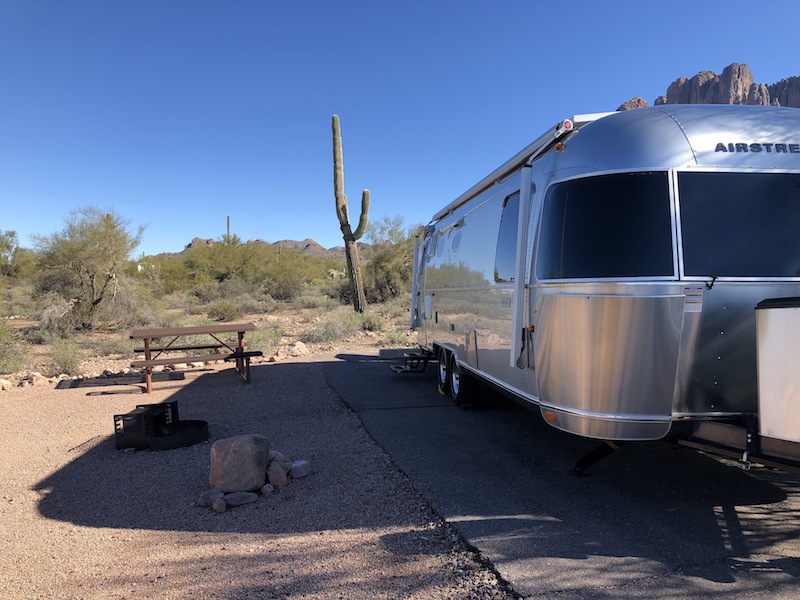 While no one has ever found the legendary Lost Dutchman gold mine, countless people have enjoyed the delights of the park bearing its name. Set on the edge of the Superstition Mountains and surrounded by the Tonto National Forest, Lost Dutchman is a nature lover's delight. The park has six hiking trails ranging in difficulty from easy to challenging. Careful, quiet hikers might come across some of the park's native residents, including desert mule deer, roadrunners, javelina, bobcats, coyotes and Gila monsters. The Tonto National Forest's 2.9 million acres are packed with even more recreational activities, including hiking, biking, fishing, hunting, climbing and OHV riding. Airstreamers TinPueblo are huge fans of Lost Dutchman. "This is our favorite Arizona State Park! The mountain views are so mesmerizing, the campsites are spread out nicely, and the hiking is great! We will continue to make weekend getaways here. The facilities are great, and the views — can't stress enough about the views — this is  what makes Arizona a fantastic place to visit."  Lost Dutchman has 134 campsites, half of which offer electric and water hook-ups. The other 67 are dry camping. Amenities include showers, flush toilets and a dump station. This park is very popular in the winter months, so make your reservation well in advance.
Explore Lost Dutchman State Park
Hurricane Cliffs Recreation Area
Campsites 36-48
La Verkin, UT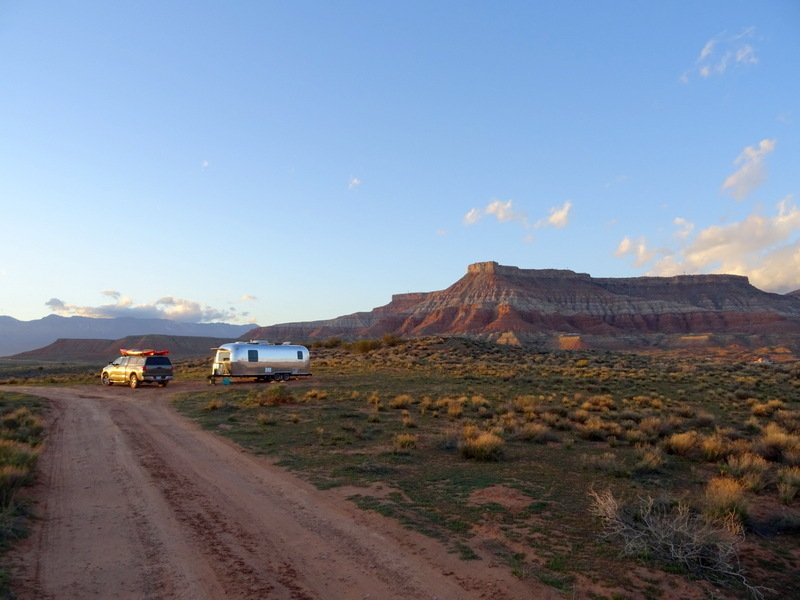 If you're a mountain biker, you need to add Hurricane Cliffs to your winter travel itinerary. According to the BLM, "the Hurricane Cliffs Trail System wasn't developed because of its awesome slick rock or incredible views, and it isn't inside a protected area such as a Reserve or Area of Critical Environmental Concern. This trail system developed because it's an area that is just plain fun to mountain bike." The area's 36 miles mountain bike trails encompass rolling terrain and rough, rocky slabs. Once you've conquered those paths, head over to nearby Gooseberry Mesa, home to what is widely regarded as some of the world's best mountain biking. Hurricane Cliffs has plenty of charms for non-bikers too, including some gorgeous hikers-only trails and proximity to Zion National Park. There are 13 dispersed dry camping sites in this section of Hurricane Cliffs, each with a fire ring. Camping is free but limited to designated sites.
Explore Hurricane Cliffs Recreation Area, Campsites 36-48
---
SOUTHEAST
Stephen Foster Folk Culture Center State Park
White Springs, FL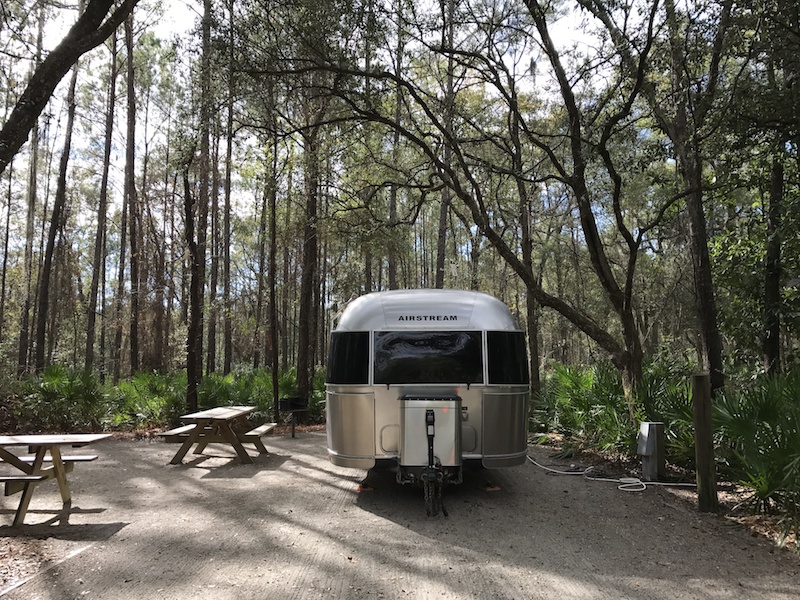 This adventure-packed state park is located, well, way down upon the Suwannee River, which was made famous by Stephen Foster's song "Old Folks at Home." The park has an entire museum devoted to Foster, and his music plays all day on a 97-bell carillon. Once you're up to speed on the life and times of Stephen Foster, it's time to partake of the park's numerous outdoor adventure opportunities. Hiking, bicycling, canoeing, fishing and wildlife viewing are all on the menu. The park's several paths, including the eight-mile Stephen Foster's Hammock Loop Trail, take hikers through some of the most scenic areas of North Florida. The park is an angler's paradise, especially fishing from a canoe. Large-mouth bass, black crappie, channel catfish, sunfish and bream are abundant. A canoe or kayak is also an excellent way to explore the river, which is lined with limestone outcroppings, small caves, rock formations and overhangs. Keep your eyes peeled for alligators and turtles as you paddle. Stephen Foster Folk Culture Center State Park has 45 shaded campsites with water and electricity. Amenities include flush toilets, showers, laundry facilities and a dump station. Reservations are recommended in the winter months, especially for weekend stays.
Explore Stephen Foster Folk Culture Center State Park
Fort De Soto Park Campground
St. Petersburg, FL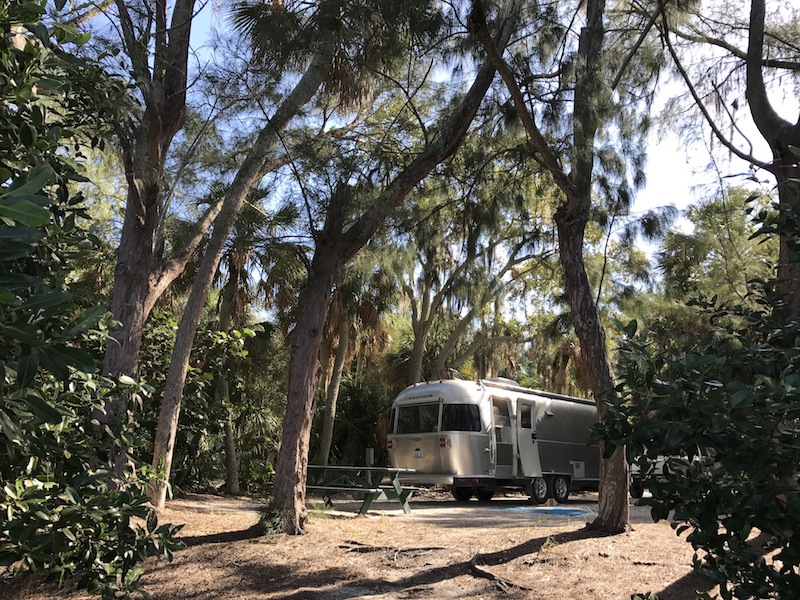 Not all the Florida keys are south of Miami. Fort De Soto Park, set on Florida's Gulf Coast, consists of five beautiful bio-diverse keys (islands) ringed in gorgeous white sand. This county facility features seven miles of shoreline, including three miles of white sand beaches named America's Top Beach of 2009 by Trip Advisor.
A 6.8-mile asphalt walking path connects several sections of the park, while two short nature trails allow visitors to glimpse the keys' native plants and animals, including some of the 328 bird species that have been spotted in the area. History buffs can roam the ruins of Fort De Soto, which dates from the late 19th century. Airstreamers ChasingTabor rave about Fort De Soto. "This campground is a great hidden gem. It is surrounded with ocean views from most of the sites. Museums, restaurants and shops are close by in St. Petersburg, but the campground feels like an isolated beach island. I can't say enough how much we love this spot!" Fort De Soto Park Campground has 238 sites with water and electricity, a picnic table and a fire ring. Amenities include showers, flush toilets, laundry facilities, a dump station and a general store.
Explore Fort De Soto Park Campground
Skidaway Island State Park
Savannah, GA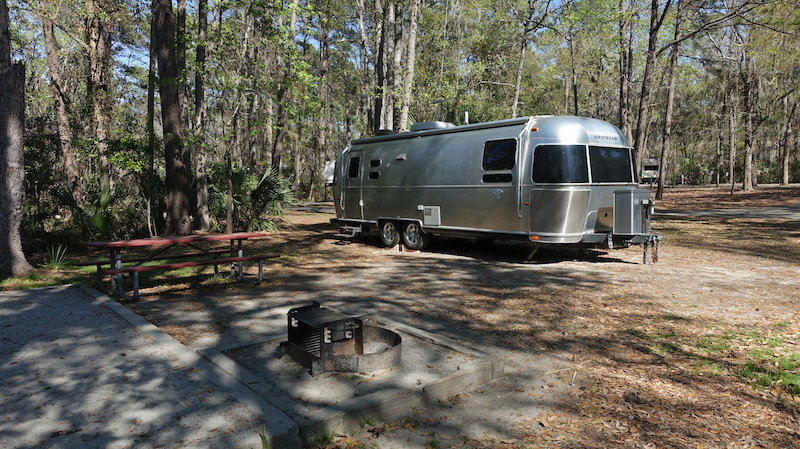 Skidaway Island is an ideal base for exploring Georgia's gorgeous coastline and the beautiful, historic city of Savannah. Set on Skidaway narrows, a part of the Intracoastal Waterway, the park is a riot of natural wonder. Six miles of hiking trails allow visitors to explore salt marshes and maritime forests teeming with wildlife, including numerous bird species. After a day in the wilds, head to downtown Savannah for an evening of great dining, boutique shopping and a stroll down historic streets lined with trees draped in Spanish Moss. Georgia's Golden Isles, including the popular resort St. Simons Island and Jekyll Island, a popular retreat for Gilded Age robber barons, are an easy drive from Skidaway. Airstreamers ckubly loved everything about Skidaway Island. "This is exactly what I always pictured a campground to be. Large sites, lots of space between sites, and clean and well taken care of. Most sites are pull-through and not within 75 yards of the next site. There are several trails within the park, and you are only about 20 minutes from downtown Savannah." Skidaway Island State Park has 87 sites, some with full hook-ups. Amenities include restrooms with flush toilets and showers, laundry facilities and a dump station.
Explore Skidaway Island State Park
Fort Yargo State Park
Winder, GA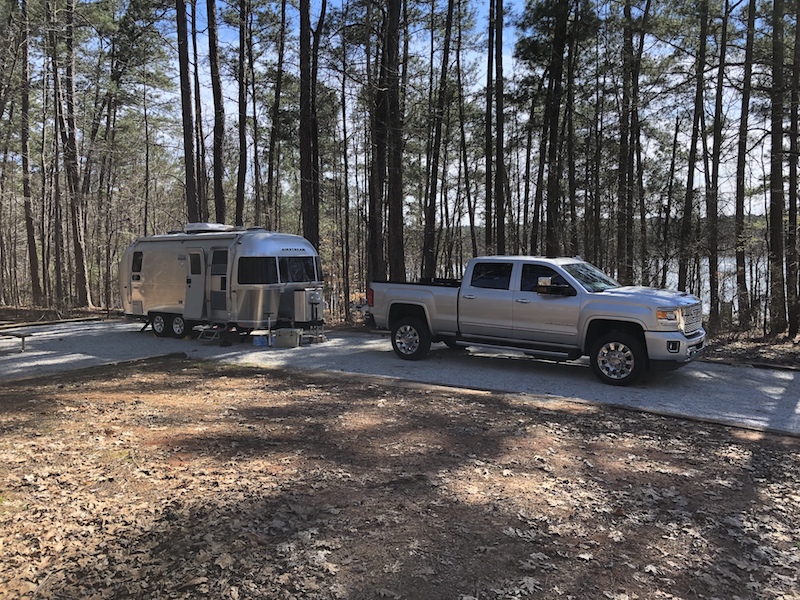 If your winter wandering takes you south via I-85, Fort Yargo State Park is an excellent layover spot. Set between Atlanta and Athens, the park offers plenty of ways to work out the travel kinks for a day or two. Mountain bikers and hikers can stretch it out on  20.5 miles of trails, while anglers can test their luck in a 260-acre lake. The facilities also include basketball courts, tennis courts and even a disc golf course made challenging by its wooded terrain. Airstreamers Bambi said Fort Yargo perfectly met their travel needs. "We came to Fort Yargo on our way to visit our son. Our site was level gravel with a pull through. Our stay was truly very pleasant. We will keep this on our list of places to stay the next time we are in the area." Fort Yargo has 52 sites with water, electricity, a picnic table, and a fire ring. Amenities include restrooms with flush toilets and a dump station.
Gulf State Park
Orange Beach, AL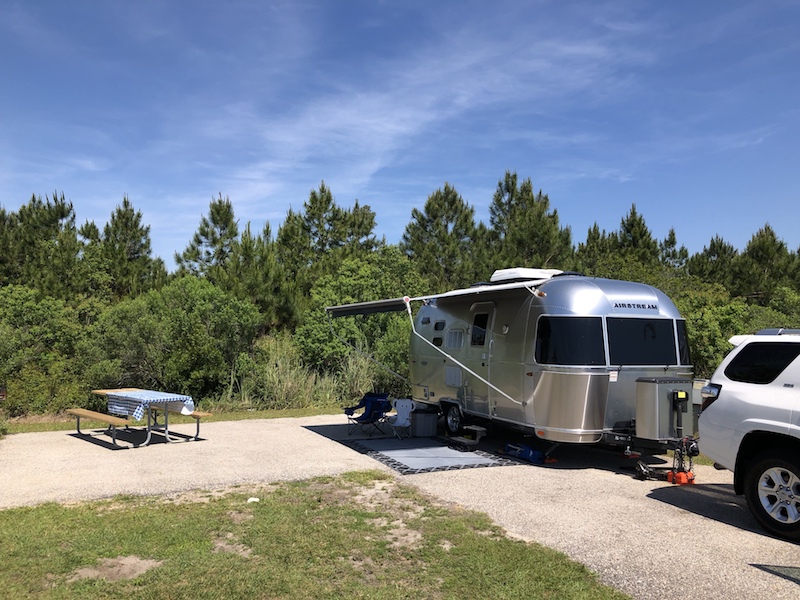 As wonderful as beaches are in summer, there's a whole different joy to walking the sand in winter. Gulf State Park is the perfect place to enjoy that experience. The park features two miles of white sand beaches perfect for shell collecting, bird spotting and just plain relaxing. Beyond the beach, Gulf State Park offers 28 miles of paved trails or boardwalks that allow visitors to explore the nine distinct ecosystems within the park boundaries. Alligators and Bobcats are among the wildlife you might encounter on a hike,  bike, or run. Fishermen can wet a line in the ocean or the park's Lake Shelby. When it's time for dinner, check out one of the four restaurants in the park's lodge, or head to nearby Gulf Shores, Orange or Mobile for more options. Airstreamers CinnamonTravelers stayed busy during their visit to Gulf State Park. "This is a beautiful park across the road from the beach. It's possible to kayak, walk the many trails, bike ride, sightsee, fish and more. There is plenty to do right outside of the park as well: bumper cars and zip lining."  Gulf State Park has 496 spots with full hook-ups and picnic tables. Amenities include restrooms with flush toilets and showers, a general store and a dump station. 
---
Northwest
The Point RV Park
Emigrant Lake Recreation Area
Ashland, OR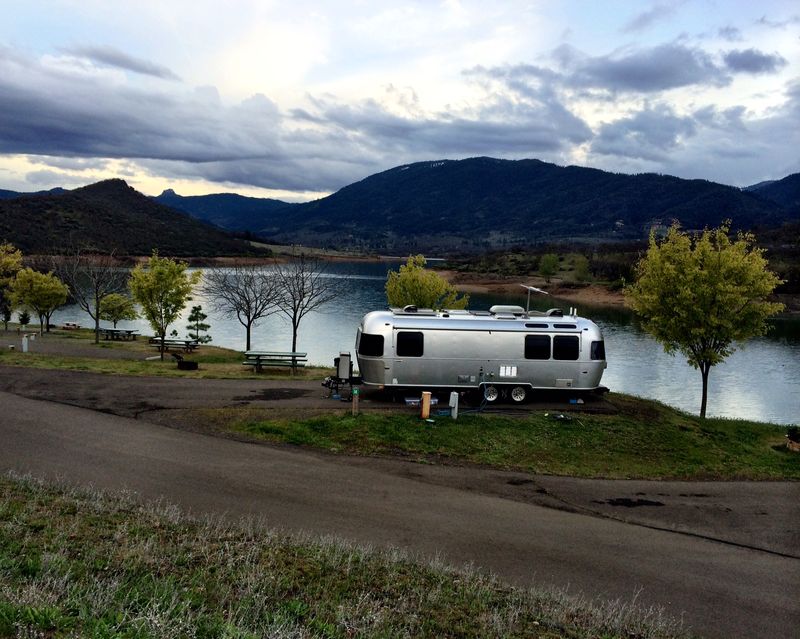 This county park makes an excellent stop-over while meandering down the Pacific Coast from, say, Seattle to San Francisco. Located off Interstate 5 just south of picturesque Ashland, OR, this low-key facility offers visitors a chance to wet a line in pursuit of several small game fish or get the blood circulating on the park's hiking trail. There is also a playground for the kids. Nearby Ashland is a popular tourist destination known for its shops and restaurants. Airstreamers Adventures of Dave and Ann said Emigrant Lake was a bargain. "In March, the campground was pretty empty. Full hookups for $30 overlooking a nice lake with some mountains in the background and only 15 minutes to a cool, small-town is darn good." The Point RV Park campground has 32 asphalt sites with full hook-ups, picnic tables and fire rings. Amenities include restrooms with flush toilets and showers and a dump station.
Explore Point RV Park at Emigrant Lake Recreation Area
Champoeg State Park
Newberg, OR

This remarkable state park offers a trifecta for outdoor explorers and adventurers - nature, recreation, and history. Set along the Willamette River south of Portland, Champoeg State Heritage Area encompasses forests, fields, and wetlands that witnessed much of Oregon's early human history, including the establishment of the territory's first provisional government and an 1861 flood that washed away an entire town of 200 people. Visitors can explore the park's natural wonders and historical sites on a network of paved trails. Disc golf, fishing, kayaking, and bird watching are also popular activities at Champoeg. This diverse landscape is home to more than 130 bird species, including western bluebirds and acorn woodpeckers. Airatreamers RovingRiveted say Champoeg is an excellent base for regional exploration. "Champoeg Park is a great destination near Portland and the Willamette Valley Wine Country. Settled in an old oak grove and along the Willamette River, this is a great spot for tourists traveling up I-5. For wine lovers, there are tasting rooms within walking/biking distance, and the Butteville Store is a great stop for ice cream and treats, about two miles round trip from the camp." Champoeg State Park has 75 RV sites, 21 with full hook-ups. Amenities include restrooms with flush toilets and showers and a dump station.
Beverly Beach State Park
Newport, OR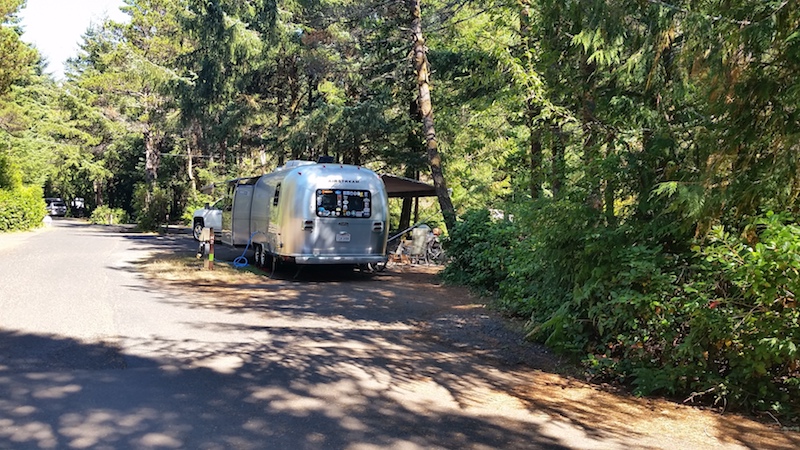 Beverly Beach State Park's creekside campground offers the best of two worlds - woodland camping at the beach. Set on the central Oregon coast, Beverly Beach's miles of shoreline is ideal for beachcombing, whale watching, and studying the marine life that teems in countless tidal pools. The campground, meanwhile, is hidden in a forest of wind-shaped trees bisected by a pebbly creek. Airstreamers justbreezinalong loved their stay at Beverly. "This is a gem of a camping experience. Proximity to beautiful beaches in the park's calling card. The sites are easy to navigate and are tucked amongst the trees. The whole campground is a grotto carved away from the coastal hills, making it a refuge against the wind. The further you venture into the campground, the more you find you're in a rainforest. A must-do is the Spencer Creek Nature Trail. It's peaceful and unique. Beverly is only a few moments to Newport and services, so resupplying is easy. There is plenty to enjoy in the area, from restaurants to art to nature. Very nice place to relax." Beverly Beach is home to Oregon's largest state campground with 129 RV sites, 53 of which have full hook-ups. Twenty-seven spots have cable TV. Amenities include restrooms with flush toilets and showers and a dump station.
Explore Beverly Beach State Park
Millersylvania State Park
Olympia, WA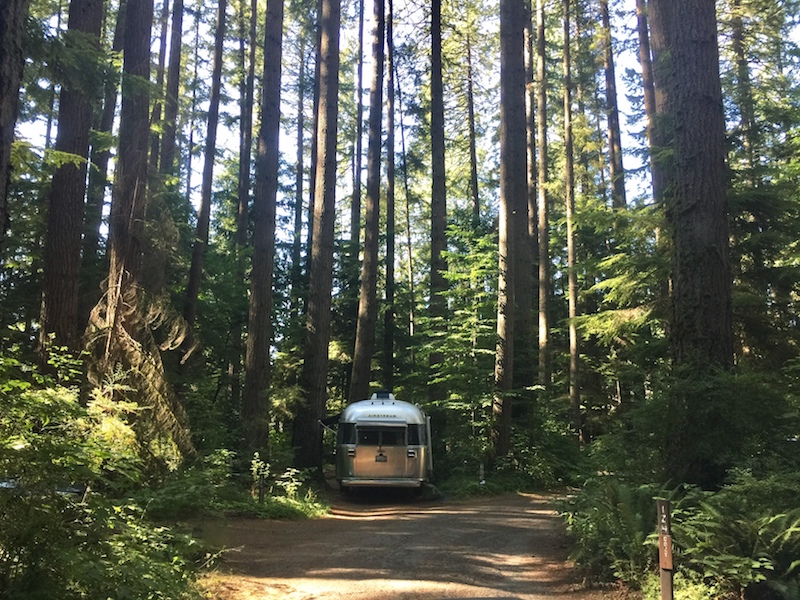 This Washington state park is an ideal spot to chill out and a perfect base to explore the Puget Sound region. Breathtaking Olympic National Park is about an hour away, as is Seattle. Olympia, the state capital, is just up the road. If you're just looking to kick back, Millersylvania's Deep Lake has a half-mile of shoreline that's perfect for fishing or putting in your canoe or kayak. Airstreamers Streaming Nomads enjoyed their one-night stop over at Millersylvania. "Millersylvania State Park is located in an old-growth forest in a quiet part of Olympia. The park is idyllic, with trees towering over you along a beautiful lake. The park has a lake for fishing and kayaking,
and nice walking trails in the forest. The park is very quiet and sits away from any road noise." The Millersylvania campground has 94 standard campsites, including 45 partial-hookup sites. Note that trailers are limited to 18-feet in length due to the park's narrow tree-lined roads. There are three restrooms, eight showers, and a dump station. 
Explore Millersylvania State Park
Kalaloch Campground 
Olympic National Park
Forks, WA

Olympic National Park is truly a national treasure, a wild, rugged bio-diverse place packed with unique recreational opportunities. Kalaloch is set on the park's ocean coastline, one of Olympic's four distinct ecosystems. (The others are a rainforest, mountains and temperate forests.) Airstreamers Ron & Sarah say Kalaloch is the perfect home base to explore Olympic. "Olympic National Park is one of my favorite places, and this campground puts you right in the heart of the coastal and forest portions of the park. No other park in the United States has beaches with the wild and remote character of those found in Olympic National Park. Kalaloch Beach is a great walking beach, and some of the sites have ocean views. If you want to park your RV in Olympic National Park (and why wouldn't you?), this is the best place to do it."
Kalaloch has 170 dry camping sites. The campground does have flush toilets. Part of this area's appeal is remoteness, so be sure to provision before you arrive. The closest town, Forks, is about 25 miles away.
Explore Kalaloch Campground at Olympic National park