Explore the guide to find some of the best October camping across the United States, as recommended by fellow Airstreamers through Campendium.
Northwest
Fernie RV Resort
Fernie, BC, Canada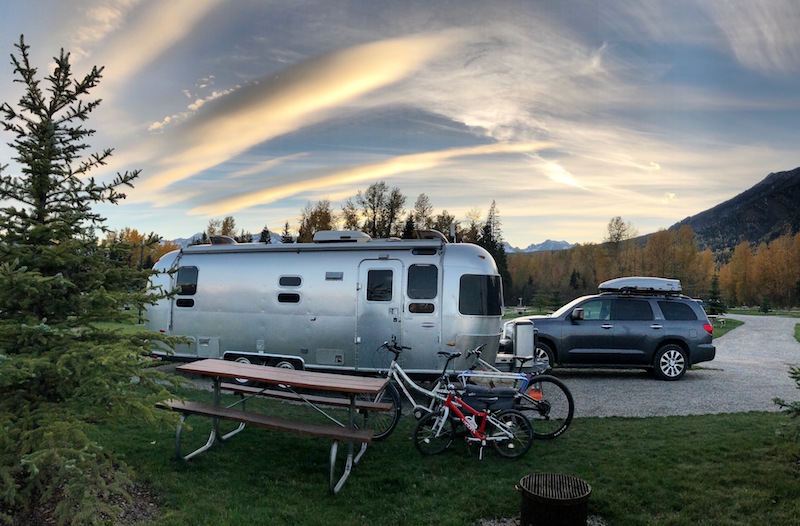 If you want to see Canadian autumn, take a trip to Fernie RV Resort in British Columbia. The experience will satisfy your wanderlust and provide the perfect mountainous backdrop for your adventures. The resort is situated beside the Elk River, so water activities abound. At the resort, take your pick of fishing, white water rafting, or stand up paddleboarding. Back on land, explore world-class trails on foot or mountain bike. Use the Great Northern Trail at the resort to access the town of Fernie's extensive trail system. All of this is waiting for you, along with stunning views of towering peaks, such as Mount Fernie, The Three Sisters and Mount Proctor. As Airstreamers Adventures of Dave and Ann say, "There are magnificent views...It's hard to decide which of the huge mountains surrounding camp to gawk at." Because of the resort's location, it's easy to explore and discover Maiden Lake, the Fernie Golf and Country Club and the small-town charm of Fernie proper, an authentic mountain village. The historic downtown restaurant and shopping district is a must-do and is easy to visit by taking the pedestrian- and bike-friendly riverside trail. At the resort, you'll be treated to state-of-the-industry facilities and services. Amenities include a central garden, wireless internet, a commercial-grade laundry facility, and private, family-style washrooms with showers, sinks and toilets. All sites provide full-service hook-ups. There are 71 full-service back-in sites and 26 pull-thru sites, and each includes a picnic table and fire pit. So come and fall in love with Fernie, just as Adventures of Dave and Ann did. 
Click here for more information on Fernie RV Resort
Nehalem Bay State Park
Nehalem, OR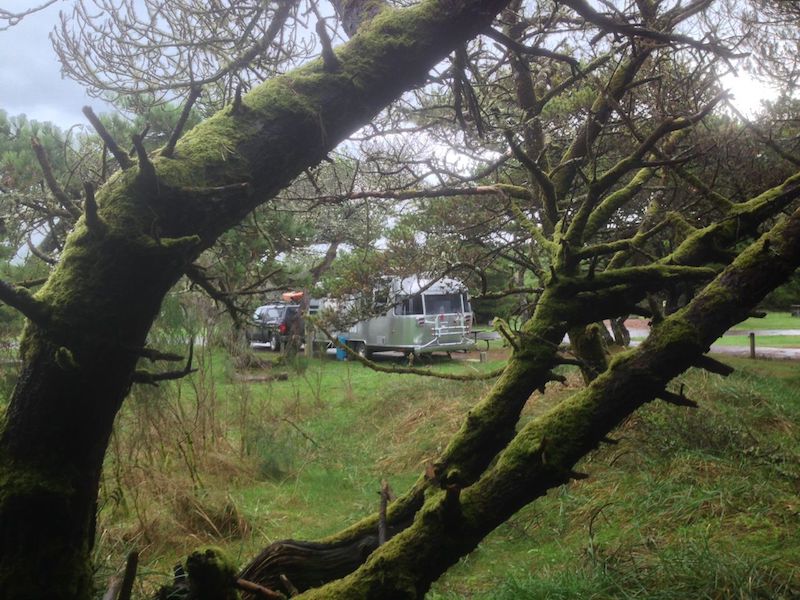 Want to make the Oregon coast your "backyard?" Head over to Nehalem Bay State Park, and you'll get just that. That's what Airstreamers Busy Campers found during their stay, saying, "This large state park is right behind the dunes along miles of Oregon coastline. It's a popular park, and worth it for access to the beach and the little village of Nehalem. There's a bike trail right into town." This state park is nestled between the ocean and the bay on a 4-mile-long sand split. There's an interesting bit of history to the site, too. The original tract of land was given to the state by Tillamook County in 1938. Over the years, chunks of beeswax for candle making and other artifacts of a once-flourishing ancient trade relationship between Asia and the Pacific Northwest have surfaced. Today, the campground is dotted with shore pines that border rolling dunes. Keep an eye to the sky for a variety of birds that call the area home. During your walks, you may also see grazing deer and elk. There's a 1.8-mile forested walking and biking path that gives visitors a stunning view of the bay. Other popular activities include kayaking, fishing, crabbing and clamming. Nehalem Bay is family-friendly, with a playground, a junior ranger program, and interpretive displays located around the campground. There are 265 sites with electric and water, hot showers and flush toilets, and a dump station.
Click here for more information on Nehalem Bay State Park
White Mountain Road Dispersed, BLM
Green River, WY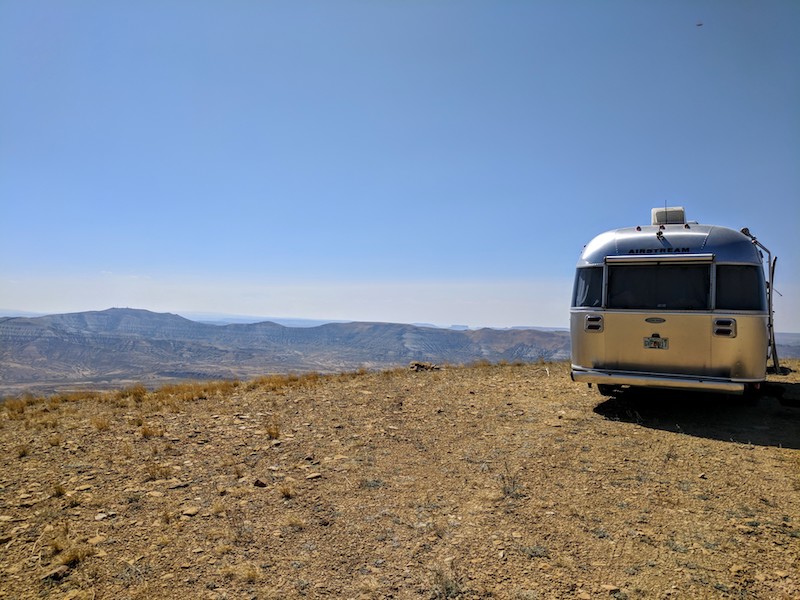 It's boondocking season. Or, at least it is at White Mountain Road Dispersed, a Bureau of Land Management (BLM) area. A trip here will give you all the peace and tranquility that comes with an isolated campsite perched on the bluffs above Green River. As Airstreamers GeekStreamers say, "Many of the RV's we saw had taken off down one of the paths far away from the main road and had almost total privacy and beautiful views." The main attractions at this dry camping spot along Green River are wildlife viewing, hiking, biking and ATVing. Wild horses frequent the area; you may get a glimpse of one or a few. There are plenty of off-the-beaten-path stretches of road for exploration. You'll see stunning sunsets and night skies full of bright stars during your stay. For an incredible dispersed camping experience, head over to majestic White Mountain. Some sites do have fire pits, and there is a free dump station at the City of Rock Springs water treatment center. For water, the nearby KOA lets you fill up your fresh tank for $5. For other provisions, the town of Green River is a five-minute drive down the mountain. 
Click here for more information on White Mountain Road Dispersed, BLM
Heart O' the Hills Campground, Olympic National Park
Port Angeles, WA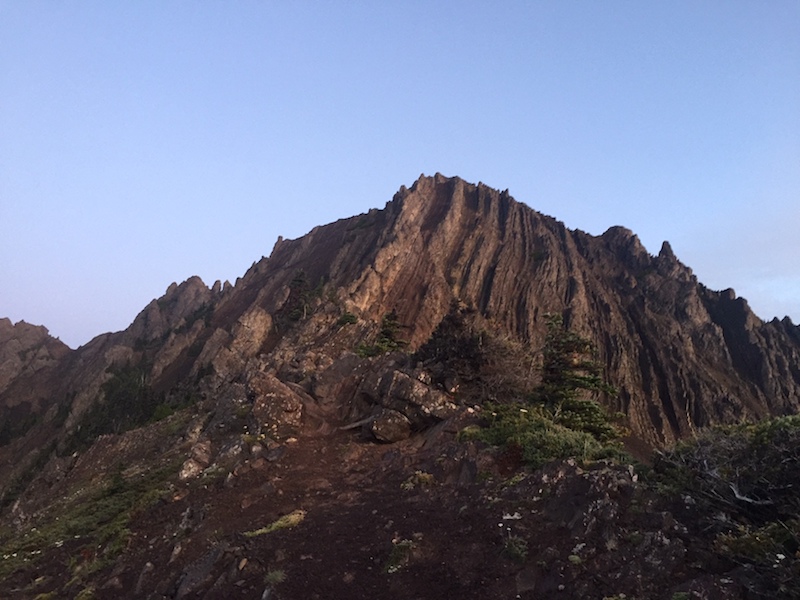 Located on the northern edge of Olympic National Park is picturesque Heart O' the Hills Campground. This section of the park is known for its proximity to Hurricane Ridge, with its old-growth forests and its unique wildlife. You can explore it all on a day hike from the handful of trails located near the campground. Try Heather Park, a steady 4-mile, 3,350-foot climb that starts just north of the entrance station to the facility. This delightful trek leads to the wildflower meadows around Heather Park. From there, you can continue along a more challenging 2.2 miles to Klahhane Ridge in Olympic's high country, making your way to Hurricane Ridge. At this famed site, you'll get a stunning view of the park. Along the way, be sure to soak in the abundant flora and fauna, whether it's the towering trees or speckling of deer, Olympic marmots or birds overhead. Particular to the Heart O' the Hills region are the marbled murrelet, a seabird, and the Olympic torrent salamander, with its brown body and bright yellow belly. Back at the campground, sites are first-come, first-served. There are 105 large and well-distributed campsites. Each comes with a picnic table and fire ring. There are no hookups, but the campground offers restrooms, water and firewood for sale. Note that pets aren't allowed on any of the trails. For provisions, Port Angeles is about 7 miles away.
Click here for more information on Heart O' the Hills Campground
Mallard's Rest, Dept. Fish & Wildlife
Livingston, MT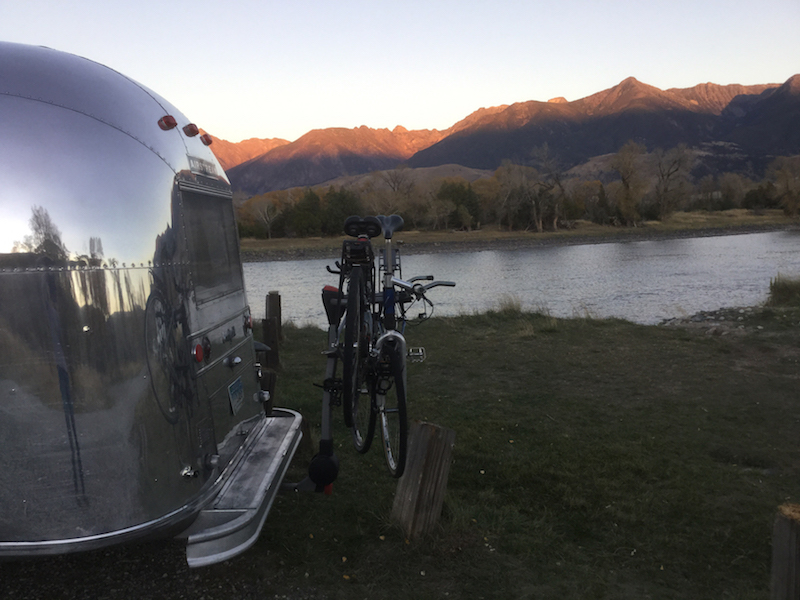 Airstreamers Meg and Ben found "a great spot for exploring Livingston, Bozeman, Chico Hot Springs." And, their stay at this "lovely campground" was free! These Silver Bullet owners stumbled upon Mallard's Rest, a part of the Department of Fish and Wildlife and a perfect place for dry camping. According to Meg and Ben, this spot held a "magical Montana ambiance," complete with "great views of the Yellowstone River and Absaroka mountains, and  amazing stars." Who could say no to all of this? Mallard's Rest is perched on the edge of the Yellowstone River. There you'll find 13 designated campsites with fire pits and picnic tables, plus restrooms and a boat ramp. Bring your kayaks or canoes and explore the river during the day, and then head over to nearby Bozeman for dinner. Or, make a day trip over to Bozeman to explore the Absaroka-Beartooth Wilderness Area. Adventurers to Absaroka-Beartooth will find mountain peaks, glaciers, tundra plateaus, lakes, and basins of the high elevations to the midslopes and deep canyons and valleys below. If what you're seeking is some good R&R, then do make a trip to Chico Hot Springs Resort and Spa – it's a short 15 minutes away. Soak in the thermal baths to your heart's content, and have dinner at the resort afterward if you like. 
  Click here for more information on Mallard's Rest
---
Southwest
Spruces Campground, Uinta-Wasatch-Cache National Forest
Salt Lake City, UT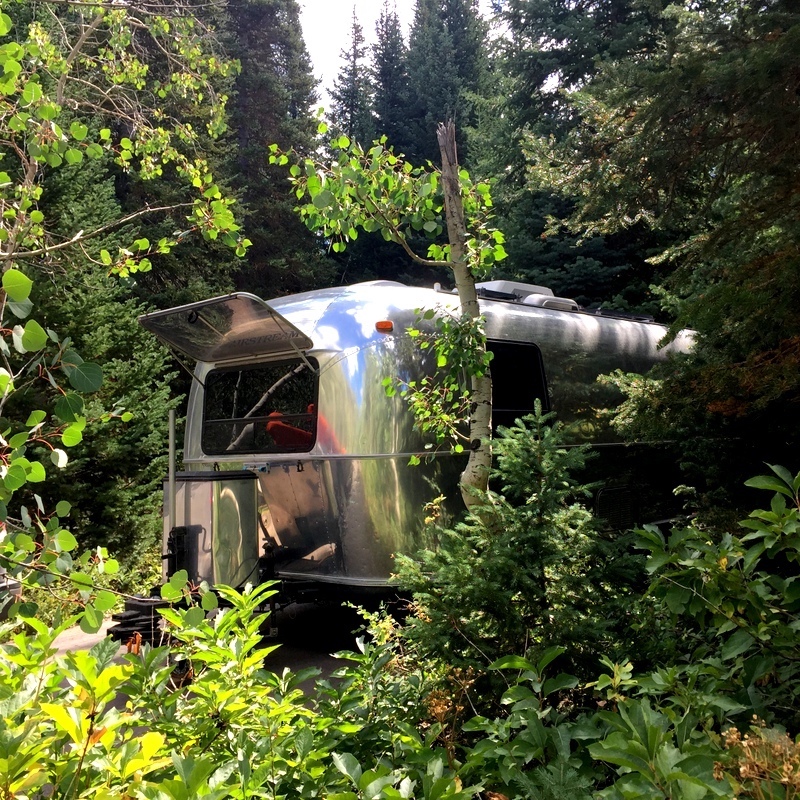 Spruces Campground is an adventurer's paradise. Located in the Uinta-Wasatch-Cache National Forest, this facility is nestled among a forest of shady spruce and aspen trees. The name of this national forest is derived from the Native Americans Ute tribe word "wasatch," meaning a low place in high mountains, and the French word "cache," meaning to hide. The name harkens back to European fur trappers, the first to visit the land. At the campground, with the start of autumn comes an incredible show of emerging colors among the trees. As for adventuring, visitors can hike or backpack in one of four Wilderness areas, while trails for horses and mountain bikers traverse the district in many places. (On these trips, you'll likely come across hidden lakes and cascading streams.) For ATV enthusiast, superb trails are abundant in the Stansbury Mountains. And, Little Cottonwood Canyon is renowned world-wide for climbing on 400-foot granite walls. Spruces is located in the 216,000 acres that make up the Salt Lake Ranger District. This land is often referred to as an "urban forest" because of its closeness to Salt Lake City. This proximity makes Uinta-Wasatch-Cache National Forest one of the most heavily visited in the entire National Forest System. Spruces sits in Big Cottonwood Canyon at an elevation of 7,500 feet. Sites are available on a first-come, first-served basis. The campground has 81 single sites, and each has a picnic table, campfire ring and grill. While sites don't offer hook-ups, flush toilets and drinking water are on-site. For stocking up for your stay, Salt Lake City is conveniently close.
Click here for more information on Spruces Campground
San Luis State Wildlife Area
Hooper, CO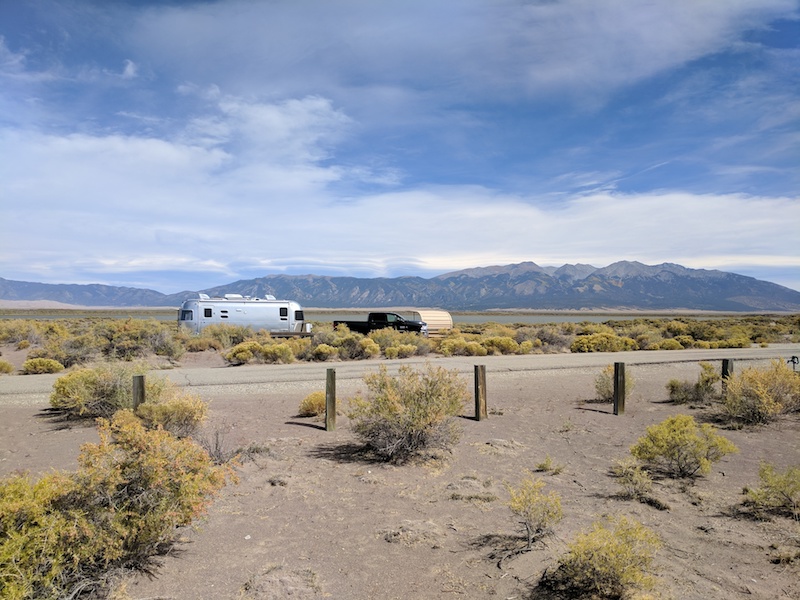 San Luis State Wildlife Area is a former state park that was recently converted to a wildlife area. This peaceful campground is located in a unique desert ecosystem, where numerous species of waterfowl, shorebirds, songbirds and raptors make their home. You may also come across coyotes, kangaroo rats, rabbits and elk. For wildlife viewing, San Luis is a hidden gem. Here you can hike or enjoy the lake with your kayak, canoe, or stand up paddleboard. Anglers will enjoy the opportunity to cast a line and make a catch. Located "in the shadows" of Great Sand Dunes National Park, the campground at San Luis boasts views of mountains and the prairies and lake below. When you make the 15-minute drive over to Great Sand Dunes, expect calm, warm weather this time of year. Try your hand at sandboarding or sand sledding; there are four places to get the right gear located in the wildlife area. When night falls, enjoy a starry sky on a moonless night or take a surreal walk on the dunes under bright full moonlight. Both are experiences you won't want to miss. At San Luis, visitors will find three camping loops that are first-come, first-served. There is no water on-site, so be sure to fill up before arriving. There is free electric at all sites. A dump station and dumpsters are located near the entrance to the loops. 
  Click here for more information on San Luis State Wildlife Area
Yavapai Campground, Prescott National Forest
Prescott, AZ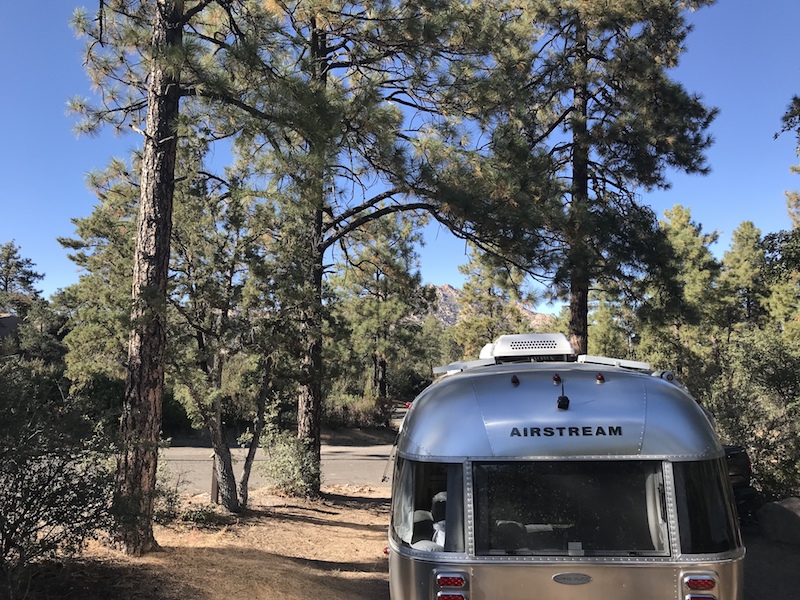 Designed and developed to be integrated within the natural setting, Yavapai Campground is nestled in granite rock outcrops and a variety of vegetative species. Located within the Granite Basin Recreation Area of Prescott National Forest at an elevation of 5,600 feet, this campground is situated among mixed Pinyon Juniper and Ponderosa Pine with plenty of sunlight. The main attractions of Yavapai include its mild weather, cool ponderosa pine forest and Granite Basin Lake. Plus, there is plenty to do and see! The nearby Granite Basin Recreation Area is home to several day-use areas and Granite Basin Lake. There, anglers can fish for largemouth bass, channel catfish and sunfish, while others can explore the lake by kayak or canoe. The Granite Mountain Wilderness Area has several connector and loop trails close to the campground. Most allow for multiple modes of travel, such as hiking, mountain biking and horseback riding. Visitors to Yavapai will have a front-row view of Thumb Butte, which rises to an elevation of 6,515 feet and is one of the most popular destinations in the forest. Yavapai has 21 campsites with picnic tables, fire pits and grills. Reservations are accepted. There is drinking water for use on-site, but not for filling your Airstream's tanks, so plan ahead. This is dry camping, but the campground does offer composting toilets and garbage service. For stocking up, the city of Prescott is only a few miles away. 
  Click here for more information on Yavapai Campground
Little Arsenic Springs Campground, Rio Grande del Norte National Monument
Questa, NM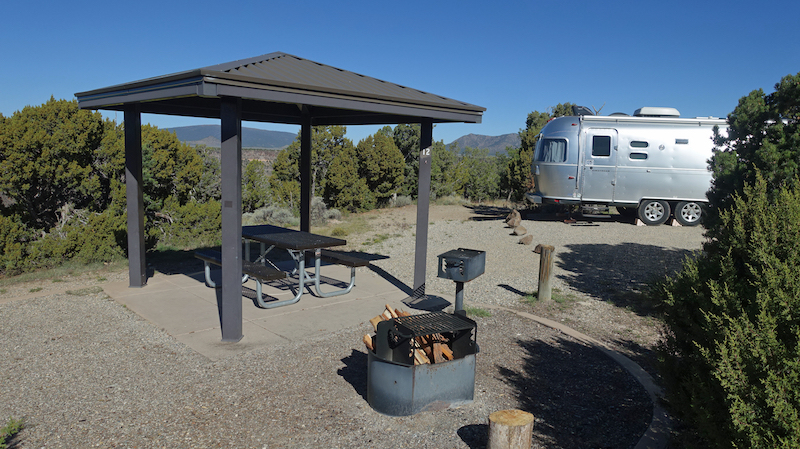 "Remote and beautiful!" say Airstreamers Aluminarium of Little Arsenic Springs Campground. The second of three campgrounds on the rim of the Rio Grande Gorge, Little Arsenic Springs has six campsites located at an elevation of 7,000 feet. At this BLM campground, you'll find options for exploration that include fishing, wildlife viewing, mountain biking and hiking and backpacking. Little Arsenic Springs is located along the Rio Grande Wild and Scenic River and Red River Wild and Scenic River. Just down the river and north of the campground is access to trails. For a peek into the surrounding areas, take the Rinconada Loop Rim Trail, which leads to the other two campgrounds and the visitor center in Wild Rivers Recreation Area. Come and experience the majesty of the Rio Grande Del Norte National Monument. The monument is made up of rugged and vast open plains cut by steep canyons that tuck away almost hidden rivers. It rises to an average elevation of 7,000 feet, and inside are dottings of volcanic cones. The RÍo Grande carves an 800-foot-deep gorge through layers of volcanic basalt flows and ash. This area in the high plains of northern New Mexico is rich in beauty and history, having attracted human activity since prehistoric times. Take in some of the spectacular overlooks, like La Junta Point, which overlooks the confluence of the Red River and the Rio Grande. Little Arsenic Springs is dry camping. Each site has a sheltered picnic table, and drinking water and restrooms are on-site.
  Click here for more information on Little Arsenic Springs Campground
North Pines Campground, Yosemite National Park
Yosemite Village, CA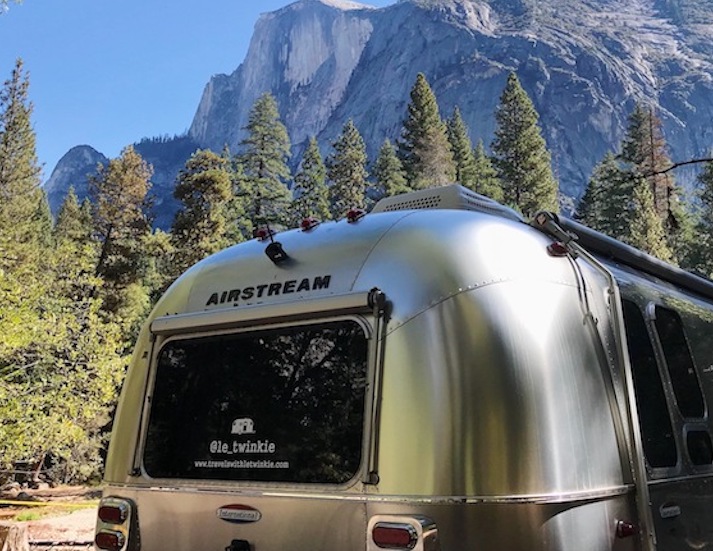 With the crowds winding down after the summer season, now's the time to plan your trip to Yosemite. North Pines Campground is breathtaking in its natural beauty. It sits among the rugged Sierra Nevada Mountain Range at an elevation of 4000 feet. Right in the heart of Yosemite Valley, it's one of only three campgrounds inside the valley that accept reservations. North Pines features a sweeping landscape with some of Yosemite's most notable features – waterfalls, deep valleys, grand meadows, sheer granite cliffs, ancient giant sequoias and more. As Airstreamers Travels with Le Twinkie say, "There's so much to do in this beautiful park, and to be able to stay there and walk out to its natural beauty every morning is an experience of a lifetime. Our days were filled with walks into Half Dome Village, Yosemite Village, to the falls, and just general exploring of the park." Doesn't that sound delightful? Yosemite's many trails, cliffs, rivers and roads afford endless opportunities for exploration for visitors of all stripes. Hiking, biking, rock climbing, fishing, horseback riding, rafting, auto touring, and photography are all popular within the park. Hiking trails range from easy to grueling, from two-mile paved paths to the 14- to 16-mile trek to Half Dome. Many trails begin near North Pines. Plus, Yosemite Valley offers numerous guided bus tours, educational programs, museums and ranger-led activities. This 79-site campground has paved roads and parking spurs, drinking water and flush toilets. Campsites each have a picnic table, fire ring and a food storage locker. Yosemite's free shuttle bus stops at the campground entrance. Historic Half Dome Village is nearby and has a general store and restaurants.
  Click here for more information on North Pines Campground
---
Northeast
Hideaway Campground & Oyster Market, RV Park
Dingwall, NS, Canada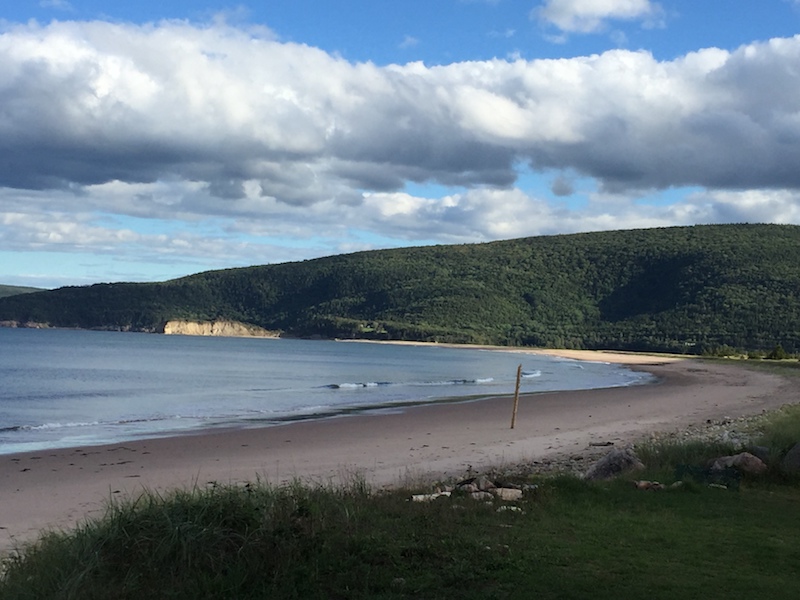 Are you a lobster lover? A fresh oyster connoisseur? If so, make your way to Hideaway Campground & Oyster Market. Let Airstreamer Shawna at Adventure Motorcycle Routes tell you how splendid this park is. "I would give this campground 6 stars if I could!" she says. "If you travel to the Cabot Trail on Cape Breton Island, this is the perfect place to call home base. It's close to Cape Breton Highlands National Park and has sweeping ocean views." In this Nova Scotian park, you can bike, hike, swim, canoe or kayak – both watercraft are available for rent from an outfitter that's within walking distance. If wildlife viewing is your thing, spend some time whale watching, or keep a lookout for an eagle or moose. Making a day trip to other areas of the Cabot Trail is easy. Meat Cove is only 40 minutes north, while Cheticamp is 50 minutes west and the Highland Links golf course in Ingonish is 30 minutes to the south. But no one would blame you if you spent your entire trip at Hideaway. The area boasts incredible views and miles of sandy beaches. (And fresh lobster and oysters, of course!) The campground has five full hook-up sites, 10 with electric and water, and 36 have no hook-ups. The sites are either wooded or open, but all are private and average 1000 square feet of space. Each has its own fire pit with grill and a picnic table. There are flush toilets and showers, as well as a dishwashing station and coin laundromat. Amenities also include a playground, horseshoe pits, picnic shelter, and recreation hall with pool table. For those looking to stay connected, there is free Wi-Fi at the Rec Hall.
Click here for more information on Hideaway Campground & Oyster Market
Lake Eaton Campground, Dept. Natural Resources
Long Lake, NY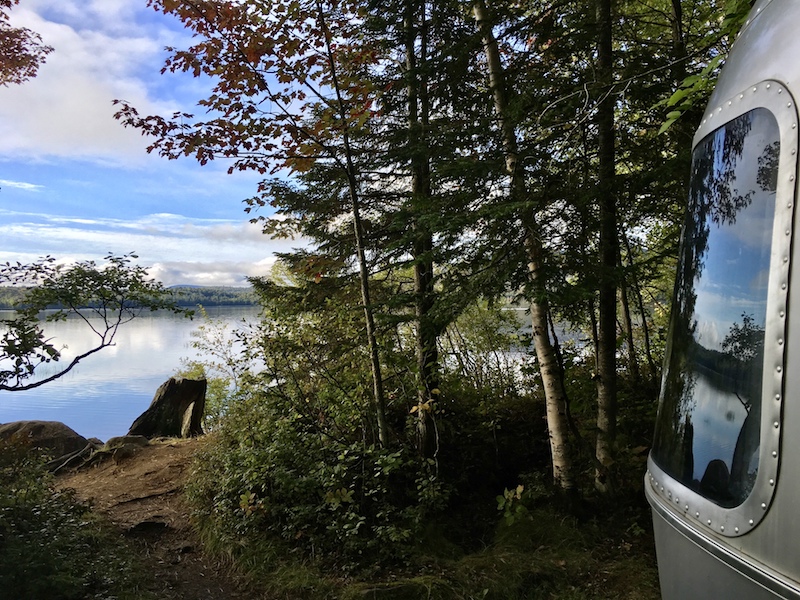 For spectacular views this fall, plan a trip to the Adirondack Mountains. This area is a boundless natural preserve packed with opportunities for adventure. A perfect jumping-off point for your explorations is peaceful Lake Eaton Campground, located about a mile northwest of the village of Long Lake. As Airstreamers Big Big Trippers say, "This is a quintessential Adirondack campground. If you're looking to get back to nature and enjoy a quiet campsite next to a beautiful Adirondack lake, Lake Eaton is right for you." From the campground, take a hike in the surrounding Sargent Ponds Wild Forest. Wander along the Lake Eaton Trail, which begins within the campground. It follows the shore of Lake Eaton before connecting into three other designated paths in the larger Sargent Ponds Wild Forest Trail System. The Owls Head Mountain Trail and Fire Tower are also very popular with hikers. Explore the lake's surface and depths; boating and fishing are popular here. Canoe, rowboat and kayak rentals are available on-site. Anglers, you can cast your lines for lake trout, brook trout, smallmouth bass, sunfish, yellow perch and rainbow salmon. Be sure to visit nearby Long Lake. This historic Adirondack town has been a regional hub of activity since the mid-nineteenth century. Today, it offers intrepid visitors seaplane rides. Back at Lake Eaton, take your pick among the 135 sites. All provide privacy and are relatively secluded. There are no hook-ups, so come well-stocked. On-site, there is a picnic area with tables and fireplaces, flush toilets, hot showers, dump station and recycling center.
  Click here for more information on Lake Eaton Campground
Oceanside Campground, Assateague Island National Seashore
Berlin, MD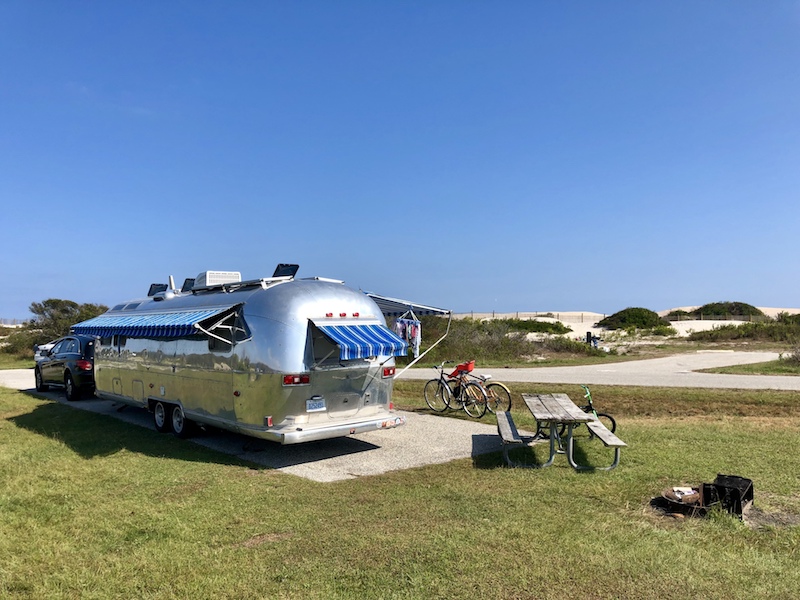 This national seashore is a 37-mile long barrier island located on the Atlantic Coast of Maryland and Virginia. The park consists of sand dunes, maritime forests and salt marshes. At its broadest section, Assateague is just a couple miles wide. The seashore lies off the Delmarva Peninsula on the Atlantic Coast and is famed for its wild horses. The horses are descendants of late 17th century horses brought by colonists attempting to avoid livestock taxes. They now thrive among the other wildlife, such as sika deer, ghost crabs and migrating birds like the great blue heron and snowy egret. The topography of the island shifts daily – powerful waves and wind create an ever-changing ribbon of sand on the island. Popular activities include walking the beach, kayaking, canoeing, windsurfing, wildlife viewing, birding, crabbing and fishing. You can take advantage of all of these outdoor adventuring options from Oceanside Campground, located within Assateague. There are 41 sites situated in two loops of the campground. Sites have a picnic table and a fire ring, but no hook-ups. Amenities include vault toilets, drinking water, and unheated showers for rinsing off sand.
 Click here for more information on Oceanside Campground
Schodack Island State Park, New York State Park
Schodack Landing, NY

Located between the eastern shore of the Hudson River and Schodack Creek, Schodack Island State Park has 1,052-acres for visitors to enjoy. Hikers, bikers, anglers and hunters will feel right at home. With eight miles of multi-use trails winding through a variety of ecological communities, there's much to explore. The park has a boat ramp and a kayak and canoe launch area so that you can experience some blue space, too. Bird enthusiasts will find Schodack particularly appealing – it has been designated a State Estuary, with a portion sheltering a Bird Conservation Area. You could spot bald eagles, cerulean warblers and blue herons. All make their nests among the covering of cottonwood trees. At the park, there are volleyball nets, a horseshoe pit, picnic tables, pavilions and a playground. Plus, interpretive signage is located throughout the park and highlights its historic and environmental significance. Schodack Island has 66 campsites that all offer electricity and nearby water for fill-ups. The sites all have a picnic table and fire ring. There are washrooms with hot showers on-site. Reservations are accepted.
Click here for more information on Schodack Island State Park
Searsport Shores Oceanfront Campground, RV Park
Belfast, ME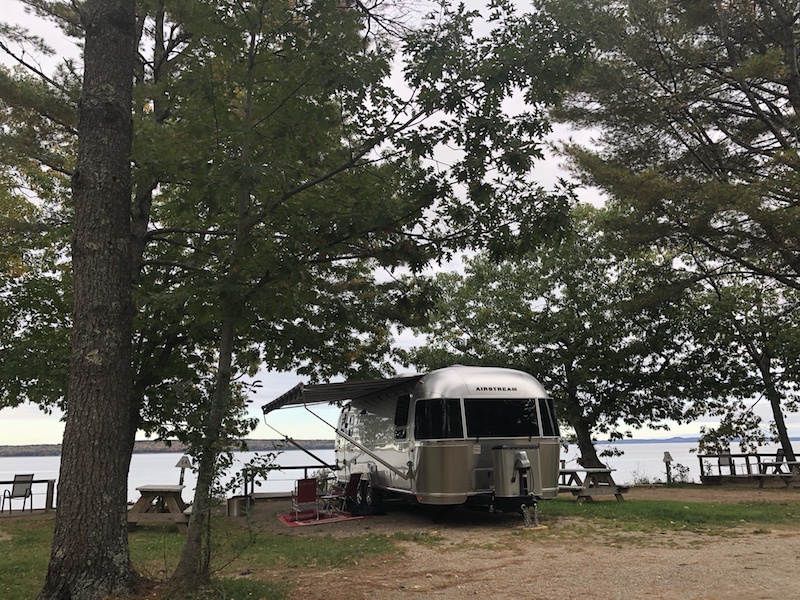 The Boston Globe reports that "Searsport Shores is one of New England's finest campgrounds." And with good reason. This facility welcomes visitors with magnificent views of Penobscot Bay in a quiet, eclectic atmosphere. Airstreamers JuneBugJourneys say, "This is a unique campground with a working artist colony and small farm. The views were fantastic and we thoroughly enjoyed our stay." At Searsport, there's an Artist in Residence  – an artist sponsored by the Fiber College of Maine stays at the campground and runs a program, demonstration or project each day. These family-friendly events include topics like weaving, carving, photography and nature crafts. At the park, you'll also find a private ocean beach with easy access for swimming, beachcombing, fishing and (because it's in Maine) lobster bakes. At Searsport, there's never a lack of things to do; the hosts make sure of that. They can point you to the best places in Bar Harbor and Acadia National Park. Or, they'll direct you down Lincolnville Beach into Camden Harbor and suggest the best breweries. They can also get you on the ferry to Islesboro, a cyclist paradise with two small hills, a spectacular wildlife preserve and swimming quarries. Once part of an 1800's coastal farm, Searsport is lined with mature white pine trees and oak trees. Under this canopy are 125 campsites. All have fireplaces and picnic tables. There are both sites with and without water and electrical hook-ups. Those without hook-ups have access to drinking water within a short distance. Some sites are right on the ocean; others are set back from the breezes. And get this – Searsport offers "valet parking!" After a long day of driving, if you don't feel like backing your Airstream into your space, they're happy to do it for you while you check-in. Now that's service.
  Click here for more information on Searsport Shores Oceanfront Campground
---
Southeast
Lake Powhatan Campground, Pisgah National Forest
Asheville, NC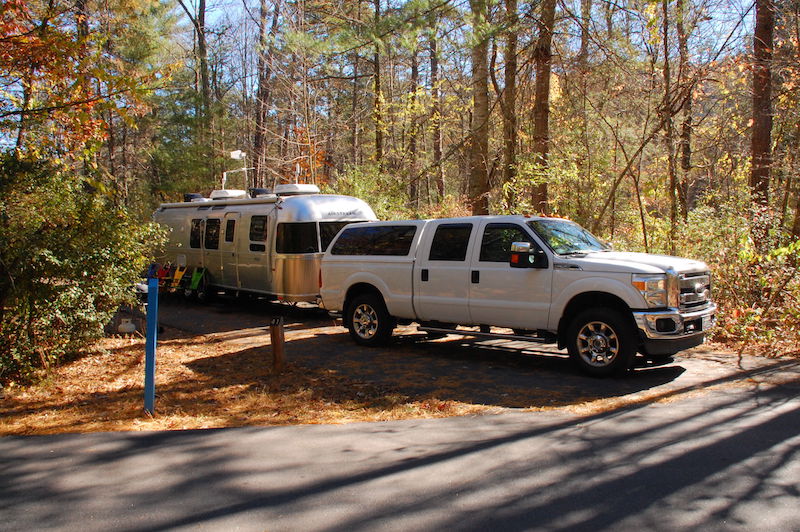 Airstreamers Busy Campers say, "If they'd let us, we'd live here." Located in the Pisgah National Forest, Lake Powhatan Campground is a beautiful heavily-wooded area in the Appalachian Mountains on the banks of Lake Powhatan. Cascading waterfalls, mile-high peaks and slopes thickly blanketed with hardwoods and conifers surround the campground. Powhatan has a beach where you can enjoy a refreshing swim. (Sorry, no boats allowed). The campground is a haven for hikers and mountain bikers. The 6,000 acre Bent Creek Experimental Forest offers miles of trails to explore on foot or by bike. Located just minutes from the popular city of Asheville, there's something for everyone at Lake Powhatan. The campground is close to many cultural and natural attractions, such as art and music venues, shopping and dining in downtown Asheville and scenic driving on the Blue Ridge Parkway. Other nearby attractions Sliding Rock, Looking Glass Falls, the North Carolina Arboretum and the Biltmore Estate. At Powhatan, the shaded, private campsites are located in four distinct loops. All are within walking distance of the lake. The facility provides guests with picnic tables, tent pads, lantern posts and campfire rings with grills. There are restrooms with hot showers and flush toilets on-site, and a few of the campsites offer full hook-ups. You can purchase ice, firewood, and other small items from the campground store.
Click here for more information on Lake Powhatan Campground
Fritch Fortress Campground, Lake Meredith National Recreation Area
Fritch, TX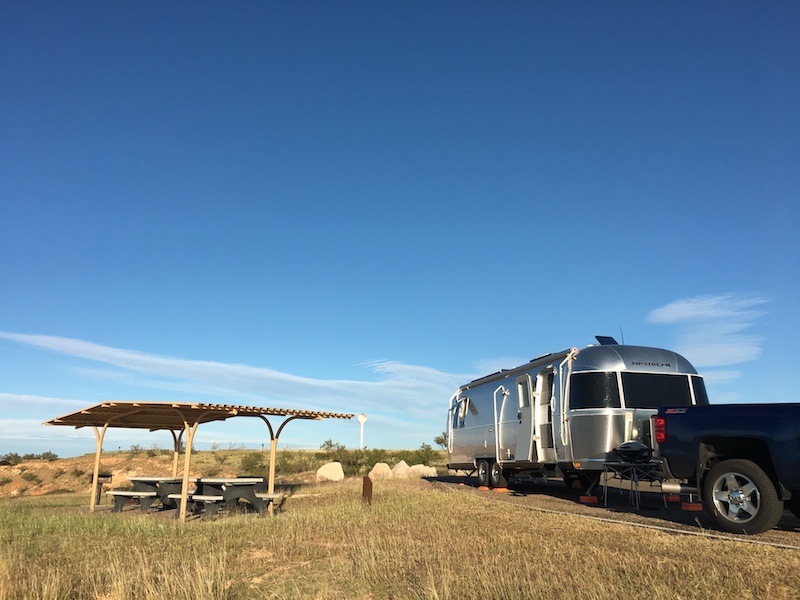 Called "an oasis on the high plains" by the National Park Service, Lake Meredith National Recreation Area is a haven. Both people and wildlife find respite from the dry grasslands here. And, it's been that way for quite some time. No one knows exactly when the first humans came to the region, but archaeological evidence dates back to over 13,000 years ago. It's believed that the earliest people were nomadic hunter-gatherers who followed the available game and ripening plants. Today, this national recreation area is an unexpected escape from the surrounding landscape of cattle ranches and oil fields. And, as Airstreamer Trekerboy says, "This is one of those dream spots. Even if it weren't free, we would have made the trip here just for the views and quiet. Don't miss it!" Fritch Fortress Campground is a great boondocking site managed by Lake Meredith. Located about 3.5 miles out of Fritch on Fritch Fortress Road, this popular campground overlooks the lake. You'll find access to the shoreline nearby, including a boat ramp, which is open for all. This is your launch point for swimming, kayaking, canoeing, boating and fishing. At Fritch, be sure to take advantage of the hiking and mountain biking trails that range in distance and difficulty, but hold the same natural splendor, nonetheless. ATV's and hunting are also allowed in the area. While Fritch may be dry camping, it does offer many amenities. Picnic tables, shade shelters, and grills, and a bathroom with potable water, showers and flush toilets are all on-site. The road is paved and pull-thru parking is available, with a dump station nearby.
Click here for more information on Fritch Fortress Campground
Petersburg Campground, Army Corps Of Engineers
Appling, GA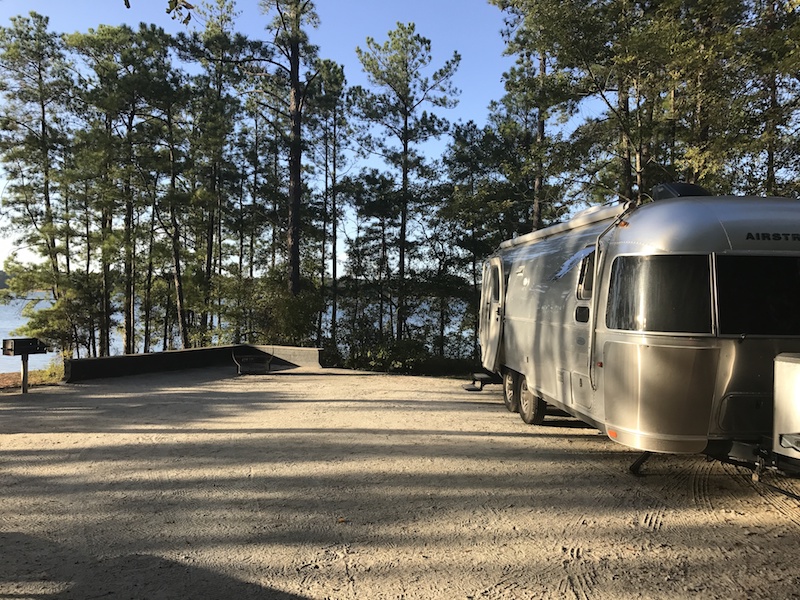 This is "about as good as it gets," says Airstreamer birddogin. "There are large, well-spaced lakefront campsites with awesome sunsets." Welcome to Petersburg Campground, and Army Corps of Engineers site located in Appling and just a half-hour away from Augusta. Petersburg Campground is located on J. Strom Thurmond Lake, a 70,000-acre lake with over 1,000 miles of shoreline. Here you'll experience some of the best boating, water skiing, swimming and fishing in the southeastern US. Anglers cast their lines for largemouth bass, bream, crappie, catfish and striped bass. On land, there are miles of nearby trails, such as the leisurely 1.8-mile Lake Springs Loop and the much longer, meandering 27-mile Bartram Trail. Shorter sections of Bartram can be hiked from several intersecting trailheads. You'll see plenty of fall color when the hardwood forest begins its seasonal show. Many species of wildlife abound around the lake; visitors regularly see southern bald eagles, migratory waterfowl, wild turkeys and whitetail deer. Petersburg has two swimming beaches, a playground, boat ramp, fishing dock and pond located in the campground. There are 94 reservable sites, most of which have water and 50-amp electrical hookups. Amenities include flush and vault toilets, showers, drinking water and a dump station.
Click here for more information on Petersburg Campground
Little Pee Dee State Park, South Carolina State Park
Dillon, SC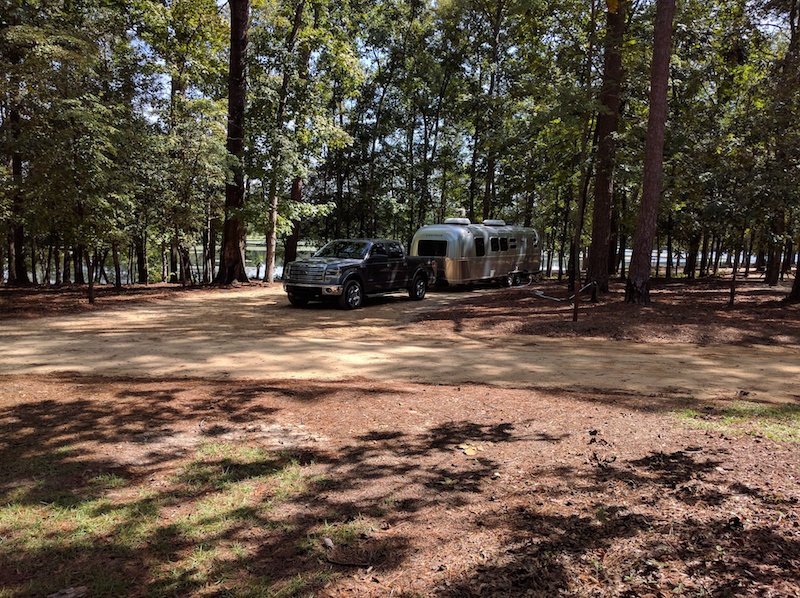 In the South Carolina Sandhills region is Little Pee Dee State Park, consisting of 835 acres in rural Dillon county. Named after the blackwater Little Pee Dee River, this sublime area offers lakeside spots along 54-acre Lake Norton for camping. This state park is popular with coastal travelers and locals alike. Airstreamers wanderingnation say, "This is a nice, small state park and a great place to visit. While it's remote, it's still close enough to run out for supplies if you need them. There were some large sites along the lake, which we were able to snag one up on a gorgeous weekend. Would definitely come here again!" Lake Norton offers still waters to fish for bream, bass and catfish, which attracts both local fisherman and visiting anglers. You can rent a canoe or kayak to paddle down the Little Pee Dee River at the south end of the park. Wildlife is abundant throughout Little Pee Dee, so keep an eye out for wild inhabitants. Hike the picturesque Beaver Pond Nature Trail, a 1.3-mile loop that leads through a forest of pine trees. Once you reach Beaver Pond, there's a designated wildlife viewing area. Here you can observe the beavers and their handiwork, as well as other local animals and birds. Guests should also plan to explore the Little Pee Dee River swamp, experience the features of the South Carolina Sandhills region and admire the Carolina Bay, a mysterious geological depression unique to the Atlantic Coastal Plain. Little Pee Dee offers 32 standard campsites, with 30-amp electric and water provided at some. There is a dump station available on-site.
  Click here for more information on Little Pee Dee State Park
Big Bend Campground, Monongahela National Forest
Cabins, WV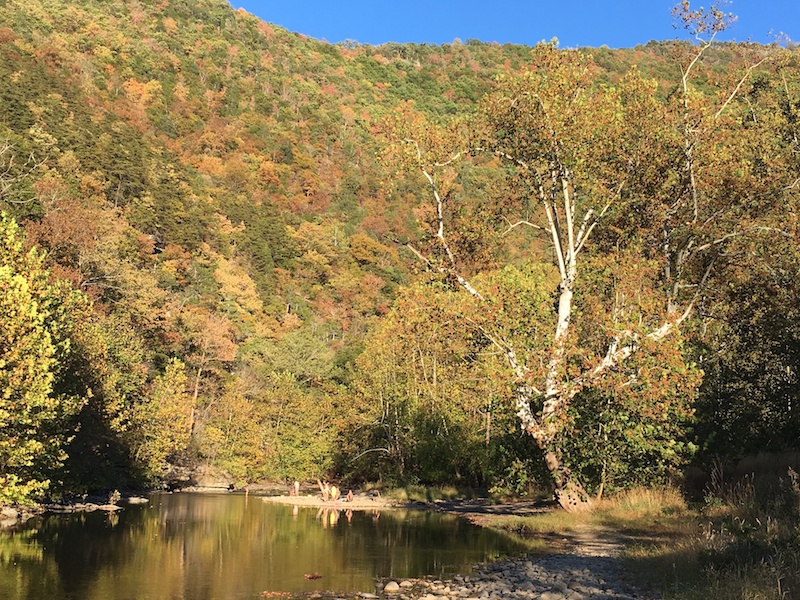 Monongahela National Forest is filled with scenic vistas, winding country roads, flowing streams and abundant plant and animal life. The forest encompasses one of the most ecologically diverse areas in the US. Elevations range from just under 1,000 feet to 4,863 feet above sea level. Inside the forest is Big Bend Campground, just south of the town of Petersburg. Airstreamer Launce calls the campground "a hidden gem." Big Bend is nestled in the Smoke Hole Canyon along the South Branch of the Potomac River. The campground sits just 200 feet from the river, making it popular for fishing and non-motorized boat use. A one-mile loop trail is available for hiking at the campground, while nearby Smoke Hole Canyon offers longer day hikes and miles of backcountry trails. Smoke Hole is located where the South Branch of the Potomac River squeezes between North Mountain and Cave Mountain. For over 20 miles, the river has, over time, carved a half-mile deep canyon with nearly vertical walls. A misty fog often lies along the river as it runs through the "hole," making the name appropriate. This canyon is considered to be one of the most majestic areas in West Virginia. It's remote, rugged landscape provides unique recreation opportunities, whether you enjoy fishing, hunting, canoeing or hiking. The roads into the area are narrow and winding, so take your time and enjoy the scenery. There are 47 sites available, each with a picnic table, lantern holder and fire ring. There are no hook-ups, but there are hot showers, firewood for sale and a dump station on-site.
  Click here for more information on Big Bend Campground