Explore the guide to find some of the best September camping across the United States, as recommended by fellow Airstreamers through Campendium.
Northwest
Skokomish Park at Lake Cushman
Hoodsport, WA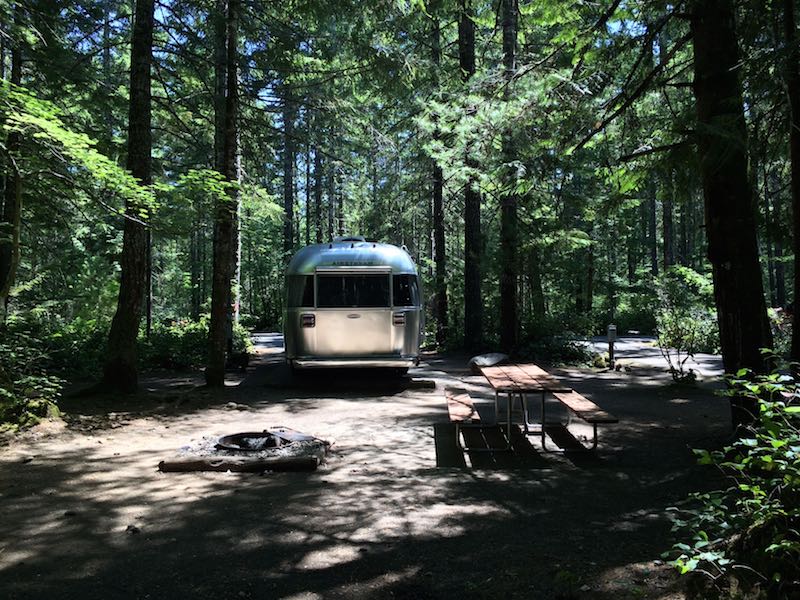 Skokomish Park at Lake Cushman (formerly known as Camp Cushman or Lake Cushman State Park) sprawls over 500 acres, with 41,500 feet of freshwater shoreline and three boat-launch ramps. The park itself provides over nine miles of trails for hiking or mountain biking. Plus, on the eastern side, Olympic National Park offers additional opportunities for outdoor exploration – whether it be up into the mountains, amidst the lush rainforests or along even more shoreline. Several short day-hikes are available for any level of explorer. The Shady Lane trail is flat, and less than a mile to Lake Cushman, while a hike to Flapjack Lakes gains over 3,000 feet in elevation. Back at the Skokomish, you can spend some quality time adventuring around Lake Cushman. Kayak (both single and double) and stand-up paddleboard rentals are available. Located seven miles northwest of popular and historical Hoodsport (it was settled in the late 1800s), Airstreamers can wander over to this hot-spot on the Hood Canal. It's full of unique shops, plenty of dining options and waterfront views. Skokomish offers 34 RV sites in the lower loop with 20 and 30 amp power, water and a sewer dump connection. Three comfort stations are also located throughout the park. Prices start at $52 per night.
Click here for more information on Skokomish Park at Lake Cushman
Hatchet Teton View, Bridger-Teton National Forest
Moran, WY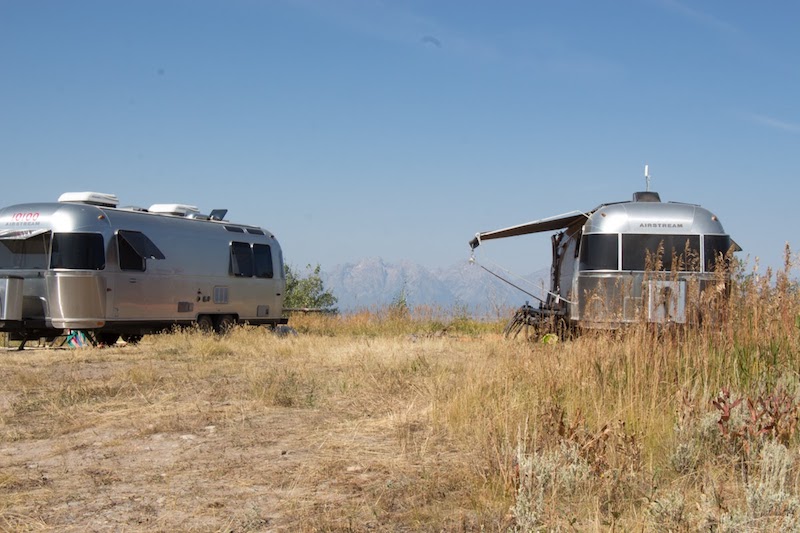 The Bridger-Teton National Forest is both a beautiful landscape and a unique piece of American Heritage. Bridger-Teton is made up of a large part of the Greater Yellowstone Ecosystem, which is the largest intact ecosystem in the lower 48 of the US. It's here that you'll find immense wildlands, pristine watersheds and abundant wildlife in the nearly 1.2 million acres of designated Wilderness. So, get exploring! For a fantastic dry camping experience, make your way up the mountain to Hatchet Teton View. This boondocking spot farther away than it's sister sites of Shadow Mountain, Lower Teton View and Upper Teton View. But with greater distance comes greater seclusion. Plus, there are a lot of forest service roads in this area which make for great hiking trails. As Airstreamer AudreyAirstream says, "This lovely remote campsite on Forest Service Road 30160. The spot is wide enough for three trailers, but two is more comfortable. You have great views of the Tetons. Hatchet Teton View is definitely a remote spot. You'll want to come with everything you need if you plan to stay for a few days as it's a good way down the mountain to the nearest store or gas station or laundry." Airstreamers BoldAndAdventurous echo this sentiment, saying, "If you like privacy and nature, this is the spot for you."
Click here for more information on Hatchet Teton View
Dailey Lake, Dept. Fish & Wildlife
Emigrant, MT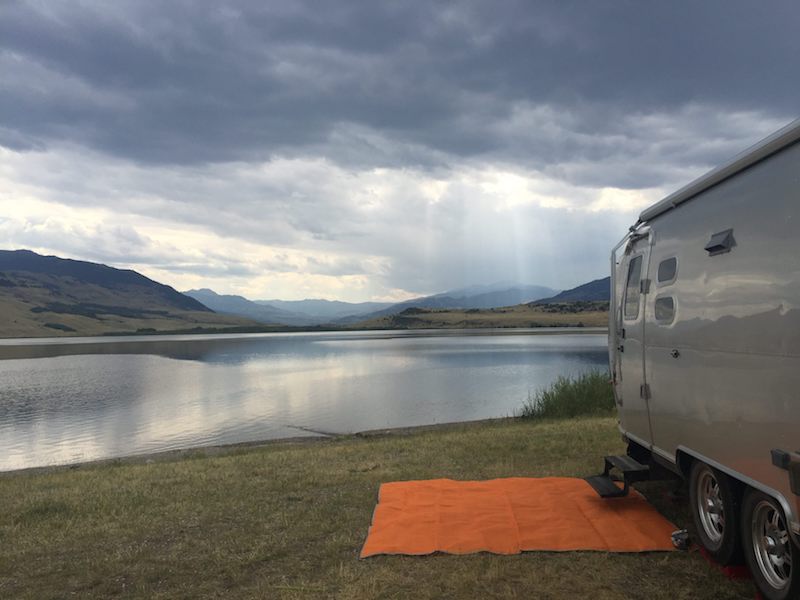 Airstreamers BoldAndAdventurous describe Dailey Lake as an "idyllic setting with beautiful views to the south and Emigrant Peak behind you." Sites are located all around the lake, so the water will be right outside your front door. The Dept. of Fish & Wildlife manages Daily Lake, so anglers, get ready for some serious fishing – just have your Montana fishing license handy. The lake is stocked with Yellowstone cutthroat trout, Rainbow trout, Yellow perch and Walleye. Other activities on the lake include swimming, motorized and non-motorized boating, and windsurfing. There is a boat ramp on-site. Hunting is also allowed. If you want to explore the area around Daily Lake, explore the hiking and mountain biking trails. BoldAndAdventurous go on to say, "This is a hidden gem that is about eight miles down a dirt (and in some areas, rutted) road. But it is worth the drive. A trailhead for Emigrant is close by, and there are some fun 4x4 trails in the area. Just to the south of Emigrant is an Elk preserve, so you might spot some if you are lucky!" Dailey Lake Campground has 35 tent and trailer campsites, restrooms, and drinking water. There is a maximum stay limit of seven days. The fishing pier, boat dock and shade shelter are all ADA accessible.
 Click here for more information on Dailey Lake
Lava Flow Campground, Craters of the Moon National Monument
Arco, ID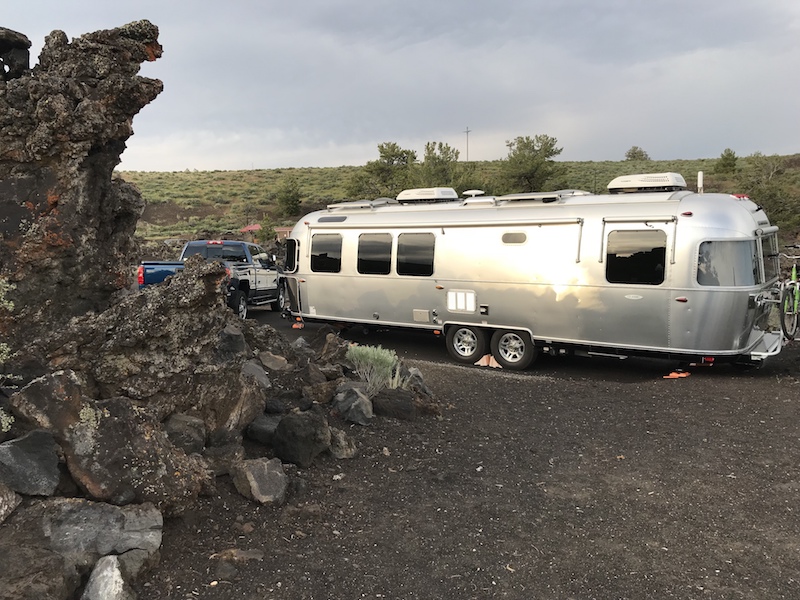 Craters of the Moon National Monument is a fascinating place. These volcanic craters formed between 15,000 and 2,000 years ago when there were eight major eruptive periods. These eruptions came from the Great Rift, a series of deep cracks that start near the visitor center and stretch 52 miles to the southeast. Over that same period, the lava field grew to cover 618 square miles. Today, visitors to Lava Flow Campground will find an almost martian-like landscape. As Airstreamer KenneysSeeAmerica says, "It's a stunning National Monument. Be sure to hike Big Crater! There is a Visitor Center and a scenic 7-mile Loop Drive just 1.5 miles from the group campground. For hiking, in addition to Big Crater, you can climb Sunset Cone for a strenuous activity that's worth the view from the top. If you plan to venture north of the campground on Goodale's Cutoff, be sure to get an additional day-use permit. This historic trail was used by pioneers traveling to the Oregon Territory as an alternative route. Today, this dirt and gravel double-track road is an excellent place for riding mountain bikes. At the campground, 42 sites are available on a first-come, first-served basis. This is dry camping, but you will find water and restrooms on-site, and each campsite has a charcoal grill and a picnic table. Note that wood fires are not allowed here. Site #34 contains an electrical outlet for use by those with medical needs.  
Click here for more information on Lava Flow Campground
Boardman Marina & RV Park, City Park
Boardman, OR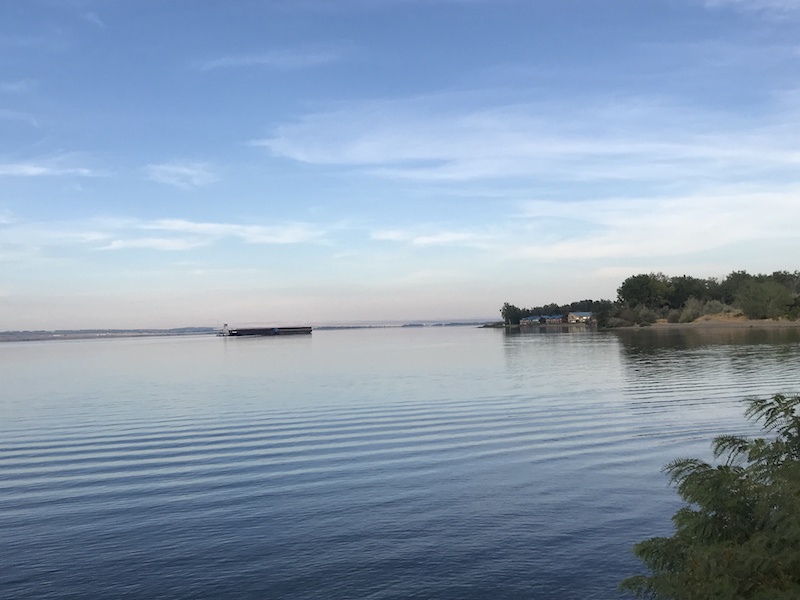 Welcome to Boardman Marina & RV Park, located right on the banks of the Columbia River. The Boardman Park & Recreation District (BPRD) formed in 1966 as an Oregon Special District, and now maintains approximately 141 acres along the Columbia River. After the town of Boardman was moved due to the flooding, the US Army Corps of Engineers constructed the park as a campground. Today it has a boat harbor and marina, day-use area, and public restrooms. At this well-constructed park, you'll find friendly hosts and a slew of amenities. There are three miles of paved walking paths, picnic tables and barbeque grills, a playground for the kids, a swimming area and much more. For boaters, there's a launch station and both public and private mooring. Airstreamer LanceH says, "This is a gem on the Columbia River! There is a lot of space between trailers, so privacy is good. Many of the spots also have privacy fences. Our 30' Airstream fit easily into our campsite and was fine on the windy roads inside the park." There are 63 paved, full hook-up RV sites, as well as restrooms, showers, laundry services and free Wi-Fi. Each site comes with a picnic table and BBQ grill.
Click here for more information on Boardman Marina & RV Park
---
Southwest
Walnut Canyon, Coconino National Forest
Flagstaff, AZ
There is a fascinating bit of history hidden among the landscape of Coconino National Forest. Located in what is the Cinder Hills OHV Area, just northeast of Flagstaff, are the remnants of the Cinder Lakes Crater Fields. These fields were designed and constructed in July of 1967 for astronaut training – more specifically, for the Apollo 11 Mission. Astronauts tested mobility systems such as lunar rover prototypes, and also experimented with procedures for determining location within a cratered lunar landscape. Today, visitors to Walnut Canyon will stay inside the Coconino National Forest, near this interesting piece of America's path to space exploration. At Walnut Canyon, you can take in the fantastic and varied landscape of the national forest, with its famous red rocks of Sedona, Ponderosa pine forests, southwestern deserts and alpine tundra. Nearby is the campground's namesake, Walnut Canyon National Monument. Nestled in the rock walls are the former homes of ancient inhabitants. Take the Island Trail for a closer look and to walk in the steps of those that came before us. This trail drops down 240 concrete steps into the depths of the canyon, loops around a rocky butte called the Island, and passes 25 partially restored cliff dwellings constructed roughly 800 years ago. Or take a stroll around the Rim Trail, which makes its way through a mixed juniper and pinyon pine forest and has two canyon overlooks with views of the canyon and cliff dwellings below. Camping at Walnut Canyon is part of Bureau of Land Management lands, so it's dry camping. Flagstaff is about 12 miles away if you find you need to restock.
 Click here for more information on Walnut Canyon
Palo Duro Canyon State Park
Canyon, TX

Painter Georgia O'Keeffe, who lived near Palo Duro Canyon in the early 20th century, said, "It is a burning, seething cauldron, filled with dramatic light and color." Considered "the Grand Canyon of Texas" (it's our nation's second-largest canyon), Palo Duro Canyon State Park is a sight to be seen. The canyon is similar to the Grand Canyon, with its steep mesa walls and multicolored layers of rock. Its size is approximately six miles wide, 120 miles long and 820 feet deep, though at some locations its depth closes in on 1,000 feet. According to archaeologists, Palo Duro Canyon was inhabited as long as 12,000 years ago by the Clovis and Folsom peoples, who hunted large herds of giant bison and mammoth. More recently, the Apache, Comanche and Kiowa, used the canyon's plentiful resources. Remnants of these cultures that survive today include rock art and bedrock mortars, where food like mesquite beans and roots were ground. One of the signature features of the canyon is 300-foot-high Lighthouse Rock. Visitors can take a relatively easy hike along the multiple-use, six-mile round-trip loop trail to the rock. Back at the state park, there are several sites at the three distinct campgrounds – Juniper, Mesquite and Sagebrush, and Hackberry – that offer electric and water hook-ups, with restrooms with showers nearby. All told, there are 97 sites, so you shouldn't have any problem finding a place to set up your Airstream's camp. 
 Click here for more information on Palo Duro Canyon State Park
Lone Pine Campground, Inyo National Forest
Lone Pine, CA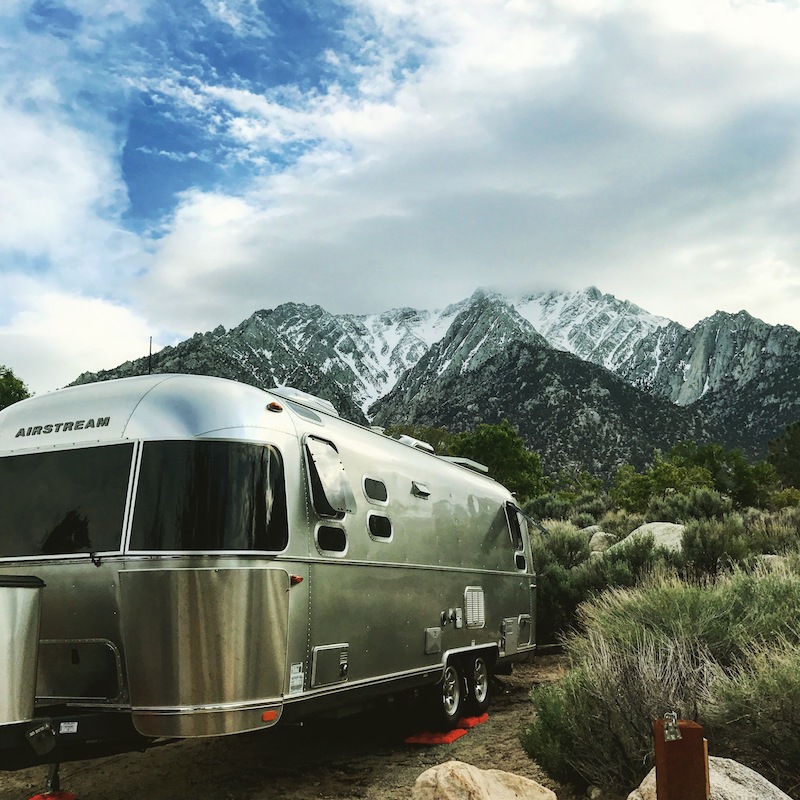 Burrowed in sagebrush and situated alongside Lone Pine Creek, Airstreamers will find Lone Pine Campground. The campground is perched at an elevation of 6,000 feet, so visitors will experience clean views of the peaks of the Sierra Nevada Mountains and towering Mt. Whitney (the highest peak in the continental US). At Lone Pine Campground, fishing and hiking opportunities are abundant. Anglers can cast a line at Lone Pine Creek or a nearby pond, both known for excellent trout fishing. Hikers, lace up your boots for the challenging trails of the Whitney Portal area, which will lead you to the John Muir Wilderness. This landscape is stunning, with its lofty snow-capped mountains, vast expanses of glacially carved terrain and deep canyons. The wilderness includes Mt. Whitney (entry is available by lottery for experienced hikers), and Sequoia and Kings Canyon National Park. For a less challenging walk through nature, try the National Recreation Trail, a connector of Lone Pine Campground to Whitney Portal, with a picnic area and fishing pond. This area is home to a host of wildlife, such as mule deer, pine marten, pika, mountain lions and black bear. So, bring your bear spray and keep your food locked up tightly to be on the safe side. Bird lovers will also find an array of species dotting the sky above. There are 42 single campsites and one double site. This is dry camping country.
 Click here for more information on Lone Pine Campground
Saddlehorn Campground, Colorado National Monument
Fruita, CO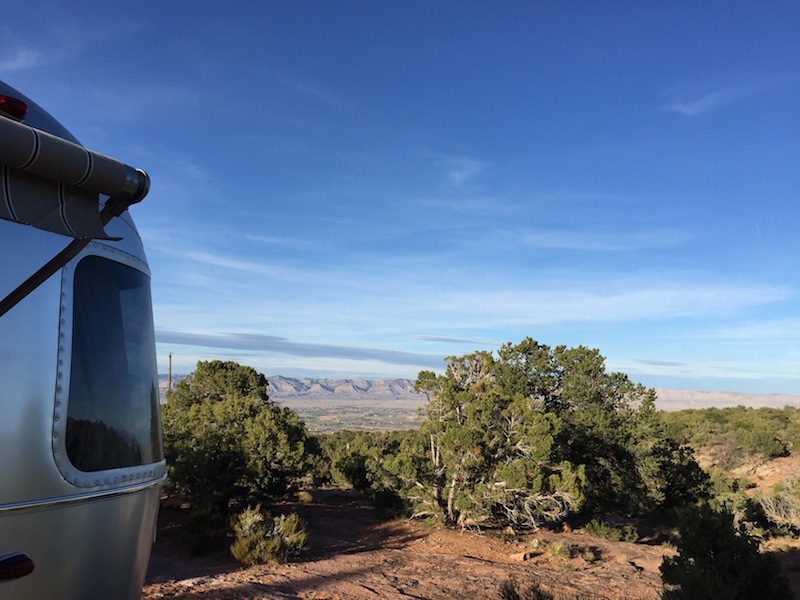 The Colorado National Monument preserves a striking landscape of the American West. Here, you'll experience towering monoliths within a vast plateau with panoramic canyon views. Take a motor tour along the winding Historic Rim Rock Drive, and you'll see sheer-walled, red rock canyons and may perhaps catch a glimpse of bighorn sheep and soaring eagles. At Saddlehorn Campground, there are views of the Grand Valley to the northwest, and some of the monument's most picturesque monoliths and canyons to the southeast. Airstreamer janel says, "We loved it. September is a great time to visit, as the days are beautifully warm." Pinyon and juniper trees provide shade for campers. The Colorado National Monument is renowned in the cycling community for its majestic views and challenging climbs, while hikers come for the miles of maintained trails. The monument is also a photographer's haven because of its unparalleled views. Intrepid climbers come in droves for the towering sandstone. Nearby cities like Grand Junction, Fruita and Palisade are home to many attractions if you decide that you want a fun day trip into an urban center. At Saddlehorn Campground, there are 79 dispersed campsites (no hook-ups) for RVs located within two of the three camping loops. Loop A is open year-round and is first-come, first-served. Reservations are available for Loop B. On-site restrooms have flush toilets but no showers, and water is available during the summer months. Each site has a picnic table and charcoal-only grill. 
 Click here for more information on Saddlehorn Campground
Castle Rock Campground, Fremont Indian State Park
Sevier, UT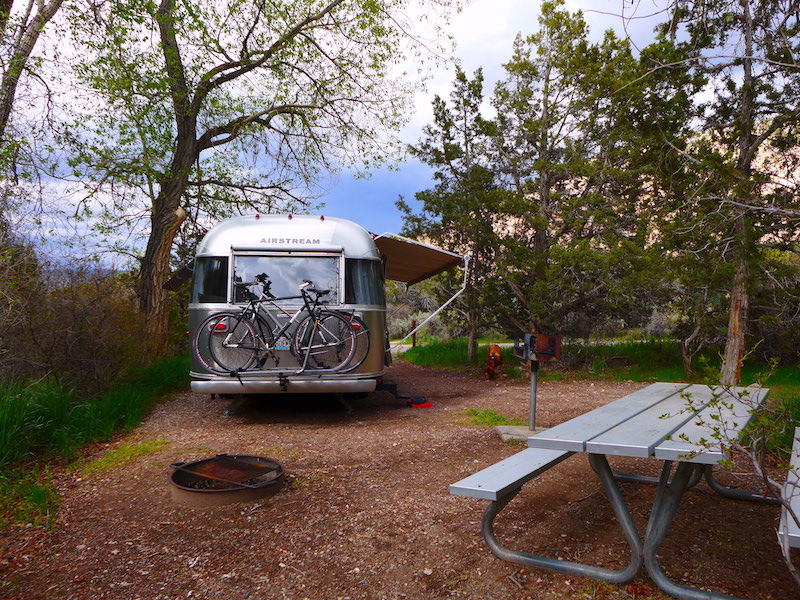 Located in the Clear Creek Canyon area of Utah, Airstreamers would be lucky to stumble across the hidden gem that is Fremont Indian State Park. Airstreamers Epic Detour stopped in at the park on their way to Salt Lake City, and they wished they would have stayed at Castle Rock Campground longer. "The scenery was beautiful; you have to look with your own eyes to believe it. We are planning a trip back to get to explore the place further," says Epic Detour. This state park contains the archaeological remains of the largest Fremont community ever discovered, an agriculturalist people who lived from about 400 to 1300 AD. Their ancient lands were found during the construction of Interstate 70 when thousands of artifacts were excavated from ancient villages. These relics are on permanent display at the park's museum there. The Fremont's rock art and structures are still visible in the canyons of the state park. Explore the area by first stopping by the visitor center and museum, and then head out for a day of hiking, ATVing, wildlife viewing and fishing. The park is home to twelve interpretive rock art trails (one is wheelchair accessible) and 15 miles of hiking and biking trails. Castle Rock lies in a canyon, approximately a half-mile from the visitor center. At the campground, there are restrooms with flush toilets and showers, and running fresh drinking water. No hook-ups are available, but there is a dump station available nearby in the park.
 Click here for more information on Castle Rock Campground
---
Northeast
Fish Creek Pond Campground, Dept. Fish & Wildlife
Saranac Lake, NY

Airstreamers, if you're looking to camp in the northern Adirondack Mountains of upstate New York, look no further. Fish Creek Pond Campground boasts a natural sand shoreline, pristine rivers and ponds, and direct water access from most campsites. Because of its natural beauty, Fish Creek Pond is considered by many to be the finest and most attractive of all the Adirondack campgrounds. As Airstreamer BobMartel puts it, "This is a perfect, rustic state park for anyone who enjoys being on a large pond with direct water access from your campsite. The pond is perfect for swimming, canoeing, kayaking, stand up paddle-boarding and even power-boating." There are two bodies of water around this large campground – Square Pond and Fish Creek Pond. Both allow non-motorized and motorized boat usage so that you can canoe, kayak, or boat to your heart's content. If you choose to explore the waters in a motorized craft, be sure to take advantage of great fishing and the miles of open water on the Upper Saranac Lake. Boat rentals are available just a short distance away from Fish Creek Pond Campground, and there is a tailored boat launch inside the campground. Other recreational opportunities include hiking and bicycling. The campground offers 355 sites, with 319 located directly on the shoreline. There are no hook-ups at Fish Creek, but there are water taps throughout the campground, a fill station and a dump station. Restrooms provide flush toilets, and a shower facility is located on the connecting road between Fish Creek Pond and Rollins Pond campgrounds. 
 Click here for more information on Fish Creek Pond Campground
Meat Cove Campground
Cape Breton, NS, Canada
On the northern tip of Cape Breton Island, Nova Scotia is Meat Cove Campground, a beautiful retreat for those looking to steep in nature. Its unusual name is believed to have originated from the area being used as a popular location for early hunters to dress animal carcasses. The campground is surrounded by Cape Breton Highlands on one side, with its jagged cliffs and valleys of connected mountains, and the Atlantic Ocean on the other. It's here that bald eagles soar above and whales swim below. The campground has been owned and operated by the Maclellan family,  who have lived and fished in Meat Cove Cape Breton for eight generations. They provide fresh seafood at an on-site restaurant, the Chowder Hut, with views that overlook the ocean. For recreation, rent a kayak (or bring your own!) and paddle through the natural arch in Meat Cove, known as "The Hammer," and watch the whales glide by. There are also outdoor walking, hiking and biking trails, and an accessible beach a few short minutes from the campsites. Meat Cove Campground has 30 campsites that come with a picnic table, fire pit and grill. Sites sit in a grassy meadow on a bluff overlooking the ocean. There are no hook-ups, but there are hot showers, flush toilets and access to fresh drinking water. Because sites are limited and available on a first-come, first-serve basis, plan to get their early to snag your spot. 
 Click here for more information on Meat Cove Campground
Glimmerglass State Park
Cooperstown, NY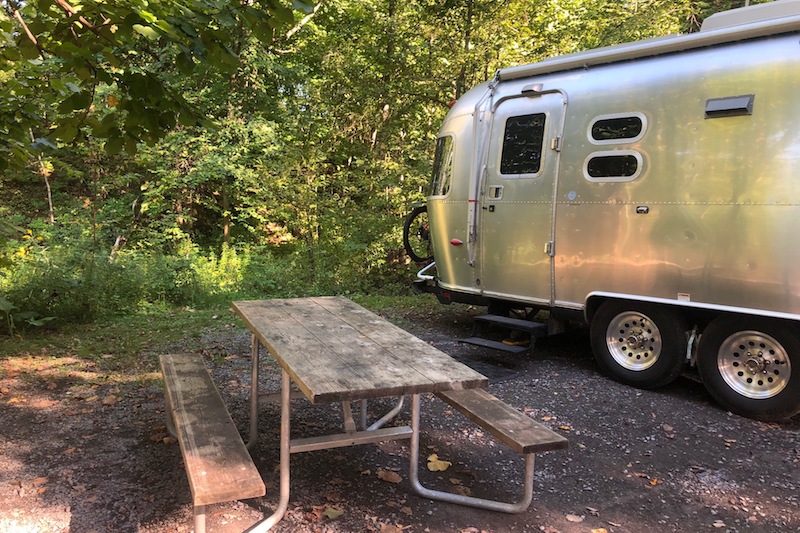 One of the most scenic parks in central New York, Glimmerglass State Park is home to 593 acres of partially wooded rolling hills. Located eight miles north of Cooperstown is Hyde Bay, on the east shore of Otsego Lake. This is the "Glimmerglass" of James Fenimore Cooper's Leatherstocking Tales. The Hyde Hall Mansion overlooks the bay and most of the grounds, a splendid reminder of the bygone era of vast estates English families established in their former colonies. The house itself is considered the finest example of neoclassical country mansions anywhere in the US. The park itself plays host to a wide variety of wildlife. Walking and hiking trails are plentiful, so that you can take in all the scenery Glimmerglass offers. Walk the uphill path through the forest for a spectacular view of Otsego Lake. The Beaver Pond and Woodland trails are appealing for their display of a variety of wildflowers, ferns, shrubs and mosses. Other activities available here are biking, fishing and swimming. Airstreamers Wandering Creeks say, "Glimmerglass is a beautiful state park. The campground isn't too big, and sites are nicely spaced with some vegetation between sites. The actual state park and Otsego Lake are gorgeous." Arrive in September, and you will have avoided the crowds, but still have a chance to soak in this spectacular place. There are 40 campsites with no hook-ups available, so come fully stocked. The park does offer restrooms, showers and a dump station. 
 Click here for more information on Glimmerglass State Park
Lake St. George State Park
Liberty, ME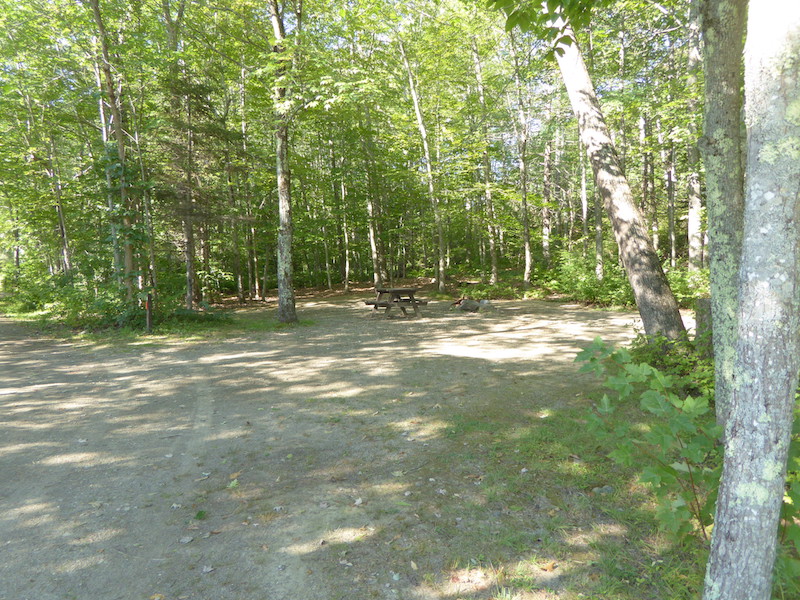 The town of Liberty is touted as one of Maine's best-kept secrets. The hills, mountains, woodlands and ponds of Liberty attack visitors and residents alike. Part of that draw is Lake St. George State Park, located on the northwest shore of beautiful Lake St. George. Here, Airstreamers can expect to enjoy boating, kayaking, fishing, hiking, bird watching and pure relaxation. Lake St. George is 1,017 acres, with numerous undeveloped islands dotting the central basin. Fishing for landlocked salmon and brook trout is a popular sport. The day-use area – a short walk from the campground – has picnic tables and grills available close to the beach, as well as swings, volleyball and basketball courts, and a sandpit for the youngsters to play. Roughly five miles of hiking trails are close to the campground. At night, listen for the signature call of loons, frequent visitors to the park. Some of the park's campsites are situated on the shoreline. Enjoy a morning cup of coffee and watch the sunrise over the crystalline water. This is dry camping, but water is available. On-site are restrooms, showers, trash receptacles and a dump station. Reservations are accepted through September 8. Afterward, sites are available on a first-come, first-served basis.
Click here for more information on Lake St. George State Park
---
Southeast
Lake Fort Smith State Park
Mountainburg, AR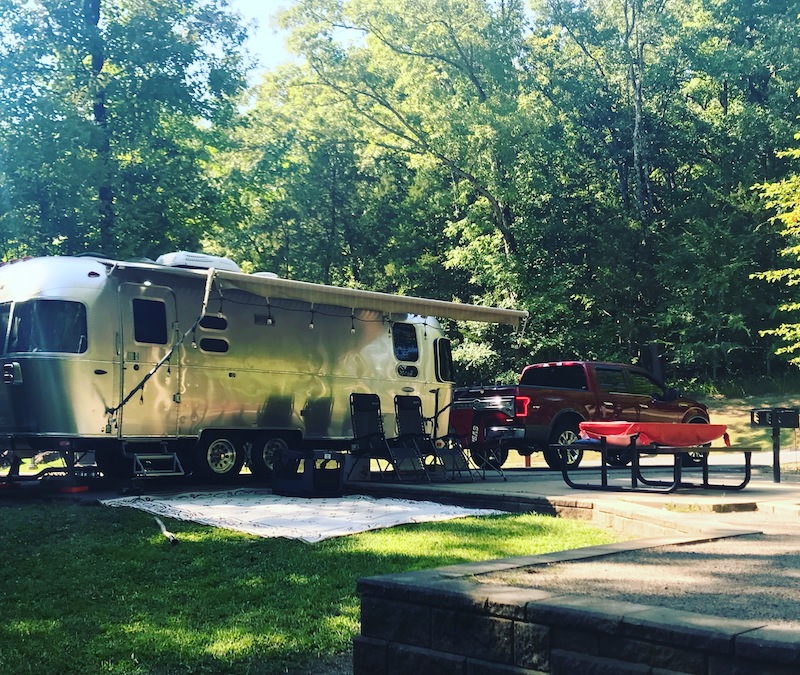 Located on the banks of Lake Fort Smith, this namesake state park is home to 260 acres of scenic, well-maintained natural beauty in the Boston Mountain Valley of the Ozarks. Lake Fort Smith State Park provides a beautiful multi-use area right on the lake. Visitors can explore the area by kayaking, hiking and mountain biking. There are also great opportunities for fishing, and a marina and boat rentals are available. Hiking enthusiasts should know this is the western terminus of the 240-mile Ozark Highlands Trail. You can also access the Boston Mountain Trail, Shepherd Spring Trail and Warren Hollow. The visitor center affords guests the option of learning about the area's history, and also houses a replica pioneer log cabin and covered wagon. Park interpreters will lead guests on nature hikes and lake tours year-round. Airstreamers Why Not Go? say, "The sites were great. They were well maintained, wooded and private, and the facilities were very nice. There ia an inviting pool and lake, an awesome visitor center and many hiking trails. We plan to go back and explore more again!" The park has 30 campsites, with 10 offering 30-amp hook-ups with water. A dump station is located on-site.
 Click here for more information on Lake Fort Smith State Park
Baileys Point, Army Corps Of Engineers
Scottsville, KY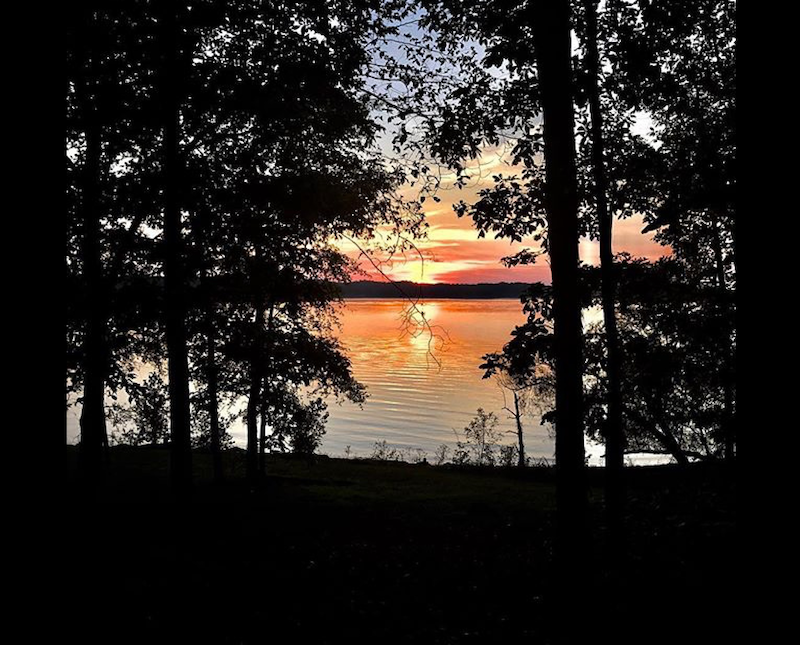 Many find that the US Army Corps of Engineers (USACE) campgrounds are among the best laid out places to camp. They were, after all, designed and built by our nation's engineers. Bailey's Point is no exception. It also happens to be the largest USACE campground on the Barren River Lake, offering several waterfront sites with spectacular views of the lake. This 10,000-acre lake is flanked by wooded hillsides in south-central Kentucky and affords visitors the options of fishing, water skiing and boating byway of the on-site boat ramp. There are a slew of islands close to the campground if you want to take a boat over for a picnic. For hiking, try the Robert Foster Hiking Trail, which allows you to see the diversity of Kentucky trees. The C.E. Rager Nature trail lets you stroll along the shoreline of the lake. Another popular activity at Baileys Point is birding. The area is home to many species, including indigo buntings, kestrels and bald eagles; at night, you may hear the sounds of barred owls. Baileys Point has 215 sites, with most equipped with electric and water hook-ups. Family-friendly, this sprawling campground as two playgrounds, a sand volleyball court, basketball court and amphitheater for weekend movie nights. 
Click here for more information on Baileys Point
Mountain View Campground, RV Park
Hiawassee, GA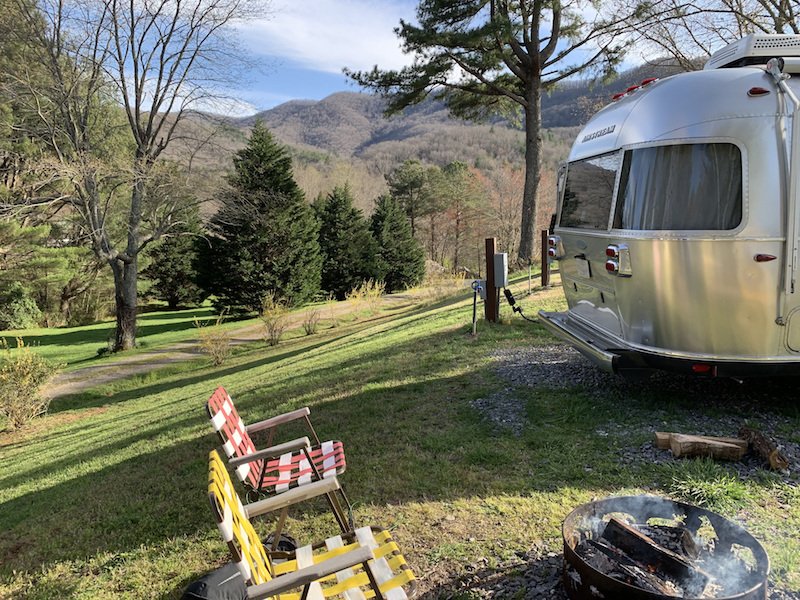 Camping at Mountain View Campground is the perfect way to experience the beauty, serenity and calmness of the North Georgia Mountains. These mountains, part of the Blue Ridge mountains chain that ends in Georgia, provide some of the most spectacular natural vistas of anywhere in the US. More than one billion years old, the Blue Ridge Mountains are among the oldest in the US. This region is also a part of the vast system of the Appalachian Mountains, spanning most of America along the eastern areas until they end in Alabama. Numerous hiking trails and waterfalls are here for your exploration and adventures. Visitors can also canoe, swim and jet ski on Lake Chatuge, which is also home to some of the best fishing in Georgia. So, get out and adventure, and then relax, take in the majesty of the mountains, and watch the golden sunsets during your stay at Mountain View Campground. Nearby Hiawassee affords plenty more outdoor activities and attractions for the whole family, and seasonal festivals are scheduled throughout the year. The campground has 28 level, wooded sites with full hook-ups. It also offers cable TV and Wi-Fi. Each site comes equipped with a picnic table and fire ring. There are laundry facilities, restrooms and hot showers on-site.
 Click here for more information on Mountain View Campground
Curry Hammock State Park, Florida Keys
Marathon, FL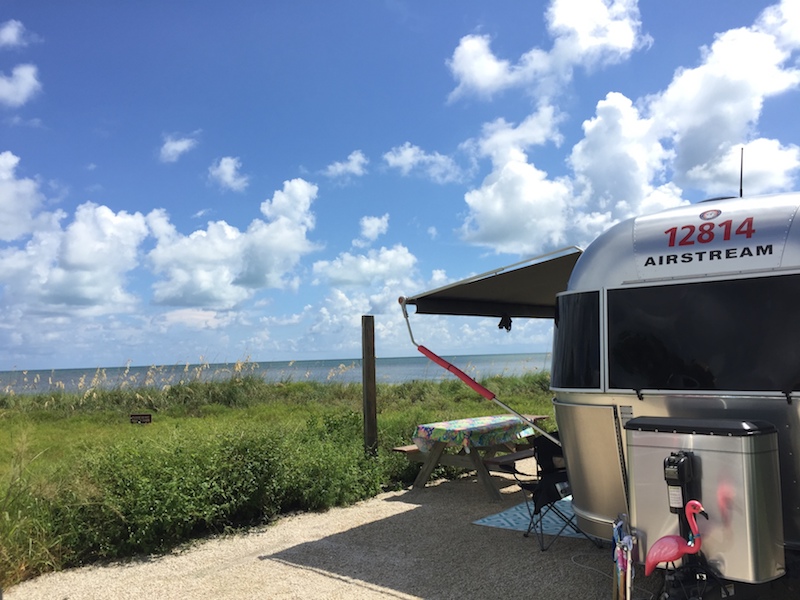 This September, why not make your way down to the Florida Keys? Curry Hammock State Park is waiting to greet you. This 28-site campground, located within view of the Atlantic Ocean, is an untarnished sanctuary. Located halfway between Key Largo and Key West, Curry Hammock State Park sits on 1,000 acres, making it the largest uninhabited parcel of land in the area. The park protects critical parts of the Florida Keys ecosystem, such as seagrass beds, mangrove swamps and Rockland hammocks. Because of its natural wonder, the park is an ideal place to canoe, kayak and stand-up paddleboard (available for rent at the park) against the backdrop of the ocean. Other waterborne activities for visitors include swimming, snorkeling and fishing. When peering under the depths of the water, keep an eye out for fish and invertebrate life. Both are essential for the well-being of the reef. As for anglers, the flats often hold permit and bonefish, and the channel alongside the park has produced sizeable sharks, snapper and snook. For land exploration, try biking and walking along nature trails. A 1.5-mile trail winds through the hardwood hammock on the bayside of the park and two miles of the Florida Keys Overseas Heritage Trail pass through the park as well. The Heritage Trail is suitable for both hikers and bikers and follows the route of the Overseas Railroad to Marathon. The main restroom has composting toilets and solar-powered hot showers. Campsites all have a picnic table, charcoal grill, water and 20/30/50-amp electrical service. A dump station is available.
 Click here for more information on Curry Hammock State Park
Endless Caverns & RV Resort
New Market, VA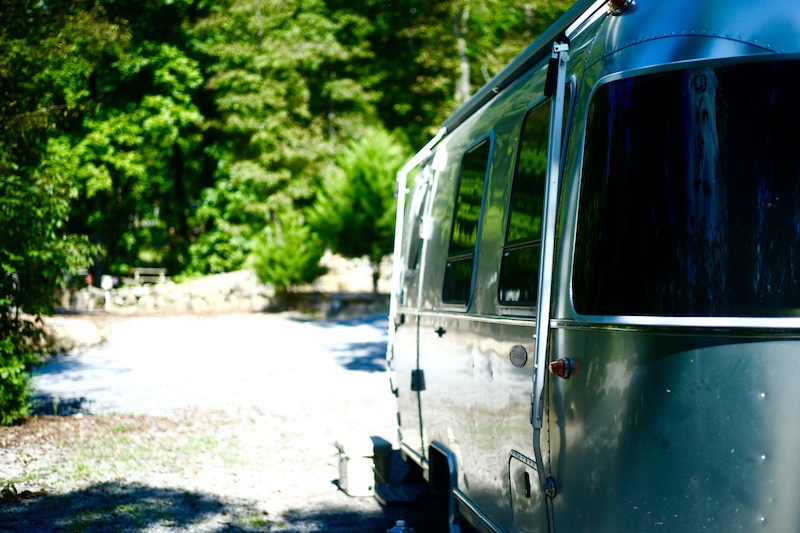 Of Endless Caverns & RV Resort, Airstreamer Tom and Earl (the Springer)says, "The drive-in from the US Route 11 was beautiful. Exactly what I remembered country roads in Virginia to be like from growing up there. The camp hosts were friendly and I was promptly escorted to the site which was level in the central area. All was good."  Endless Caverns has been thrilling visitors with our underground treasure for generations; it was discovered in 1879. Endless Caverns is located at the foot of the Massanutten Mountain Range. It is seemingly endless, with its multiple chambers and tunnels where the deepest measured point is 160 feet below surface level. Visitors can take advantage of the 75-minute guided tour, where you'll learn about the fascinating history and unique geology of this famous 6-mile cave. Colonies of bats, primarily little brown bats, call the cave home and are visible on the tour route. You won't forget your journey through this subterranean limestone masterpiece. At the resort, you'll enjoy numerous amenities, such as a zero-entry swimming pool, a playground for the kids, hiking and biking nature trails, and a catch-and-release pond. The resort also offers laundry facilities, a bathhouse and Wi-Fi hotspots. Both back-in and pull-thru sites are available, and all come with full hook-ups. There is a dump station on-site.
 Click here for more information on Endless Caverns & RV Resort