The Very Best Motorhomes on the Road
With a variety of options to consider in Airstream's motorhome line – from the city-friendly Interstate 19 through its longer, luxurious Interstate cousins, up to the no-amenity spared Atlas – how do you decide which touring coach is right for you? Moreso, how do you ensure you have everything you need to navigate this new world of travel restrictions, vacation headaches, and social norms?
For years, Airstream motorhomes have set the standard for motorized touring coaches. Combining Airstream's expert use of space and the legendary engineering and performance of the Mercedes-Benz® Sprinter Van, they are as beautiful on the interior as they are powerful on the road. While the world around has changed, the core performance and style of Airstream touring coaches remains. 
Navigating the New World of Travel
What has changed is that traveling means deciding how best to accomplish your goals while navigating a new world of concerns, regulations, and social norms. Working from home, which was once a luxury, is now an everyday reality for many – one that might include balancing work and homeschooling too. While this new world doesn't come without obstacles, if you're willing to take your home on the road, it also opens the door to opportunities.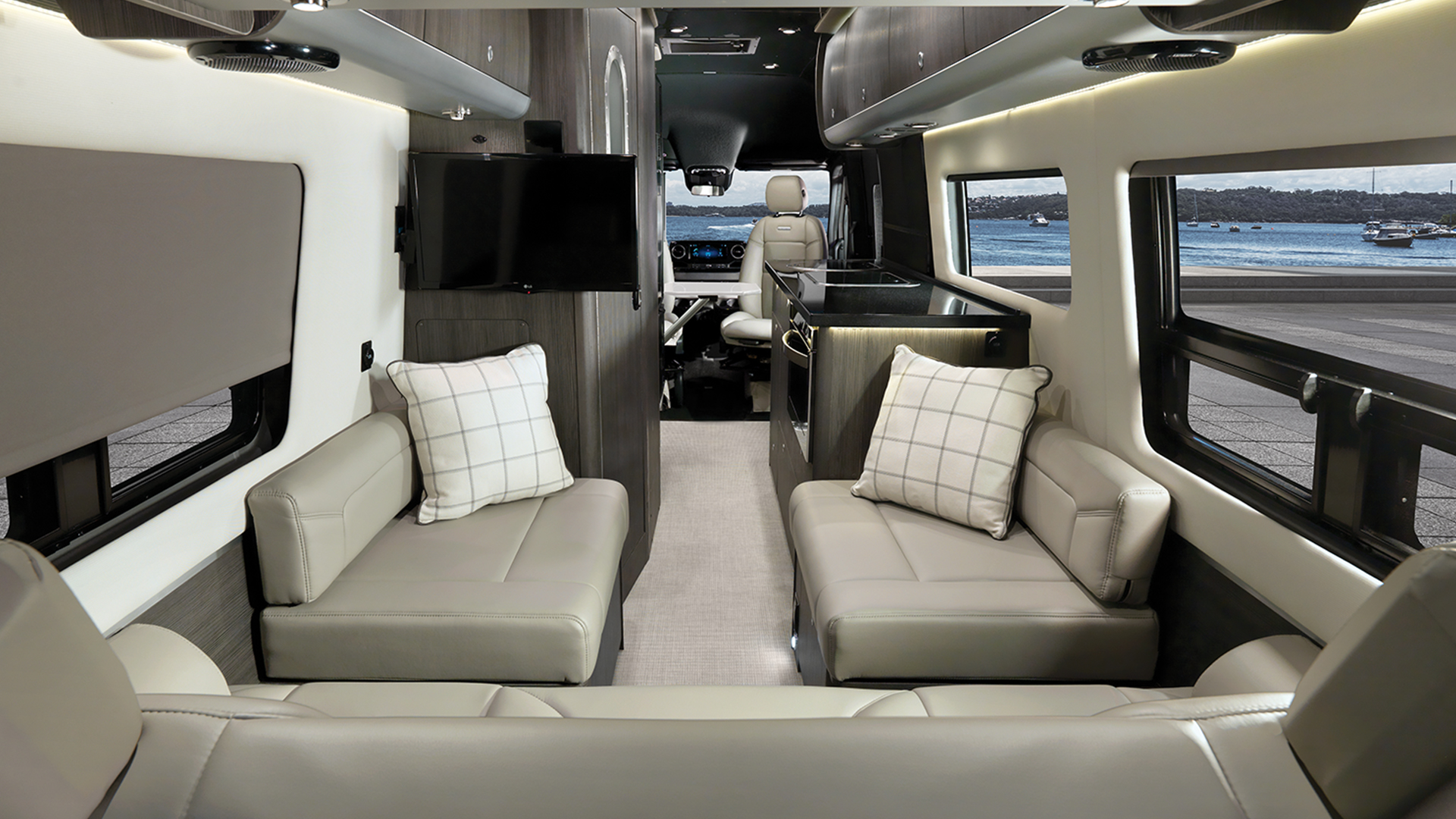 Ready to Take Your Life on the Road?
There's new freedom for you to create your work-life or live-learn balance in ways you may not be able to from your traditional home. Tired from a full work day? Relax around the campfire. Need to get your blood moving after a long call? Hike a trail. No more company gym? Take the kayak down the river. When access to beautiful places transforms from simply a vacation to a daily reality of living the play/learn/work dream, new freedoms and possibilities present themselves in exciting ways. Your bucket-list items become more achievable, your office turns into a cathedral of forest branches overhead, and your break for lunch becomes an adventure into the sights and sounds of the natural world beyond the door of your motorhome.  
Airstream's line of Touring Coaches has everything you need. Finding the right Touring Coach for your lifestyle and desires doesn't need to be complicated. Airstream Touring Coaches are well-suited for your work from anywhere life as well as your vacation. But for a full break-down of the small details that make each Airstream motorhome unique, we've done the hard work for you. 
The Difference is in the Details
As captain of your journey, it's important to know that each Airstream Touring Coach cockpit is essentially identical across all models and is best identified by the two captains chairs that sit at the helm of the RV. Each comfortable seat is upholstered with Ultraleather, keeping the seats looking brand new for years to come. The captain's chairs also have the ability to spin completely around, transforming the space instantaneously. All Airstream touring coaches have the most comfortable bed options available. In the Interstate line, the back seating area is easy to lower into a large sleeping space. In Atlas, the transformation is even more dramatic, with a slide-out that transforms the couch into a Murphy Suite. 
But beyond the cockpit, each Airstream Touring Coach has a variety of features that set them apart. From the captain's seat to the campfire, here are the highlights.
Interstate 19: Nimble, City-Ready, and Solo-Friendly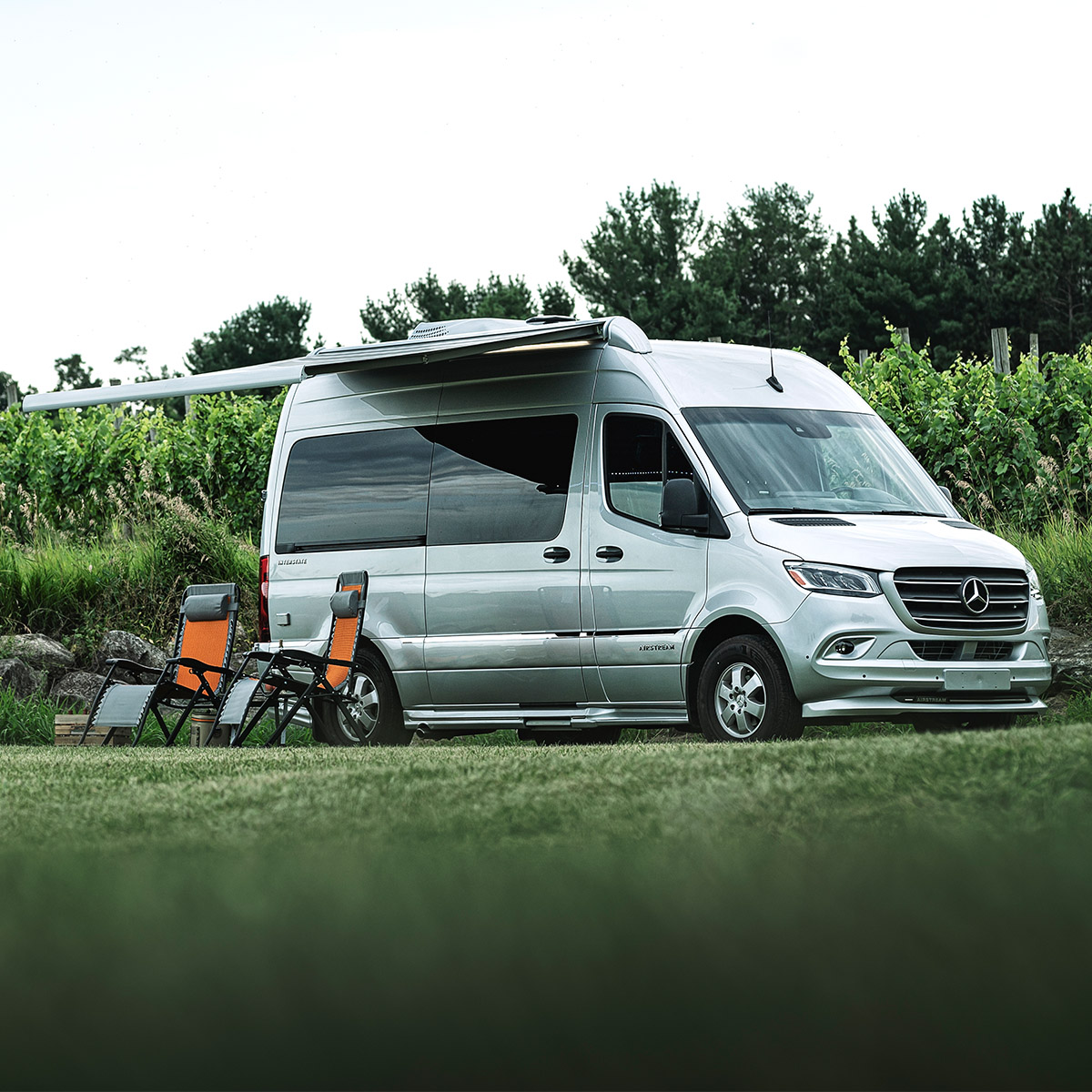 With everything you need in less than 20 feet, Interstate 19 comes complete with kitchen, bathroom, sleeping, and lounging spaces. A European-style wet bath is designed with form and function. The showerhead doubles as the faucet, the mirror extends and swivels, and there's a totally waterproof toilet paper cover. It's perfect for a solo adventure and just right for a team of two. The compact size allows you to easily navigate parking spaces and transitions seamlessly from city travel coach to your remote destination seeker. 
Interstate 24: A Grand Tour or a Relaxing Mobile Lounge
The cornerstone of Airstream motorized line for over fifteen years, this Class B RV has all the amenities of Interstate 19 but it's bigger, so you can share it with more people. With seven (Interstate 24GT) or nine seats (Interstate 24GL), there's room for the kids or friends without feeling cramped. Both Interstate 24 models feature a European-style wetbath complete with toilet, shower, and sink. With the push of a few buttons, the rear powered sofa in the Interstate series transforms into a large, comfortable bed. Relax and read, lounging on the sofa, or put it down and enjoy a quiet night of sleep while you recharge for whatever the next day brings.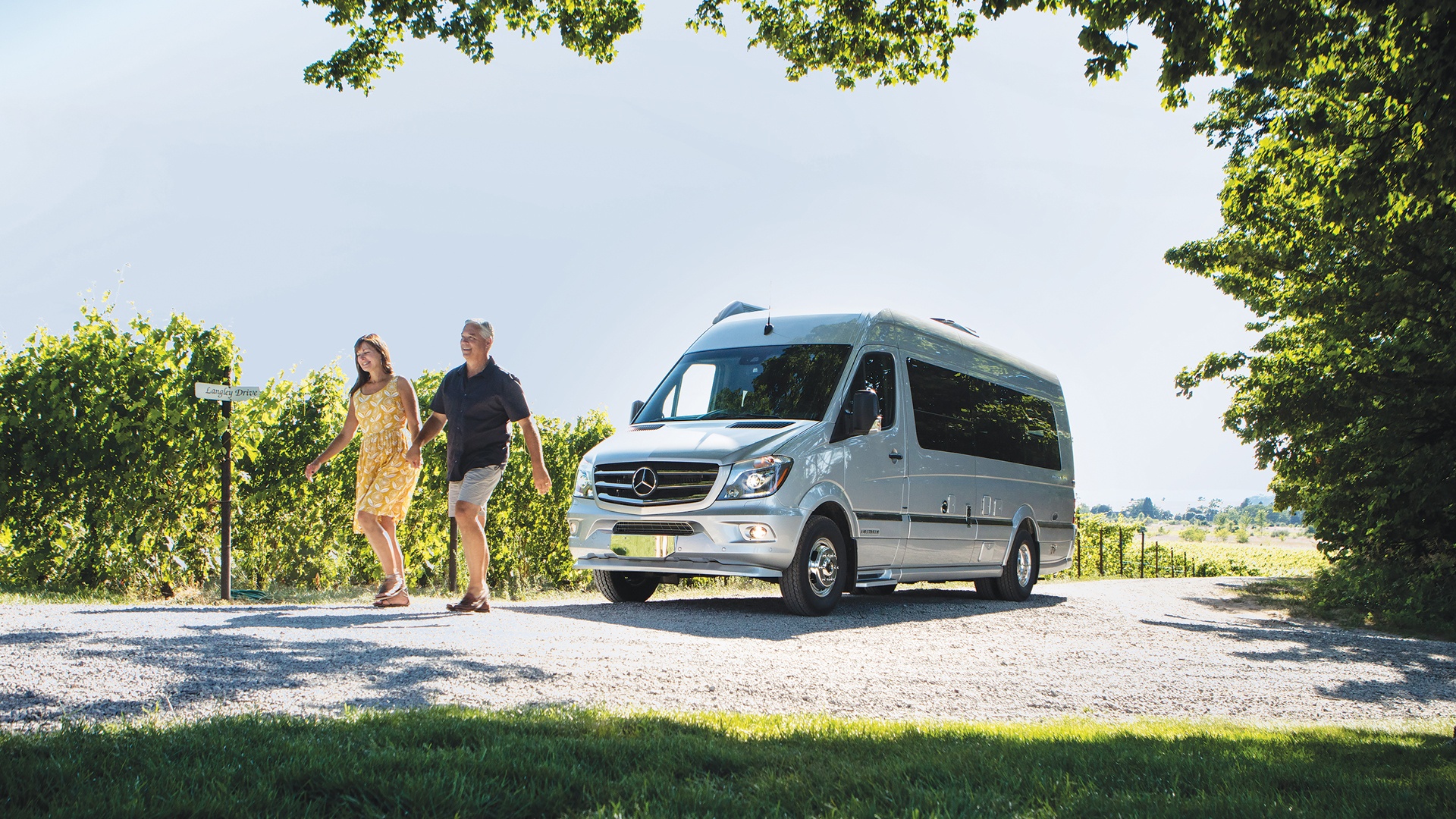 The differences between the Interstate 24GT and the Interstate 24GL are small but mighty. Think of the Interstate 24GL as the premier option for traveling with others (though it's just as comfortable for a couple as well). There's room for seven passengers – each with their own seatbelt. That means plenty or room for bringing along the family, taking a group of friends on a day-trip to a winery, or inviting new friends to join you for a cocktail before retiring for the night. The cockpit chairs revolve to face the two passenger seats directly behind the cockpit. A central table completes the perfect space for a meal or a card game.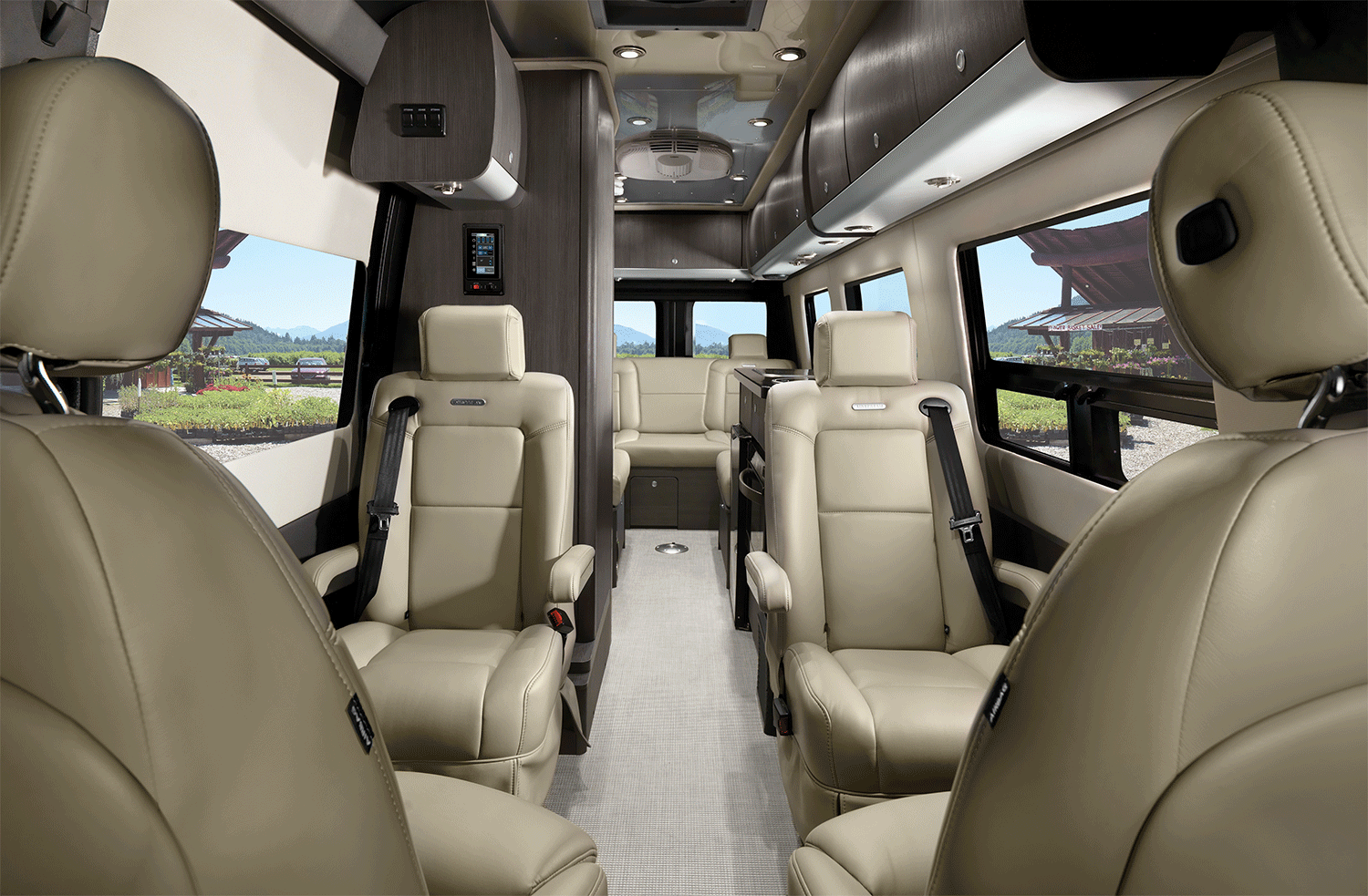 The Interstate 24GT removes the two passenger seats behind the cockpit and trades that space for a storage closet and work station. Where the 24GL gives you more flexibility for passengers, the 24GT is perfectly designed for a couple to hit the road for extended jaunts. With plenty of room to store the necessities and a workstation where you can catch up on calls and emails, the Interstate 24GT lives up to its moniker: The Grand Tour.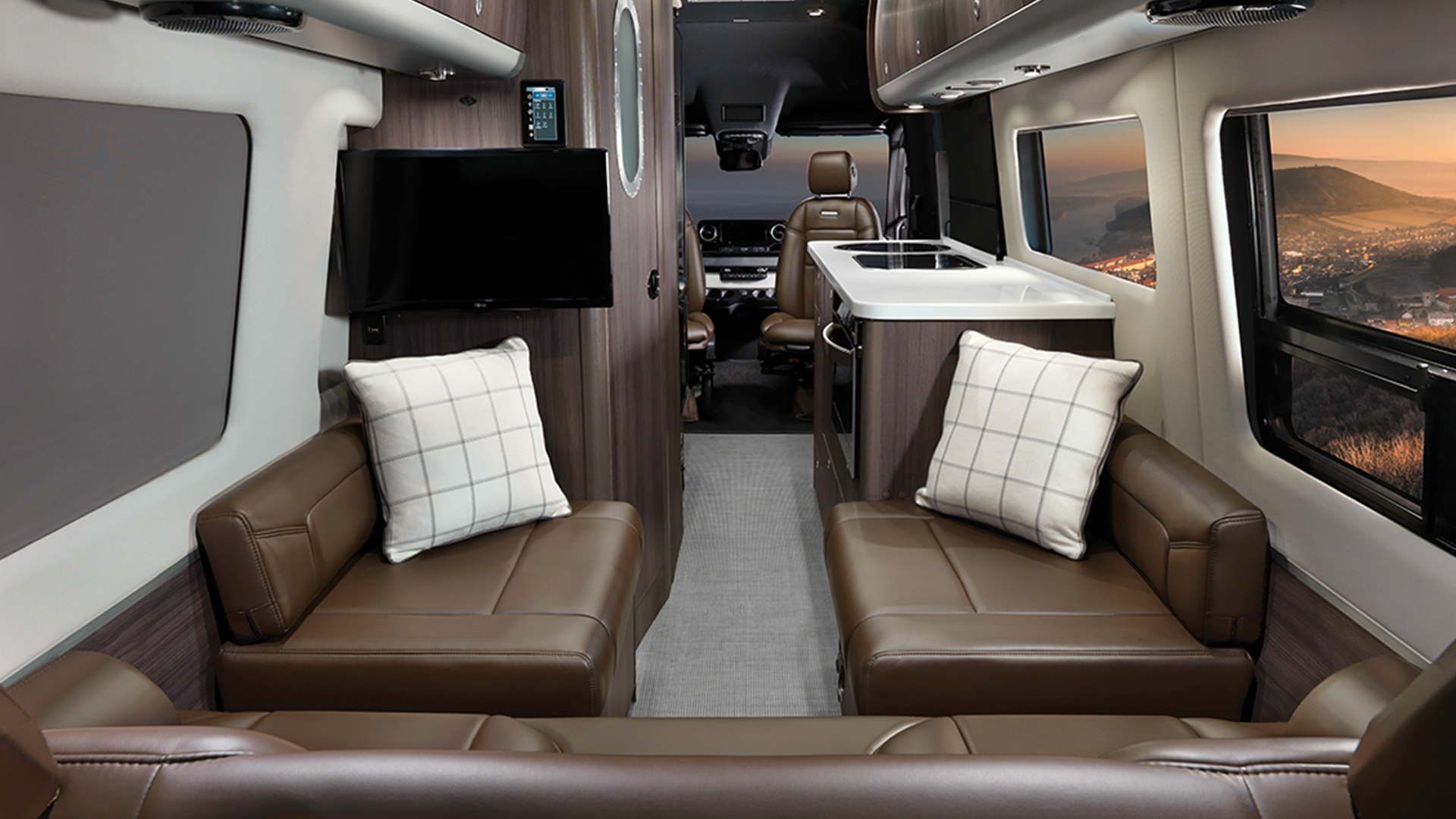 Atlas: Large, Luxurious, and Loaded With Features
No matter what combination of work or play you're looking for in your home on wheels, the Airstream Atlas has it all. With no expense spared, this luxury Class B has a power-slide-out Murphy Suite bed and a spacious residential-style rear bathroom that really has to be seen to believe it. A roomy, dedicated shower features teak inlay, and the closet is inside the lavatory space so getting ready is easy once you've finished your shower. To top it all off, there's a sliding door that closes off the lavatory space for privacy. With a functional kitchen that has everything you need – including a larger-than-expected travel refrigerator – you'll have all the necessities you're used to at home and all the comforts you need on the road.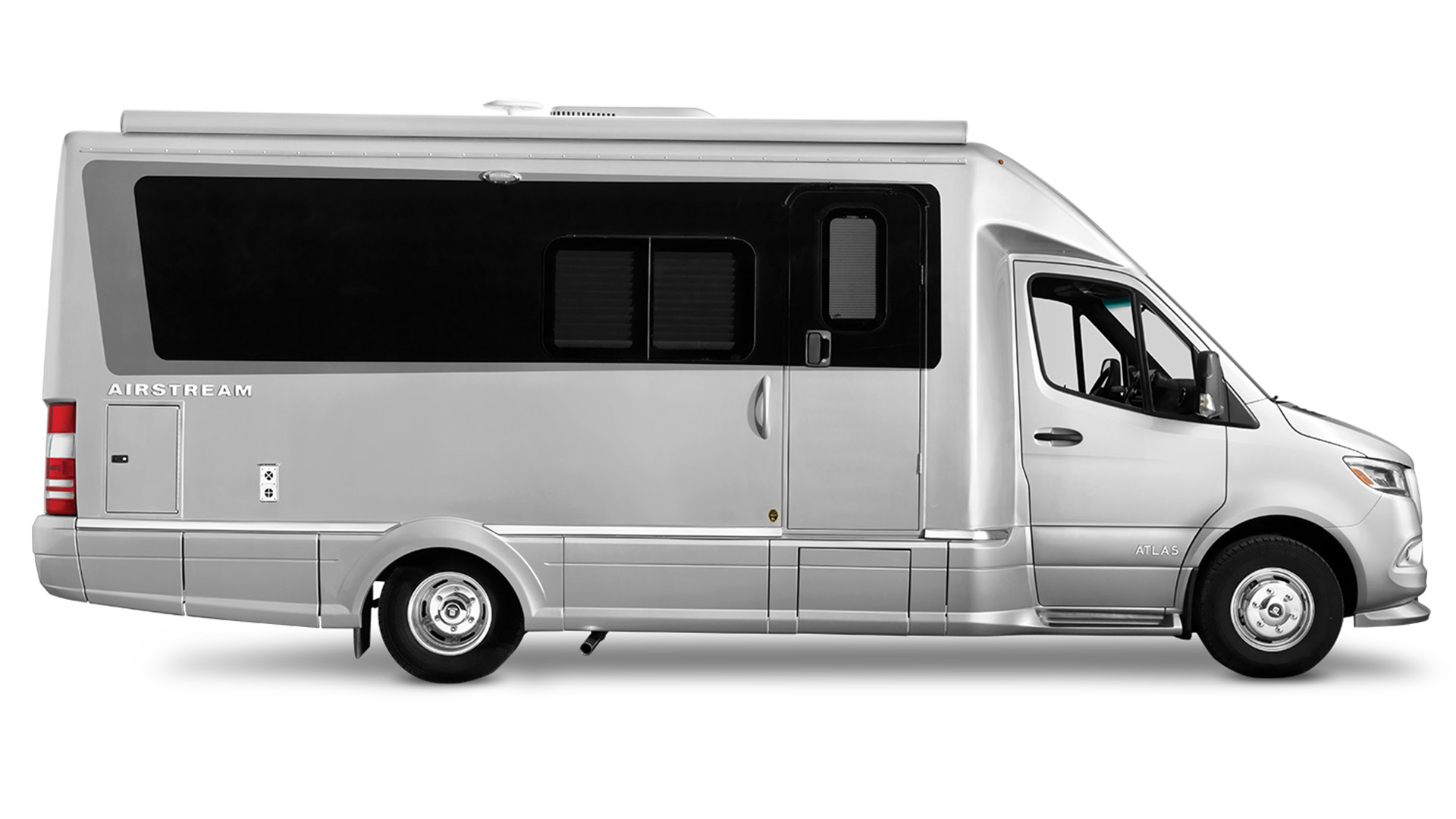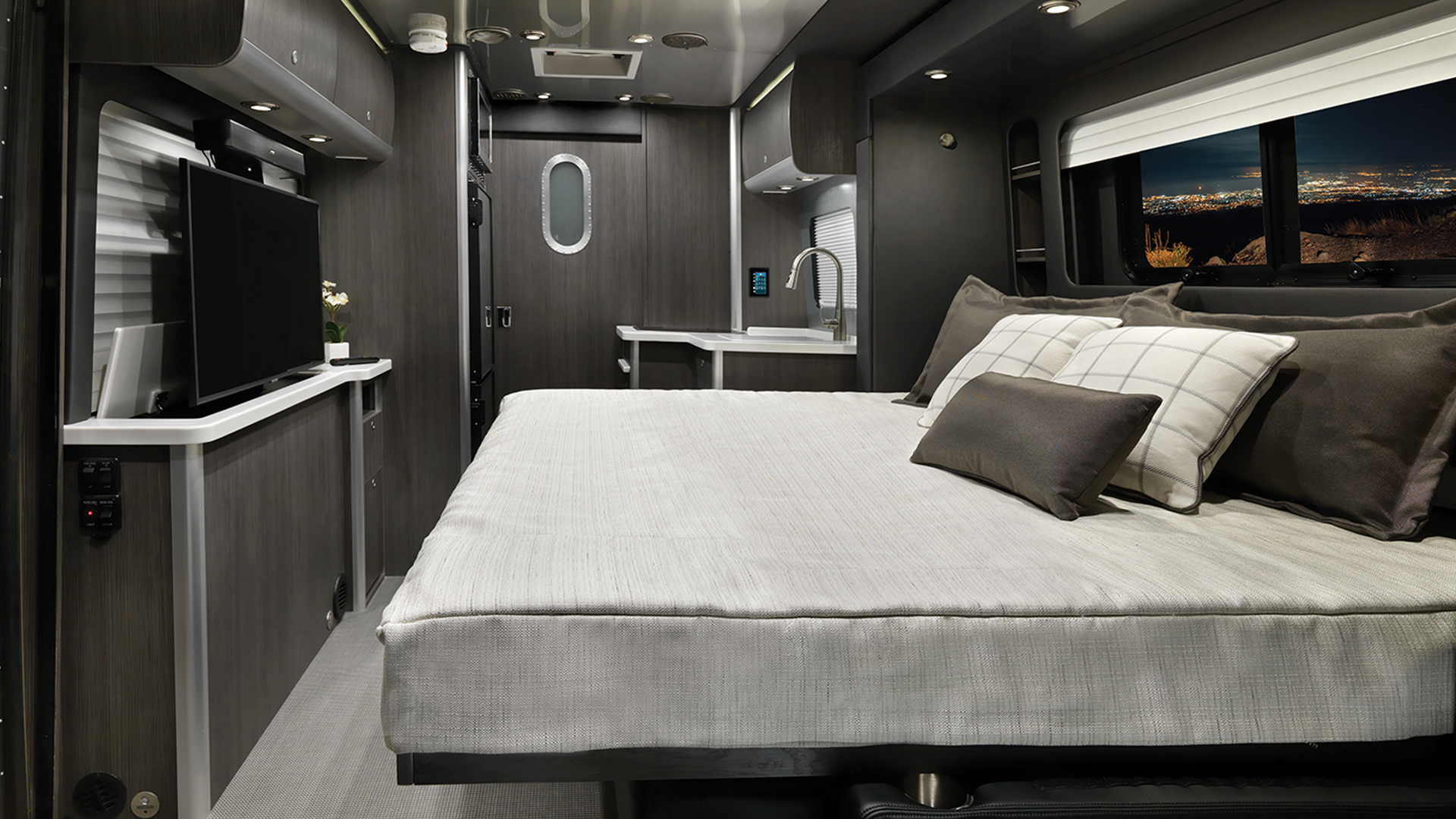 Tommy Bahama Relax Edition: Optional Island Life
From the highway to the beach, the Tommy Bahama Relax Edition makes unwinding after a day of work or travel even easier. This Touring Coach package offers three different floor plans – Interstate 19, 24GL, and 24GT – and all the amenities and features you expect. Coastal accents make relaxing second nature whether you're inside or out. Tommy Bahama style and Airstream design go beautifully together to inspire the island life. Extruded aluminum cabinets are accented by matte-finish wood doors. Remote-controlled wood blinds add a homey feel to the coach. Special wall and window graphics turn heads inside and outside the coach. And the built-in bar reminds you that your top priority is just to unwind.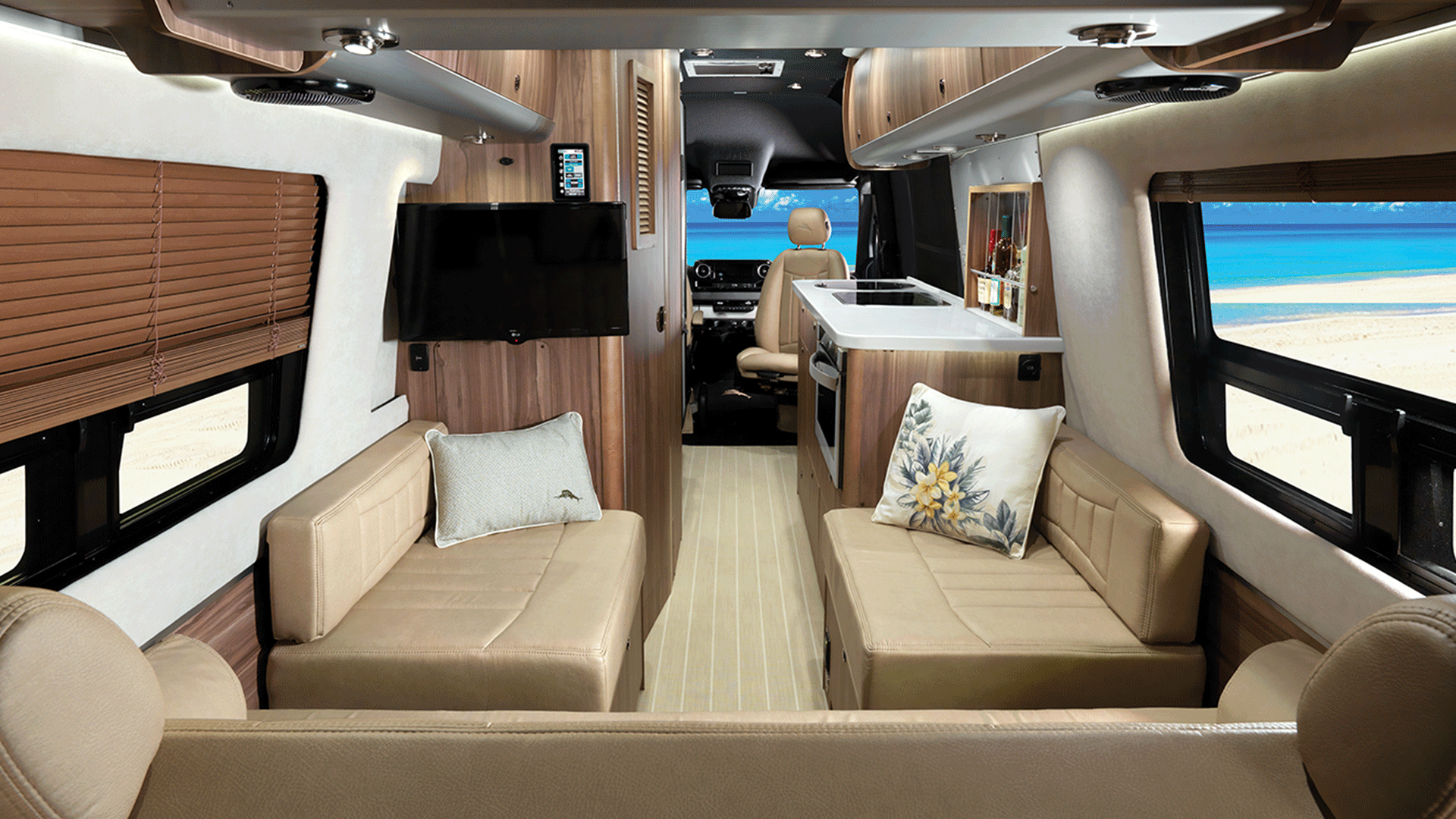 Work, Learn, and Play Anywhere with Across the Board Features
Whichever Touring Coach you settle on they are all equipped for connectivity and ready with USB charging ports. While there may not be a roll top desk in your home on wheels, all Airstream touring coaches have tables that are convertible and easily stow away while not in use. With all these amenities each model is also ready for boondocking or dry camping so there's no limit to the places you can explore.
One of the easiest ways to remain off the grid longer is by using solar panels to generate your own power. In the Interstate line, the 24-foot models include a 300-watt solar power system standard, while the Interstate 19 features a 250-watt system. Atlas also comes standard with a 300-watt solar power system.
All that power is useless if you can't use it, though. That's why Airstream touring coaches are all equipped with onboard power inverters. Where standard RV power outlets feature 12-volt power directly from the battery, an inverter supplies 110-volt power that's necessary to charge devices, power appliances, and turn on the television. And if it's cloudy and you've found your power is running low, you always have the option to fire up the ultra-quiet onboard generator (which on the Interstate 24 and Interstate 19 are LP-powered). 
Whether it's work, learn or travel – or all three – that's got you looking for the best all-in-one camping coach for your next adventure, you can travel in luxury and comfort, and keep the perfect social distance, in any one of the Airstream Touring Coaches.