Buying an Airstream is a life-changing event. Everyone's journey toward Airstream ownership is different, but for many it's a process that can take years – even decades. Hours pondering which is the right model for you, researching the benefits of each Airstream floor plan, reading websites, joining online forums, and visiting dealerships truly adds up to an emotional journey toward ownership. By the time you actually drive off the dealer's lot with your new Airstream in tow, you very likely already have a lifetime's worth of plans in the works – adventures to take, bucket list items to check off, people to go visit. Your Airstream has already taken on a personality in your mind, with the promise of new doors opening on adventures you can only dream about.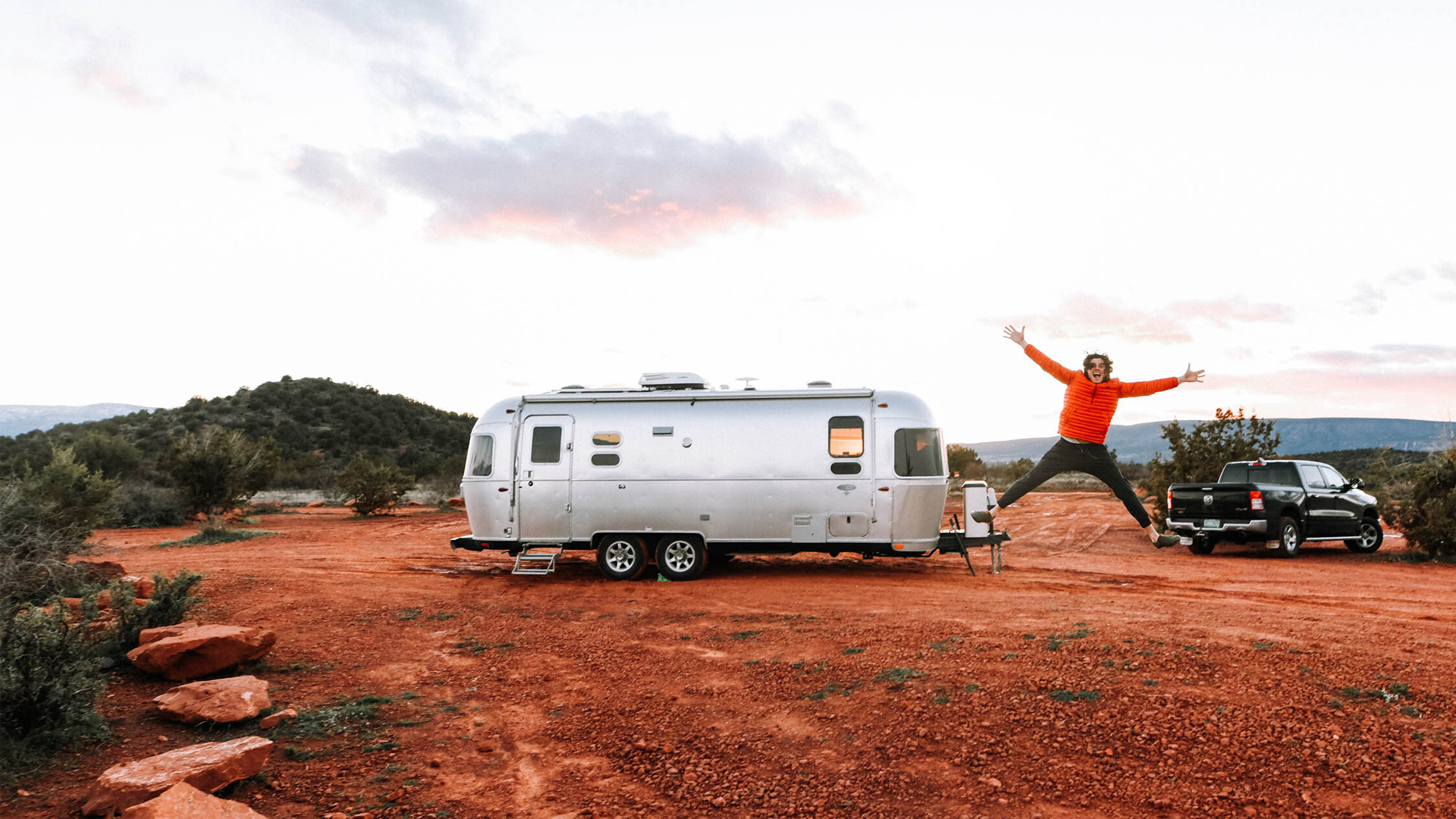 But wisdom tells us not to test the depth of the water with both feet. Generations of new Airstream owners will tell you the best course of action is to camp close to home on that first trip out. Some even recommend staying very close to home and camping that first night in your driveway or parked out on the curb in front of your house.  
There's benefit to following the process through from start to finish, though. Hitching up your new travel trailer while following along with your favorite Airstream YouTubers, making your way out of the neighborhood, merging onto the highway, navigating through the campground – even a short trip just a couple of miles outside town will inspire confidence and present you with numerous challenges. It'll also be the start of a lifetime of incredible experiences.  
Just remember to take it slow and always keep in mind that there are plenty of resources to help you get off on the right foot – including this guide to your first night in an Airstream. Compiled from hours of talking with new Airstream owners about their experience hitting the road for the first time, we put together a great rundown of things to consider as you start planning your maiden voyage close to home.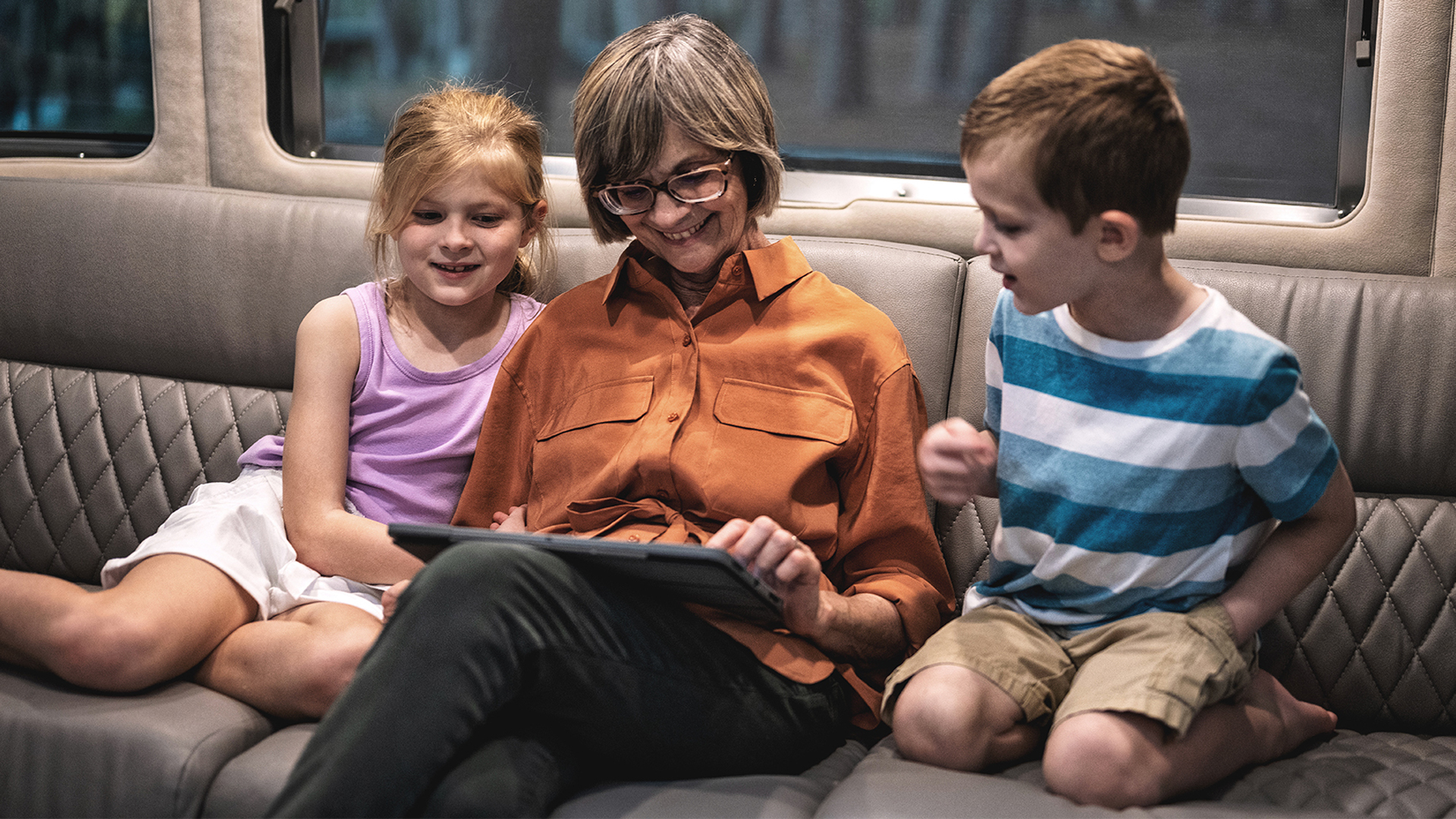 Planning, Packing, Making Reservations
Seasoned Airstreamers know that part of the fun and challenge of Airstreaming is in finding the perfect campsite. Entire websites, online forums, and social media groups are dedicated to just this topic, and you have the rest of your camping life to dive deeper and deeper into those resources. For the time being, though, focus on what's close and find a campground that will get you a balance of the outdoor experiences you want with the comfort of being close to home.  
Look for destinations inside a two- or three-hour radius of where you live. Even though the focus of this trip is learning about your new Airstream, that doesn't mean you can't have that learning experience in a cool locale. Think less about campgrounds, and more about the experience you want to have – forest, beach, river, lake. Then start looking for a campground near your intended destination.  
Resources like HipCamp, Campendium, Roadtrippers, and others will point you toward great campgrounds. While your Airstream is fully capable of a trip into the middle of nowhere with only battery powers and the two-dozen or so gallons of water you take in with you, your first camping trip should be comfortable, and it should give you an opportunity to start exploring the various systems that make your Airstream a home on wheels.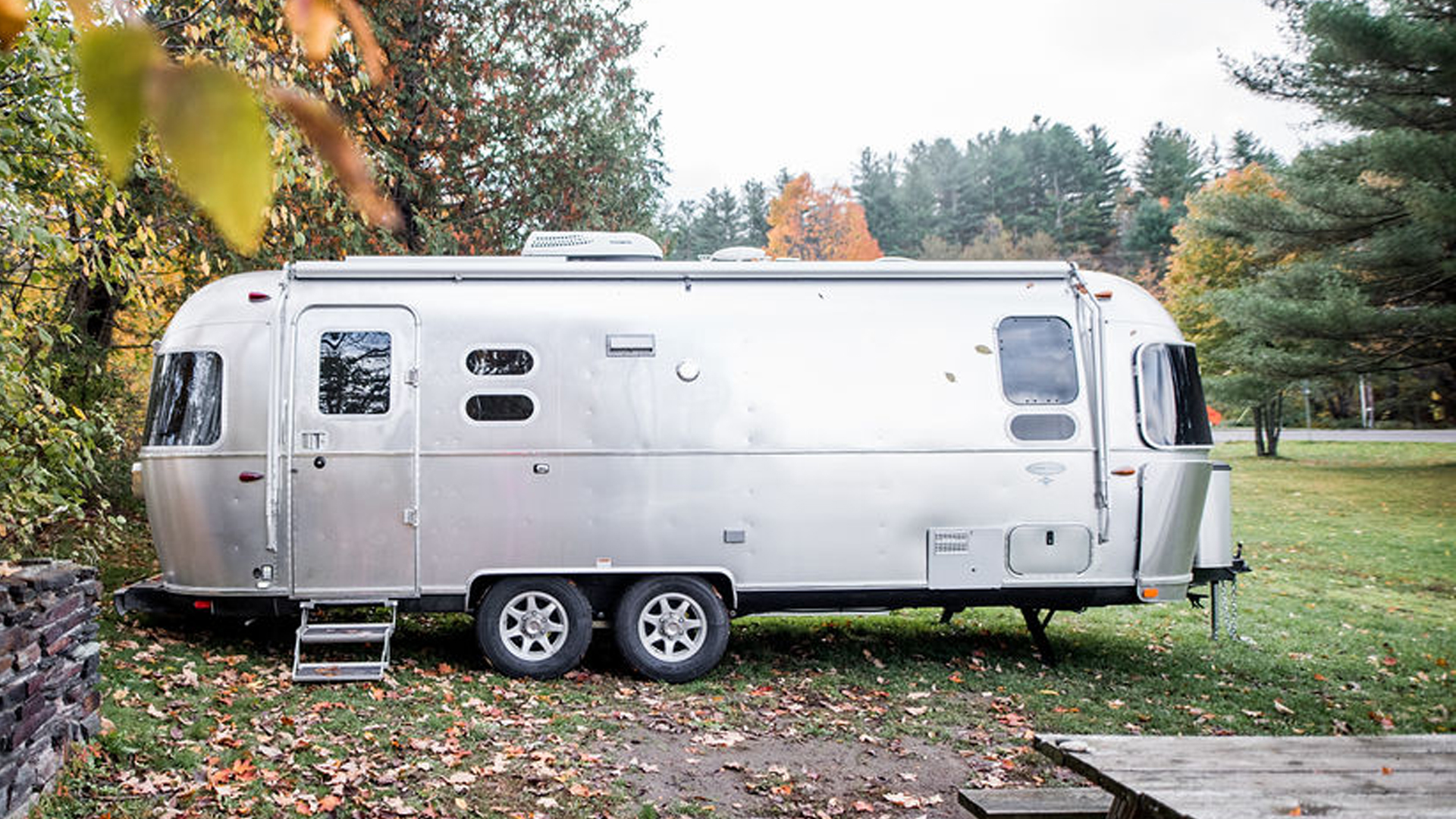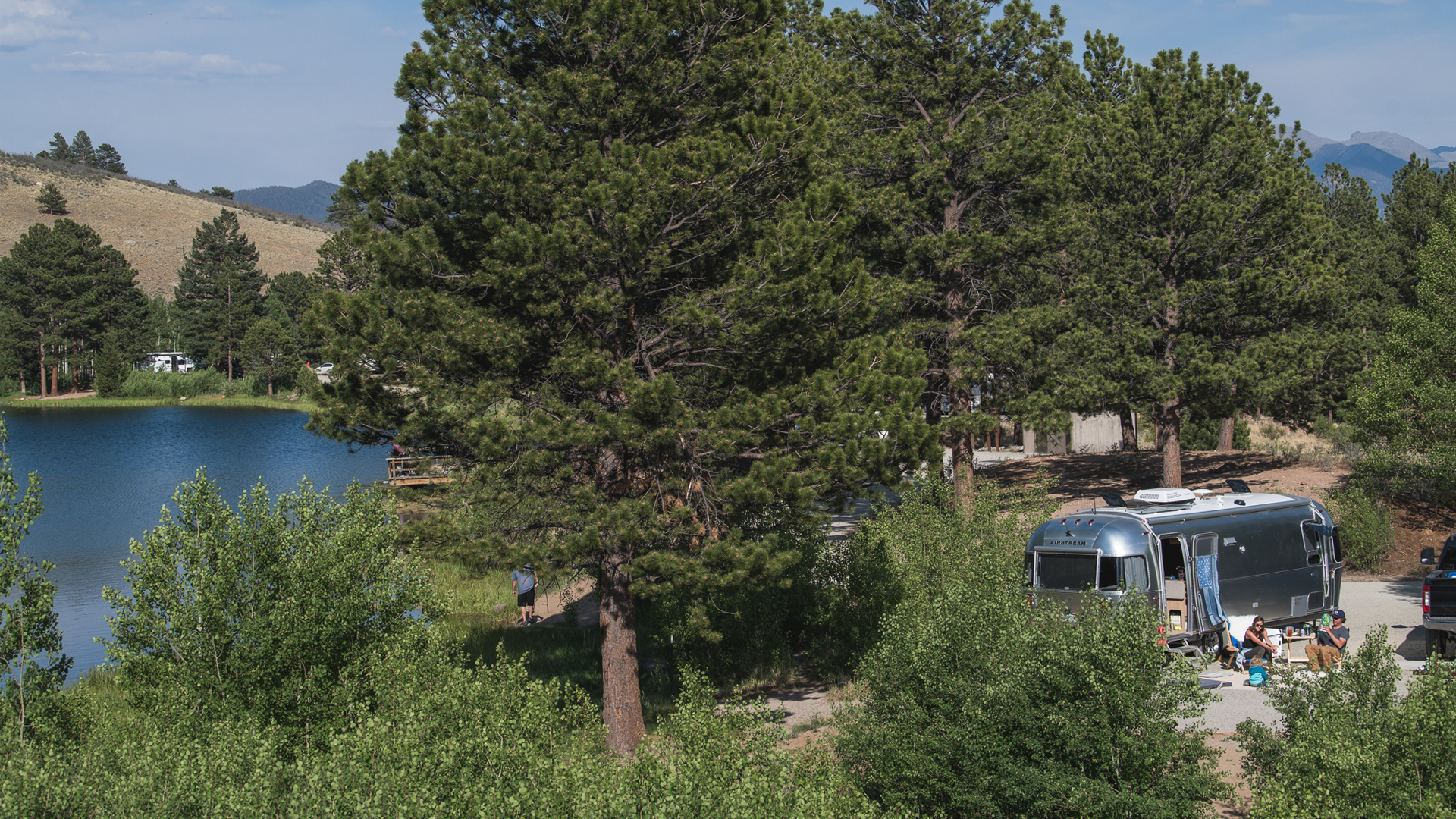 Look for campsites with power, water, and sewer hookups. Many campgrounds have other amenities like pools, shower facilities, general stores, and entertainment, but the basics of power, water, and sewer at your campsite are essential for your first trip. When in doubt, try to interact one-on-one with the campground owner ahead of your trip. Many campground owners are super helpful and can put your mind at ease with a quick email or text. Another great bit of advice is to look for campsites with pull-through access, removing the added stress of backing into a spot on your first trip. 
When it comes to packing, give yourself plenty of leeway to start stocking up ahead of your first trip. One of the great benefits of your Airstream is that you can have it set up and ready to go at a moment's notice. But to do that, your Airstream needs the basics like: 
Silverware, serving spoons, cooking utensils

 

Dishes, bowls, cups, mugs

 

Paper products, cleaning supplies, soap, broom and dustpan

 
You may also like to stock your Airstream with soft goods like sheets, towels, washcloths, and blankets. In general, you want to have basic necessities that you want in your own brick and mortar home – the things you want when you have a spill, make a meal, or clean up in the morning. Individual tastes will vary, but we've collected many Airstream Essentials in easy-to-shop bundles on Airstream Supply Company. Find everything from soft goods to teak shower mats, sustainably manufactured dishware to custom-made mattresses – all Airstreamer-approved.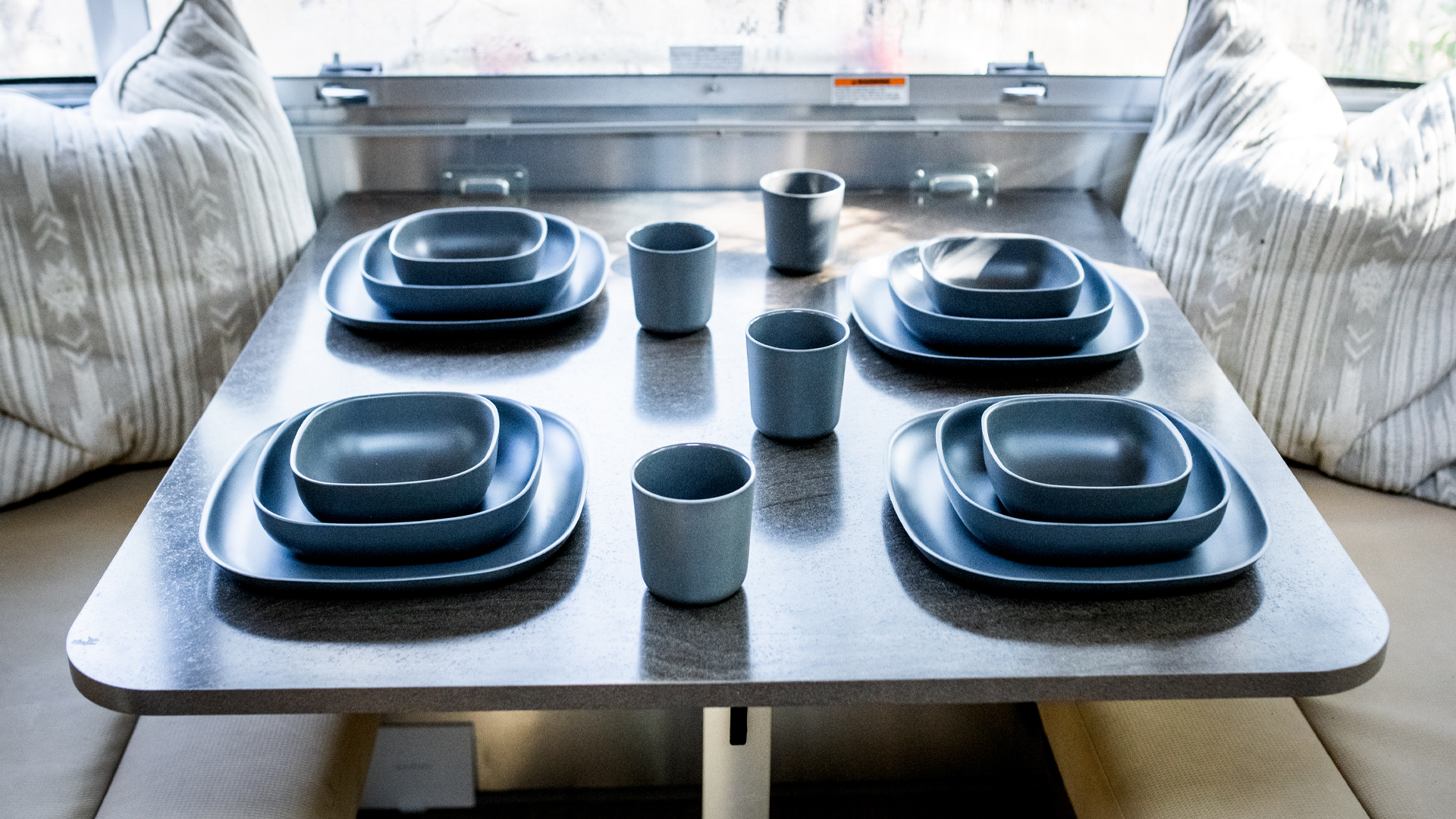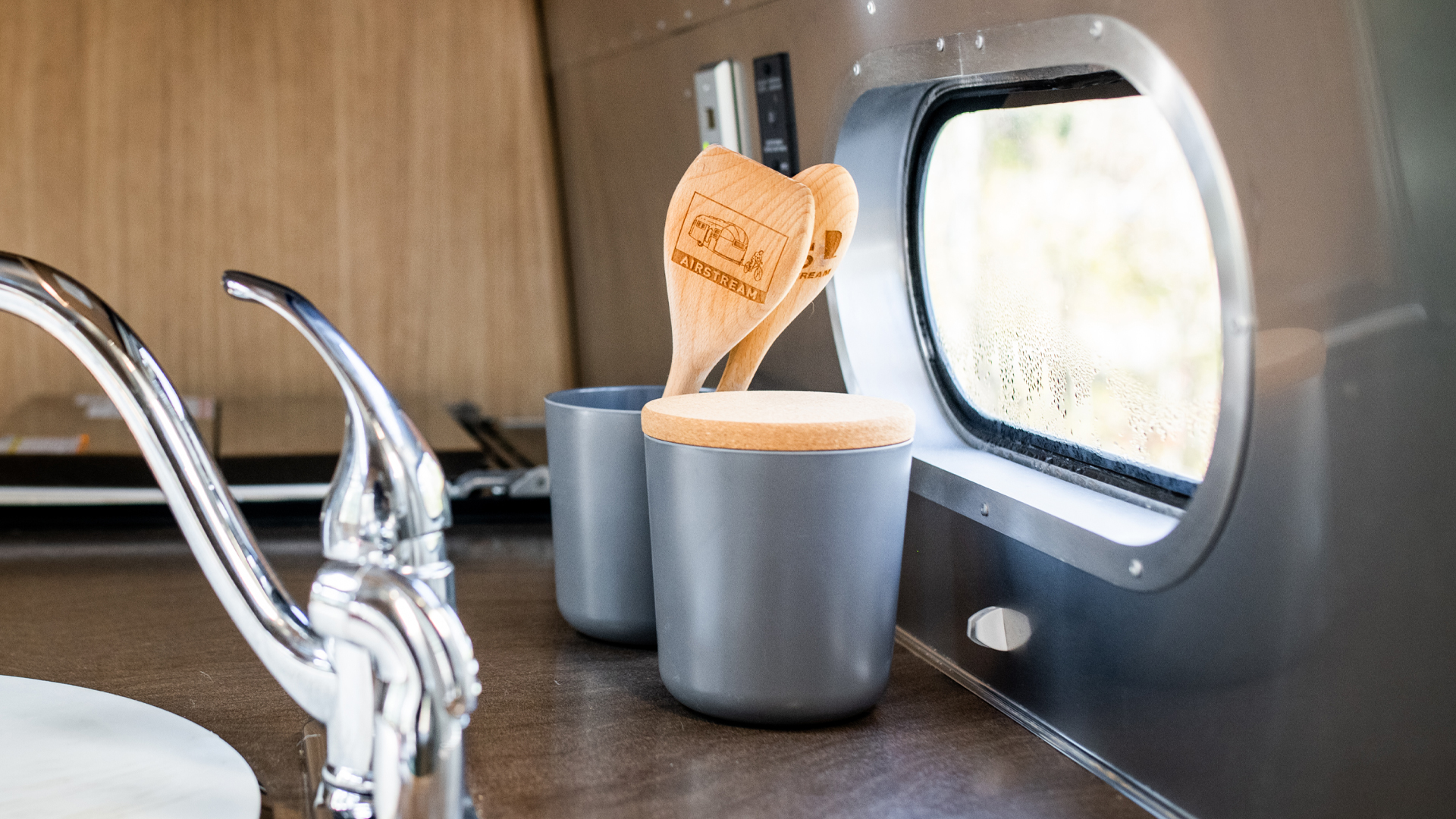 Hitching Up and Getting Out of the Neighborhood
One of the best things about hitting the road on your first trip – even if only across town – is the chance to practice hitching up and towing. Whether you're flying solo or working as part of a team, hitching up is a skill you improve at every time you do it. Many tow vehicles today come with the option of a backup camera that helps you line up the hitch ball with the Airstream hitch coupler. But if you're doing it the old-fashioned way and working as a team, make sure you have the windows down and you've agreed on hand signals or vocal terms – you don't want to be caught wondering what they mean as you're backing up. Walkie-talkies are inexpensive options that can be helpful but remember that technology can fail, batteries can die, and fingers can slip off buttons. There's no replacing good old eye contact and strong, clear voices.  
Once you're positioned, it's time to hitch up. Your local Airstream dealer is your trusted expert in hitching up your Airstream – make sure you walk through hitching up before leaving the dealer and consider using your phone to make a short video of the process as they walk you through it. Remember that safety is always your first responsibility. 
Once you're safely hitched, it's time to tow. The more you tow your Airstream the better you will get at it, but if these are your first experiences towing just remember to take it slow, make wider-than-normal turns, brake sooner than you otherwise would, and drive at a slower, more consistent speed. It will become second nature.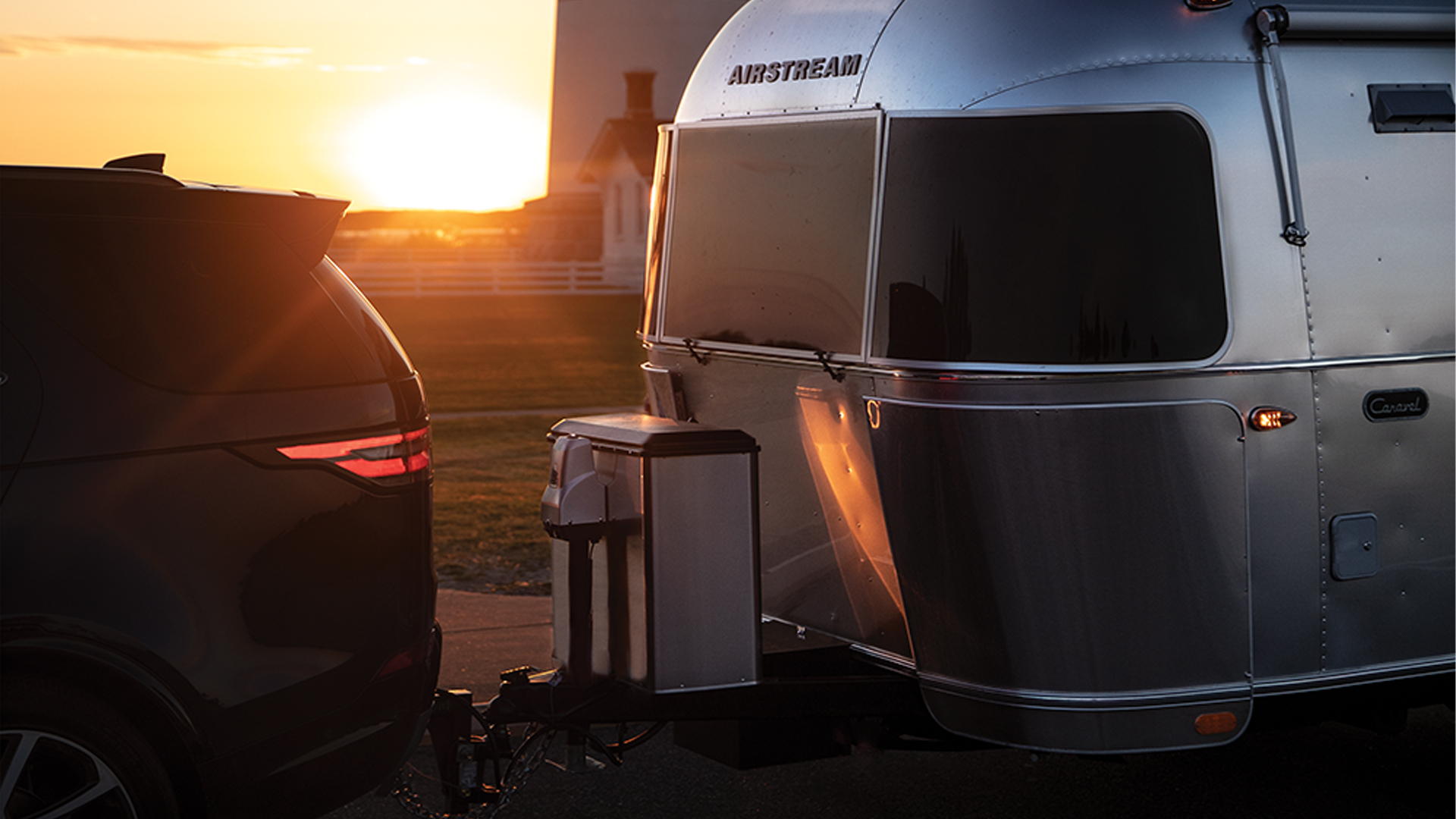 Most importantly, start thinking ahead about your route and learn to spot trouble with plenty of time to react. The best way to get out of tricky situations is to avoid getting into them in the first place. Eventually, you'll thrill at the opportunity to back your way out of a one-way dead end. But for now, look for well-traveled routes with wide lanes and easy on-off access. Plan ahead and use satellite map views to scope out parking lots, entries and exits, and potential problems. There are miles between here and there: Use those miles to plot and plan your next moves.  
Lastly, before you leave on your trip, make sure to turn on your refrigerator (see your owner's manual for specifics). The drive to your destination is a great opportunity to get the fridge cooling down.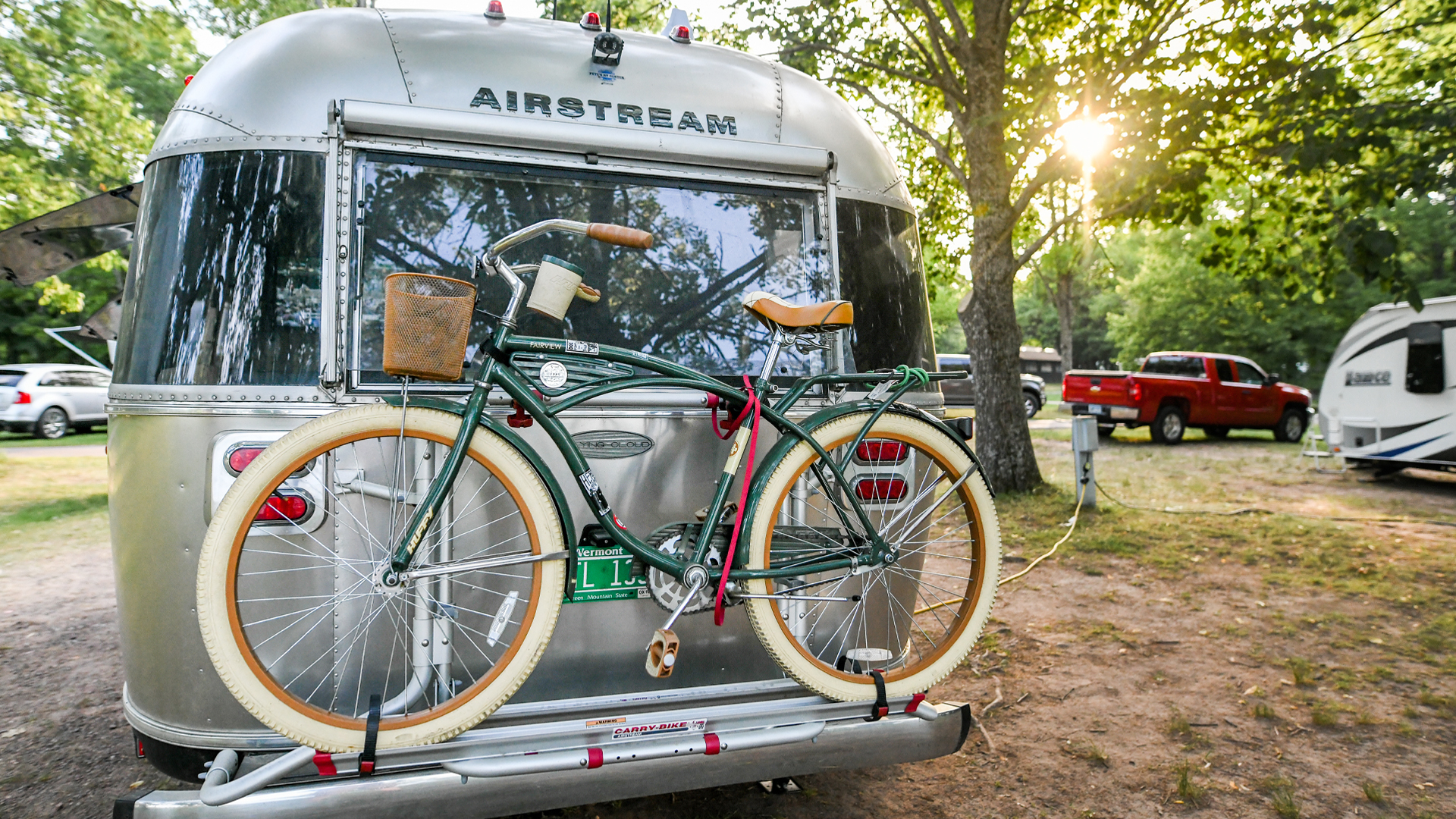 Pulling 

Into

 the Campsite
There are exceptions to the rule, but it's always a good idea to reserve a campsite ahead of time. Especially on your first trip out, you'll want to know exactly where you're going, what amenities are available at your site, and which spot is reserved for you. Some day you will have to chase a reservation because your plans changed, but for this first trip you want your spot locked down. 
Arrive at least two hours before sunset – give yourself more daylight hours if you can. This is an easy rule to bend, but anyone who has set up camp after dark will tell you how important a rule it is. Check-in at the front desk if there is one. Get the lay of the land, learn about the amenities, and check safety protocols. Then head to your spot. This is where having that pull-through access is key: You can just pull into your spot, unhitch, and set up camp.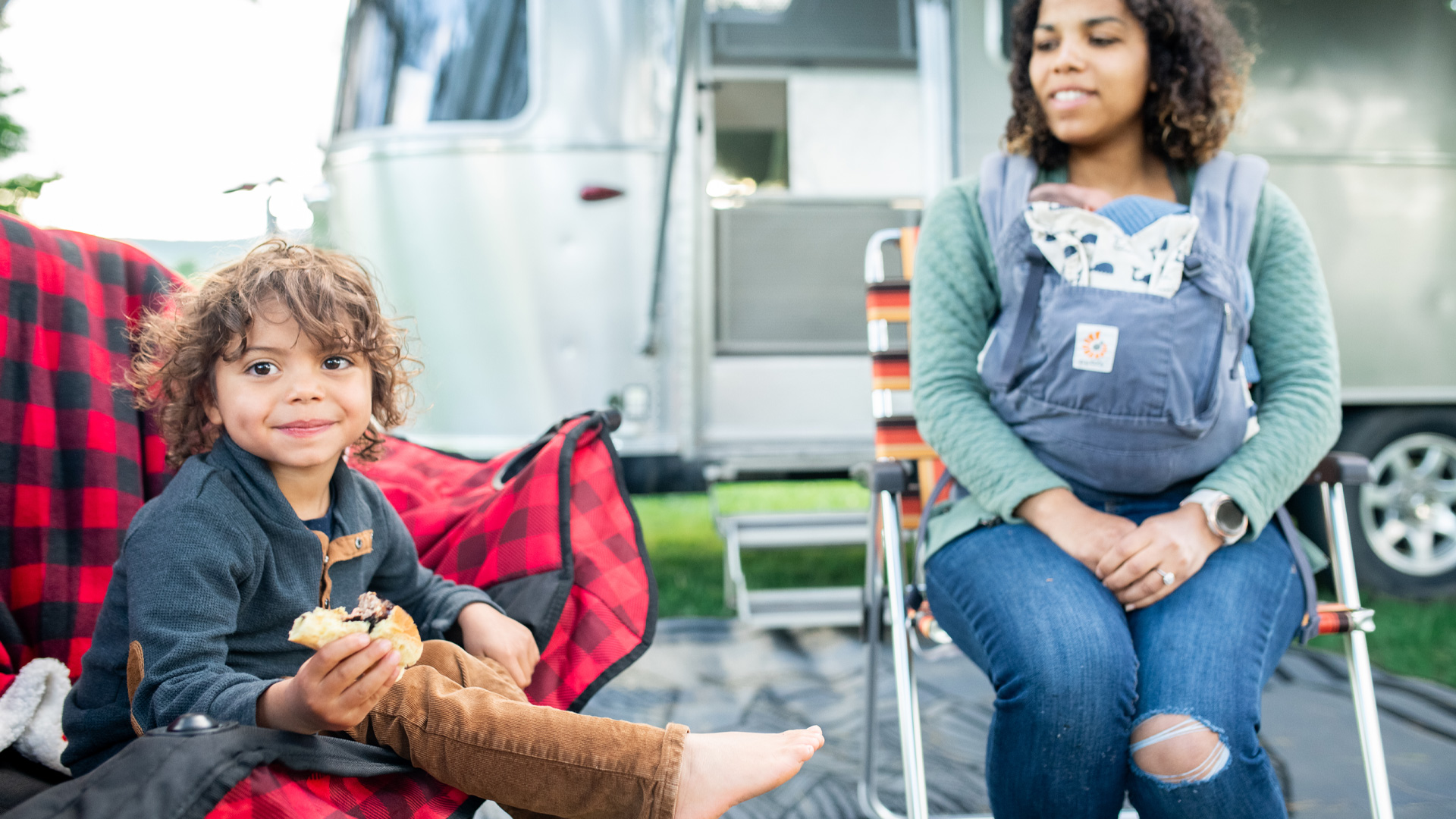 Setting Up Camp
After you've unhitched, pull your vehicle forward or reposition it nearby for easy access. Level your travel trailer and then extend the stabilizing jacks. Don't use the stabilizing jacks to level the trailer. They are only there to provide stability so your trailer doesn't rock around while you walk inside it. Hook up your fresh water hose, your shore power cord, and your sewer hose. While you might already have these essentials, the guides at Airstream Supply Company are full of essentials and upgrades you may not know about, like a clear, 45-degree sewer hose adapter that many Airstreamers say is the most important accessory they own.  
 Your first trip is a great time to get acquainted with the process of extending your awning (make sure you bring along your owner's manual). You'll also want to think ahead about what kind of campsite setup you want. Most campsites have a fire pit, but you may consider upgrading your experience with a Solo Stove. Do you want a gas grill or tools for cooking over open fire? You may also want some camp furniture and a small table, or an outdoor rug to put down under foot.  
Now That We're Here
Once everything is set up, it's time to relax. Seriously – make time to chill out. It's easy to get so caught up in the setup process that you forget to take a break and enjoy the fact that you've arrived. Camping is all about the experience, and you don't want the experience to be all-work-all-the-time. There's lots to do when you own a travel trailer, and after time much of that will become second nature and part of the fun. There's great satisfaction in owning an Airstream. It's your ship, your adventure vehicle, your escape hatch, and fun factory. Getting to know your Airstream is half the excitement of ownership.  
These first days and nights are all about exploration. Play with the light switches. Learn how to turn on the furnace and A/C. Read about power systems as you figure out exactly what the inverter does and the voltage of the different outlets. Take a shower – you're hooked up to city water so you don't have to worry about filling your tanks. Learn how to turn on the water heater and water pump.  
And if you get confused or stumped, take a walk around the campsite. This will do wonders for your outlook – and also give you an opportunity to look for other Airstreamers parked in the campground. More than likely, the owners of that Airstream will be happy to help answer your questions.  
After all, they were new owners once too.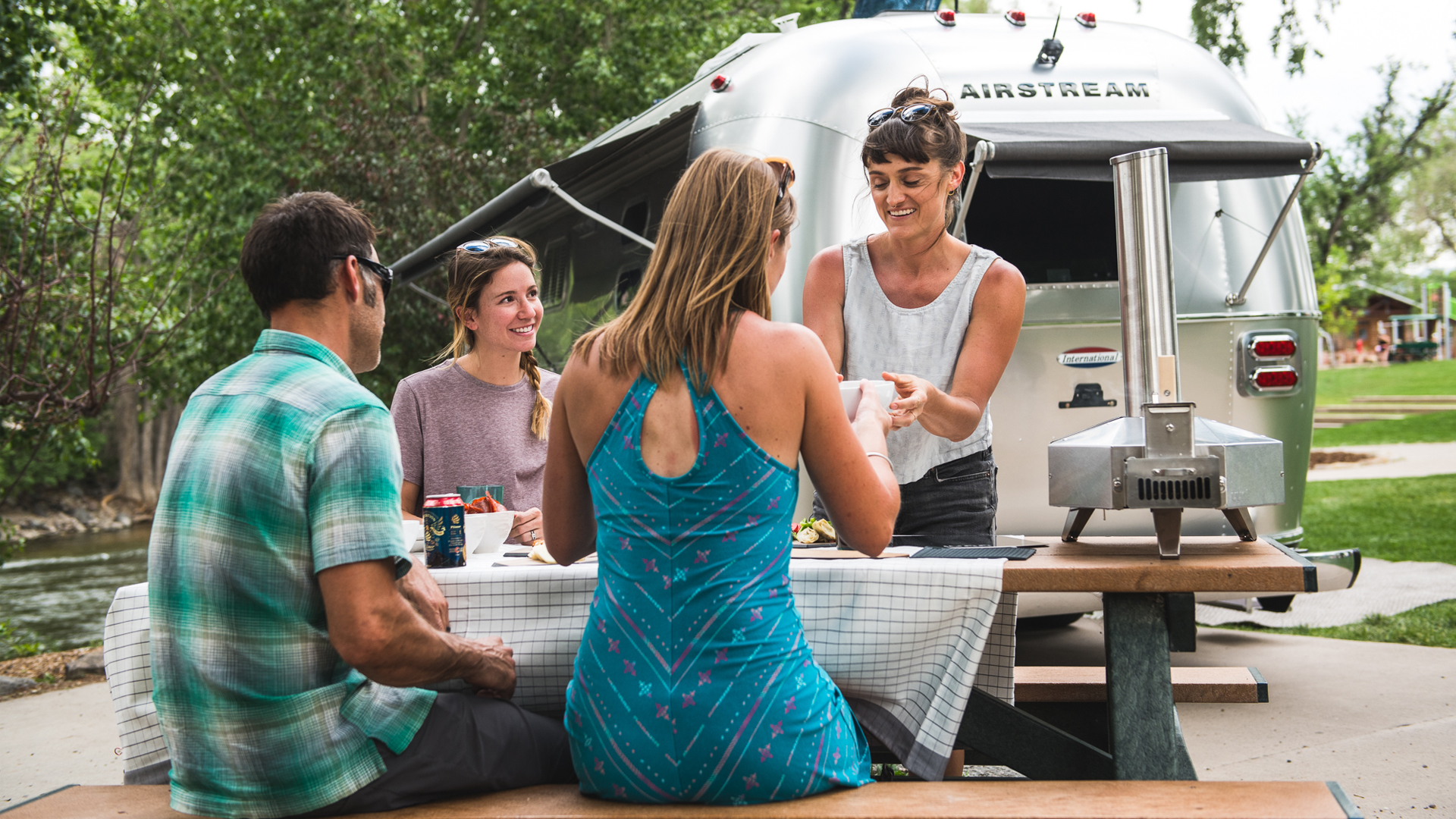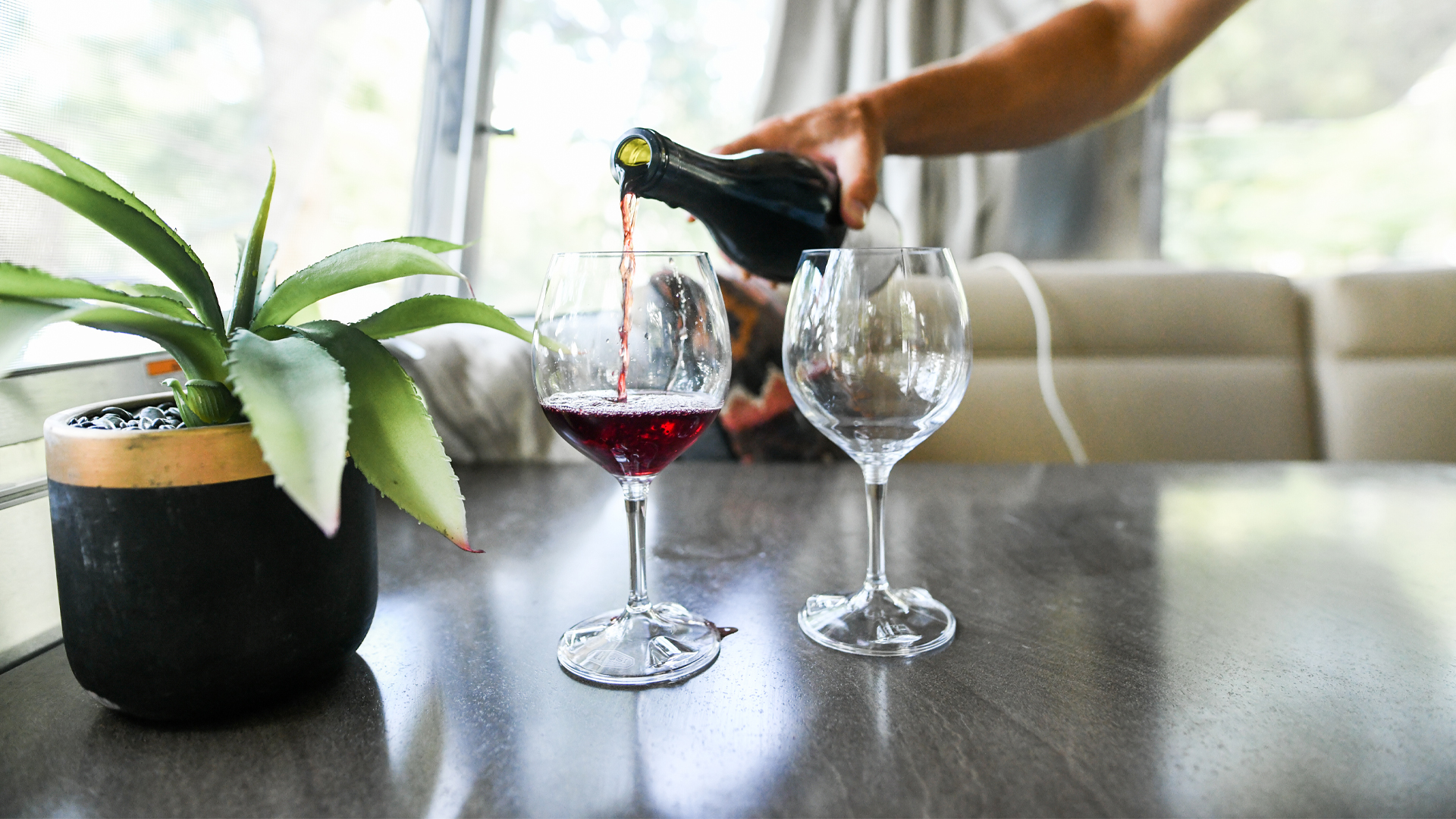 For more great content to help you hit the road on the right foot, explore Airstream's library of New Owner Content.