Note: Refreshed on 3/26/2020
If you're considering purchasing a recreational vehicle, chances are you've done loads of research. You've compared brands, sizes, tow vehicles, travel destinations and more. It's a big investment and you want to be confident that the lifestyle is for you and makes sense.
For everyone who tells you how much they love their Airstream and the freedom and excitement it brings to their lives, there are still skeptics for every topic and plenty of myths that persist. So, to help sort through the noise, we decided to take a closer look at nine common myths about owning RVs – and then debunk them Airstream-style!
RVs Are Expensive and A Lot of Work
Airstreams Are Expensive
When it comes to cold hard cash, money doesn't lie. RVs often come with a hefty price tag. But no matter what your budget is, you can't put a price on experience. Undiscovered countryside, family time, memories and the freedom of the open road can't be quantified. And with a variety of options – from the 16-foot Nest and Basecamp, the long 33-foot Classic, and several motorized Touring Coach options, there's an Airstream for every budget. You can rest assured that your Airstream will give you an unlimited budget for adventure.
Airstreams are Hard to Take Care Of
With the power of the internet and a passionate community of owners, you can always find the answers you need to take care of your Airstream. With the new Airstream Care app, keeping your Airstream in tip top condition has never been easier. Create a personalized service experience with the Airstream Care app by adding your Airstream model and your preferred checklists, service locations, and much more. Based on your service schedule and general use, the app will automatically send updates about things you should regularly check on to keep everything running smooth and to avoid Airstream issues. The days of making a manual checklist for self-service items such as inspecting your battery, CO detector, or fire extinguisher are no more! 
There are bound to be questions about maintenance items that might not be listed in the Airstream Care app. This is where the owner's manual and owner community come into play. Each new Airstream includes a paper copy of the owner's manual for that product, however, there are times you're going to need quick answers. This is why we have an Airstream Owners page with helpful resources (How-To Videos, Product Manuals, Document Archive, etc.) and a Knowledge Base packed with FAQ's and Customer Support. Owners also commonly refer to AirForums, an RV Life community, which has a plethora of information about living life with an Airstream travel trailer or touring coach.
RV Shopping is An Ordeal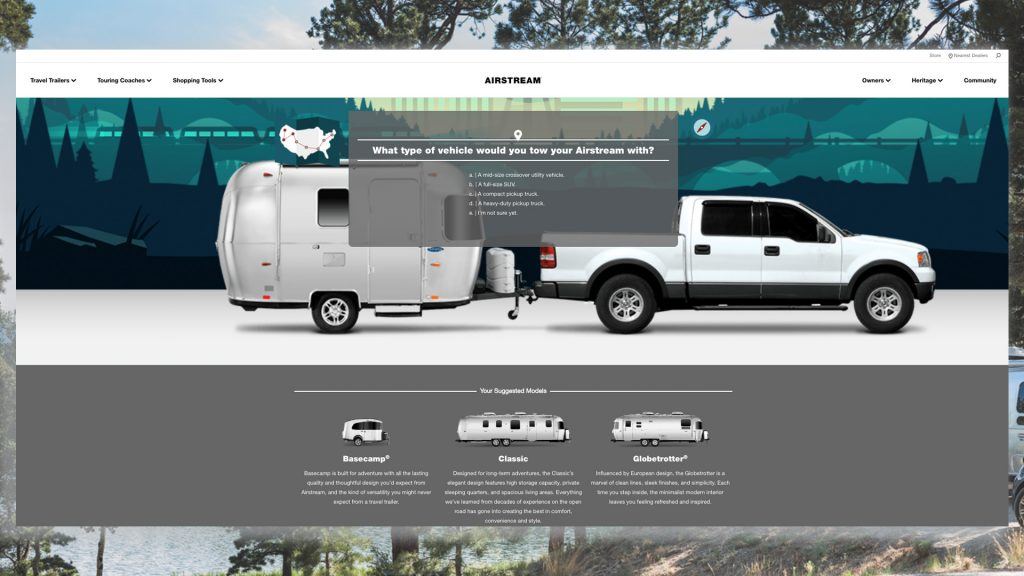 If research and shopping from home are your thing, our newly revamped website offers a host of tools to help you discover which Airstream is right for you. Once you've done your research online, use our Nearest Dealers tool to find your nearest dealer and send them a personal message to follow up with. Each dealership is staffed by knowledgeable salespeople ready to help you navigate the features of each model. When it comes to making the decision about which Airstream fits your lifestyle and budget, seeing really is believing.
Airstream standards for quality have always been self-imposed. Our founder Wally Byam believed in building products in the absolute best way - with care, dedication to constant improvement, and commitment to quality. We extend our commitment to quality throughout our dealer network to ensure our customers receive a great experience at every touchpoint. Top dealerships are built with only five rivets which all exemplify a key touchpoint in creating a superior customer experience. Dealerships that have met the highest standards can be identified with the Airstream Five Rivet Dealership mark in the dealer locator and we're confident that you can expect to get all of the information you need to make the most-well informed decision about your Airstream.
RVs Are Gas-Guzzlers (Avoiding the Fuel Pumps)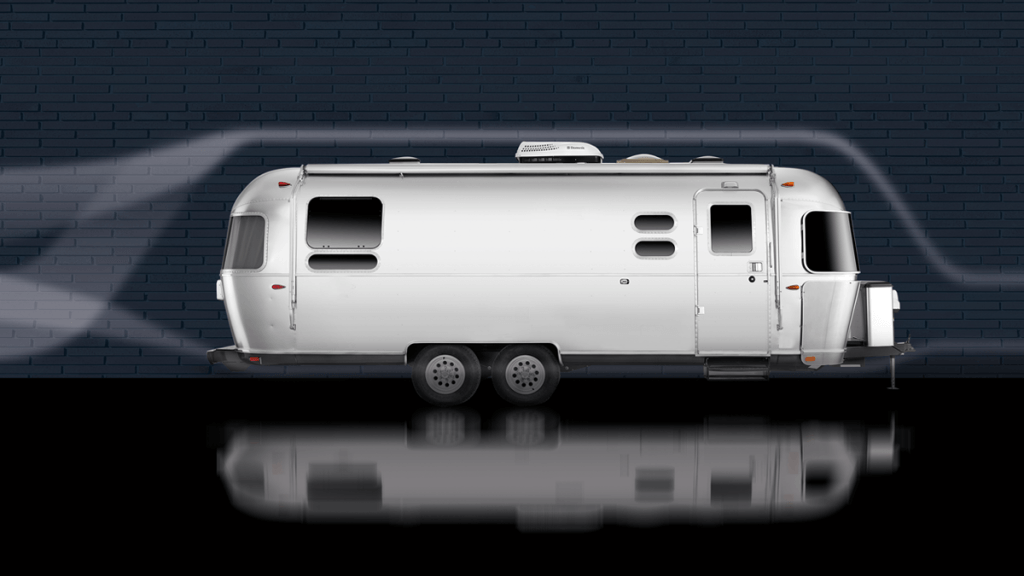 The Iconic, Aerodynamic Silver Bullet
No doubt about it, towing anything requires more fuel. If avoiding the fuel pump is one of your top priorities, you can rest assured that Airstream's aerodynamic design improves fuel efficiency as much as 20 percent. The silver bullet not only creates less drag, its weight distribution is a breeze to pull.
Small, Compact, and Economical
Not all towable Airstreams look like the iconic silver bullet that you might expect to see rolling down the highways and byways of the world. Nest by Airstream is a completely unique travel trailer that is constructed from a strong, fiberglass shell. Only 16 feet in length and a 4,000 lb. GVWR, this fun RV trails behind your tow vehicle like it's not even there. Similar to the Nest, the Basecamp measures in at the same length of 16 feet but weighs even less with a GVWR of 3,500 lbs., making it another great option to pair with your family SUV or smaller truck - all while saving a few dollars on fuel by being sleek and narrow.
Diesel Emissions in Mind
The powerful Mercedes-Benz 3.0L V6 turbo diesel engine makes driving an Airstream touring coach an enjoyable experience. With BlueTEC SCR Technology, there's an impressive amount of getup balanced with impressive fuel economy. All of our Class B motorhomes from
Mercedes-Benz include V6
diesel engine that has passed a 50 State EPA/CARB standards test. Learn more about the details under the hood and why Mercedes Benz diesel engines stand out from the crowd.
RVs Depreciate Quickly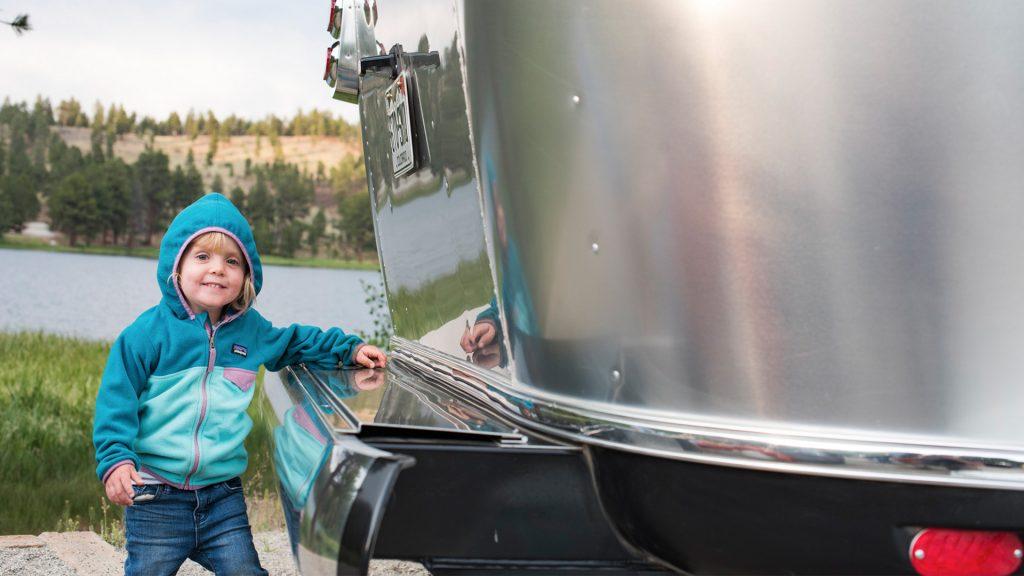 Like a new car, the value of a new RV plummets the moment you drive it off the lot – unless it's an Airstream. In fact, we estimate that 60 to 70 percent of all Airstreams are still on the road. One look at the #airstream vintage market is evidence enough that your new Airstream will retain its value for decades! When you purchase an Airstream, you're buying an American dream that holds its value. And if you could measure the value of memories, some would argue your Airstream appreciates, collecting a lifetime of treasures that you can then pass on to children and grandchildren.
RVs Are Not Urban-Friendly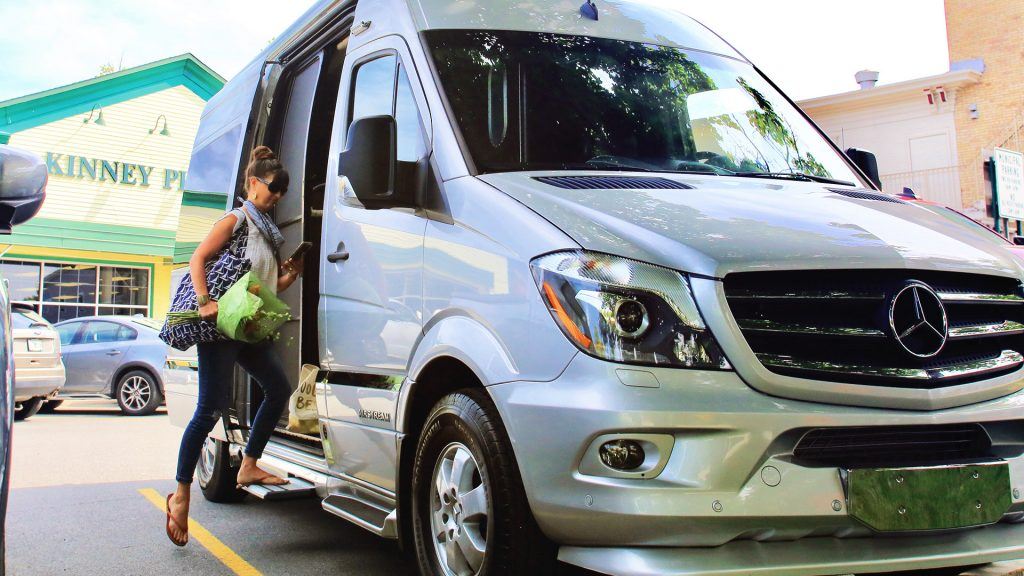 Getting Around With a Touring Coach
While it might be true that not all RVs are engineered for city streets, Airstream offers some unique options to help you see all the sites – not just the ones off the beaten path. Travel in comfort in Airstream's newest touring coach, the Interstate Nineteen. With its small footprint, the Interstate Nineteen is easy to park and maneuver.
Space Saving Trailers
On the travel trailer side, our Nest and Basecamp models are small in stature but big on functionality and all the comforts you want. Light enough to be pulled by a small SUV, these two travel trailers are spunky solutions to seeing the city sites. If Nest and Basecamp don't fit your style and you're looking to get in on the silver bullet look, we have single-axle travel trailers ranging from 16 to 22 feet that all are a breeze to navigate within the city limits. Between the Bambi and Caravel, there are four different floor plan options (16, 19, 20, 22) which are perfect if you're looking to save on parking and storage space.
Exploring the Great Outdoors is Dirty Work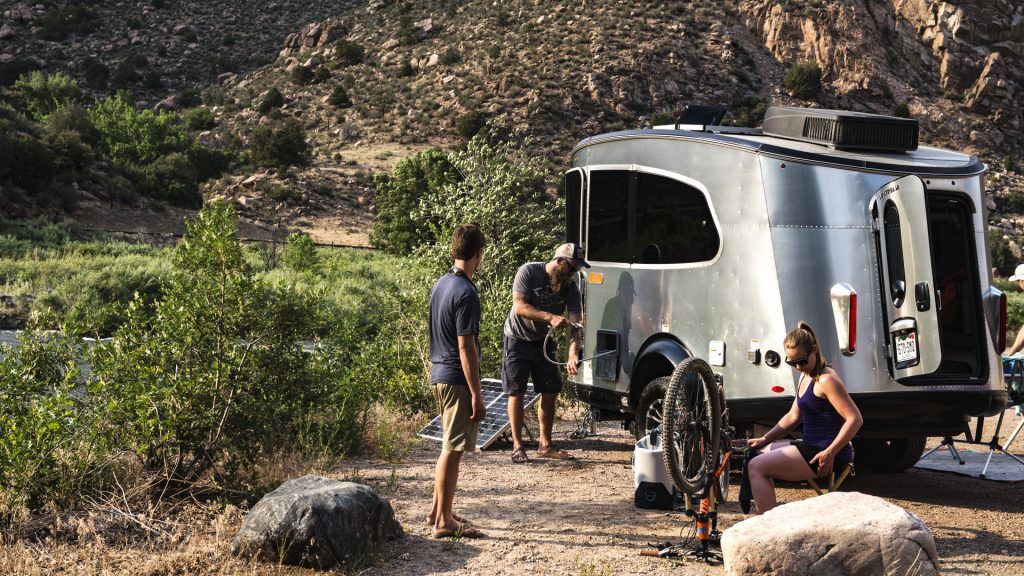 When adventure awaits, you'd rather be out getting your boots dirty – not wasting time cleaning up messes. Even if you kick up a little dirt on your adventures, your Airstream makes it simple to keep your home base neat and tidy. Luxury vinyl flooring is easy to clean, and antimicrobial, stain and mildew resistant fabric means more time playing and less time cleaning. Airstreams are functional, durable and beautiful.
Travel Trailers are Tight on Space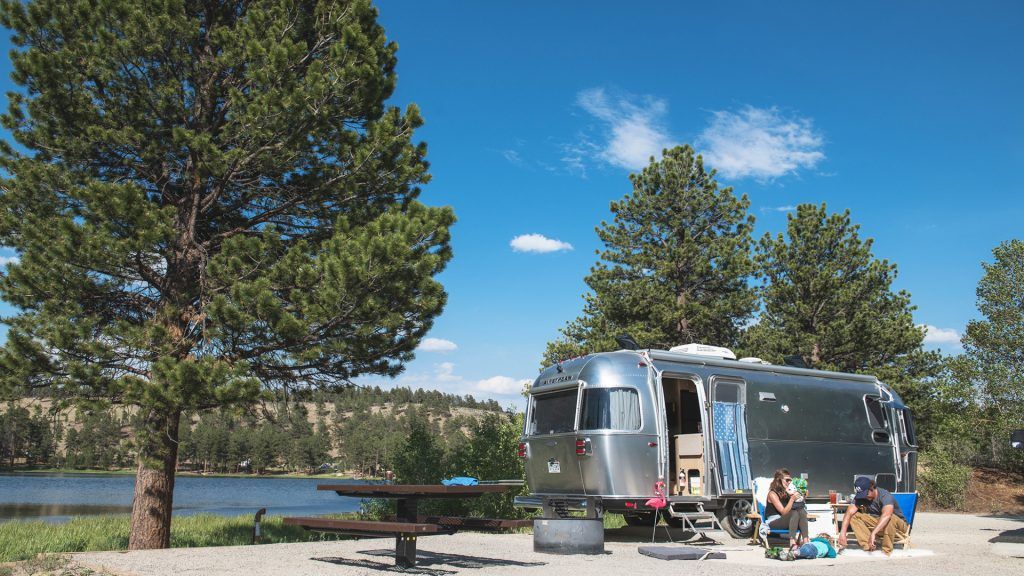 Let's face it, if you're looking to buy a house on wheels, square footage isn't the number one feature you're shopping for. You want to get from point A to point B so you can explore with all the comforts of home and direct access to the great outdoors. Your Airstream makes it easy for you to spend as much time outdoors as possible – campfires, hiking, fishing, swimming, reading. And after a day of adventures, you know you're coming back to a comfortable bed, running water, A/C and heat. Best of all – it's all contained so you can pack up and move whenever you're ready for a new destination.
There's also an option to add a tent attachment to the Basecamp which really opens up the compact trailer and offers an abundance of exterior storage space for gear or sleeping areas. With two entry points and two rooms, the tent's versatility makes it easier to grab your gear and go or set up camp and relax for the day.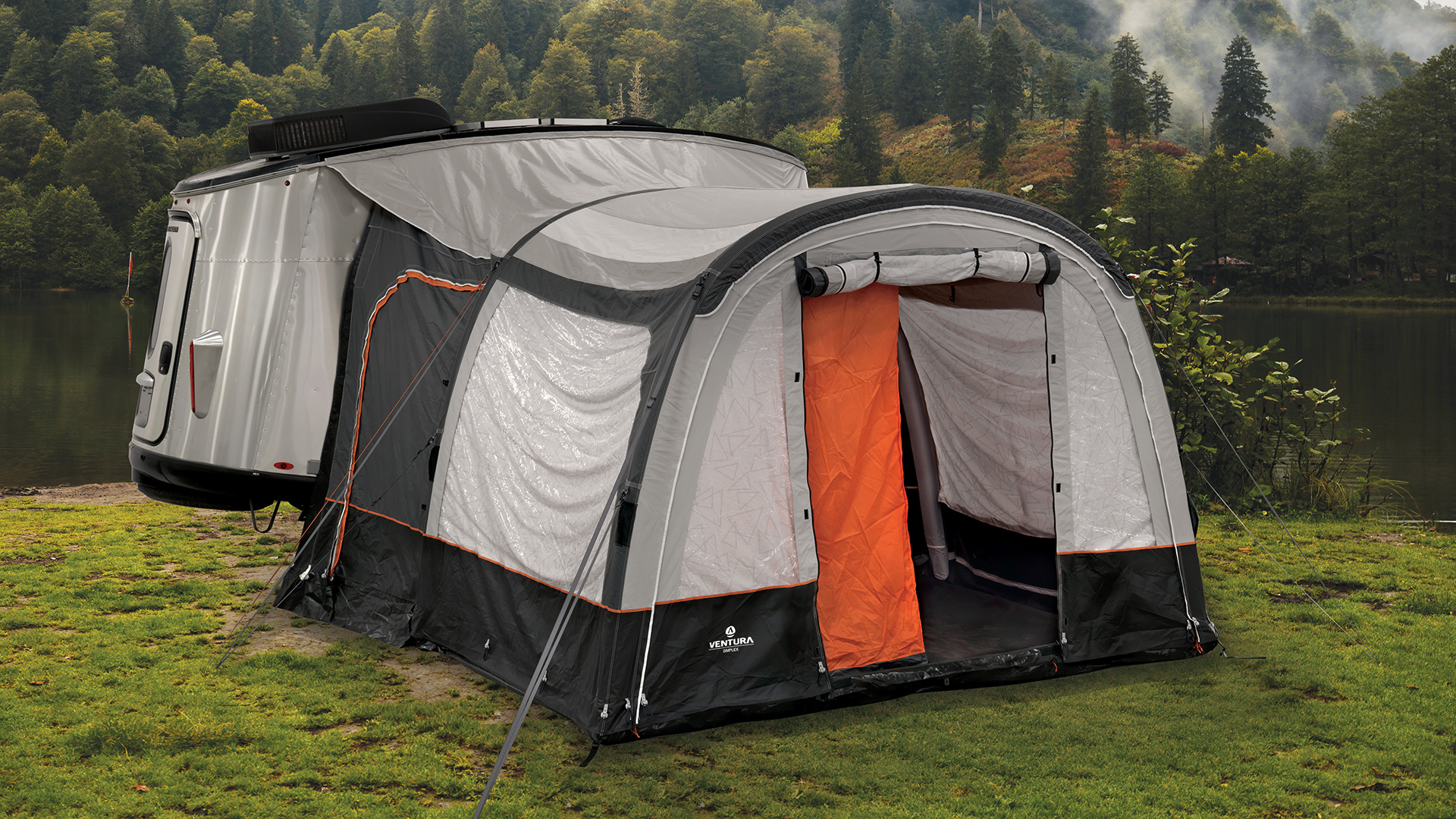 The Wanderlust Lifestyle Puts a Damper on Your Social Life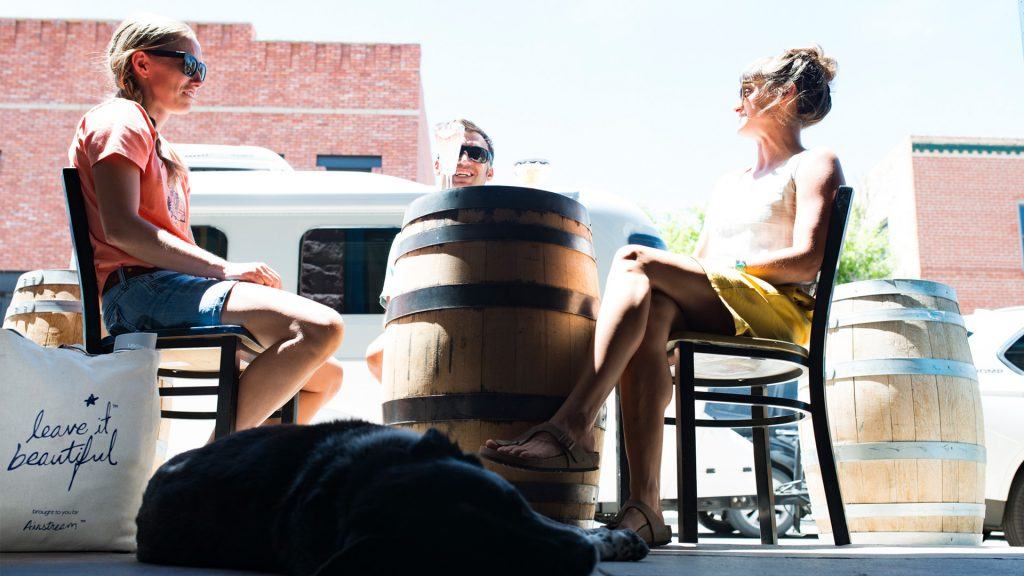 Some might argue that campsites are filled with inconsiderate, noisy neighbors and strangers. You never know who you'll end up parked next to and you may feel isolated and lonely. But there's an incredible community of Airstream owners out there who will welcome you with open arms. From helping you troubleshoot on the road to sharing tricks of the trade, your fellow Airstreamers will become immediate family. Sure you might miss your friends back home, but that just means it's time to head back – or upgrade to bigger model so you can bring them along!
Travel Logistics Can Be Loathsome  
Where to eat? Where to sleep? Where to visit? You will have to invest some time into planning your trips, but that's part of the quest. Deciding what sites to see, what adventures to undertake and what local flavor you want to experience is what makes owning a travel trailer so personal. You can do anything you want and each trip you plan can be unique. With the help of our Trip Explorer, you can plan your destinations with ease.
Our Airstream Care app also has Roadtrippers built directly into it to assist you with finding great attractions and discover road trips. Put in your starting point and end point, add points of interest, decide on how far you're willing to travel off your route, and you'll have options for adventure right at your fingertips.
Don't let the skeptics out there, or the one inside your head, keep you from setting out to see the country, explore the sites and take on adventures you've only dreamed about. With the right Airstream as your traveling companion, you can go anywhere within reason.  
Ready to take the next step in becoming an Airstreamer? Calculate your potential monthly payment.