Airstream founder Wally Byam founded the company on the belief that it is possible to adventure and explore even the wildest places with all the comforts of home. Many of those comforts, of course, are powered by electricity. While technology has changed dramatically since 1936, when Airstream's Clipper model debuted with electric lights, electricity remains as essential to the Airstream experience as the spirit of adventure.
So how do you keep the power flowing to your Silver Bullet? Three ways: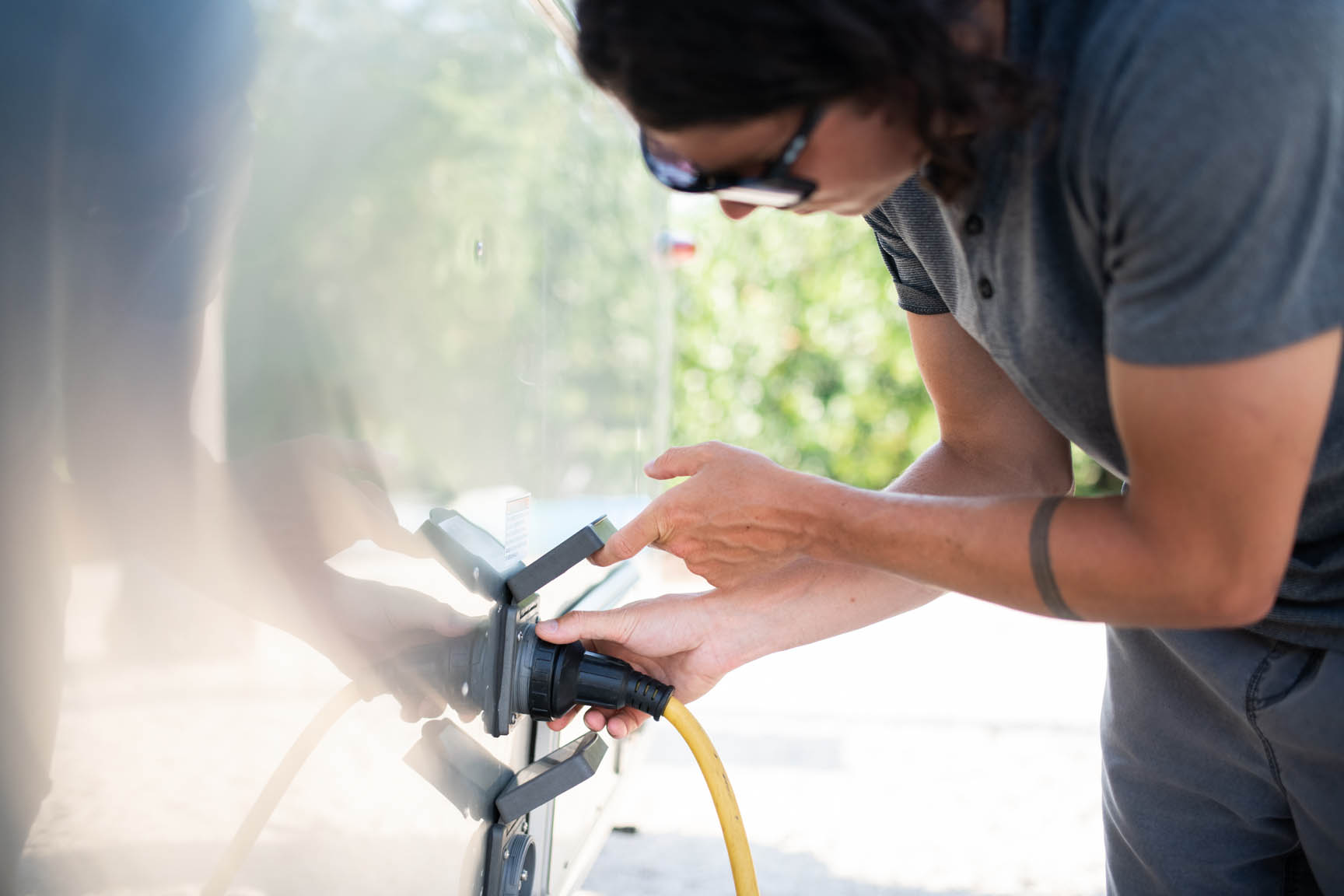 Shore power is the term for connecting your Airstream into the AC power grid. Nine times out of ten your shore power hook up will be at a campsite, but there are a variety of other places you can find shore power as well.  
The two most common campsite connections are 30 amp and 50 amp hookups. Some campsites have both. When connecting to shore power, be sure to select the service that matches your unit. Even if your Airstream is rated for 50 amps, carry a 30 amp power cord for use when 30 amps is your only shore power option. Whenever using adapters, you'll need to manually manage the amount of power you're using in your Airstream. For example, if your Airstream has two air conditioners, it's configured for 50 amps of electrical service. If your campsite only offers a 30 amp service and you use an adapter to hook up to power, you'll only be able to run one air conditioner at a time, or you'll trip the breaker at the campsite power pedestal.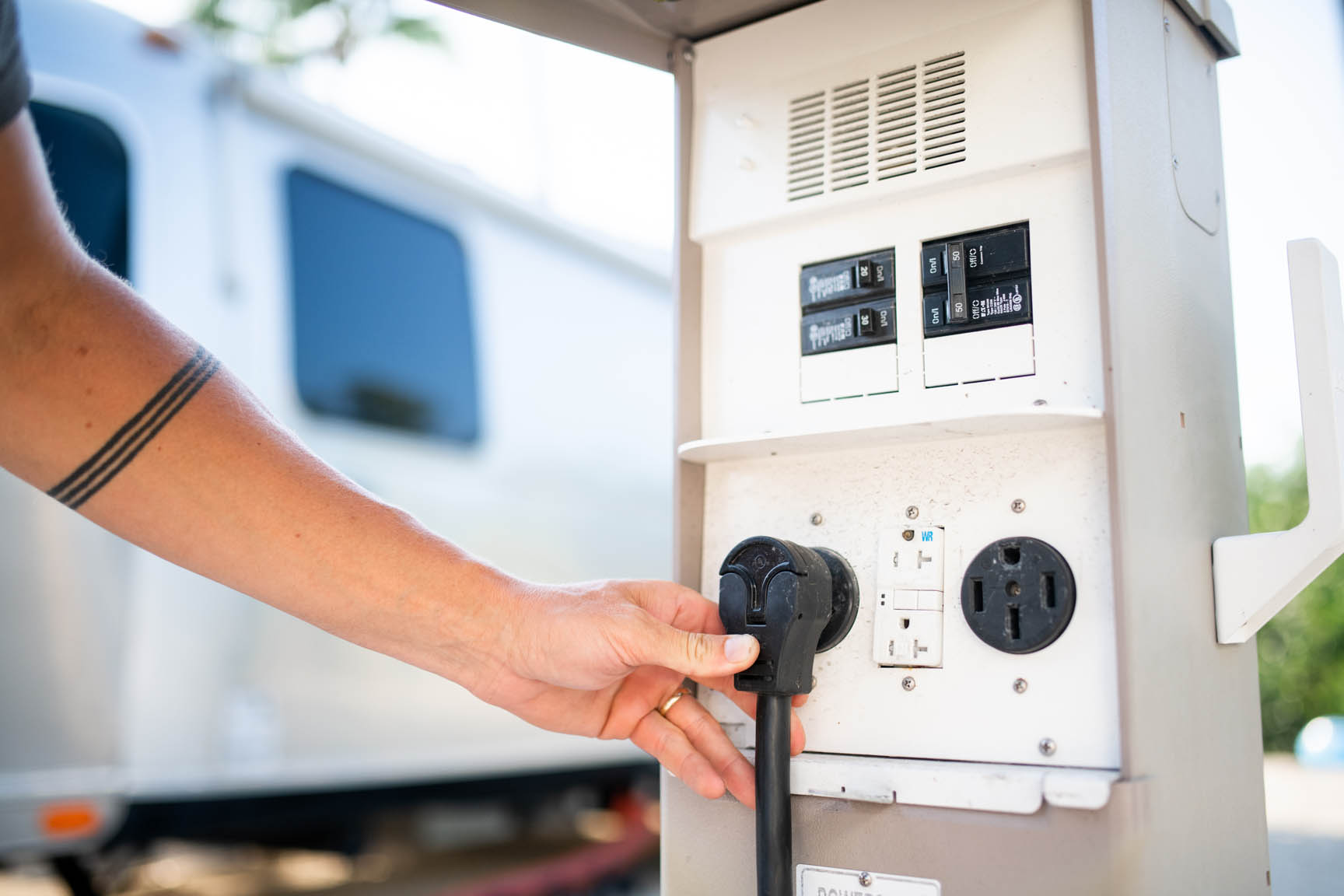 Generated by panels mounted on the roof of the unit (or through a portable solar panel plugged into your Airstream's pre-wired solar connection on the hitch), solar power allows Airstreamers the freedom to roam away from the grid using sustainable energy. 
"We believe solar is one of the best energy sources available," Airstream VP Product Development and Engineering McKay Featherstone said in a recent Ask an Airstreamer livestream. "Load up on as much solar power as possible."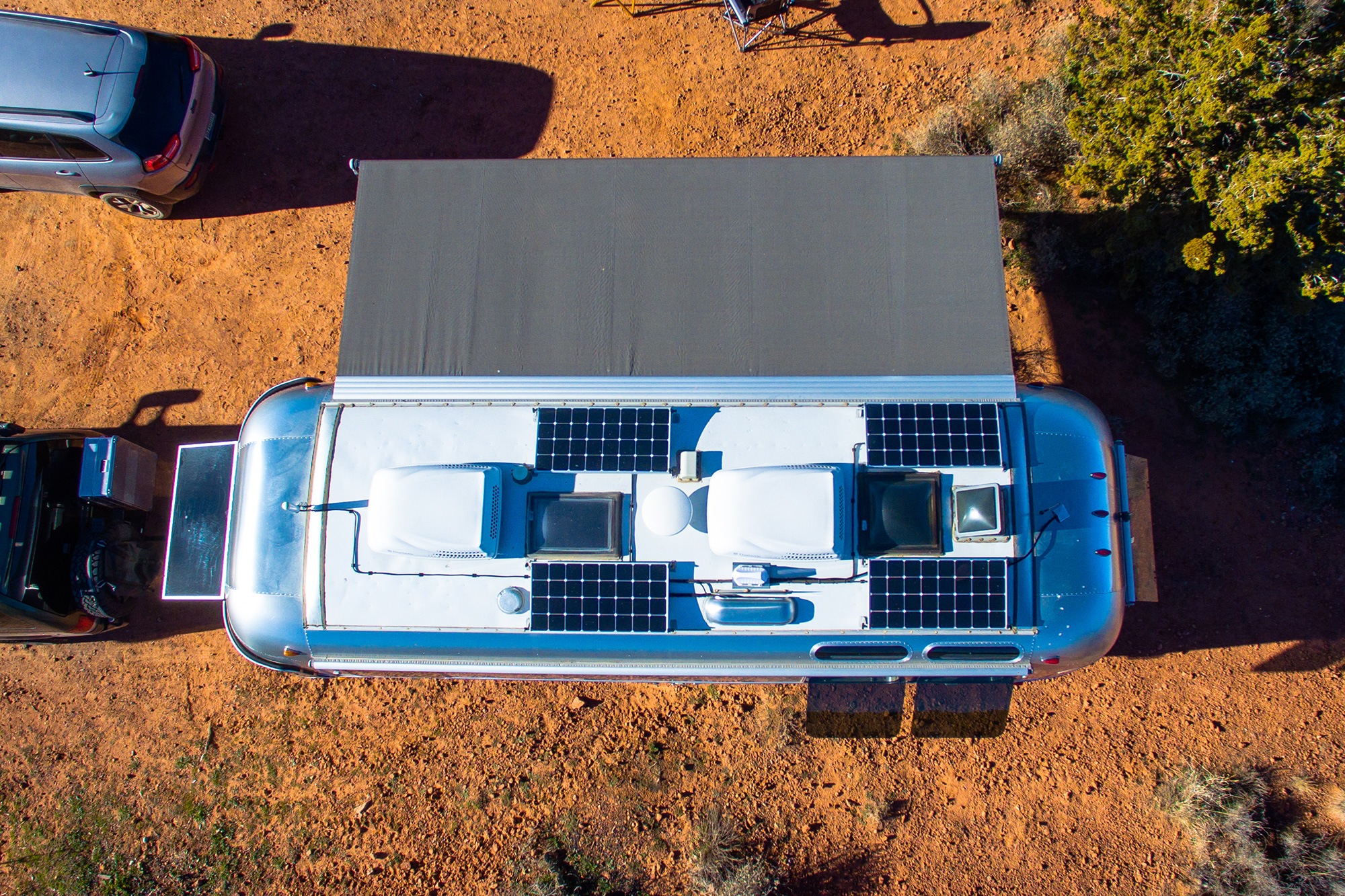 The first step when considering solar power is to conduct an energy audit to determine how much energy you need to facilitate your lifestyle. Simply list what devices you want to run while off-grid and total up the wattage required to power those conveniences. This information will help determine how many solar panels and batteries you need. The audit can also help you better manage your energy use while running off the batteries. 
Airstream Ambassador Ronnie Dennis, who installs solar power systems on Airstream products, offers this equation for converting energy usage to watts: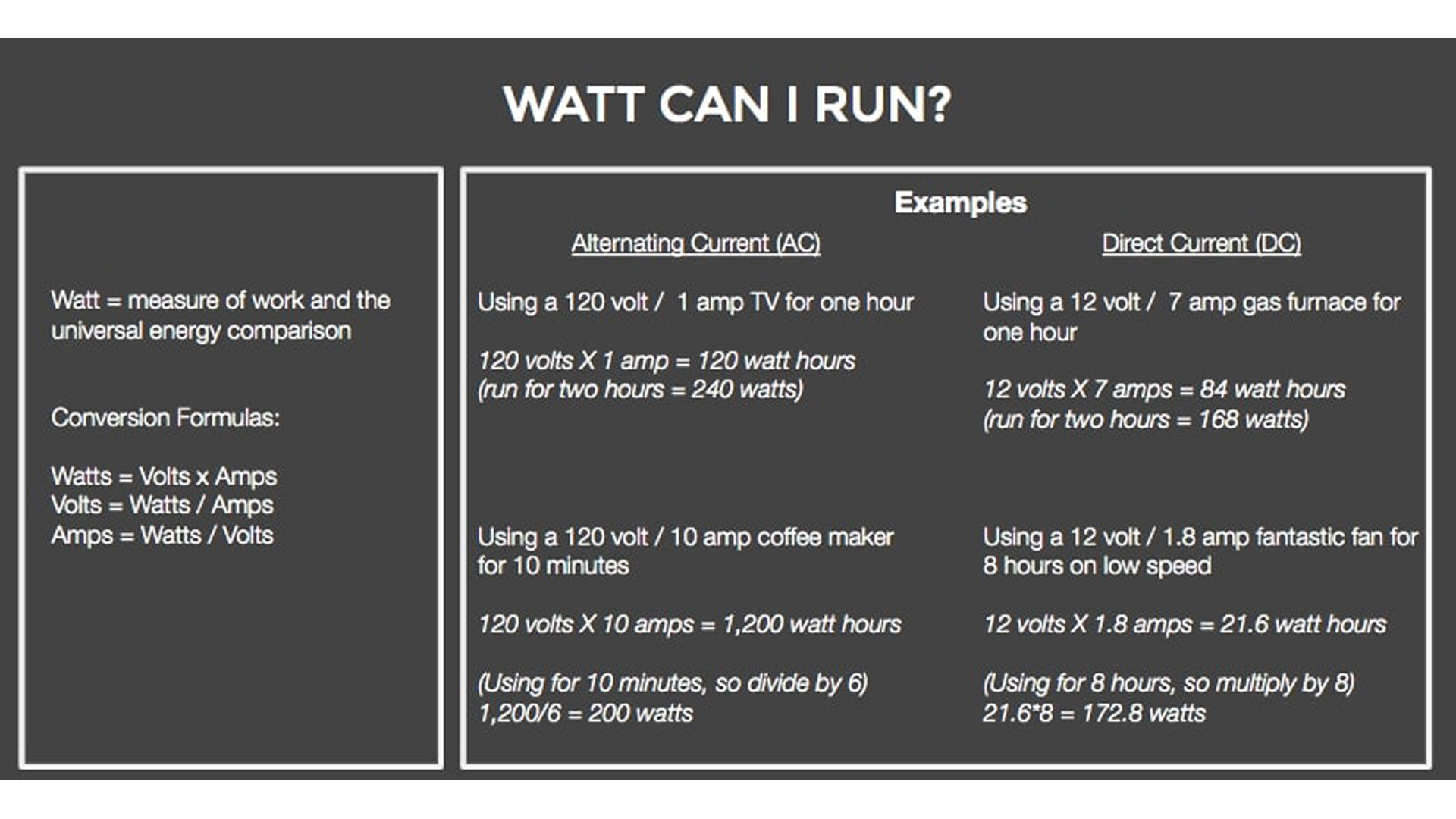 "Watts are calculated by multiplying volts times amps," Ronnie told the audience. "So, if we want to use a 120-volt television that draws approximately one amp for one hour, we take 120 volts, multiply that by one amp, and that gives us 120 watt-hours. If we wanted to watch TV for two hours, we would multiply 120 times the two hours and get 240 watts.  
"Once you know how many watts each item in your Airstream is using, you can subtract those numbers from the watt-hours in your battery and have a sense of how much you have in reserve," said Ronnie.  
Of course, solar does have its limitations. Cloudy days mean reduced energy. And because solar works by charging your Airstream's batteries, it can only power those systems that run off those batteries. So, you'll have to find another way to run the AC.  
Such as…
Generators 
Think of a generator as portable shore power. Generators come in a variety of AC power output levels. Before shopping for one, look over that energy audit and figure out how much juice you need to wring from the generator. The experts suggest buying a unit with at least 20% more output than you currently require. 
A 1,000-watt unit can handle most of the systems in a smaller Airstream but doesn't have the oomph to run the air conditioning. For that, you'll need at least 4,000 watts.  
While generators are an excellent tool, they do have some drawbacks. They can be bulky, balky, and annoyingly loud. Some units are surprisingly large, so think carefully about the space and weight aspects of adding this arrow to your power quiver. Stay on top of the maintenance, too, as generators can be touchy little machines with a penchant for breaking down at the worst times. 
Finally, be mindful of how a generator can impact those camping around you. There is a reason that most campgrounds require guests to shut off their generators during certain hours. 
For more information about powering your Airstream, check out Airstream Academy. This comprehensive knowledge base is jam-packed with answers and information about almost every aspect of operating and maintaining your Silver Bullet.