For nine years, Alumapalooza® has offered Airstreamers a chance to return to "The Mothership." During the week following Memorial Day, the fields around Airstream's Jackson Center, Ohio plant become a sea of silver, as row after row of shining aluminum Airstreams gleam in the early summer sun. Bedecked with license plates from all across the United States and Canada, the event draws Airstreamers from far and wide. It's an Airstream fan's dream come true, as models from every era are represented – from vintage to the current model year (and even a few one-of-a-kind units thrown in for good measure).
But more than just a showcase of the products Airstream has manufactured for nearly nine decades, Alumapalooza is truly an event that demonstrates the closely-knit community of Airstream owners. This year's Alumapalooza 9 took place from May 29 to June 3, 2018. No matter the walk of life, the hundreds of attendees found common ground in the stories, songs, and adventures they shared.
"This was one of the best-attended Alumapaloozas we've ever had," said co-organizer Brett Greiveldinger. "About 375 people were camped at Airstream, in about 180 trailers and motorhomes."
On hand were Airstream employees and enthusiasts for question and answer sessions, seminars about a variety of maintenance topics, and service-related questions. In the field, Airstream's expert service technicians addressed minor maintenance issues and moved units into the service center for scheduled service. Airstream Chief Operating Officer Justin Humphreys presented a State of Airstream talk, and Chief Marketing Officer Mollie Hansen spoke about the new Heritage Center that will be a part of the upcoming plant expansion, while Airstream President and CEO Bob Wheeler spoke to the collective excitement about the company's future.
Columbus, Ohio dealer Haydocy Airstream and RV was on hand with models like Nest by Airstream and the Tommy Bahama Special Edition. Other vendors showcased their products, from URB-E foldable electric scooters to Zip Dee awnings. SkyMed was on hand to explain how their travel insurance picks up where traditional travel insurance plans leave off. The Kabine brought a mobile stationary and gift shop in a vintage Airstream. Scott Roberts and his company Explore Scientific showcased their telescopes and gave hands-on demonstrations about skywatching. Truck Systems Technologies showcased their tire pressure monitoring systems, while Car Generator showed how their product allows you to use car to power your Airstream, rather than an expensive, heavy generator. There was even demonstrations about how to cook food with a solar oven by GoSun.
From talented musicians like Josh Rogan and The Other Favorites taking the stage to Airstream employees handing out the new Full Sail Airstream IPA during Happy Hour, Alumapalooza 9 was full of friendship, fellowship, and fun.
Next year's tenth anniversary event is shaping up to be huge.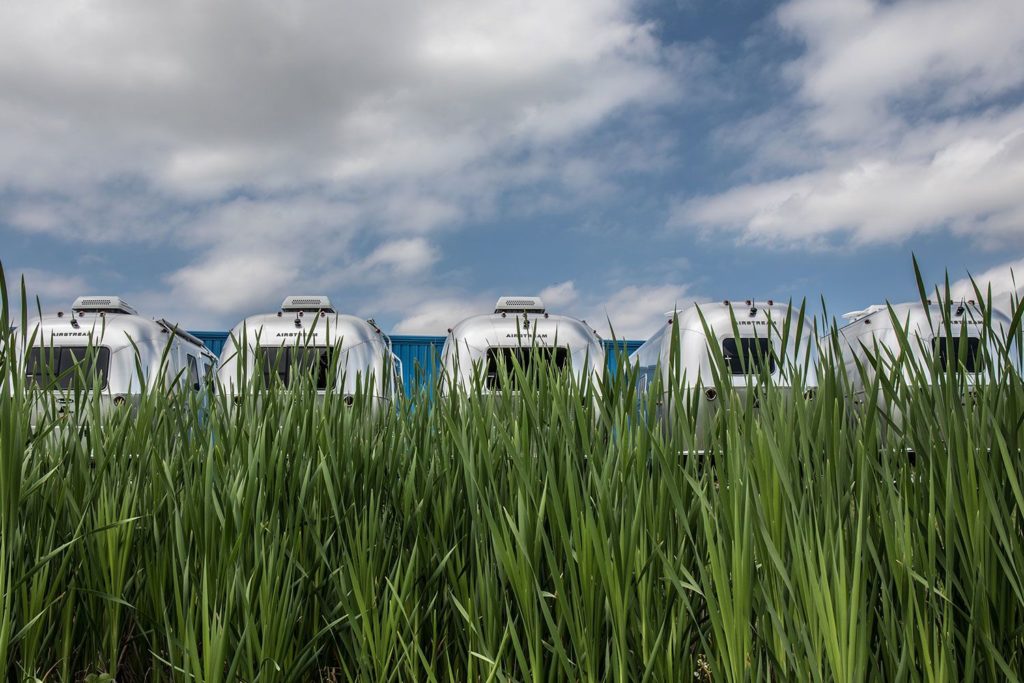 "It will be a quick sell-out, since prior attendees have already reserved 40 sites," said co-organizer Rich Luhr. "We'll be opening registration to new attendees in July."
? by Clifford Holensworth