Our founder always said, "Let's not make changes. Let's make only improvements." To this day, our commitment to continuously improving Airstream quality is what drives innovation and reliability for all of the products that we manufacture. Each time a new product feature is introduced, it comes with careful thought, real-world testing, and our continuing commitment to quality and durability. Our most recent step in constant improvement is the inclusion of a power system upgrade in our Class B RVs that is built around top-of-the-line lithium batteries.
What Does the Upgraded Power System Include?
Now more than ever, we're all looking for ways to get out safely and work from anywhere which means we need electricity for when we're not connected to a 120V shore power hook-up. Over the years, Airstream Touring Coaches have included lead acid or glass mat batteries and have been the industry standard. We're now improving our offering to a set of two – 100 Ah Deep Cycle Lithium Batteries (LiFePO4) to simply enhance the customer experience from a battery charging and usage perspective. Additionally, the batteries include an upgraded solar controller and we've added another solar panel on the roof dedicated to maintaining the chassis battery. The Interstate 24 models and Atlas include a 100 watt solar panel while the Interstate 19 includes a 50 watt solar panel that will keep the chassis battery charged while the engine is turned off.
Faster Charging and Enhanced Performance with Lithium Batteries
Powerful and Rapid Charging
The average charge rate of this set of lithium batteries is up to 5 times faster than lead acid batteries because of their lower internal resistance. If your lithium batteries are fully drained when you start charging, it will take about 8 hours to charge them to 100 percent with a 25 AMP power supply. This means that if you're out adventuring and plug in at the campground for the night, you'll be able to quickly hit the road with fully charged batteries the next morning.
Depth of Discharge and Performance
The LiFePO4 batteries have 2 to 3 times more usable power (energy density) and have a 100 percent depth of discharge, meaning that they can be completely depleted and then charged back to 100 percent (when compared to AGM and lead-acid which are recommended to charge when they reach 50 percent). Lithium batteries also provide a higher voltage output at the terminals and remains constant, increasing overall efficiency and performance. There are a lot of features throughout the Airstream Class B model line that operate off of battery power. The power inverter also uses energy from the batteries to operate and also deliver the 110V/120V to some outlets which means that reliable and efficient power will come in handy in all types of situations.
Maximizing Solar Harvesting with Upgraded Technology
Included with the new premium power system is an upgraded solar controller with MPPT technology and an interior display monitor. Maximum Power Point Tracking (MPPT) optimizes solar energy harvest from the sun by actively tracking voltage and output of the solar panels. The controller technology even works well in cloudy or shaded conditions by intelligently optimizing the harvest (up to 30 percent compared to PWM controllers) of solar energy from the roof-mounted panels to ensure that no energy is wasted and that your batteries can full charge as quickly as possible. With extensive electronic protection to sense and prevent overheating, automatic state detection, and outstanding conversion efficiency, the solar controller is a power system upgrade that will give you confidence on your next road trip.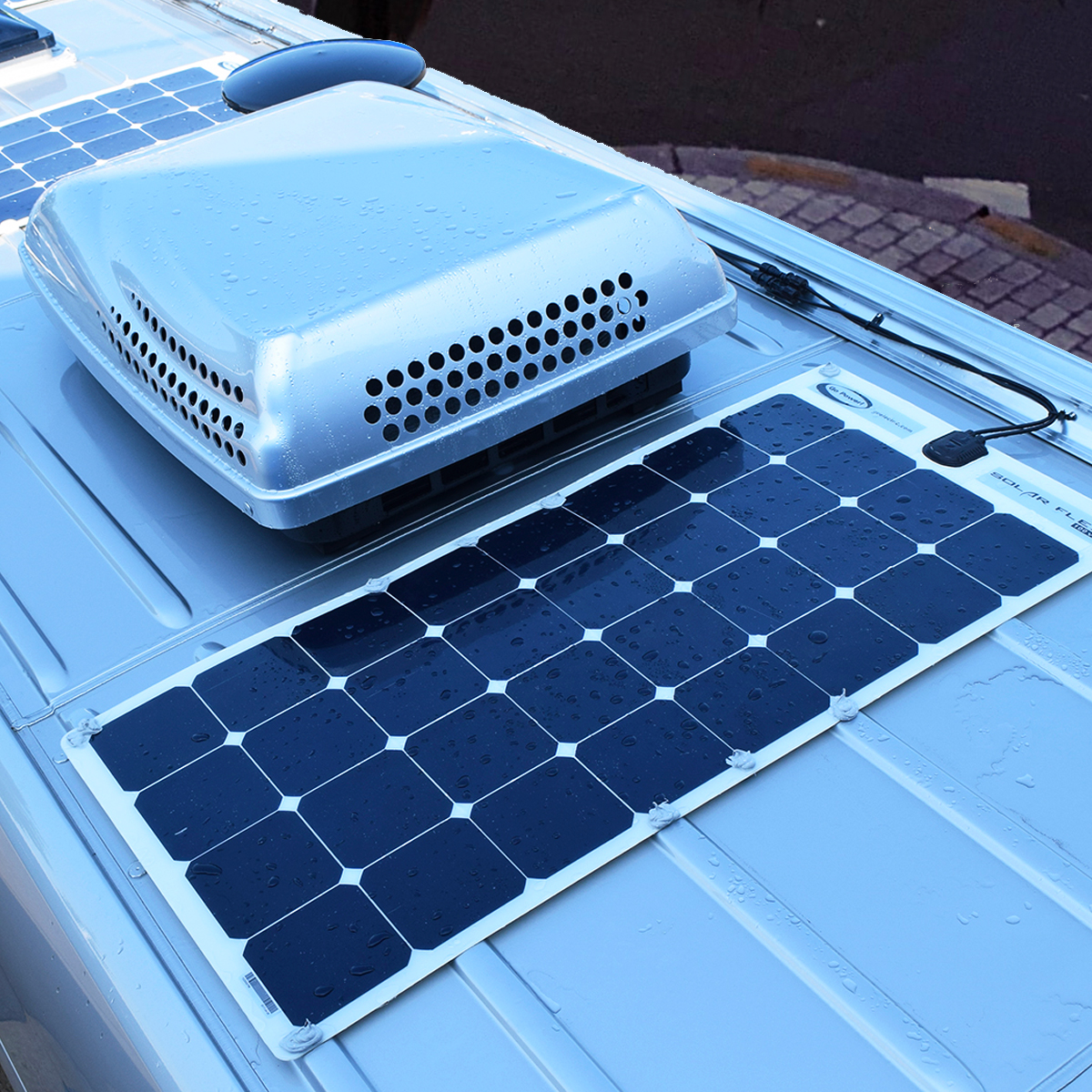 The Durability and Assurance of Lithium Batteries
Having batteries that charge quicker and provide power for longer periods of time are fantastic benefits. We've covered why making this upgrade is advantageous for the actual use and recharging durations, but it's also important to understand why durability and peace of mind are critical when choosing suitable power system components. With 3,000 to 5,000 life cycles and high temperature stability, 100 Ah Deep Cycle Lithium Batteries stand the test of time and will last approximately 10x longer than lead-acid batteries.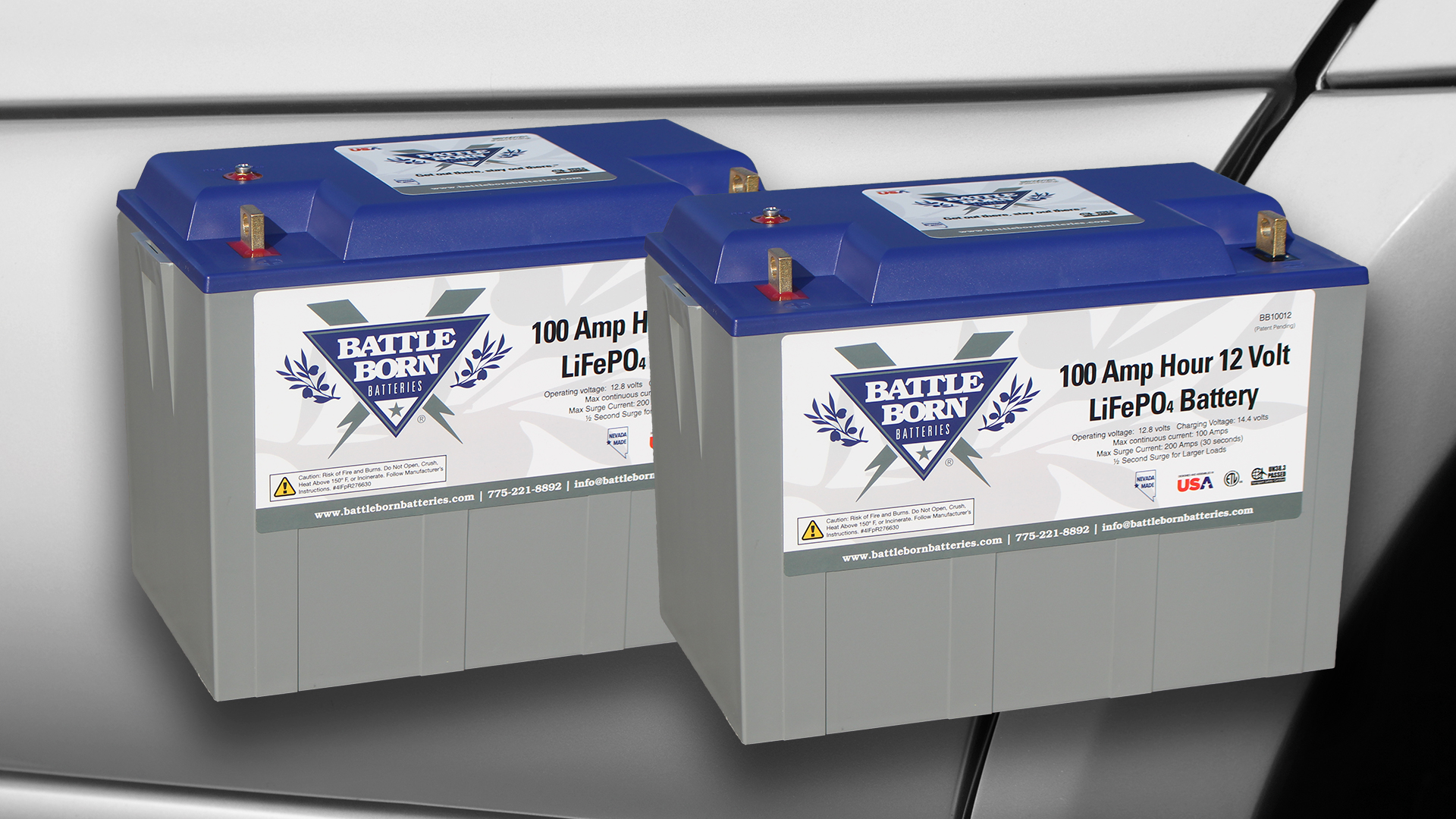 Increasing battery longevity gives owners more time to focus on what really matters instead of having to worry about battery life before hitting the road. In addition to longevity, these lithium batteries require minimal maintenance because of how durable they are and the internal components that are prepared to handle just about every type of situation one may encounter while traveling. In fact, when we debuted this new option to our dealers, they requested we add this new Best-in-Class option to all incoming orders, so much so, we have now included the power system upgrade on all new 2021 orders that have been built this Fall.
Designed to remain stable and hold their power in both high and low outdoor temperatures, 100 Ah Deep Cycle Lithium Batteries hold a charge for up to a year without the need for a trickle charger. The internal battery management system (BMS) monitors the voltage, temperature, and stability of the battery so you don't have to. 
Internal Heating Features and Cold Weather Performance
Sealed inside each battery is an internal heating element for cold weather charging. Lithium batteries are not safe to charge if the temperature is too low. The heating element will automatically activate if the temperature drops below 25 degrees Fahrenheit (Please ask your dealer for additional installation details and requirements).
Battery Management System
A BMS is crucial in ensuring safe operation of any lithium battery. The BMS is sealed internally and will shut the battery down should any fault condition occur. The battery will restart once the fault condition is cleared.
Standing Behind the Product with a Full Warranty
The upgraded lithium batteries featured in our touring coaches are made right here in the U.S.A. and come with a five-year full replacement warranty. 
Discover the Class B Airstream RV that Fits Your Lifestyle
Is a road trip or a mobile office sounding better and better to you these days? Check out our full lineup of 2021 Airstream Touring Coaches and use our compare tool to see how they're different from one another.